But does Nvidia's mid-range GPU have the performance benefits to justify the bump in price over its AMD counterpart? Or will the RX 7700 XT prove to be the better value option for a mid-range gaming PC? We'll look to find all the answers in this feisty GeekaWhat versus battle!
GPU Versus Battle
AMD Radeon RX 7700 XT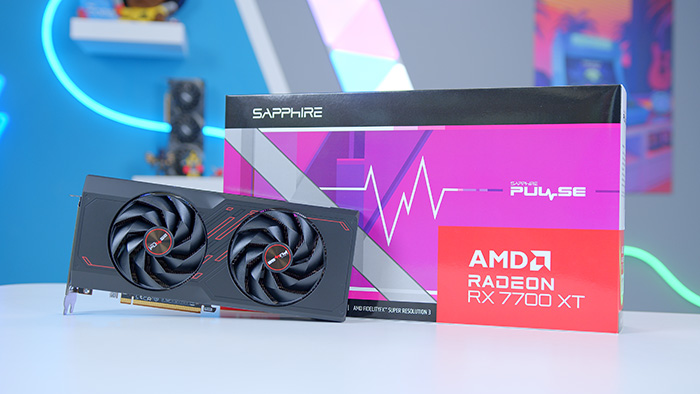 | | |
| --- | --- |
| Memory Capacity | 12GB GDDR6 |
| Boost Clock Speed | 2.54GHz |
| Ray Accelerators | 54 |
| Stream Processors | 3456 |
| TDP | 245W |
| Release Date | September 2023 |
| Price | Check Price on Amazon |
After seeing the lower price point of the previous Radeon 7000 series releases, there was plenty of anticipation surrounding AMD's mid-range launches. Many PC gaming enthusiasts were excited about the prospect of an affordable GPU that could offer stellar 1440p gameplay, with legs at 4K to boot. So when the 7700 XT and 7800 XT released, many consumers were happy to see AMD keep the trend going and deliver an affordable mid-range offering.
Whilst the small differences in pricing between the two cards has given the more powerful 7800 XT most of the plaudits, the 7700 XT is still a solid value card that is bound to have an impact on the current GPU market. With competitive performance at 1440p, as well as some good showings at 4K, the RX 7700 XT outperforms a lot of current and previous generations within a similar price range. As a result, this card should be amongst the top of the wishlist for gamers looking to build or upgrade their mid-range gaming PC.
Featuring 12GB VRAM and clock speeds of 2.54GHz boost clock speeds, this GPU has avoided the 8VRAM debate, something that has plagued a lot of the more budget-friendly offerings from this generation. The main concern is the higher 254W maximum power consumption, which is a lot higher than Nvidia's mid-range options.
Nvidia GeForce RTX 4070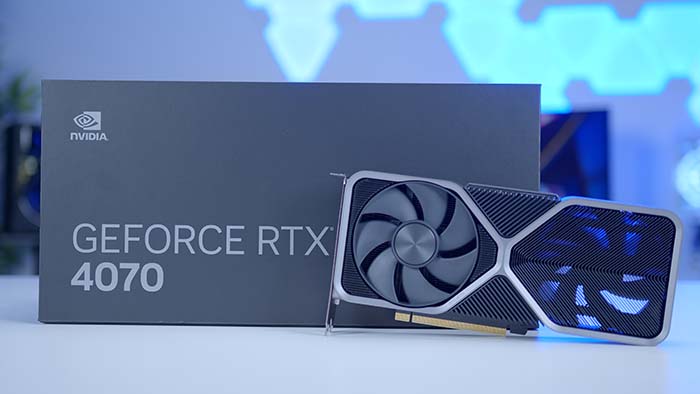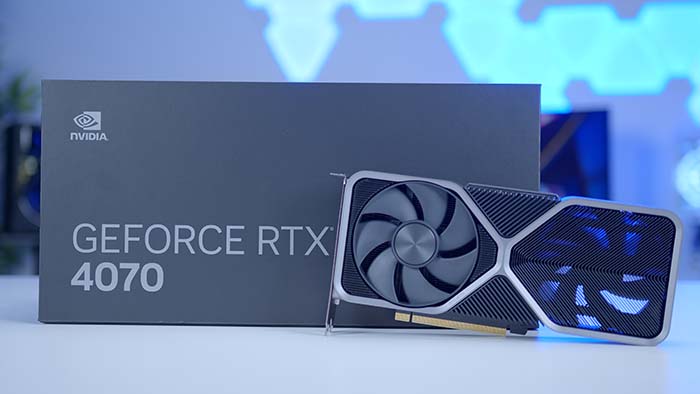 | | |
| --- | --- |
| Memory Capacity | 12GB GDDR6 |
| Boost Clock Speed | 2.4GHz |
| Ray Accelerators | 46 |
| Stream Processors | 5888 |
| TDP | 200W |
| Release Date | April 2023 |
| Price | Check Price on Amazon |
When we first got our hands on Nvidia's RTX 4070 earlier this year, we were pretty satisfied with the performance offered for a price that seemed affordable compared to the rest of the market. However, price drops and subsequent mid-range GPU releases has made the value proposition of the RTX 4070 significantly weaker.
At the time of release, the 4070 was a lot cheaper than any of the previous releases from both Nvidia and AMD, putting it in a comfortable position in terms of value for money. Plus, the decreased size compared to the high-end models set up a solid foundation for Nvidia to build upon. Unfortunately, Team Green didn't really capitalise on this momentum, which has allowed AMD to swoop in and undercut their pricing.
That being said, the 4070 is still one of the better options within Nvidia's latest generation line-up, as it offers an excellent 1440p gaming experience at a price that isn't ludicrous compared to consumer expectations. With a boost clock speed of 2.4GHz and 12GB VRAM, this GPU has no issues running the most demanding games at 1440p. On top of this, the 200W TDP makes it a very efficient design that will be comfortable inside most mid-range gaming rigs.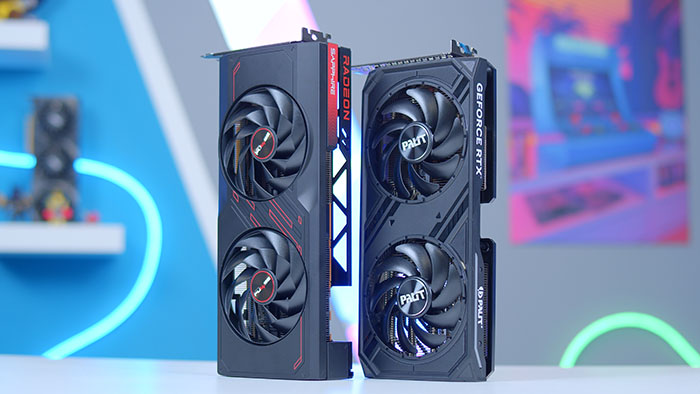 Along with upgrading to 4th generation tensor cores and 3rd generation RT cores for improved performance with Ray-Tracing enabled, some major enhancements to the DLSS upscaling technology provides a boost to visual fidelity without taking a major toll on performance. However, the biggest development comes with the introduction of Frame Generation technology, which extends the capabilities of DLSS 3 to create new frames between existing ones, leading to significant boosts to framerates, especially in titles that demand more from your GPU or CPU.
In contrast, AMD's RDNA 3 also offers significant improvements to the previous generation found on Radeon 6000 series GPUs, but the current benefits lack the major addition that Frame Generation has provided to the Ada Lovelace platform. The progression to FSR 2 provides enhancements to their upscaling technology in a range of titles, leading to better visual fidelity and frame rates.
However, AMD have recently announced their plans to release FSR 3.0 in the near future, which AMD claim will bring major enhancements to Radeon 7000 graphics cards and other devices such as Xbox consoles and Nvidia GPUs. This enhancement will come with Fluid Motion Frames (FMF), which is AMD's response to Nvidia's Frame Generation, which indicates that all AMD users can expect a boost to performance when FSR 3.0 arrives.
As we can't make a judgement on FSR 3 until it releases, Nvidia's improvements to DLSS puts the Ada Lovelace architecture ahead of RDNA 3 by quite the margin. However, it will be interesting to see if FSR 3 can turn the tides.
Our Favourite RX 7700 XT GPU
Gigabyte Gaming OC Radeon RX 7700 XT
👑The best performing RX 7700 XT.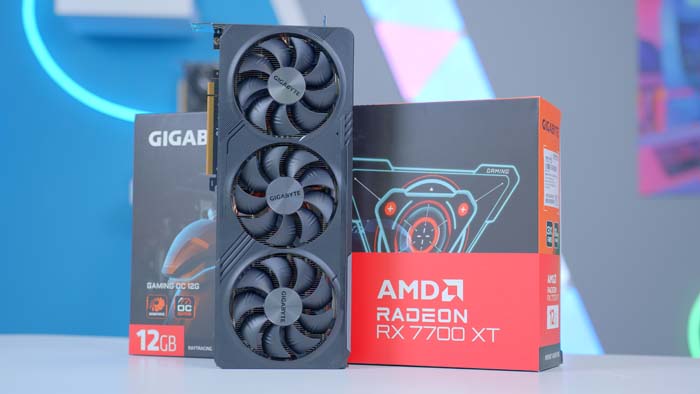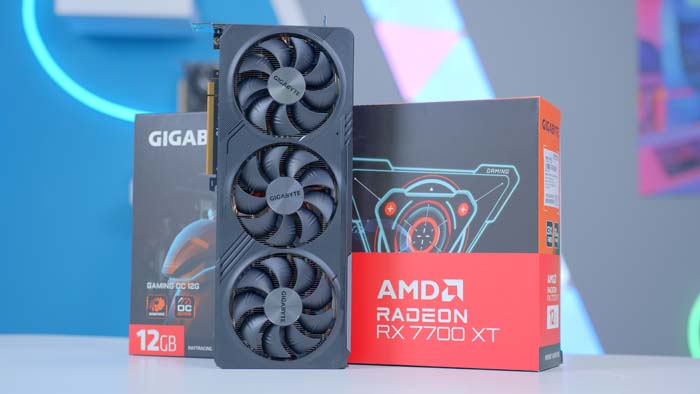 Our top pick for the 7700 XT is the Gigabyte Gaming OC Radeon RX 7700 XT, as this design offers a significant boost to the performance of AMD's reference card without adding too much in terms of pricing. With the base clock and boost clock speeds of 2.27GHz and 2.59GHz respectively, the Gigabyte Gaming OC is slightly faster than the base design from AMD, resulting in a few additional frames in the latest games. On top of this, Gigabyte's offering provides an enhancement to aesthetics. Whilst this SKU is bulkier than the reference design, it adds a third fan to improve the cooling capabilities, as well as addressable RGB lighting to provide your PC build with a burst of colour.
Key Specs
| Key Specs | Gigabyte Gaming OC RX 7700 XT |
| --- | --- |
| Video Memory | 12GB GDDR6 |
| Memory Bus | 192 bit |
| Base Clock Speed | 2.27GHz |
| Boost Clock Speed | 2.59GHz |
| Stream Processors | 3456 |
| Power Consumption | 254W |
| Ray Accelerators | 54 |
| PCI-E Generation | PCI-E 4.0 |
| GPU Length | 302mm |
| Fans | 3 |
| RGB | Yes |
Things We Like
Solid 1440p performance: This design improves on the 7700 XT's sturdy foundations to offer gamers with a smooth and stable experience at 1440p. With higher clock speeds compared to AMD's reference model, this card will offers marginally better output in some games.
Can be found for MSRP: Despite the bolstered performance and aesthetics, this GPU can be found for MSRP at most retailers, making it a great choice for gamers that want to elevate their graphics card without having to pay extra for the privilege.
Things We Don't Like
Larger size: This design isn't drastically bigger than the other 7700 XT designs, but the increased length and width could cause clearance issues for anyone expecting this card to be the same as the dual-fan designs.
Not the biggest upgrade to aesthetics: Whilst the bulkier design with an upgrade to a triple-fan layout is a more functional design than most RX 7700 XT GPUs. However, the dark grey and boxy design lacks the wow-factor found on other designs.
Summary
Gigabyte's Gaming OC Radeon RX 7700 XT is a rare instance where gamers can pick up a more powerful variant of a graphics card without having to splash out any extra cash to do so. For the MSRP of a 7700 XT, consumers can grab a card that offers improved clock speeds, cooling, and adds a hint of RGB lighting, which makes this one of the best value 7700 XT SKUs available.
Features: 4.2/5
Design: 4.2/5
Performance: 4.2/5
Value for Money: 4.4/5
Where to Buy
Buy the Gigabyte Gaming OC Radeon RX 7700 XT on:
Our Favourite RTX 4070 GPU
Nvidia GeForce RTX 4070 Founders Edition
👑The best budget RTX 4070.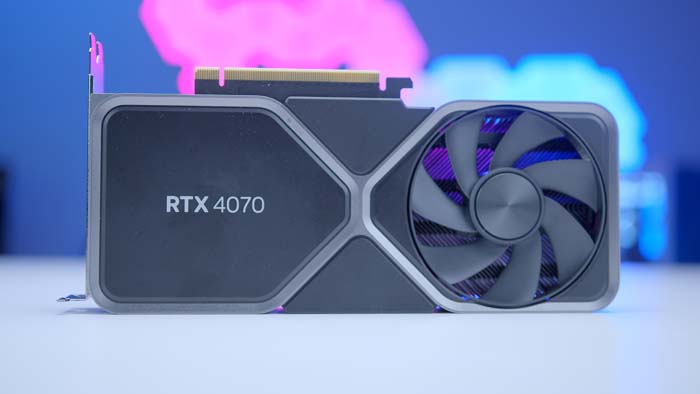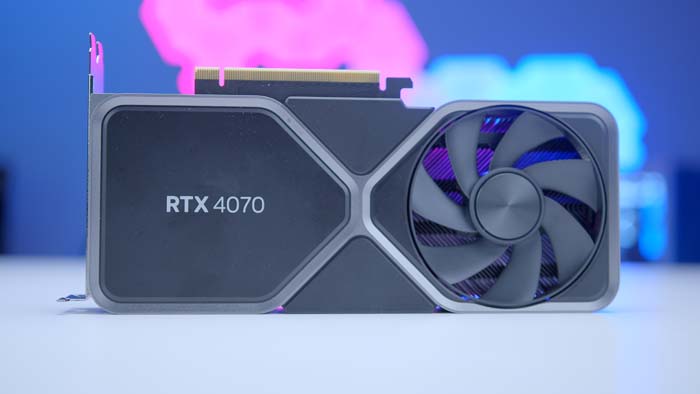 When it comes to finding a design for RTX 4000 series graphics cards, Nvidia's very own Founders Edition cards are always a reliable option. Whilst these designs lack the appealing design features or performance enhancements found on AIBs, consumers know exactly what to expect from these base models in terms of performance and price point. Though the Founders Edition GPUs don't put an emphasis on appearance, this design looks fairly sleek thanks to black and grey colour combination and single exposed fan on the shroud. Additionally, this card is fairly small, especially when compared to a lot of Nvidia's other offerings, making it a strong option for those looking to build a compact gaming PC.
Key Specs
| Key Specs | NVIDIA GeForce RTX 4070 Founders Edition |
| --- | --- |
| Video Memory | 12GB GDDR6X |
| Memory Bus | 192 bit |
| Base Clock Speed | 1.92GHz |
| Boost Clock Speed | 2.47GHz |
| CUDA Cores | 5888 |
| Power Consumption | 200W |
| RT Cores | 46 |
| PCI-E Generation | PCI-E 4.0 |
| GPU Length | 250mm |
| Fans | 2 |
| RGB | No |
Things We Like
Safe and reliable design: As the base RTX 4070 design, the Founders Edition is a solid option for anyone that wants to know exactly what performance to expect for the amount they are spending on a GPU, as this design will be the main option used in most 4070 benchmarks and performance testing.
Available for MSRP: The pricing of RTX 4070 can vary drastically depending on what enhancements have been made to the original design. But no matter what, Nvidia's Founders Edition will always be amongst the cheapest options to choose from.
Things We Don't Like
Simplistic design: This design lacks the RGB lighting or intricate detailing that can be found on other RTX 4070 variations. As a result, this option is bound to be less appealing to the majority of gamers.
Difficult to find at retailers: Most Founders Edition models tend to sell out quite quickly compared to other designs, making them harder to find from most trusted retailers. This means you may have to resort to grabbing one second-hand or picking up an alternative.
Summary
Overall, Nvidia's RTX 4070 is a reliable design that will offer solid value to mid-range consumers. Boasting a simple yet sleek aesthetic, along with a small form factor, this GPU can fit into most PC builds without any issues. Plus, it is one of the cheapest options when you can find it at MSRP.
Features: 4.2/5
Design: 4/5
Performance: 4.3/5
Value for Money: 4.3/5
Where to Buy
Buy the Nvidia GeForce RTX 4070 Founders Edition on:
How We Tested the RX 7700 XT and RTX 4070
As soon as any new graphics cards are set to release, our team of PC hardware experts and gaming enthusiasts put them through their paces in a range of gaming benchmarks. Our current benchmarking includes a variety of games, including the biggest Esports titles and the latest blockbuster releases, which we look to regularly update to include the most popular games on PC.
During these benchmarking runs, we record our in-game settings so that users can replicate our setup to optimise their gaming performance. When we're ready to boot up the latest titles for testing, we use MSI Afterburner and Nvidia Frameview to monitor framerates, component usage, and thermal regulation. To make sure our testing remains fair and consistent, we use a standardised benchmarking rig to give all the latest graphics card a fair chance at showing what they can do.
Both the RX 7700 XT and RTX 4070 were put to the test in a number of different procedures that will pinpoint any strengths and weaknesses of the product in question. The results then provided us with a general overview of how these cards handle a range of practical and performance-based scenarios, which we can relay to our audience in our written content and YouTube videos.
Gaming Benchmarks
Now that we've provided some background and details on each of these graphics cards, it's time to see how they perform in a number of the latest and greatest titles. In this section, we'll be comparing the RX 7700 XT and the RTX 4070 in a number of gaming benchmarks, with the results also showing off how these cards stack up against other current and previous generation GPUs.
Starfield @ 1440 High
Winner – RX 7700 XT
We started off our performance benchmarks in the latest blockbuster release, Starfield, where both cards performed as expected. Due to this RPG adventure being quite demanding, we don't expect huge framerates at any settings, but both managed to hold their ground at 1440p. Even though the RTX 4070 provided the slightly higher output in this title, we're handing the win to the 7700 XT, as AMD's card offers very similar performance at a much cheaper price point.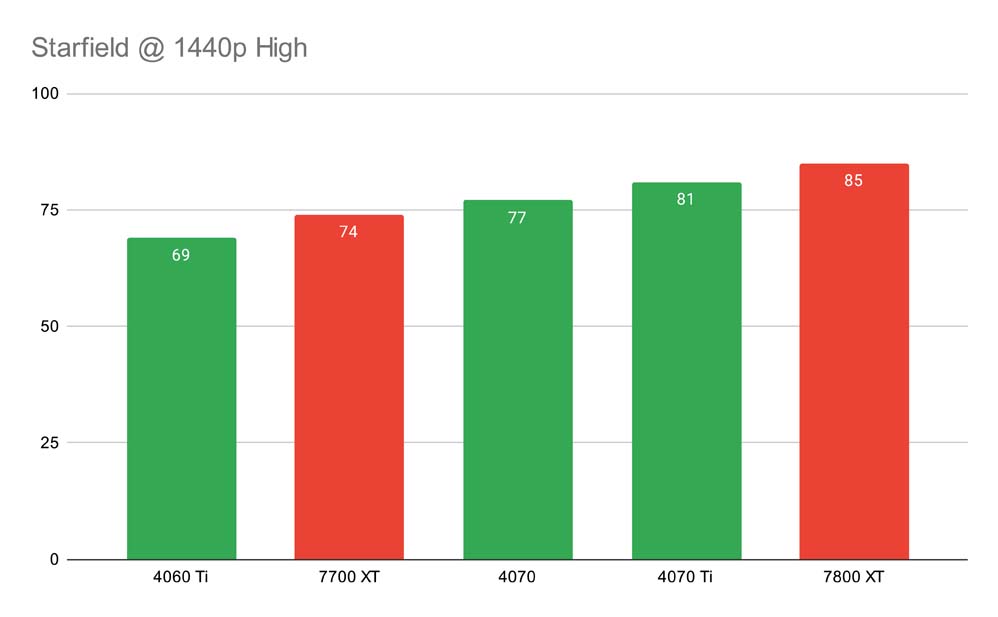 Apex Legends @ 1440p
Winner – RX 7700 XT
Moving onto a more competitive title in Apex Legends, and the story is very similar to Starfield, with very little to separate these GPUs at 1440p high settings. Both cards manage to surpass the 165Hz threshold found on lots of 1440p gaming monitors, allowing users to take full advantage of the output of their display. Again, the average FPS on the 4070 just edged out the 7700 XT, but when you consider the differences in price point, AMD's GPU is the better choice in this instance.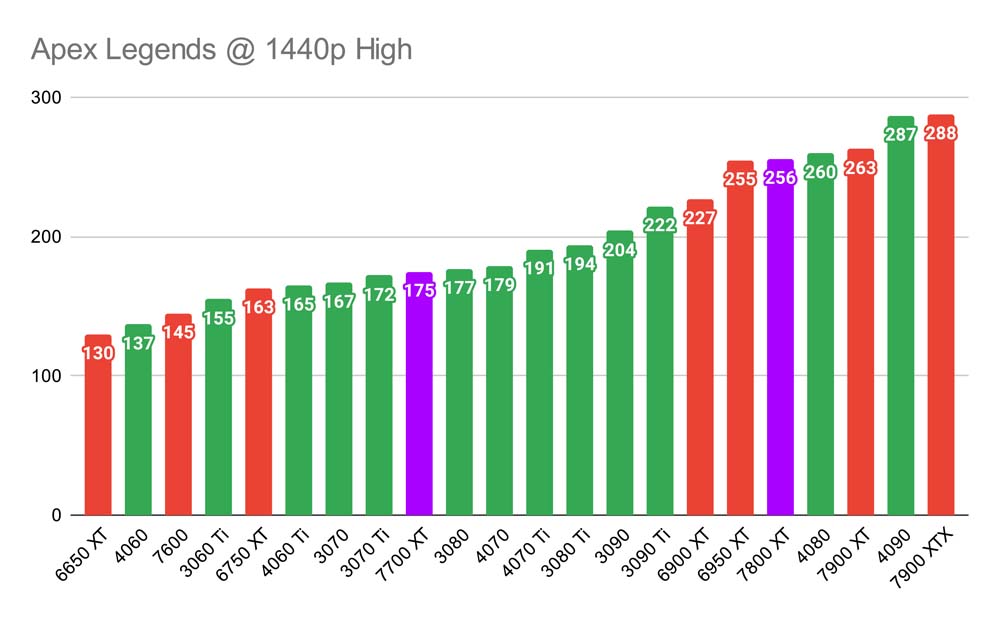 Apex Legends @ 4K
Winner – RTX 4070
When cranking up the resolution to 4K, the RTX 4070 manages to stretch the gap to a considerable margin. With the RX 7700 XT failing to hit the 120FPS mark found on most high-end 4K displays, the 136FPS average is going to a better option for gamers looking to improve their visual fidelity while maintaining the smooth and responsive gameplay that is vital for a competitive title like Apex Legends.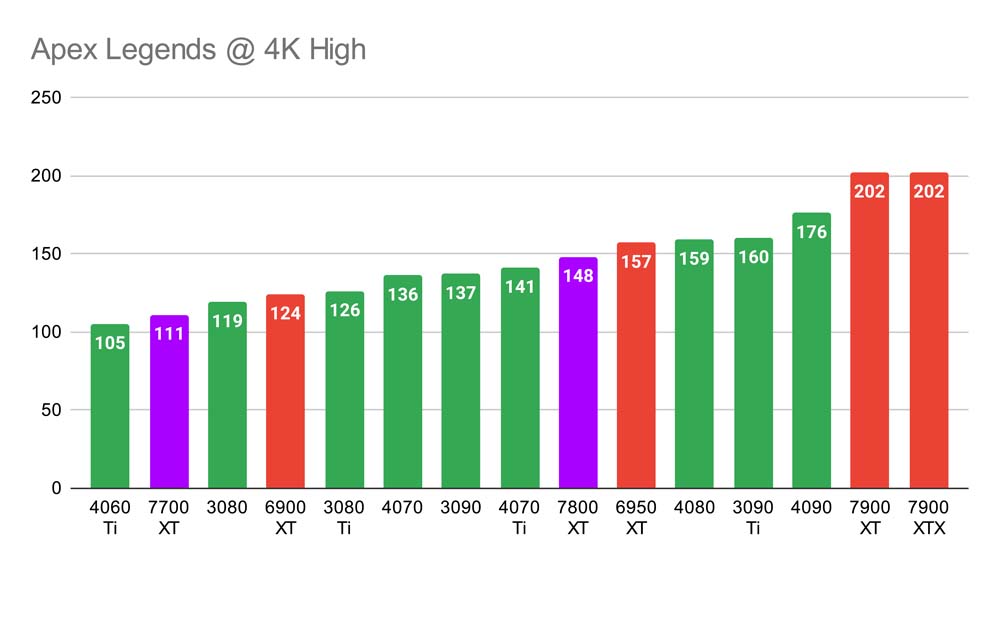 F1 2022 @ 1080p
Winner – RTX 4070
F1 2022 is the first title that we decided to test both these cards at 1080p, providing an indication of how these GPUs handle when focussing on performance. From our results, the 4070 took the chequered flag with a significant 25FPS gap ahead of the 7700 XT. Whilst both cards offered incredibly high framerates that would be reasonable for competitive racing, the 7700 XT couldn't keep up with the RTX 4070. It even fell behind the RX 6750 XT from AMD's older Radeon 6000 series, which isn't an ideal showing for their latest release.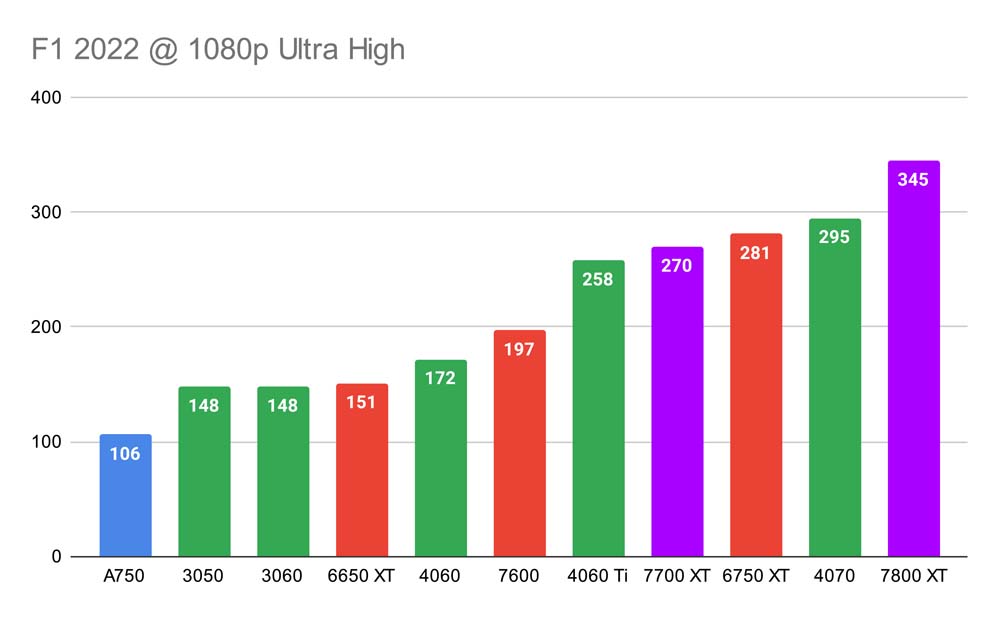 F1 2022 @ 1440p
Winner – RX 7700 XT
When moving up to 1440p Ultra High settings in F1 2022, the RX 7700 XT made a strong recovery, outperforming both the cards that bested it at the lower resolution. Sitting between the RTX 4070 and RTX 4070Ti, the RX 7700 XT is competing with cards well above its paygrade. Because of this, the 7700 XT is slowly proving its value for gamers interested in predominantly gaming at 1440p.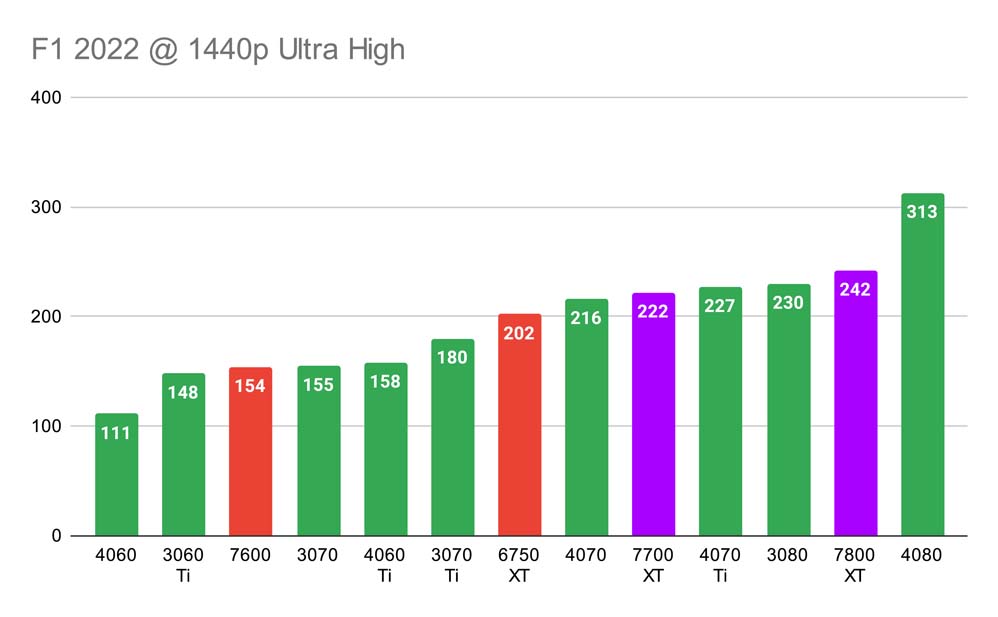 Hogwarts Legacy @ 1080p
Winner – RX 7700 XT
In Hogwarts Legacy, the RTX 4070 had a much weaker showing at 1080p, only managing to match the performance of AMD's budget-oriented RX 7600. Whilst the RX 7700 XT didn't offer drastically better framerates in this title, the gap is comfortable enough to make it the clear winner before having to mention the price differential in this instance.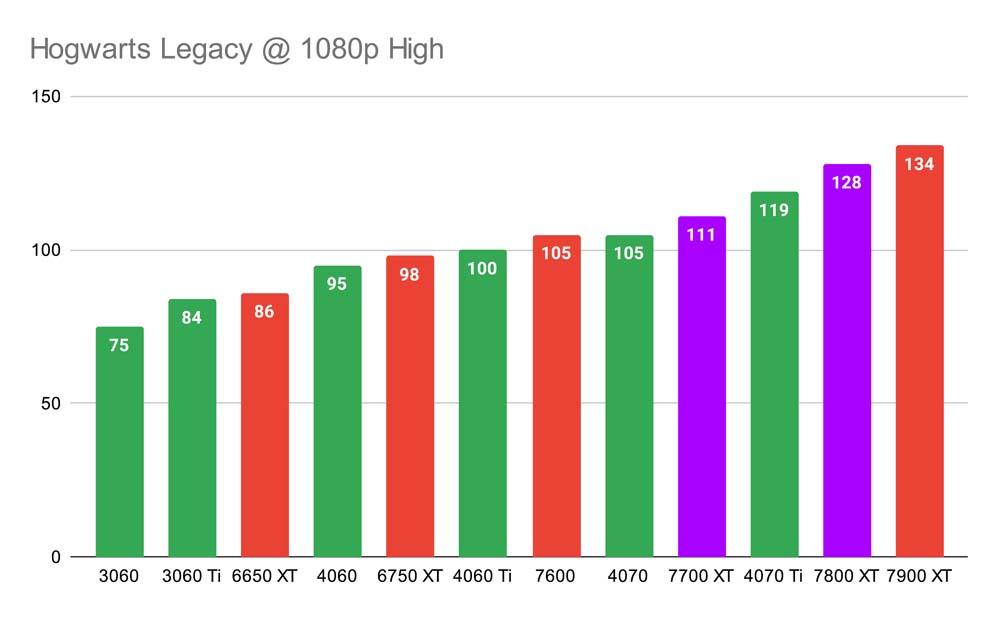 Hogwarts Legacy @ 1440p
Winner – RX 7700 XT
After bumping up the settings to 1440p, the difference in performance between the two cards remained the same, with the 7700 XT taking the clear advantage over the RTX 4070. Reaching 92FPS on average, the 7700 XT provides an ideal blend of performance and visuals when strolling the grounds of Hogwarts.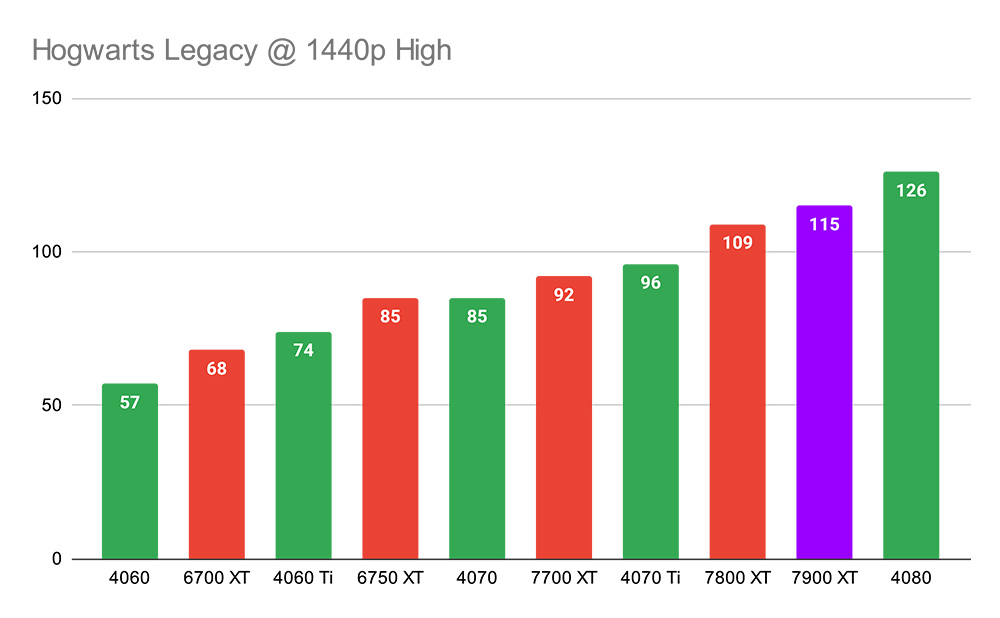 Overwatch 2 @ 1440p
Winner – RX 7700 XT
1440p is where the RX 7700 XT truly excels, and our results in Overwatch 2 may be the best example of that so far. With an average of 270FPS, the 7700 XT manages to outperform the 4070 and 4070Ti by quite some margin. Considering the 7700 XT is significantly lower than both of these cards, it seems like AMD's GPU will be one of the better choice for 1440p gaming.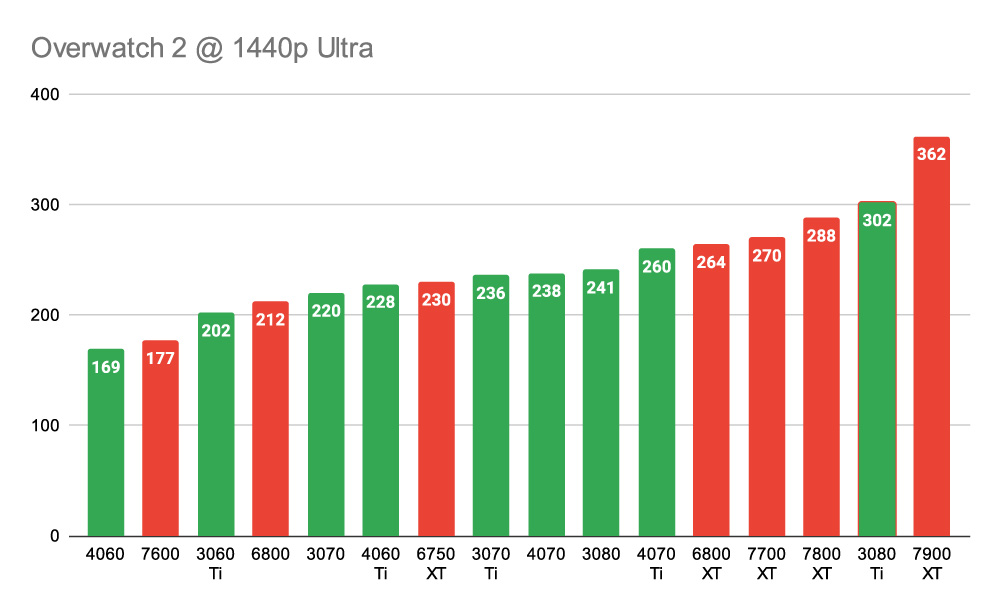 COD MW2 @ 1440p
Winner – RX 7700 XT
In COD Modern Warfare 2 at 1440p, the 7700 XT outperformed the RTX 4070 and 4070Ti once again. Hitting 148FPS on average, the 7700 XT will allow consumers to take full advantage of a 144Hz gaming monitor, something that the 4070 fails to do.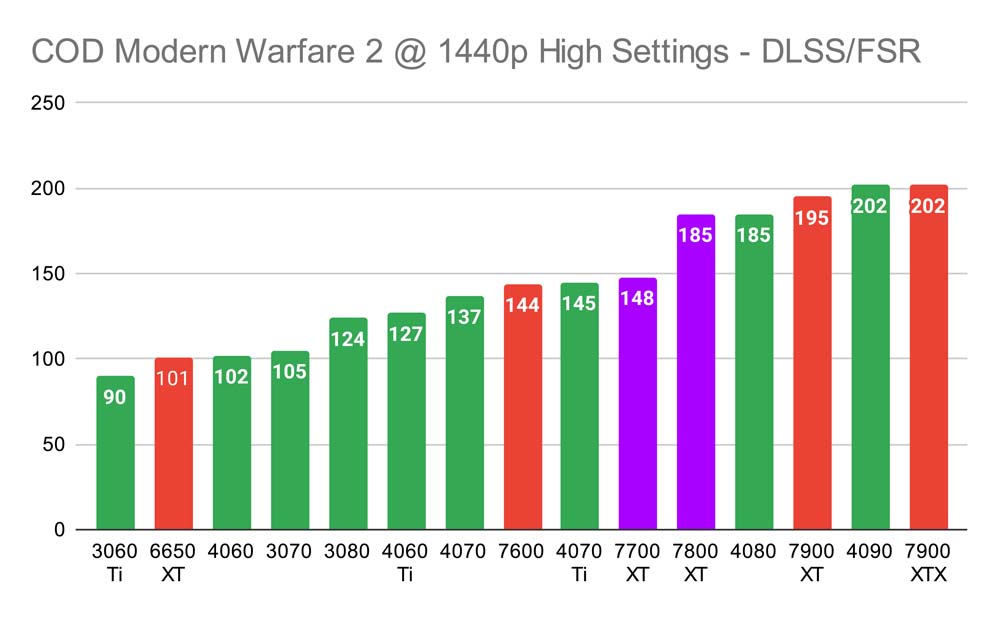 Conclusion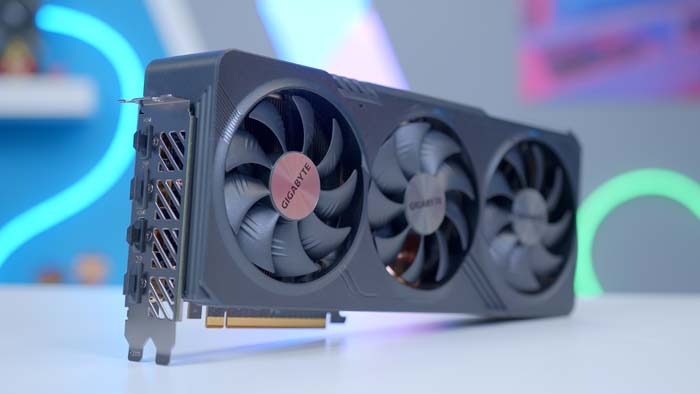 GPU Versus Winner – AMD Radeon RX 7700 XT
After evaluating both graphics card and putting them through a number of gaming benchmarks, the RX 7700 XT is the clear winner. This is mainly due to AMD's offering being available for a much lower price point than Nvidia's RTX 4070. Even though the performance of the two GPUs were very competitive and Nvidia's Ada Lovelace architecture is better than RDNA 3, the lower price of the 7700 XT makes it a better offer for consumers looking to build a mid-range gaming PC.
At 1440p, the RX 7700 XT provided impressive performance in a range of titles, outperforming the RTX 4070 and other pricier options on multiple occasions. Whilst it struggled to maintain this output at other resolutions, it still managed to hold up fairly well against the RTX 4070. As a result, the RX 7700 XT is an ideal choice for consumers looking to play games at predominantly 1440p, but the RTX 4070 may be a better solution for those looking to stretch their system to 4K in select titles.
Buy the AMD Radeon RX 7700 XT on:
Buy the NVIDIA GeForce RTX 4070 on: