Introduction
The Radeon RX 7700 XT and 7800 XT have finally launched. AMD has come back with a vengeance, kicking NVIDIA our of the mid-range market, and stealing it for themselves. Consumers have been waivting for a solid modern mid-range graphics card, and although Radeon 6000 and RTX 3000 GPUs will suffice, many of them can't keep up to the demands of newer titles.
AMD seem to be hitting all of the right areas, with their entire range of Radeon 7000 options dominating all facets of the market, from budget, all the way to high-end cards. But a major question still stands, are their AIB cards worth it? The 7800 XT is an excellent option due to its competitive MSRP price point, so are cards like the Gigabyte Gaming OC variant, worth picking up versus the cheaper, but often less capable MSRP GPUs?
In this review, we'll be taking a look at the Gigabyte Gaming OC model, we'll be delving into the architecture, design and performance metrics to see if this GPU is really worth it.
Buy the Gigabyte Gaming OC Radeon RX 7800 XT on:
Architecture
AMD's Radeon 7000 line-up utilises their latest architecture RDNA3. RDNA2 was pretty impressive, and saw some major refinement with driver updates, making the Radeon 6000 range a compelling option versus many of NVIDIA's RTX 4000 options. But back in November of 2022, AMD released their brand new RDNA3 hardware with two top-end flagship cards, the RX 7900 XTX and XT models. They went on further to produce the RX 7600 which while well priced, wasn't received particularly well in today's market. The 7700 XT and 7800 XT however, look to be better options with a more affordable price point.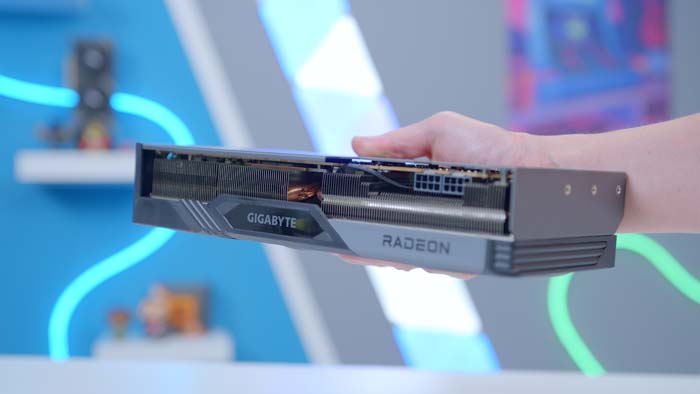 Suggested Article: AMD Radeon RX 7700 XT Review – Sapphire Pulse Edition
Looking at the RDNA3 hardware, AMD have put a huge focus into software and technology improvements, creating a stronger suite of tools for consumers to make use of. Although Radeon 6000 cards did have some decent tech at their side, such as FSR 2, SAM, and RSR, it has always felt behind NVIDIA. DLSS generally offers better performance across the board, with Frame Generation pushing this even further. Tech like Reflex as well provide some nice quality of life improvements too that help with response times and accuracy. So what has RDNA3 brought to the table?
The biggest change to AMD's arsenal of tech is FSR 3.0. This new generational improvement to FSR increases performance by rendering in frames at a slightly lower resolution to the one you're using, and FSR 3.0 looks to offer more performance bonuses when this is turned on. The biggest benefit of FSR 3.0 is that it is open source and not restricted to any particular card, including competitor alternatives. That means, for those of you with an RTX 3000 GPU that are sad they can't use DLSS 3, well just use FSR 3.0 instead.
As an addition to FSR 3.0, AMD have also announced their Frame Generation competitor known as FMF, or Fluid Motion Frames. FMF works slightly differently to Frame Gen by using a tech known as interpolation. Essentially, when this setting is turned on, it uses data from existing frames to insert new ones. Thus increasing your frame count and then improving performance. Although this is a rudimentary explanation of the tech, it is worth noting that FMF does not use AI at all, and solely works using the asynchronous compute power that your GPU has available.
All of the new architectural improvements also come in with some useful quality of life improvements, such as HYPR-RX, which is a way of enabling all of the new tech but with the click of a button. The 7800 XT also comes with a stronger clock speed compared to it's predecessor, the 6800 XT, which will provide some noticeable performance improvements in a variety of applications. Needless to say, the architectural improvements are significant, and AMD have really gone the extra mileage to compete against NVIDIA.
Hardware Specs
Taking a look at the specs and hardware, the 7800 XT looks pretty decent, and slots in quite nicely versus AMD's current-gen cards and the old ones too. 16GB is a healthy amount of VRAM and it sits on a solid memory bus width too, which will provide some longevity in modern triple A games.
Below we've created a table that highlights the major differences in hardware between current and previous generation graphics cards from AMD. We've included the 7700 XT and 7800 XT, alongside the Radeon RX 7600 and 6750 XT.
Spec
RX 6750 XT
RX 7600
RX 7700 XT
RX 7800XT
Video Memory
12GB GDDR6
8GB GDDR6
12GB GDDR6
16GB GDDR6
Memory Bus
192-bit
128-bit
192-bit
192-bit
Game Frequency
2.5GHz
2.25GHz
2.17GHz
2.12GHz
Boost Frequency
2.6GHz
2.6GHz
2.5GHz
2.4GHz
Stream Processors
2560
2048
3456
3840
Power Consumption
250W
(Founders Edition)
165W
(Founders Edition)
245W
(Founders Edition)
263W
(Reference Design)
RDAN architecture
RDNA 2
RDNA 3
RDNA 3
RDNA 3
PCI-E Generation
PCI-E Gen 4
PCI-E Gen 4
PCI-E Gen 4
PCI-E Gen 4
All clock speeds and memory specifications are based off Reference designs or Founders Edition cards where available. Clock speeds for cards like this Gigabyte design are often higher.
Design & Aesthetic
Taking a look at the design and aesthetic of Gigabyte's Gaming OC model, I am a bit disappointed with the design. Admittedly Gigabyte hasn't really altered the actual look of the card versus their other Gaming OC models, but that doesn't particularly excuse it. This is a triple-fan design, coming in at a length of 302mm, which although quite large, is smaller contrasting to other 7800 XT cards we've looked at. The shrouding of the card is a metallic black and grey style, which does look quite boring. Gaming OC cards aren't particularly well known for their aesthetic, so we're not surprised.
This black/grey colouring pops up around the entire card, including the backplate and the top. Gigabyte have however made the 'GIGABYTE' lettering on the top of the GPU fully customisable, allowing you to change the colouring and the actual patterns, which is a nice touch. Much like the PowerColor Red Devil, this GPU also features two 8-Pin PCI-E connectors. You will need a 700W PSU as a minimum for the 7800 XT, but provided you haven't picked up an ATX 3.0 unit, this shouldn't cost you an absolute fortune.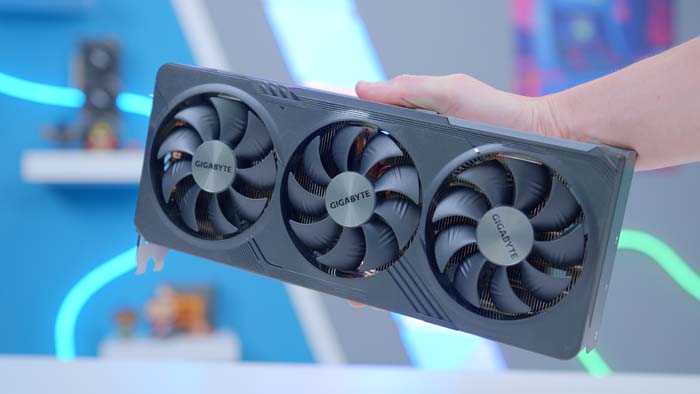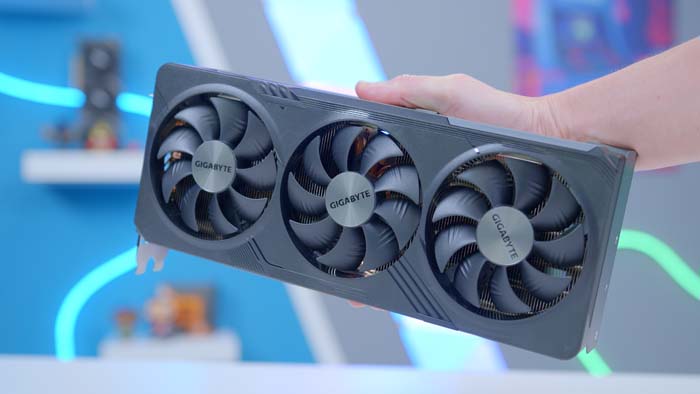 Overall, I do think the Gigabyte Gaming OC model could look nicer. Most AMD cards do have a red theme attached to them, which I feel would look quite nice on a Gigabyte card, providing some much needed contrast. It will be worth looking at your case options in a bit more depth, as this particular card is quite big, but I feel the majority of modern options will provide a suitable amount of space. Gigabyte's Gaming OC versions are also quite thermally capable too, due to their alternating fans, and the fact that there's three of them. Offering a nice performance bonus when it comes to cooling.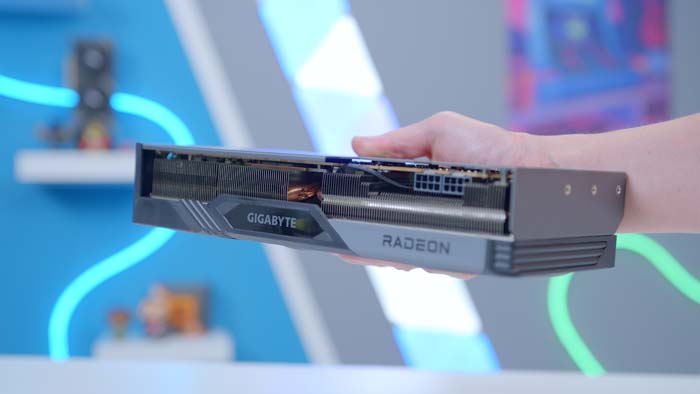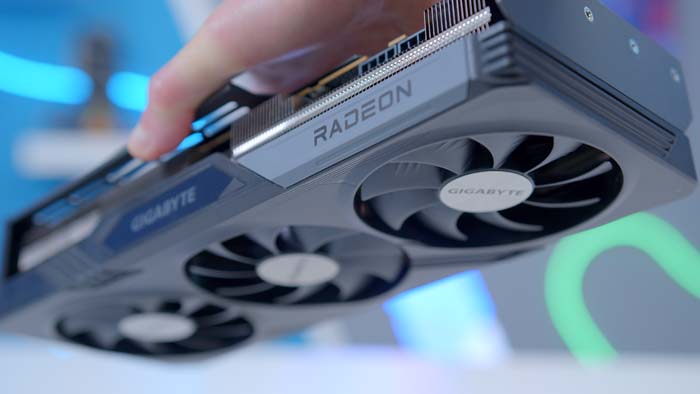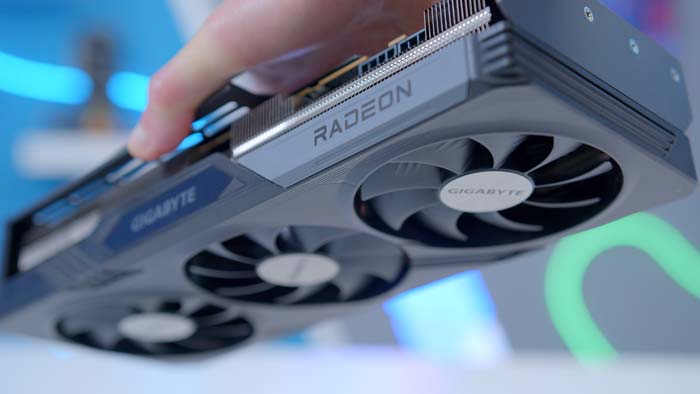 Performance
Now we'll be delving into the most important section of this article – gaming performance. AMD's refresh of the RDNA3 hardware and architecture has kept these cards relevant as they compete directly with NVIDIA's RTX 4000 range, undercutting them when it comes to pricing. HYPR-RX and Fluid Motion Frames offer performance bonuses where available, and once the new tech starts to properly circulate and become implemented within new games, consumers will start seeing some solid returns from their new cards.
When it comes to gaming performance, the proof is in the pudding. Below you'll find a number of graphs from our full benchmarking suite. All of the data has been compiled from full gaming runs, testing the new cards, and a number of old generation options, alongside NVIDIA's RTX 4000 range. Needless to say, we've got you covered when it comes to GPU options.
Is it worth briefly noting that for the 7800 XT specifically, all of our benchmarks are set at 1440p and 4K when it comes to resolution. We've only done this for the 7800 XT models are this card is geared more towards these higher resolutions. For 1080p benchmarks, we'd recommend looking at our 7700 XT reviews and buyers guides, or other GPUs such as the 6750 XT and 7600.
Starfield
For our first benchmark we tested Starfield at 1440p high settings. Admittedly performance here does look slightly disappointing. As you'll see from our other benchmarks, performance from the 7800 XT generally sits above the 100FPS mark, with some triple A titles hindering this. In Starfield however, we generally saw on average that all of the latest cards didn't particularly cope in this game, with the 7800 XT offering the best performance versus other options. An 85FPS average is a reasonable performance metric, but we've definitely hoped for some stronger numbers in this game.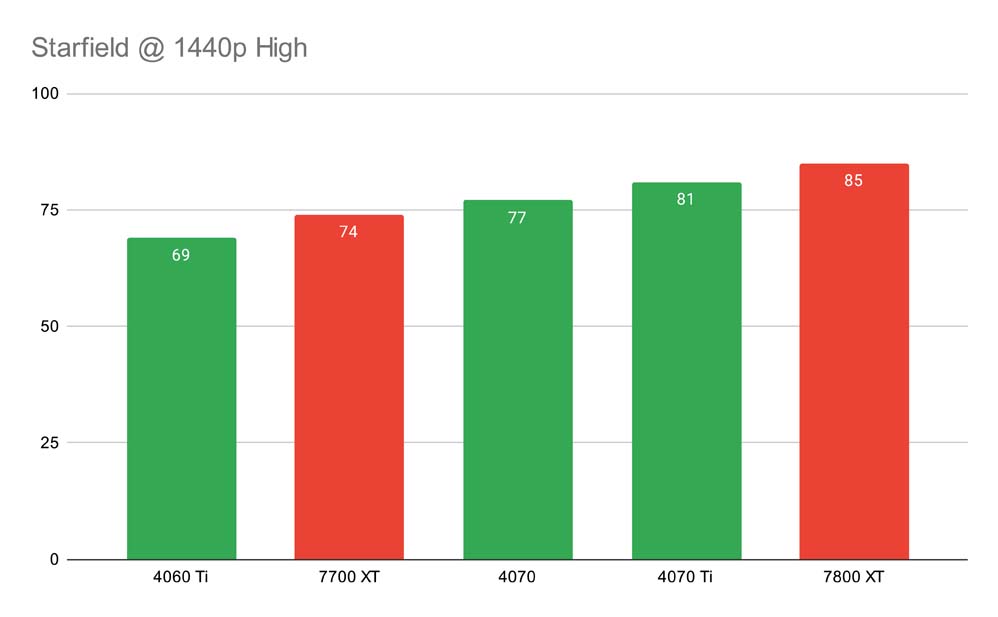 Call of Duty: Warzone 2
Next up is Warzone 2. In this title we turned on FSR and DLSS to see if upscaling technology could provide some stronger performance bonuses. Fortunately, the 7800 XT was one of the strongest cards that we've tested offering up an average that sat around the 185FPS mark. This allows consumers to enjoy that 144Hz refresh rate, providing a buttery smooth display experience.
Versus the competition, the 7800 XT sat on par with the RTX 4080, which was extremely impressive. FSR is propping up some of the performance here, but this goes to show how capable the 7800 XT is, and how far FSR has caught up with NVIDIA's DLSS.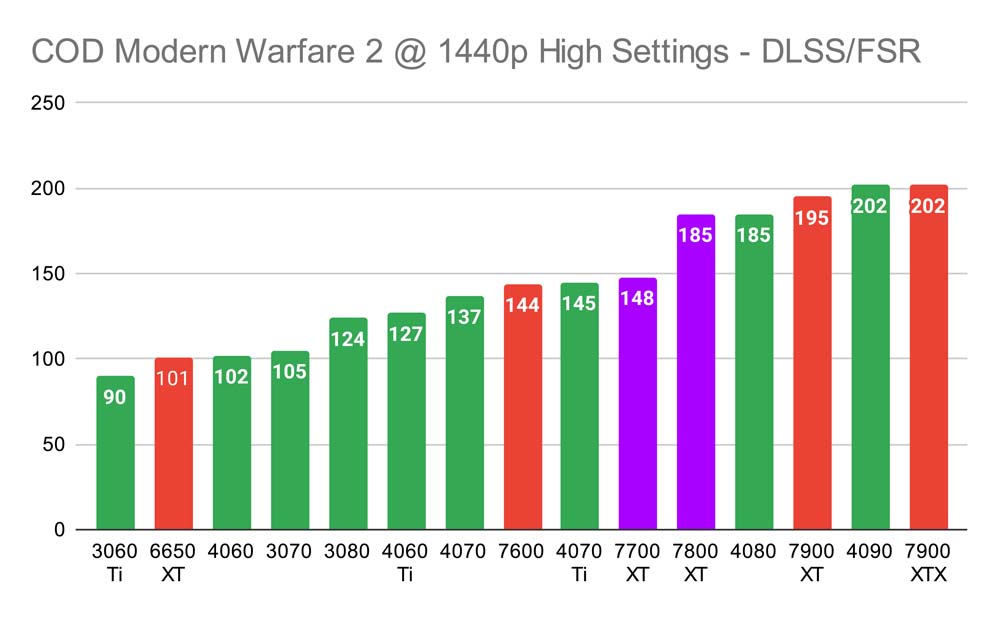 Apex Legends
Taking a look at Apex Legends at 1440p high settings. In this benchmark, the 7800 XT offered up an average framerate of 256FPS, which we were pretty happy with. Much like in Warzone 2, consumers can enjoy a super smooth refresh rate, especially if you've got a monitor that sits above 200Hz. Ultimately, most consumers aren't going to need a framerate that sits this high, but it does provide some redundancy, especially in areas of high intensity that cause your frames to drop a little bit more.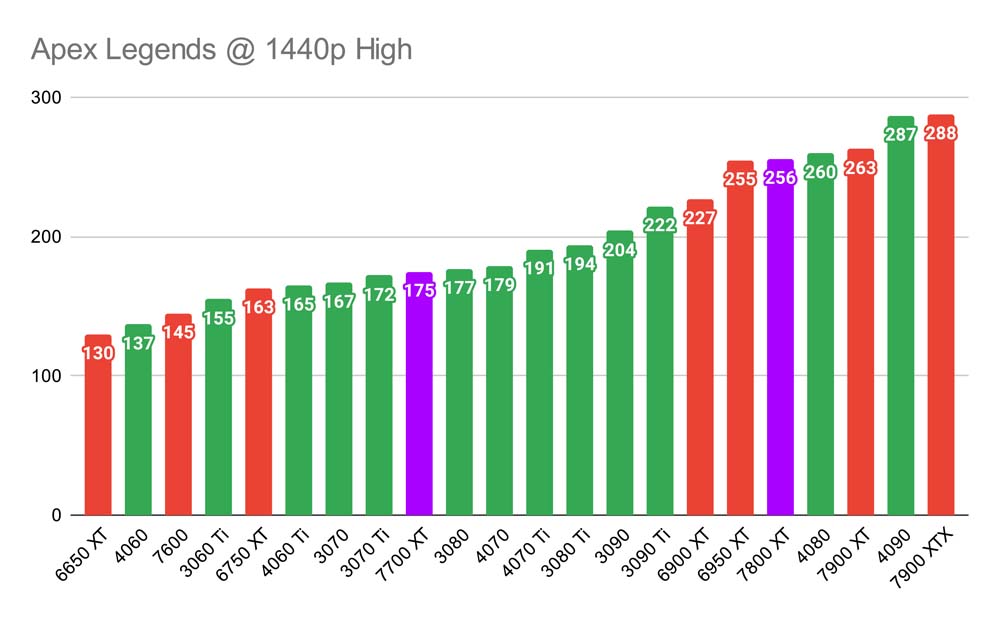 At 4K we did see framerates drop to a degree, but not to an unreasonable level. The 7800 XT saw an average of 148FPS, which still sits above that 144Hz sweet spot that we love to see. A 4K resolution does impose a fair amount of stress on your chosen graphics card, so it was great to see that the 7800 XT was still able to cope, despite being more geared towards 1440p. Apex Legends is generally a pretty well optimised title as well, so this demonstrates how well the new cards can operate if the game offers stable performance on the whole.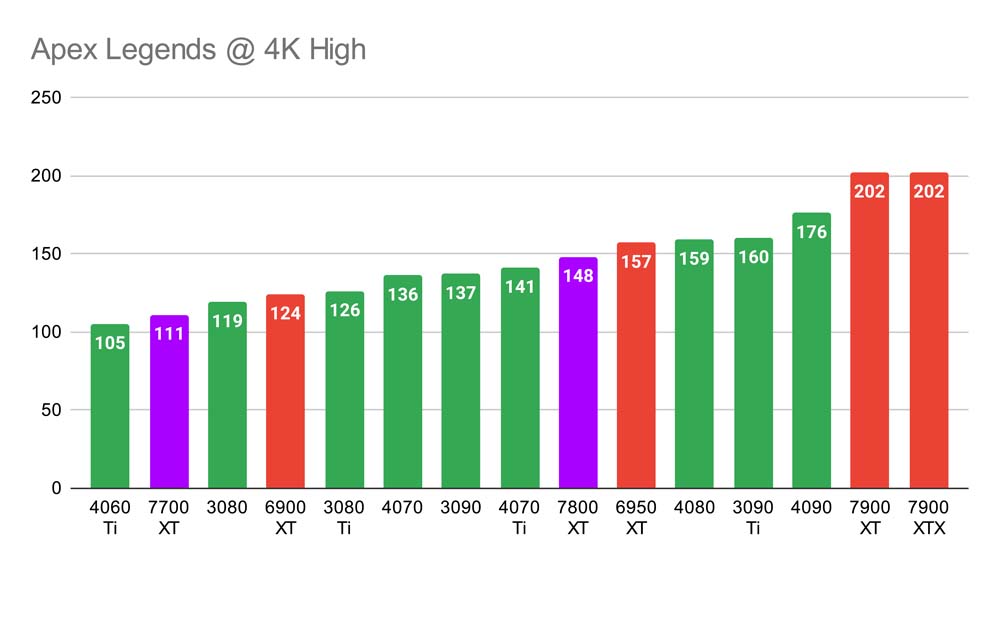 Hogwarts Legacy
In Hogwarts Legacy, the decent performance did carry through at 1440p, with the 7800 XT offering up around 109FPS on average. We're obviously seeing diminished performance here, but this is likely down to the fact that this is a triple A title. Starfield saw similar struggles, but in this title we were able to reach somewhat higher framerates. Ultimately we have missed out on that 144Hz sweet spot, but because Hogwarts Legacy isn't that intense of a title when it comes to gameplay, I don't think this will be that much of a problem for consumers.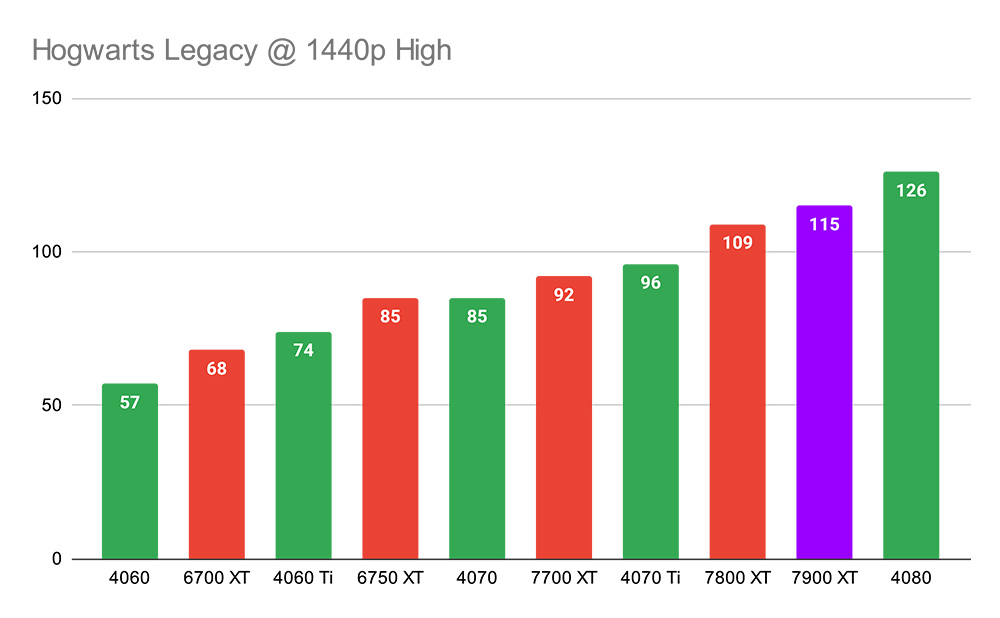 Fortnite
Although we said we'd be avoiding 1080p benchmarks, we always test Fortnite at 1080p competitive settings to see how high framerates can fly. The 7800 XT offered up around 302FPS on average, which is more than enough for the vast majority of users. Consumers can enjoy a blazing-fast refresh rate with this card, which is ideal for those playing competitively. Overall we were happy with the performance in this game, but it is worth noting that the 7800 XT is likely to be quite overkill for 1080p gaming, even in modern titles.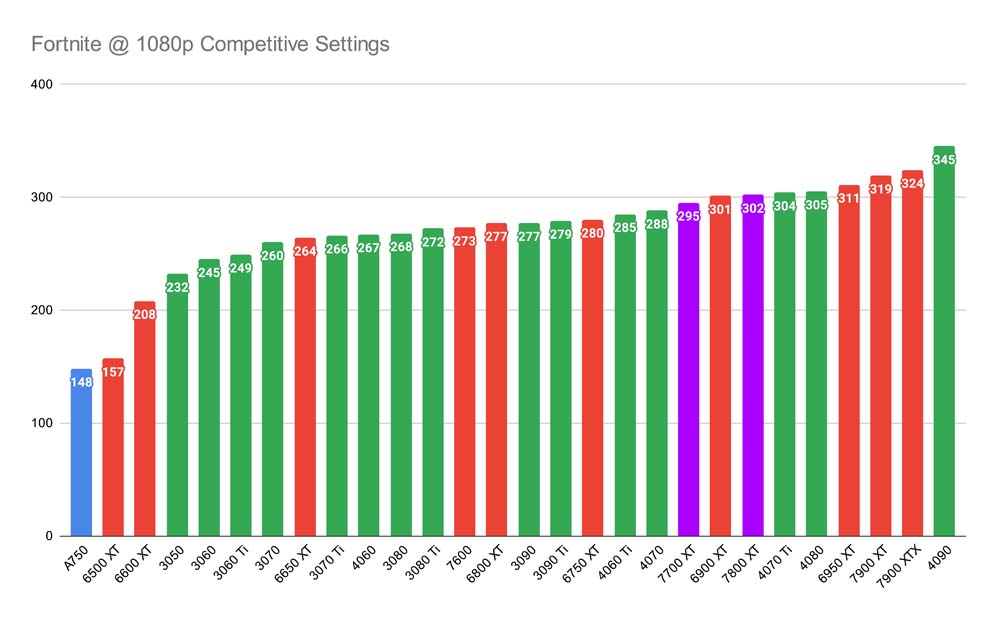 Overwatch 2
For our final benchmark, we ran Overwatch 2 at 1440p ultra settings. In this benchmark we saw an average framerate of 288FPS, which is insanely high considering this is at 1440p. You can easily enjoy a high refresh rate in this game, which is perfect because Overwatch 2 is an Esports title that requires you to respond to the action instantaneously.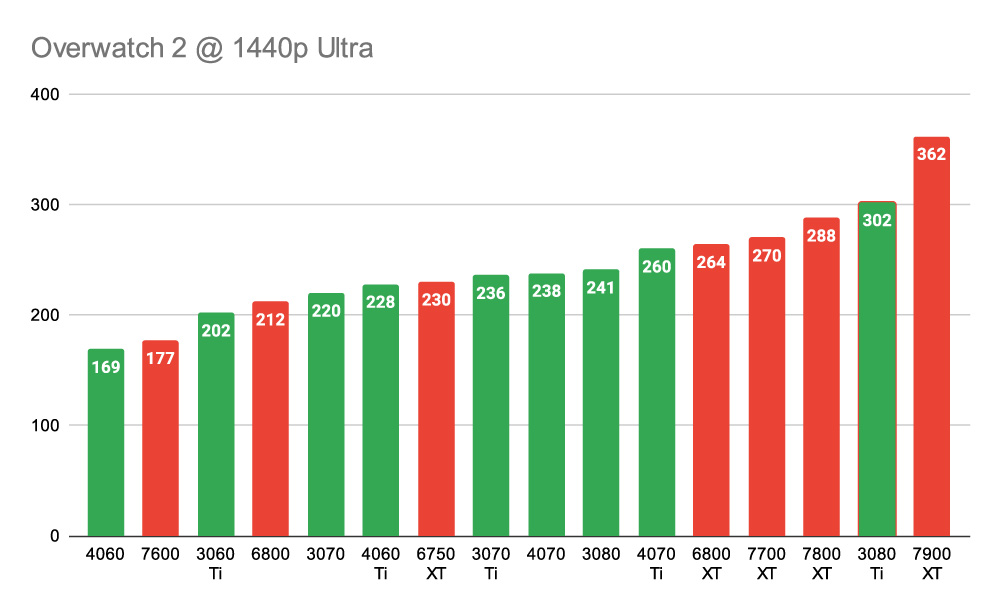 Conclusion
Gigabyte Gaming OC Radeon RX 7800 XT
Product Name: AMD Radeon RX 7800 Xt
Brand: Gigabyte
Features

Design

Performance

Value For Money
Summary
Gigabyte's Gaming OC Radeon RX 7800 XT is one of the best AIB models that we've seen on the 7800 product range. This card offers a triple-fan design that should assist with cooling, ensuring your GPU doesn't thermal throttle when under load. Consumers can leverage strong 1440p and 4K gaming performance at reasonably high framerates, which may be slightly improved with the factory overclocked boost speed. Although this card is a bit plain and boring when it comes to the design, this is likely down to the fact that this GPU sits at MSRP. It is one of the few AIB options to sit at MSRP, that offers an overclock alongside a triple-fan shroud. We imagine many consumers will be chomping at the bit to pick up a 7800 XT, and this is the card that we'd recommend purchasing if you've got a case big enough that can house it!
Pros
✅ Comes in at MSRP.
✅ Solid 1440p and 4K gaming performance.
✅ RGB is fully customisable.
Cons
❌ Size may cause clearance problems.
❌ Aesthetic is quite boring and plain.
❌ RGB only on the top of the card.