All prices subject to change, and correct at time of publication. When you shop through links on this site, we may earn a commission.
Just one week after its release, the first bundles for the Radeon RX 7700 XT have appeared on Newegg as part of their Video Games Week deals. Both the 7700 XT and 7800 XT have already been praised for their value, but being packaged with one of the biggest games of the year makes the 7700 XT an even better option for consumers.
Plenty of variants of AMD's brand-new graphics cards are available with some additional bonuses, but the bundle for the ASRock Challenger stands out as the clear value for money option. Right now, consumers can pick up any RX 7700 XT GPU and get the premium edition of Bethesda Game Studios' latest RPG adventure, Starfield, on the house. However, anyone that picks up the ASRock Challenger RX 7700 XT will also receive a $25 Starbucks gift card, which can be used to fuel those late night gaming adventures through space!
As a title that released on the same day as these graphics card, this bundle makes a lot of sense, giving AMD users the latest hardware and games for their mid-range gaming PC. We've actually benchmarked starfield on the RX 7700 XT and it offered some good results at 1440p. Hitting an average framerate of 74FPS with high settings enabled, the RX 7700 XT offers respectable performance in this demanding title, providing games with much smoother gameplay than the 30FPS limit available on Xbox consoles.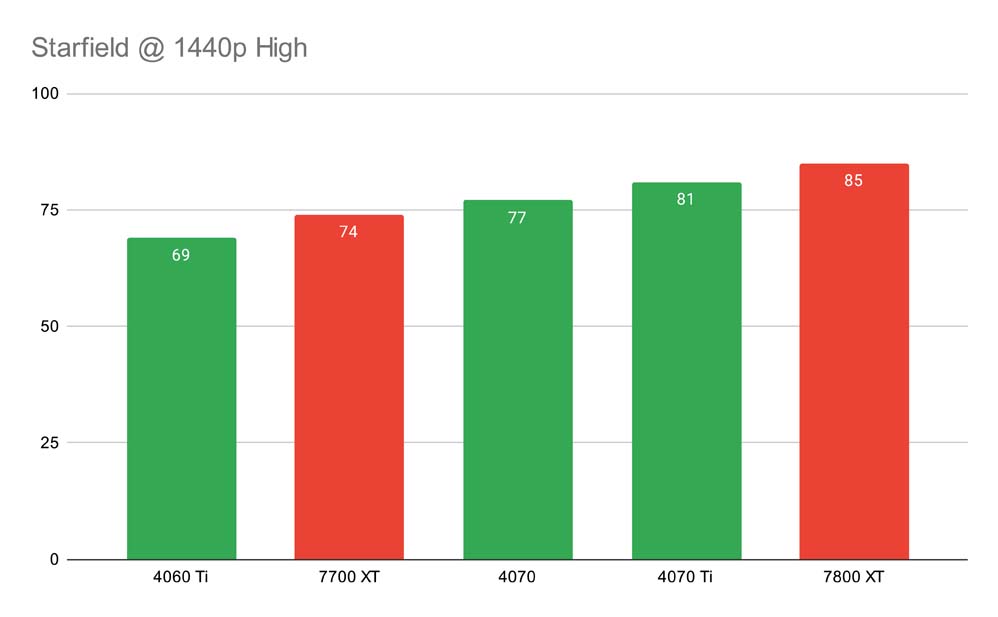 During the rest of our gaming benchmarks, the 7700 XT has also performed well at 1440p, managing to outperform Nvidia's more expensive offerings on multiple occasions. Because of this, our verdict is that AMD's RX 7700 XT is good value for money compared to the rest of the market, but the small price gap between this card and the 7800 XT does dampen its value for consumers. However, with bundles like this one, the RX 7700 XT becomes a more tantalising pickup.
If you're looking for an upgrade to your mid-range gaming PC, then be sure to check out this AMD Radeon RX 7700 XT bundle: