Introduction
NVIDIA's brand new card is finally here, yet again beating AMD to the punch with a GPU launch. Today we see the RTX 4060 Ti get released into the wild, and we're excited to see what everyone thinks. So far we've been pretty impressed with this card, the 4060 Ti looks to perform similarly to an RTX 3070 Ti/ RTX 3080, but at a fraction of the price.
NVIDIA's RTX 4000 range of cards have been pretty disappointing thus far, with the only card selling out being the RTX 4090. But it seems NVIDIA are genuinely making an effort to bring cards to market that aren't insanely priced, and hopefully consumers start to see this too with the much cheaper price tag that the RTX 4060 Ti has attached to it.
Now is a perfect time to build a PC and pick up a new graphics card. However which CPUs are the best option to pair up with NVIDIA's new graphics card? Is it worth picking up a budget option to save the most amount of money in hopes that performance will still be good? Or is one of AMD's 3D SKUs a better bet to get the most amount of frames possible? We'll be answering all of these questions in a traditional GeekaWhat roundup of the best CPUs to pair up with the RTX 4060 Ti.
Suggested Article: Best Cases to Buy for the RTX 4060 Ti 8GB
Our Recommendations
1. Intel Core i5 13400F
👑 The best budget CPU for the RTX 4060 Ti.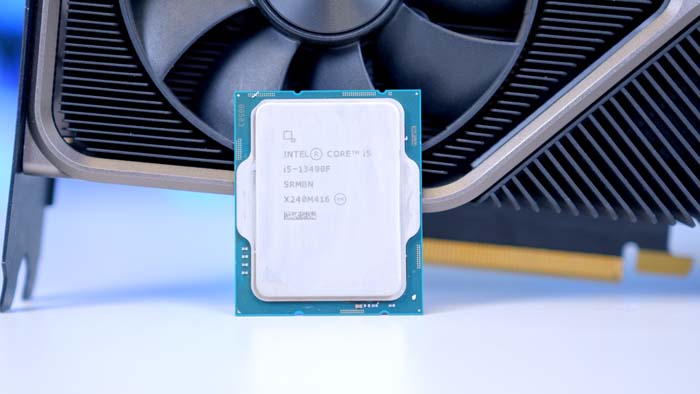 Introduction
Our first recommendation in this roundup is Intel's Core i5 13400F, a budget underdog from the 13th-Gen range. We've recommended this CPU a plethora of times in a number of other buyers guides and written a full review. Initially I was sceptical of the 13400F, but over time it has proven that it is a solid option in the budget/mid-range gaming space.
Specs wise, the 13400F is equipped with 10 cores and 16 threads, which is decent considering how cheap this CPU is. Clock speed sits around 4.6GHz while boosting which is also pretty great too. Although the 13400F won't exactly be a great option for a workstation system the lower price point makes this CPU ideal for a mid-range PC build, which is where I imagine the vast majority of consumers will be leaning towards.
Key Specs
| Key Specs | Intel Core i5 13400F |
| --- | --- |
| Total Cores | 10 |
| Total Threads | 16 |
| Max Boost Clock Speed | 4.6GHz |
| Cache | 29.5MB |
| Max Turbo Power | 148W |
| Socket | LGA1700 |
Things We Like
Solid 1080p/1440p performance: Intel's Core i5 13400F offers great 1080p and 1440p performance. When paired up with the right graphics card, this CPU is a solid option for those wanting to play their favourite titles at high refresh rates with minimal frame drops
Very competitive pricing: The 13400F comes in just below the $200 mark, making it one of the cheapest options on the market. If you're on a more restrictive budget, and looking for a solid mid-range option, the 13400F is a great choice.
Things We Don't Like
Not great for workstation applications: Although I feel the vast majority of consumers won't be worrying about productivity applications as much with the RTX 4060 Ti, it is worth mentioning that you'll want to pick up a better CPU if you plan on pushing more intense all-core workloads.
May need an upgrade over time: Games are becoming much more intense to run over time with modern GPUs and CPUs not being able to cope. You may need to pick up a better option a few years down the line to ensure you can achieve solid framerates in your favourite titles.
Summary
Intel's Core i5 13400F is an awesome budget or mid-range option for those making a concerted effort to reduce their overall cost. Although this CPU won't be great as a workhorse option for productivity systems, this processor is a great option for consumers to play their favourite games at 1080p and 1440p with no issues.
Features: 4/5
Thermals: 4.1/5
Performance: 4/5
Value for Money: 4.2/5
Pros
Awesome 1080p and 1440p gaming performance.
Excellent price point.
Perfect for those on a restrictive budget.
Cons
Won't be great as a productivity CPU.
May necessitate an upgrade sooner rather than later.
Where to Buy
Buy the Intel Core i5 13400F on:
2. AMD Ryzen 5 7600X
👑 The best budget AMD CPU for the 4060 Ti.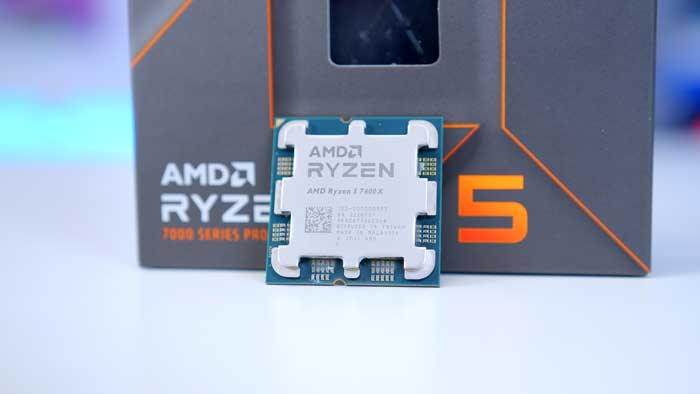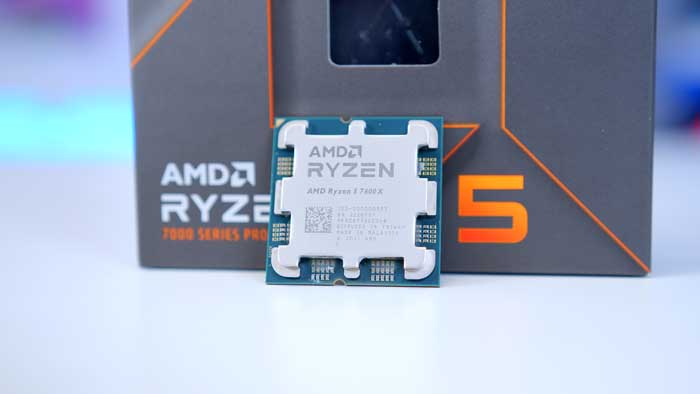 Introduction
Next up is AMD's Ryzen 5 7600X, the budget SKU from the Ryzen 7000 line-up. Admittedly, the initial Ryzen 7000 launch had a lukewarm reception, with performance not quite holding up to some of Intel's 12th-Gen SKUs, and then it was blown out of the water by the following Raptor Lake architecture that we all know as 13th-Gen. However, I've since come around to the idea of an AMD Ryzen 7000 build due to the solid single core performance metrics, and future upgradeability factor that is available with this non-deprecated platform.
With the falling cost of DDR5 RAM and the new AM5 motherboards, this CPU is becoming a solid value proposition in the PC gaming space. The 7600X itself comes in around the $250 mark from various vendors, which is pretty competitive versus Intel's Core i5 13400F. Performance wise, the 7600X has very strong single core metrics, which makes it perfect for gaming, and an excellent boost clock speed, surpassing the 5GHz mark with no issues.
Key Specs
| Key Specs | AMD Ryzen 5 7600X |
| --- | --- |
| Total Cores | 6 |
| Total Threads | 12 |
| Max Boost Clock Speed | 5.3GHz |
| Cache | 38MB |
| Default TDP | 105W |
| Socket | AM5 |
Things We Like
Awesome single core metrics: The Ryzen 5 7600X offers excellent single core performance both in productivity benchmarks and games. The high boost clock speed makes this CPU perfect for 1080p and 1440p gaming with somewhat decent legs in 4K too.
Offers upgradeability options: Although we've only seen one generation of Ryzen CPUs on the AM5 platform, AMD tends to support their CPUs for a few years, which means consumers should be able to easily upgrade to future releases with the same motherboard.
Things We Don't Like
Build cost can be expensive: Although motherboard and RAM prices have fallen, overall build cost can be rather expensive. A Ryzen 7000 is likely to cost you more contrasting to an Intel build, which isn't ideal if you're on a budget.
Runs quite hot: On an all-core workload, the 7600X runs very hot. If you plan on pushing this CPU with some productivity applications, ensure you pick up a solid cooler to keep thermals at a reasonable level.
Summary
AMD's Ryzen 5 7600X is a solid entry point for consumers looking to build a 1080p/1440p gaming PC. This CPU offers plenty of longevity into the future, a vast set of new features, and well-rounded performance. It is pricier contrasting to other options, but is well worth the price if you value ease of use when it comes to upgrading.
Features: 4.3/5
Design: 3.9/5
Performance: 4/5
Value for Money: 4/5
Pros
Great 1080p and 1440p gaming performance.
Excellent single core metrics.
Will be easy to upgrade to future generations.
Cons
Build cost is quite expensive.
Runs very hot.
Where to Buy
Buy the AMD Ryzen 5 7600X on:
[adrotate banner="8″]
3. Intel Core i5 13600K
👑 The best value CPU for the RTX 4060 Ti.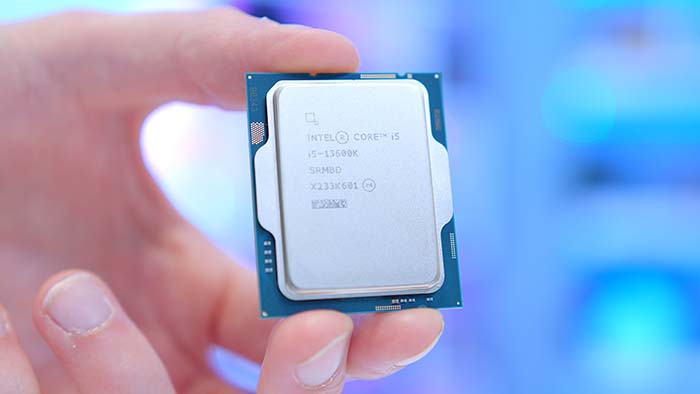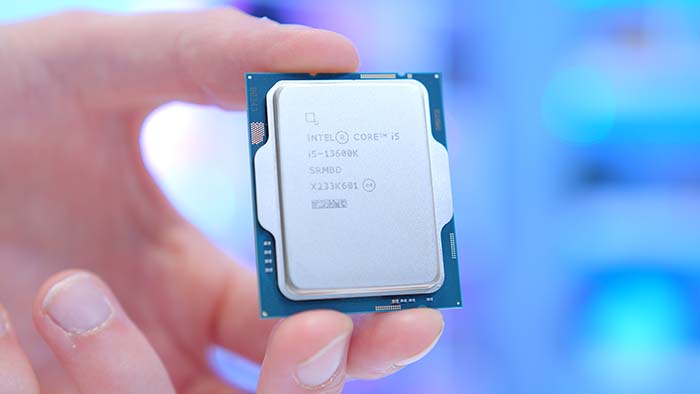 Introduction
For our third selection, we've picked out the tried and true Core i5 13600K, which is one of our favourite CPUs that launched within the 13th-Gen range. The 13600K is currently one of the best value options on the market which is why we've recommended it with a number of GPU pairings in various other buyers guides. This CPU is an absolute beast of performance offering similar metrics to the Core i9 12900K both in single core and multi core benchmarks, making it perfect for high intensity gaming, or workstation applications.
We've found that the Core i5 13600K, covers the entire resolution spectrum, from 1080p, all the way up to 4K. Although we don't imagine you'll be playing games at 4K with the 4060 Ti, this opens up some options if you decide to upgrade in the future. The biggest win for Intel with the 13600K is the exceptional price point, this CPU can be picked up for less than $300, which is a very tantalising offer, considering how powerful this processor is compared to the rest of the market.
Key Specs
| Key Specs | Intel Core i5 13600K |
| --- | --- |
| Total Cores | 14 |
| Total Threads | 20 |
| Max Boost Clock Speed | 5.1GHz |
| Cache | 44MB |
| Max Turbo Power | 181W |
| Socket | LGA1700 |
Things We Like
Excellent high-end performance: The Core i5 13600K is one of the best CPUs on the market right now when it comes to gaming and workstations. If you're looking for a multifaceted CPU, the 13600K is a great option.
Competitive pricing: The 13600K is also one of the best priced options on the market, sitting just below the $300 mark. Prices are likely to get even better over time as more CPUs release in the future.
Things We Don't Like
Platform will be deprecated: The biggest caveat to picking up a 13th-Gen CPU is that this platform is likely to be deprecated within the next year or so. This means upgrading will require you to purchase a new motherboard and RAM, which can be quite pricey.
Overkill for 1080p: If you're the kind of consumer looking to find the best components for the least amount of money, the 13600K might not be the best options. Whilst this CPU is an excellent processor for more intense workloads, it will be slightly overkill for a more budget-oriented 1080p gaming system.
Summary
Intel's Core i5 13600K is still one of the best options on the market for those looking to build an insanely powerful mid-range system. It comes in at a very competitive price, offers great performance, and has reasonable thermals. Whilst this CPU is probably overkill for the 4060 Ti, it is worth a consideration for those that want the best performance money can buy.
Features: 4.2/5
Thermals: 3.9/5
Performance: 4.5/5
Value for Money: 4.5/5
Pros
Can handle 1080p all the way up to 4K.
Solid workstation performance.
Competitively priced.
Cons
Likely overkill for 1080p.
Platform will be deprecated in the next year or so.
Where to Buy
Buy the Intel Core i5 13600K on:
4. AMD Ryzen 7 7700X
👑 The best mid-range AMD CPU for the 4060 Ti.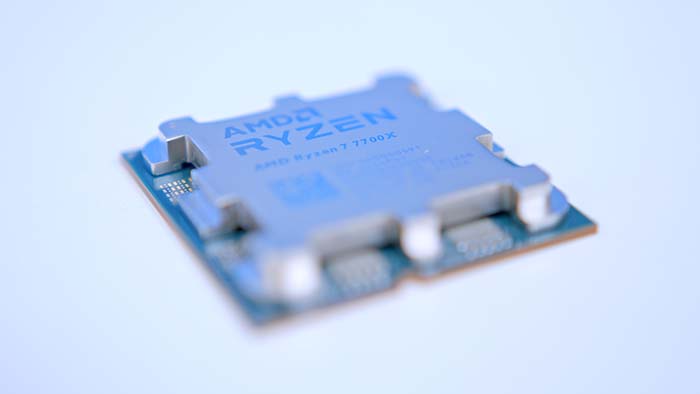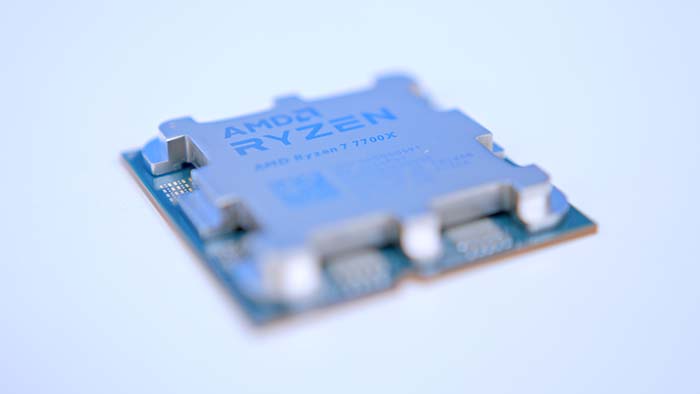 Introduction
For our fourth and final CPU recommendation, we've picked out AMD's Ryzen 7 7700X. This processor offers some spec and performance improvements versus the 7600X, making it a worthwhile consideration if you're looking for more frames in your favourite games. Much like the 7600X, this mid-range SKU didn't get the best reception initially, but I'd say many consumers have since warmed to the idea of a Ryzen 7000 build in light of the recent pricing improvements to the vital components needed (motherboards and DDR5 memory). Whilst these components aren't cheap by any means, they're at a much better price than they were during the initial launch which is great to see.
Performance wise, the 7700X offers single core metrics that align quite closely with Intel's Core i9 12900K, which means this CPU will be a great option in modern games. Multicore benchmarks are pretty strong too, but this CPU is generally weaker when compared to much of the other options on the market. Pricing wise, the 7700X sits in a similar bracket to the 13600K, teetering around the $300 mark at the maximum.
Key Specs
| Key Specs | AMD Ryzen 7 7700X |
| --- | --- |
| Total Cores | 8 |
| Total Threads | 16 |
| Max Boost Clock Speed | 5.4GHz |
| Cache | 40MB |
| Default TDP | 105W |
| Socket | AM5 |
Things We Like
Excellent 1440p performance: The Ryzen 7 7700X is geared towards consumers putting together a powerful mid-range system. This CPU can handle 1440p and 1080p without any issues, allowing users to enjoy high refresh rates.
Upgrading longevity: The biggest benefit of picking up a Ryzen 7000 CPU is that they're likely to be supported for quite a few years to come. This allows consumers to easily upgrade to new CPU iterations when they release without having to change your motherboard.
Things We Don't Like
Runs very hot: Much like the 7600X, this CPU also has a tendency to run quite hot. If you plan on pushing your PC with some all-core workloads, you'll need to pair it up with a cooler than can keep your thermals nice and low.
Build cost is pricey: Motherboards and RAM have dropped in price this is true, but they're still expensive regardless. This means that your build cost can rack up quite significantly, especially if you're looking for fancier features too.
Summary
AMD's Ryzen 7700X is an awesome mid-range CPU that comes in at a pretty competitive price point. Much like the other processors in this round, we wouldn't necessarily recommend you utilise it for workstation applications, but 1440p gaming and below will run exceptionally well. You've also got the added benefit of an easily upgradeable platform that isn't likely to be deprecated anytime soon.
Features: 4.3/5
Thermals: 3.8/5
Performance: 4/5
Value for Money: 4/5
Pros
Easily upgradeable to future CPU generations.
Pretty competitively priced.
Perfect for 1440p gaming.
Cons
Runs quite hot.
Build cost price can rack up quickly.
Where to Buy
Buy the AMD Ryzen 7 7700X on:
[adrotate banner="9″]
Is the RTX 4060 Ti Any Good?
So far we're pretty happy with the performance of the 4060 Ti. This card definitely seems to be geared towards the 1080p market, with decent legs in 1440p. We tested the 4060 Ti in a number of benchmarks at launch, and this GPU held up pretty strong in a plethora of modern titles across the board, including some popular eSports titles too.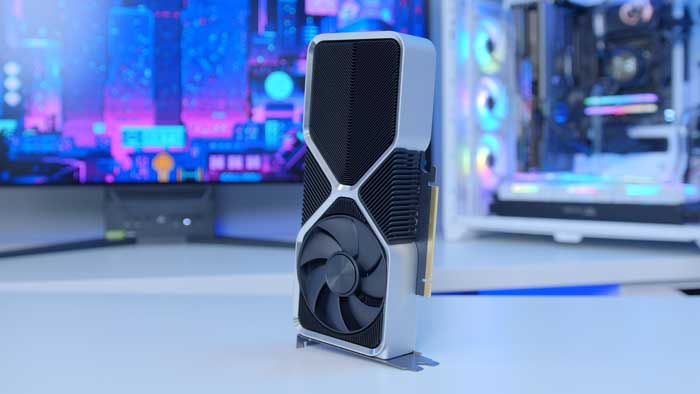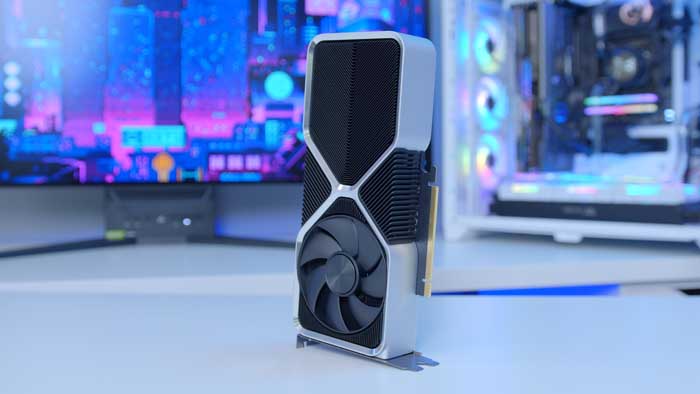 Whilst this graphics card can handle 1440p, consumers will need to expect some frame drops at this resolution, due to the lack of VRAM and weaker hardware contrasting to other RTX 4000 SKUs. Whilst this is somewhat saddening to see, we weren't expecting this card to be able to push high framerates and refresh rates at 1440p, so this isn't so as much of a deal-breaker. Overall performance is very strong in modern titles, 8GB of VRAM could be limiting later down the line, but for the time being at 1080p, this will be fine.
If we start to look at pricing, this is where things become more complicated. Based on performance alone the 4060 Ti is pretty solid, but the $400 price tag is a little bit difficult to swallow. We were hoping this card would sit closer to the $300 mark, especially as it is geared towards the budget or lower mid-range side of the market, so $400 is a bit of a kick in the teeth. This is still better than what we've seen with previous NVIDIA releases, but the price is still a little bit too high for our liking, especially with rumours of a sub-$300 card from AMD.
We've also provided some graphs below to provide more context on exactly how the RTX 4060 Ti. All of the benchmarks that we've provided are compiled from the latest triple A and Esports title. We've benchmarked a number of games at both 1080p and 1440p, to get a more well-rounded idea of how the 4060 Ti performs at varying resolutions.
Apex Legends
First off, in Apex Legends at 1440p, we saw pretty strong performance from the RTX 4060 Ti. Although this card definitely takes a hit at a higher resolution, it pushed through, offering up an average framerate of around 165FPS. This is more than enough for a smooth gameplay experience, but there are also plenty of frames here to enjoy a high refresh rate too. Obviously not all games will see the same kind of framerates at 1440p, which is a testament to how optimised Apex Legends is as a game. However, this is still a solid start from the 4060 Ti, and we were pretty impressed.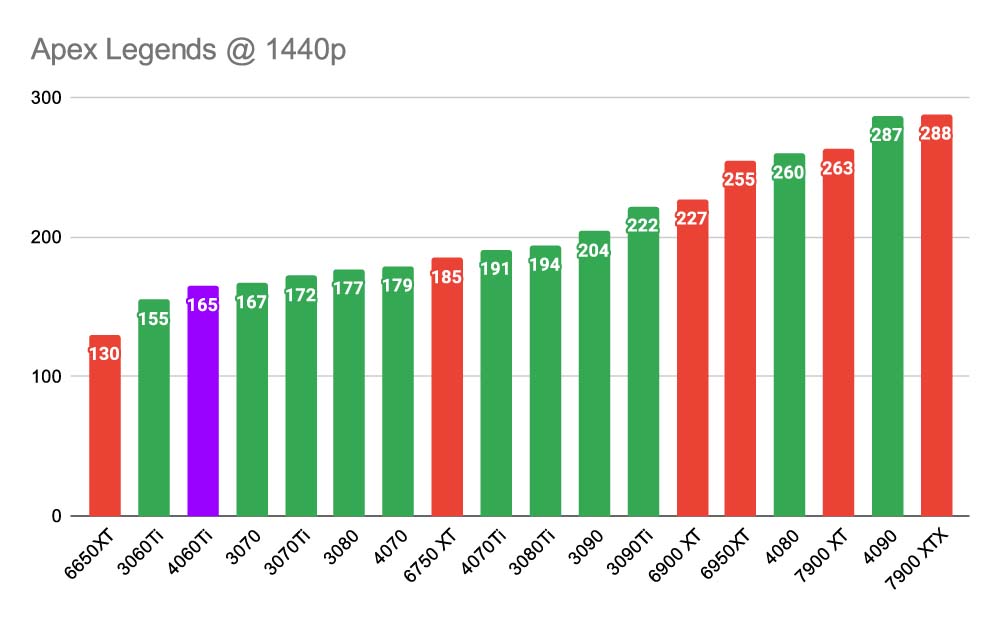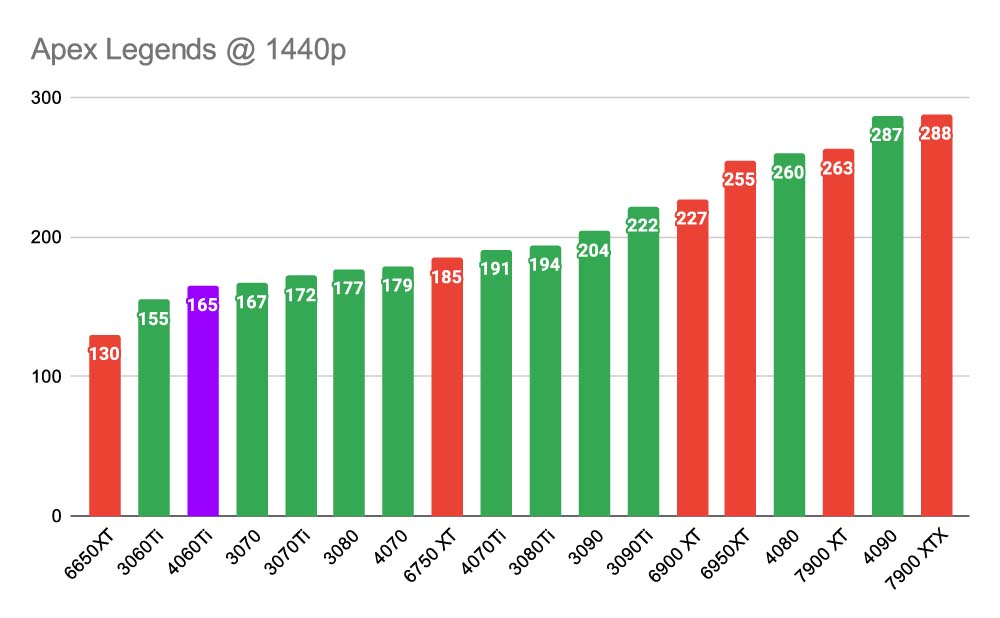 Hogwarts Legacy
In Hogwarts Legacy, the RTX 4060 Ti was one of the best performing cards at 1080p. We saw an average framerate of around 100FPS with some very minor drops here and there. Hogwarts Legacy can be a very graphically intense game at times, so 100FPS is excellent for consumers to enjoy super smooth gameplay. Ultimately we'd love to see the 4060 Ti reach a suitable level to push out a high refresh rate too, but I'd argue that this won't change much in this particular title other than overall smoothness. High refresh rate only tends to matter in high intensity titles where many objects are moving on the screen, and Hogwarts Legacy tends to be much slower in gameplay.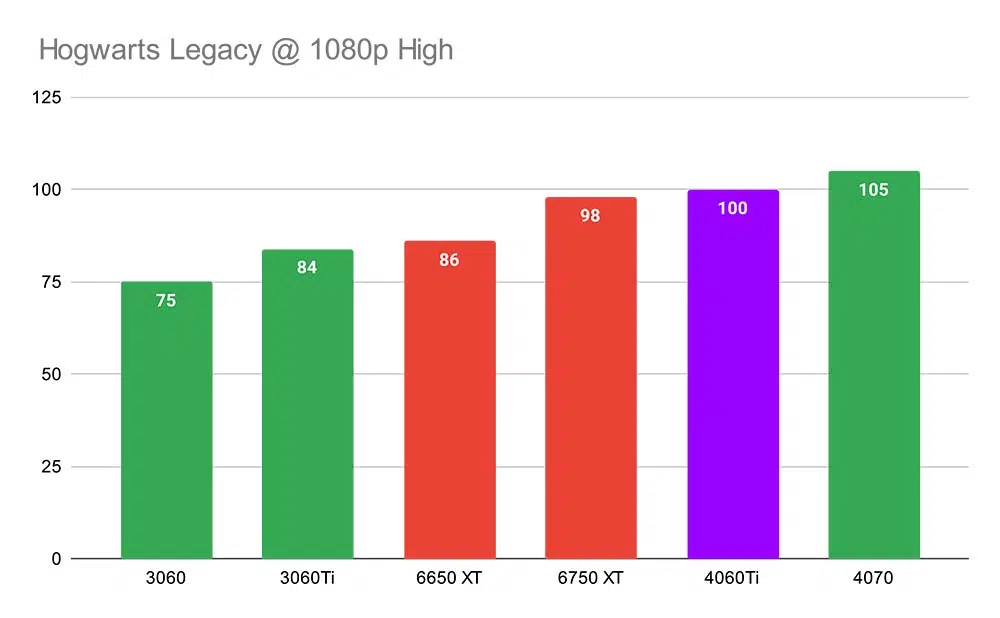 Spiderman Miles Morales
For our final gameplay benchmark, we tested out Spiderman Miles Morales at 1440p with DLSS turned on and off. When DLSS was turned off we saw a solid average framerate of around 114FPS, which is very strong. For raw performance we were taken aback a bit by this, as we were expecting frames to dip a fair amount without the support of DLSS. When DLSS was turned on however, we didn't actually see performance improve that much. We were able to get around 13 more frames from DLSS, but this wouldn't really be noticeable to the vast majority of consumers.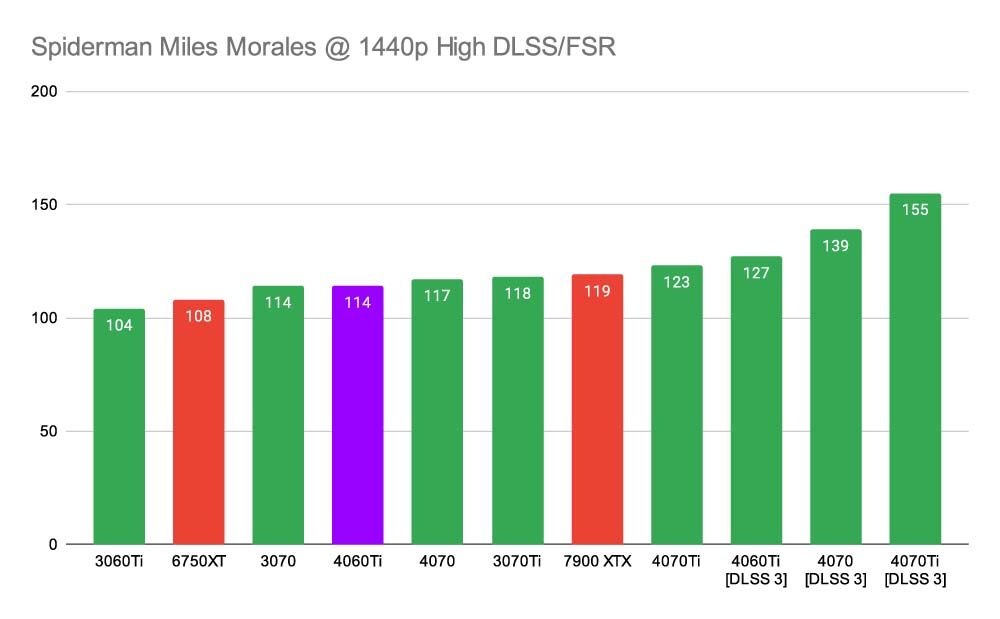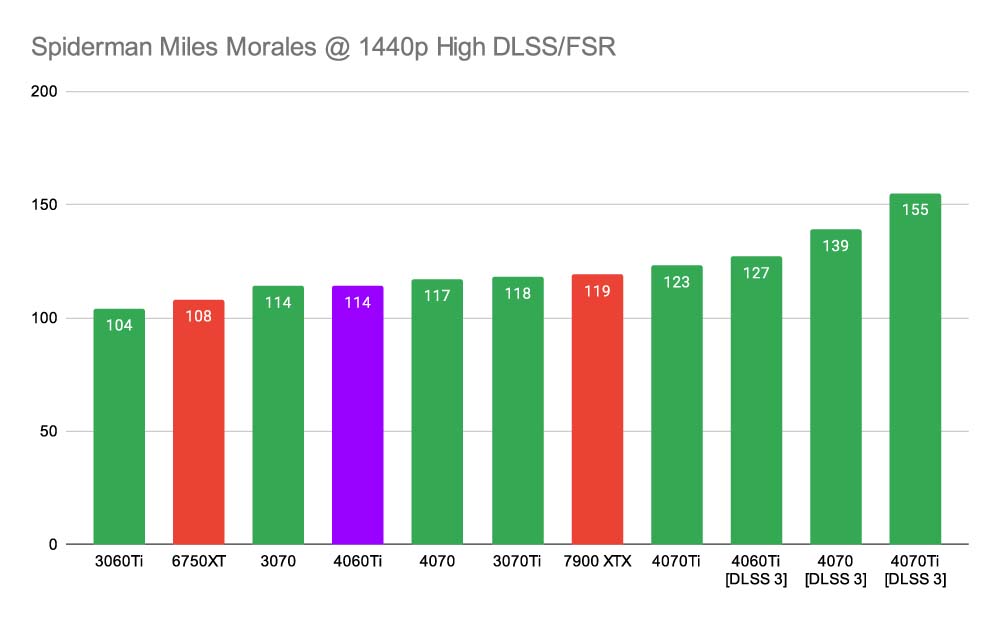 How Important Is My CPU for Gaming?
In short, very important! But also not at the same time. Because your CPU is effectively the brain of your PC, all of your other components are entirely dependent on your CPU to tell them what to do in an efficient and timely fashion. For gaming this becomes all the more important, but only at lower resolutions. At 1080p your graphics card and CPU work in synergy to relay information to your screen quickly so that you can play your favourite games at high speeds. However, at this resolution, all of the power and dependency is on the CPU.
The reason being is because of the amount of pixels. Because there are less pixels within a 1080p resolution, the graphics card isn't having to put as much work in, whereas, the CPU is fighting for it's life to process all of the data quickly. If we up the resolution to 1440p, this is more of a middle ground, where both the GPU and CPU are putting a fair amount of work in each so you can enjoy your games at decent speeds. If we push the resolution further up to 4K, the situation changes entirely, where your GPU is the big determiner for how fast your game will run.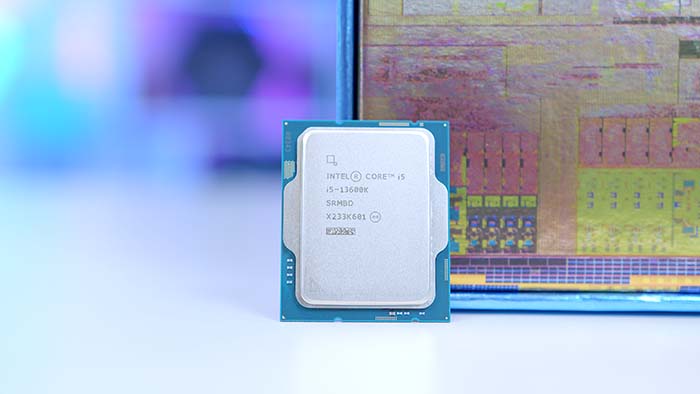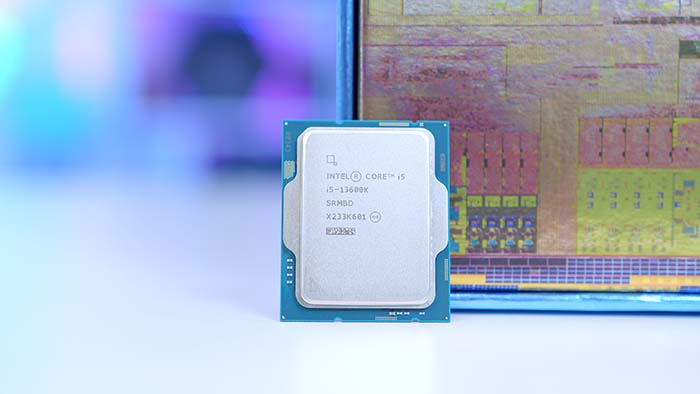 Looping back to the question I've asked above, your CPU can be important for gaming, but it entirely depends on your use-case. At lower resolutions, if you have a weak CPU you'll see bottlenecking issues, which will result in weaker performance and lower framerates. However at higher resolutions your CPU (provided it is modern) will be able to handle 4K games without many issues as the performance reliance is on your GPU instead of your processor.
Why You Can Trust Us
After jumping into our recommendations, you're probably wondering why you should trust our input on this particular subject, allow us to elaborate further. Our team of PC enthusiasts are constantly testing all of the all of the new components and products that come into the GeekaWhat office. We put them all through a plethora of different tests and benchmarks, including gaming and productivity applications too. We then take all of our benchmarking data and use it to forge a general overview of each product which we then relay to you through various articles. More detail can be found out about our editorial team on the About Us page.
How We Tested the Best CPUs for the RTX 4060 Ti
In order to test and evaluate the best CPUs for the 4060 Ti there are a number of factors that we take into account, these are:
Performance
Compatibility
Thermals
Value for Money
Conclusion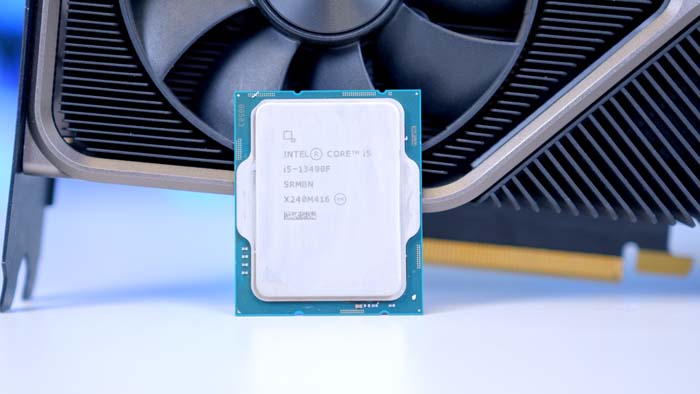 Best CPU for the NVIDIA GeForce RTX 4060 Ti: Intel Core i5 13400F
Finishing up this roundup, we've picked out Intel's Core i5 13400F as the best CPU pairing for the RTX 4060 Ti. Although this CPU isn't the most powerful option, it still offers exceptional performance at 1080p and 1440p in modern titles. This biggest deciding factor for us was the price. As the 4060 Ti is more of a budget or lower mid-range GPU option, the 13400F is a great choice for those being more price conscious with their purchases.
Read our full Intel Core i5 13400F Review, or Buy the Core i5 13400F on Amazon
Frequently Asked Questions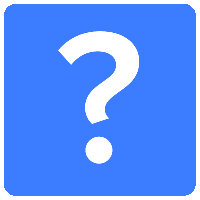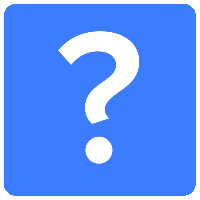 How Many CPU Cores Do I Need for Gaming?
As a general rule, you only need one or two cores for gaming. Most games will only ever utilise one or two cores at one time, which means you can get away with picking up a CPU that has a lower count.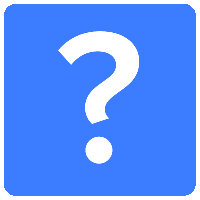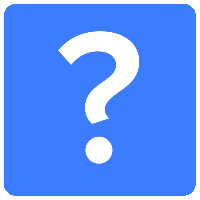 Do I Need to Worry About GPU Clearance?
You should always consider clearance when picking out components for your build, however, the RTX 4060 Ti is quite a small GPU that you shouldn't have many issues when it comes to clearance or installation.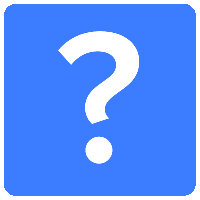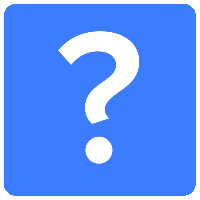 Should I Pickup DDR4 or DDR5 RAM?
For AMD Ryzen 7000 users, you can only pickup DDR5 memory as this is a forced requirement as part of the platform. For Intel 13th-Gen users, you can choose between the two which will vary in price significantly and also affect performance.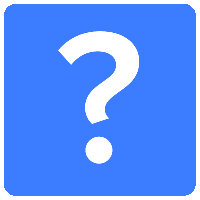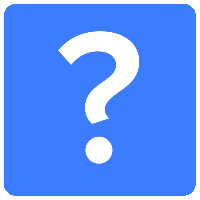 Will My Motherboard Affect Performance?
Not really. The only time a motherboard will affect performance is if you've decided to overclock your CPU. Weaker and less VRM power phases will hinder overclocking significantly.