Our Recommendations At a Glance
Keep reading for a more in-depth coverage of each graphics card in this roundup!
Nvidia or AMD?
Nvidia have long been the go to option for many people, with both their Ray Tracing technologies and resolution scaler, Deep Learning Super Sampling (DLSS) being more mature than AMD's equivalents. That is not to say that AMD's tech hasn't come on leaps and bounds in recent years, but the arrival of DLSS 3.0 and Nvidia's new 'Frame Generation' technology with the latest RTX 4000 series line-up, has put the ball firmly in Nvidia's court for now.
On the flip side however, AMD cards tend to offer considerably higher VRAM budgets and in more recent months sit at much stronger price points than their Nvidia counterparts. For those not all that worried with using raytracing, team AMD may just be the way to go.
The question of AMD vs Nvidia more comes down to preference than anything else and the needs of the individual. Both manufacturers produce some phenomenal cards and whilst there are some nuances of games being more optimised for a certain brand, you won't find yourself in a situation where a game is flat out incompatible no matter who you choose!
In the below table you can see how the cards roughly stack up against one and other, but we'll be looking at detailed comparisons later. The below is just intended as an indication of each cards most closely matched competitor.
The Benchmarks
Apex Legends (1440p High Settings)
Apex Legends is as good a place to start as any. One of the 'big three' in the battle royale genre that has taken the gaming community by storm. The only problem being, well, every card we tested performed exceptionally well… not a bad problem to have!
Admittedly most of the cards included are better suited to gaming at 4K but nevertheless act as a good reference point.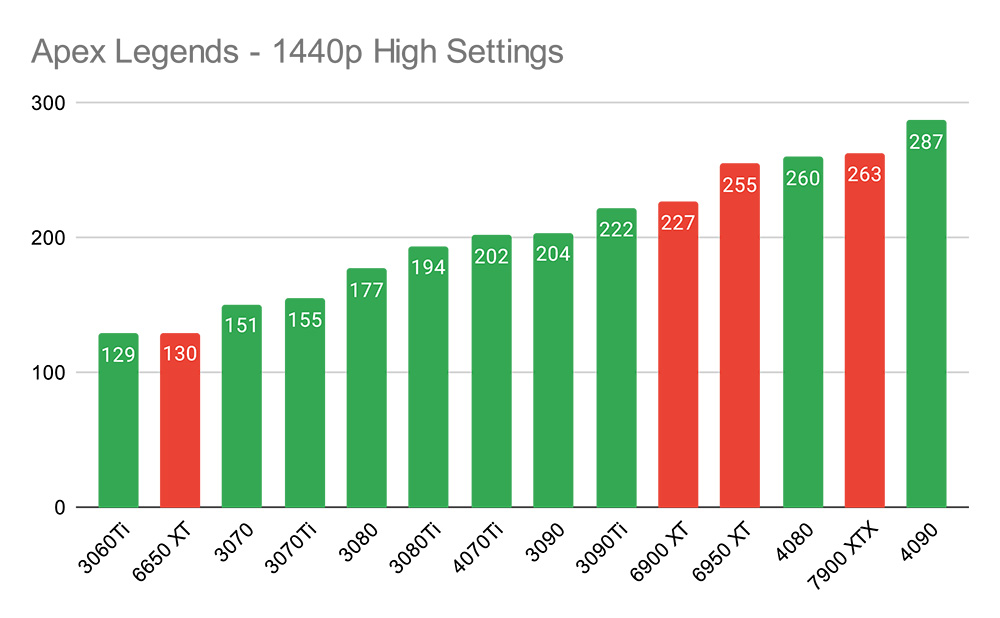 The RTX 3070 in particular put in a very strong performance slotting in only 4 frames shy of the 3070Ti whilst not being a million miles away from the 3080 either.
Both the 3060Ti and 6650 XT also put in respectable performances, comfortably clearing the 100FPS mark.
GTA V (1440p High Settings)
The oldest title on the list today, the ever-popular Grand Theft Auto 5.
For those looking to game at that 1440p 144Hz sweet spot, you're spoiled for choice if GTA V is your game of choice.
All of the GPUs we tested hit or surpassed the 144FPS mark bar the the RTX 3060Ti. The 3060Ti by no means put in a weak perfoamcne mind you, still averaging 138FPS throughout testing.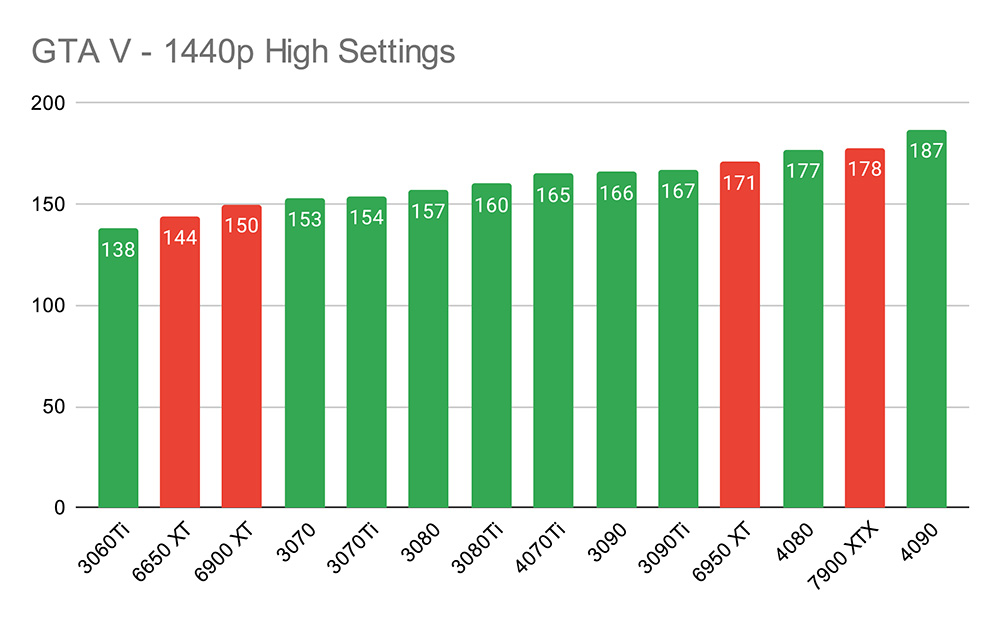 The 6650 XT once again came close to beating out the hugely more expensive 6900 XT – a card that turned out to be very disappointing during testing.
All three of the 3070, 3080 and 3090 came within inches of overtaking their more expensive 'Ti' variants, for those looking to save a few extra pounds the base models are a great option.
COD MW2 2022 (1440p High Settings DLSS/FSR)
AMD's RX 6650 XT excelled in Infinity Ward's latest title, narrowly missing out on usurping the RTX 3070Ti for its spot by just the 1 FPS. Outperforming both the RTX 3060 and 3070. AMD's card was the standout performer in this title.
AMD's 6750 XT also won out against some of the Nvidia big boys, RTX 3080 included and the 6950 XT completed the clean sweep for AMD by beating out even the RTX 4090, yes you read that right!
For those looking to play Modern Warfare 2, AMD GPUs are seemingly the way to go, even DLSS was left unable to save the RTX Cards on this occasion.
COD Warzone (1440p High Settings)
Both the RTX 3060Ti and 3070 put in strong performance in Call of Duty's Warzone. The RTX 3060Ti (very) nearly beat out AMD's 6900 XT losing out by just 3 FPS in what was another disappointing result for the 6900 XT.
The 3070 put in another solid performance too, sitting just shy of its bigger brother the 3070Ti, a battle that was consistently very close during our testing, potential savings to be made there?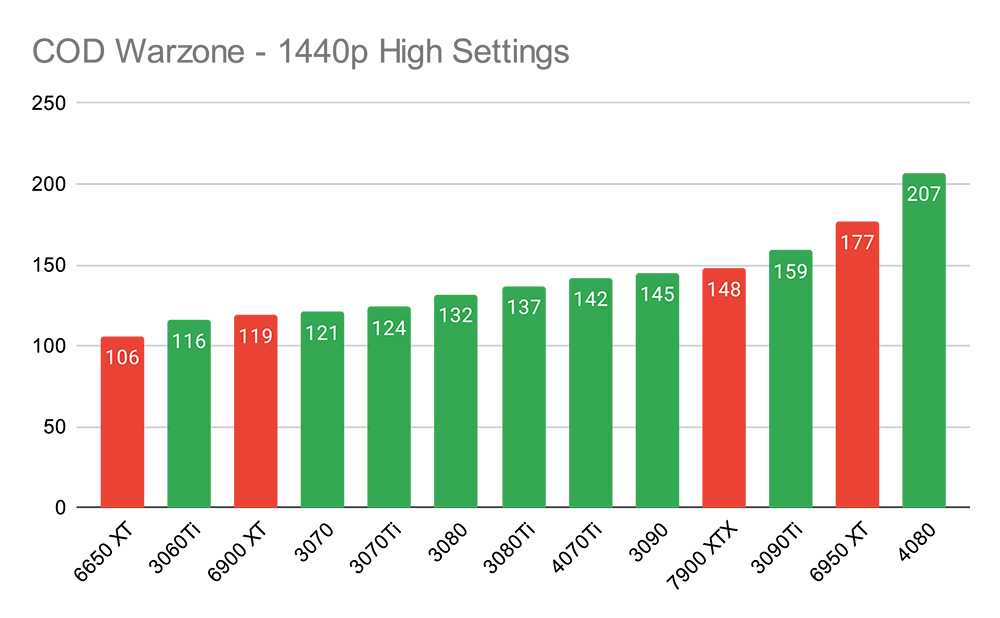 AMD cards had an inconsistent performance in Warzone, sitting at either end of the table. AMD's latest and supposedly greatest, massively underperformed compared to that of last generations 6950 XT.
The 6950 XT seemingly rectifies the mistakes made with the previous 6900 XT and sitting much closer to where we'd expect, just behind the RTX 4090.
Battlefield 2042 (1440p High Settings)
Battlefield 2042 is next, admittedly not as popular as was once hoped but a good benchmarking test nonetheless.
With a shaky launch and poor optimisation, many GPUs had issues with playability early doors. Thanks to numerous game and driver updates however the game is now in a much more stable spot, albeit still a tough title to run.
There are limited options for those looking to play at 1440p and 144Hz in Battlefield 2042, with only the line-topping RTX 4090 currently capable. AMD's RX 7900 XTX comes mightily close at 141 FPS on average and at a considerably lower price than the RTX 4090 but still at a price point suited to 4K gaming.
Our Recommendations
1. NVIDIA GeForce RTX 3060 Ti
The price-to-performance king is a mainstay in seemingly all of our GPU lists. It's simply an incredible GPU offering performance to rival some of the bigger boys of the GPU market whilst undercutting their price point significantly.
With recent updates, the RX 6650 XT now gives it a run for its money but the 3060Ti just edges it out thanks to its DLSS capabilities.
The 3060Ti is an allrounder of a GPU, capable of outputting strong performance across the majority of titles without breaking the bank.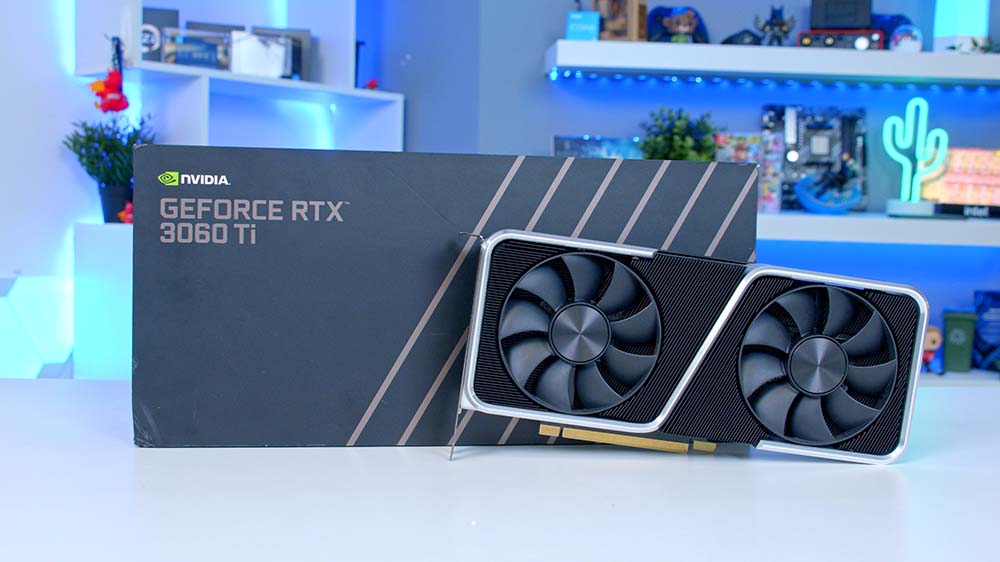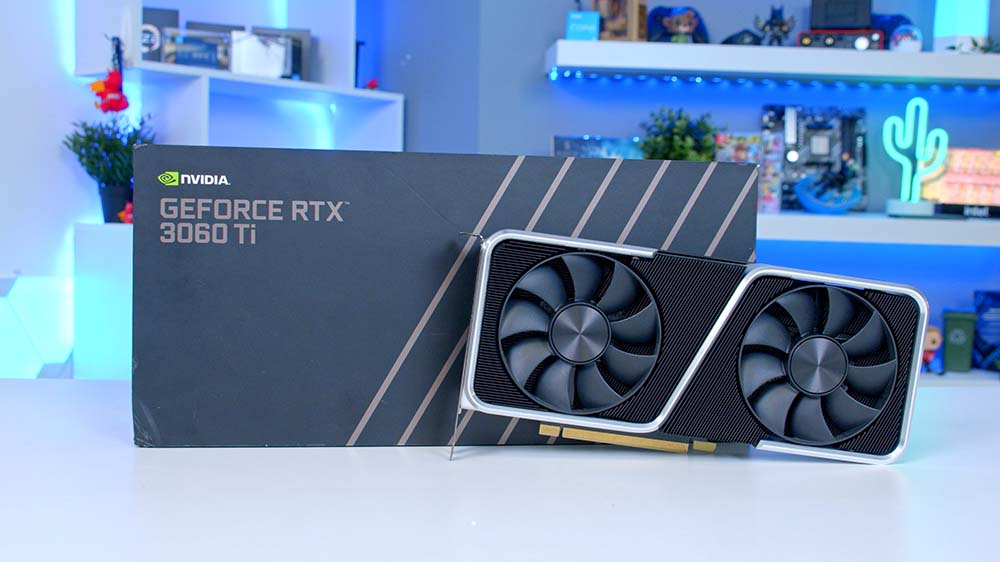 Ray Tracing remains a possibility with this card, though admittedly is slightly more suited to some of the bigger boys of the GPU world, but it remains an option nevertheless!
An MSRP of $399 solidifies the 3060Ti as one of the most affordable GPUs available, in a world of skyrocketing prices, Nvidia's 3060Ti remains a diamond in the rough.
Pros
One of the best value GPUs on the market.
Founders Edition card looks excellent.
Card size won't restrict case options.
Cons
Founders Edition doesn't offer great thermals.
Only a dual-fan design.
Buy the NVIDIA GeForce RTX 3060 Ti on:
2. AMD Radeon RX 6650 XT
AMD's RX 6650 XT has steadily been on the rise since its initial launch. With various driver updates in the past months, the card has shaped up to be a real competitor to the aforementioned 3060Ti.
Whilst slightly lacking in the DLSS/FSR department, AMD's resolution scaling tech has come on leaps and bounds in recent months and is now much closer to that of Nvidia's.
For an MSRP of $249 and with standout performance in titles such as Apex Legends and Fortnite, you can't go too far wrong with the 6650 XT!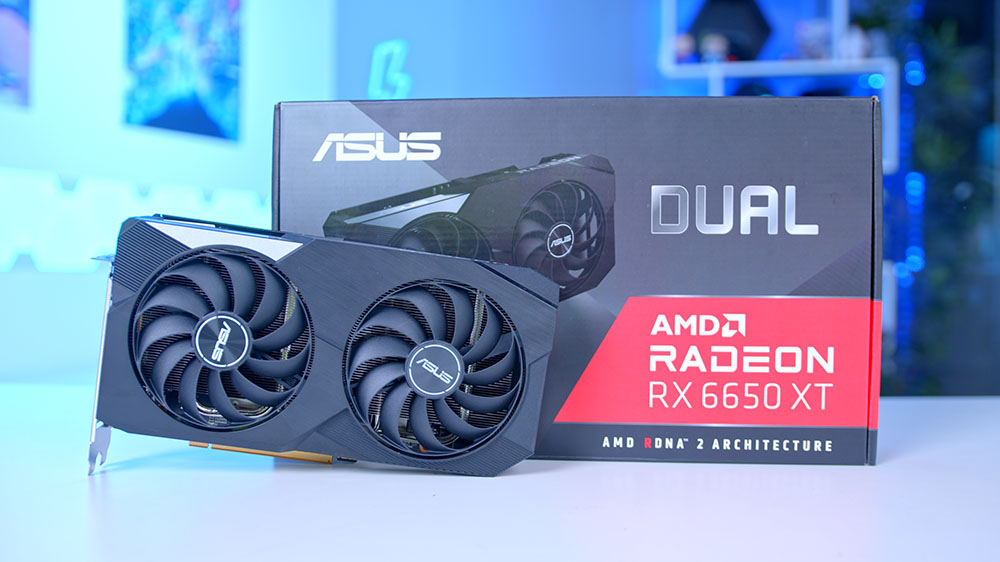 The RX 6650 XT is the cheapest GPU on our list today and by some way too. Coming in at roughly $150 cheaper than the RTX 3060Ti and with performance to rival at times
Pros
AMD drivers have aged like 'fine wine'.
Excellent value for the price.
Thermals are pretty good.
Cons
No access to DLSS or Ray-Tracing.
Slightly weaker performance compared to the 3060 Ti.
Buy the AMD Radeon RX 6650 XT on:
3. NVIDIA GeForce RTX 3070
The bigger brother to Nvidia's 3060Ti, the RTX 3070 is perfectly suited to 1440p gaming and even has some legroom to play at 4K in select titles.
Whilst more expensive than both the RTX 3060Ti and 6650 XT, the 3070 offers considerably stronger performance at 1440p than the previously mentioned entry-level options.
1440p 144Hz gaming is very achievable in most titles for those looking for that ultra-smooth gameplay and more than warrants the extra cash.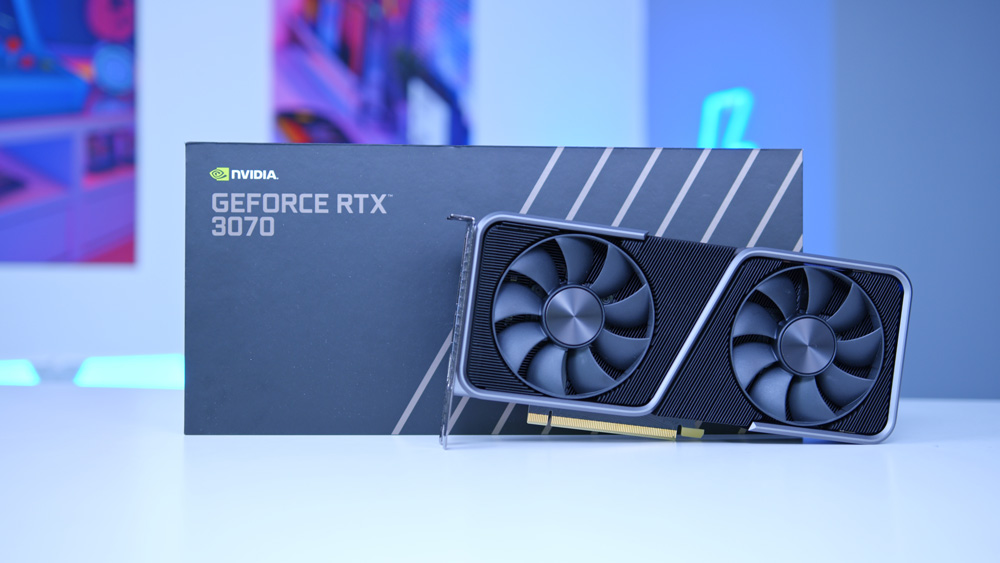 With an MSRP of $499 the 3070 sits at a much higher sits at roughly double the MSRP of the previously mentioned RX 6650 XT but does offer yield consistently stronger performance output across all titles.
Raytracing performance is another strong area for the RTX 3070 with the card much better suited to Raytracing than our other top picks.
Pros
Incredible metrics at 1440p.
Has some legs in 4K.
Easier to reach a 144Hz refresh rate.
Cons
Founders Edition cards can be difficult to purchase.
Slightly expensive for mid-range.
Buy the Nvidia GeForce RTX 3070 on:
Conclusion
Take the games that you plan on playing into account too, if Fortnite and Valorant are your go-to titles, 1440p entry-level cards such as the 3060Ti and 6650 XT will perform incredibly well. If harder-to-run games such as Cyberpunk 2077 and Escape from Tarkov are more up your alley, something with more oomph such as the RTX 3070 is a much safer bet.