Introduction
NVIDIA's latest RTX 4000 SKU has officially released as of the 12th of April, and so far we're pretty impressed with the performance metrics of this card. NVIDIA's RTX 4000 range of GPUs hasn't gotten off to the smoothest start, following the release of the controversial yet powerful RTX 4080 and RTX 4070 Ti. However, it doesn't seem that all is lost, as the RTX 4070 is a good step in the right direction, raising our hopes for any future SKUs that release in the future.
The new RTX 4070 looks to be the card that many consumers have been waiting for in the mid-range bracket. With strong metrics in 4K games, and Ray-Traced titles at a $600 MSRP, this card seems to be a solid offering. The 4070 SKU looks to be a competitive offering but is the value proposition the same when we start to look a AIB cards?
AIB models often come in at a much higher price point contrasting to the Founders Edition model, which can very quickly put these cards out of reach for mainstream consumers. Gigabyte have been an AIB partner for as long as we can remember offering a vast range of cards from budget options, all the way up to liquid cooled solutions for enthusiasts. This raises the question, is the Gigabyte variant of the RTX 4070 a worthwhile card to pick up?
In this review we'll be answering this very question by taking a look at Gigabyte's brand new Gaming OC RTX 4070. We'll be delving into the architecture, design, performance, and value for money of this card, to see what kind of value is on offer.
Buy the Gigabyte Gaming OC RTX 4070 on:
Architecture
All of the RTX 4000 series cards are built on the rather powerful Ada Lovelace architecture. This hardware that we saw with Ampere cards has evolved and seen drastic improvements, which serves as the foundation for NVIDIA's latest 4000 series of graphics cards. RTX 3000 was the pinnacle of performance for quite a while, but the Lovelace architecture brings performance uplifts that we didn't entirely expect.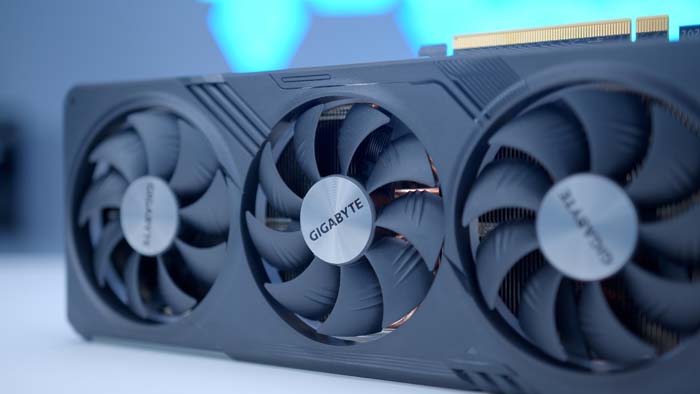 All of the new SKUs have received massive bumps to clock speeds, with all of the current cards sitting over 2GHz when boosting. RTX 4000 GPUs also feature 3rd-Gen RT cores (which is the hardware dedicated to Ray-Tracing). We've also seen 4th-Gen Tensor cores which improves parallel processing too. Despite the pricing controversy that we've seen with RTX 4000 cards, the architectural changes have ushered in big generational improvements to all of the cards, including and not limited to the RTX 4070 which is a prime example of how powerful these cards are.
Alongside the hardware changes, we've also seen big improvements to NVIDIA's pillar technologies – DLSS, and Ray-Tracing. The new and improved 3rd-Gen RT cores allows the RTX 4000 GPUs to push dedicated processing for Ray-Tracing even further, providing the ability to handle much more intensive workloads. It must be mentioned that the RTX 4070 isn't the best card when it comes to Ray-Tracing, but consumers can expect performance comparable to a 3090 Ti in many scenarios, especially with the reduced overhead when DLSS is enabled.
Speaking of which, DLSS is now in its third iteration thanks to the Lovelace architecture. The AI-backed resolution scaler can re-render an image at a lower resolution, and scale it back up to your native display resolution with little performance overhead. This will significantly improve performance in the vast majority of games, and we're seeing the list grow as more developers incorporate this technology into their games. DLSS does affect latency to a degree, but most consumers won't really be able to notice this.
DLSS has also seen some further improvements in the form of a new technology known as Frame Generation. The AI technology is now able to drop in extra frames between two consecutive frames which is an impressive innovation. Whilst improving performance overall, this technology can also help in CPU bound situations too. There is a slight caveat to this technology, in that it is limited to RTX 4000 cards only. This will be disappointing to RTX 3000 users, but I would argue that this new technology will be worth the upgrade as it becomes saturated in more games.
Specifications
The RTX 4070 has pretty impressive specs that look great on paper, and this should lead to solid framerates in a number of titles. We've created a table below that covers the key hardware differences between the RTX 4070 and other cards on the RTX 4000 and 3000 architectures.
Spec
RTX 3070Ti
RTX 3080
RTX 4070
RTX 4070Ti
Video Memory
8GB
12GB/10GB GDDR6X
12GB GDDR6X
12GB GDDR6X
Memory Bus
256-bit
384-bit / 320-bit
192-bit
192-bit
Core Clock Speed
1.57GHz
1.26GHz / 1.44 GHz
1.92GHz
TBC
Boost Clock Speed
1.77GHz
1.71Hz
2.47GHz
2.61GHz
CUDA Cores
6144
8960/9704
5888
7680
Power Consumption
290W
(Founders Edition)
350W / 320W
(Founders Edition)
200W
(Founders Edition)
285W
(Reference Design)
RT Cores
2nd Generation
2nd Generation
3rd Generation
3rd Generation
Tensor Cores
3rd Generation
3rd Generation
4th Generation
4th Generation
PCI-E Generation
PCI-E Gen 4
PCI-E Gen 4
PCI-E Gen 4
PCI-E Gen 4
All clock speeds and memory specifications are based off Reference designs or Founders Edition cards where available. Clock speeds for cards like this Gigabyte design are often higher.
Design
Taking a look at the design, Gigabyte's Gaming OC RTX 4070 is a familiar, but an aesthetically pleasing design. This card sports a triple-fan setup (not too dissimilar from the MSI Gaming X Trio), which should improve thermals. The Gaming OC also features Gigabyte's signature WINDFORCE cooling system which we know from previous models is one of the best options for those prioritising low temperatures.
The card itself also sports a black and grey design with black fans too. Each fan chamber has a ring of RGB lights which adds some extra flair to your build. This can of course be fully customised within Gigabyte's RGB Fusion software, allowing you to change lighting effects and colours. The top of the card also features some RGB lighting on the Gigabyte logo, which provides some lighting options for those mounting their card in the traditional style, instead of vertically.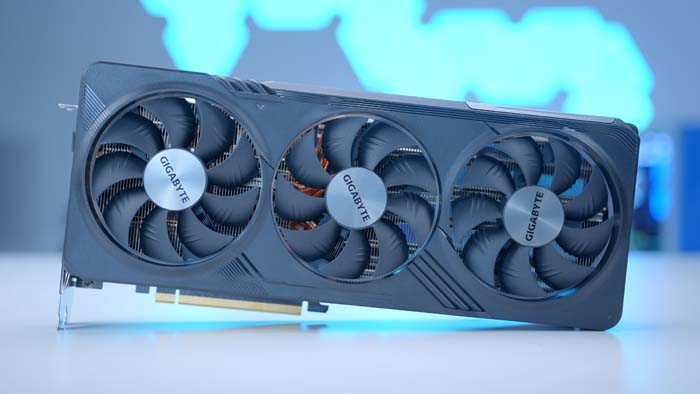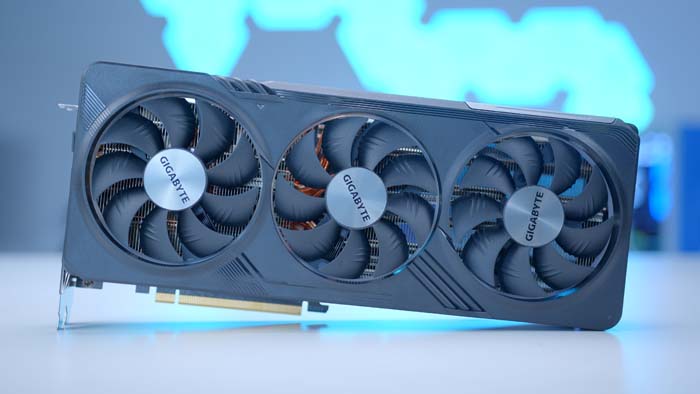 Looking at the backplate, consumers will be able to see a sturdy design with the text 'Gigabyte' sitting towards the left side of the GPU. That seems to be it for the main design features. This card is a bigger model coming in at around 300mm in total. It is slightly smaller than MSI's Gaming X Trio card, but consumers will still want to ensure they check their case for clearance issues.
Overall I'm pretty happy with the aesthetic. Gigabyte have never been the flashiest manufacturer, for that you'd need to pick up an AORUS Master, or WATERFORCE card, where RGB is pushed to the max. The Gaming OC provides some nice customisation options, whilst not going too crazy on the RGB front. The black and grey design will blend in with the majority of darker builds, and the stronger cooling makes this card a worthwhile consideration even for the higher price point.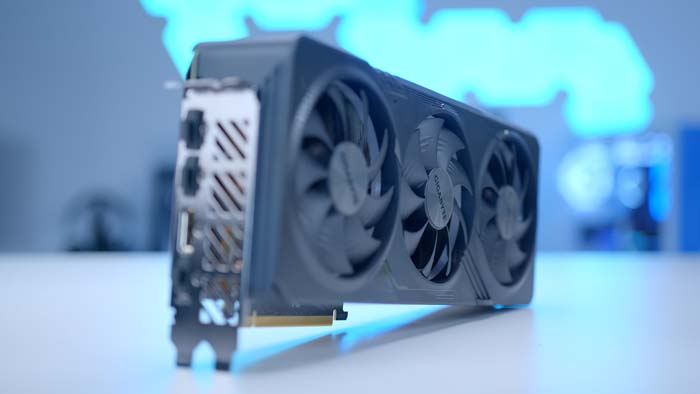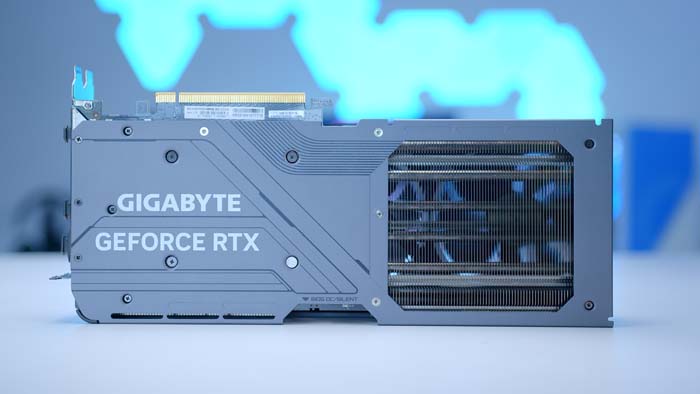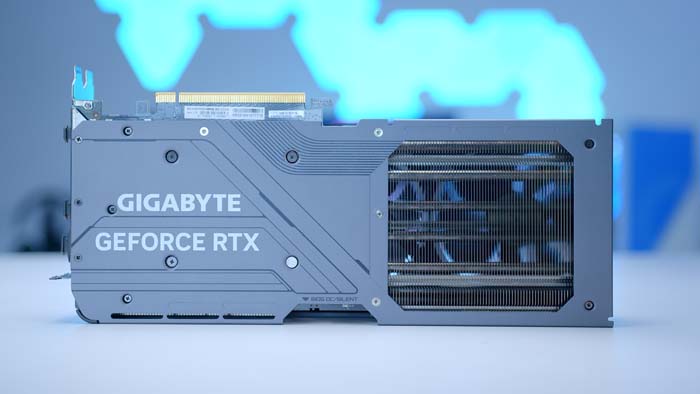 Performance
Now for the most important section of this article – performance! As I've previously alluded to, the RTX 4070 was very impressive in its performance metrics, demonstrating that NVIDIA are very capable of creating an affordable yet powerful card. The RTX 4070 generally sits close to the RTX 3090 Ti and 4070 Ti in games, even when Ray-Tracing is thrown into the mix.
It is worth keeping in mind that all of our benchmarks were conducted with beta drivers, so consumers can expect some uplifts in performance with later drivers and further optimisations. We've put the Gigabyte Gaming OC RTX 4070 through its paces in a plethora of gaming titles which includes Apex Legends, Battlefield 2042, F1 2022, Fortnite, and more. We tested this card in a number of resolutions changing the in-game settings to ascertain strengths and weaknesses.
Below we've provided a number of graphs that features data compiled from our benchmarking runs. These graphs compare the RTX 4070 against current generation cards, and older cards from the RTX 3000 range, and some AMD RX 6000 GPUs too. All of the full runs can be found on our very own YouTube channel – Benched, where you'll find all of the components that we've tested in a plethora of popular games.
COD Warzone
For our first benchmark we tested COD Warzone at 4K, and 1440p, with settings dialled up to high. In our 4K run performance was pretty decent overall. The RTX 4070 was able to offer an average framerate of 108FPS, which sits pretty much on par with the 4070 Ti in comparison. We were hoping to see this card reach the 144Hz sweet spot due to the intensity of this title, but the 4070 wasn't quite able to reach this level. Unfortunately, COD Warzone is quite unoptimised, so this will be playing some part in the weaker performance.
With the resolution dialled down to 1440p we did see an uplift in performance up to the 139FPS mark. This was much better to see, but we still weren't quite able to reach that all-important 144Hz mark. The overall experience was more than playable here, but consumers may have to dumb some of the in-game settings down if you're looking to engage a high refresh rate display.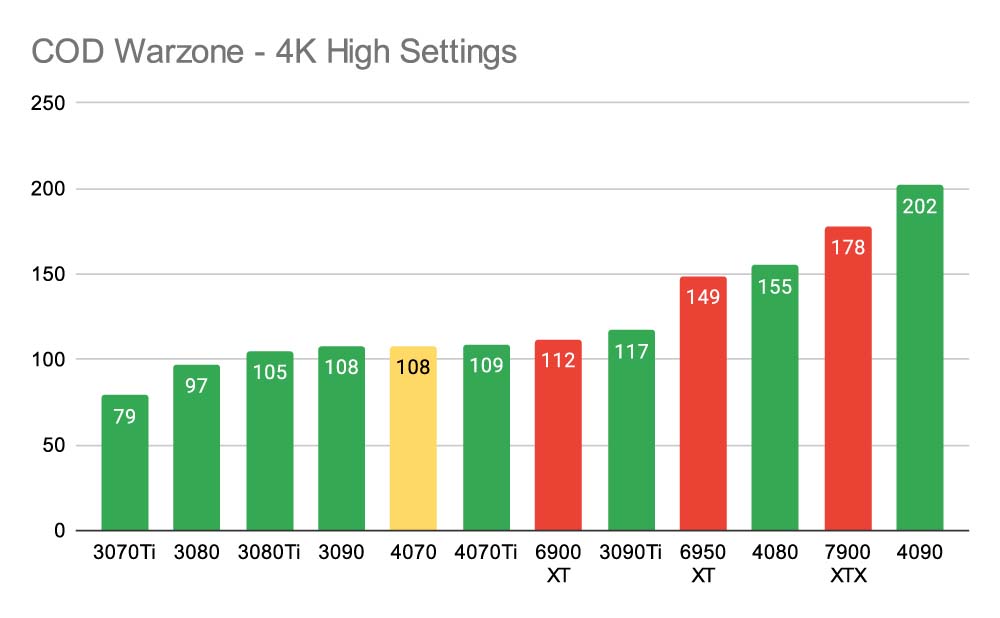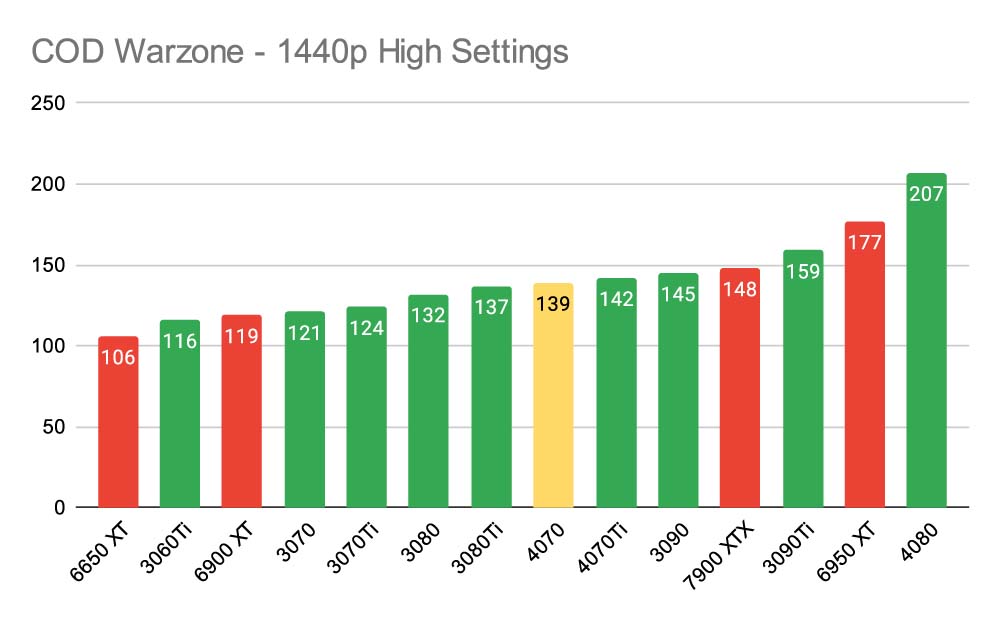 Battlefield 2042
Next up is Battlefield 2042, where we tested the RTX 4070 again at a 4K and 1440p resolution. In this title at 4K we did see some further performance dips where framerates dropped to the sub-100 mark. The 4070 was able to output around 93FPS on average which is a little bit disappointing to see. Much like Warzone, Battlefield 2042 isn't well optimised, and as you can see from the rest of the graphics cards we've tested, even the RTX 4090 struggles to a degree. Ultimately 93FPS is still impressive considering how much of a nightmare this title is to run at 4K.
Our 1440p benchmark was a much better story, with framerates sitting well above the 100FPS mark. The RTX 4070 was able to output around 128FPS on average which is more than playable and not far off the 144Hz sweet spot. Strangely, the 4070 also managed to surpass the 4070 Ti and the 3090 Ti, showing how capable this card is at 1440p.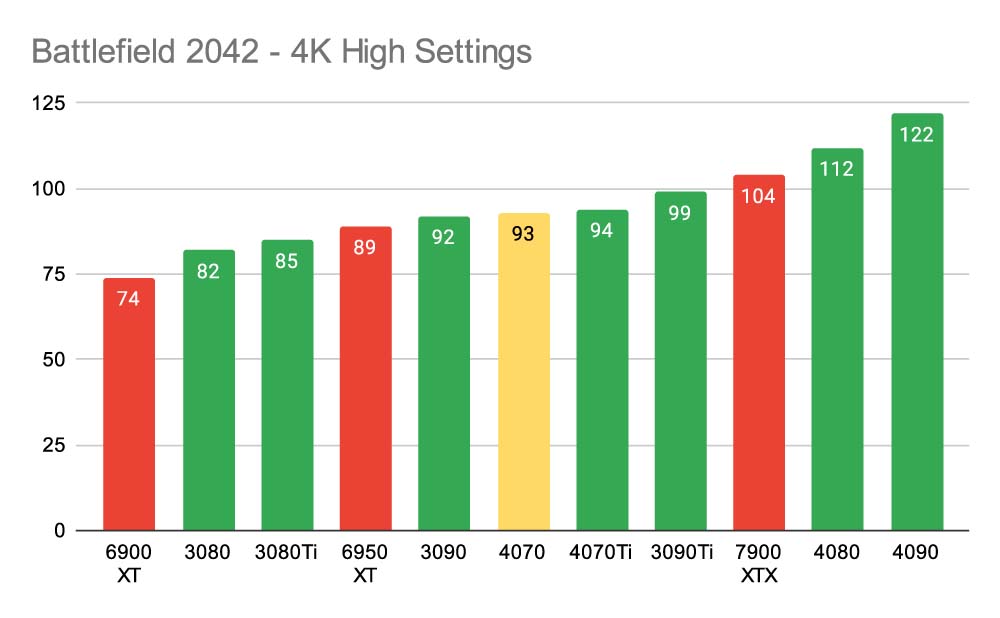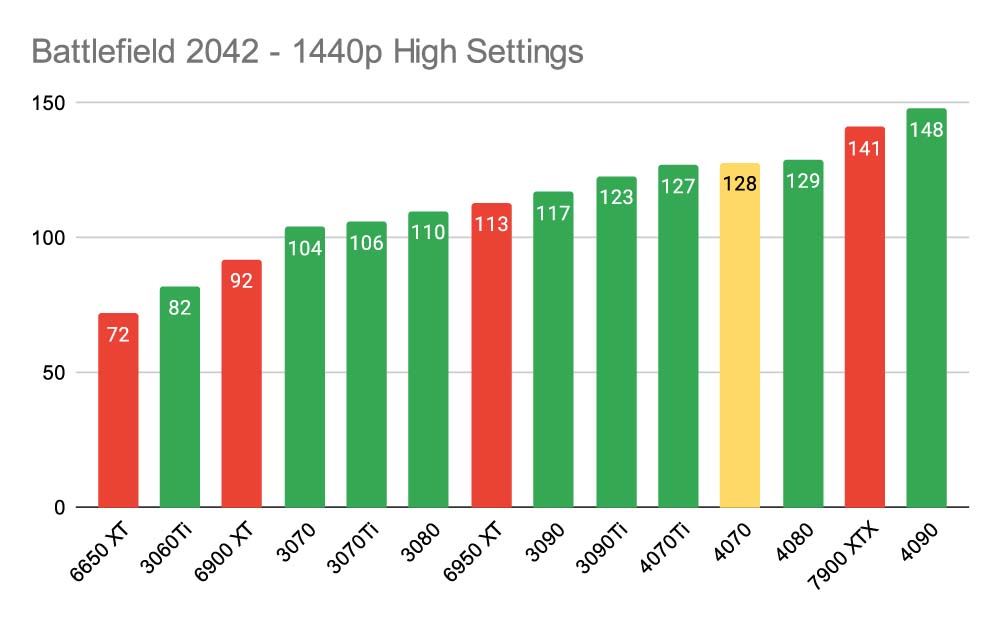 Apex Legends
In Apex Legends we saw some noticeable improvements to performance. Unlike Warzone and Battlefield, Apex is a much more optimised title, so reaching higher framerates at 4K is much more viable. In this benchmark the RTX 4070 offered up an average framerate of 136FPS which was very solid overall. Although this isn't quite at the 144Hz sweet spot that we love to see, it isn't far off. With some tuning of the in-game settings, consumers should be able to enjoy Apex at 4K with a buttery smooth refresh rate.
The 1440p benchmark was a similar story, with framerates jumping up a little bit higher. The reduce in overhead with the drop down to 1440p allowed the RTX 4070 surpass the 144Hz mark which is great to see. We were expecting a bigger gain in performance here, but 160FPS is more than playable at this resolution, and I imagine most consumers will be happy with this gameplay experience.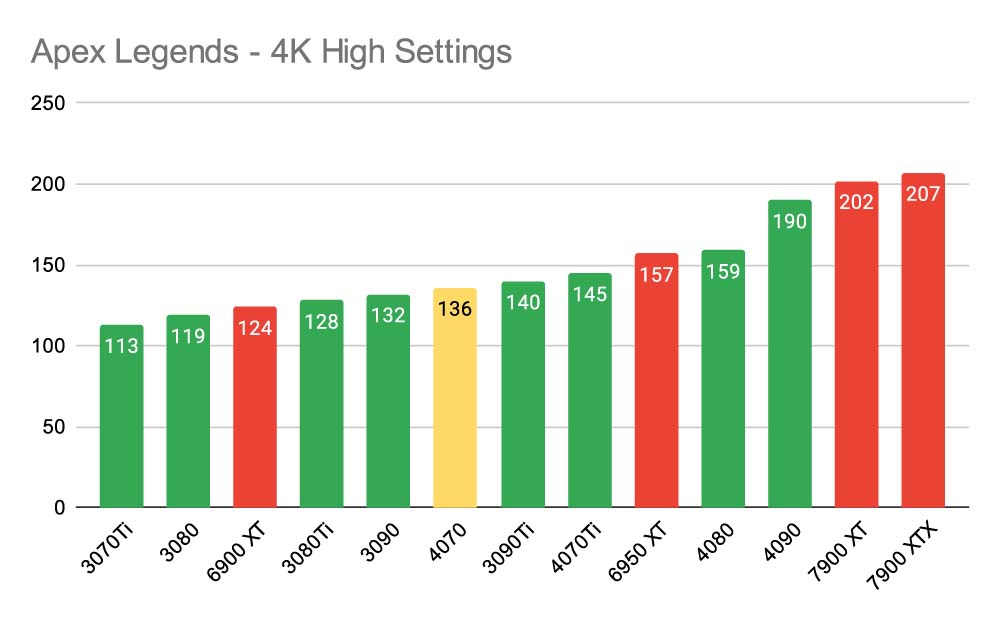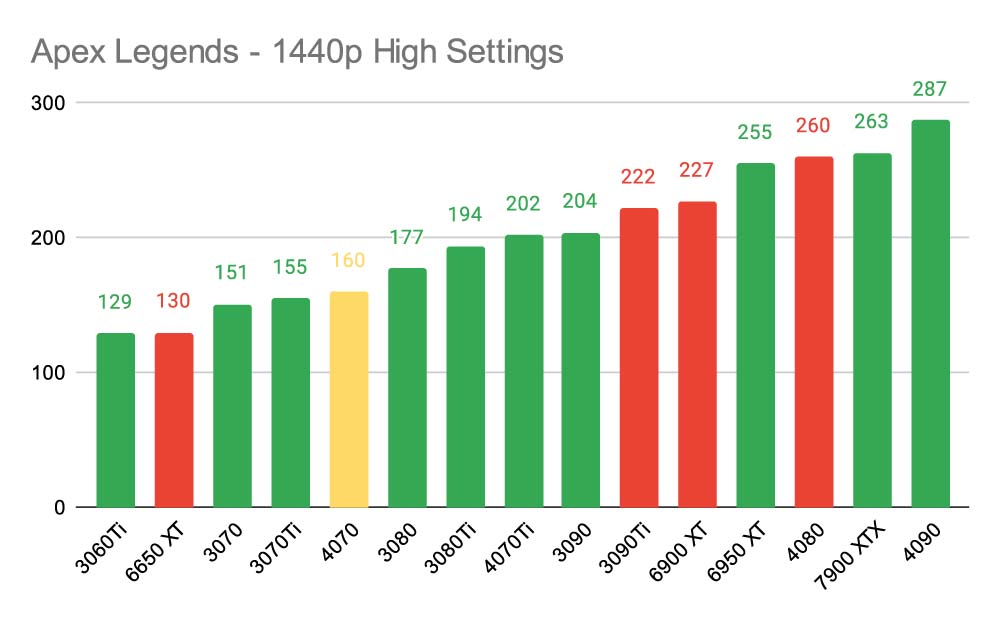 F1 2022
In F1 2022 we turned on Ray-Tracing and DLSS to throw some alternative settings into the mix. In this benchmark, performance was very solid, and we were extremely impressed with the RTX 4070. With an average framerate of 103FPS, this shows that the 4070 was able to handle Ray-Tracing without any problems. F1 2022 would benefit from a higher refresh rate coinciding with the beautiful visual fidelity of this game, but I feel most consumers won't consider this a deal-breaker.
DLSS will be doing a lot of the heavy lifting here, but it makes sense to use this technology if its available. We didn't notice any major increases in latency either, so gameplay was very smooth, and crisp.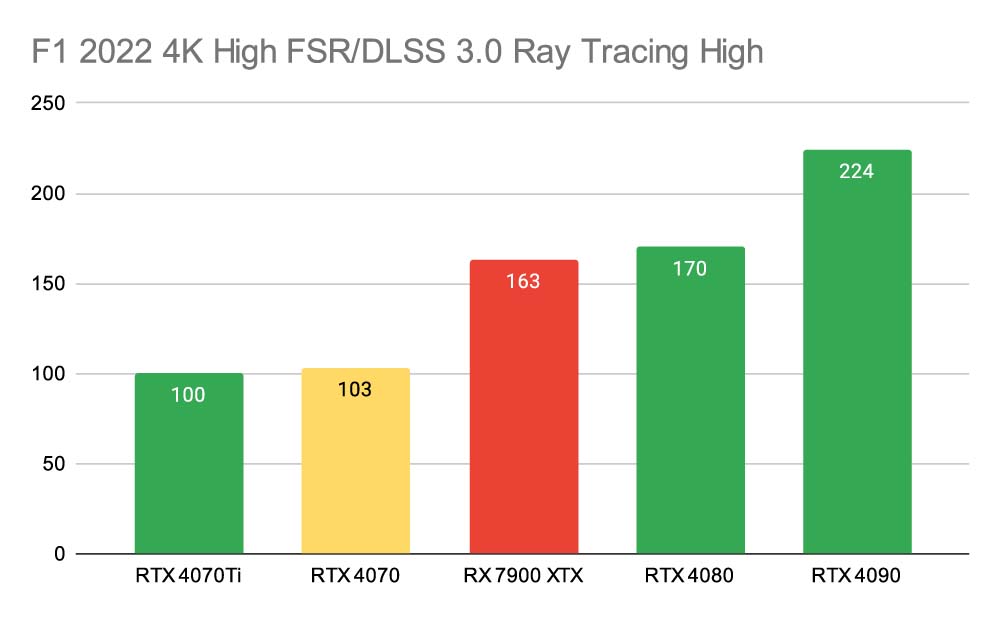 Fortnite
For our final benchmark we dropped the resolution to 1080p and dialled the settings back to Competitive, which is commonly used in an Esports setting to ensure the highest possible framerates. In this benchmark we saw the RTX 4070 output and impressively high framerate leaving us with around 288FPS on average. Needless to say, the gameplay was incredibly smooth with minimal stutters, tearing or lag at all.
A framerate this high allows consumers with displays that have very high refresh rates, such as 240Hz, or 300Hz, to enjoy a super smooth experience. Ultimately, we wouldn't recommend you buy an RTX 4070 to play games at 1080p, but this GPU will be more than capable of providing the performance you need to win a Victory Royale!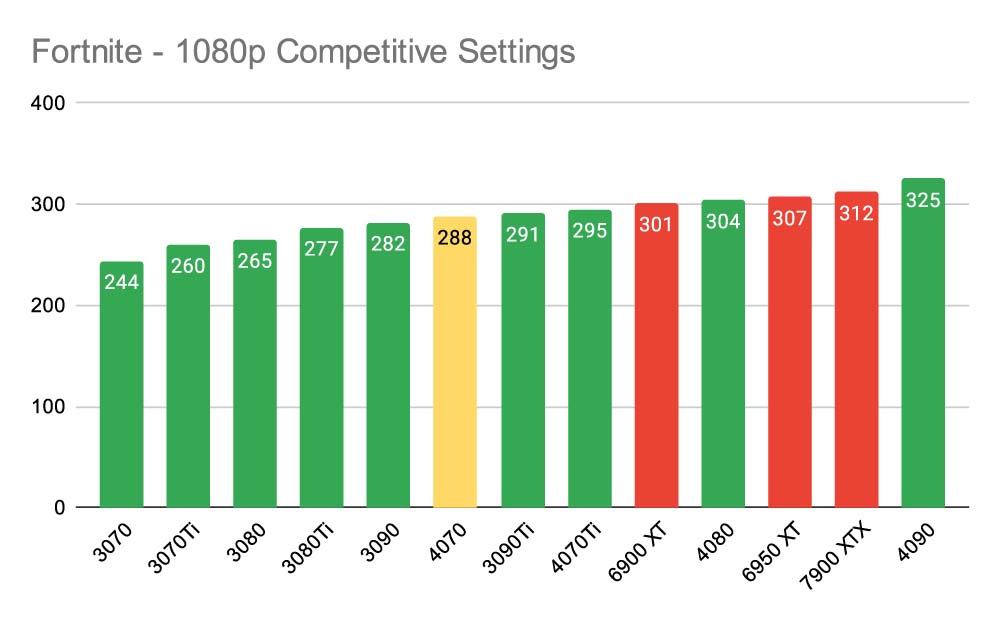 Conclusion
Gigabyte Gaming OC RTX 4070
Product Name: Gaming OC RTX 4070
Brand: Gigabyte
Features

Design

Performance

Value For Money
Summary
Gigabyte's Gaming OC RTX 4070 is another fresh entrant on the market offering a well-rounded aesthetic, solid thermals, and excellent performance. The RTX 4070 can easily handle 4K and 1440p with no issues. Whilst it does struggle to a degree to reach the 144Hz sweet spot, some tuning of your in-game settings will allow you to engage that buttery smooth refresh rate. The Gaming OC model does provide some additional benefits in terms of cooling, sporting Gigabyte's signature WINDFORCE cooling system. The addition of some RGB lights are well are a nice touch for consumers that enjoy a graphics card with some extra flair. Overall we're pretty happy with this card, it is pricier, but will be worth the money for consumers building an aesthetically pleasing and cool system.
Pros
✅ Excellent thermal capability.
✅ Handles 4K and 1440p gaming with ease.
✅ RGB lighting adds plenty of flair.
Cons
❌ Size may limit case choices to a degree.
❌ Minimalist aesthetic won't be for everyone.
❌ Can't always reach the 144Hz mark.