Introduction
After months of rumours and speculation, Nvidia's RTX 4070 graphics cards have arrived. When the RTX 4070Ti released at the start of the year, it seemed like the 4070 would be the next logical step, but the months of radio silence left us guessing.
We're thankful to see a new graphics card hit the market, especially at a significantly reduced price compared to the other RTX 4000 options. Also, Nvidia's latest release brings with it a more compact design that looks to address some of the issues that have come with Nvidia's recent GPU releases.
To celebrate, we've decided to throw the RTX 4070 into a mid-range gaming PC offering a great value for money deal that is bound to tempt a lot of gamers to pick up the RTX 4070. As usual, we'll be breaking down each of the components in this build ,along with gaming benchmarks to see how the RTX 4070 performs in all the latest titles.
Suggested Article: Nvidia GeForce RTX 4070 Review – Founders Edition Benchmarks
Performance Preview
Hover/tap on each card to see a detailed run down of the settings used!

1440p, High Settings
Avg: 160FPS
Preset: High
V-Sync: Off
Anti Aliasing: TSAA
Texture Filtering: 8x
Ambient Occlusion: High
Volumetric Lighting: High
Dynamic Shadows: Enabled
Model Detail: High



1080p, Comp. Settings
Avg: 288FPS
Preset: Low
V-Sync: Off
Render Distance: Far
TSR: Off
Global Illumination: Off
Ray Tracing: Off
Effects: Low
Post Processing: Low



1440p, High Settings
Avg: 129FPS
Preset: High
V-Sync: Off DLSS: Performance Textures: High Particle Quality: High Tessellation: Near Shaders: High

1440p, High Settings
Avg: 137FPS
Preset: High
V-Sync: Off DLSS: Performance Textures: High Particle Quality: High Tessellation: Near Shaders: High
Main Components
GPU: Nvidia RTX 4070 Founders Edition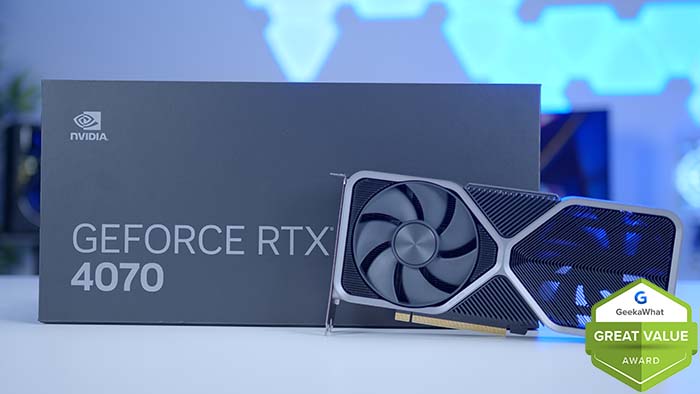 Starting things off with the star of this build, the RTX 4070. Nvidia's latest release subverted expectations to provide a smaller design that provides a more affordable RTX 4000 option for consumers. Despite these changes, this graphics card doesn't suffer too many performance reductions compared to the more expansive alternatives. Whilst more details will be available in our benchmarks section, our results suggest the RTX 4070 is the first 40 series GPU to compete with the previous-gen offerings in terms of value for money.
For this build, we've opted for the RTX 4070 Founders Edition, as Nvidia's base design provides a solid blend of performance, thermals, and design. As the design for others to follow, this particular GPU sets a good example for manufacturers looking to develop a RTX 4070 variant, whilst offering consumers with a card that is incredible value for money.
Key Specs
| Key Spec | Nvidia RTX 4070 Founders Edition |
| --- | --- |
| Base Clock Speed | 1.92GHz |
| Boost Clock Speed | 2.47GHz |
| CUDA Cores | 5888 |
| RT Cores | 46 |
| TDP | 200W |
Things We Like
Great value for money: The RTX 4070 is one of the best price-to-performance options available to consumers, acting as the cheapest way to access the latest generation of GPUs and the technology that comes with it. The RTX 4070 Founders Edition impressed us enough to receive our seal of approval with a GeekaWhat Great Value Award.
Compact form factor: One of the biggest surprises that came with the release of the RTX 4070 is the reduce size compared to previous RTX 4000 series GPUs. Possessing a form factor that resembles previous-gen GPUs, the 4070's smaller size is less likely to cause PC case compatibility issues, which is a welcomed change from the gigantic nature of the other RTX 4000 cards.
Things We Don't Like
Lack of RGB: This GPU retains the fairly simplistic aesthetic found on other Founders Edition designs. Even though these cards look fairly smart in a range of builds, they lack the RGB lighting and complex patterns that appeals to the typical PC gamer.
Limited availability: Whilst the Founders Edition cards are always a valuable option as they are guaranteed to remain at MSRP, finding one is a different story. This is because the Founders Edition designs are usually in very high demand, which results in them selling out pretty quickly.
Where to Buy
Buy the Nvidia RTX 4070 Founders Edition on:
CPU: Intel Core i5 13400F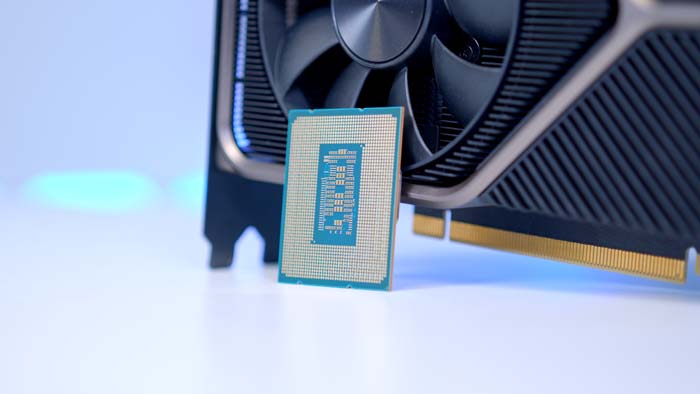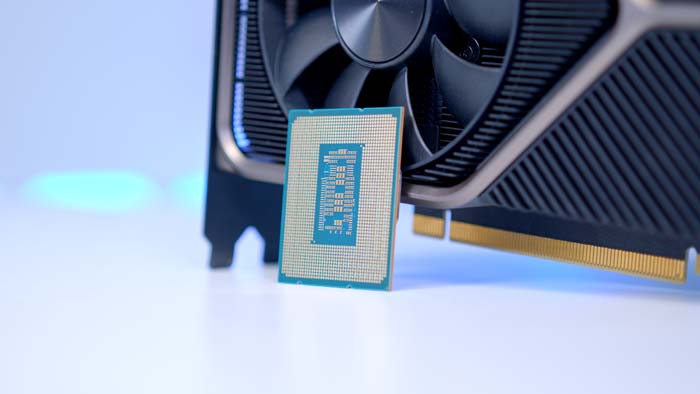 Our CPU for this build attempts to keep the value train chugging along, as we've opted for the Intel Core i5 13400F. As one of the cheapest i5 processors available, this 13th-gen processor allows gamers to enjoy the latest titles at 1080p and 1440p without having to break the bank. This reduced price does result in the absence of overclocking and built-in graphics, making this processor less than ideal for productivity-based tasks. However, those looking to build a strictly gaming-based PC will be happy to sacrifice these features in order to shed the additional funds.
Boasting a base clock speed of 2.5GHz and a boost clock speed of 4.6GHz, the i5 13400F has enough power to comfortably run a myriad of games at 1080p and 1440p. On top of this, the i5 13400F is capable of running at 4K as well, but the results will vary between games. Because of this, the i5 13400F is a strong match for the RTX 4070, especially for those looking for a good deal.
Key Specs
| Key Spec | Intel Core i5 13400F |
| --- | --- |
| Base Clock Speed | 2.5GHz |
| Boost Clock Speed | 4.6GHz |
| Core Count | 10 |
| Thread Count | 16 |
| Max Turbo Power | 148W |
| Overclockable | No |
Things We Like
Strong 1440p performance: This CPU will have no problems running the latest games at 1440p with high settings enabled, allowing budget-friendly gamers to focus on the action.
Good value 13th-Gen CPU: Arguably the most affordable option for mid-range systems, the i5 13400F holds up well compared to the more expensive Intel 13th-gen offerings.
Things We Don't Like
Struggles at 4K: Whilst this PC build is targeted at offering strong 1440p gaming, the RTX 4070 offers strong performance at 4K too, making it a valid option for those wanting to play at higher resolutions. However, the i5 13400F may struggle to keep up, making a more powerful CPU better for those wanting reliable 4K gameplay.
Not the best for productivity: Whilst this processor provides a solid gaming experience, it will struggle to support demanding productivity tasks, making it less than ideal for anyone looking to use their system for editing or streaming.
Interesting in learning more? Check out our Intel Core i5 13400F review.
Where to Buy
Buy the Intel Core i5 13400F on:
CPU Cooler: DeepCool LS520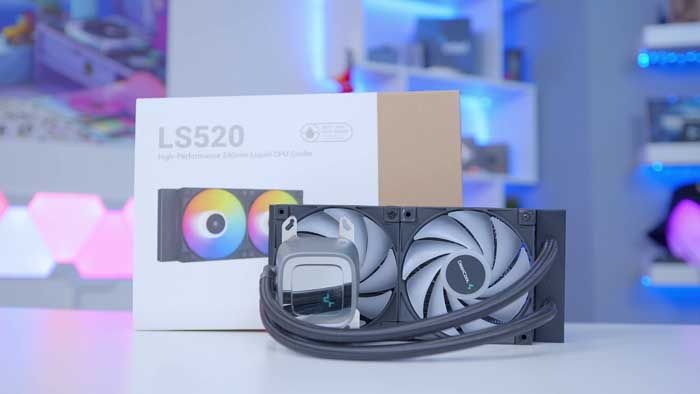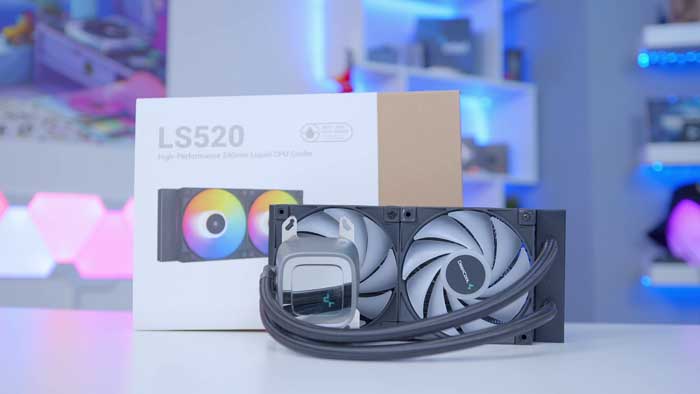 In order to efficiently cool our system, we've picked up the DeepCool LS520. This liquid CPU Cooler includes a 240mm radiator, which provides a solid middle ground between size and performance. This is reflected in the price as well, making this a great option to slot into this build. Equipped with 2 x 120mm fans, this cooler ensures plenty of airflow for heat to be pushed while the thick copper plate attached to the water pump keeps the CPU at a cool temperature.
The LS520 will also provide some flair to this gaming PC thanks to its impressive RGB lighting on both the fans and the water pump. On top of the RGB surrounding the border of the pump, the pump face can be customised to display a unique logo, adding a nice touch to the inside of a gaming-oriented build.
Key Specs
| Key Spec | DeepCool LS520 |
| --- | --- |
| Fans | 2 |
| Max RPM | 3100 |
| Connector Type | PWM 4-Pin |
| RGB | Yes |
| Size | 282mm x 120mm x 27mm |
Things We Like
RGB Lighting: All the RGB lovers out there will be happy with this cooler, as the amount of lighting effects available is bound to brighten up any gaming PC. Plus, the LS520 includes support for various RGB software such as ASUS Aura Sync and Razer Chroma, allowing gamers to sync the effects with other products in their setup.
Easy installation: This CPU cooler includes a LGA1700 bracket in the box, which means builders don't have to worry when installing this cooler into a 13th-gen system like this one.
Things We Don't Like
240mm restrictions: Whilst the 240mm radiator will be enough to provide ample airflow to the CPU and other components within this build, a larger 360mm could have been used to increase the cooling capabilities. However, this would have come with the caveat of a higher price point.
Where to Buy
Buy the DeepCool LS520 on:
Motherboard: ASUS TUF Gaming B760-Plus WiFi D4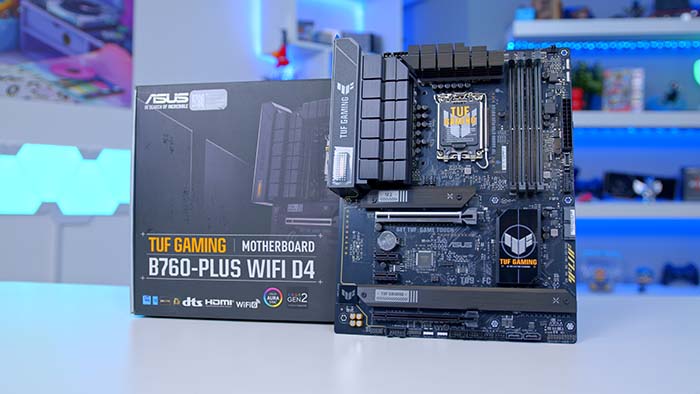 For the motherboard in this build, we've opted for the ASUS TUF Gaming B760-Plus WiFi D4. For Raptor Lake processors like the i5 13400F in this system, B760 motherboards are the most cost-effective option. This is because the B760 chipset are the most budget-friendly choice that is specifically designed for Intel's latest generation of processors. In addition, these chipsets offer plenty of support for recent components without having to rely on adapters and external connectors.
ASUS' TUF Gaming design is a particularly strong choice due to its strong set of connectivity features, providing plenty of support the components required for a mid-range gaming PC while keeping some connections free to accommodate potential upgrades. For example, the PCI-E 5.0 ready GPU slot will easily support Nvidia's latest graphics cards such as the RTX 4070, as well as being well-prepared for the next generation of cards as soon as they release.
Key Specs
| Key Spec | ASUS TUF Gaming B760-Plus WiFi D4 |
| --- | --- |
| Form Factor | ATX |
| Max Memory | 128GB DDR4 5333MHz |
| PCI-E x16 Slots | 1x PCI-E 5.0, 1x PCI-E 3.0 |
| PCI-E x4 Slots | 3x PCI-E 4.0 |
| Rear IO | 1x USB 3.2 Gen2x2 Type-C, 1x USB-C 3.2 Gen2, 3x USB 3.2 Gen1, 1x USB 2.0 |
| Networking | 2.5 Gigabit LAN, WiFi 6 |
Things We Like
Great aesthetic: We're big fans of the industrial-based look on TUF Gaming motherboards as it adds a premium touch to any build for a fairly reasonable price.
Upgrade potential: With 128GB memory capacity and enough PCI-E slots for multiple graphics cards and storage options, this motherboard is a great choice for builders looking to gradually enhance their PC's performance capabilities without having to transfer their components to a fresh motherboard.
Things We Don't Like
Networking options: An option of wired or wireless network connectivity isn't always provided on B760 boards, but having WiFi 6 instead of the superior WiFi 6E makes this motherboard slightly less reliable for online gaming.
Limited USB ports on rear IO: Despite the quality of the USB ports included on the rear IO being fairly impressive, the amount of ports present is limited compared to other B760 options. This could lead to some logistical issues for gamers when connecting lots of different peripherals and accessories.
Want more information on this motherboard? Read our full review.
Where to Buy
Buy the ASUS TUF Gaming B760-Plus WiFi D4 on:
RAM: Corsair Vengeance RGB RS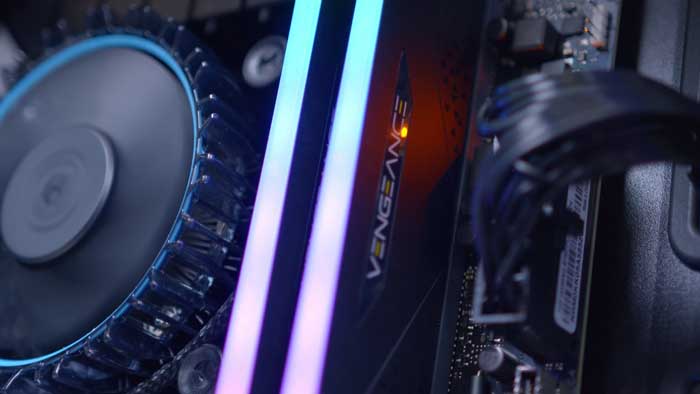 Moving onto the memory for this build, our choice is the 32GB kit of Corsair's Vengeance RS RGB. Corsair offer lots of great RAM kits with varying performance and price points, but we've gone with the Vengeance RGB RS this time around, as it is a kit that offers strong performance for a solid price. The 32GB capacity on this RAM will provide our system with plenty of speed, allowing for faster loading times and plenty of power to deal with graphically intense games with lots of environmental structures and atmosphere.
Featuring a substantial 3600MHz clock speeds, gamers will be able to spend more time in the midst of action rather than pesky loading screens. Also, this RAM contains a fairly low CL18 latency for smoother and more responsive gameplay. As a nice bonus to the solid performance, the strips of RGB lighting along the top of the DIMM sticks add a splash of colour to the internals of any gaming PC, with the lighting effects being fully customisable in Corsair's iCUE software.
Key Specs
| Key Spec | Corsair Vengeance RGB RS |
| --- | --- |
| Kit Capacity | 32GB |
| Memory Speed | 3600MHz |
| CAS Latency | CL18 |
| RGB | Yes |
| Colour Options | Black |
Things We Like
High capacity memory: The 32GB offered with this kit will not only provide immediate performance benefits, but it also increases the upgrade potential to the vacant slots. Filling these out will lead to a total of 64GB of DDR4 memory, which will be plenty for this build.
Corsair iCUE compatibility: Any product that takes advantage of Corsair iCUE ticks our software support requirements, as this software from Corsair is one of the easiest to navigate, making it easy to adjust lighting effects and monitor the performance of our system.
Things We Don't Like
Cheaper options available: Whilst we would still consider this RAM to be good value for money, it is by no means the cheapest 32GB option available. The additional RGB lighting bumps the price up, meaning those on a tight budget may want to consider a non-RGB alternative.
Only available in black: Whilst the lack of a lighter colourway doesn't impact this build, it does makes this memory option less than ideal for anyone looking to build a white-themed gaming PC.
Where to Buy
Buy the Corsair Vengeance RGB RS on:
SSD: WD Black SN850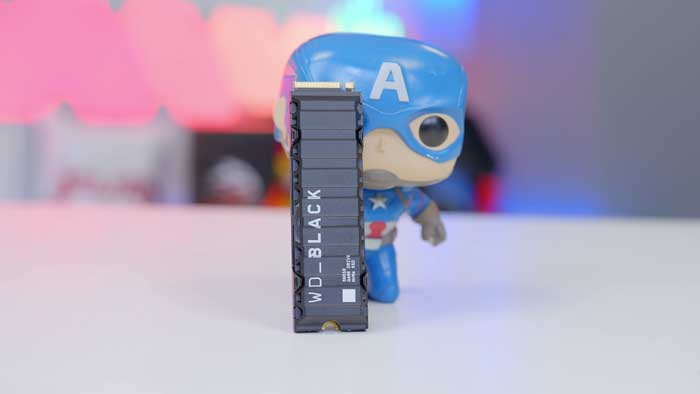 Our storage option for this PC build is the WD Black SN850. This Gen4 SSD offers 1TB of high-speed storage, which is enough to hold a handful of large games at once. In addition, the high read and write speeds of 7GB/s and 5.3GB/s respectively means these games will be able to run at their best without having to constantly move them around to different drives or uninstall them. As an M.2 drive, this SSD is a breeze to install compared to SATA or HDD alternatives.
Key Specs
| Key Spec | WD Black SN850 1TB |
| --- | --- |
| Capacity | 1TB |
| Read Speeds | 7000MB/s |
| Write Speeds | 5300MB/s |
| Interface | PCI-E Gen4 x4 |
| Form Factor | M.2 2280 |
Things We Like
Affordable M.2 option: This specific SSD is a fairly affordable Gen4 storage option, especially when you take into consideration the performance and storage capacity included.
Heatsink included: This SSD gives consumers the option of including a heatsink within the design, which helps improve thermal regulation. However, it is important to note that this comes with a higher price tag.
Things We Don't Like
Limited capacity: Though the improved read and write speeds of M.2 SSDs are almost an essential aspect for modern gaming PCs, most gamers will struggle with only 1TB for all their games and applications and may want to consider picking up additional storage.
Gen4 Pricing: As Gen4 drives are still considered a premium option for PC builders, they often come with a premium price tag. Because of this, some gamers looking for a better value deal may want to look at Gen3 options as well.
Where to Buy
Buy the WD Black SN850 on:
PSU: Corsair CX650F RGB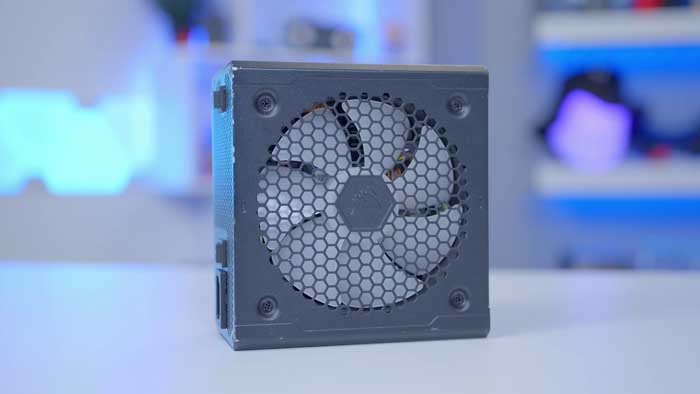 Another Corsair product features in this PC build, with the Corsair CX650F RGB providing the power for the components within this system. Due to the RTX 4070 only needing 200 watts to run efficiently, users can make use of a less demanding PSU and save some money on their energy bills in the process. We've taken a slight risk here, as this 650W option does sit on the minimum PSU requirements stated by Nvidia for their latest GPU, meaning there is less room for upgrades.
However, the price-conscious approach means the components featured in this build requires less power to run efficiently. As a result, the 650 Watts should provide enough clearance to stop any power consumption issues from surfacing. The CX650F RGB is a great option that includes plenty of cool features such as a fully modular design for improved cable management and a RGB fan that can be customised in iCUE.
Key Specs
| Key Spec | Corsair CX650F RGB |
| --- | --- |
| Wattage | 650W |
| Efficiency Rating | 80+ Bronze |
| Modularity | Fully modular |
| ATX Standard | ATX 2.0 |
| Zero Fan Mode | No |
Things We Like
Fully modular: Cable management can be one of the most difficult aspects of a PC build, so any way to reduce the hassle is appreciated. Featuring a fully modular design, this PSU allows gamers to pick and choose which cables to connect, which helps to reduce the clutter caused by unnecessary attachments.
RGB lighting: It is rare to see any form of RGB on a power supply, so to see it included on a budget-friendly option is a nice surprise. With Corsair iCUE compatibility included, this PSU is bound to add a distinct glow to this PC build.
Things We Don't Like
80+ Bronze efficiency: As this build is getting to be pushing this power supply to the limits during more intense gaming sessions, a higher efficiency such as 80+ would be a better option to ensure the system remains as cool and quiet as possible.
Lack of upgradeability: Even though this 650W power supply will be able to run this particular build efficiently, a PSU above the minimum wattage requirements would provide more room for future upgrades.
Where to Buy
Buy the Corsair CX650F RGB on:
Case: Cooler Master MasterBox 520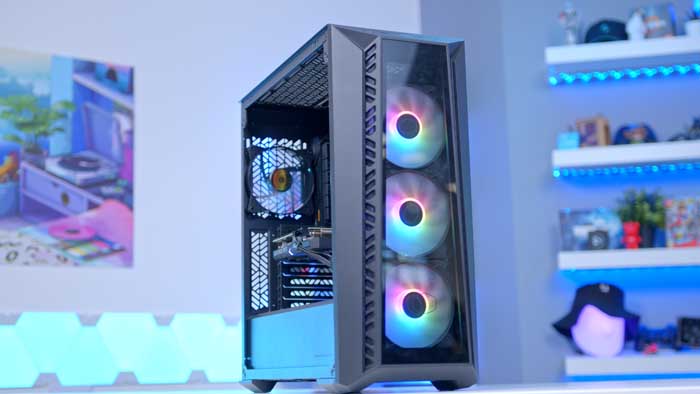 Rounding off the components featured in this build, we have the Cooler Master MasterBox 520. This mid-tower case includes a variety of features to make the PC building experience much easier for novices. A prime example of this is the removeable top panel, which makes the installation process for fans or radiators along the top of the case less awkward and easier to control. In addition, the larger size allows for wider compatibility with components such as motherboards and graphics cards, reducing the likelihood of compatibility issues for less-experienced builders.
In terms of aesthetics, the tempered glass on the front and side panels lets the RGB lighting in this build to shine through. And despite the use of glass panels, this case still manages to provide plenty of ventilation throughout, meaning their is no need to worry about airflow and internal temperatures.
Key Specs
| Key Spec | Cooler Master MasterBox 520 |
| --- | --- |
| Form Factor | Mid-Tower |
| Fan Support | 7 x 120mm, 4 x 140mm |
| Motherboard Support | Mini ITX, Micro ATX, ATX, SSI CEB, E-ATX |
| GPU Length Clearance | 410mm |
| CPU Cooler Clearance | 165mm |
Things We Like
Great for beginners: Featuring plenty of room for manoeuvrability and design features such as a removeable top panel makes this case is a perfect choice for less experienced builders picking up their first gaming PC.
Available in black & white: Though we have opted for the black case to match the rest of the components in our build, the MasterBox 520 is also available in white.
Things We Don't Like
Pricing: Whilst the added practicality and support for premium components helps to justify the small bump in price, those looking to allocate more funds to other components may want to look for a more simplistic case in order to save some cash.
Restricted E-ATX support: Whilst this is advertised with E-ATX support, this comes with the caveat that installing these boards will cause cable management issues. Because of this, we would suggest avoiding this case if you plan on picking up a larger motherboard.
Learn more about this case in our in-depth review of the Cooler Master MasterBox 520.
Where to Buy
Buy the Cooler Master MasterBox 520 on:
Mid-range Gaming Peripherals
The components of a gaming PC undoubtably play an important role in the overall gaming experience. However, there is no point in building a powerful gaming PC without the high-quality gaming peripherals to go alongside it. Because we know how difficult it can be to pick the right tools for the job, we've picked out some of our favourite picks to pair with a mid-range gaming PC.
MSI Clutch GM51 Lightweight Wireless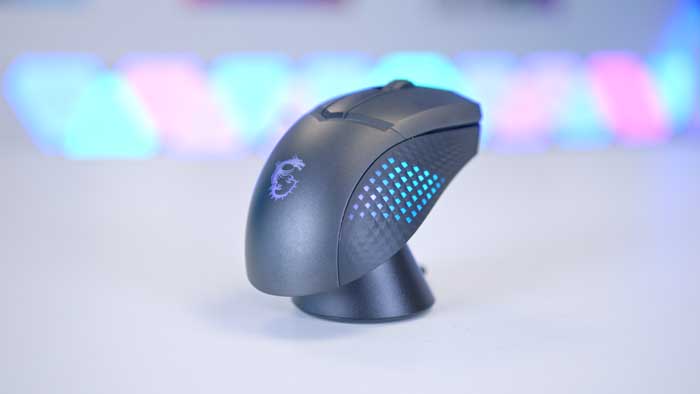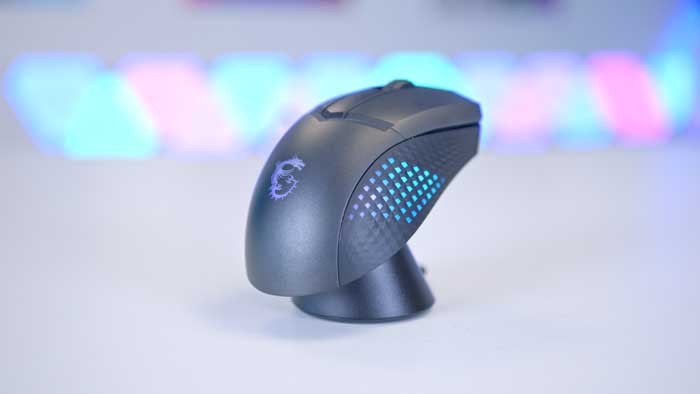 As one of MSI's latest arrivals, the Clutch GM51 Lightweight Wireless offers a strong combination of top-tier performance and ergonomics. An ideal choice for right-handed gamers, this wireless mouse includes a 25K DPI sensor and plenty of RGB. Plus, the wireless charging dock makes it easy to avoid running out of charge.
Want to know more? Read our full review.
Buy the MSI Clutch GM51 Lightweight Wireless Gaming Mouse on:
MSI Vigor GK50 Elite Wired Gaming Keyboard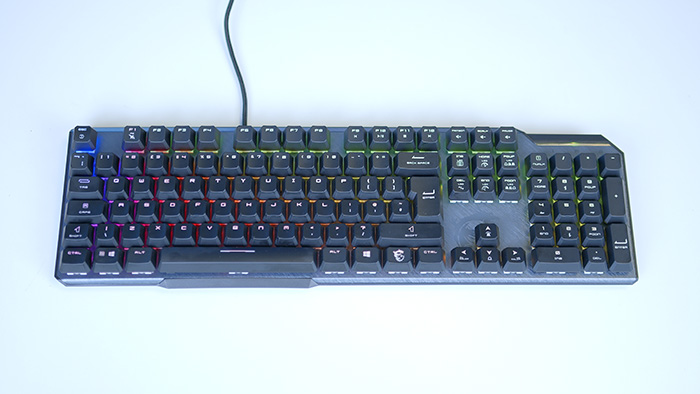 Another MSI offering that will pair up nicely with the Clutch GM51 is the MSI Vigor GK50 Elite, a budget-friendly keyboard that offers a great typing experience. Despite the lower price point, the octagonal keycaps on this full-sized keyboard look and feel great, while the RGB lighting is pleasing enough to suit most gaming setups.
Want to know more? Read our full review.
Buy the MSI Vigor GK50 Elite Wired Gaming Keyboard on:
Logitech G733 Wireless Gaming Headset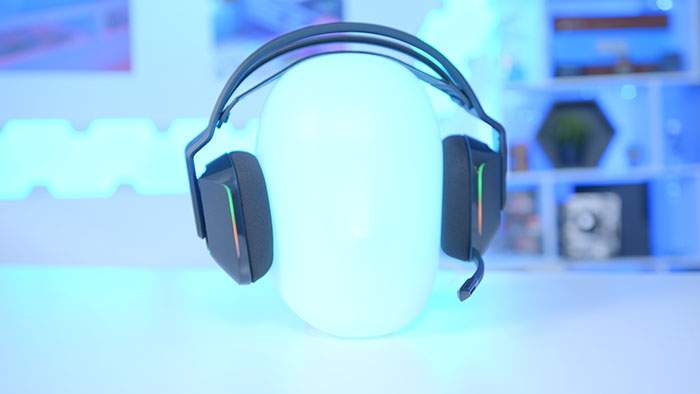 Finally, we have one of the best value headsets on the market, the Logitech G733. This headset is very comfortable thanks to the lightweight design and soft cushioning on the headband and earcups. In addition, Logitech make the most of their BlueVo!ce technology to ensure that communicating with the G733 is loud and clear.
Want to know more? Read our full review.
Buy the Logitech G733 Wireless Gaming Headset on:
RTX 4070 Gaming Benchmarks
[smartslider3 slider="64″]
Gallery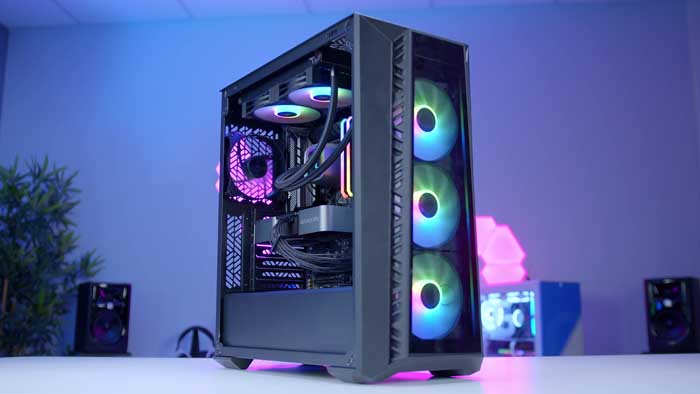 Video