Introduction
The RTX 4070 is an excellent graphics card. This GPU provides solid performance at both 1440p and 4K resolutions, while also offering great metrics in workstation applications too. But if you're building a brand new PC with an RTX 4070, how do you choose the right CPU to pair it with? In this buyers guide, we're setting out to find the best CPU for the RTX 4070.
In order to do this, our benchmarking team has put a range of CPUs both from AMD and Intel, to see which options offer the best performance in an RTX 4070 PC build. Our benchmarking and analysis takes into account gaming performance in a number of the latest titles, such as Baldur's Gate 3, Hogwarts Legacy, Starfield, Fortnite, and more.
Our Recommendation: AMD Ryzen 7 7800X3D
After a number of different tests, we've concluded that the best CPU for the RTX 4070 is AMD's Ryzen 7 7800X3D. Although this CPU isn't the most ideal option for multi-core workloads, it is a titan when it comes to gaming performance. Offering the best framerates at both 1440p and 4K, the 7800X3D is an ideal pairing for the RTX 4070.
There are very few CPUs on the market that can rival the performance of the 7800X3D due to its 3D V-Cache technology. And due to a number of price drops recently, it has an incredible value-proposition too. Needless to say, if you're wanting to max out your frames in your favourite triple A games, the 7800X3D is a must-have pairing for the RTX 4070.
All CPUs in Our Testing Roundup
Our Recommendations
1. Intel Core i5-13600K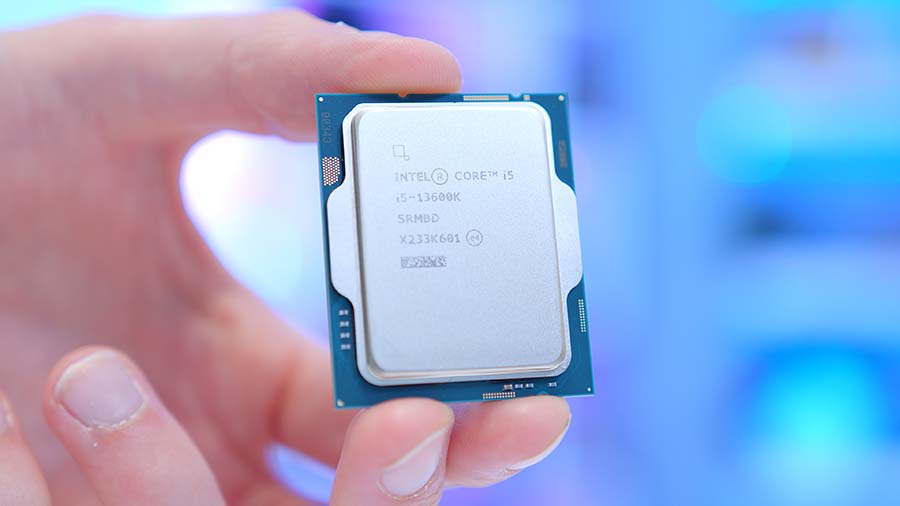 Intel's Core i5-13600K has been a mainstay for the past year or so, since its release at the end of 2022. The Core i5-13600K offers performance that compete with some Ryzen 7 and Ryzen 9 alternatives, making it a great mid-range CPU. This processor offers 14 cores and 20 threads, so multi-core performance is also pretty strong, some video editing and 3D rendering shouldn't pose too much of an issue for the 13600K. Which in turn makes it an ideal CPU for a multifaceted gaming-workstation PC build. Intel's 13600K is still one of the best CPUs on the market right now, and is more or less unrivalled when it comes to value-proposition.
Consumers can play their favourite titles at 1440p and 4K with no issues, and when paired up with the RTX 4070, you can expect high framerates at 1440p too. And with a number of price drops recently, the value of this card is extremely strong versus the competition.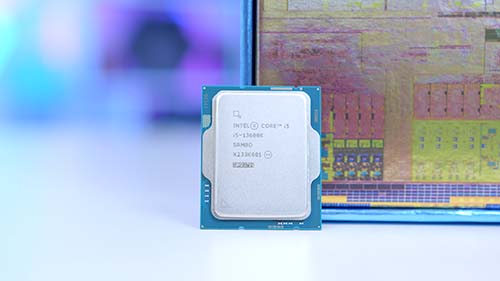 Although the Core i5-13600K is a very solid pairing for the RTX 4070, consumers will want to be aware of power draw and thermals. This 13th-Gen option runs much hotter than its 12th-Gen counterpart, and will require more power from your PSU. But I feel despite the slight increase in thermals and wattage requirements, the 13600K is still well worth considering for an RTX 4070 PC build.
Buy the Intel Core i5-13600K on:
2. AMD Ryzen 7 7700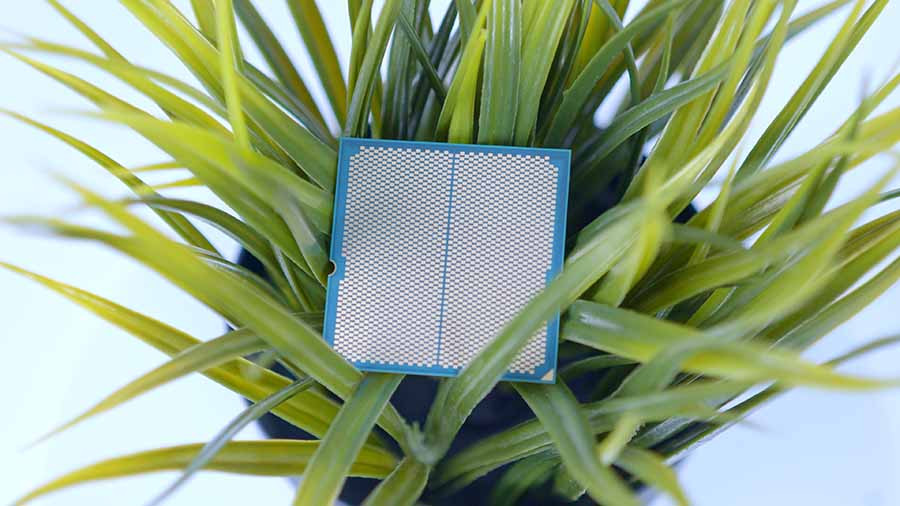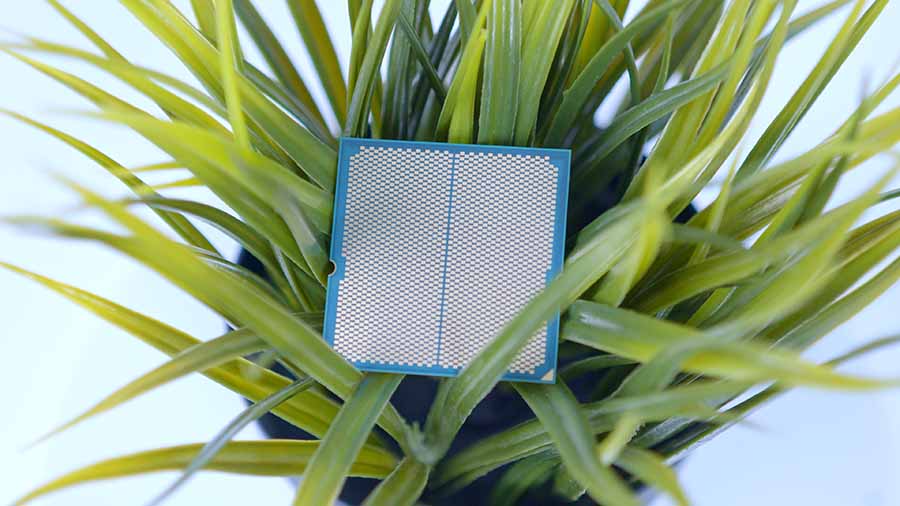 AMD's Ryzen 7 7700 is one of the more affordable options for an RTX 4070 PC build. Much like its overclockable counterpart, the 7700 offers eight cores and 16 threads in total, which does mean it loses out to the 13600K in terms of multi-core performance. But despite this, the 7700 really thrives when it comes to clock speed, offering 5.4GHz out of the box, which will provide a massive boost to gaming performance, opening up legroom for 4K and beyond when paired up with a GPU like the 4070 or higher. The biggest pro of this CPU is its competitive price point. Coming in pretty close to the 13600K with a price of around $300, the 7700 is a competitive mid-range CPU.
The benefit of not having CPU overclock support is that thermals are generally lower, especially with Eco mode enabled. This means the Ryzen 7 7700 is generally more efficient and stronger when it comes to thermal capability.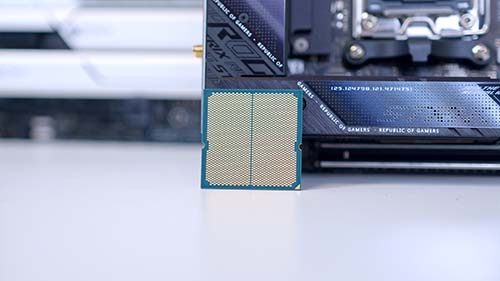 Unfortunately, the biggest weakness of this CPU is its multi-core capability. The Ryzen 7 7700 is immediately blown out of the water by the majority of Intel's options when it comes to threaded workloads due to the higher core counts. However, the Ryzen 7 7700X is still an incredibly competitive gaming CPU, and will pair very well with an RTX 4070 offering solid performance in your favourite triple A games.
Buy the AMD Ryzen 7 7700 on:
3. Intel Core i7-13700K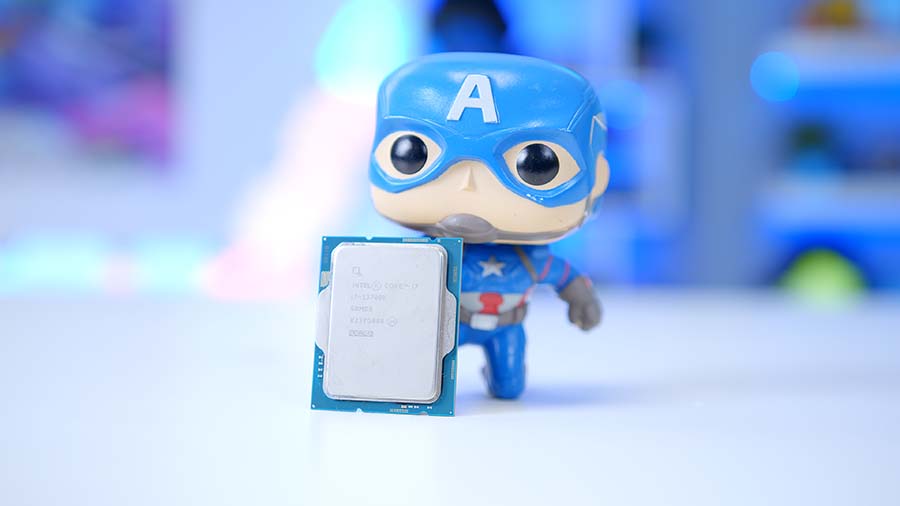 Intel's Core i7-13700K is quite a step up from the 13600K and 7700X. The 13700K is perfect for consumers looking to build a multi-faceted system. The higher core count and exceptional clock speed makes it perfect for workstation applications, alongside 4K gaming too. During our testing, we found that the 13700K really thrived during threaded productivity applications. Video editing, 3D rendering and modelling didn't pose much of an issue for the 13700K, because of the very strong core and thread count. Although the 13700K is definitely a solid CPU for gaming, tougher workloads are where you'll see the 13700K really push itself.
Unfortunately, the stronger performance of this Core i7 CPU does come with a rather significant price hike, with the price sitting close to $400 dependent on the vendor. We'd also recommend picking up a liquid cooler for those that plan on pushing this processor with some multi-core applications, which can increase your build cost. But despite all of this, the 13700K is a great option to pair up with the RTX 4070, especially if you're building a workstation-oriented setup.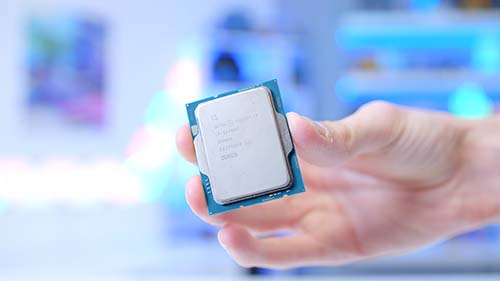 Buy the Intel Core i7-13700K on:
4. AMD Ryzen 7 7800X3D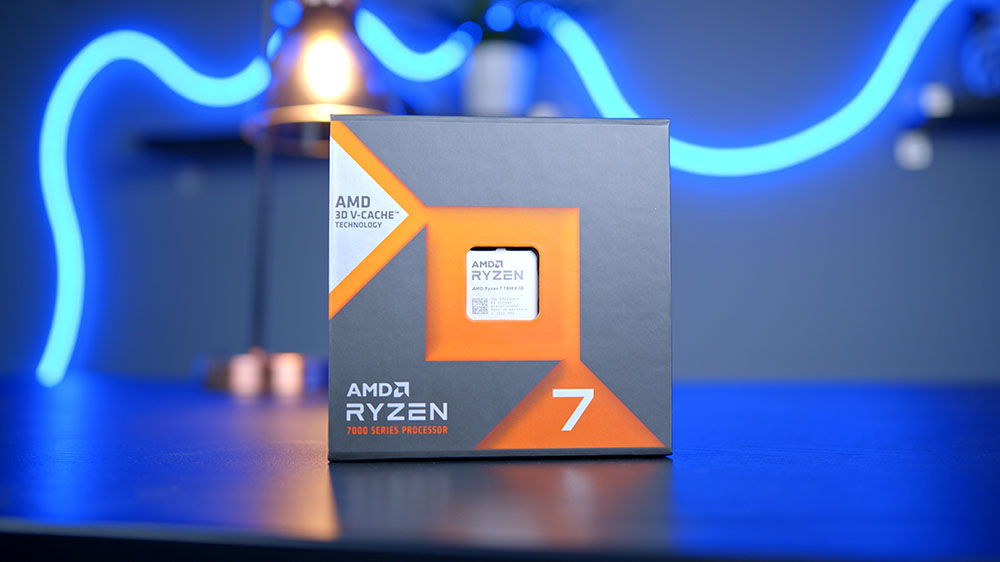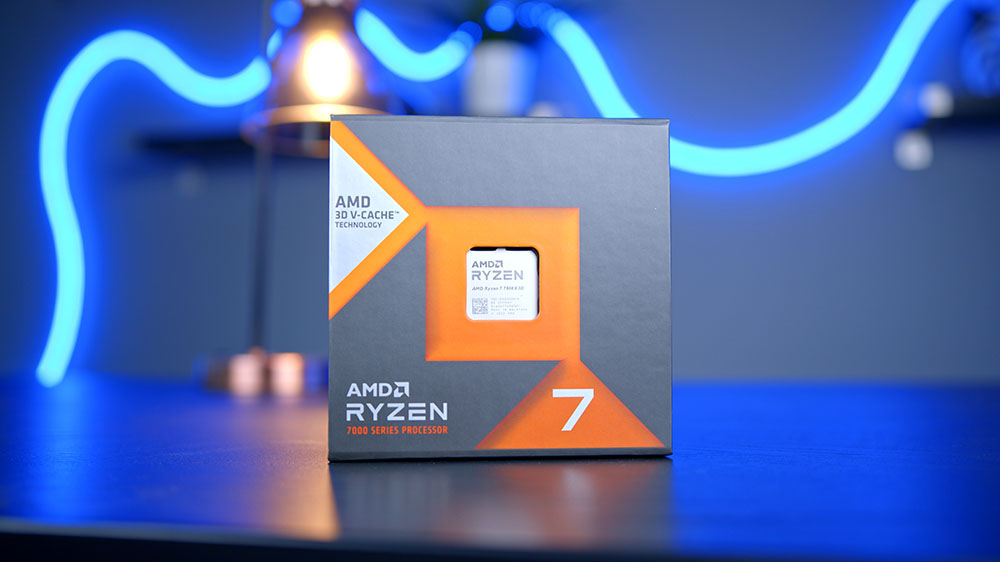 AMD's Ryzen 7 7800X3D is Team Red's strongest CPU yet, thanks to their 3D V-Cache technology. This cache is stacked directly on top of the CPU, which acts as extremely fast storage that the 7800X3D can pull from, resulting in significantly increased performance in games. Specs wise, this Ryzen 7 option comes in with eight cores and 16 threads, not too dissimilar from the Ryzen 7 7700. The 7800X3D can also boost up to 5GHz as well, which should further performance across a number of applications. The main strength of the 7800X3D is its unrivalled gaming performance. The 3D V-Cache is mainly used in games due to the volatility of the instructions required to run them, which means performance is at its best with this CPU.
You'll see some very high framerates at both 1440p and 4K, with very few CPUs even coming close. Unfortunately the extra performance from the 3D V-Cache does stop at gaming. There are very few applications that can make use of the increased cache, which means that there's few benefits beyond having a solid core count. However this aside, the 7800X3D is still one of the strongest options for gaming, and an excellent option for a mid-range RTX 4070 PC build.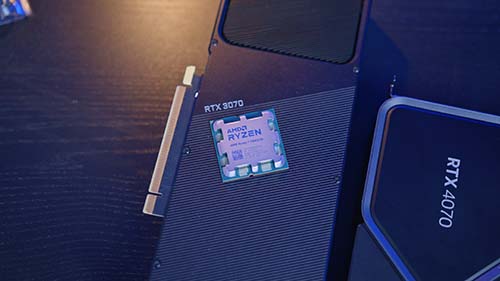 Buy the AMD Ryzen 7 7800X3D on:
RTX 4070 Performance Benchmarks
NVIDIA's RTX 4070 is a pretty controversial graphics card, but despite this, it is still a very strong competitor in the 1440p and 4K gaming space. Our in-house benchmarking have put a number of RTX 4070 GPUs through the wringer, comparing them against modern NVIDIA and AMD options, alongside older cards on the market. Our full testing suite includes a number of intense triple A titles like Starfield, Baldur's Gate 3, Hogwarts Legacy, and more, ensuring we can see exactly how the RTX 4070 performs under stress.
The main considerations that we take into account when benchmarking graphics cards are:
Thermals
Size
Gaming and Workstation Performance
Power Consumption
Design & Aesthetic
Value-Proposition
Starfield @ 1440p
In Starfield at 1440p high settings, the RTX 4070 was able to offer up around 77FPS on average, which is relatively solid considering how unoptimised this title is. It isn't the strongest card amongst all of the cards that we've tested, but performance is pretty close overall. Needless to say, you can expect relatively smooth performance from the RTX 4070 in Starfield.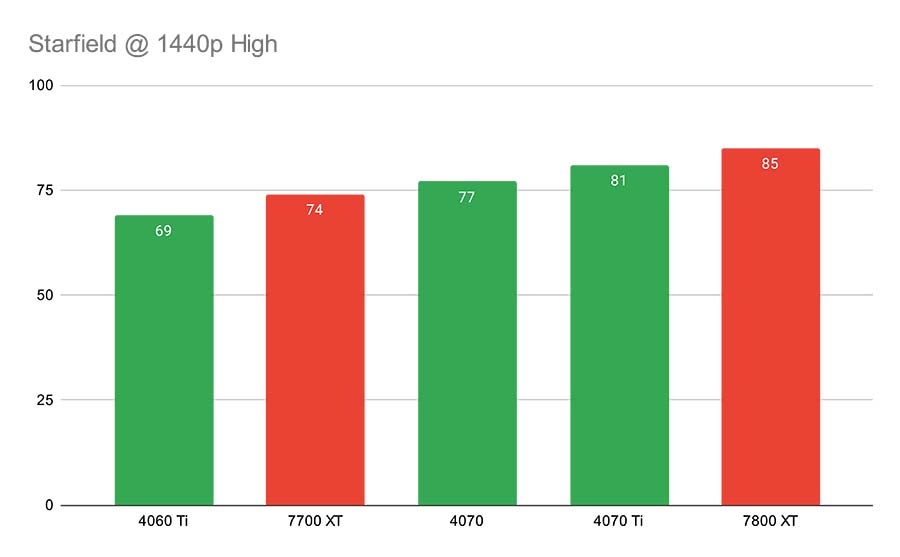 Hogwarts Legacy @ 1440p
In Hogwarts Legacy at 1440p high, you're able to see a larger suite of cards, with the RTX 4070 sitting in the middle with an average of 85FPS. Hogwarts Legacy is more optimised, but it is also one of the most intense games that we've seen release this year, hence the lower performance on average. But despite this, the RTX 4070 still pushed through offering a relatively solid framerate. But it was slightly disappointing to see that a few of AMD's cards sat at a similar performance level despite being much cheaper.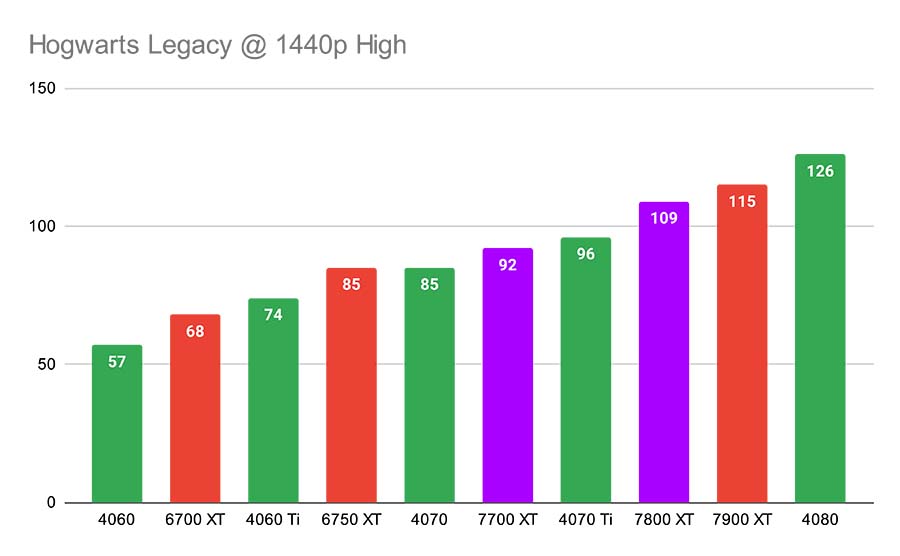 Apex Legends @ 1440p
In Apex Legends at 1440p, framerates surged much higher, with the RTX 4070 sitting at 179FPS on average. Apex is very well optimised and even at higher resolutions it doesn't tend to impose that much stress on your GPU. With the RTX 4070 offering 179FPS, this means that consumers can enjoy that 144Hz sweet spot and more. Having a high refresh rate is a must-have for this title, as the game can be quite intense, especially in competitive matches.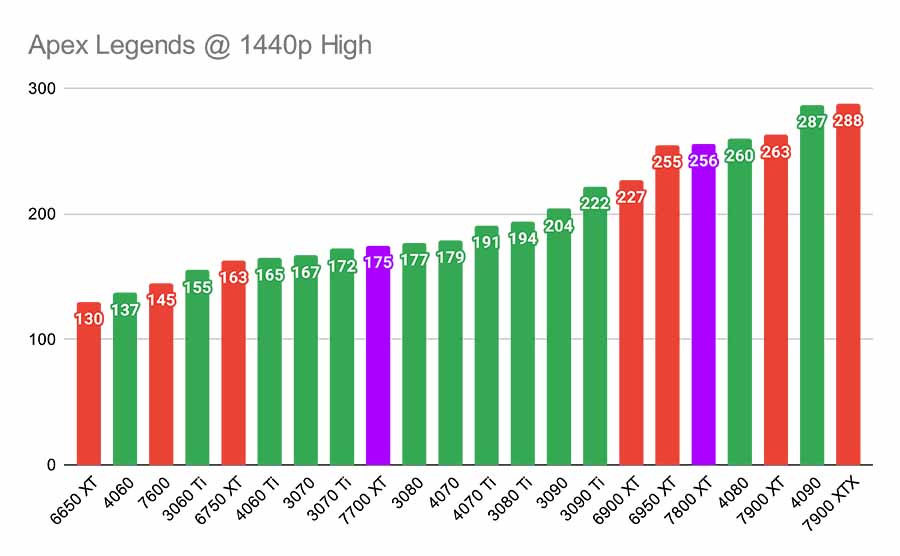 Apex Legends @ 4K
As we bump the resolution up to 4K, we can see a slightly diminished framerate here, but the RTX 4070 was still able to output 136FPS on average. This is just shy of that 144Hz sweet spot that we keep mentioning, but if consumers dial down a couple of in-game settings, you'll be able to enjoy buttery smooth gameplay in this game at 4K with the RTX 4070.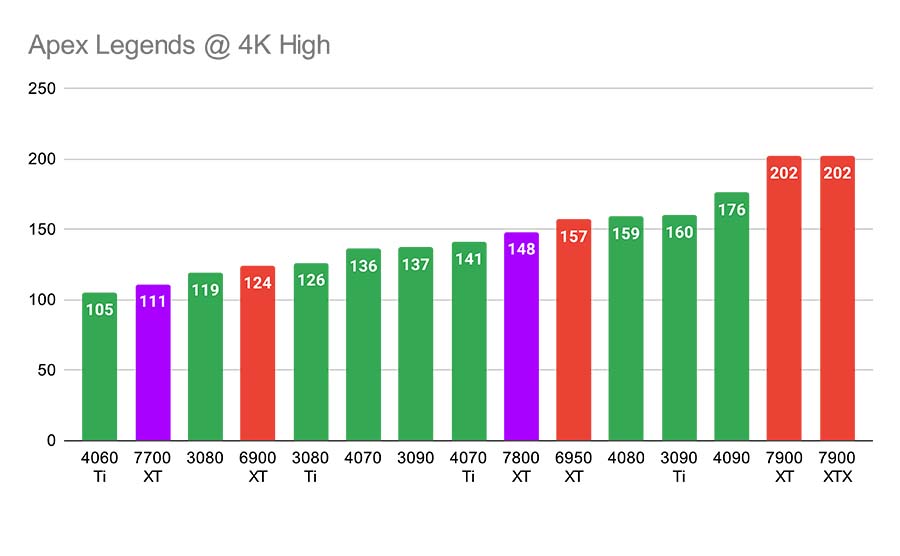 Frequently Asked Questions
How Many Cores Do You Need For Games?
As a general rule of thumb, the majority of games will only ever use one or two cores at most. This means that most consumers can get away with picking up a CPU that has a low core count. However, your clock speed and graphics card capability are hugely important here. Your CPU needs to have a fast clock speed to interpret data from your GPU quickly. And your GPU needs to be able to withstand the settings and performance of the game that you're playing. These have a much higher bearing compared to your CPU's core count.
What Motherboard Do I Need to Pickup?
The motherboard that you pickup is entirely down to your use-case and budget. Dependent on your budget, this may limit or open up more features available to you on your motherboard. In terms of compatibility, Intel 13th-Gen users can pick up a 13th-Gen motherboard, or 12th-Gen board. Whereas, Ryzen 7000 users are limited to the boards that released on AMD's new AM5 platform.
Do I Need DDR4 or DDR5 RAM?
In terms of performance there isn't enough of a difference between DDR4 and DDR5 to warrant the upgrade. So for Intel users, you can choose between either spec, this just depends on your preference. For AMD Ryzen 7000 users, you can only use DDR5 DIMMs in the new motherboards, as this is the only spec they support.
Do I Need PCI-E 5.0?
Currently there are no PCI-E 5.0 capable components, so PCI-E 5.0 isn't a requirement as of now. However, we are likely to see new Gen5 SSDs, and PCI-E 5.0 graphics cards in the next couple of years, so this might be important to you if you plan on future proofing your system. However, if you're worried about cable management you can pick up a PCI-E 5.0 ready power supply, which we've recommended in a full roundup!
Conclusion
Best Overall CPU for the RTX 4070: AMD Ryzen 7 7800X3D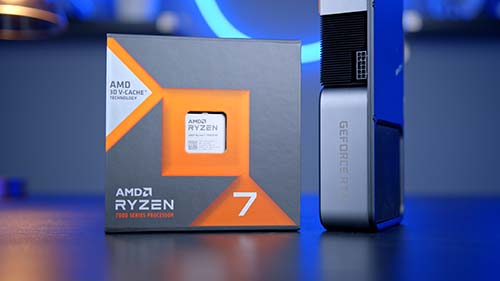 After testing a number of excellent and powerful CPUs on the market, we've concluded that the best CPU for the RTX 4070 is the 7800X3D. The 3D V-Cache and competitive pricing of the 7800X3D makes this processor an incredibly strong option versus the rest of the market, with very few CPUs even coming close.
Consumers can enjoy their favourite games at 1440p and 4K with maxed out settings, and with a graphics card like the RTX 4070, you'll see framerates surge to some real highs. The Ryzen 7 7800X3D is an extremely compelling option to pair up with the RTX 4070.
Read our full AMD Ryzen 7 7800X3D coverage, or Buy the AMD Ryzen 7 7800X3D on Amazon