Introduction
NVIDIA's brand new RTX 4070 has officially launched as of the 12th of April, and so far this card seems like a promising entrant to the market. NVIDIA's RTX 4000 series has been a bit of a mixed bag thus far, with two of their available SKUs not sitting well with consumers due to poor pricing. The RTX 4070 Ti and RTX 4080 are GPUs of questionable value, leaving us all thinking that any future 4000 series cards could potentially follow the same path.
However, the RTX 4070 hasn't seen the turbulent launch that other SKUs have in the past. This new GPU looks to be the card that we've all been waiting for, showing that NVIDIA has finally gained some sense, and released a card that is actually worth it's given price point. But enough about the controversy of the RTX 4000 series, let's take a look at RTX 4070 at face value to see where this is a worthwhile pickup for the majority of consumers.
Sporting 12GB of GDDR6X VRAM (sharing the same amount as it's older sibling the 4070 Ti), 5888 CUDA cores, 46 RT cores, all at a price tag of $599 at MSRP. NVIDIA's Ada Lovelace GPUs have been pretty impressive when it comes to performance, but all of the previous SKUs have been sitting at an unreachable price point. Is NVIDIA's new 4070 the GPU to break the 4K and 1440p gaming space, or is this card another flop?
We'll be breaking this all down with a review of MSI's Gaming X Trio variant of the RTX 4070. We'll be delving into the architecture, design, and performance to see what the difference is between this card, and the Founders Edition model to determine if the 4070 is worth it's given price point!
Buy the MSI Gaming X Trio RTX 4070 on:
Architecture
Much like all of the previous RTX 4000 series cards that we've seen so far, the RTX 4070 is built on the Ada Lovelace architecture. This particular architecture has evolved and offered significant improvements that made Ampere cards (RTX 3000) so popular. The new 4000 range of cards have had massive uplifts in performance due to the development of hardware that has arrived with the Lovelace architecture.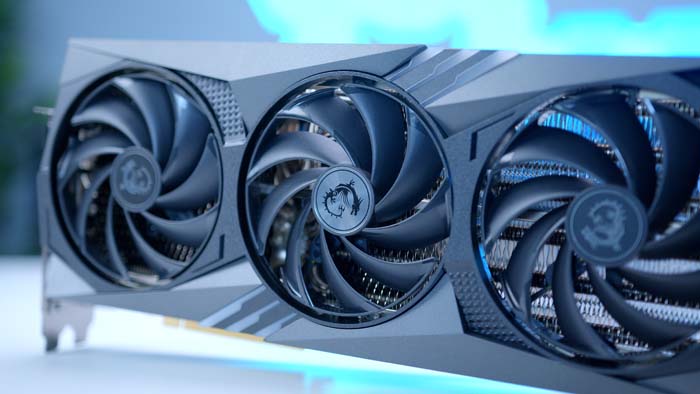 All of the cards have seen significant bumps to boost clock speeds, allowing the GPU to output data much faster to your CPU. All of the new NVIDIA cards also feature 3rd Gen RT cores, and 4th Gen Tensor Cores providing further uplifts to overall performance. Despite the pricing and marketing issues the new architecture is pretty faultless when it comes to performance metrics. The architectural changes have brought along big improvements to all of the cards, including the less affordable top-end SKUs, and the 4070 is a prime example of this, as we'll look at later in benchmarks.
Aside from the big hardware changes, Lovelace also users in an array of improvements to NVIDIA's pillar technologies – Ray-Tracing, and DLSS. The new 3rd generation Ray-Tracing cores allows the new GPUs to push dedicated processing even further, allowing them to tackle performance-intensive workloads. Although the RTX 4070 does see weaker performance with Ray-Tracing, contrasting to more powerful cards, this GPU still handles it very well. 3rd-Gen RT cores really flex their muscles when Ray-Tracing is turned on, which means we could see even a 4060 Ti handle Ray-Traced titles pretty well.
Looking at DLSS, RTX 4000 has unleashed DLSS 3.0 onto the market, providing further improvements in performance with the AI resolution scaling. DLSS essentially uses AI to re-render an image at a lower resolution, and upscale it back to your native display resolution. Doing this reduces the amount of overhead on your GPU, whilst still offering the crisp visual fidelity you should expect at higher resolutions. This does cause small latency issues, but the new generation of DLSS makes this negligible in most scenarios.
Consumers also get access to NVIDIA's brand new Frame Generation technology, which adds further benefits to DLSS resolution scaling. Frame Generation uses two consecutive frames and determines a natural midpoint between the two with AI. Then extra frames are dropped in, in real-time which further improves framerates. This can also aid in situations where your game is bound by your CPU, especially in physics heavy titles, or games that involve large worlds. This technology is limited only to RTX 4000 cards, which is the biggest caveat overall, but this could be a big decision-maker for many consumers looking for the most frames possible.
Specifications
The RTX 4070's specs looks excellent on paper, and should lead to strong framerates in your favourite games. We've created a table below that highlights the key hardware differences between the 4070 and other cards on both the RTX 4000 and RTX 3000 architectures.
Spec
RTX 3070Ti
RTX 3080
RTX 4070
RTX 4070Ti
Video Memory
8GB
12GB/10GB GDDR6X
12GB GDDR6X
12GB GDDR6X
Memory Bus
256-bit
384-bit / 320-bit
192-bit
192-bit
Core Clock Speed
1.57GHz
1.26GHz / 1.44 GHz
1.92GHz
TBC
Boost Clock Speed
1.77GHz
1.71Hz
2.47GHz
2.61GHz
CUDA Cores
6144
8960/9704
5888
7680
Power Consumption
290W
(Founders Edition)
350W / 320W
(Founders Edition)
200W
(Founders Edition)
285W
(Reference Design)
RT Cores
2nd Generation
2nd Generation
3rd Generation
3rd Generation
Tensor Cores
3rd Generation
3rd Generation
4th Generation
4th Generation
PCI-E Generation
PCI-E Gen 4
PCI-E Gen 4
PCI-E Gen 4
PCI-E Gen 4
All clock speeds and memory specifications are based off Reference designs or Founders Edition cards where available. Clock speeds for cards like this MSI design are often higher.
Design
Moving onto the design, MSI have designed a pretty great looking card overall. This model bears the signature MSI Gaming X Trio look with some angular accents on the shroud. The shrouding on the front of the card is a darker design, where MSI have opted for a mostly black and dark-grey look across the card. Each of the fans (of which there are three) are also black, further matching the aesthetic of this card. Moving around to the back of the 4070, you'll immediately see the metallic backplate, emblazoned with MSI's signature dragon logo.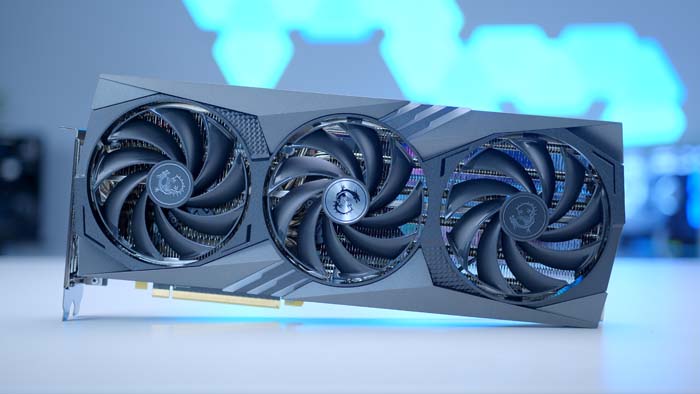 In terms of lighting and RGB, MSI have put some diagonal RGB strips that span the height of the card. MSI have decided to be a bit more minimalist on the lighting front, but I have to say I'm a fan of it. It offers a fine balance that isn't too overkill, whilst still providing some customisation options. The text located on the top of the card is also RGB ready, providing some lighting for those that have mounted their 4070 in a traditional way.
Overall I'm quite happy with the design. This card is much bigger than many other GPU options sitting at 336mm in length which may cause clearance issues on smaller cases. But aside from the size, the overall aesthetic is great. MSI have opted for a more minimalist style that could be akin to a manufacturer like NZXT, but I think it works! The dark black and grey shrouding will blend in very well with other darker builds, and the RGB lighting offers some customisation for those that like to create a disco in their PC build.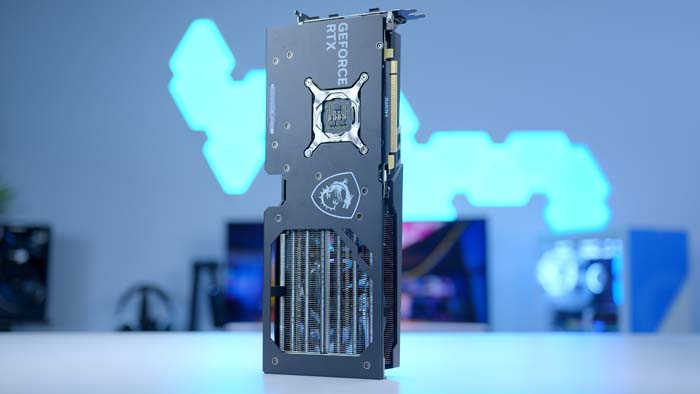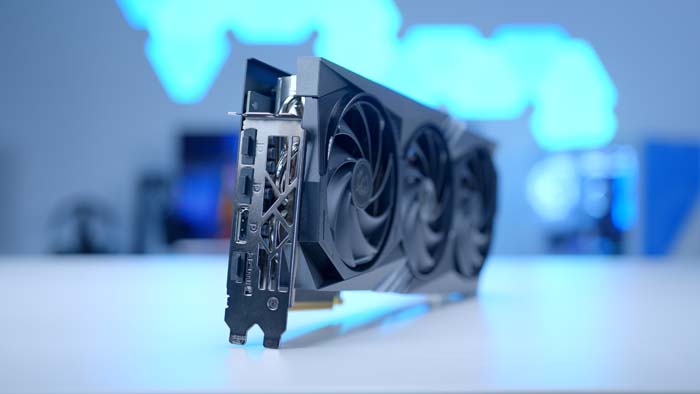 Performance
NVIDIA's RTX 4070 is in a rather impressive spot when it comes to performance. There is a clear position in which this GPU sits, allowing us to compare it to data we have of other powerful cards. The RTX 4070 held it's own in a plethora of titles offering performance very close to the RTX 4070 Ti, thus putting it on par/better than the previous generation's RTX 3090 Ti. We were pretty shocked by these results, as NVIDIA has advertised this card as more of a 1440p titan, but it can very easily handle 4K games with no hindrances.
Obviously these benchmarks are with beta drivers that NVIDIA provided prior to the launch, so performance is only likely to improve further with more optimisations and driver updates in the future. Nevertheless, the 4070 was put through its paces in a myriad of gaming titles which includes Fortnite, Apex Legends, Warzone 2.0, GTA V, Battlefield 2042, and more! We tested the 4070 at a number of resolutions with in-game settings varying in certain benchmarks to find the strengths and weaknesses of this GPU.
Below we've provided a number of graphs from our benchmarking runs, which compares metrics against current generation cards, and older cards from RTX 3000, and some of AMD's RX 6000 range. All of the full benchmarking gameplay can be found on our very own YouTube channel – Benched, where you'll find all of the components that we've tested in a myriad of games!
Apex Legends
First off, in Apex Legends, we tested out the RTX 4070 in both 4K and 1440p to see how performance would fare. In our 4K benchmark, the 4070 sits around the midpoint of the graph offering an average framerate of around 136FPS. This puts it almost on par with the RTX 3090 Ti, and 4070 Ti, with an overall loss of about 10 frames or so. Admittedly we were very impressed with this benchmark, as the 4070 was really able to hold it's own compared to the 4070 Ti. We would have liked to see performance reach the 144Hz sweet spot, as Apex can be a rather intense game, but I imagine 136FPS will be more than enough for most consumers.
Moving onto 1440p, frames did jump a fair bit higher, but not by a huge amount. At a 1440p resolution, the RTX 4070 was able to reach an average framerate of around 160FPS, which surpasses the 144Hz mark. This second benchmark was a little bit more disappointing when looking at the numbers. The 4070 generally sits pretty close to the 4070 Ti at 4K, but framerates start to differ quite significantly at 1440p. As you can see the 4070 Ti soars up to an average of 202FPS, with the 3090 Ti going even further. Ultimately 160FPS is still very smooth overall, but we would have liked to see frames sit a little bit higher.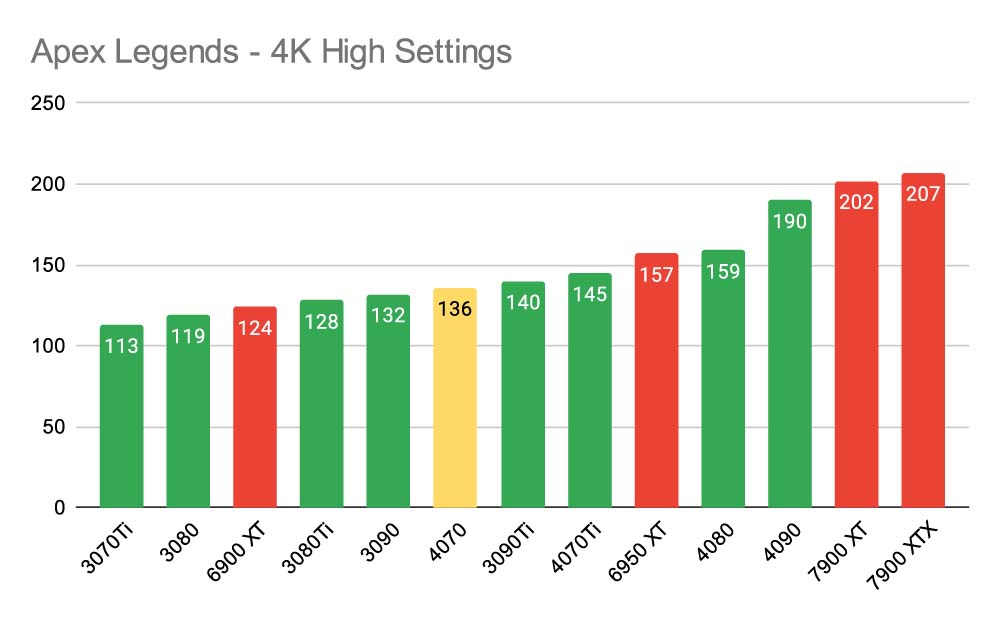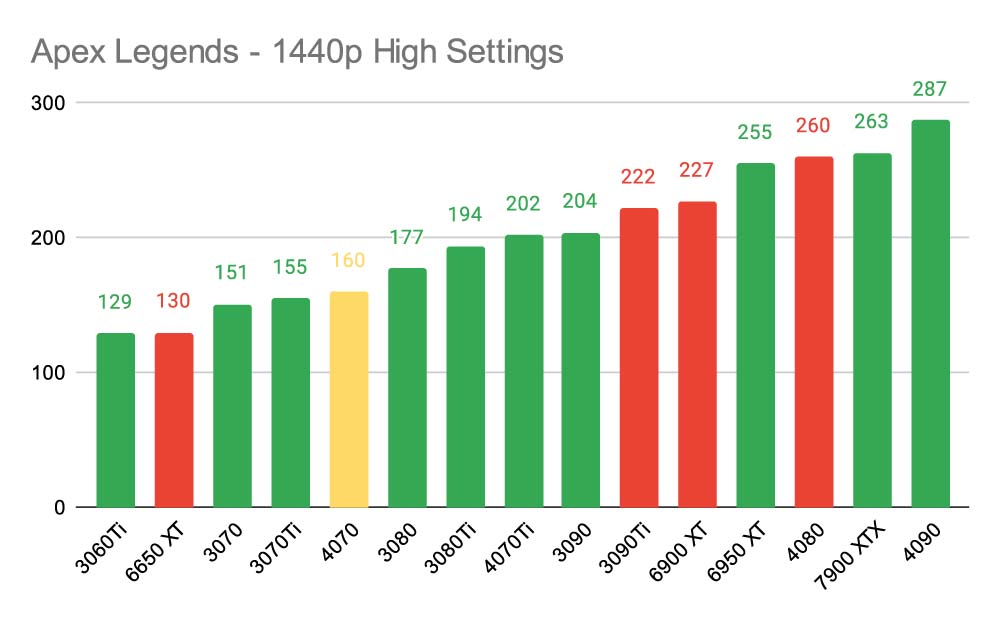 COD Warzone
Next up in COD Warzone at 4K we did see framerates drop to 108FPS. Again, this is more than playable, anything above 60FPS will be pretty smooth for the most part. But in games where players can benefit from a high refresh rate display, high framerates are pivotal in ensuring consumers can play their games with minimal stuttering. This can be mostly chalked down to how unoptimised COD Warzone is as a title, but nonetheless, we'd still like to see a higher framerate in this game so consumers can enjoy great visuals, with excellent performance.
In 1440p we saw our average framerate jump to the 139FPS mark, which is just below the 144Hz sweet spot. Again, this is very playable, and if anything it adds extra frames for redundancy. However, we were still hoping to see the 4070 reach a high refresh rate point. Ultimately, if some settings were dumbed down here, we imagine framerates would jump up a bit, allowing consumers to reach the 144Hz mark. Either way, performance is quite strong overall, but a little bit lacklustre if you're building an Esports-oriented setup.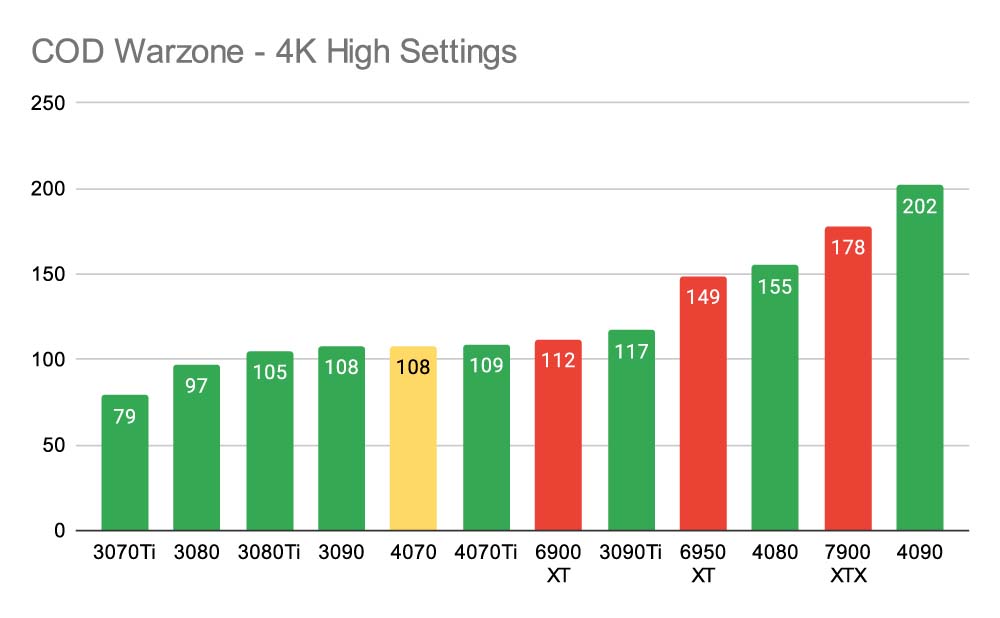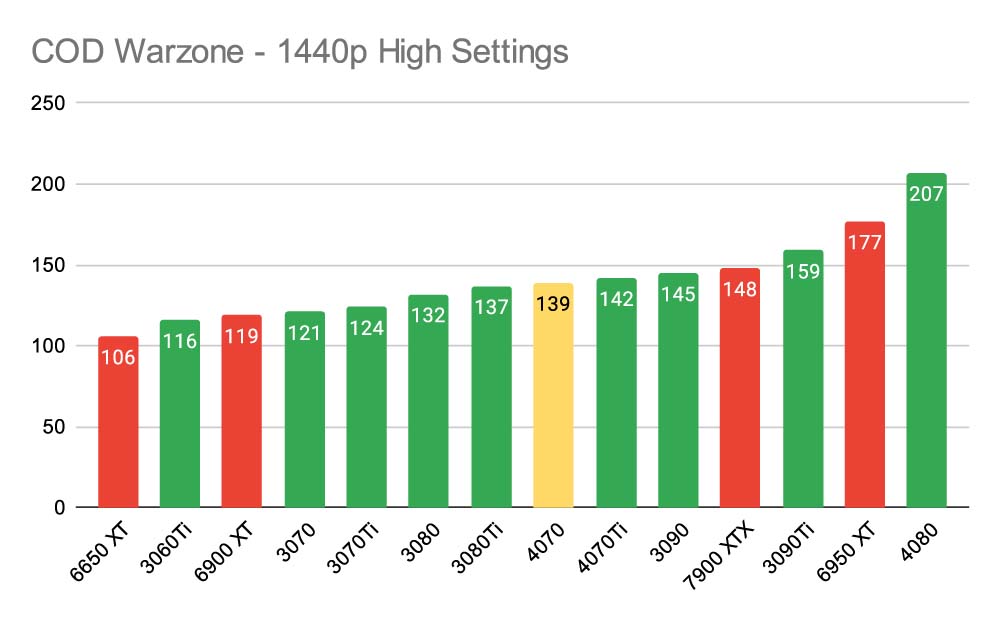 Battlefield 2042
In Battlefield 2042 framerates dipped slightly further to 93FPS at 4K, which was a little bit saddening to see. This does put it pretty much on par with the 4070 Ti, showing how capable this card is at a high resolution. Battlefield 2042 is not a well optimised title, so this is why we're seeing such a loss in frames with the extra performance overhead that comes with 4K. Ultimately this is still decent performance overall, but consumers will need to turn down some settings if you're looking for higher framerates in this title.
At 1440p we did see some relatively strong improvements to the performance, with our frames leaping up to 128FPS on average. This is around a 40 frame gain, which will smooth gameplay out a fair bit. Battlefield 2042 is a rather intense title in terms of gameplay, explosions and more, so the higher the framerate, the better the gameplay will be. Again, we didn't get close to the 144Hz mark, but I feel the majority of consumers will be happy with this gameplay experience overall.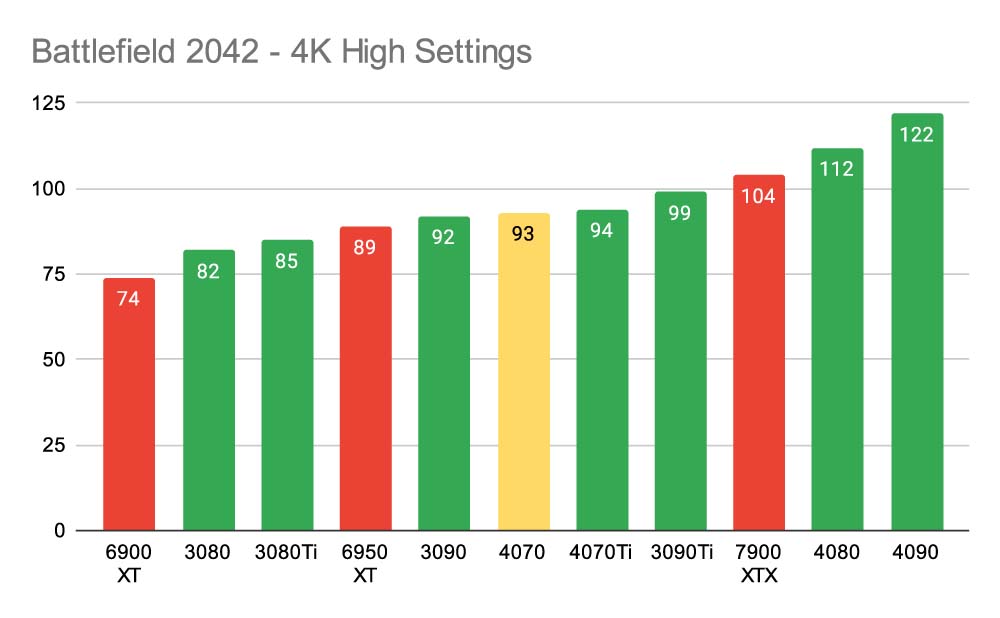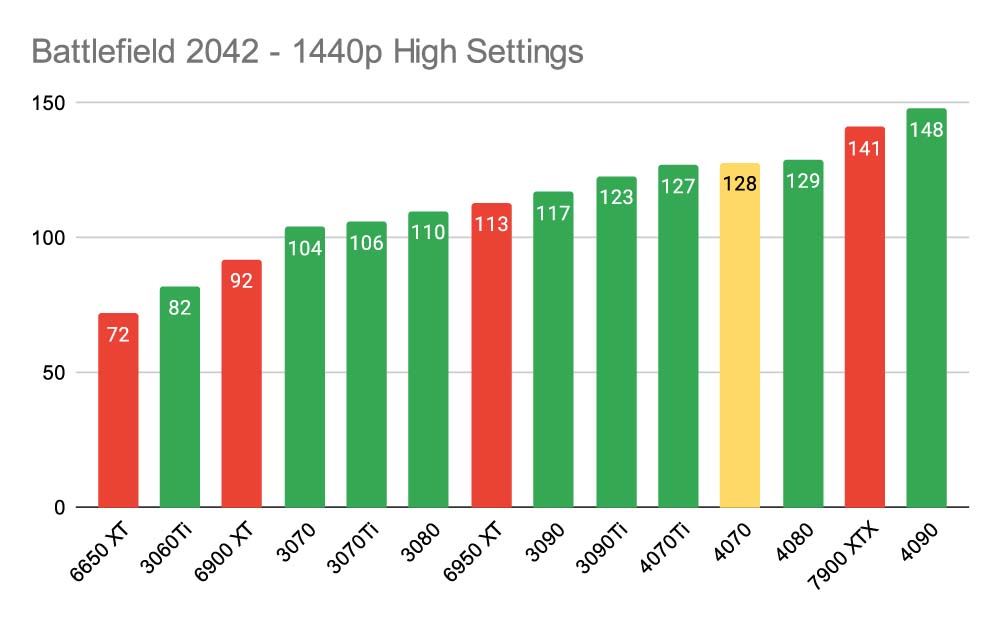 Fortnite
In Fortnite we dialled the resolution down to 1080p, and change the in-game settings to Competitive mode, which allows us to reach the highest framerates possible in this title. The RTX 4070 was able to reach an average of 288FPS which is exceptionally high. Consumers can enjoy very high refresh rates at this resolution, making this graphics card ideal for an Esports-style setting.
As a point of comparison, the RTX 4070 looks to be on a similar performance level to the 3090 Ti and 4070 Ti with less than 10 frames between each result. This goes to show how capable this card is. Ultimately most consumers probably won't be spending $600 for 1080p gaming, however, in an Esports setting where frames matter, this card isn't a bad choice.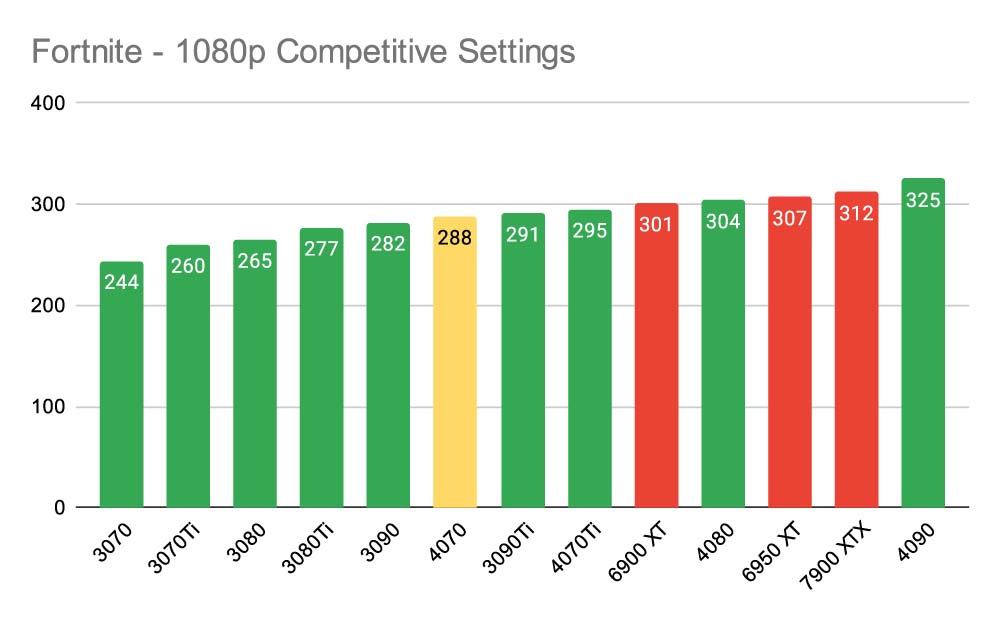 F1 2022
For our final game we tested out F1 2022 at 4K with Ray-Tracing and DLSS enabled. Turning on these settings gives us some idea of how the RTX 4070 will perform with Ray-Tracing turned on, which tends to be a much more intense workload contrasting to just 4K or 1440p gaming. In this benchmark the RTX 4070 was able to maintain an average framerate of around 103FPS. This did beat out the 4070 Ti, but only by a tiny margin of three frames.
Performance was surprising here, we weren't expecting the 4070 to offer strong Ray-Tracing performance considering the specs, but we were happy to see this regardless. DLSS will be mostly responsible for why the performance was so strong here, but if it's available you may as well use it. This game would probably benefit a high refresh rate, but as this game isn't very high intensity I'd argue this won't be a deal-breaker for most consumers. Either way, performance was great, here, and it shows that the 4070 can handle Ray-Tracing.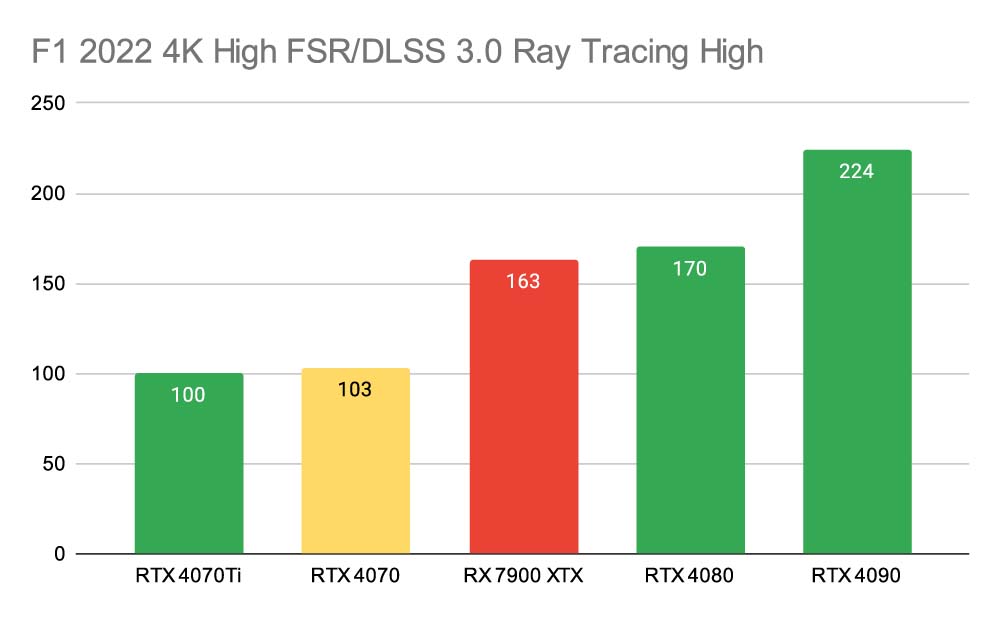 Conclusion
MSI Gaming X Trio RTX 4070
Product Name: Gaming X Trio RTX 4070
Brand: MSI
Features

Design

Performance

Value For Money
Summary
MSI's Gaming X Trio RTX 4070 is an awesome looking card that furthers how excellent the 4070 SKU is. This card offers exceptional performance at 4K and 1440p, with strong metrics in Ray-Tracing too. The Gaming X Trio improves cooling, keeping thermals nice and crisp, whilst providing some customisation in the form of RGB, giving consumers additional flair for their build. The Gaming X Trio also offers a slight overclock to the boost speed providing some better performance in certain games and applications. Admittedly this card is pricier than the Founders Edition model, and it is much bigger too, but if you're looking for one of the best options money can buy, then MSI have you covered. Definitely a worthwhile purchase for those prioritising aesthetic and thermals.
Pros
✅ Excellent 4K and 1440p performance.
✅ Can handle Ray-Tracing.
✅ Slight overclock will boost performance.
Cons
❌ Not always able to reach the 144Hz sweet spot.
❌ MSI Gaming X Trio size might limit case options.
❌ Minimalist design won't be for everyone.