Introduction
Nvidia's latest GPU the RTX 4070 is here and early signs have it seem a tantalising prospect. After some somewhat shaky RTX 4000 series launches with regard to pricing, Nvidia have seemingly listened and priced the RTX 4070 very strongly. $599 is the price in question for those looking to pick up the latest addition to the 4000 series line-up of cards, a price that answers whether Nvidia would continue with the questionable pricing of the current 4000 series cards.
The RTX 4070 is a breath of fresh air in the GPU market and marks the first 'New Generation' GPU to launch without considerable controversy over pricing from either Team Red or Team Green. It's worth noting this latest release from Nvidia comes in at $200 cheaper than its 'Ti' variant the RTX 4070Ti and rivals it for performance in most of the titles we tested during our testing, but more on that later!
The 4070 offers considerable value for money when compared to the current crop of RTX 40 series cards on pricing alone. With solid performance and accessibility to the latest features offered with Nvidia's Lovelace architecture – Frame Generation in particular – as well, however, the RTX 4070 sits in unmarked territory for newer generation cards and that's a good thing.
Nvidia's RTX 4070 may just be the first GPU launch of the latest generation of GPUs that is accessible for the masses, with other 40 series cards pricing out many potential buyers or deemed a poor value-for-money investment by those who could afford to stomach the cost.
Buy the Founders RTX 4070 on:
Architecture
Built using Nvidia's latest offering, the Ada Lovelace Architecture. In similar fashion to the previous RTX 4000 series cards, the RTX 4070 benefits from significant upgrades to performance and features across the board. Now i must admit, we were shocked as to quite how significant some of these improvements would be. We expected the 4070 to be a standout performer at 1440p but thanks to a little help from the new DLSS 3.0, we managed to get some incredible performance at 4K in certain titles too!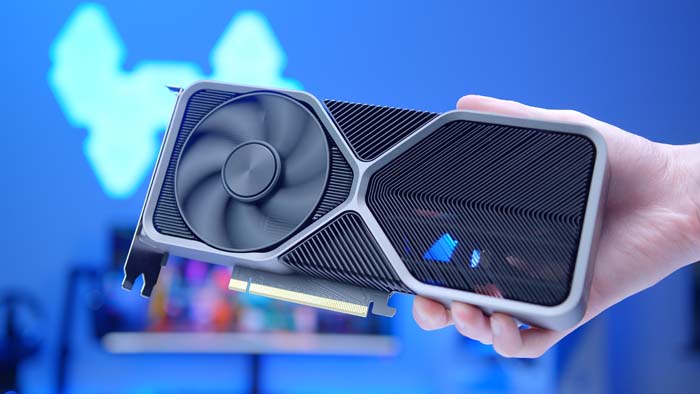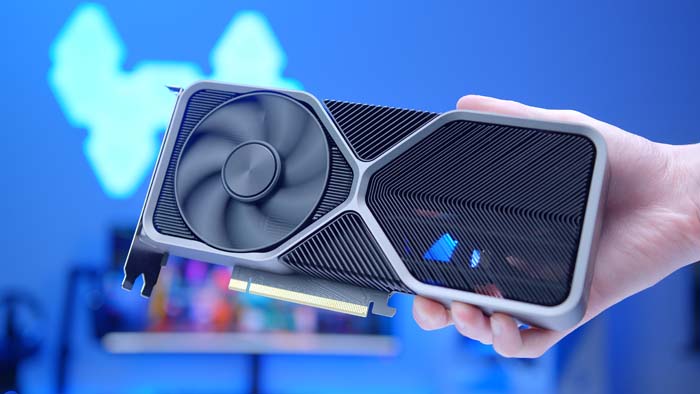 DLSS in particular has seen some striding improvements on what was already an incredibly strong piece of AI technology. Now in its 3rd iteration and sporting brand new features, 'Frame Generation' most notably, Nvidia have done a great job of furthering what we once thought possible through AI resolution scaling. Frame Generation allows for, yep, you guessed it, frames to be generated. The frames however are not just generated but artificially generated without the game being played doing any of the grunt work itself. DLSS 3.0 allows for whole frames to be generated rather than pixels as was the previous norm, with pairs of frames being taken from the game itself before being fed through Nvidia's Neural Network to generate the new frames ahead of time. By doing so ADA architecture GPUs are able to render games at higher frame rates than their counterparts due to the reduced stress to both the GPU and CPU.
The new ADA Lovelace architecture has allowed for improvements to be made across the RTX 4000 series line-up. The architecture brings a host of improvements, most notably the now 4th generation Tensor cores, 3rd generation RT cores and the introduction of the AV1 encoder. Both Base and Boost clocks for all of the RTX 4000 series cards to date have also seen fairly large increases, whilst the RTX 4070 itself sees a notable decline in power consumption, down to 200W total.
Nvidia's ADA Lovelace architecture has changed the game and unlocks performance potential for even future budget SKUs to perform past what we previously expected possible. DLSS 3.0 does a great job of taking what was previously established and running with it. DLSS 3.0 greatly improves upon what was already a standout feature of Nvidia's Ampere architecture and will hopefully soon bring a premium feature such as Frame Generation to more budget-oriented SKUs in the near future.
Specifications
On the face of it the RTX 4070 looks to have some very strong specs and slots into the Nvidia line-up very well. A healthy VRAM offering coupled with solid clock speeds makes for positive reading and should lead to a positive experience, particularly in the gaming department.
We've created a table below that highlights the key hardware differences between the 4070 and other cards on both the RTX 4000 and RTX 3000 architectures.
Spec
RTX 3070Ti
RTX 3080
RTX 4070
RTX 4070Ti
Video Memory
8GB
12GB/10GB GDDR6X
12GB GDDR6X
12GB GDDR6X
Memory Bus
256-bit
384-bit / 320-bit
192-bit
192-bit
Core Clock Speed
1.57GHz
1.26GHz / 1.44 GHz
1.92GHz
TBC
Boost Clock Speed
1.77GHz
1.71Hz
2.47GHz
2.61GHz
CUDA Cores
6144
8960/9704
5888
7680
Power Consumption
290W
(Founders Edition)
350W / 320W
(Founders Edition)
200W
(Founders Edition)
285W
(Reference Design)
RT Cores
2nd Generation
2nd Generation
3rd Generation
3rd Generation
Tensor Cores
3rd Generation
3rd Generation
4th Generation
4th Generation
PCI-E Generation
PCI-E Gen 4
PCI-E Gen 4
PCI-E Gen 4
PCI-E Gen 4
All clock speeds and memory specifications are based off Reference designs or Founders Edition cards where available. Clock speeds for cards like this MSI design are often higher.
Design
Aside from the pricing, a contentious front with previous RTX 4000 series launches was the sheer size of the cards released, but fear not! Nvidia has not only seemingly taken these criticisms on board but rectified them. The overall design of the RTX 4070 founders model is much more reminiscent of last generation's RTX 3000 series line-up, not only in overall aesthetic but in card sizing too!
Sporting the usual sleek colourway, black with silver/grey accenting the Founders 4070 will fit right at home in most systems. The minimalistic design and colourway are tried and tested and whilst being so similar to last generation RTX 3000 founders models cards design is very safe and frankly a little boring, if it isn't broken don't fix it.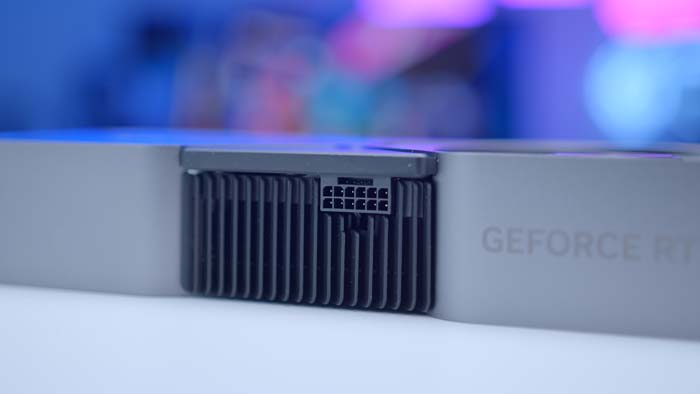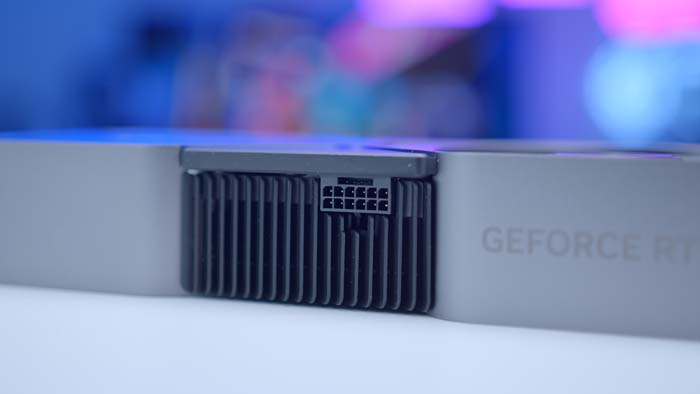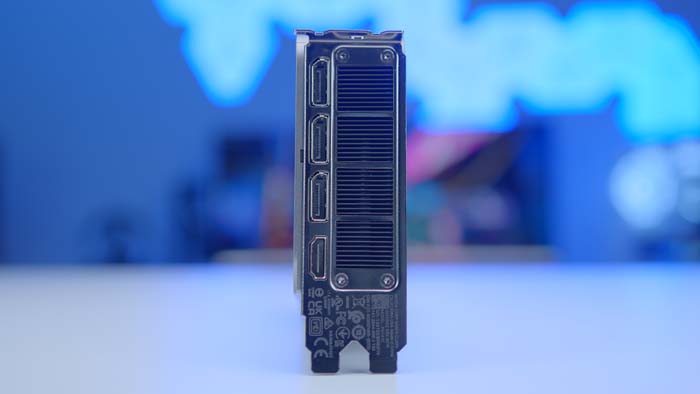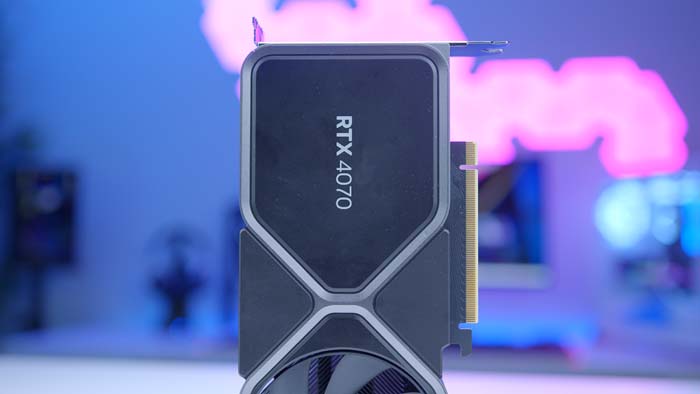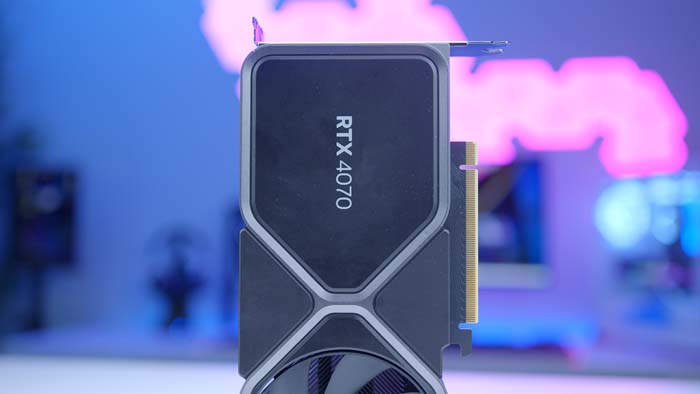 Nvidia has, however, done a stellar job in reducing the overall size of the card. Gone are the days of behemoths like the RTX 4090, at least for now, it seems. Instead, the RTX 4070 occupies a much smaller chassis and something much more in line with the sizing we've come to expect from previous generations. The dual slot form factor suits the RTX 4070 and with recommended power supplies starting from as little as 650W, it's a sensible move. Having the Founders RTX 4070 sized to fit in the majority of current casing options and easily hot-swappable negates the need for additional expenditure that came with the sizing and power draws of the RTX 4080/90.
The RTX 4070 design sits in a much stronger position than the previous 4000 series cards with the sizing and upgraded cooling solution coming as welcome design changes. Admittedly though, unboxing the 4070 Founders model did offer feelings of Deja vu and did feel all too similar to an RTX 3000 series card at times. For those looking for a visual upgrade in addition to the added performance, it may be best to steer clear of the Founders card and opt for an AIB release instead. Fans of minimalism or those unfazed with card visuals however won't find many better value options than the Founders model on the market.
Performance
The RTX 4070 came as a shock package in the performance department. The RTX 4070 has carved out a clear position for itself in the market not only due to its strong price point but its performance too. We found the RTX 4070 to be within touching distance of its 'Ti' variant in most titles and regularly found there to be a difference of no more than a handful of FPS, not bad considering the price disparity is far more than a handful of dollars!
Below we've provided a number of graphs from our benchmarking runs, comparing metrics from both current and previous-generation cards. From RTX 3000 to AMD's RX 6000 range we've got you covered. All of the full benchmarking gameplay can be found on our very own YouTube channel – Benched, where you'll find all of the components that we've tested in a myriad of games!
COD Warzone
Call of Duty's Warzone was the first title we tested out. With the RTX 4070 locked, loaded and ready to go in our benchmarking rig we put the GPU to the test at both 1440p and 4K. At 1440p we had high hopes especially and the RTX 4070 delivered. Averaging 139 FPS slots the card nicely into the GPU line-up and mightily close to its bigger brother the RTX 4070Ti but more importantly it does so at a cut price cost. There's a healthy improvement upon last generations RTX 3070 too, pulling in roughly 18 FPS more on average and we imagine that with settings tweaked and lowered this gap could grow even more.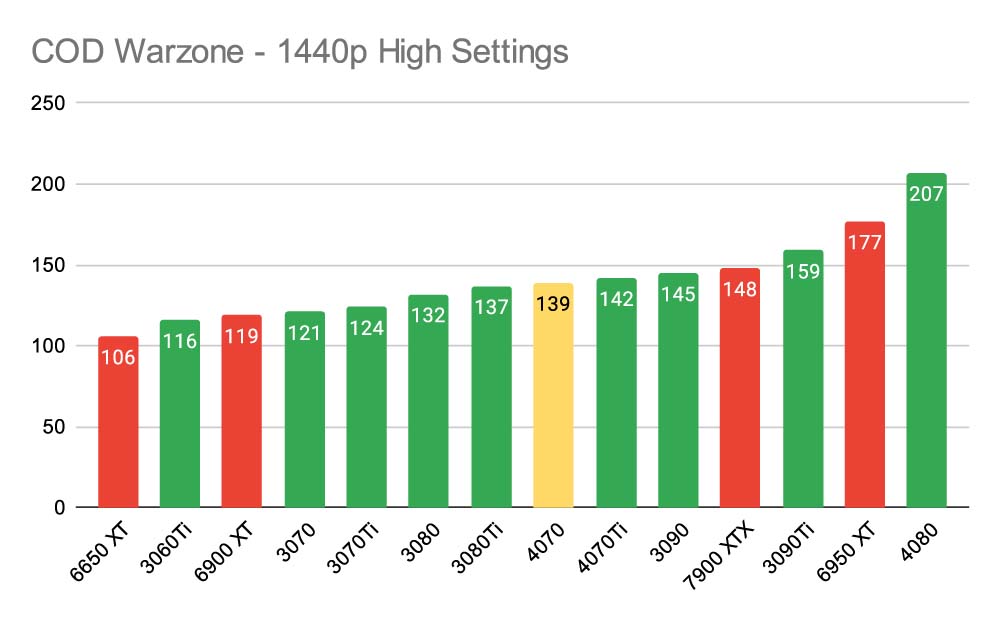 Given its strong performance, we went ahead and pushed the RTX 4070 at 4K too and were pleasantly surprised. Coming in at just 1FPS less than the RTX 4070Ti and averaging 108 FPS equalling last generations RTX 3090 is more than adequate for what is first and foremost a 1440p GPU (usually). Whilst those looking to play at 144Hz may struggle to reach frame rates high enough to make use of it, tweaking the settings down to more competitive settings may just make it possible, even at 4K! At 4K the generational difference becomes all the more apparent too, with the RTX 3070 not even making it onto our graph. Using the RTX 3070Ti as a close reference though and the disparity has jumped to at least 29 FPS between the two cards, proving just how impressive these new GPUs can be.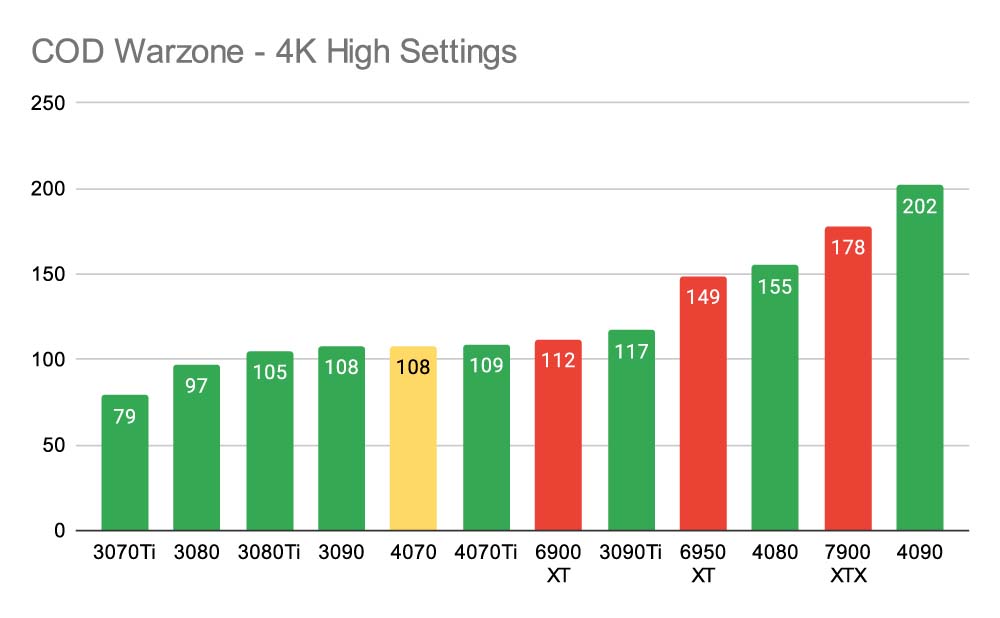 Apex Legends
Apex Legends is another title we tested at both 1440p and 4K to see just how the RTX 4070 copes. Results were more of a mixed bag in Apex Legends with the performance at 4K shocking and being the more impressive of the two.
On the face of it, 160 FPS on average at 1440p is nothing to scoff at and allows for the 1440p 144Hz sweet spot to be hit with ease, seemingly great stuff. It is only upon diving that bit deeper to see the RTX 4070Ti sitting at over 40 FPS higher and pulling in over 200 FPS does the 160 FPS on average of the 4070 pales in comparison. It's worth noting too that the RTX 4070 only managed to improve upon the 3070 by a measly 9 FPS in this scenario, a rather disappointing upturn in performance.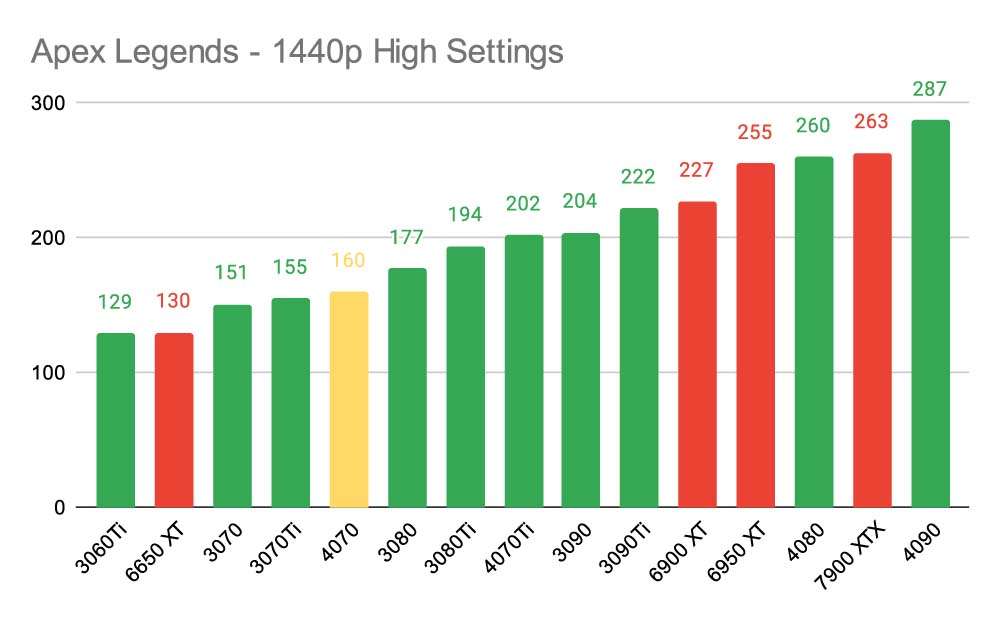 Apex Legends at 4K made for much better readings, however, slotting in much closer to the RTX 4070Ti. Averaging roughly 136 FPS at 4K High settings is mightily impressive stuff for a GPU we had penned as a 1440p titan here at GeekaHQ. Tweaking the settings down slightly makes it all the more possible for that ultra-smooth gameplay to be hit with a 144Hz refresh rate monitor, not bad going at all.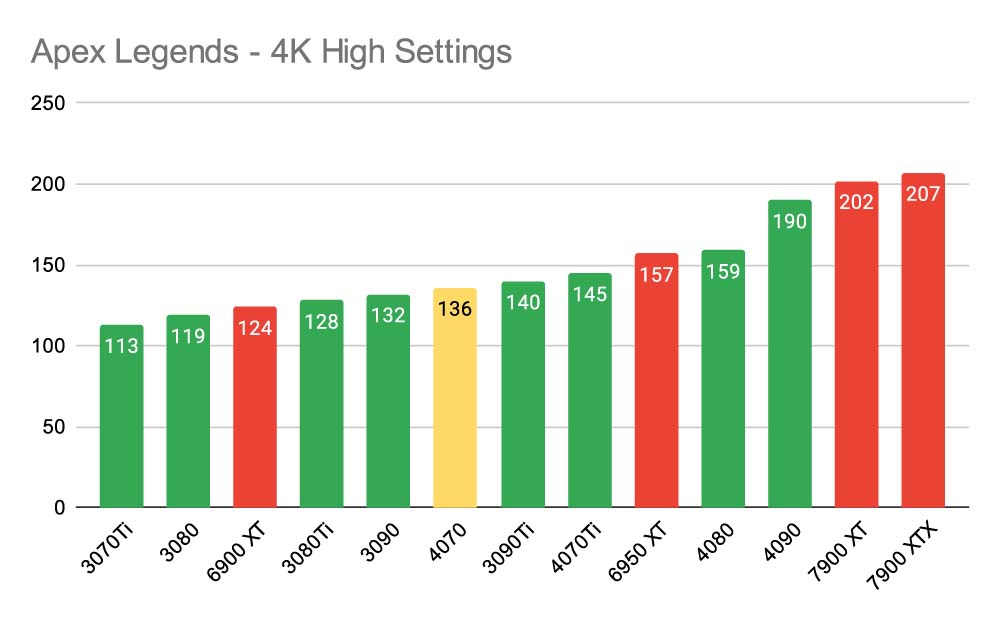 F1 2022
In F1 2022 we went all out and pushed the RTX 4070 to the max. Enabling both DLSS 3.0's Frame Generation and setting Ray Tracing to High we wanted to see just how well the RTX 4070 would cope in the more stressful scenarios. Needless to say, once again the RTX 4070 impressed, pushing past the 100 FPS barrier at maxed-out settings at 4K, maybe the RTX 4070 isn't such a 1440p card after all! The RTX 4070 even managed to pull out a win over the RTX 4070Ti after being agonisingly close in a number of titles.
Whilst not totally necessary in less FPS-oriented titles, we found tweaking the settings to disable ray tracing made 144Hz easily possible with FPS numbers beginning to soar. Great for those looking for smooth gameplay over aesthetics.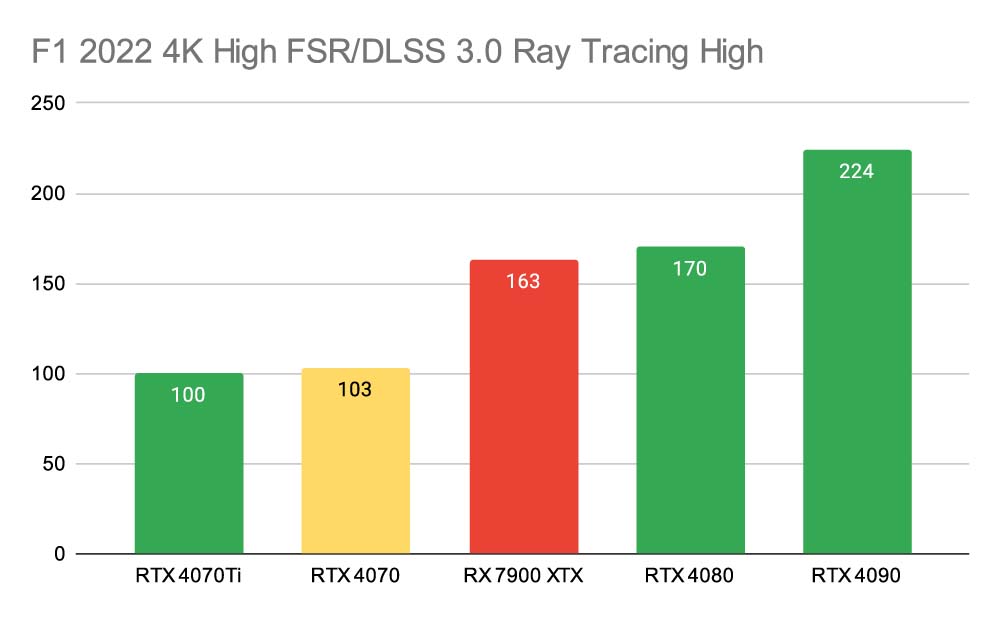 [adrotate banner="12″]
Fortnite
It wouldn't be a benchmark list without Fortnite now, would it? We dialled the settings right down to 1080p competitive settings for all-out performance and as expected numbers skyrocketed. Beating out the RTX 3070 by over 40 FPS and all but one of Nvidia's previous-generation GPU line-up is no easy feat and yet the RTX 4070 did so with relative ease. In fact, Nvidia's RTX 4070 was only 3 FPS off clearing house and beating all of the previous generation Nvidia GPUs.
The RTX 4070 wasn't a million miles off some of the heavy hitters either. Sitting within 20 FPS of the RTX 4080 and both AMD's RX 6900 XT and RX 6950 XT, is very impressive given AMD cards tend to be the stronger performing of the two brands in Fortnite. Such high frame rates make for positive reading for those looking to play at higher settings too. Scaling settings back up to High or potentially even Epic may still allow for 100 FPS to be reached in even the biggest of battles.
Admittedly, though, we don't expect the average 1080p gamer to be spending $600 to play 1080p Fortnite. For those aspiring Esports pros or gamers with a number of games in rotation, however, the RTX 4070 definitely hits the mark in Fortnite.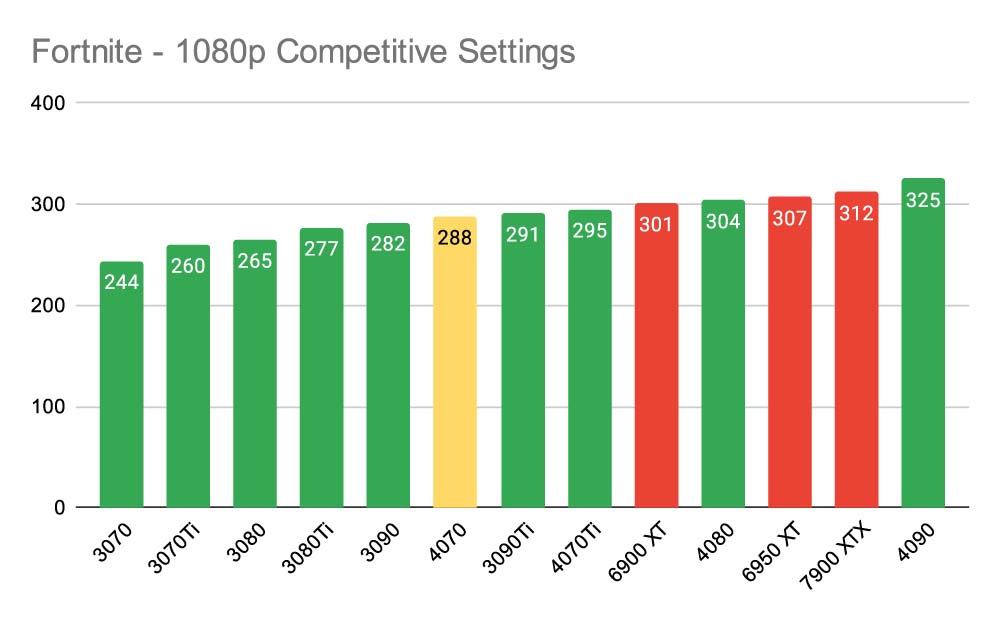 Battlefield 2042
Whilst we know Battlefield 2042 fell short and missed the mark for most, it still acts as a great benchmark thanks to its large-scale battles and destruction. Given that we once again tested the RTX 4070 at both 1440p and 4K High settings. The RTX 4070 once again impressed us but this time at both resolutions. It's worth noting too that Battlefield 20242 is still not the most well-optimised title out there, with only one card reaching the 144 FPS mark at 1440p during our testing and none at 4K.
Starting with 1440p, the RTX 4070 clean swept the RTX 3000 series line-up and even had the legs to go and further beat out the RTX 4070Ti. The RTX 4070 far outperformed what we expected with it only sitting one FPS behind the heavy hitter RTX 4080 and bringing incredible price to performance value in this title.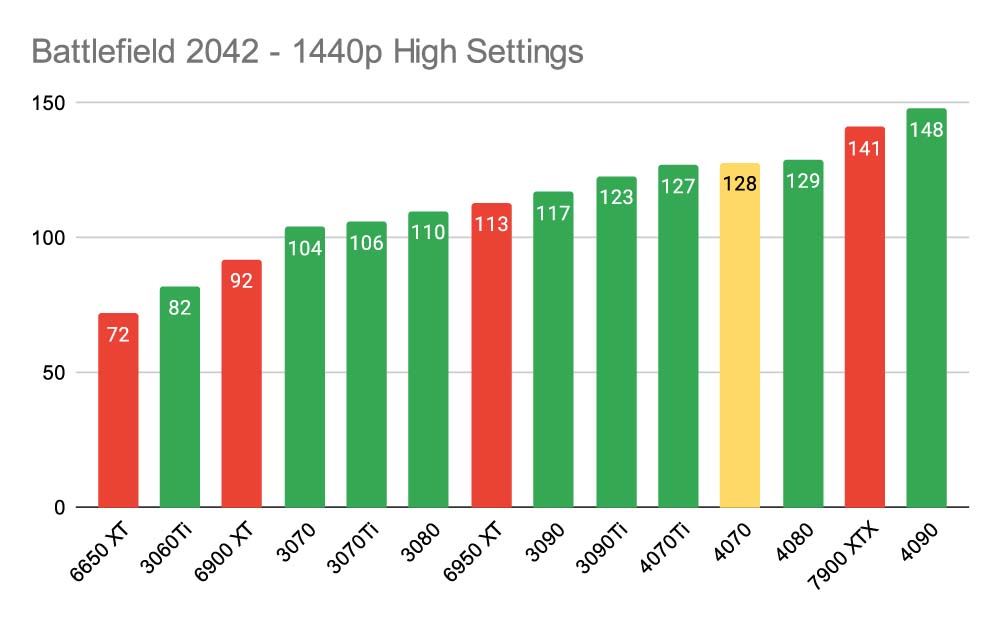 4K offered a similarly strong performance given the intensity of the title. Hovering around the 93 FPS mark during our testing again puts the RTX 4070 within touching distance of its so-called bigger brother the RTX 4070Ti. The RTX 4070 once again positions itself well amongst the other GPUs we tested in a title where every card took a significant performance hit at 4K and more impressively does so at a fraction of the cost of some of the harder-hitting GPUs.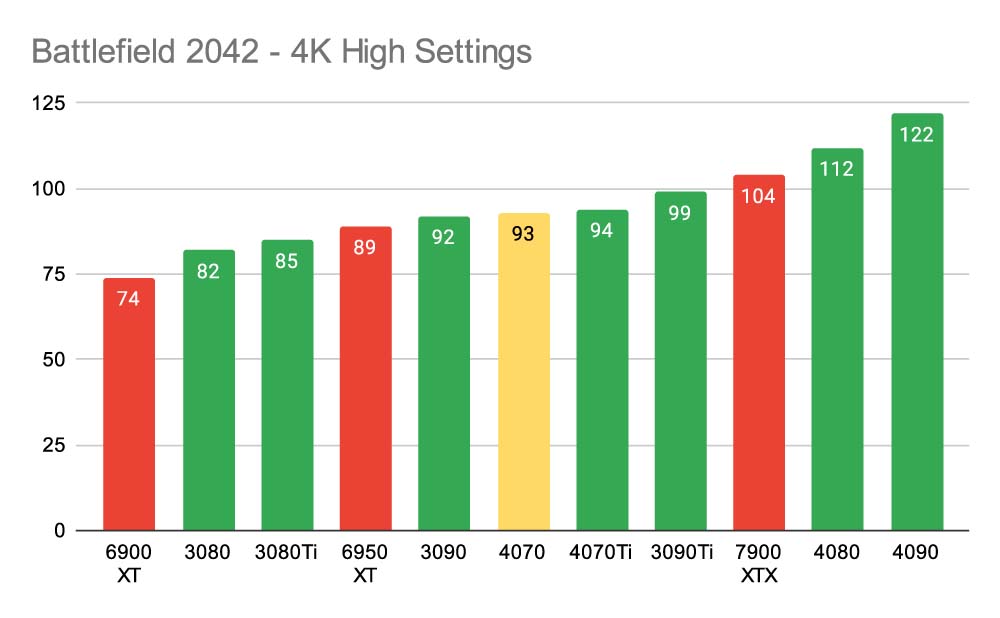 [adrotate banner="9″]
Conclusion
Nvidia RTX 4070 Founders Edition Review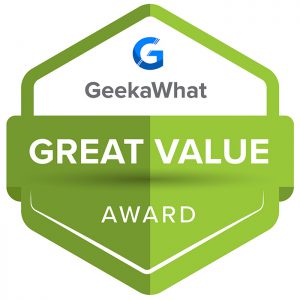 Product Name: RTX 4070
Brand: Nvidia
Features

Design

Performance

Value For Money
Summary
Nvidia's Founders Model RTX 4070 does a stellar job of bringing the Ada Lovelace architecture and its features, most importantly DLSS 3.0, to a more affordable and accessible price point. The RTX 4070 hits the mark across the board and offers price to performance value that none of the previous RTX 4000 series GPUs can get near let alone match. Capable of gaming at both 1440p and 4K with ease, Nvidia's RTX 4070 sits in a great spot currently and for those able to pick up cards at MSRP or there about, they may have a new price to performance king. The sizing and power draw of the card makes it all the more accessible too, gone are the days of having to factor in purchasing bigger cases to house the card or more powerful PSUs to run it. I for one am a big fan of the RTX 4070 and its current position in the market, great choices have been made by Nvidia on both design and pricing and the performance isn't half bad either! It will interesting to see how any potential future RTX 4060 or 4060Ti models are priced and perform but for now at least the RTX 4070 is firmly the best value RTX 40 series GPU available and by some margin too.
Pros
✅ Excellent 4K and 1440p performance.
✅ Smaller GPU size.
✅ Can handle Ray-Tracing.
Cons
❌ Not always able to reach the 144Hz sweet spot.
❌ Potential for stocking issues on launch.
❌ Minimalist Founders design won't be for everyone.