Introduction
For quite some time, PC gamers have been screaming out for a graphics card to release that shakes up the current market and overhaul the existing price to performance spectrum. When AMD announced the RX 7700 XT and RX 7800 XT simultaneously, many were hoping these highly anticipated graphics cards would offer the solution.
Now that the 7700 XT and 7800 XT have arrived, it's time to see whether they can live up to the heavy expectations. Alongside AMD's own reference models, there are a number of 7700 XT and 7800 XT SKUs being released from various manufacturers, including Gigabyte's Gaming OC editions.
In this article, we'll be taking a closer look at the Gigabyte Radeon RX 7700 XT Gaming OC to see how it stacks up against the competition, as well as what differentiates this model from the other 7700 XT graphics cards on the market. After evaluating the architecture, design, and specs, we'll be putting the RX 7700 XT through its paces in a number of gaming benchmarks, which should give us an idea of whether this card offers the value that PC gaming enthusiasts are hoping.
Buy the Gigabyte Radeon RX 7700 XT Gaming OC on: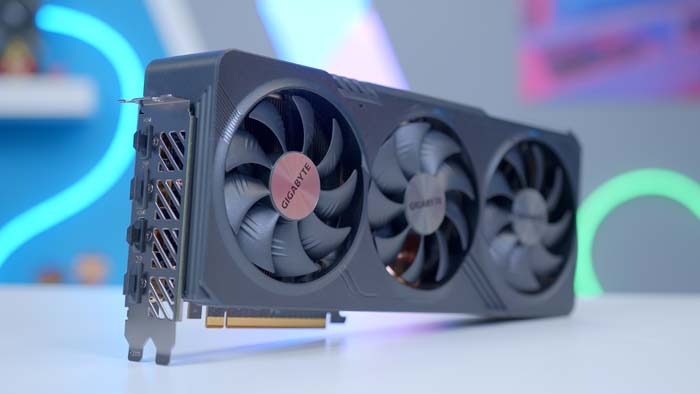 Whilst the Ada Lovelace architecture found in NVIDIA's RTX 4000 series cards still possesses an advantage over RDNA 3, mainly thanks to the presence of DLSS 3, AMD appear to be trying their best to catch up. Whilst the RTX 4090 with DLSS 3 gives NVIDIA an advantage at the high-end, their elaborate price tags makes it difficult to access the benefits of this architecture, leaving a gap for AMD to swoop in and offer a better price to performance to make any hardware limitations feel redundant.
AMD's latest developments to RDNA 3 were announced alongside their latest graphics cards, with the introduction of FSR 3 set to bolster gaming performance in select titles very soon. This new iteration of AMD's super resolution technology will add Fluid Motion Frames (FMF), which acts as their response to NVIDIA's Frame Generation technology. The aim of this addition is to generate additional frames by using the existing frame data to fill in the gaps.
On top of this, the new rendition of FSR will provide improvements to temporal upscaling, which should lead to a higher quality image without having a major impact on performance. Combining FMF and the super resolution upscaling available in FSR 3 should enhance both the performance and visuals, without prioritising one over the other.
Unfortunately, we still don't know when FSR 3 will be available, meaning the jury is still out on how beneficial these improvement will be. In addition, FSR 3 is only set to be compatible with 12 titles on launch, some of which that won't be set to release until at least 2024.
Suggested Article: Best AMD Radeon RX 7700 XT Graphics Cards to Buy in 2023
Technical Specifications
Looking at the technical aspects, the RX 7700 XT sits in a natural position between the budget-friendly RX 7600 and the RX 7800 XT that released alongside it. However, the RX 7700 XT surprisingly boasts better clock speeds than its older sibling. However, both struggle to match the speeds available on the previous-gen RX 6750 XT.
Featuring 12GB VRAM, the RX 7700 XT avoids the issues that have been plaguing the budget-oriented releases from both NVIDIA and AMD. The likes of the RX 7600 and RTX 4060 have struggled to keep up with the demands of modern titles sue to their lack of video memory, but this card should be fine playing titles at 1440p for the foreseeable fututre.
Gigabyte's Gaming OC maintains similar specs to the reference card, but dials up the clock speeds to offer a small boost to gaming performance. Whilst these changes are unlikely to have this card competing with the frame rates available on higher-end models, it will make a noticeable difference from the original design.
Spec
RX 6750 XT
RX 7600
RX 7700 XT
Gigabyte RX 7700 XT
RX 7800XT
Video Memory
12GB GDDR6
8GB GDDR6
12GB GDDR6
12GB GDDR6
16GB GDDR6
Memory Bus
192-bit
128-bit
192-bit
192-bit
192-bit
Game Frequency
2.5GHz
2.25GHz
2.17GHz
2.27GHz
2.12GHz
Boost Frequency
2.6GHz
2.6GHz
2.5GHz
2.59GHz
2.4GHz
Stream Processors
2560
2048
3456
3456
3840
Power Consumption
250W
(Founders Edition)
165W
(Founders Edition)
245W
(Founders Edition)
245W
263W
(Reference Design)
RDAN architecture
RDNA 2
RDNA 3
RDNA 3
RDNA 3
RDNA 3
PCI-E Generation
PCI-E Gen 4
PCI-E Gen 4
PCI-E Gen 4
PCI-E Gen 4
PCI-E Gen 4
All clock speeds and memory specifications are based off Reference designs or Founders Edition cards where applicable.
Design & Aesthetic
Moving onto the design and aesthetic of the Gaming OC, we were disappointed to find out that the 7800 XT and 7700 XT variants look exactly the same. The triple-fan design has persisted with this model, with the black and grey shrouding also appearing here too. The Gaming OC models only use two power connectors which should save you having to plug in multiple cables, which is useful.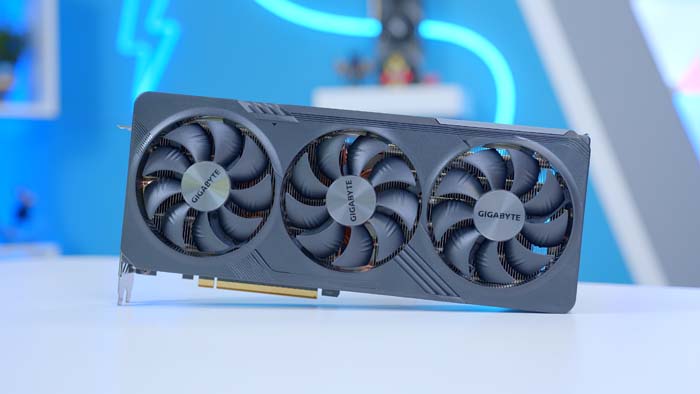 To avoid insulting this card too much, we weren't a big fan of the design on the 7800 XT, and because the 7700 XT is basically the same, we feel pretty similar about this option too. Ultimately, the lacklustre is aesthetic is more of a cost-saving measure which we fully understand, but it doesn't mean I have to like the design. Overall, it would've been nice to see some alternative colouring on this card, to spice up the contrast a bit, but this isn't a deal-breaker for us.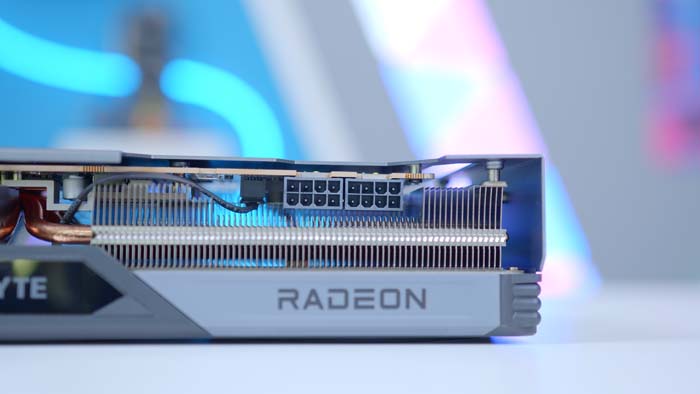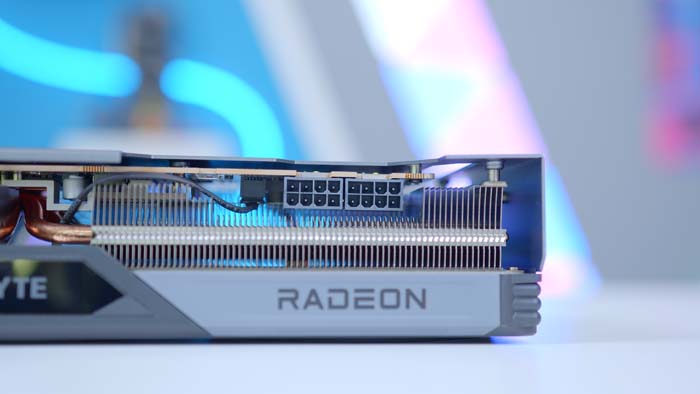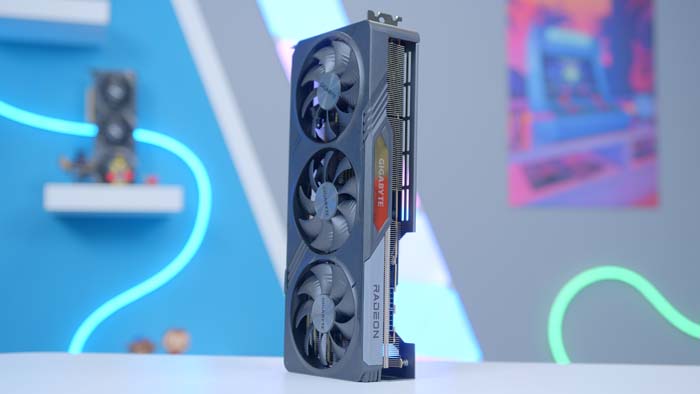 Performance
Now we'll be taking a look at the overall performance from the 7700 XT. We were pretty happy with the hardware of the 7700 XT, and this should translate fairly easily to solid performance. The Radeon 7000 architectural refresh has brought along some nice changes providing some modernity, alongside quality of life features that should improve performance. FMF or Fluid Motion Frames is also a pretty exciting piece of technology, and as we see it circulate in newer games, it could very well rival Frame Generation, bringing along some solid performance improvements.
Speaking of which, seeing is believing when it comes to performance, so I'll shut-up with the waffle here. All of the graphs below take collated data from full benchmarking runs that test the latest and greatest components. All of this data is from new and older graphics cards on the market, which you can use to compare against your current system or other options on the market. For all of the full gaming runs, check out our Benched YouTube channel.
Starfield
For our first benchmark, we tested our Bethesda's hit new title Starfield. In this particular run, you'll immediately notice that framerates seem to be pretty weak across the board for both NVIDIA and AMD cards. Unfortunately, this is due to the disparities in framerates in this game because of poor optimisations. We were mostly happy with the performance of the 7700 XT in this game, as framerates sat above 60FPS on average, but we were hoping for more. This isn't a slight against the graphics cards, but more how poorly this game has been optimised versus other titles.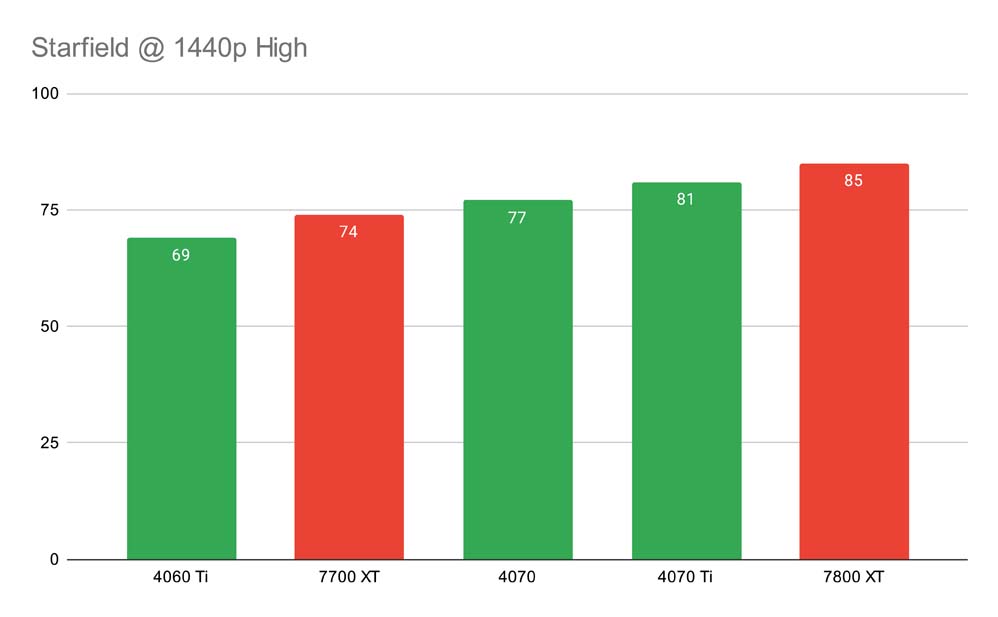 Call of Duty: Warzone 2
In Warzone 2. performance did see some pretty big uplifts, with the 7700 XT outputting an average of around 145FPS. Consumers can enjoy a buttery smooth refresh rate in this title, which can be pretty important to ensure you're able to respond quickly during a moment of intense action in this game. The 7700 XT compared pretty well to other cards in this benchmark, sitting just below the 4070 Ti. Needless to say, the 7700 XT can easily handle 1080p without any problems.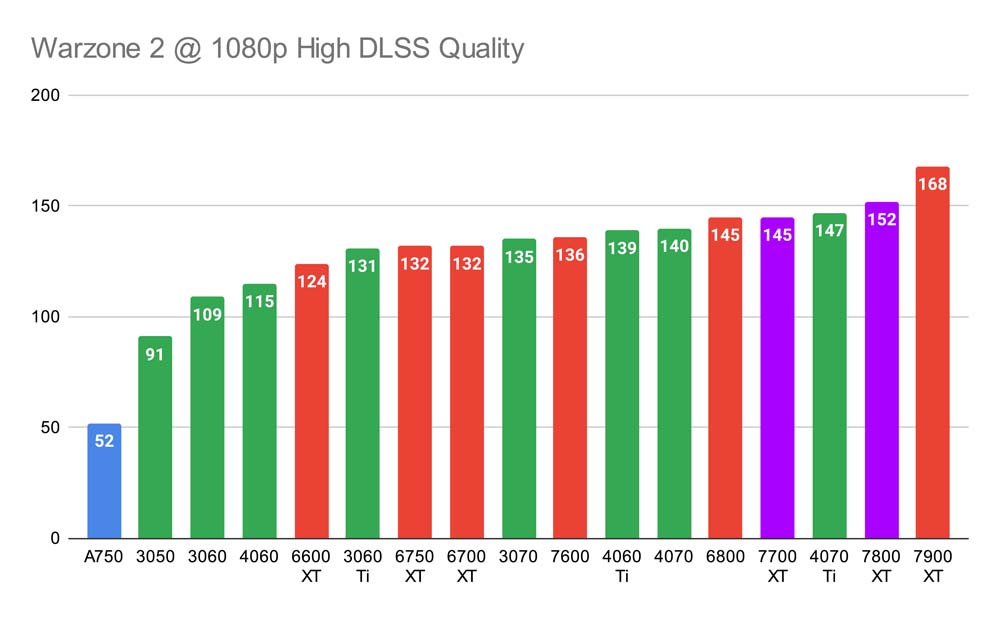 At 1440p, we did see the overall frames drop, with the 7700 XT losing about eight in total. But other than that, this GPU held up pretty strong. Warzone 2 can be pretty unoptimised, but the 7700 XT pushed through this, offering up a very reasonable framerate. We have lost out on the 144Hz sweet spot in this benchmark, but playing around with some in-game settings will net you that all-important refresh rate.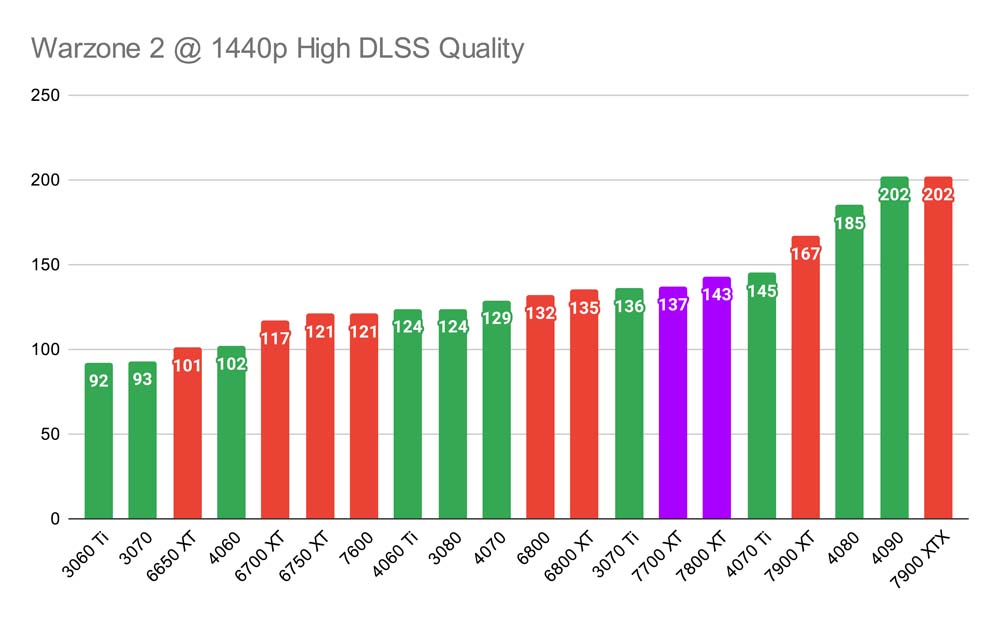 Apex Legends
Next up, we tested Apex Legends at three different resolutions, but first up was 1080p. At this setting the 7700 XT absolutely took off in terms of framerates, offering up 209FPS on average. Overall, we were super happy with the performance in this title, consumers can enjoy a blazing-fast refresh rate coupled with a few frames for redundancy just in case there are frame dips.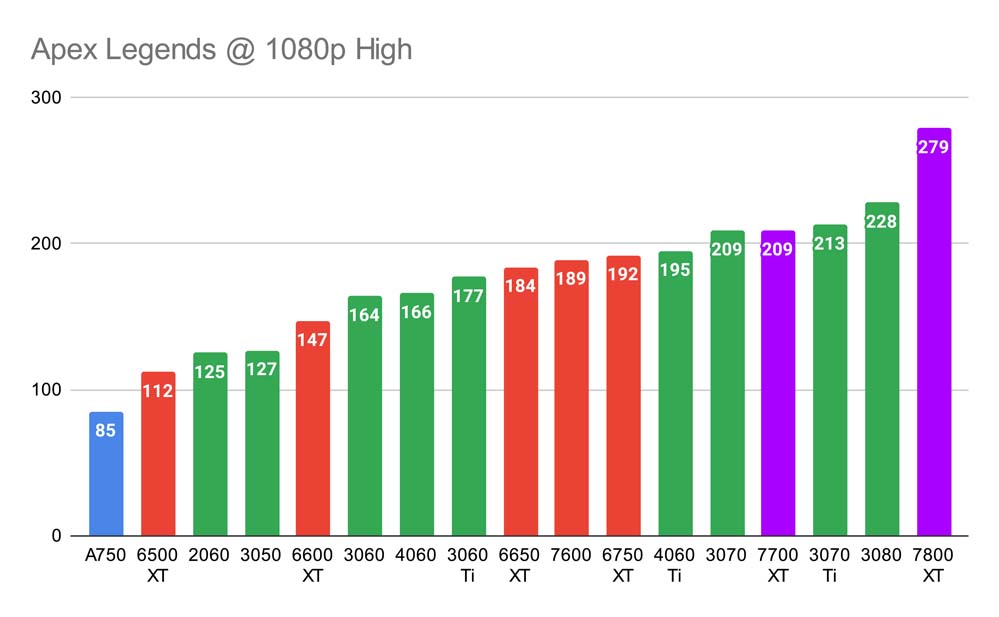 At 1440p, framerates did shift slightly, with the 7700 XT taking a slight hit in performance. But despite this, the 7700 XT still remained strong, offering around 175FPS on average. We're still able to make use of that 144Hz sweet spot here, so consumers can enjoy a buttery smooth refresh rate in this title. We're starting to see quite a large gap between this card and the 7800 XT, with the majority of the RTX 3000 series bulking out the performance in the middle here. But despite this, I'd say the 7700 XT is still offering decent performance regardless of the small dip here.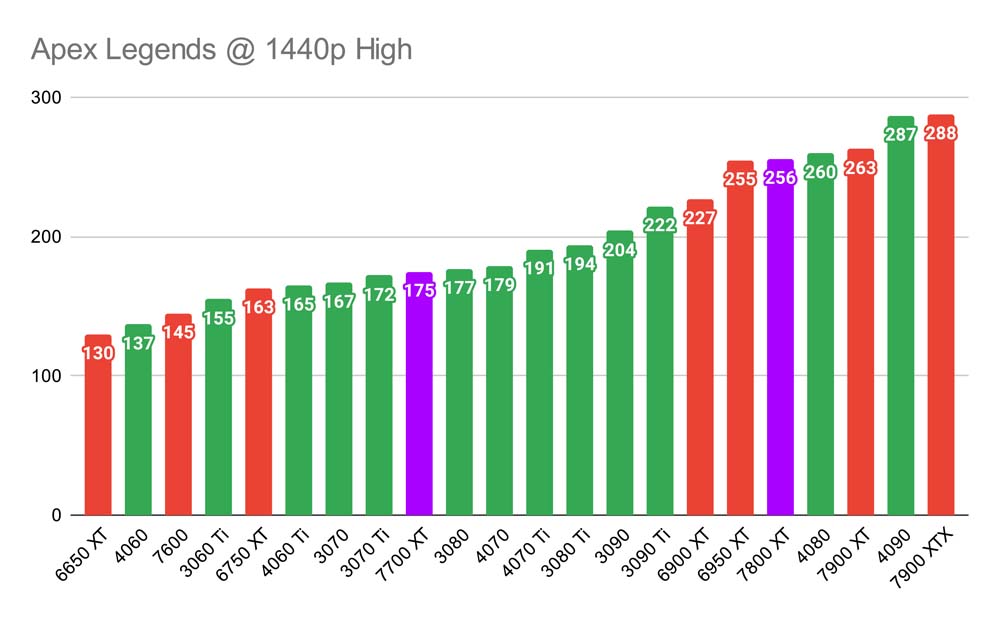 Although we've primarily stuck to 1080p and 1440p, it is worth having a look at one or two 4K benchmarks to see how the 7700 XT performs. As expected, framerates are diminished further, with the 7700 XT offering up around 111FPS on average. This does mean we've lost out on that all-important high refresh rate, but we imagine playing around with settings like Anti-Aliasing might give you a nice boost in framerates. Overall we were happy with the performance of the 7700 XT in this title, and credit to the Apex Developers for creating an optimised game.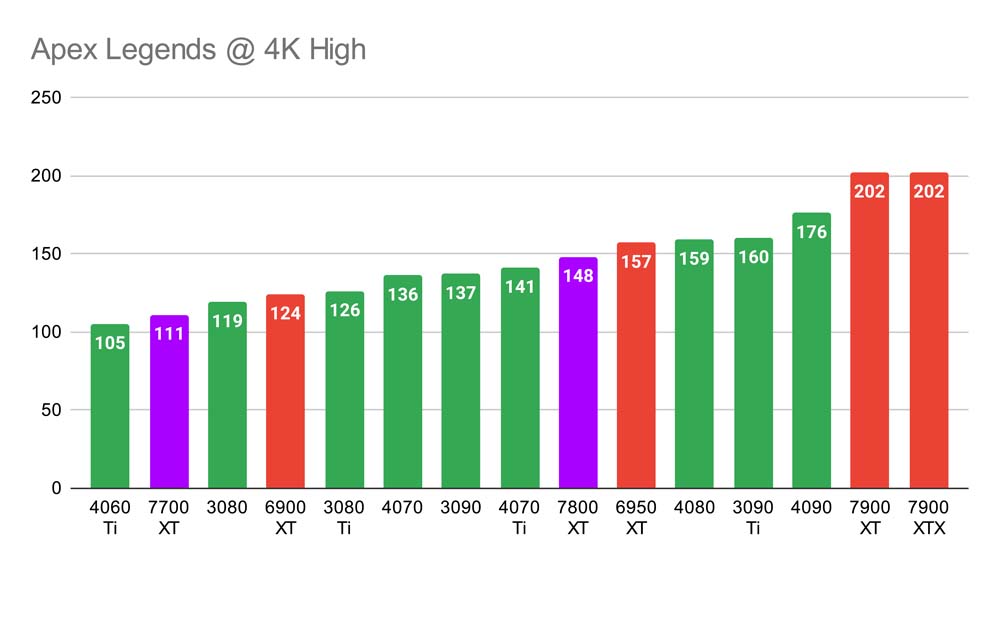 Hogwarts Legacy
In Hogwarts Legacy at 1080p, the 7700 XT held up pretty well, offering an average framerate of around 111FPS. This title can be pretty intensive, and causes a lot of stress for your GPU, but despite this, the 7700 XT remained strong and pushed through. Much like in some of the other triple A games, Hogwarts Legacy did prove too much for the 7700 XT to provide a high refresh rate, but we don't believe this is that necessary in this game. High refresh rates are more important for FPS titles that require you to be focused and on your A-game, so we felt that this wasn't that much of a requirement in Hogwarts Legacy.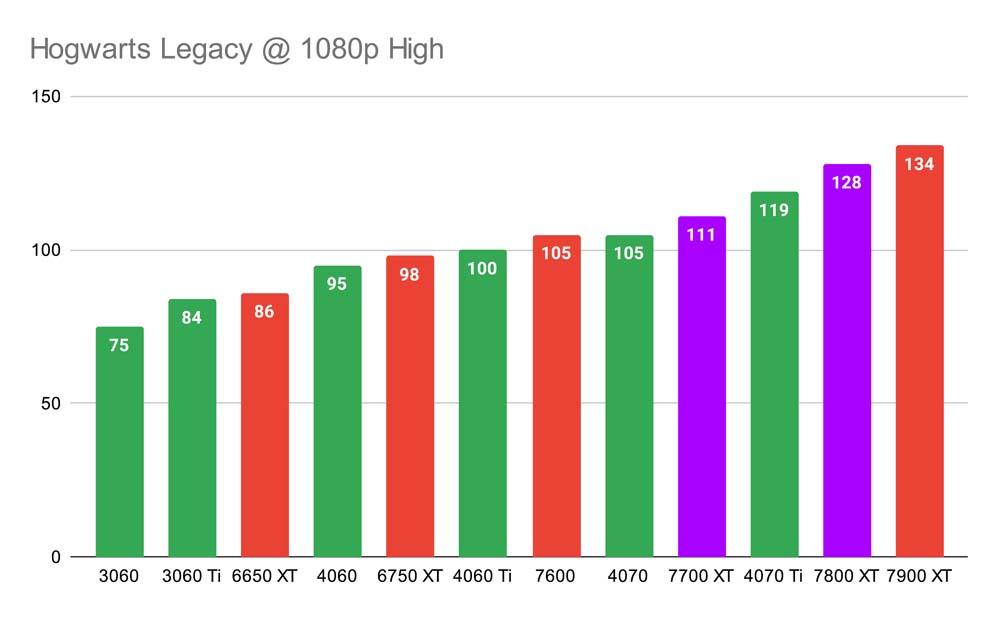 At 1440p we did see a larger drop in performance here, with the 7700 XT sitting below 100FPS on average. Again, reaching that 144Hz sweet spot isn't that big of an issue for us in this particular game, and the same goes for Starfield too. Although we would like to see better performance just to ensure gameplay is entirely smooth, 92FPS will be perfectly fine for the majority of consumers.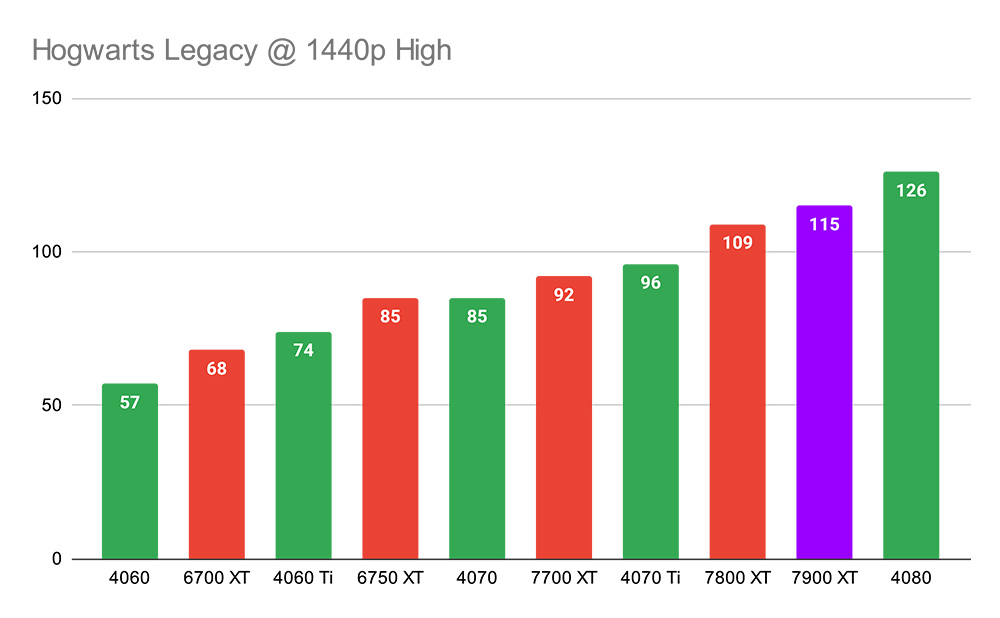 Fortnite
For our last title, we booted up Fortnite and dialled the settings down to Competitive (which effectively means everything on low). In this title, framerates skyrocketed. The 7700 XT was able to provide a solid average of 295FPS, which is frankly overkill. Unless you're a competitive Esports player that needs to maximise their framerates to the highest they can go, it isn't very likely you'll need to turn your in-game settings this low. Regardless, its good to see that given the opportunity, the 7700 XT really can soar when it comes to performance.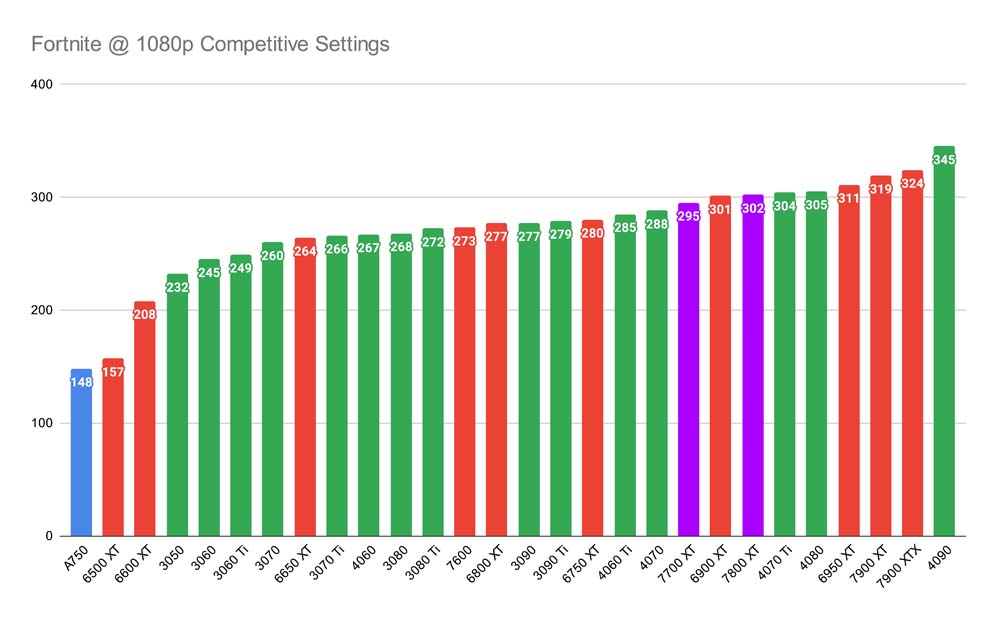 Conclusion
Gigabyte Gaming OC Radeon RX 7700 XT
Product Name: AMD Radeon RX 7700 XT
Brand: Gigabyte
Features

Design

Performance

Value For Money
Summary
Much like the 7800 XT variant of the Gigabyte Gaming OC, this 7700 XT AIB comes in at a pretty reasonable price, offers a triple-fan design that should assist cooling, and overall, performs pretty well. This card does tend to struggle at 4K in comparison to the 7800 XT, but despite this, still pushes through the performance overhead and offers decent framerates in the games you can throw it at. Gigabyte's Gaming OC card is not the most impressive looking, but it comes in at MSRP and serves as a great mid-range option. We feel this card will be the go-to option for many consumers looking to pick up a 7700 XT.
Pros
✅ Solid 1080p and 1440p performance with some legroom at 4K.
✅ Triple-fan design will assist with thermals.
✅ Can customise the RGB.
Cons
❌ Design is the exact same as the 7800 XT
❌ Size could cause clearance or installation issues.
❌ RGB is pretty lacklustre.