Introduction
With NVIDIA's RTX 4000 series line-up of cards now considerably more fleshed out than the beginning of the year, we've decided to put together a comprehensive list of which NVIDIA GPUs to pick up and which to actively avoid.
Given the various consumer buying preferences, we've tried to pick an offering from NVIDIA for each budget, or in other terms a 1080p, 1440p and 4K option. With a plethora of options available on the market, picking out the perfect can GPU can be a challenge to put it lightly. Luckily for you though we've got you covered. Our top picks and recommendations will be listed below with things we both like and dislike and the pros and cons of each GPU.
For those eagle eyed readers, yes, this is the follow up to our 'Best AMD GPUs 2023' buyers guide. For those looking to be well versed in all things GPU related, its definitely worth a read!
Suggested: Best RTX 4000 Gaming Laptops to Buy in 2023
Our Recommendations
NVIDIA's GPU Line-Up
We've decided to include both NVIDIA's last generation RTX 3000 cards and their newest line-up the RTX 4000 series of cards. Given the somewhat flaky response to the latest line-up of cards at times, we thought why not cover all bases and buying preferences, hence our inclusion of the now old but discounted 3000 series cards too!
1. Nvidia GeForce RTX 3060 Ti
👑 Price to performance chart topper.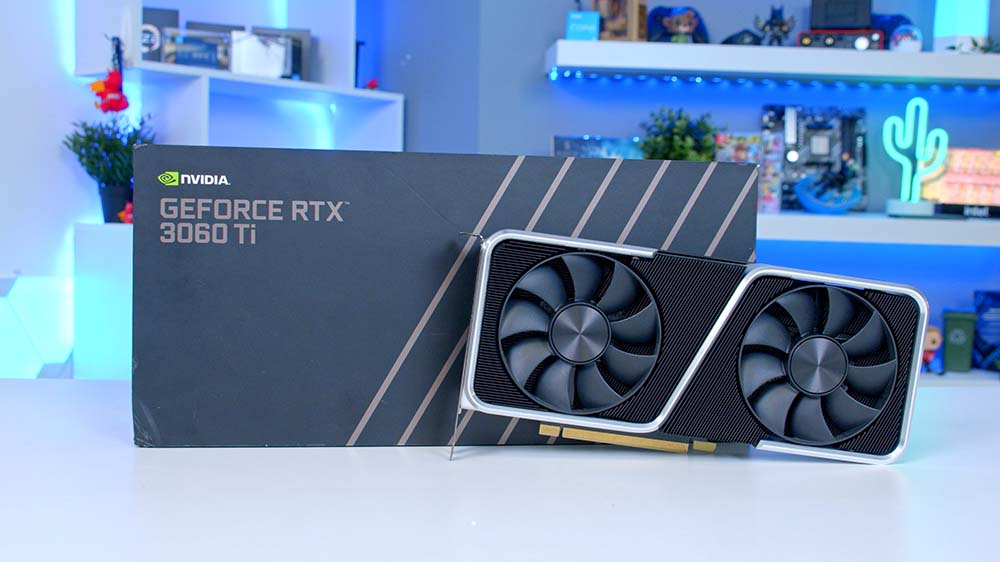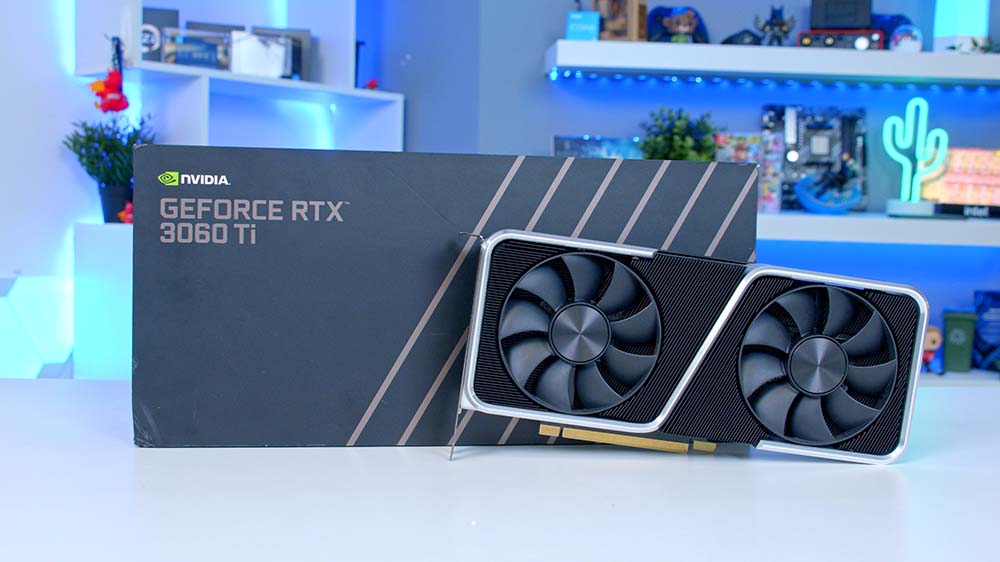 Introduction
Now, admittedly, even I myself am a little shocked to still be including the RTX 3060 Ti in these guides but the 3060 Ti just won't back down. Given the recent sorry state of the 'Budget' market on Nvidia's part, the RTX 3060 Ti is still the best pound to performance offering from Team Green, nearly three years after its release!
The RTX 3060 Ti comes in with an initial MSRP of $399 and can regularly be found for pricing considerably below this. Though the price is falling, the performance certainly isn't, with capacity to crush games at 1080p and even 1440p you're in safe hands with a RTX 3060 Ti.
Built using NVIDIA's Ampere Architecture, the 3060 Ti is capable of using all of NVIDIA's technologies, most notably DLSS. Whilst only being DLSS 2.0 and not the newly produced DLSS 3.0, we still find the Nvidia technology to be more that up to scratch. Capable of boosting performance significantly without notably reducing visual fidelity NVIDIAs tech is currently the best on the market and a more refined offering than its competitors.
Key Specs
| Spec | NVIDIA RTX 3060 Ti (Founders) |
| --- | --- |
| Base Clock (GHz): | 1.41 |
| Boost Clock (GHz): | 1.67 |
| Memory Size: | 8 GB |
| Memory Type: | GDDR6/GDDR6X |
| NVIDIA Architecture: | Ampere |
| NVIDIA DLSS: | 2.0 |
| Tensor Cores: | 3rd Generation |
| Ray Tracing Cores: | 2nd Generation |
| PCI Express Gen 4: | Yes |
| Graphics Card Power (W) | 200 |
| Required/Recommended System Power (W) | 600 |
Things We Like
Performance: The RTX 3060 Ti was a standout card in the RTX 3000 series line-up of cards. Capable of very strong performance at 1080p and 1440p whilst being at a very competitive price point, the RTX 3060 Ti firmly cemented itself as the best option in its section of the market.
DLSS Is another great addition and allowed us to push the frames that bit further. We were surprised at actually how well the RTX 3060 Ti stacks up against the new generation cards. As seen in our testing below we found the RTX 3060 Ti to beat out a number of the latest GPU releases across a number of titles!
All-Rounder: NVIDIA's RTX 3060 Ti has become somewhat of a do-it-all GPU. For those looking to just plug and play with their GPU straight out the box at 1080p or 1440p, you cant go far wrong with the 3060 Ti.
The RTX 3060 Ti does a great job of offering the best of both a high-end GPU and low-end. Packing great performance at multiple resolutions without the need to be forever tweaking games settings removes the stress of lower end GPUs. Gone our the days of can my GPU run this? Whilst the pricing of the RTX 3060 Ti places it in a great market spot and much like a budget GPU means the RTRX 3060 Ti doesn't break the bank.
Things We Don't Like
Ray-traced performance: Perhaps the only performance area that the RTX 3060 Ti does suffer is with Ray-tracing. Whilst yes Ray-Tracing is not at the forefront of priorities for a card like the RTX 3060 Ti, it is after all an RTX GPU with RTX standing for Ray-Tracing. Whilst poor performance is not a must have by any means, potential customers could be easily disappointed to find performance well below par on a compatible GPU.
Summary
The RTX 3060Ti is still the best placed 'budget-oriented' NVIDIA GPU on the market right now. Even 3 years after its initial release it still packs enough punch to keep up with both the newer and bigger boys of the GPU market.
For those looking to play games at 1080p and 1440p we still to this day believe the RTX 3060 Ti is the best NVIDIA offering, especially given the lacklustre launches of the RTX 4060 models.
The RTX 3060 Ti is a tried and tested GPU and one that will rarely if ever let you down. Consistent as ever for its entire 3 year lifespan to date, its no wonder its made another GeekaWhat GPU guide.
Pros
One of the best value GPUs on the market.
Performance above its weight class.
Solid 1440p and even 4K capabilities.
Cons
Ray-traced performance
No RGB
Buy the NVIDIA GeForce RTX 3060 Ti on:
2. NVIDIA GeForce RTX 4070
👑 A quiet contender.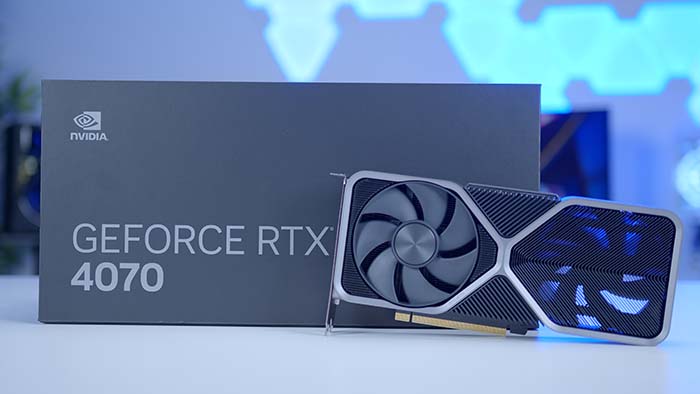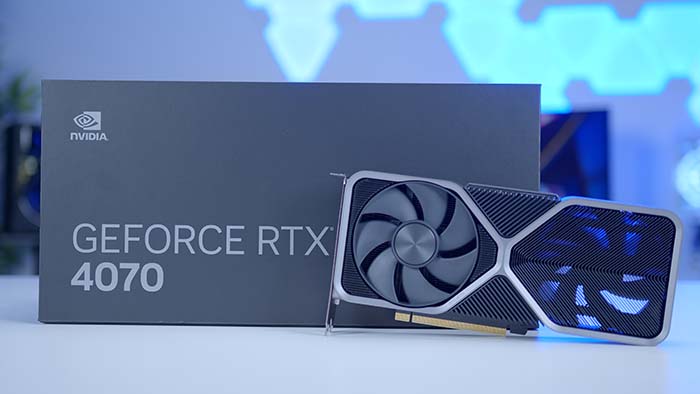 Introduction
Of the most recent few NVIDIA launches (RTX 4070 Ti launch onwards) we feel the RTX 4070 is the one to tick the most boxes. The RTX 4070 took many steps in the right direction, thus, becoming a solid offering from NVIDIA.
The RTX 4070 actually shocked us at times during our testing with how well performance was at times, especially when testing at 4K. We expected the card to be a great 1440p offering but with legs to push through at 4K too, the RTX 4070 becomes an even more enticing prospect.
Built on the new Ada Lovelace architecture, the RTX 4070 reaps the benefits of the new improvements. Strong performance at multiple resolutions have been bolstered further by the addition of DLSS 3.0 – NVIDIA's latest and greatest addition. The latest edition of NVIDIA's resolution scaling tech has introduced Frame Generation and wow has it been a game changer but more on that later.
Elsewhere the RTX 4070 has seen improvements to Ray-traced performance too and is the first of the cards on our list to offer solid performance with NVIDIAs most premium tech offering. Whilst by no means the strongest performer with Ray-Tracing enabled, performance is solid and for a mid-range card, that's a great added bonus.
Key Specs
| Spec | NVIDIA RTX 4070 (Founders) |
| --- | --- |
| Base Clock (GHz): | 1.92 |
| Boost Clock (GHz): | 2.48 |
| Memory Size: | 12 GB |
| Memory Type: | GDDR6/GDDR6X |
| NVIDIA Architecture: | Ada Lovelace |
| NVIDIA DLSS: | 3.0 |
| Tensor Cores: | 4th Generation |
| Ray Tracing Cores: | 3rd Generation |
| PCI Express Gen 4: | Yes |
| Graphics Card Power (W) | 200 |
| Required/Recommended System Power (W) | 650 |
Things We Like
4K Capability: As mentioned earlier we were shocked to see just how well the RTX 4070 performed at 4K. For those looking to play certain titles at 4K without going all out and buying a top of the range GPU, the RTX 4070 might be the solution. With the aforementioned ' Frame Generation' available too and performance on the RTX 4070 can skyrocket to dizzy heights, even at 4K High settings.
Architecture: NVIDIA's latest architecture has bought with it a whole host of improvements across the board. Improvements to both hardware and software lead to solid improvements. With new 3rd generation RT cores and 4th generation Tensor cores, packaged with DLSS 3.0, the RTX 4070 is able to make lightwork of most tasks thrown its way.
Things We Don't Like
Pricing: One of the most contentious points with the entire RTX 4000 series of GPUs is the price point. The RTX 4070, whilst priced slightly better than some of its compatriots, we still feel the RTX 4070 could do with a price reduction. With each RTX 4000 series launch we'd hope NVIDIA would rectify their pricing structure, but alas, the missed takes kept coming. The launch of MSRP of $599 doesn't sit quite right with us, but is a lot healthier than its Ti variant.
Summary
NVIDIAs RTX 4070 is a standout card in the 4000 series line-up. Having been one of the more warmly received cards of the recent launches, the RTX 4070 has since been quietly plugging away and producing impressive performance.
The RTX 4070 is much more than we initially expected. Having expected this to be a 1440p monster with occasional legs at 4K, we couldn't have been more wrong. In actual fact the RTX 4070 has 4K performance to hang with even the big boys of the GPU world, turn on raytracing and it impresses even further.
Whilst the price point is steep, the RTX 4070 does offer great performance and features to match and is a card the mid-range gamer can't go far wrong with.
Pros
Improved architecture.
Impressive 4K & raytraced performance.
Reduced GPU chassis size
Cons
Expensive price point
Software ease of use.
Buy the NVIDIA GeForce RTX 4070 on:
3. NVIDIA GeForce RTX 4090
👑 The most powerful GPU to date.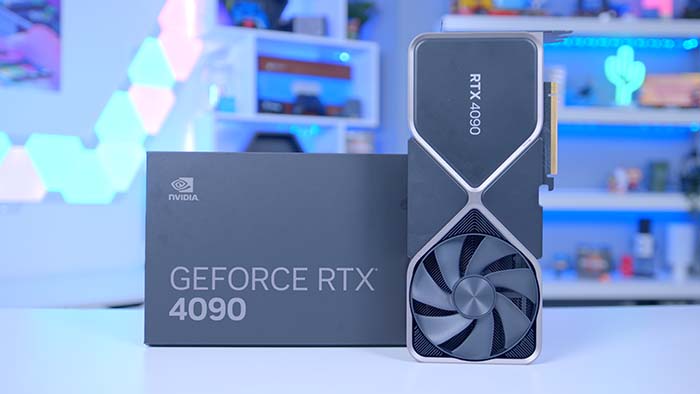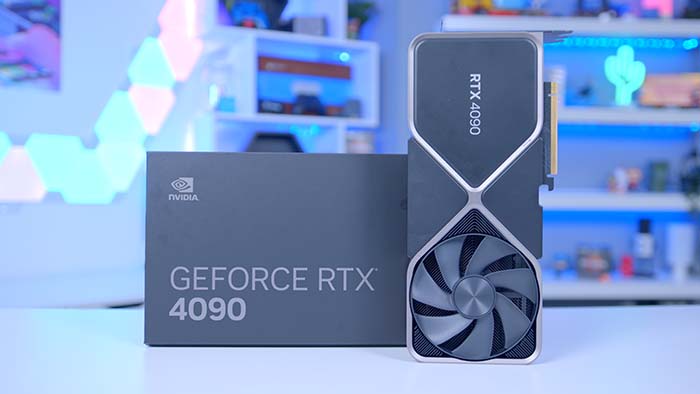 Introduction
The chart topping RTX 4090 is our final inclusion today and boy is it powerful. We tested the RTX 4090 on launch and were simply blown away by the mindboggling performance the card produces.
Performance, however, wasn't the only thing to blow us away, the other being, yes, you guessed it, the price. This card doesn't come cheap. Coming in at an MSRP of $1600, this card will not be for everyone. Even for those who can afford it, there are plenty of other cards capable of gaming at 4K, so why choose the RTX 4090?
The RTX 4090 offers the true no strings attached performance. The RTX 4090 crushed everything we threw its way with ease. NVIDIA have done an incredible job of pushing past the industry boundaries previously set. Both gaming and more intense creative instances, video editing, rendering etc were easily carried out with out the RTX 4090 breaking a sweat.
NVIDIAs latest architecture has allowed for the RTX 4090 to unlock its true power with the use of DLSS 3.0's 'Frame Generation' further bolstering the already industry-topping performance. To keep this power leashed though the RTX 4090 needs a cage and a big one at that. The RTX 4090 is a behemoth in size, dwarfing previous card designs by some margin and worth noting for case clearance purposes.
Key Specs
| Spec | NVIDIA RTX 4090 (Founders) |
| --- | --- |
| Base Clock (GHz): | 2.23GHz |
| Boost Clock (GHz): | 2.52GHz |
| Memory Size: | 24GB |
| Memory Type: | GDDR6/GDDR6X |
| NVIDIA Architecture: | Ada Lovelace |
| NVIDIA DLSS: | 3.0 |
| Tensor Cores: | 4th Generation |
| Ray Tracing Cores: | 3rd Generation |
| PCI Express Gen 4: | Yes |
| Graphics Card Power (W) | 450 |
| Required/Recommended System Power (W) | 850 |
Things We Like
All-out performance: NVIDIA's RTX 4090 is a true no holds barred approach to gaming. During testing we set every game to 4K maxed out settings and found the RTX 4090 to make lightwork of even the most challenging titles. Ray-Tracing is no problem for the 4090 either. The RTX 4090 is perhaps the first card where the performance drops experienced with enabling Ray-Tracing are simply not all that noticeable. We regularly sat in the hundreds of FPS at 4K, breezing past 144FPS in most if not all titles. For ultra smooth gameplay with no game tinkering needed, the RTX 4090 is lightyears ahead of any other GPU.
Frame Generation: The RTX 4090 is the first card we experienced Frame Generation on and wow. We tested the RTX 4090 in multiple titles with Frame Generation and raytracing enable to ridiculous results. Ray-Tracing no longer hindered performance, we cruised past the 144FPS mark at 4K maxed out setting across a number of games with Ray-Tracing enabled without the RTX 4090 struggling once. NVIDIA have done a fantastic job with their latest addition to DLSS.
Things We Don't Like
GPU Size: The RTX 4090 is a true titan is size and rightly so to house all that power, or so we thought until a number of later RTX 4000 series cards released at the same size as a RTX 3050. The RTX 4090 is simply massive and these later launches lead us to question whether it actually needed to be? Couple this with the added costs of likely needing a new case to fit the RTX 4090 and a new PSU to power it and sizing of the card soon becomes an issue.
Summary
NVIDIAs RTX 4090 is a great success in a pure performance viewpoint. Blasting past previous norms and soaring to dizzy FPS heights like nothing we've seen before. The RTX 4090 alleviates all restrictions to let you get down to what you do best, whether its gaming, editing or anything else in between.
With one of the healthiest generation performance increases we've seen and very strong hardware specs for creative instances, the RTX 4090 can do it all.
This cant isn't one for the masses however, rather the minority as opposed to majority. Issues begin to creep in when looking at pricing and sizing. Potential new cases needed to house and PSUs to power the RTX 4090 further compound the beating of the consumer bank account and likely price the majority out of owning this card.
The RTX 4090s performance results speak for themselves though. Yes the card is huge and so too the price, but the performance backs it up. This is the definitive best performing GPU and likely will be for some time. If pure performance is what you want the RTX 4090 is the king.
Pros
Chart topping performance
Ray tracing capabilities.
Great for creatives.
Cons
GPU chassis size.
Price point.
Buy the NVIDIA GeForce RTX 4090 on:
The Benchmarks
We test all of our cards across a range of titles, from the likes of Apex Legends and Fortnite, to Spiderman Miles Morales and GTA V, we test across a number of genres to dive deep into the nitty gritty of each GPUs performance.
We've included AMD GPUs in our results as a reference point, to see just how well the NVIDIA range of cards stack up against the competitions offering!
Fortnite – 1080p Competitive Settings
Fortnite is the first title we tested during our run and a title that allows us to see how all our choices faired at once. Cranking the settings down to 1080p competitive settings as always, Fortnite as expected was a tale of two ends.
Lets start with the obvious, the RTX 4090 blew away the competition, comfortably too. 345 FPS is scarily high and for a title where every frame matters, could be the difference.
The RTX 4070 came in as expected towards the upper mid range of GPUs, knocking on the door of the 4K titans. A very solid 288 FPS for the RTX 4070 is nothing to scoff at.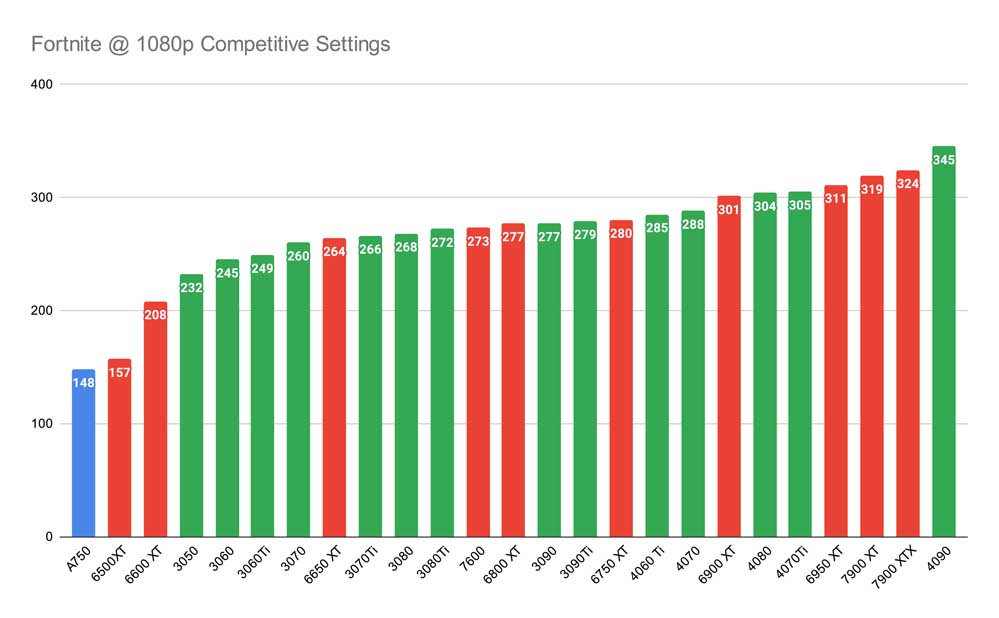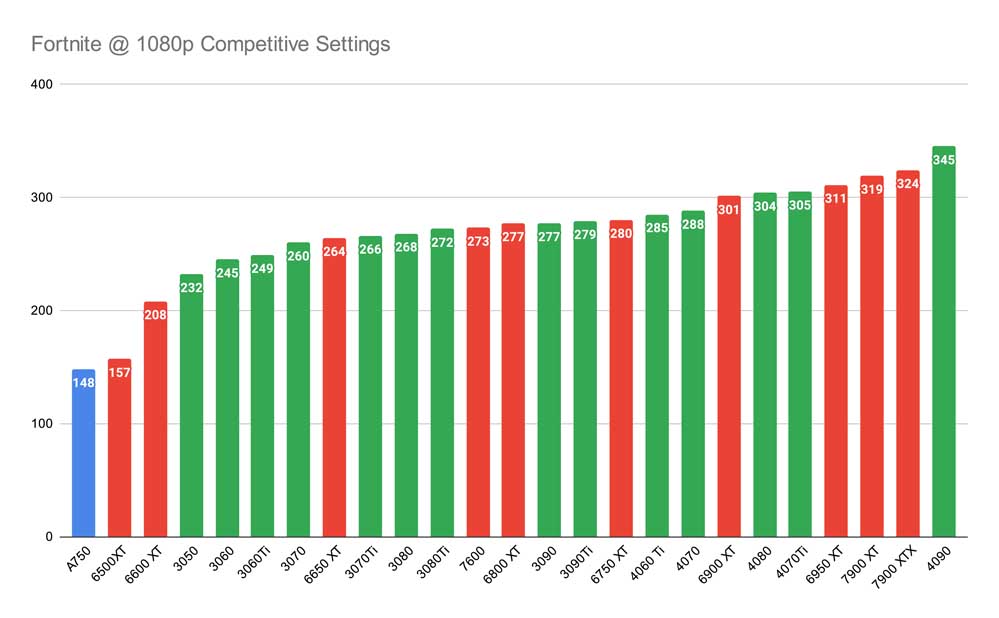 The RTX 3060 Ti came in towards the other end of the table, sitting in between the pure 1080p cards and within touching distance of 1440p cards. 245 FPS for the 3060 Ti, still well over the 200 FPS mark is a solid result for the 'budget' GPU.
COD Modern Warfare 2 – 4K High Settings
We went for 4K High settings in Call of Duty's Modern Warfare 2, a chance for the big boys to flex their guns.
Once again the RTX 4090 topped the chart but admittedly it was a much closer run race this time. Just the 5 FPS separate the RTX 4090 from its closest rival the RX 7900 XTX , another 4K titan to look out for?
The RTX 4070 proved to be more than capable of gaming at 4K in MW2, clearing the 100 FPS mark and sitting at 108 FPS on average. Beating out both of last generations 4K GPUs, the RTX 3080 and 3080 Ti is no easy feat and makes the RTX 4070 worthy of its plaudits.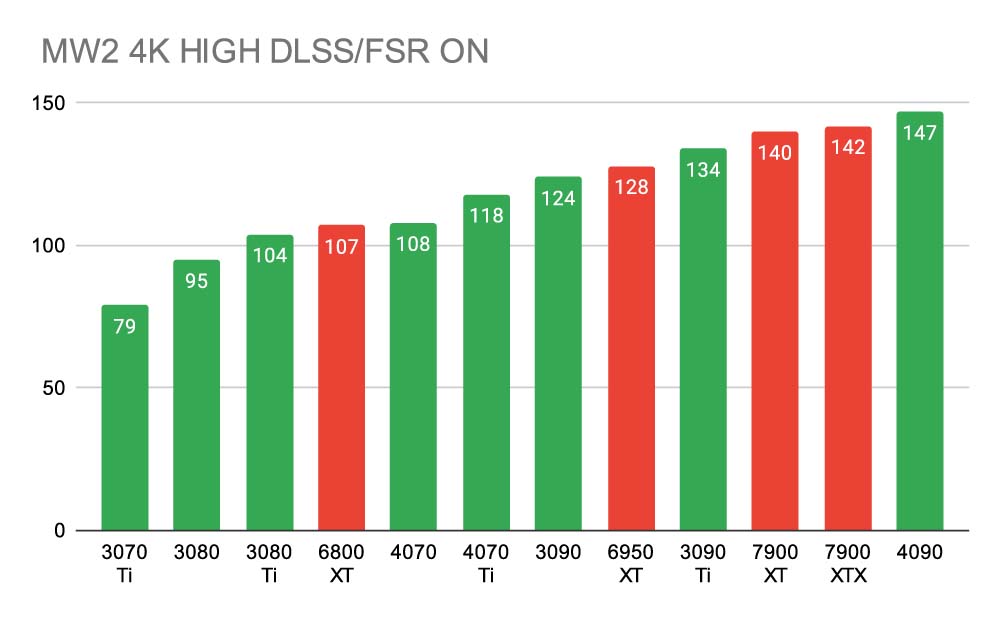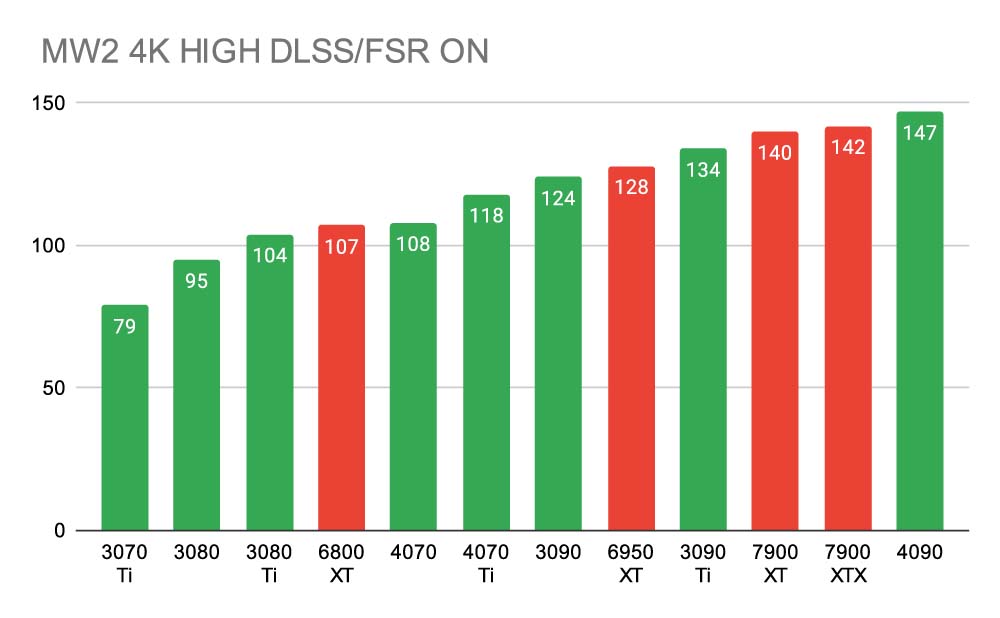 Overwatch 2 – 1440p Ultra Settings
Overwatch 2 was next up and more solid readings for two of our choices.
Starting with the RTX 3060 Ti, sitting comfortably at 202 FPS at 1440p proving its multi-resolution prowess. More impressively it beats out two of the newest releases from both NVIDIA and AMD in the form of the RTX 4060 and RX 7600 and by some distance too. Both of the newly launched GPUs are admittedly 1080p GPUs but initially we thought the same of the RTX 3060 Ti.
The RTX 4070 put in another solid performance in this title too and is seemingly a very consistent GPU. Once again sitting within touching distance of your typical higher end GPUs, the RTX 4070 is well and truly leading the line for the midrange GPU market.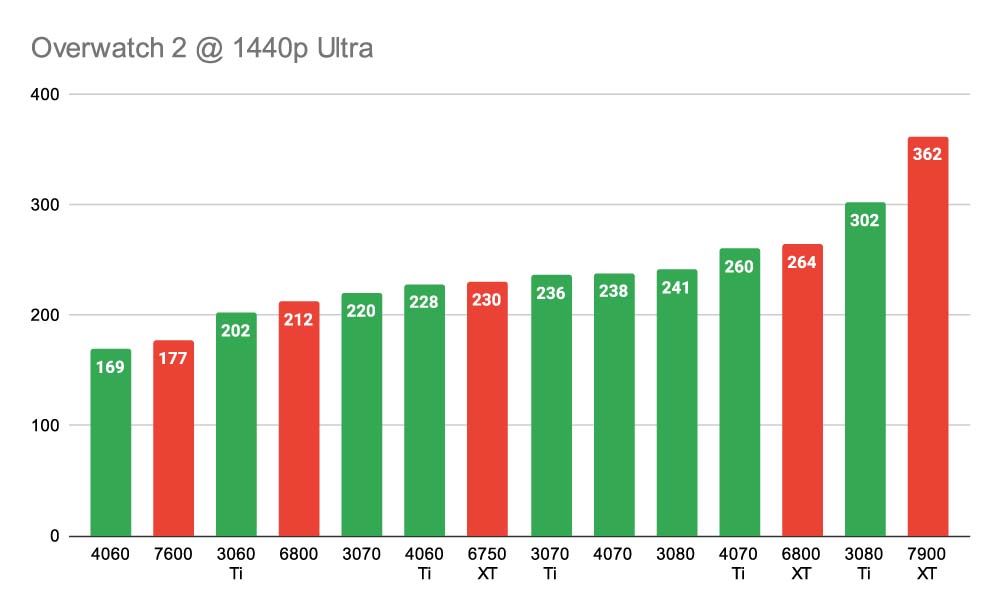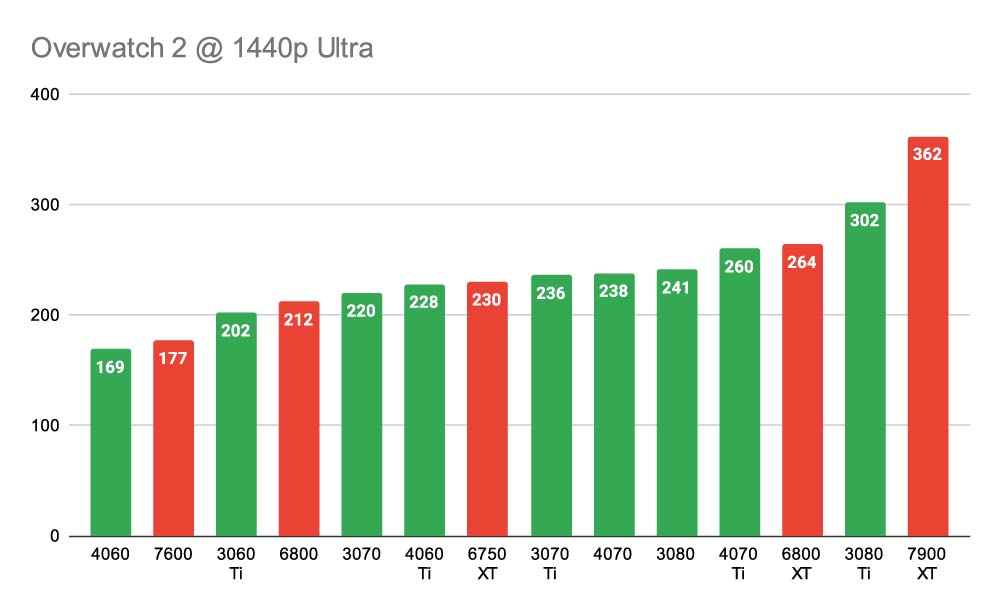 The RTX 4070 is excruciatingly close to hitting the 240 FPS mark too. For those aspiring Esports gamers out there looking to game out 240Hz for the ultra smooth gameplay, the RTX 4070 will be more than capable of doing so at high settings, let alone competitive.
Grand Theft Auto V – 1440p High Settings
The longest serving of our benchmarking titles acts as our finale in this guide. GTA V. A game that seemingly isn't going anywhere and is still mightily popular even today makes it more than worthy of it entry on this list.
Starting of hot with the RTX 3060 Ti and it managed to beat out the RX 6900 XT, a result that shocked us all in the office. Averaging 152 FPS, places the RTX 3060 Ti just the 1 FPS behind the RTX 3070 and just 2 FPS behind the RTX 3070 Ti. The RTX 3060 Ti once again proved to be capable of hanging with the more powerful GPUs out there for a fraction of the cost.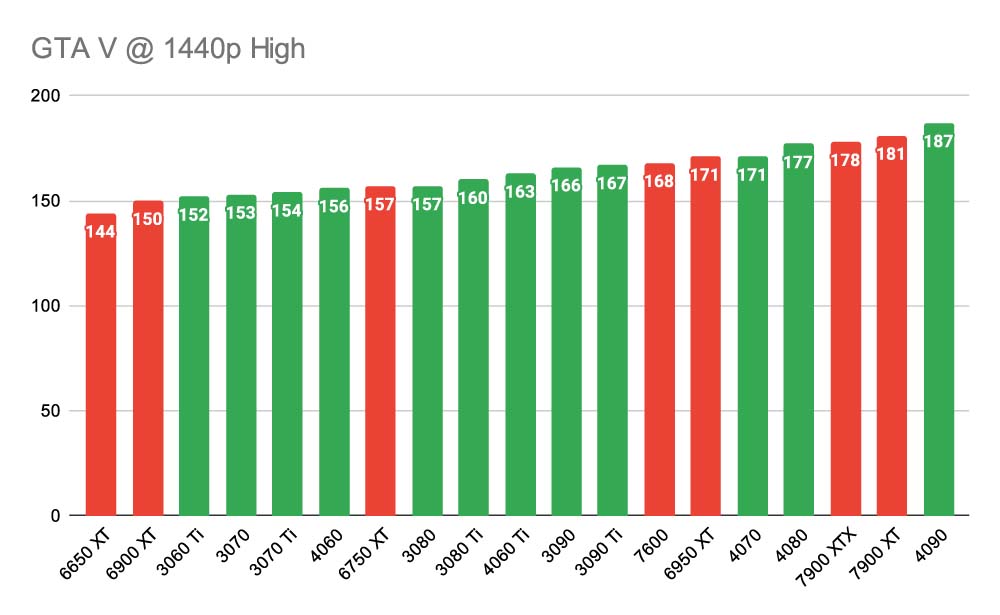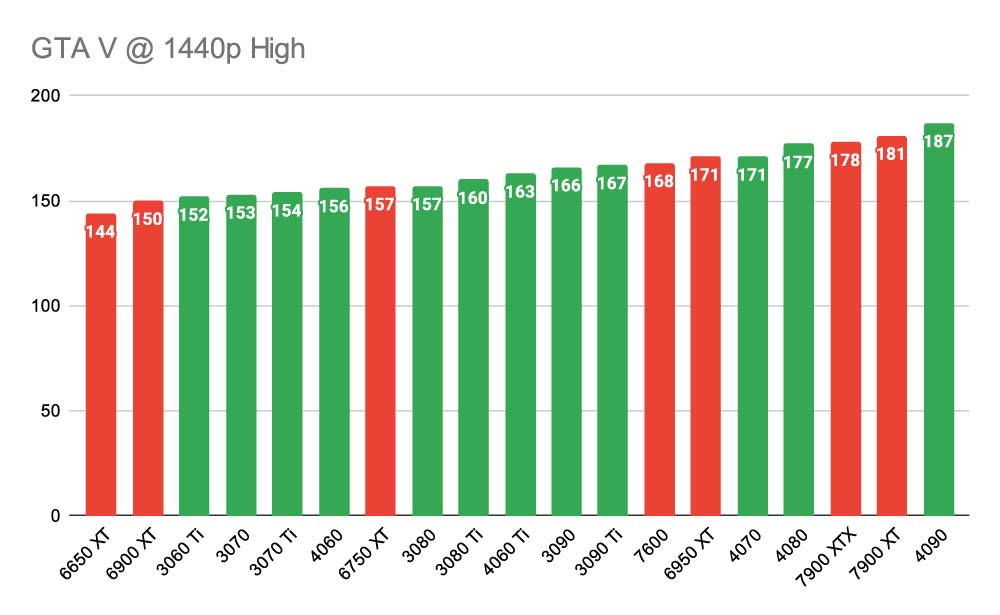 Elsewhere the RTX 4070 put in another very strong performance, positioning itself just ahead of the RX 6950 XT and just behind the RTX 4080. Sitting comfortably at roughly 171 FPS at 1440p high settings once again makes for more ultra smooth gameplay from Mr. Consistent.
We'll keep it nice and short for the RTX 4090. It won. In fact it maxed out the frames and reached the frame cap of GTA V and stayed there.
What is a GPU and Do I Need One?
A Graphical Processing Unit or GPU as it is most commonly known as the driving force behind a Gaming PC. Paired with a Central Processing Unit (CPU) which acts as a sort of PC brain and the two combine to carry out the majority of intensive tasks, i.e. gaming. The GPU market is predominantly a duopoly between AMD and NVIDIA but in recent months CPU powerhouse Intel have also thrown their hat into the ring.
GPUs come loaded with healthy amounts of video memory or VRAM in addition to base and boost clock speeds and a number of other hardware and software technologies to increase overall system performance. By varying clock speeds and VRAM totals across models allows for a wider number of variants of the same overall model to be made, allowing for budget and high-end models within even the same GPU tier
Do you actually need a GPU though? Short answer, no. Long answer, most likely.
In most cases a GPU is needed to output a display thanks to having graphics drivers. You see them Display/HDMI ports on the back of your motherboard? Don't use them. Make sure you plug your cables into the back of your GPU. Unless you have a CPU with integrated graphics and there are a fair few on the market, then yes you will need a GPU. Even if your CPU does have integrated graphics, If you plan on carrying out intensive tasks like gaming or creative tasks such as editing then we would recommend that absolutely you do purchase a GPU. Performance will be much stronger and consistent with the addition of the GPU .
However if you aren't planning on doing any intensive tasks, you may be able to get away without buying a GPU and instead relying on the CPU, as long as it has integrated graphics. If your CPU does have integrated graphics and you don't have or don't plan on buying a GPU then yes, use the display ports on the back of the motherboard.
What PSU Wattage Size do I Need?
A Power Supply Unit is essential for any system, no power and the rest of the components are rendered useless. Buying a dependable PSU is an essential part of building any PC. How much is needed though? This is dependent on the individual build of each person. Varying parts have varying power requirements.
GPUs and CPUs tend to have the highest power draws of any components in a given system. Luckily for us though, both AMD and NVIDIA as well as all of their Add-In Board partners (AIBs) provide power requirements for their components. By going on to the manufacturer website of the given GPU, under the specifications tab you can find the 'Graphics Card Power' and 'Required System Power'. Handily for our three recommendations we have included them in the tables above.
Intel and AMD also provide similar information for their CPUs too allowing the consumer to fully understand how much both their CPU and GPU require. Of Course all of the other components in the system require powering too so make sure to allow for additional wattage to power these too. GPU manufacturer specification tables tend to use a PSU wattage recommendation that takes into account the larger system power draw too however and makes them a safe place to start.
How We Tested the Best NVIDIA GPUs 2023
After taking a look at our recommendations of the best NVIDIA GPUs for 2023, you're probably wondering what makes us qualified to choose components for your PC. Well, our team of geeks and enthusiasts put a plethora of hours into testing all of the components and products that we get into our office. We use a multitude of gaming and productivity benchmarks to gain a well-rounded and concrete understanding of the advantages and caveats of each product. For those interested in learning more about our team head over to the About Us section!
In order to test and evaluate the best NVIDIA GPUs for 2023 there are a number of factors that we take into account, these are:
Performance
Compatibility
Aesthetic
Value for Money
Conclusion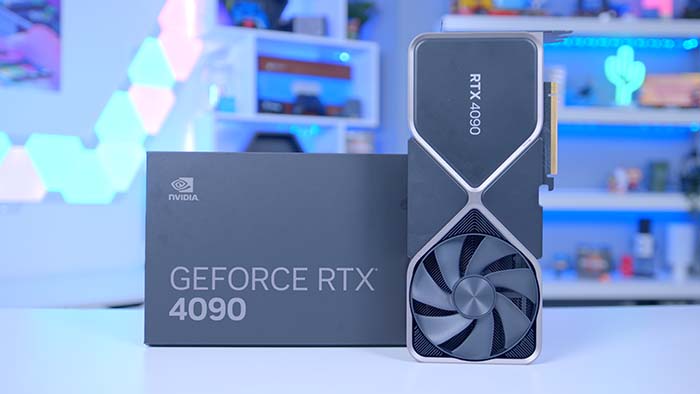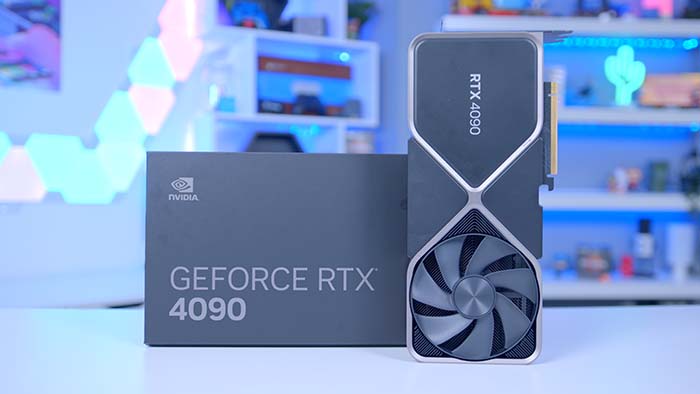 Best NVIDIA GPU to Buy in 2023: NVIDIA GeForce RTX 4090
I cant quite believe I'm saying this but yes, the RTX 4090 is the best NVIDIA GPU to buy in 2023. The GPU to kick things off for RTX 4000 series has been one of if not the only generally well received recent NVIDIA launch. Whilst yes, it is very expensive and overkill currently, it is arguably the only NVIDIA RTX 4000 series card to back up its price tag.
I teetered with the idea of putting the RTX 3060 Ti as the best option but due to the recent price slash from AMD on cards like the RX 6750 XT, we'd actually recommend going AMD over NVIDIA in that scenario. The RTX 4070 again whilst a good card is still overpriced for its current offering and the fact we included it nonetheless says a lot about the state of NVIDIAs other offerings.
For unrivalled performance the RTX 4090 is simply the standout option and will be the undoubted performance king for the future. If you want our honest buying advice for budget to mid-range currently however, we recommend looking at AMDs offerings as they reflect much better value for money.
Read our full NVIDIA RTX 4090 review, or Buy the NVIDIA GeForce RTX 4090 on Amazon
Frequently Asked Questions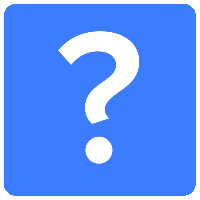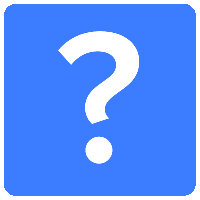 Will My NVIDIA GPU Work With an AMD CPU?
Yes! Your NVIDIA GPU is compatible with both AMD and Intel CPUs and will work perfectly fine with whichever is in your system.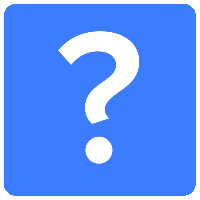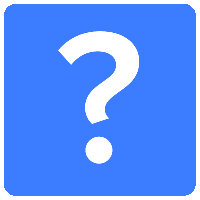 Do NVIDIA GPUs Have Ray-Tracing?
Yes NVIDIA GPUs have and can use Ray-Tracing. As a general rule if the NVIDIDA GPU is an RTX model it is compatible with raytracing e.g. RTX 3080.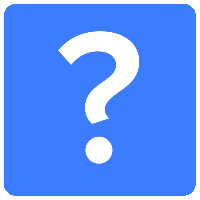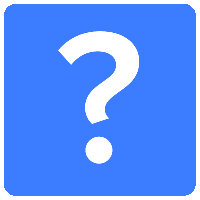 Is AMD or NVIDIA better?
It comes down to preference. NVIDIA cards tend to come in more expensive but are more refined and have better software whilst AMD cards are cheaper but can have more teething issues.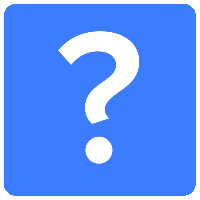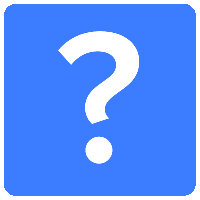 How Much VRAM Do I Need?
For most instances in recent years 8GB VRAM as a bare minimum has been sufficient. We would recommend however 10-12GB to better future proof.