Introduction
In a GPU market plagued by price hikes, VRAM controversy and a number of disappointing GPU releases, AMD look to be returning sanity to the market with their two latest releases. Revealing both the RX 7700 XT and RX 7800 XT at this years Gamescom in Cologne, Germany, AMD have at long last, entered the mid-range market for the current generation of Radeon 7000 GPUs.
In this review we'll be focusing on the cheaper RX 7700 XT model, a card that's set to launch with an MSRP of $449. With performance said to rival the RTX 4060 Ti and specs to rival even the RTX 4070 (a card that launched for a whopping $150 more), consumers may be onto a winner with AMD's latest release. With this launch AMD have solidified their strong market stance of late, again focussing on bringing new generation GPUs to the market at more affordable prices than the competition.
On paper the RX 7700 XT looks set to reignite the mid-range market. Strong specs at an ever stronger price point make positive readings for the mid-range gamer. A healthy 12GB of VRAM, solid base and boosts clocks in addition to new and updated AMD technologies like HYPR-RX and FSR 3 set this card up for early success.
Buy the Sapphire Pulse RX 7700 XT on:
Architecture
The latest RDNA architecture received a welcome refresh with AMDs latest releases. Whilst still RDNA 3 by name, by nature the architecture has received significant improvements and additions.
Perhaps the most notable update is that of FSR, particularly FSR 3.0, which AMD also announced at Gamescom.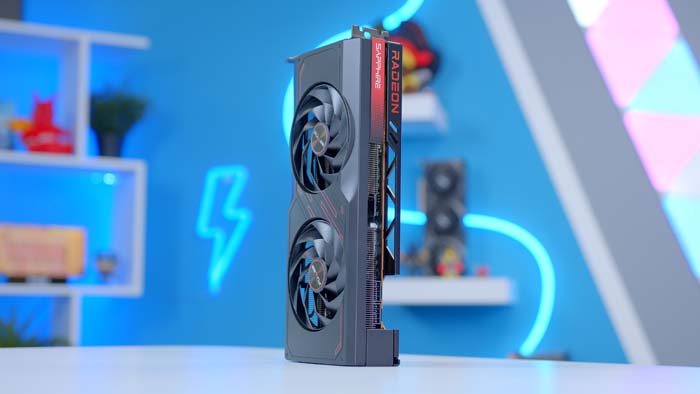 Suggested Article: Best CPUs to Buy for the AMD Radeon RX 7600 in 2023
The major change in FSR 3.0 is that AMD have added their new Fluid Motion technology (FMF), essentially their answer to NVIDIA Frame Generation. While not available to test immediately, it is only a matter of time before this tech is widely available in a whole host of titles.
In principle, the two technologies work on a similar basis. By interpolating new frames based on the already existing frame data, AMD's Fluid Motion Technology then inserts these new frames inbetween the existing frames. This compounds onto the original FSR technology, which uses next-generation upscaling to deliver the frame rates of lower resolutions, but with the visual fidelity of higher resolutions to deliver a healthy performance improvement.
The main difference between both FMF and Frame Generation is that AMD's offering is software based and thus more widely compatible. NVIDIA's tech is more hardware based by nature, and as such is limited by the GPUs optical flow performance levels. There are advantages and disadvantages to each, NVIDIA would argue tying it to hardware allows for better performance optimisation, while AMD would advocate for their software approach as it benefits more gamers. We certainly prefer the principle of AMD's approach, but only time will tell as to the effectiveness of the solution and there is no substitute in this instance for good old fashioned benchmarking.
HYPR-RX is amongst the other notable inclusions with the architecture refresh. Now housing a number of current AMD technologies under the one name; Radeon Boost, Radeon Anti-lag+ and Radeon Super Resolution can all be enabled with one click. Perhaps the best feature of HYPR-RX is AMD's announcement that it will actually be supported on any GPU with enough horsepower for it to work. That means users of last generation AMD and Nvidia cards are set to benefit from the tech. This has to be commended, with AMD not set to gain financially from the legwork involved with enabling this tech on competitor cards. Again, we need some time to properly evaluate this technology, but is should certainly be commended from AMD's side.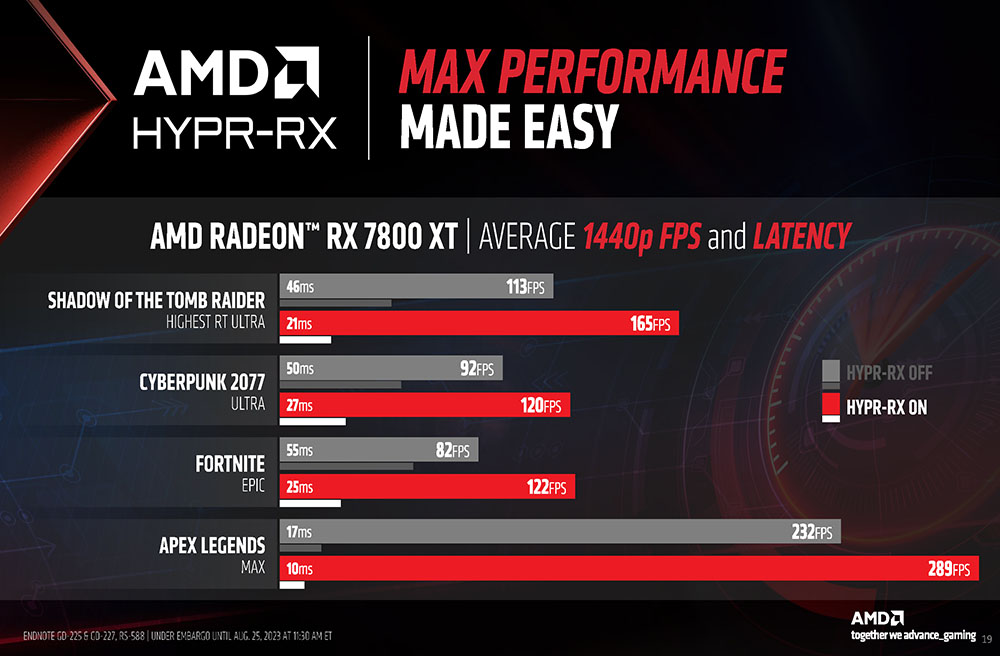 Specifications
On the face of it, the RX 7700 XT looks to have some very strong specs and slots into the AMD line-up very well. A decent VRAM offering coupled with solid clock speeds makes for positive reading and should lead to a positive experience, particularly in the gaming department.
We've created a table below that highlights the key hardware differences between the new RX 7700 XT and RX 7800XT when compared with the cheaper 7600, and last generation's RX 6750 XT.
Spec
RX 6750 XT
RX 7600
RX 7700 XT
RX 7800XT
Video Memory
12GB GDDR6
8GB GDDR6
12GB GDDR6
16GB GDDR6
Memory Bus
192-bit
128-bit
192-bit
192-bit
Game Frequency
2.5GHz
2.25GHz
2.17GHz
2.12GHz
Boost Frequency
2.6GHz
2.6GHz
2.5GHz
2.4GHz
Stream Processors
2560
2048
3456
3840
Power Consumption
250W
(Founders Edition)
165W
(Founders Edition)
245W
(Founders Edition)
263W
(Reference Design)
RDAN architecture
RDNA 2
RDNA 3
RDNA 3
RDNA 3
PCI-E Generation
PCI-E Gen 4
PCI-E Gen 4
PCI-E Gen 4
PCI-E Gen 4
All clock speeds and memory specifications are based off Reference designs or Founders Edition cards where available.
Design
When it comes to design, it would be fair to say that Sapphire have done a solid job with this card. It is nicely packaged in a compact 2 slot form factor, with some overlap on height and width. The card is predominately black in colour, but does include a range of red 'Pulse' accents that look nice, but won't be for everyone. If you're looking for a black and red theme in your build, it will certainly fit. A more neutral scheme, and this card will struggle to fit in.
Otherwise, the card remains sleek and simple. The PCB stretches the full length of this sub 300mm GPU, while two decent sized fans provide sufficient cooling to keep a lid on temperatures. Dual 8 pin power connectors sit in their usual positioning at the top right, and while the absence of a sleek PCI-E Gen 5 connection means you'll need two cables, I don't see this being a huge problem. The backplate includes a few angular cut outs for added flair, while 4 heat pipes run the duration of the heatsink to keep things running nice and cool
Otherwise, the card feels sturdy and well built, with no complaints from me. It's functional card above all else, designed to cool well, look good and provide a solid value proposition to potential buyers. The jury is still out on the red for me, but its hardly enough to put me off the design of this card altogether.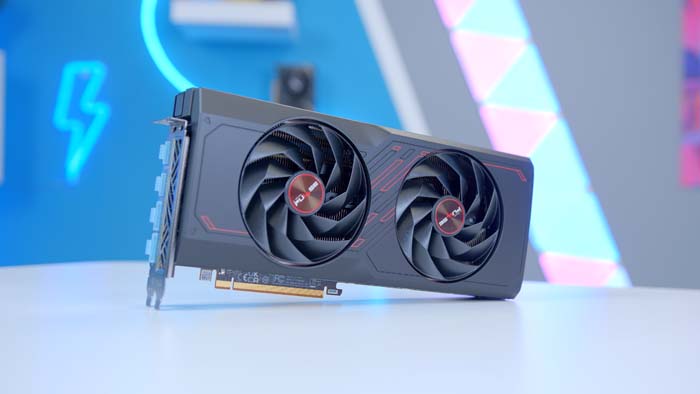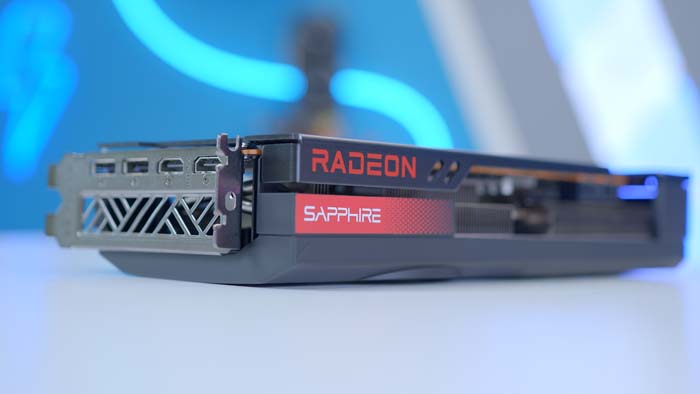 Performance
Now is the main section you've all been waiting for – performance. The Radeon RX 7700 XT has impressed us so far when it comes to hardware and architecture, but the proof is in the pudding. This GPU is marketed at a 1080p and 1440p option, we've also found the 7700 XT to have some decent mileage in 4K, but we'll be delving into this a little bit more below.
In this section, we've provided a huge number of graphs from our full benchmarking runs, comparing both of the current and previous generation cards. Whether its RTX 3000, Radeon 6000, or the newest options on the market, we've got you covered. All of the full runs can be found on our very own YouTube channel – Benched, where you'll find all of the components that we've tested in a number of games.
Starfield
In Starfield, we cranked up our in-game resolution to 1440p, and dialled up the settings to high. The 7700 XT was able to offer up around 74FPS on average at this resolution, which is about a 10FPS difference versus its slightly more powerful sibling the 7800 XT. Needless to say, 77FPS isn't incredible, but considering how unoptimised this title is, we were pretty happy with the performance overall. Hopefully some patches and driver updates will allow consumers to play this game at higher framerates.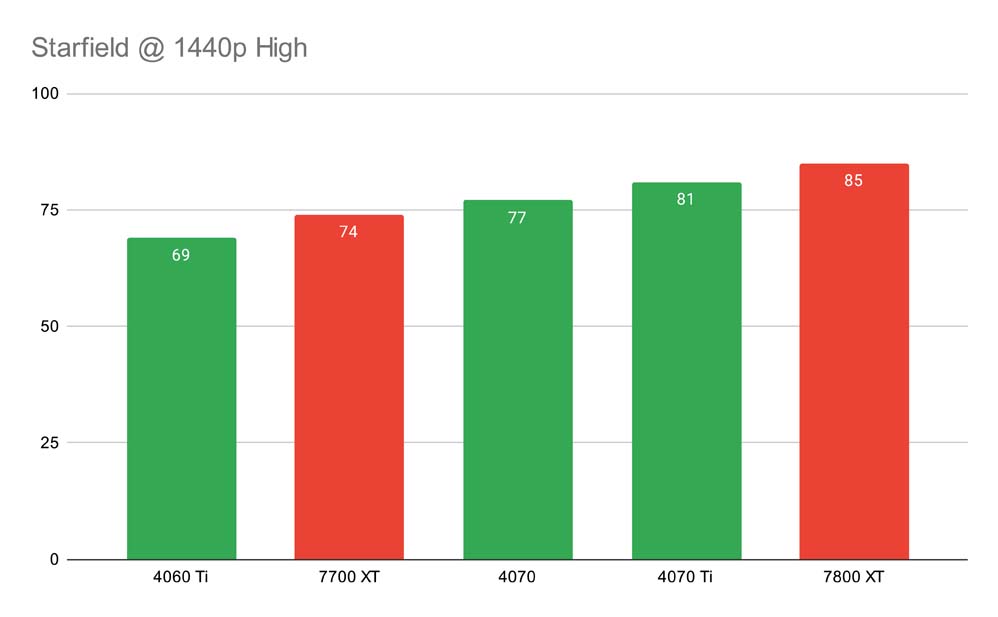 Call of Duty: Warzone 2
In Warzone 2 at 1080p high settings, we saw pretty strong framerates from the 7700 XT, with an average output of 145FPS overall. This allows consumers to enjoy that 144Hz sweet spot, providing crisp and buttery smooth visuals. This can be a more challenging title to run, but with FSR enabled, the 7700 XT cuts through all of the chaff, allowing us to enjoy an unhindered gaming experience. The only two cards that beat out the 7700 XT were the 4070 Ti and the more powerful sibling of the very card we're reviewing today, the 7800 XT.
The numbers are pretty close together here versus other options, with a 10FPS difference between the 7700 XT and cards like the 3060 Ti. But regardless of this, we were still happy that the 7700 XT demonstrated its capability at this resolution.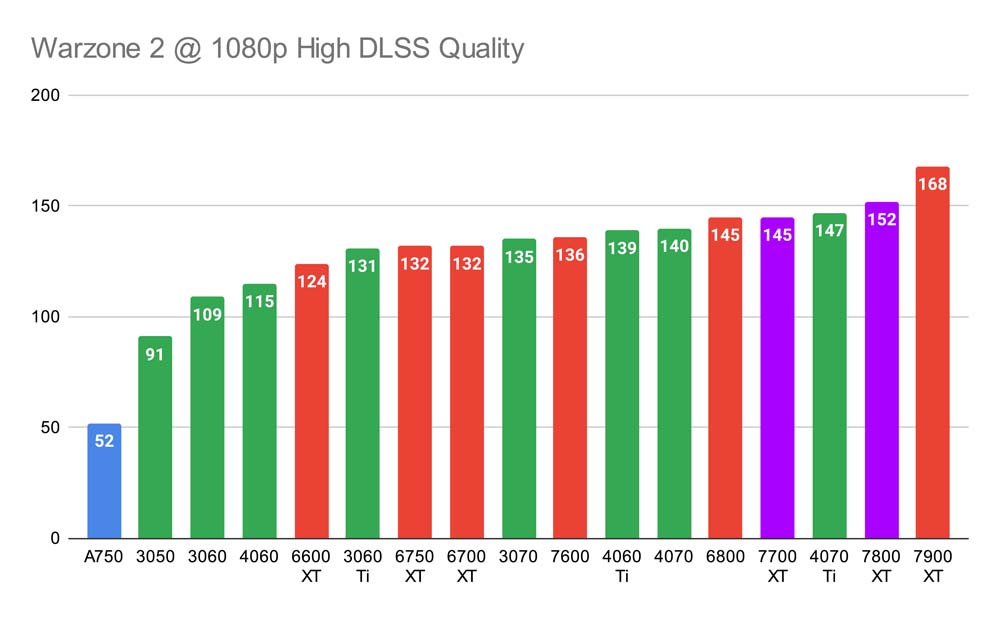 At 1440p things shifted slightly, but not by a whole lot. As we cranked up the resolution, the 7700 XT did lose out on a few frames, dropping the average output to 137FPS instead of the 145FPS that we were seeing at 1080p. This is a testament to how powerful this GPU is, but also demonstrates how unoptimised Warzone 2 can be. The majority of the other cards in this benchmark also showed similar behaviour, with frames only dropping marginally when the resolution gets dialled up another notch. Regardless, the 7700 XT is clearly able to offer solid performance in this game, and is ideal for those looking to enjoy high refresh rate gaming.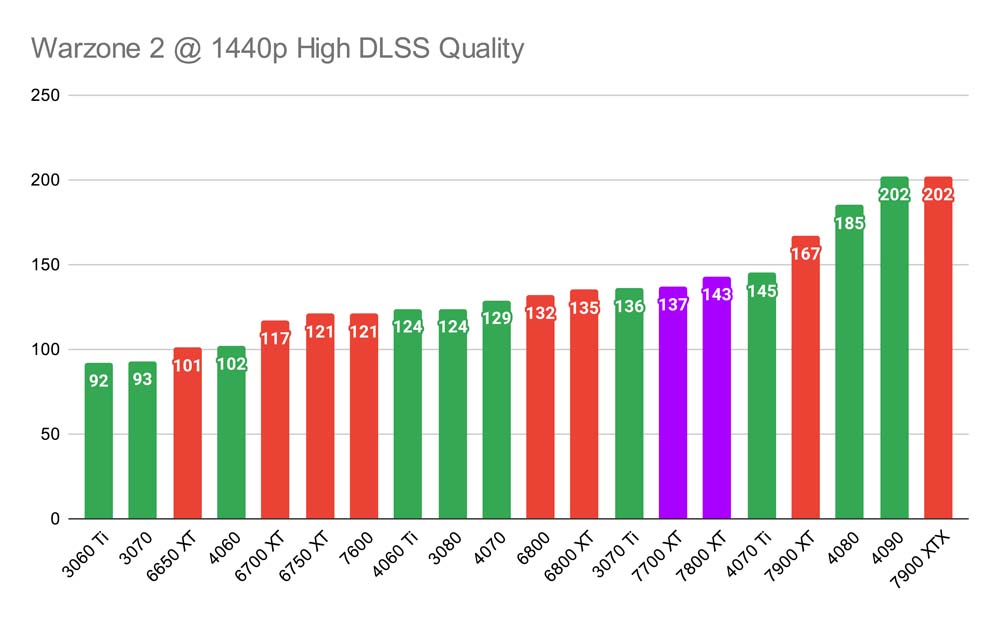 Apex Legends
Next up is Apex Legends. We fired up this benchmark at a 1080p resolution, which allowed us to enjoy some insanely smooth framerates. The 7700 XT yet again offered extremely strong performance, providing us with an average framerate of 209FPS. This is more than enough for consumers to enjoy that 144Hz sweet spot, and higher. The 7700 XT was somewhat thwarted by the 3070 Ti, 3080, and RX 7800 XT, but this card still help up very well versus these alternatives. It is worth noting as well that the 7700 XT yet again beat out the RTX 4060 Ti, which although slightly cheaper has less VRAM in comparison and is generally weaker overall.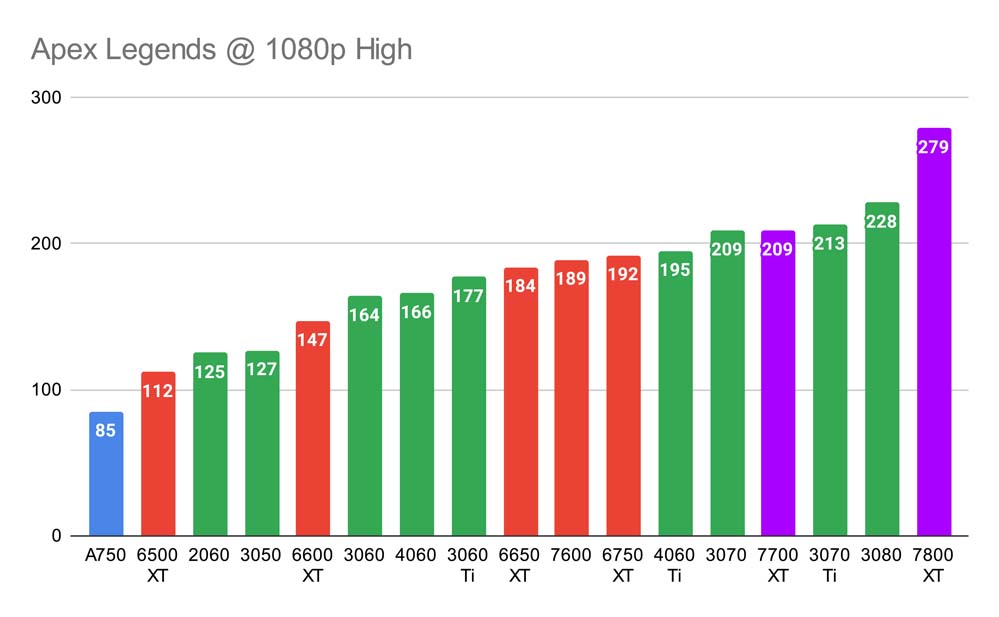 At 1440p, framerates did start to fall off slightly, with the 7700 XT offering up around 175FPS. Again, this is more than fine in this particular title as we're staying well above that 144Hz sweet spot, which is all too important in this rather intense title. The 7700 XT is really showing its legs at 1440p, beating out the RTX 3070 Ti, and coming extremely close to the 3080. For those looking to play Apex comfortably at 1440p, the 7700 XT is a clear winner, especially if you're a price conscious buyer.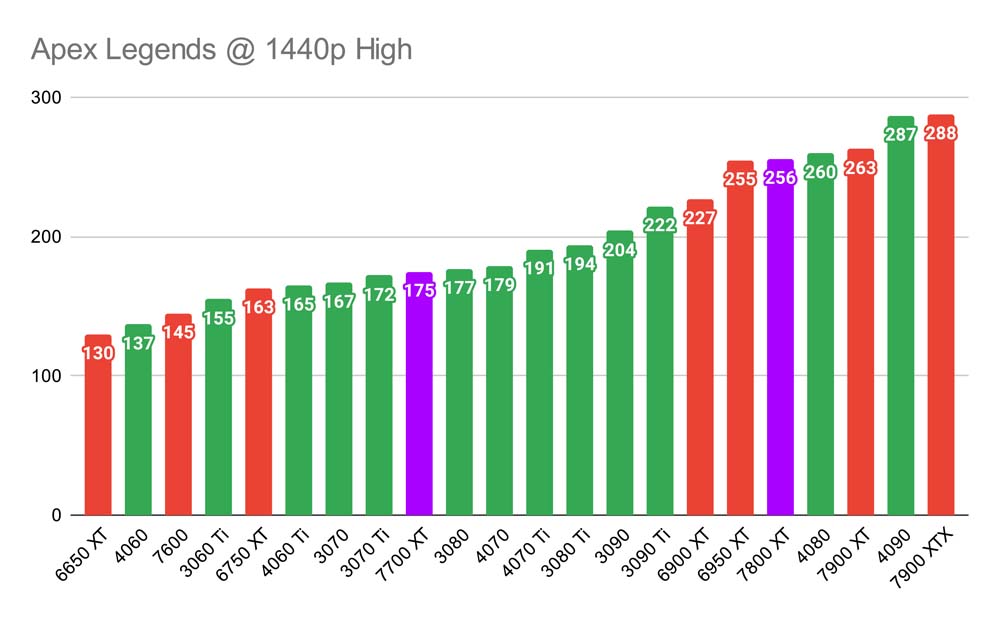 Moving on up to 4K, framerates did unfortunately falter here, with the 7700 XT falling towards the bottom of the graph. Unfortunately, 4K does cause some significant GPU overhead, which many cards tend to crumble under. Performance was still pretty strong regardless, with the 7700 XT hovering around the 111FPS mark. This does mean for many that the 144Hz sweet spot is being missed out, but playing around with some in-game settings might give you that performance bump you need to enjoy a buttery smooth refresh rate.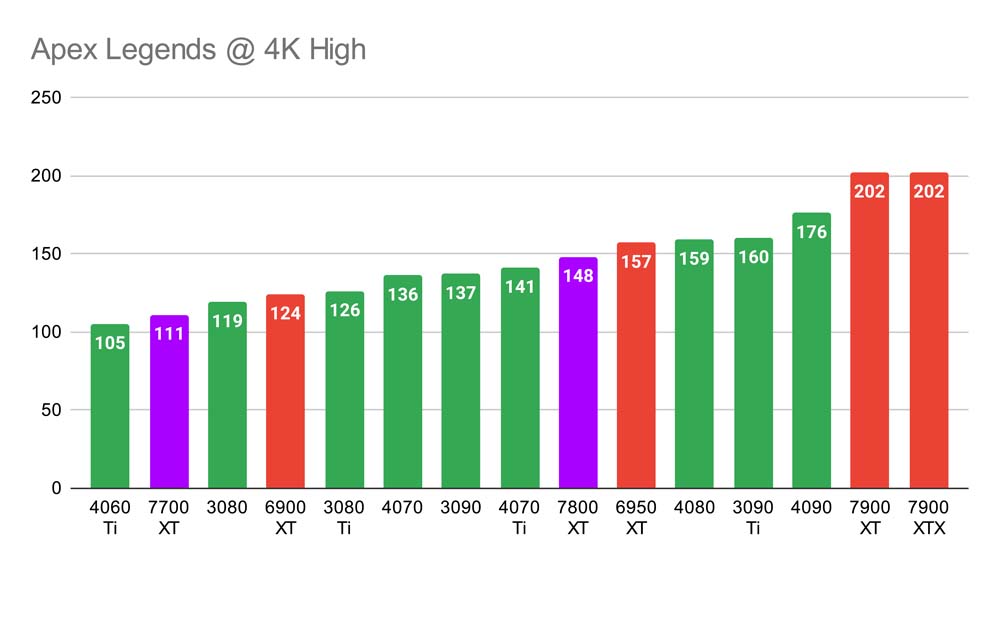 Hogwarts Legacy
Next up is Hogwarts Legacy, a rather intense title that we tested at both 1080p and 1440p high settings. Yet again, the RX 7700 XT is sitting towards the top of the graph, and was only beat out by three other cards, all of which come in at a higher price point. Ultimately Hogwarts Legacy isn't the most intensive title, so we're not really looking for that 144Hz sweet spot here, so 111FPS is pretty solid, even in areas like Hogwarts Castle that can cause your GPU to chug a fair amount. The 7700 XT was also easily about to beat out the RTX 4070 at this resolution, which we were pretty impressed with.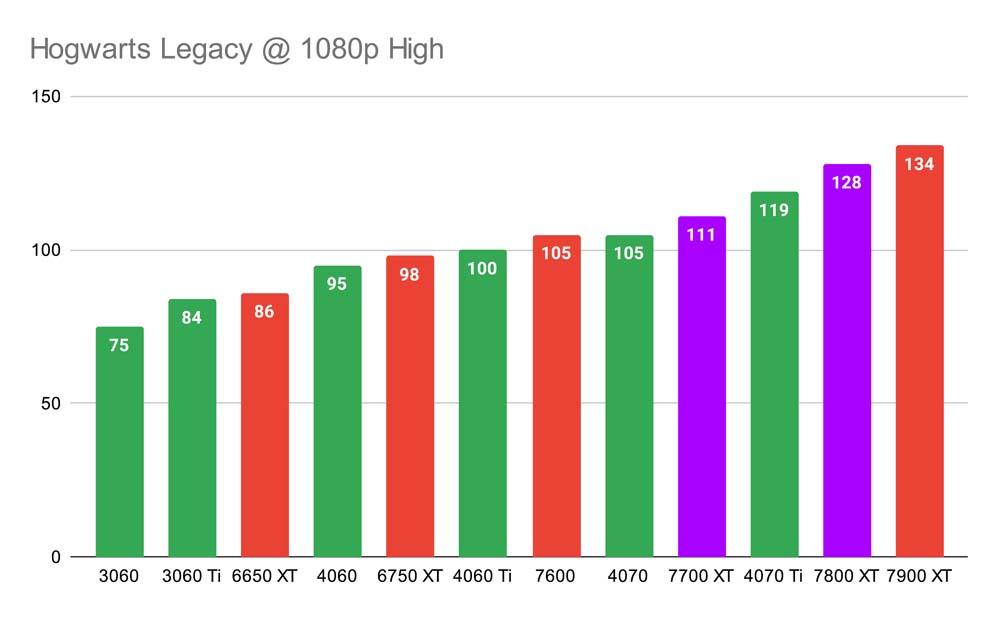 At 1440p, unsurprisingly the 7700 XT was yet again sitting towards the top of the charts. Hogwarts Legacy can be really demanding at this resolution, so it was great to see that this card can still hold up pretty well at 1440p. It was also further impressive that this card only lost around 10-15FPS or so when switching to this resolution. Overall we were pretty ecstatic that the 7700 XT offered decent legs in a triple A game, showing how worthwhile this card is for consumers that want to play the latest and greatest titles.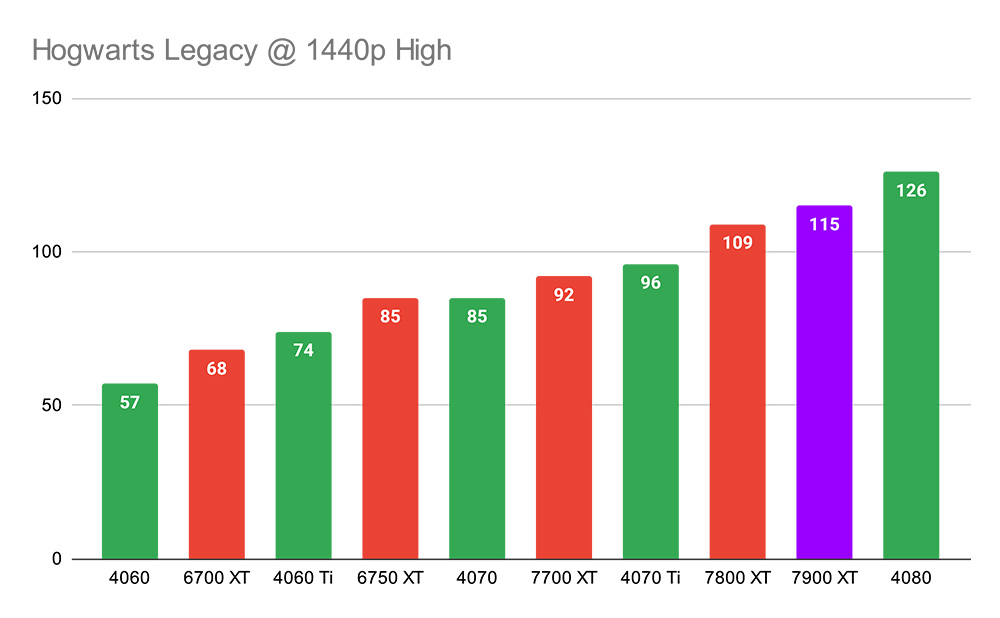 Fortnite
Fortnite is a game that we always test at 1080p competitive settings to see just how high framerates can fly. Unsurprisingly, the 7700 XT sat in the upper echelon of performance, sitting just below 300FPS. The vast majority of consumers aren't going to need frames this high, purely because there aren't many monitors that even support a 300Hz refresh rate. Regardless, when the 7700 XT is let off the leash, it really does have the hardware that can propel it through some of the latest titles.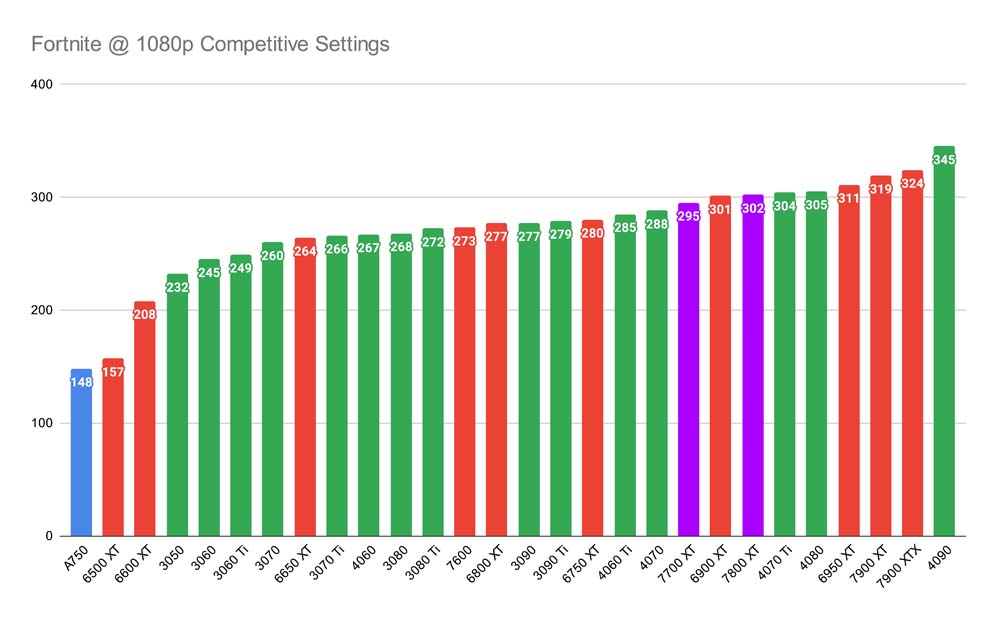 Conclusion
Sapphire Pulse Radeon RX 7700 XT Review
Product Name: AMD Radeon RX 7700 XT
Brand: Sapphire
Features

Design

Performance

Value For Money
Summary
The RX 7700 XT is a bullish release from AMD that restores consumer faith in the GPU market. Team Red have launched a powerful, next generation GPU that is well suited for 1440p gaming with powerful rasterisation support, an answer to DLSS 3 and a sufficient VRAM allocation on the right memory bus. If you are after a card capable of attacking the latest AAA titles head on at 1440p, then RX 7700 XT might just be the one for you. This GPU is able to handle the latest and greatest games, offering solid framerates that allow consumers to enjoy high refresh rates too, providing a buttery smooth experience. It does have some limitations at 4K, but we found that in Esports titles, the 7700 XT is more than capable, giving even some of NVIDIA's RTX 4000 options a run for their money. 
My one bug bear of the 7700 XT is the price versus the 7800 XT. While we've found both of these cards to be pretty compelling when looking at price to performance metrics, the difference in cost versus the two is so minimal, that the 7700 XT is almost self-defeating. If you're willing to spend between $400 and $500 for a graphics card, it makes sense to cave and spend that little bit extra to secure a more capable option that can offer stronger framerates at 1440p and 4K. While I do understand that this won't be the case for many, the 7800 XT is definitely the better of the two, while the 7700 XT serves as the more 'budget' entry point for those looking to build a 1440p capable mid-range system. Overall, we're happy with the performance of the 7700 XT, but if you do have some extra leeway in your budget, spending that extra $50 for the 7800 XT is worth considering.
Pros
✅ Solid 1440p performance.
✅ Beats out the RTX 4060Ti and, in some cases, the RTX 4070
✅ Competitive MSRP price point.
Cons
❌ More powerful RX 7800 XT might prove more compelling for just $50 extra.
❌ FSR 3 performance as yet unproven.
❌ Sapphire Pulse design won't be for everyone