Introduction
For gamers fortunate enough to have lots of money going spare, investing in a high-quality gaming PC is one of the best ways to elevate your experience when playing all the latest titles. On top of the ability to access stellar 4K resolutions, these systems allow you to enjoy higher framerates than what's possible on current-gen consoles, providing you with a competitive edge in online multiplayers.
If you're interested in the benefits of PC gaming, but don't want to go through the hassle of building your own PC from scratch, then a prebuilt gaming PC is the perfect solution. These systems are assembled by experts and then shipped directly to your door, saving you a lot of time and effort.
Our Recommendation: 3XS Melius
At this price point of $3500, our number one pick for a prebuilt gaming PC is the 3XS Melius. This system is packed with a range of current-gen hardware that will lead to optimal gaming performance for years to come. Plus, the compact form factor makes it a comfortable fit within most gaming setups.
All Prebuilt Gaming PCs in our Roundup
Suggested Article: Best Prebuilt Gaming PCs to Buy Under $3000
In this buyers guide, we'll be taking a look at some of the best high-end prebuilt gaming PCs on the market, all of which should offer an exceptional 4K gaming experience. More specifically, we'll be considering options below the $3500 mark, as this will be more than enough to find a system which provides optimal performance at high settings.
1. Skytech Gaming Eclipse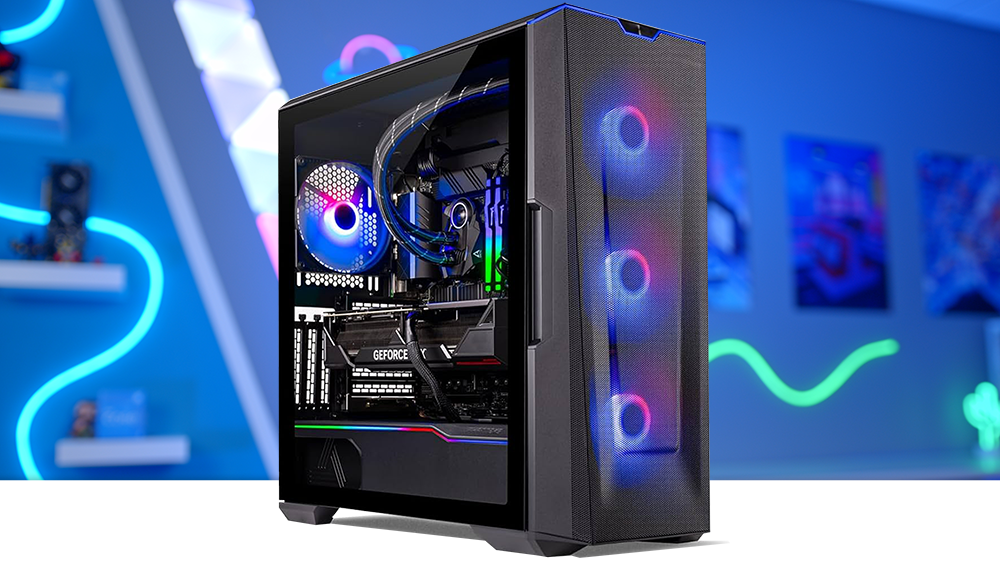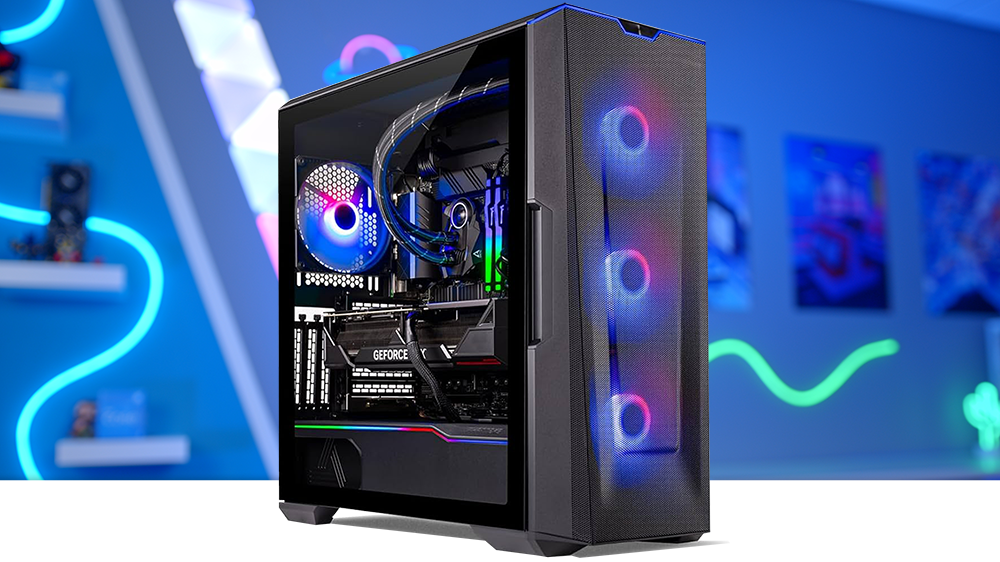 To start off our list of recommendations, we have the Skytech Gaming Eclipse. This modestly-priced prebuilt is crammed with plenty of exciting hardware, whilst managing to sit comfortably below budget. Equipped with a RTX 4080 graphics card and Core i7 processor, the Eclipse will have no issues running a vast array of titles at 4K. Additionally, combining the CPU and GPU with 32GB of DDR5 memory makes this system suitable for a number of demanding productivity-related tasks such as video editing and software development.
In order to keep these power-hungry components at the top of their game, this system comes with a large 420mm CPU liquid cooler, which should be more than capable of keeping temperatures down during demanding situations. On top of this, the large 140mm fans compliment the RGB lighting found on the RAM and PC case, making this design colourful and vibrant.
Whilst 1TB of storage is enough to store a handful of games at once, the ever-growing file sizes of modern games means you might want to upgrade or add to this storage fairly promptly. More storage will let you hold an entire library of games without having to constantly install and uninstall titles. In terms of value, this system is in quite a good spot. However, gamers wanting the best performance possible will be more interested in a system packed with more powerful components.
Where to Buy
Buy the Skytech Gaming Eclipse on:
2. Corsair Vengeance i7400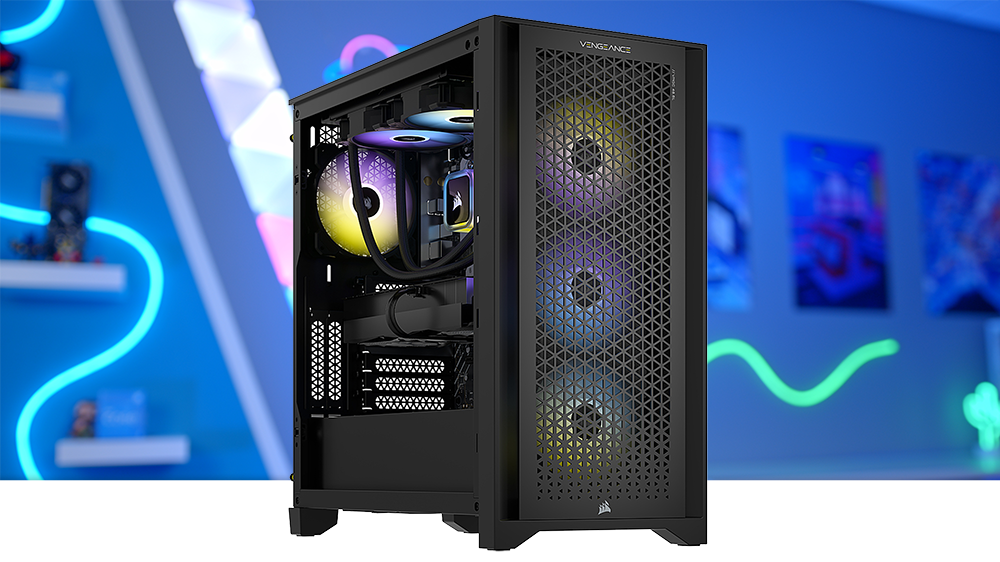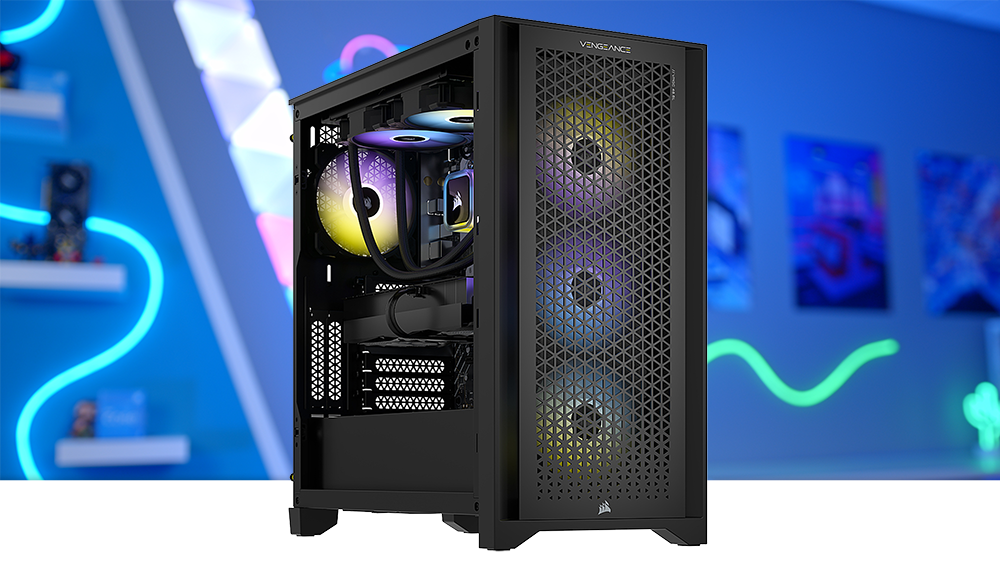 A strong alternative to the Eclipse that offers a similar price to performance is the Corsair Vengeance i7400. This upper mid-range gaming PC is equipped with all the tools needed to provide gamers with a satisfying experience at 4K, whilst also offering plenty of room for demanding productivity tasks. In terms of specs, this build is almost identical to our previous entry, featuring a RTX 4080 and a Core i7 13700K processor for high-quality gaming performance.
To accompany these powerful parts, the Vengeance i7400 is packed with 32GB worth of DDR5 RAM, along with a 2TB of high-speed M.2 storage, which makes games feel incredible snappy. However, the main benefit of pickup up one of Corsair's prebuilts is the increased synergy and customisation compared to offerings from other manufacturers. These systems include a variety of Corsair's own products, opening up the ability to synchronise lighting effects and monitor settings via their iCUE software.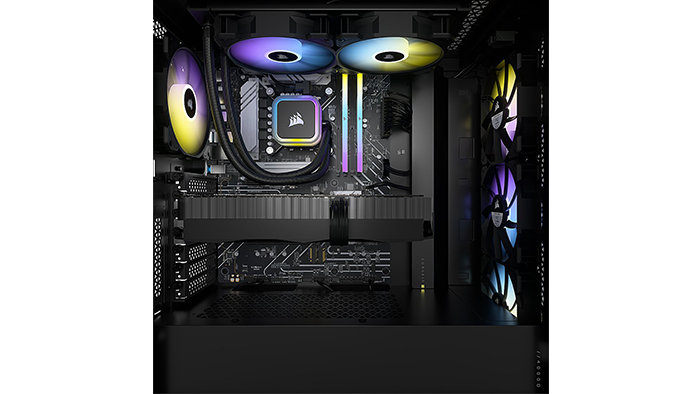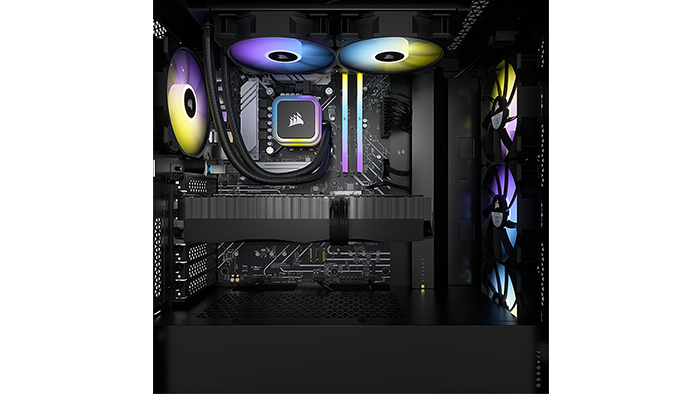 Corsair Vengeance i7400 Internals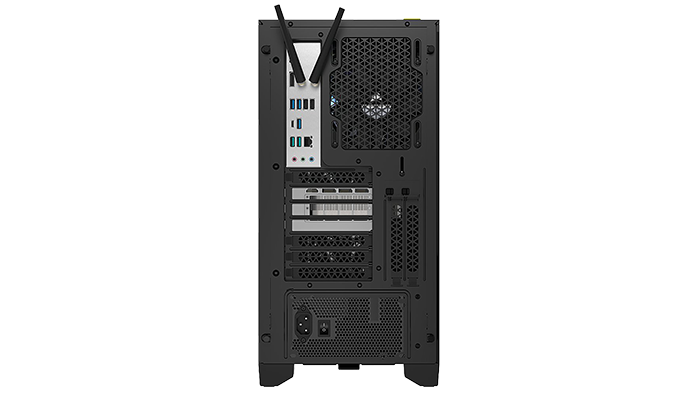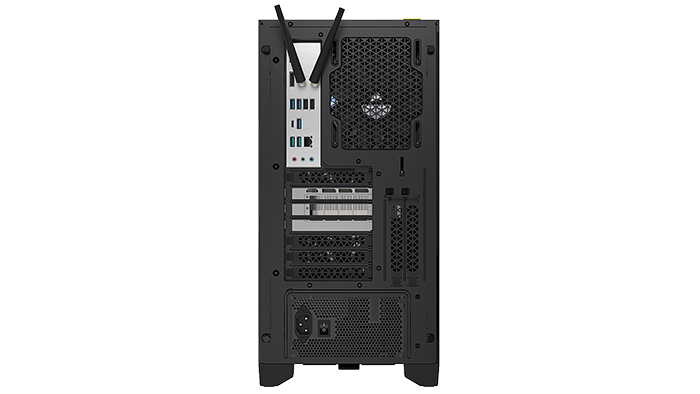 Corsair Vengeance i7400 Rear IO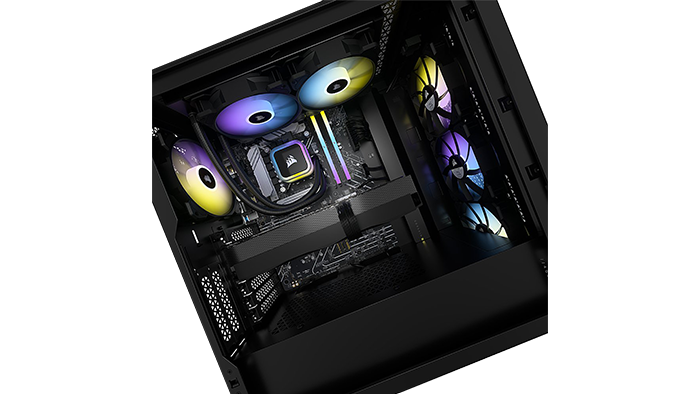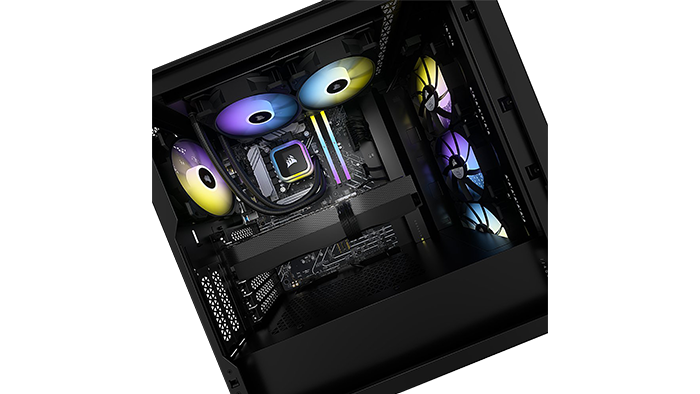 Corsair Vengeance i7400 Interior Angled
In a similar fashion to the previous option in this roundup, the parts used in this build are one step below the most powerful options on the market. Whilst this leads to better value for money, gamers wanting the best PC possible should look at more lucrative offerings.
Due to the presence of an 850W PSU, this system is already close to reaching its power consumption limit. Therefore, anyone looking to add some upgrades to this prebuilt system could encounter some technical problems.
Where to Buy
Buy the Corsair Vengeance i7400 on:
3. iBuyPower Gaming RDY LCMBG223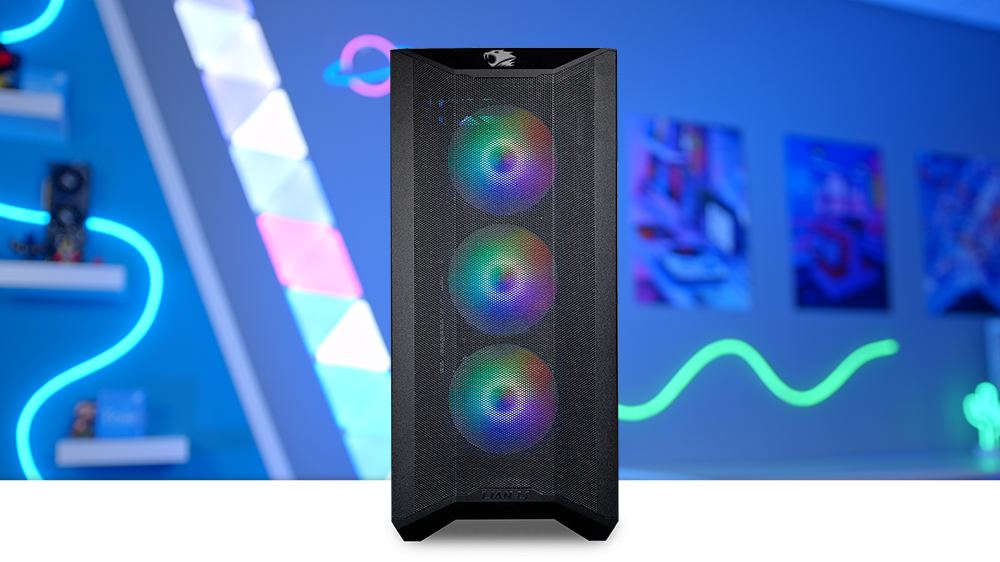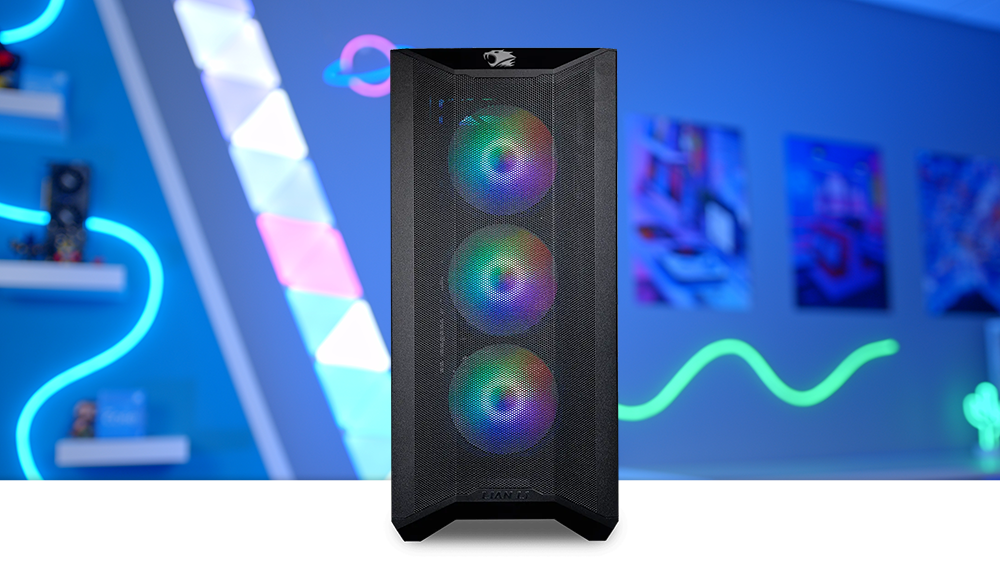 Third time's the charm, as the iBuyPower Gaming RDY LCMBG223 is yet another prebuilt equipped with parts offering a strong balance between premium performance and somewhat affordable pricing. When compared to our previous entries, the list of parts share a lot of similarities. However, iBuyPower's offering comes with a slightly more powerful Intel Core i9 13900KF CPU, which will result in slightly higher framerates and better functionality in work-based applications.
In terms of design, the Gaming RDY LCMBG223 utilises a Lian Li LANCOOL II case. Paired with a 360mm liquid CPU cooler, this chassis ensures that air can move swiftly out of the system, allowing the interior to remain nice and chilly. The cherry on top is the 2TB of M.2 storage, which is more than enough to support even the most extensive gaming libraries.
Some gamers are bound to prefer the toned-down mesh design this prebuilt possesses. However, the muted RGB lighting and lack of standout features are less appealing to the wider gaming audience. Though an 850W PSU is technically enough power for this system to boot, it leaves very little margin for error. Instead, a 1000W PSU would be a safer option to provide the power needed for this build.
Where to Buy
Buy the iBuyPower Gaming RDY LCMBG223 on:
4. 3XS Melius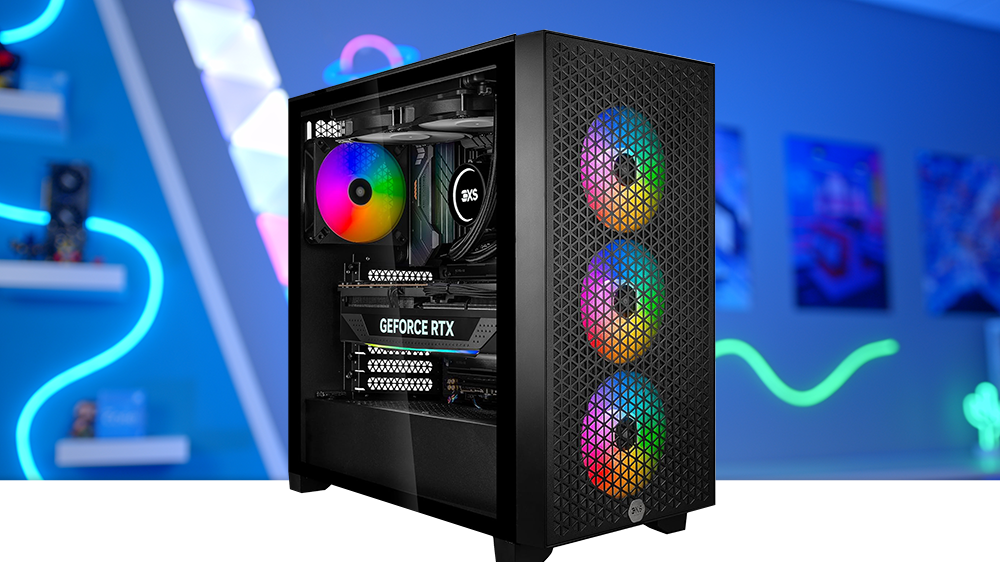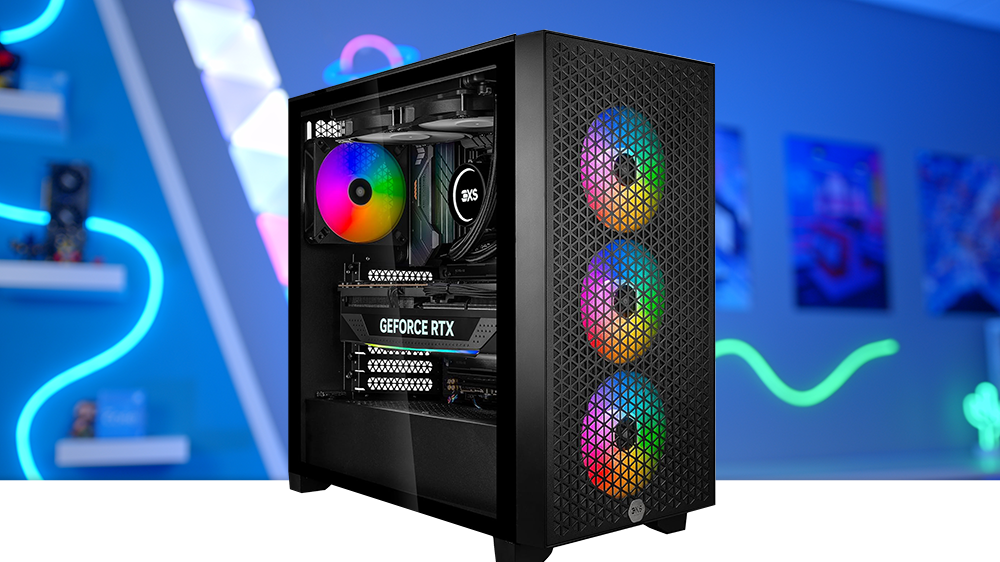 For prospective PC gamers that want their prebuilt rig to be decked out with only the best hardware on the market, then the 3XS Melius will be more up your alley. Packed with an Intel Core i9 processor and Nvidia's flagship RTX 4090 GPU, this system is designed to offer some of the best gaming performance possible. As a result, gamers picking up this system can expect top-tier performance in all the latest titles. Throw in the 64GB DDR4 RAM and 2TB SSD, and this build can be considered nothing but luxurious.
Despite possessing more powerful components, the 3XS Melius adopts a fairly compact design. Using the popular Fractal Design Pop Air as a chassis, this system won't take up lots of room within a gaming setup, making it ideal for those wanting to get the most out of their limited space.
Due to the more compact nature of this prebuilt, the space for cooling is restricted to a 240mm AIO. This should be more than enough to keep temperatures down, but it's less reliable than most high-end options.
The vast majority of the parts included in this build are current-gen models, with the memory being the only exception. Even though the 64GB capacity makes this system extremely powerful, replacing this memory with a DDR5 alternative will lead to improved speeds when gaming.
Where to Buy
Buy the 3XS Melius on:
5. Corsair ONE i300 Compact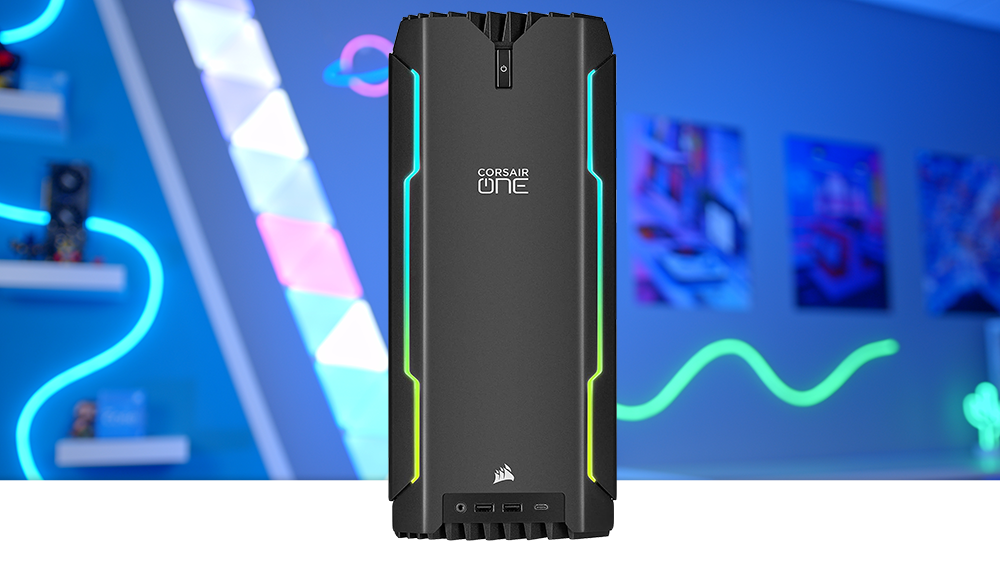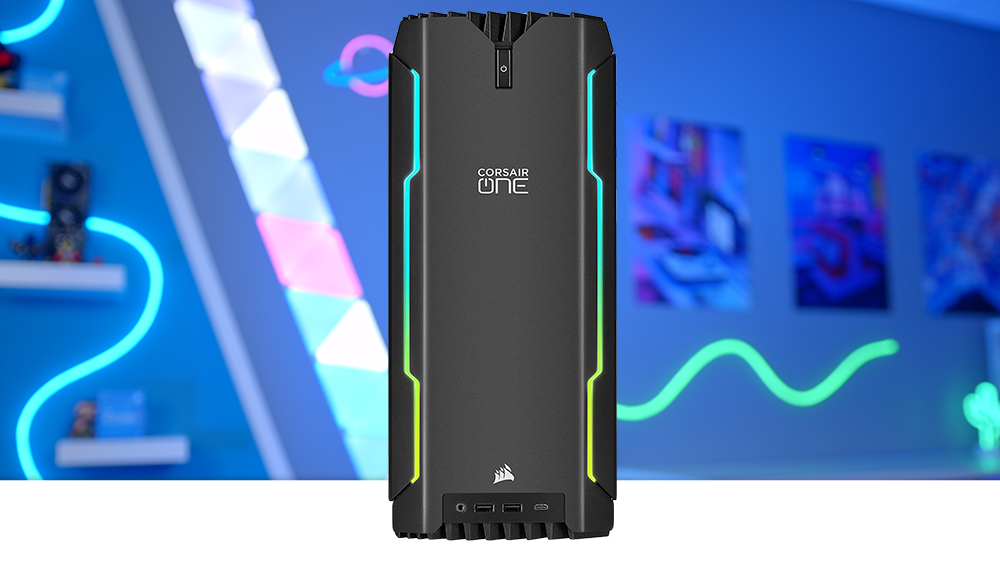 When spending such a large sum on a gaming PC, it's nice for your system to include some wow-factor. But Corsair's ONE i300 Compact takes this approach to the next-level, boasting a futuristic design that is bound to turn heads. However, this atypical does have some method behind it, with most of the choices being made to reduce the size of this system. For example, this system uses a liquid cooled RTX 3080 GPU alongside a liquid CPU cooler to form a convection-assisted cooling system. Not only does this help slim down this build, allowing it to fit within most gaming setups, but also maximises the cooling effects to prevent components from overheating.
In terms of specs, the Corsair ONE i300 Compact is packed with a range of high-end components, all of which can easily handle the demands of 4K gaming. The RTX 3080 and Core i9 12900K combination will provide smooth and responsive gameplay in a range of competitive and single-player titles alike, with the 32GB DDR5 RAM offering the speeds required to keep waiting times to a minimum.
One of the major downsides of this build compared to the rest of our list is the abundance of previous-gen hardware. These parts are by no means outdated in terms of performance, but the 12th-Gen Intel CPU and RTX 30 series GPU are slightly older, which reduces their overall longevity.
Considering the parts included within this design, the slightly higher price point of this system makes it less valuable when pitted against other options on the market.
Where to Buy
Buy the Corsair ONE i300 Compact on:
Are 4K Gaming PCs Worth It?
When browsing for a high-end gaming PC, the main concern is whether these systems are worth the thousands of dollars needed to add them to your gaming setup. With gaming consoles being able to produce 4K gameplay for a fraction of the price, a gaming PC does become a less appealing proposition. That being said, there are plenty of advantages to grabbing a gaming PC instead of a console.
One of the biggest advantages is the higher performance ceiling. For those willing to splash out on the best components possible, their systems will be capable of running games at a competitive framerate with 4K settings enabled, rather than the 60FPS limit found on most consoles.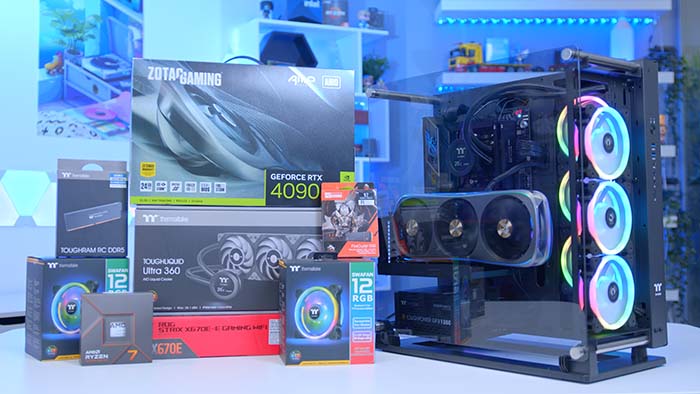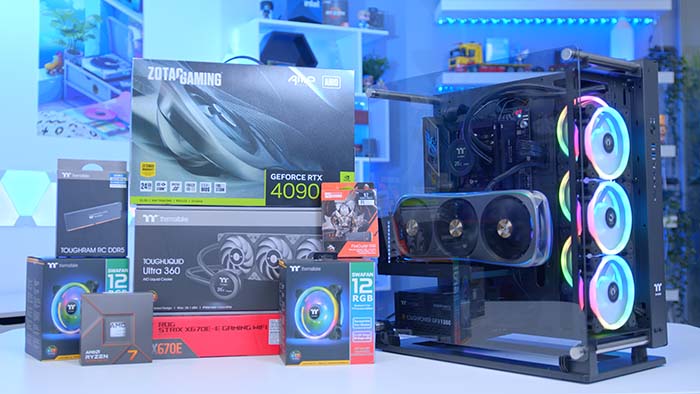 On the whole, those looking for a device that is strictly for playing the latest single-player titles, then a gaming console is the safer investment. However, if you want tailor-made performance that results in improved framerates, then a gaming PC is the way to go.
Nvidia vs AMD – What's the Difference?
Currently, the GPU market is a two-horse race between Nvidia and AMD. Though Intel have recently thrown their hat into the ring, they are yet to convince PC gamers that their GPUs can break the existing duopoly. Both Nvidia and AMD have a range of graphics cards to suit the varying demands of PC gamers, so either is a solid choice for a modern gaming rig. However, both do have their advantages in certain scenarios.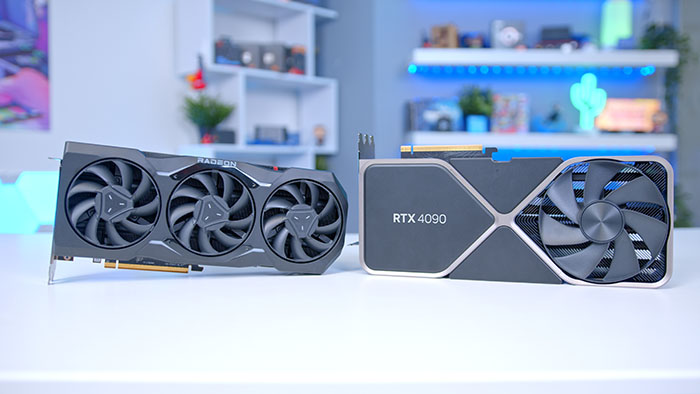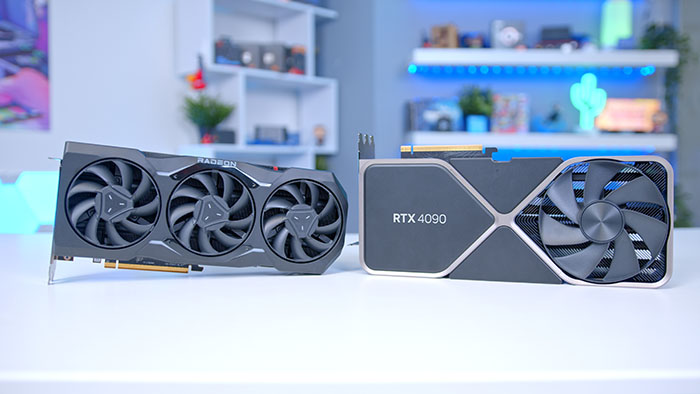 Therefore, we wouldn't say that one GPU manufacturer is far superior than the other, but there are certain situations where each excels. Ultimately, the choice will depends on the priorities of your gaming experience. If you want optimal performance no matter the price, then Nvidia is the better choice, but AMD's offering will give you the best bang for your buck.
How We Tested the Best Prebuilts Under $3500
In order to test and evaluate the best prebuilts under $3500, there are a number of factors that we take into account, these are:
Performance
Component choice & compatibility
Thermals
Aesthetic & customisation
Value for Money
Longevity
Frequently Asked Questions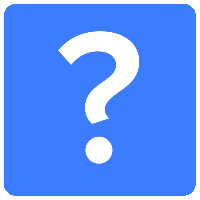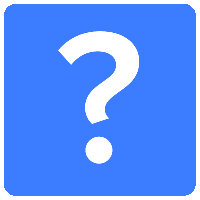 What Performance Can I Expect From a $3500 Gaming PC?
For a $3500 gaming PC, consumers should expect a system filled with the latest and greatest hardware, leading to stellar 4K gaming in a wide range of titles.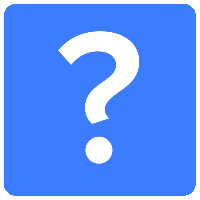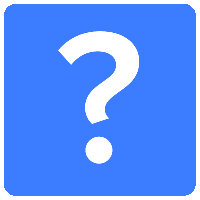 Can Prebuilt Gaming PCs be Customised?
Yes. Most prebuilt gaming PCs can be tweaked with to suit your needs, either through the manufacturer's website on purchase, or at a later date with some DIY. But be warned, changes conducted after purchase might taint any existing warranties.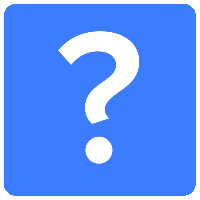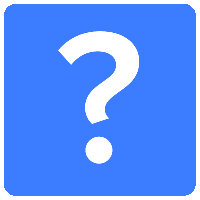 Are Prebuilt Gaming PCs Worth It?
Yes. Prebuilt gaming PCs are a strong alternative to building your own system, as it removes most of the hassle that comes with the building process.