Introduction
Intel's 13th Gen CPUs have finally arrived, and we've been working day and night to test all of the new CPUs to see how they perform and if they're worth the upgrade. We won't spoil what the new CPUs are like, but we definitely recommend checking out the coverage of the Intel 13th Gen launch on our homepage.
Intel have held the performance crown for quite some time, but as we've seen with some of their previous innovations, generational changes haven't always been significant enough to warrant an upgrade. So this begs the question, is it worth picking up one of Intel's new 13900K for a performance boost? Or is the previous generation's 12900K still a worthwhile purchase for a top-end PC?
In today's versus battle, we'll be answering both of these questions with a full breakdown of each CPUs specs, pricing, and of course, performance!
Suggested Article: Intel Core i9 13900K Review – The Performance King of CPUs
CPU Versus Battle
Core i9 13900K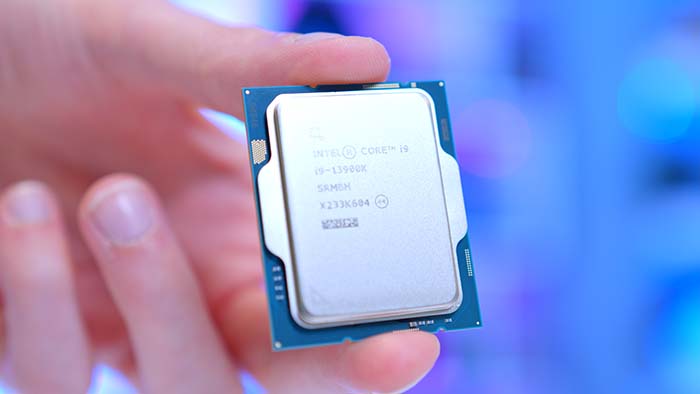 | | |
| --- | --- |
| Core Count | 24 |
| Thread Count | 32 |
| Base Clock Speed | 3GHz |
| Boost Clock Speed | 5.8GHz |
| Default TDP | 253W |
| Overclocking | Yes |
| Total Cache | 32MB |
Intel's Core i9 13900K is one of the first CPUs to release alongside the Core i7 and Core i5 ranges. The 13900K is currently the top-end CPU to initially launch, but Intel have announced that we're getting limited edition 6GHz models out of the box later down the line.
The Intel Raptor Lake architecture is based on the previous generation's Alder Lake CPUs, but with refinements that allow for clock speed and core improvements. This means that all of the new SKUs have an increased core and thread count as well as much better clock speeds, with the Core i9 13900K sitting at 5.8GHz on its boost clock.
Motherboards on the 13th Gen architecture haven't seen any major improvements due to much of the architecture remaining the same. However, many of the cheaper Z790 boards have received upgrades in the way of PCI-E 5.0 support, or Thunderbolt 4 headers providing blazing fast connectivity. Many of the new boards are also primarily Gen4 compliant instead of Gen3, which is great to see.
I wouldn't necessarily recommend upgrading to a new 13th-Gen motherboard straight away, but there are some appealing features (including the cost) that might make it more worth while. All of the LGA1700 coolers that worked with 12th-Gen also work with all of the new 13th-Gen CPUs, and we've recommended a range of coolers that pair well with the Core i9 13900K!
Performance wise, the Core i9 13900K is an all-rounder. Gaming doesn't pose much of an issue and based on the impressive single threaded performance, 4K won't pose much of a problem either with a powerful GPU. Multithreaded performance is very strong, with the 13900K offering up very promising metrics in multi core synthetic benchmarks. Single core is also very strong too, hence the great performance within games.
Price wise, I'd argue that the Core i9 13900K is priced better than its previous generation. If you compare how much AMD are charging for the 7900X, coupled with the fact that an entire system will cost much more, the 13900K seems too good to be true. But as far as we can tell, there isn't a catch. This CPU is very strong in pretty much everything we've put it up against, and the price is a steal considering how strong this is.
Buy the Intel Core i9 13900K on:
Core i9 12900K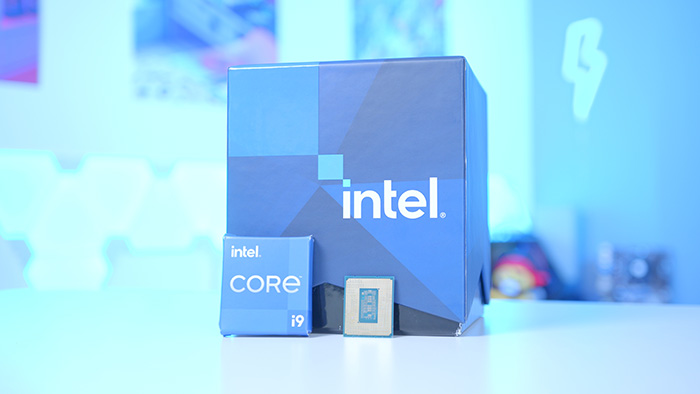 | | |
| --- | --- |
| Core Count | 16 |
| Thread Count | 24 |
| Base Clock Speed | 3.2GHz |
| Boost Clock Speed | 5.2GHz |
| Default TDP | 241W |
| Overclocking | Yes |
| Total Cache | 44MB |
The Core i9 12900K was the best performing CPU to launch as part of the 12th-Gen release. Aside from the 12900KS, this CPU is the cream of the crop when it comes to high intensity workloads, along with 4K gaming. If you're looking to build a high-end PC, a 12900K would not go amiss as your CPU choice.
The Alder Lake architecture saw huge changes to Intel CPUs, both in terms of IPC improvements, and new generational features that weren't seen on Intel 11th or 10th Gen CPUs. As we've mentioned before on some of our other comparisons, after a culmination of losses from Intel, 12th-Gen was the launch that righted the ship for Intel putting them back on top as the performance king.
The new motherboards from Intel were the first we'd ever seen, offering awesome upgrades all around. The usage of PCI-E 4.0 started to become more common, while top-end boards were utilising Gen5 x16 slots for the new generation of graphics cards. We also saw much more in the way of high speed IO, with support for USB 3.2 Gen2x2, which can support up to 20GB/s transfer speeds. Intel 12th-Gen was also the first platform to pioneer the usage of DDR5 memory while still retaining DDR4 support. Needless to say, these new features were a major selling point for Intel 12th-Gen, further demonstrating how good this platform is!
Moving onto performance, much like the 13900K, the Core i9 12900K performs exceptionally in pretty much everything. 4K isn't a problem, while multi and single threaded performance offer promising metrics as a workstation CPU. Intensive workloads don't pose an issue to the 12900K either, making it perfect as a workstation or gaming PC. Needless to say, you won't be disappointed with the performance.
Pricing of the 12th-Gen range of CPUs was the most competitive its ever been despite the significant performance improvements. You could pick up the 12900K for well under $700. This might seem expensive, but you're getting 100% of what you're paying for here. The 12900K had no competition when it released and arguably, with the release of the exorbitantly priced Ryzen 9 7950X, it still doesn't – other than its slightly more powerful sibling, the 13900K.
Buy the Intel Core i9 12900K on:
Our Testing Methodology
We've put together a rigorous and repeatable testing methodology that ensures every component we test receives fair treatment and can perform optimally. To do this, we make sure that any component we test is put into a system with similarly matched parts to reduce bottlenecking. For the Intel 13th-Gen CPUs, any benchmarks that required a graphics card were tested with AMD's RX 6950XT to provide a fair point of comparison to when we tested CPUs for the launch of Ryzen 7000. We've used a 6950XT to test games at 4K and 1080P settings so that negligible performance will be visible based on how powerful the CPU is.
The other part of our methodology is to provide candid and impartial results. The stats don't lie, and if a component isn't performing well, or exceeds our expectations, we'll mention this during our review. All of our articles are entirely our own opinion and none of them are subject to any external reviews.
Benchmarking Performance
We've put both of these CPUs through the wringer, testing them in a variety of synthetic and gaming benchmarks to see how they perform. You can find all of the full gaming benchmark runs on our YouTube channel – 'Benched'. But for now, I'd recommend reading ahead to see how these CPUs stack up against each other in terms of performance.
Cinebench R23 Multi Core
For our first benchmark, we ran the multi core test in Cinebench R23. Both of these CPUs were off to the races soaring to extreme heights in this benchmark. The 13900K significantly outperformed the 12900K, reaching a score of 39927, the highest compared to all of the other CPUs we've tested. The 12900K unfortunately was left a fair bit behind, only reaching 27780 in total.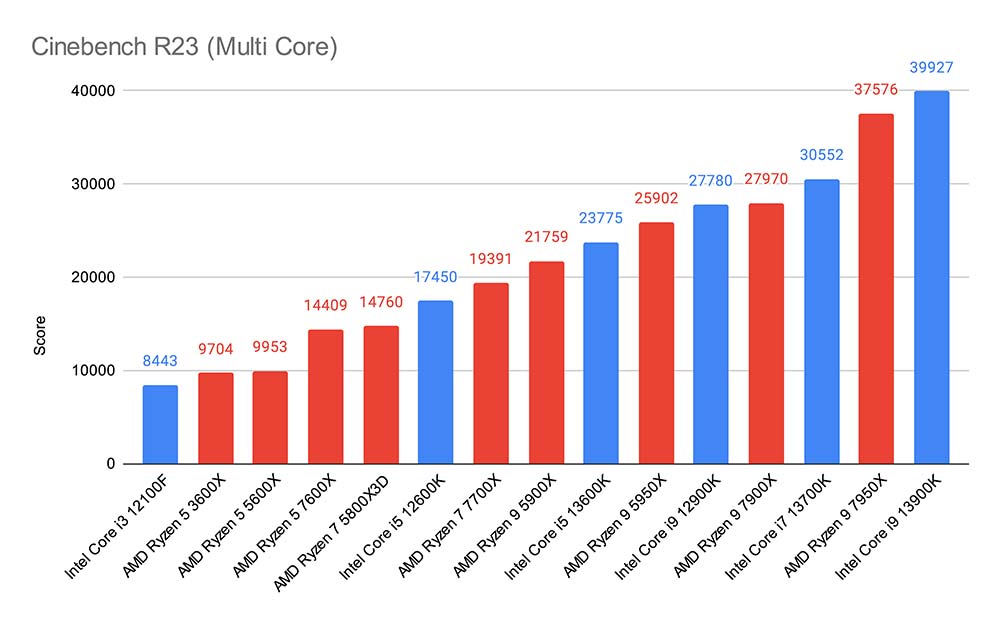 The Core i9 12900K was still impressive, but it seems to falter somewhat when compared to current gen options. Even the 13700K was able to provide a significant boost versus the 12900K.
Cinebench R23 Single Core
Our single core benchmark offered a relatively similar story, with the Core i9 13900K topping the charts. If we take a look at the 12900K, unfortunately it seems Intel's previous model was left in the dust again versus new models. However, the difference in score seems rather negligible. For example, the 7600X is slightly better in single core performance by three points according to our benchmark.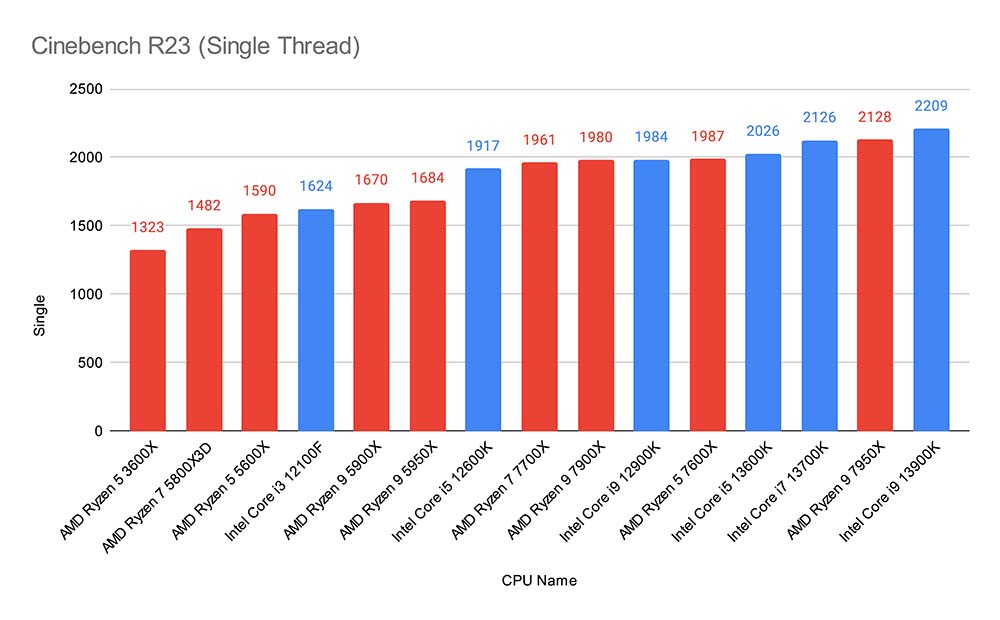 However, I wouldn't recommend the 7600X in 4K games, along with the 13600K. So despite the fact that the 12900K isn't as good as some of the current options in single core performance, it is still a strong contender overall.
3D Mark CPU Profile
To test a variety of different thread configurations, we've used 3D Mark's CPU profile. This benchmarks tests the CPU on a single thread all the way up to the most threads possible. Both the 13900K and 12900K offered very impressive results here. The 13900K yet again topped the leaderboard, with 16862 on the max threads and 1244 on single threaded performance. All of the other tests in between still remained at the top, beating out all of the other CPUs.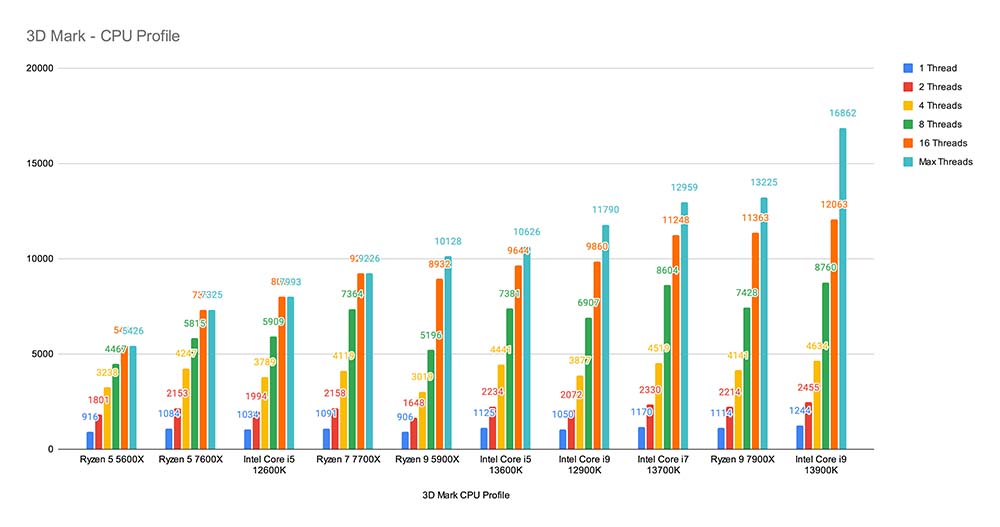 The 12900K wasn't far behind, offering up 11790 points at max threads, and 1050 on the single threaded performance. If we compare the 12900K and the 7900X side by side, they're relatively on par with one another. Its good to see that Intel's platform still holds up well to the new standard and performance metrics of CPUs.
3D Mark Timespy Extreme & Firestrike
In 3D Mark Timespy Extreme and Firestrike, the 13900K and 12900K were almost on par with one another. In TimeSpy Extreme, both of these CPUs came out on top with a very respectable first and second place. The 12900K had an overall score of 19101, outperforming the 7900X. And the 13900K went even further, taking first place with a score of 13170 .
In Firestrike, which runs the benchmark at 1080P, the 13900K was at the top of the leaderboard (which seems to be a recurring theme here). We had an overall score of 56224, showing how powerful this CPU is at 1080P. The Core i9 12900K wasn't quite able to keep up with the outstanding performance of the 13900K, but arguably you're not building a PC with a 12900K for 1080P gaming.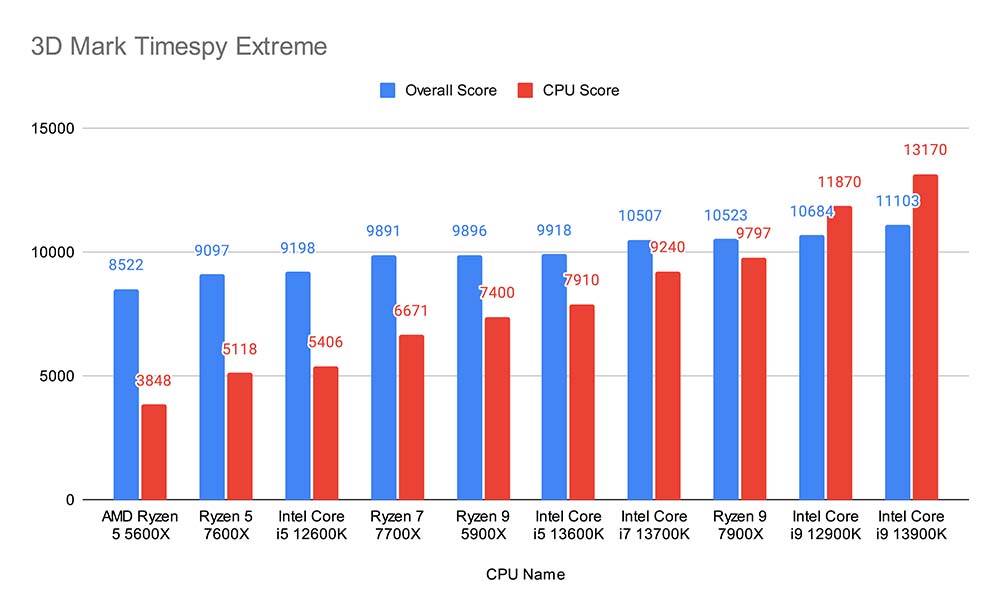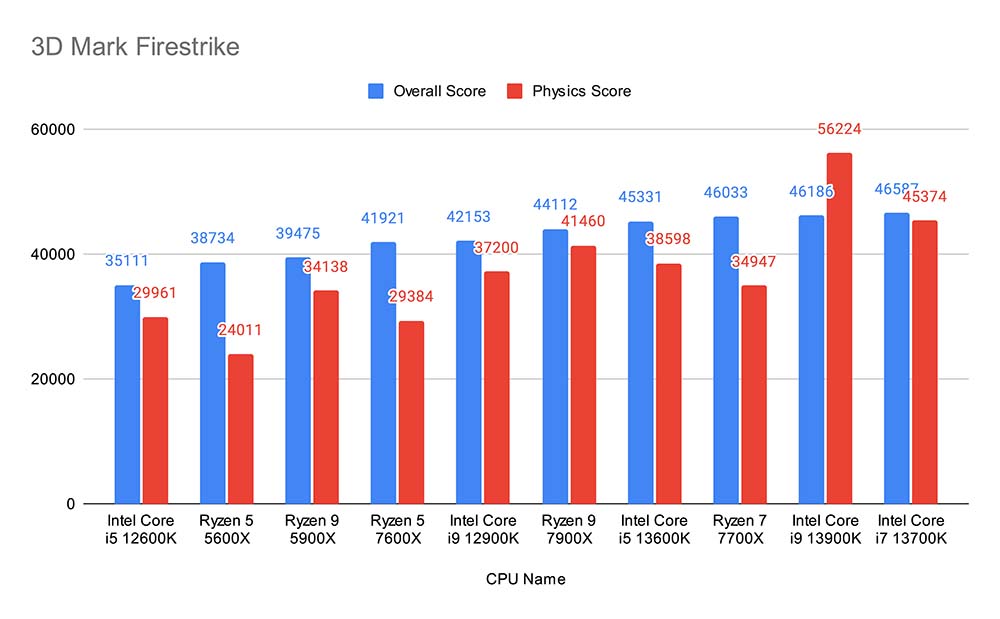 Apex Legends
For our first gaming benchmarks, we played Apex Legends at 4K and cranked the settings up to high. Looking at the graphs, the 13900K is a clear winner here offering 202 frames on average. This is perfect to get a super smooth gameplay experience, with some extra frames in case you get any drops or stutters. The Core i9 12900K unfortunately wasn't quite able to reach the same performance, but still offered frames slightly above the 144Hz sweet spot. Its clear here the sheer difference between the 13900K and 12900K when playing an optimised game.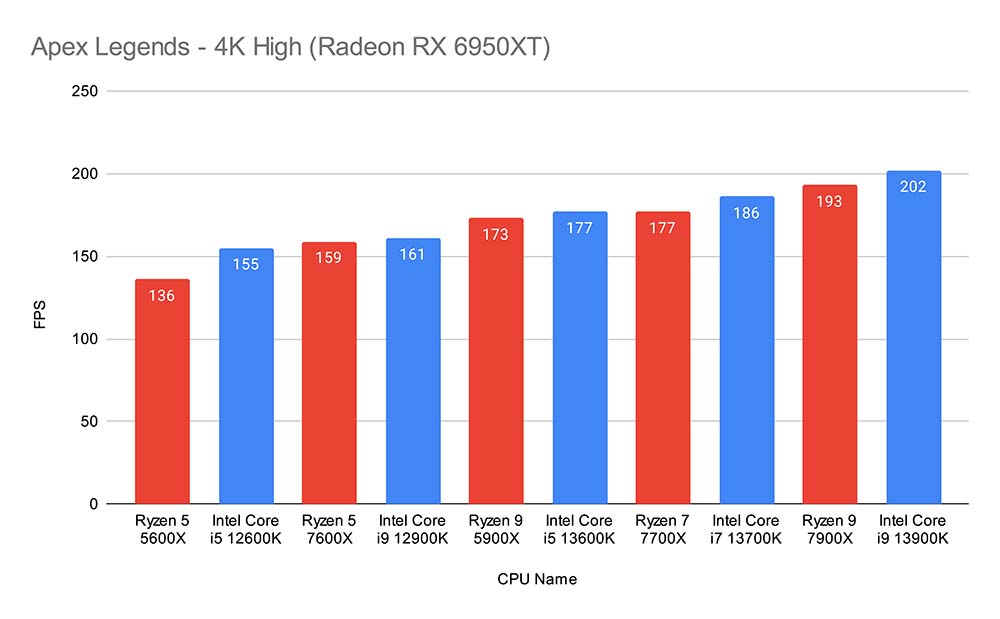 Marvel's Spiderman Remastered
In Spiderman Remastered, the Core i9 13900K was able to hit a very impressive 122 frames on average, while the 12900K just sat below 100 at 97FPS. Spiderman is a very intense title both in terms of graphics and CPU overhead, especially at 4K, so we'll cut the 12900K a little bit of slack. Ultimately, we'd want to have some extra frame for redundancy, but both of these CPUs provided an enjoyable and smooth experience.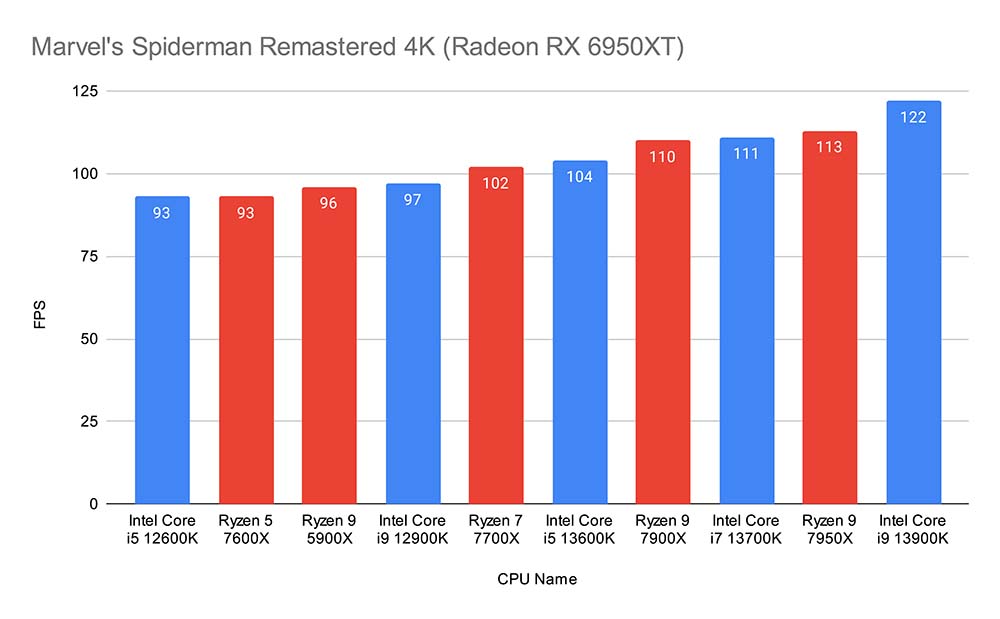 F1 2022
In F1 2022 with maxed out settings, the 13900K and 12900K didn't offer incredible performance. The 13900k maxed out at 65FPS on average, while the 12900K was only able to output around 50. Unfortunately, this is down to the fact that the 6950XT doesn't seem to cope with F1 2022, but had we used a 4090 with DLSS 3.0, I imagine the framerate would have been much higher. Ideally 60FPS as a minimum is preferred, but 50 frames is still playable.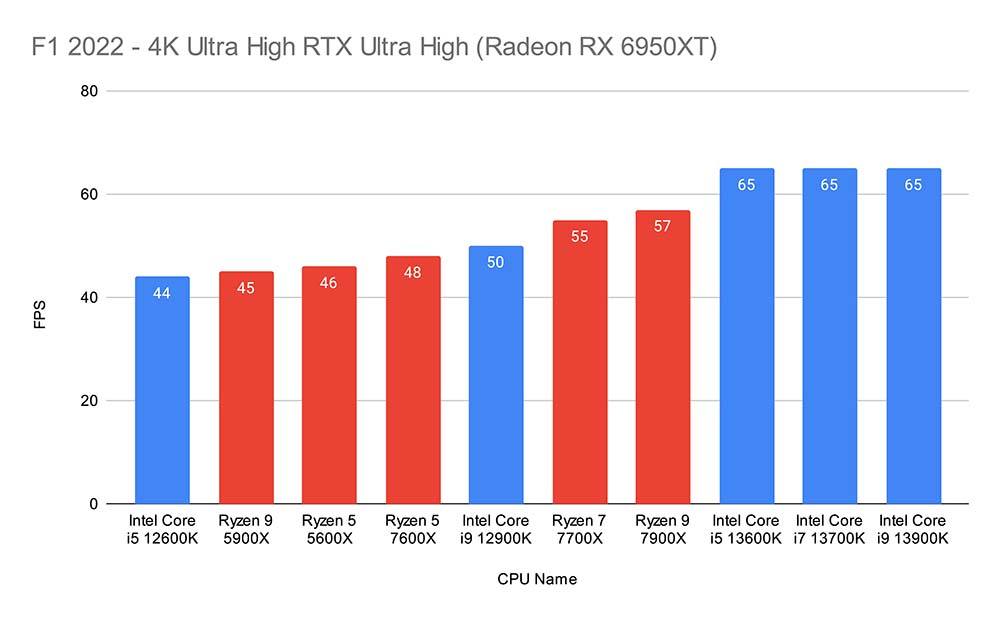 Battlefield 2042
And finally, in Battlefield 2042, both of these CPUs offered very reasonable performance at 4K high settings. Battlefield 2042 is a rather intense title, which explains why we weren't able to surpass the 144FPS mark at these settings, but our overall gameplay was very smooth and visually impressive.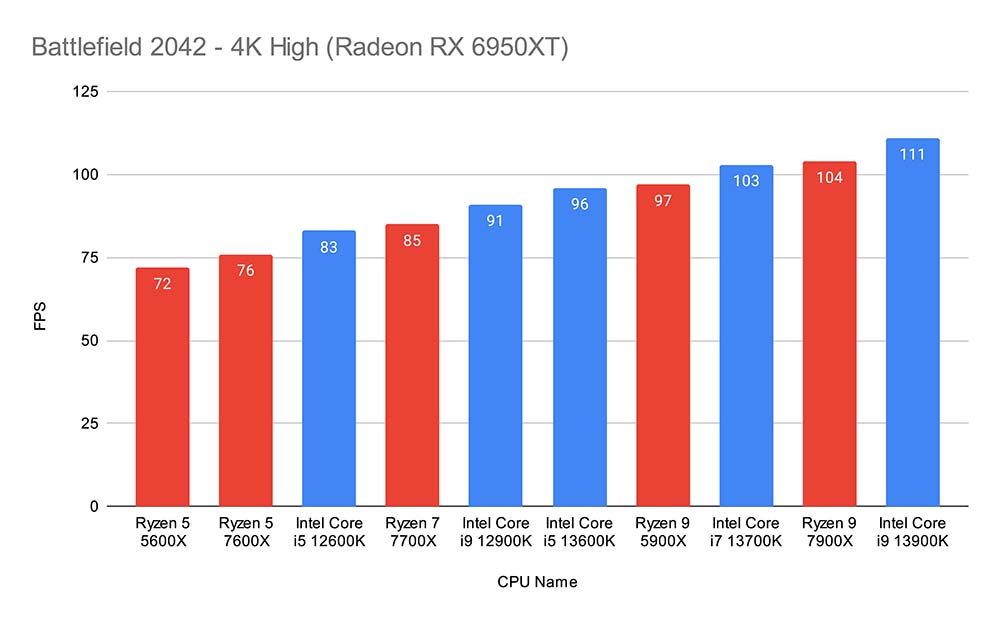 Conclusion
So which of these CPUs is better? Is it worth sticking to Intel's Core i9 12900K, or have the generational improvements made the 13900K a worthy upgrade? So far, it seems the 13900K is definitely a winner. Looking at all of the benchmarks, the Core i9 13900K comes out on top in multithreaded, single core, and gaming benchmarks, making it a worthy contender for a high performing workstation or gaming PC. When compared to the 13900K within games, the waters become a little muddied. There are definitely improvements here with 10% – 30% dependent on the game and graphics card choice, but at high framerates the difference will be negligible.
The Core i9 12900K still remains as one of the best top performing CPUs Intel has to offer, outperforming or sitting on par with most of the new Ryzen 7000 SKUs. Not only that, but as these new CPUs release, the 12900K will only get cheaper, making it an excellent choice for a workstation or gaming PC build.
If you're looking to get the best performance money can buy, a Core i9 13900K paired with other high-end components will be a worthy choice for enthusiasts and overclockers, or professionals looking to build an insanely powerful PC. If you're looking for alike performance but can't quite meet the budget for a 13900K, the Core i9 12900K is the second best choice, offering excellent metrics in pretty much everything!