Introduction
After much anticipation and a long awaited release date, Nvidia's brand new 4090 GPUs are finally here. We've taken a full look at the gigantic Founders Edition card on our website, and today the AIBs take the limelight. Gigabyte is one of the more popular manufacturers to produce graphics cards, offering a variety of designs such as their WindForce edition sporting powerful fans, or even liquid cooling variants.
In today's review, we'll be taking a look at one of the first alternative cards to release as part of the 4090 SKU, the AORUS RTX 4090 Master. This card takes the gargantuan design that we saw with the Founders Edition and throws an extra fan on for good measure. Not only that we've got some extra RGB for additional flair (which we'll be touching upon later), as well as an improved clock speed.
As a general rule, AIB prices tend to sit a fair bit higher than the MSRP of the card, this card will set you back over $1700 dependent on your region. Which poses a question, is it worth picking up an AIB card, or is it better to hold out for a Founders Edition to save yourself some money? The expenditure starts to add up when you consider that most users will need a PSU and potential case upgrade. Regardless, we'll be figuring out today if this added cost is worth it.
Buy the Gigabyte AORUS RTX 4090 Master on:
Suggested Article: Nvidia GeForce RTX 4090 Review (Founders Edition Benchmarks)
Architecture
The new RTX 4090 cards utilise the new ADA Lovelace architecture is set to bring double, or even four times the performance in certain scenarios. At the forefront of the new hardware comes a plethora of software improvements and significant performance bumps to RT cores, Tensor Cores, Programmable Shaders and more.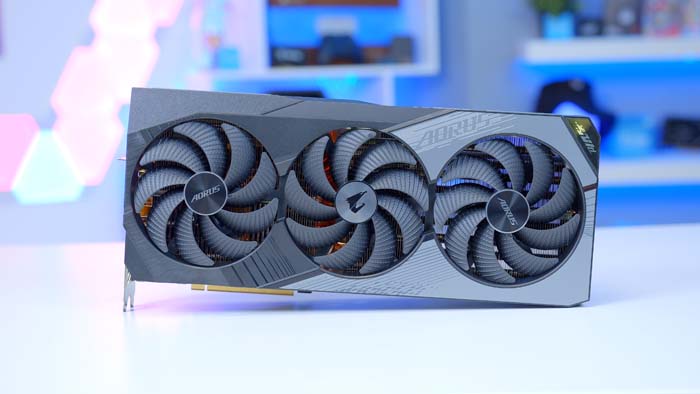 The RT and Tensor cores is where you'll see the uplift in gaming and workstation performance compared to the 3rd and 4th generation designs. The new RT cores and architecture changes have boosted the capability of Ray-Tracing within titles, whilst also reducing performance overhead. The nearly pixel perfect global illumination that comes with the new Ray-Tracing techniques removes the need for settings such as ambient occlusion, further improving the visual fidelity that differs between traditional rasterization and ray-traced games.
As a further note, we were absolutely blown away by the performance of games like Cyberpunk 2077 and Marvel's Spiderman Remastered when Ray-Tracing was enabled. The 4090 gives consumers the ability to experience these titles like they never have before without the horrendous frame output that comes with weaker cards.
Looking at the 4th generation Tensor Cores, they share similar improved performance metrics to that of the new RT cores. These new cores are unfortunately a requirement for the latest changes to Nvidia's AI-backed resolution scaler – DLSS. However, after seeing the stark difference that comes with the new Frame Generation technology, it makes sense to some extent that this tech is limited to the new cards.
Touching upon Frame Generation briefly, this software integration is a game-changer. Titles saw double the performance in most of the games we tested and can overcome CPU bottlenecks or CPU bound games by generating frames instead of redrawing the image.
DLSS 3 technology also seems to significantly improve frame output too when compared to DLSS 2. The multitude of games that we've tested that utilise DLSS 3 saw improvements of 30% upwards across the board, with some games achieving double in certain instances. Needless to say, the new architectural improvements to the 4000 series GPUs.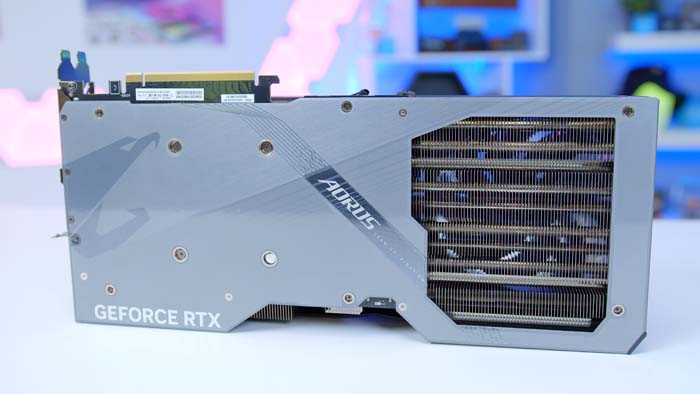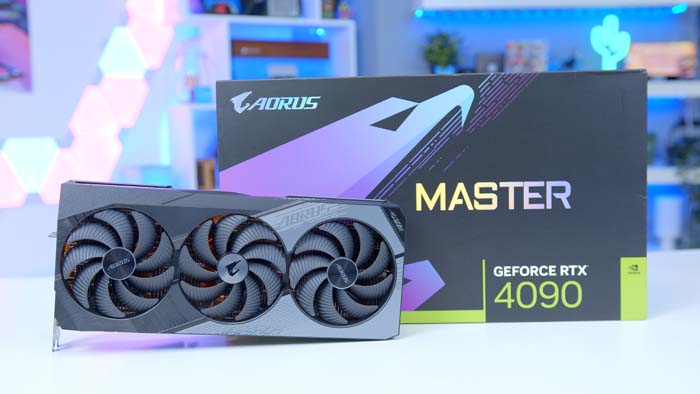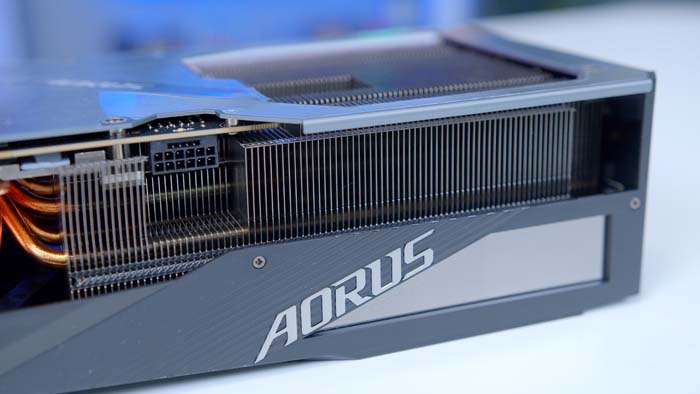 Specifications
The RTX 4090 has some very impressive specs, so we've created a table that details the hardware differences between the 4090 and other SKUs on the RTX 3000 series architecture.
Spec
RTX 4090
RTX 3090Ti
RTX 3090
RTX 3080Ti
Video Memory
24GB GDDR6X
24GB GDDR6X
24GB GDDR6X
12GB GDDR6X
Memory Bus
384-bit
384-bit
384-bit
384-bit
Core Clock Speed
2.23GHz
1.86GHz
1.7GHz
1.37GHz
Boost Clock Speed
2.52GHz
1.67GHz
1.4GHz
1.67Hz
CUDA Cores
16384
10752
10496
10240
Power Consumption
450W
(Founders Edition)
450W
(Founders Edition)
350W
(Founders Edition)
350W
(Founders Edition)
RT Cores
3rd Generation
2nd Generation
2nd Generation
2nd Generation
Tensor Cores
4th Generation
3rd Generation
3rd Generation
3rd Generation
PCI-E Generation
PCI-E Gen 4
PCI-E Gen 4
PCI-E Gen 4
PCI-E Gen 4
Design
The design of the AORUS Master GPU is good, but I am a little bit disheartened. There's definitely been a design change compared to the 3090, but this card is really bulky. Not so much in an aesthetically pleasing way, just bulky for the sake of being bulky. I understand that this has likely been done to accommodate the triple fan design, but it seems overly large nonetheless. The card being this size also potentially harms case choices, but so far most modern cases seem to cope with the size.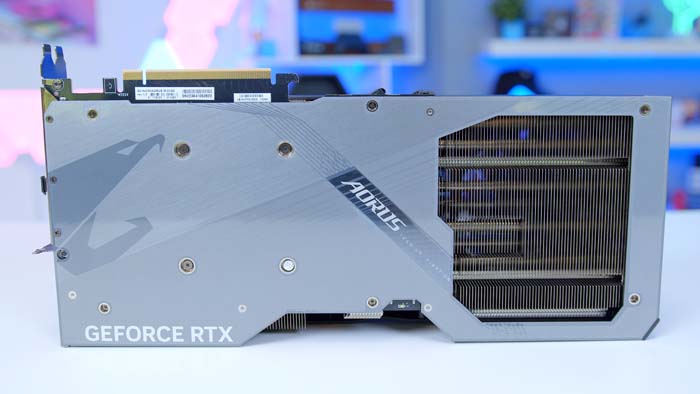 The AORUS Master sports a brushed steel shroud, with the AORUS logo or name located on the centre of each fan. You'll also be able to see the AORUS logo located at an offset to the middle fan which lights up with RGB. Additionally, there is a ring of RGB lighting surrounding each fan, which can be customised and synced up with the AORUS logo. I'm a big fan of the grey/silver design on the shroud, but the RGB lighting seems lackluster. It would have been nice to see a strip surrounding the edge of the card, or the fans be RGB themselves. However, this isn't a deal-breaker because ultimately the performance is what matters here.
Specs wise, the AORUS Master 4090 compares similarly to the Founders Edition card. In terms of graphical memory, this card is loaded up with 24GB of GDDR6X memory, along with a slightly higher boost clock speed. For CUDA cores, you've got access to 16384, along with 191 RT cores. Combine this with the brand new DLSS and Ray-Tracing technology and this new card absolutely flies in a variety of games.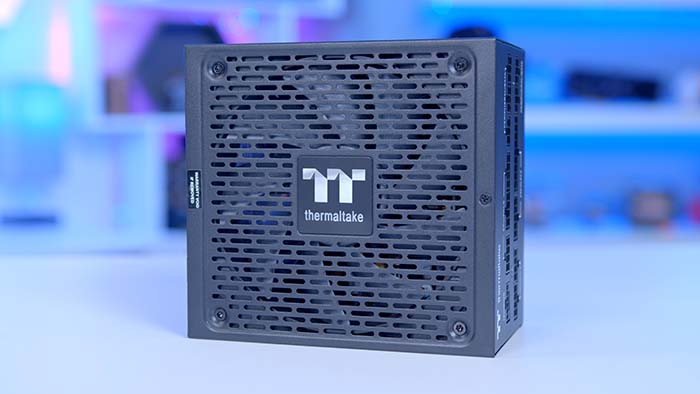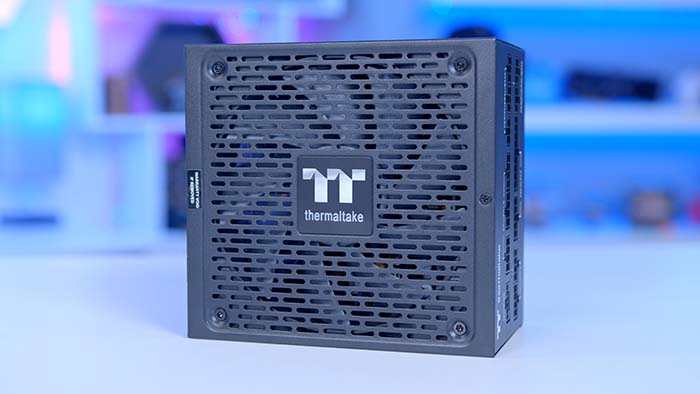 Performance
Now for the most important part – performance. This card was put through the wringer by our benchmarker and unsurprisingly, we were blown away by the performance of this card. Our benchmarker noted that all of the RTX 4090 GPUs that we've got at the GeekaWhat offices has blown all of our other cards out of the water, with very few coming remotely close.
Nvidia definitely aren't pulling punches here and have demonstrated that they're not talking shop when it comes to performance metrics. The Gigabyte AORUS 4090 Master wiped the floor with the likes of the previous generation's 3090 and 3090Ti, while offering performance improvements upon the 4090 Founders. And AMD's equivalent card the 6950XT didn't even come close to the performance of this beast! The AORUS 4090 was paired up with AMD's Ryzen 9 7900X from their Ryzen 7000 line-up, along with 32GB of Corsair Vengeance EXPO memory giving us the components we need to put performance to the max.
Below, we've provided some footage of our benchmarking runs which can be located on our very own YouTube channel – Benched. All of the various graphics cards and CPUs that we test will have videos uploaded to this channel, with a range of stats and graphs to see how these components perform.
Battlefield 2042
In the hit title Battlefield 2042, we experienced crazy gunfights and explosions. Throughout our benchmarking run, we were consistently able to maintain an average of around 125FPS. We weren't able to hit that 144Hz sweet spot without enabling DLSS, but over 120 frames is more than playable and provides a smooth experience.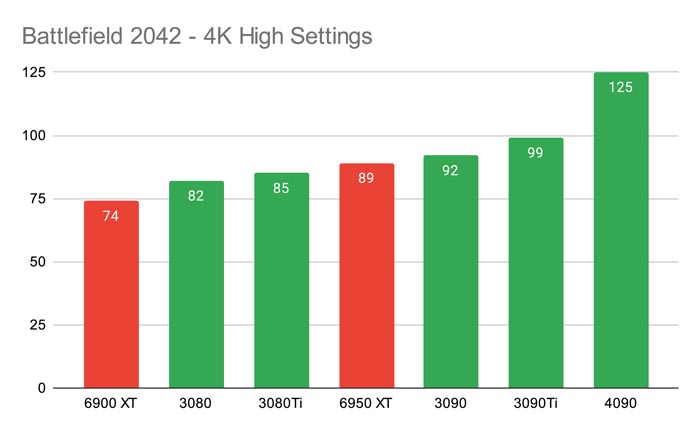 Fortnite
In Fortnite, we pulled the settings back to a mode called competitive, which increases your view distance and lowers any configurations that would cause overhead on your CPU and GPU so that you can get the best frame output. We were able to outperform every other GPU we've tested, reaching an average frame rate of 327. This is extremely impressive and allowed us to land the headshots we needed for a Victory Royale!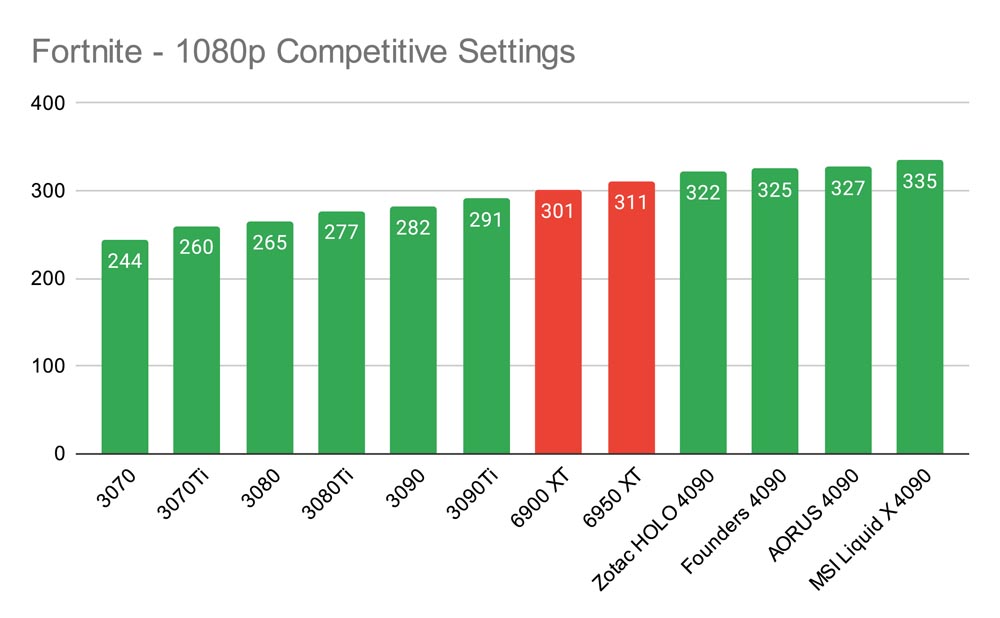 COD Vanguard
COD Vanguard is a very fast-paced and intense game at times, so having high frames benefits the player in this title. The Gigabyte RTX 4090 blew all of the other options out of the water at 4K, giving us close to 200FPS on average. This was insane and we experienced no frame drops at all with this card!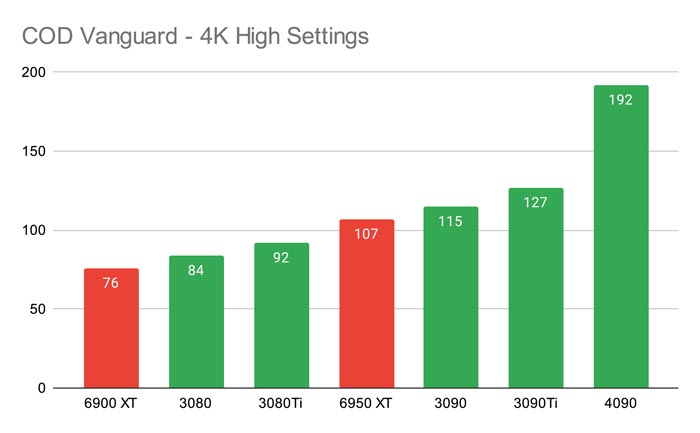 Marvel's Spiderman Remastered
In Spiderman, we cranked up the settings to high and turned on RTX with DLSS to see where our performance would lie. The Gigabyte RTX 4090 at 4K reached a very high framerate of 110 on average, which we were able to maintain without any major frame drops. And it made this incredible looking game a very pleasant experience to play.
F1 2022
In F1 2022, we turned on DLSS and set Ray-Tracing to high, and the RTX 4090 absolutely flew in this game. We hit over 150 frames on average at 4K, which is exceedingly high, especially as this game is very graphically intense. We were very impressed with the performance of the 4090 at 4K and this is representative of how powerful this card is.
Cyberpunk 2077
The Gigabyte RTX 4090 once again demonstrated how capable it is in Cyberpunk 2077. This game isn't very well optimised and struggled on older cards at high settings, but the 4090 with DLSS and RTX enabled impressed us again. Reaching around 141 frames on average, we were able to witness the glorious visual scale of Cyberpunk at 4K with minimal drops.
Overwatch 2
Overwatch 2 isn't a particularly graphically intense game, but the 4090 still showed off its processing power in our benchmarking run. We were able to reach an average framerate of over 460, which is crazy when you realise that this is at 4K ultra settings. Needless to say, the Gigabyte 4090 really stretched its legs here and offered a slight performance boost when compared to the Founders Edition card.
Conclusion
Gigabyte AORUS RTX 4090 Master
Product Name: AORUS RTX 4090 Master
Brand: Gigabyte
Features

Design

Performance

Value For Money
Summary
The Gigabyte AORUS RTX 4090 Master is another brilliant addition to the market, offering incredible performance in pretty much everything. Ray-Traced titles at 4K posed no issue to this GPU, and workloads that utilised the dual AV1 encoders were cut in half. Needless to say, this card is a beast and we expect many consumers building a high-end system to make use of this insane GPU. However, I can't help but feel disappointed with the design. I might be biased in preferring the Founders Edition, but I feel Gigabyte have gone a bit crazy with the bulkiness of this card. Admittedly, this card is likely bigger to accommodate the fact that there are three fans, but I must admit that I'm just not a big fan of how big it is. The RGB front feels a little bit weaker compared to some of the other options we have available, but the inclusion of some customisable is a nice touch regardless. Either way, beyond the design, this is an excellent card offering some performance improvements due to the higher clock speed. We can't wait to see what else Gigabyte has on offer when we eventually get our hands on the 4080 and any further cards next year!
Pros
✅ Somewhat better performance than the Founders Edition.
✅ Customisable RGB provides additional flair.
✅ Triple fan design will aid with cooling.
Cons
❌ Very very expensive.
❌ RGB is somewhat lacklustre.
❌ Not a big fan of the bulky design.