Introduction
Liquid coolers are all the rage at the moment in the CPU cooling space. However, with so many popular and high performing options on the market, this can be quite confusing for the average consumer just looking for the best value option.
This raises a multitude of questions for those looking to pick up a 360mm option for their build. Is it worth picking up the most powerful option for the sake of longevity? Or are there cheaper options for consumers on a more restrictive budget?
In this article we'll be exploring these very questions with a GeekaWhat roundup of the best 360mm liquid cooling options to buy right now. We've covered a range of coolers from varying brands, with different price points suiting a variety of budgets.
Suggested Article: Best 240mm AIO Coolers to Buy in 2023
Our Recommendation: Corsair iCUE H150i Elite Capellix XT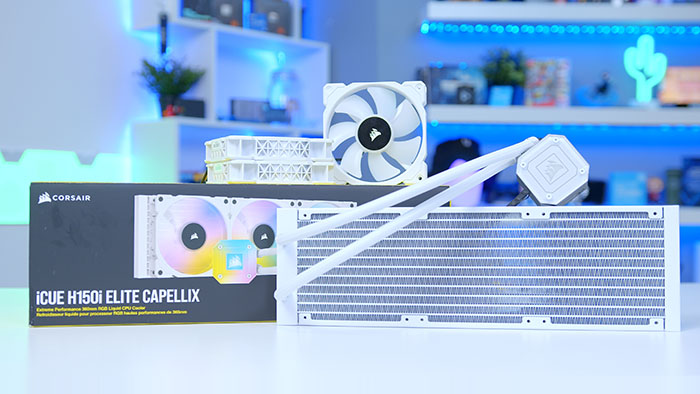 📸 View the Corsair iCUE H150i Elite Capellix XT gallery.
Our pick for the best 360mm cooler is the Corsair iCUE H150i Elite Capellix XT. The H150i offers solid thermal capability  and an awesome aesthetic for any build. 
Despite it being one of the more expensive AIO coolers in this roundup, makes up for that with incredible performance, so if your willing to take the hit on budget, the H150i is your best bet.
Our Recommendations
1. MSI MAG CoreLiquid E360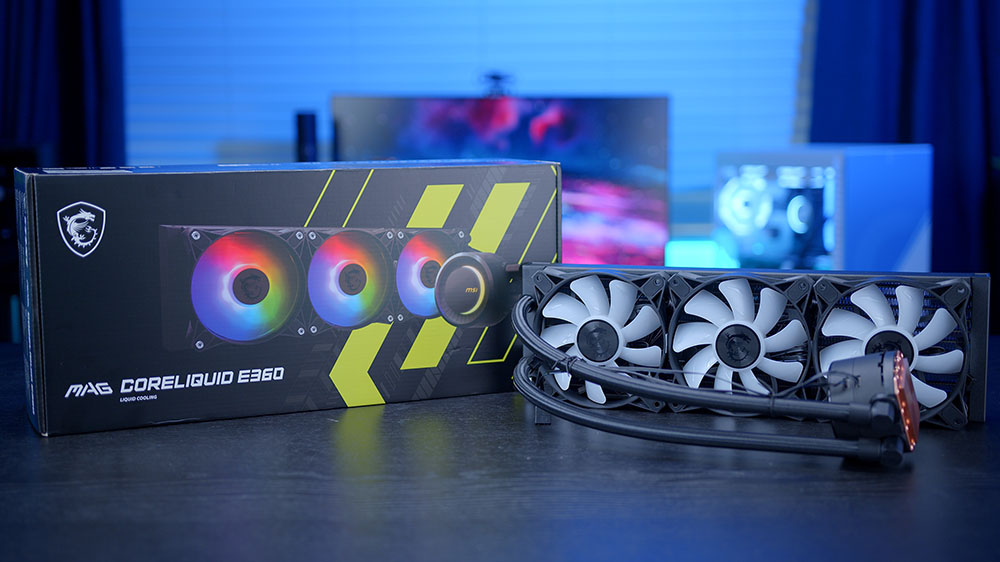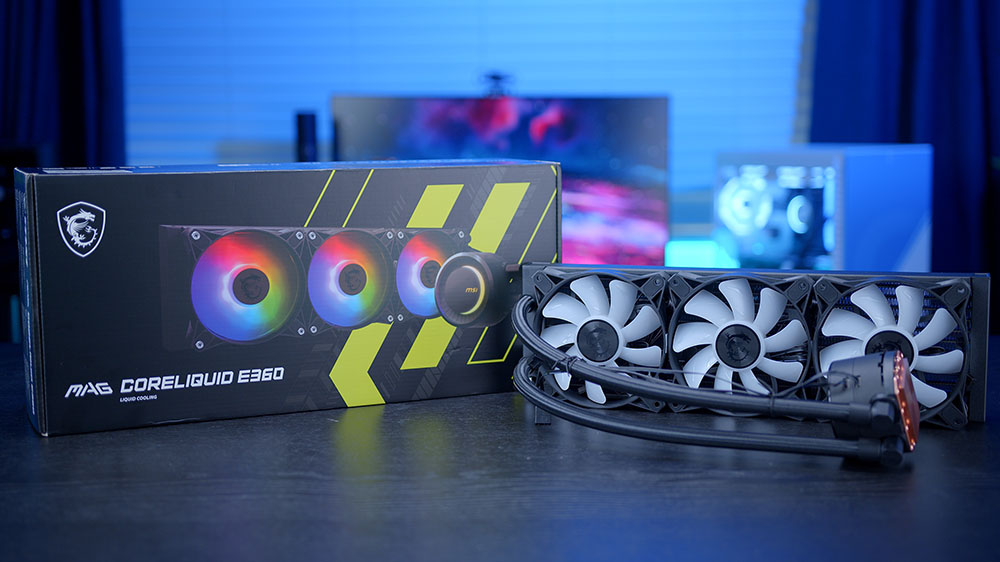 Kicking things off is the MSI MAG CoreLiquid E360. The E360 fits into the more budget orientated market, and can provide pretty decent cooling performance for the price. It boasts RGB fans that can be customised with MSI's Mystic Light software, and also has a nicely designed CPU block, with a design that is similar of a solar eclipse that outlines the logo that can be rotatable, for different mounting options.
Performance wise, the CoreLiquid E360 can hold it's own while running quietly enough to keep you happy. With pump noise levels being at a maximum of 20 decibels, it's a great cooler to pick up for a low sound specific build, and will be able to keep even some of the higher tier CPU's in a good thermal region under mid-level workloads.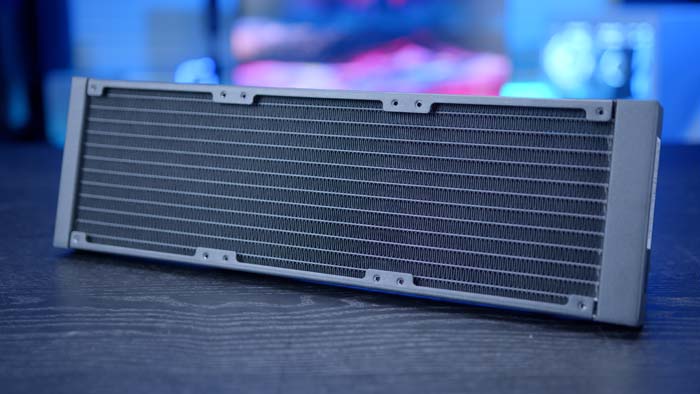 Although the CoreLiquid E360 is a pretty strong contender in the liquid cooling space, there are many better alternatives out there geared towards high-end systems that offer better performance.
MSI's Mystic Lighting is not the easiest to use and makes this cooler more difficult to customise RGB wise off the back of this.
Where to Buy
Buy the MSI MAG CoreLiquid E360 on:
2. Deepcool LT720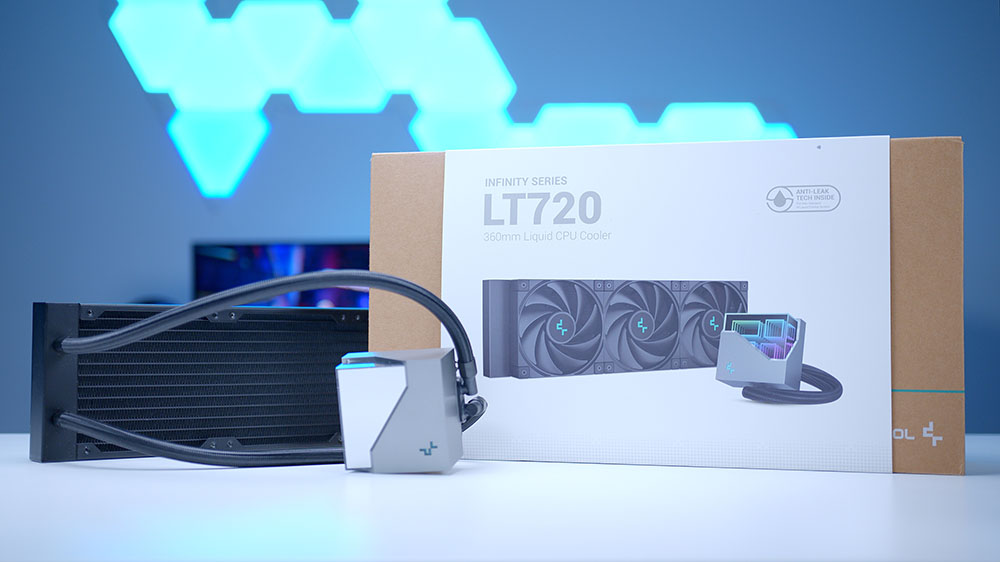 The Deepcool's LT720 is an AIO with a more minimalist style that offers well-rounded performance overall. The LT720 sports three FK120 black fans that strike a fine balance between performance and efficiency, providing strong airflow and pressure alongside a robust frame that ensures long-term reliability. This is further aided by the 4th generation high-performance pump that maximises coolant flow with high RPMs.
In terms of design, the LT720 offers an all-black fan design, with a matte black finish across the radiator too. The CPU block offers a nice twist on the overall aesthetic with a white housing and an infinity mirror. I'm a big fan of the infinity mirror design as it offers an interesting spectacle to look at within your build. The RGB lighting can of course be customised and configured with a variety of different RGB software, such as MSI's MysticLight, or Gigabyte's RGB Fusion.
As a general rule of thumb, 360mm coolers tend to be pretty expensive due to the size and manufacturing costs. However, the LT720 is a cheaper option coming in under the $200 mark, making it a solid option for consumers a budget.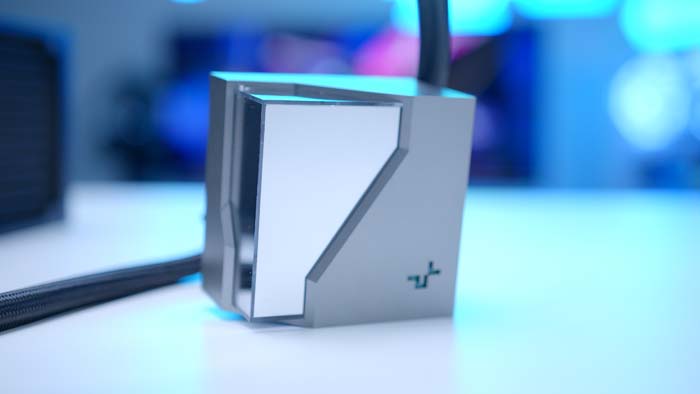 The LT720 is one of the larger 360mm options that we've had in the office, which might be a bit of a problem if you've picked out a smaller case option for your build.
Another of the one caveat to the design is that, there are no RGB fan options. If you're the kind of consumer looking for an all-out RGB approach, this cooler won't be a great option, which is a little bit disappointing to see.
Where to Buy
Buy the Deepcool LT720 on:
3. Corsair iCUE H150i Elite Capellix XT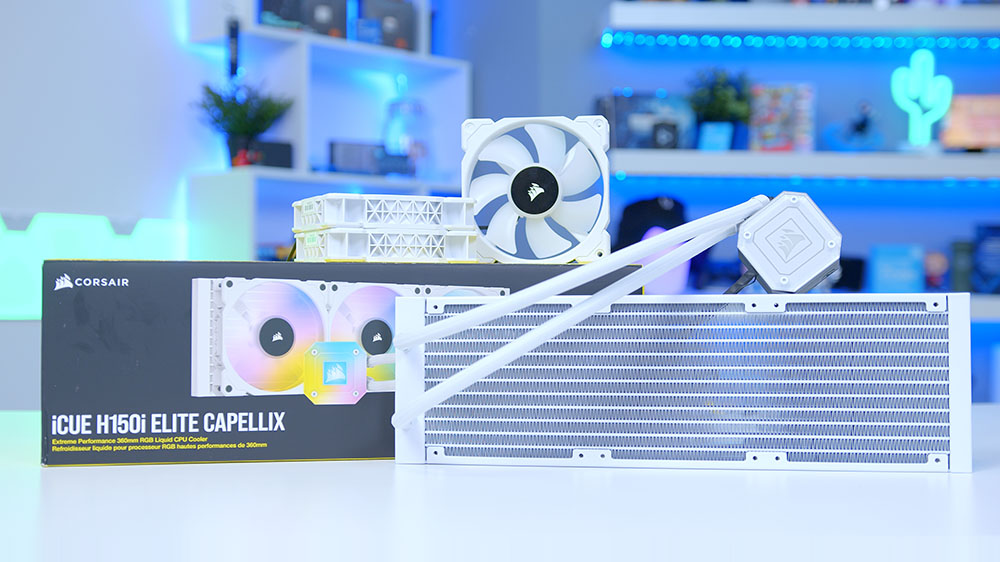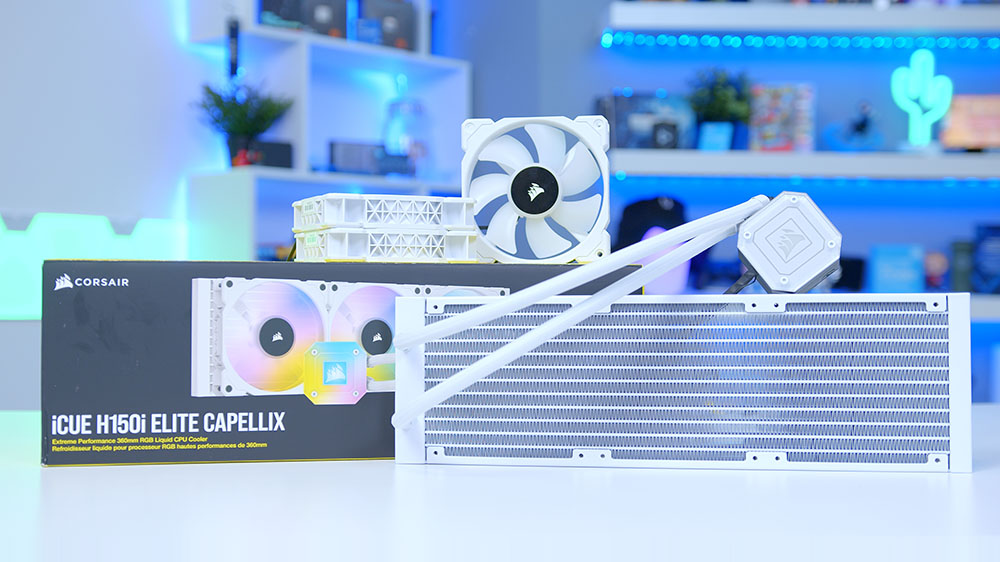 Our third recommendation is Corsair's iCUE H150i Elite Capellix XT, an AIO that we've recommended a number of times in a variety of different content pieces. This cooler is one of the best options on the market when it comes to both performance and aesthetic. The H150i Elite Capellix XT utilises Corsair's renowned magnetic levitation fans which bring low noise levels and high air pressure, all while maintaining an awesome RGB design that Corsair fans will be all to familiar with.
Design wise, the iCUE H150i is one of the best looking coolers you can find, sporting an all-white radiator and set of 120mm fans. Each of the fans offers vibrant and iCUE compatible RGB, which can all be plugged into the Corsair iCUE Commander for ease of control and setup. The CPU pump block also provides some awesome RGB too in the form of Corsair's Capellix lighting, definitely a winner for those that love RGB.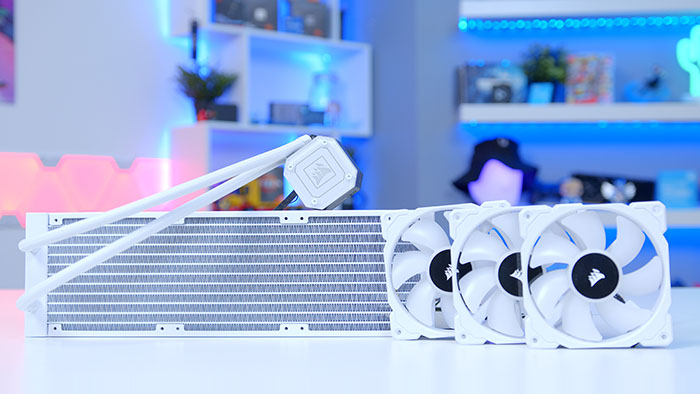 As you can probably expect, this CPU cooler isn't likely to be cheap, and you'd be correct. The H150i is one of the most expensive options on the market besides 420mm options, so you'll need to shell out a fair amount to secure this AIO.
Although the magnetic levitation fans are pretty solid at the low-end, we have noticed that fan noise does tend to ramp up a fair bit when load reaches 100%.
Where to Buy
Buy the Corsair iCUE H150i Elite Capellix XT on:
4. MSI MEG CoreLiquid S360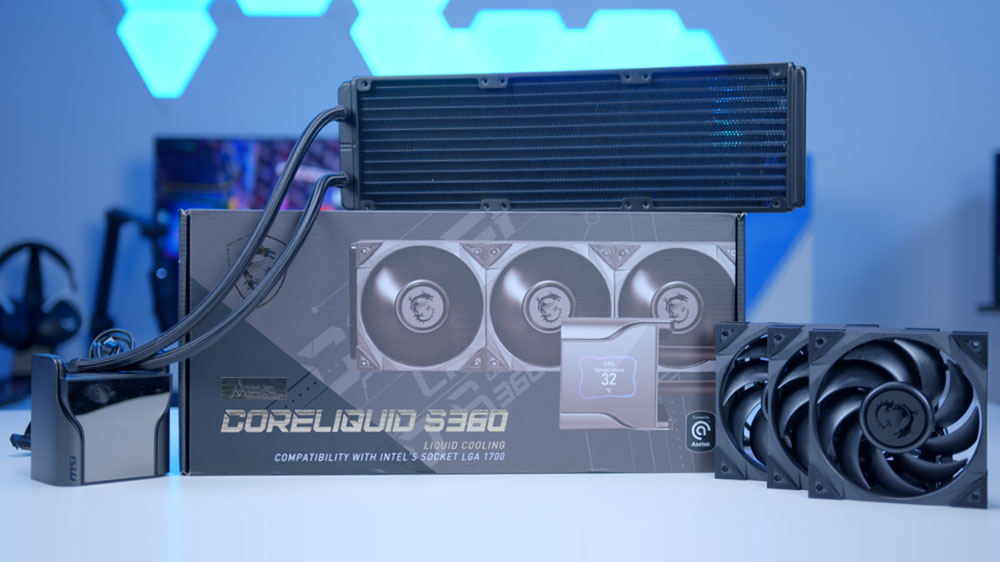 For our fourth and final recommendation, we've picked out MSI's MEG CoreLiquid S360 as one of the best 360mm AIO Coolers, a top-end design perfect for all of your overclocking needs. When it comes to performance, the CoreLiquid S360 is one of the best options money can buy for high intensity workloads. This cooler is likely the closest that you'll get to a custom loop, but at a fraction of the cost. Performance wise, the S360 sports MSI's MEG Silent Gale P12 fans, keeping noise levels nice and low, whilst offering excellent airflow and pressure across the board.
The 7th-Gen Asetek pump is designed to efficiency disperse heat as quickly as possible, which is also aided by a 60mm fan that is placed inside the water block, further dissipating heat around essential components. To top it all off, the S360 comes with a fully customisable 2.4-inch display that can show off thermals, GIFs, live weather and more.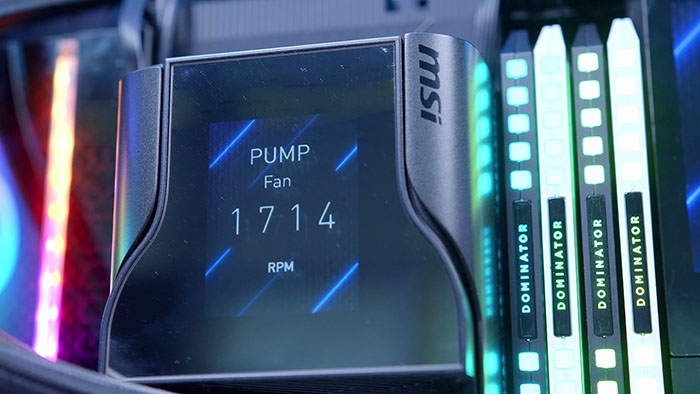 The CoreLiquid S360 sits almost on par in terms of price, when compared to Corsair's iCUE H150i Elite Capellix. Due to the nature of the design, and the strong performance, this is a rather pricey cooler geared towards enthusiast level PC builds.
Both the CPU block and the radiator on this cooler are quite large, which could potentially result in clearance issues. Make sure you check clearance in your case and with other components before picking up an AIO of this magnitude.
Where to Buy
Buy the MSI MEG CoreLiquid S360 on:
Is A 360mm Cooler Overkill?
Honestly, this entirely depends. 360mm AIOs are widely sought after due to the heat dissipation efficiency that can be found with larger radiators. Effectively, the bigger the radiator, the more heat can be dispersed and moved away from your CPU, resulting in better thermals. However, if you've picked up a budget, or a mid-range CPU, such as the Core i5 13600K, or an AMD Ryzen 5 7600X, it is highly likely you won't need this kind of capability from your cooler.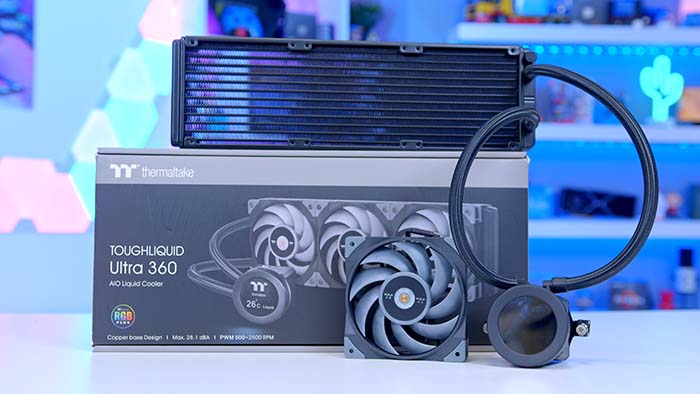 Do I Need to Worry About Mounting?
Mounting is a major point of contention in the PC building space, because you can run into huge problems without doing some research into the supported sockets of your cooler. To explain this in layman's terms, every motherboard and CPU comes with a certain type of socket. Around five years ago, Intel was using the LGA 1151 socket, and AMD was using AM3+ for their old Bulldozer chips. Because Intel have since brought out numerous different generations of CPUs since then, they've faced socket changes that determine a multitude of different factors.
To bring this point to a close, mounting is a very important consideration that you should think about. All CPU cooler manufacturers will detail what sockets their cooler is supported on, and you'll need to make sure that your current motherboard socket is supported. Just keep in mind that if you decide to upgrade you'll want to double check this again to ensure there aren't any problems.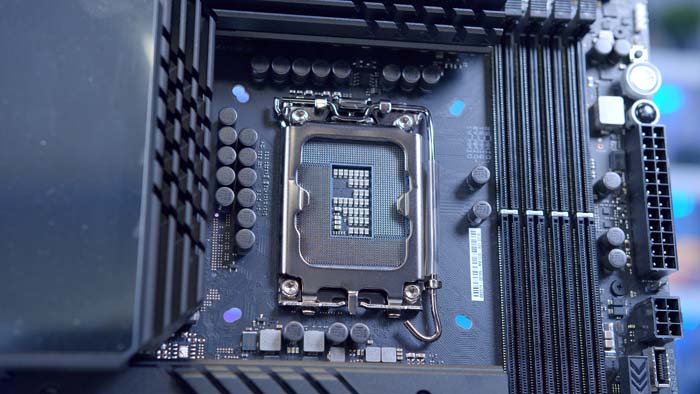 How We Tested the Best 360mm CPU Coolers
In order to test and evaluate the best 360mm CPU coolers there are a number of factors that we take into account, these are:
Performance
Features
Compatibility
Aesthetic
Value for Money
Conclusion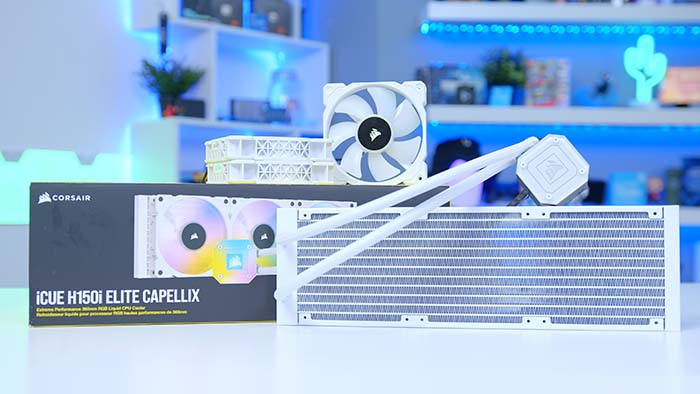 Best 360mm CPU Cooler: Corsair iCUE H150i Elite Capellix
Finishing off this roundup, we've picked Corsair's iCUE H150i Elite Capellix as the best 360mm cooler. Corsair often strikes a fine balance between form and function with the vast majority of their components and this cooler is no exception. The H150i offers solid thermal capability, relatively quiet performance, and an awesome aesthetic. If you're willing to swallow the price of this beast, you'll be met with plenty of RGB lighting, and low temperatures across the board!
Read our full Corsair component coverage, or Corsair iCUE H150i Elite Capellix on Amazon