Our Recommendation: AMD Ryzen 7 7800X3D
After a range of different tests, AMD's Ryzen 7 7800X3D is the best CPU for the RTX 4070 Ti. Although the 7800X3D isn't the best processor when it comes to workstation systems, performance is effectively unrivalled in modern games, offering incredible framerates at 1440p and 4K.
There are few options on the current market that can compete with the 7800X3D due to AMD's 3D V-Cache technology. And because of a number of price drops, the value-proposition of this CPU has only become stronger. The 7800X3D is definitely worth considering if you're looking to play games at high settings with the RTX 4070 Ti.
Suggested Article: Palit GameRock Premium Edition GeForce RTX 4070Ti Review
All the CPUs in Our Testing Roundup
Best CPUs for the NVIDIA GeForce RTX 4070Ti
1. Intel Core i5 13600K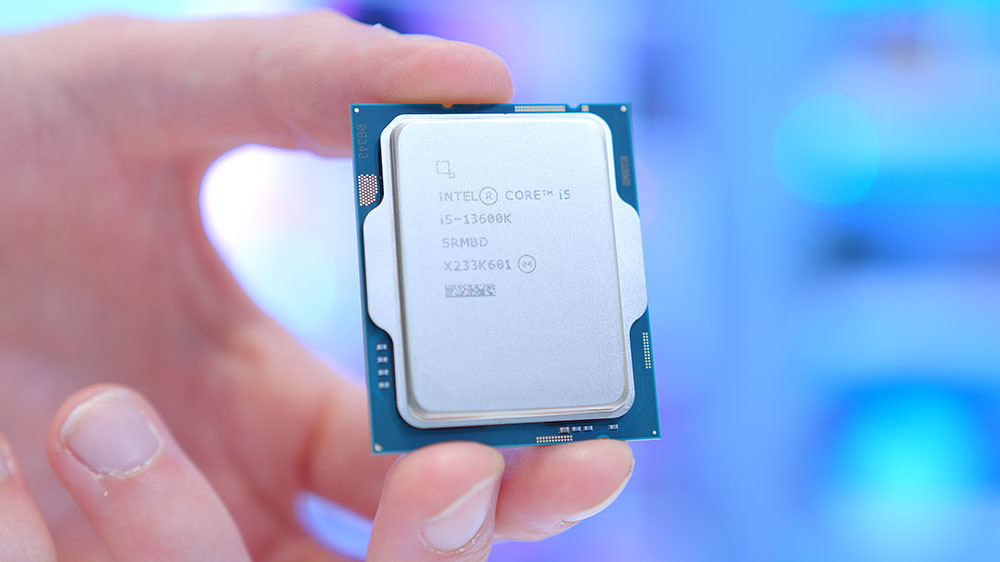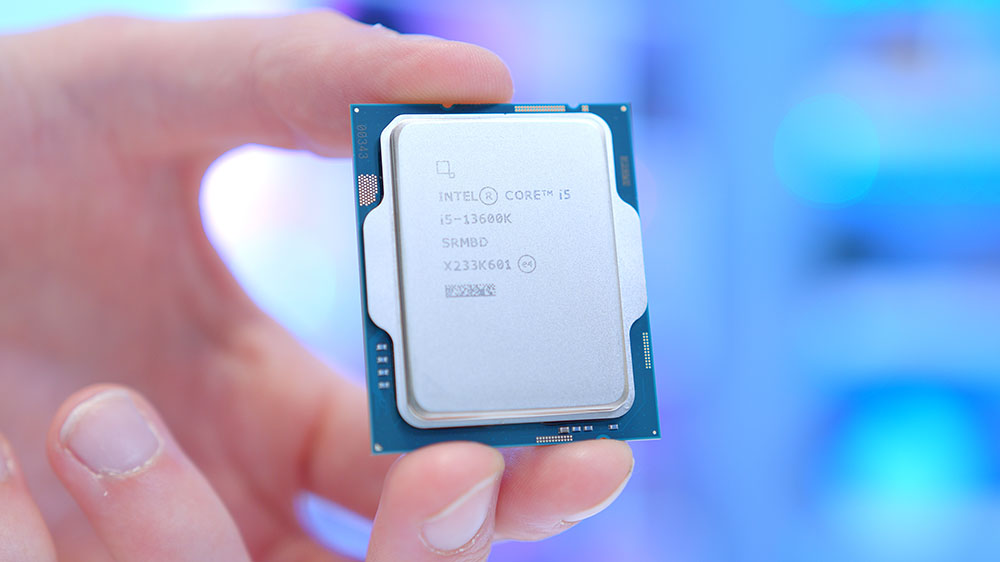 The Core i5-13600K is an excellent pairing for the RTX 4070 Ti based on its strong single and multi-core performance metrics, versus current market pricing. Between AMD and Intel, this 13th-Gen beast is one of the best options that money can buy, especially if you're being a bit more price conscious when it comes to budget and component choices.
The 13600K offers great single and multithreaded metrics, making it ideal for 1080P and 1440P gaming. For those looking to build a workstation system, the 13600K can handle itself pretty well even with more complicated threaded workloads.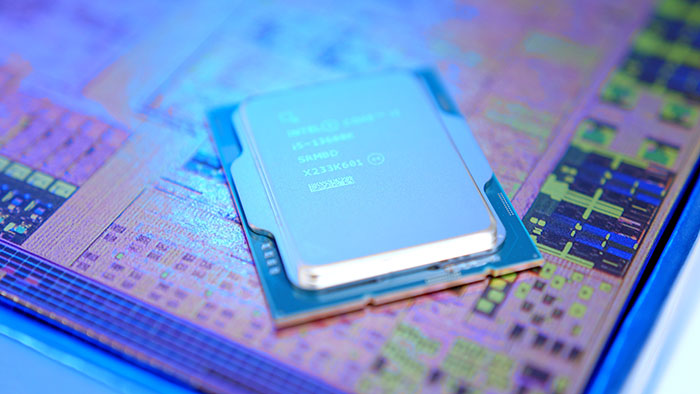 While the Core i5-13600K is still an incredibly strong option in today's market, there are CPUs that are better for handling multi-core workloads. Because the RTX 4070 Ti is such a powerhouse of a GPU, it is quite likely consumers with this graphics cards are going to want to push their system with some tougher applications, which means you might be better off picking up a strong processor. But despite this, the 13600K is still an exceptional gaming CPU and well worth considering overall.
Buy the Intel Core i5 13600K on:
2. AMD Ryzen 7 7800X3D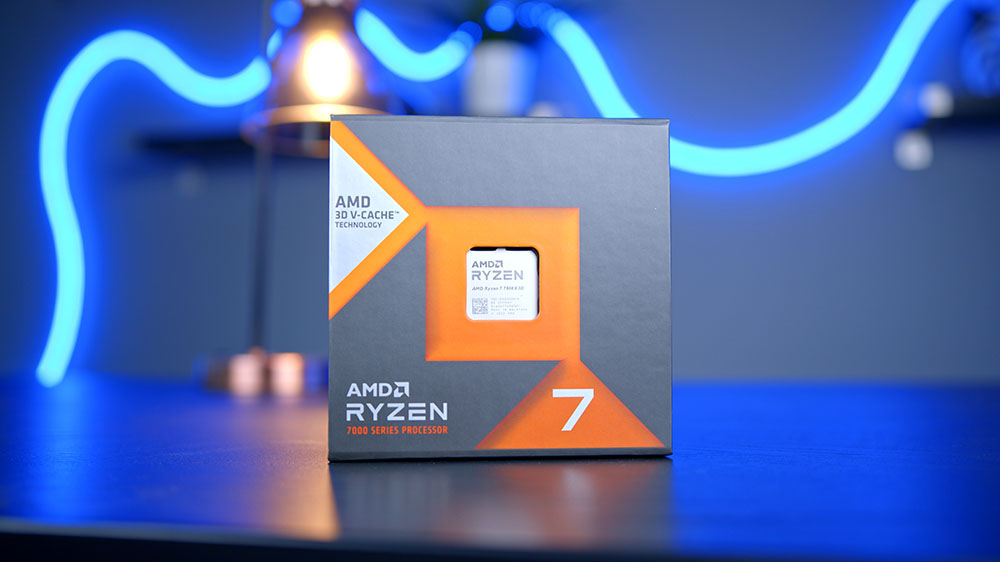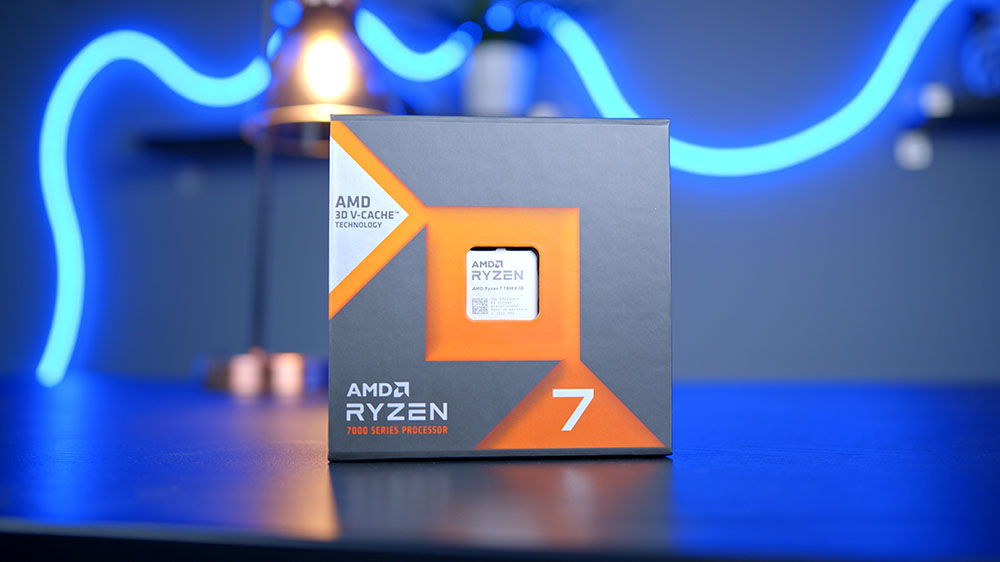 The Ryzen 7 7800X3D has surged in popularity during 2023 due to a variety of price drops shortly after its release. AMD's V-Cache processors are some of the strongest options on the market, with the 5800X3D sitting on the wishlist of many consumers looking to build a new PC. But the 7800X3D steps things up a notch by providing users with better clock speeds, more cache, and an entirely new platform to make use of.
The 7800X3D sports eight cores and 16 threads, with a max boost clock speed of 5GHz, along with 104MB of total cache. This CPU is perfect for top-end gaming, and when paired with the right graphics card, you'll be able to max out all of your in-game settings at 4K. The thermals of this CPU also aren't as ridiculous as other Ryzen 7000 options, due to the thermal capability of the cache that sits directly on top of the CPU.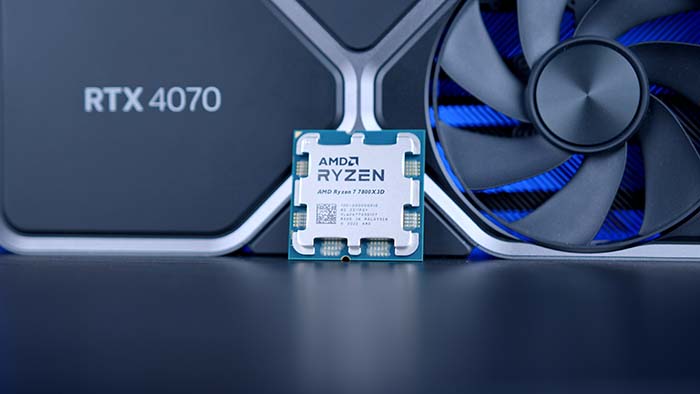 Unfortunately, the 7800X3D's biggest weakness is its lack of overclocking support. Due to the fact that the cache has a lower thermal limit, AMD have stripped back the overclocking capability to ensure this CPU doesn't become damaged due to higher thermals. But regardless of the overclocking support, the 7800X3D is still a powerhouse of performance capable of handling top-end games without any hindrances.
Buy the AMD Ryzen 7 7800X3D on:
3. Intel Core i7 13700K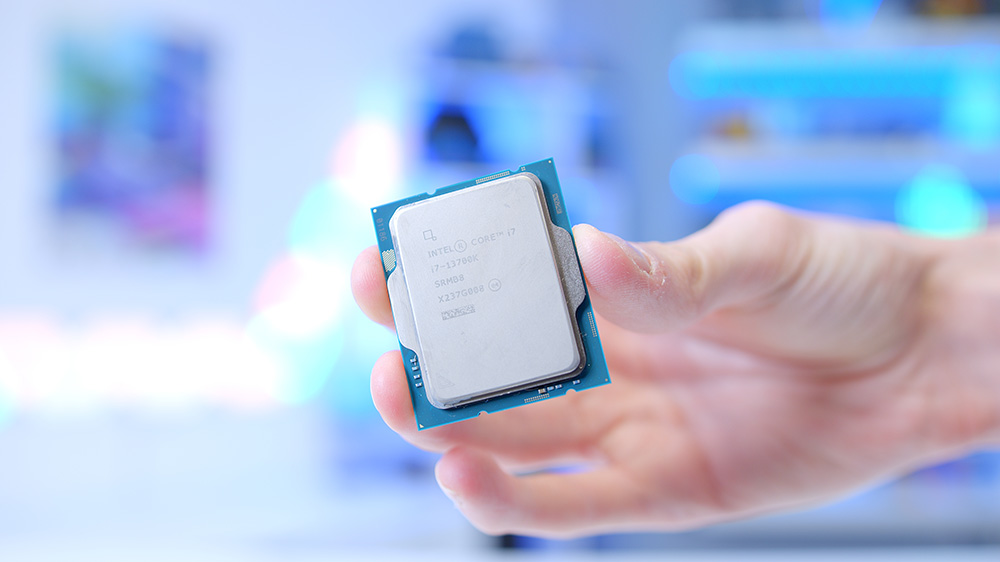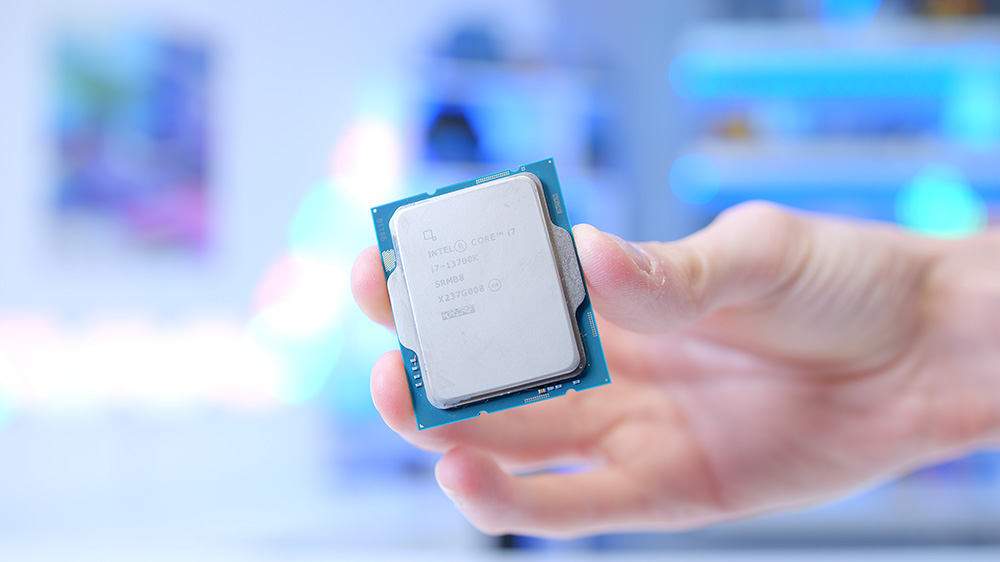 The Core i7 13700K is a 13th-Gen CPU, that demonstrates how capable Intel are when it comes to providing significant generational improvements, and the 13700K is arguably one of the best SKUs that came with the new platform. The 13700K is currently one of the best CPUs on offer, meeting the metrics of the previous generation's Core i9 12900K in single and multithreaded scores.
The Core i7 13700K can pretty much handle anything you throw at it. Whether you're playing games at 1440P and 4K, or if you need a chip that can handle complex workloads such as video editing or 3D rendering. There is definitely more of a workstation focus with this CPU, based on the high core and thread count, but the 13700K is still a winner when it comes to top-end gaming.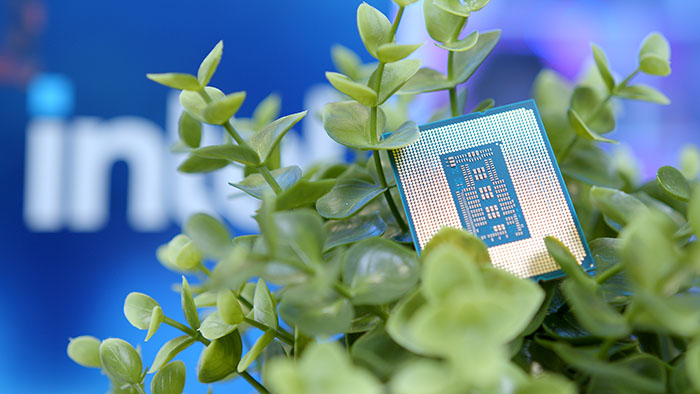 Although the 13700K is a very solid CPU, thermals can be a bit of a problem if you haven't picked up a solid liquid cooler. We've found during our testing of the 13700K that multi-core benchmarks cause the thermals of this CPU to spike a fair bit, so you'll want to pick up a 240mm or 360mm liquid cooler to ensure that temperatures are kept under control. However, if you are willing to shell out some extra cash for a solid cooler alongside this CPU, you won't be disappointed with the performance.
Buy the Intel Core i7 13700K on:
4. AMD Ryzen 9 7900X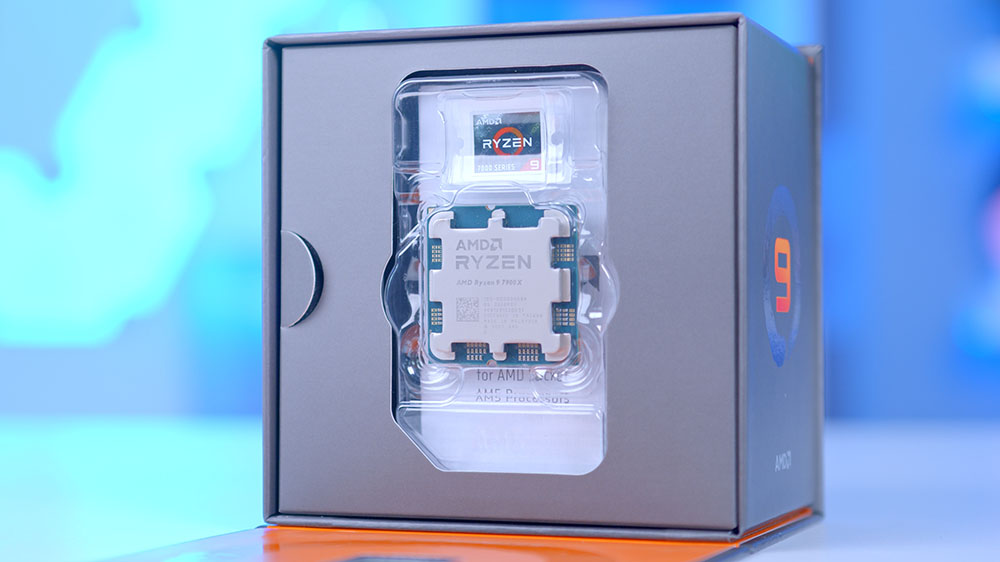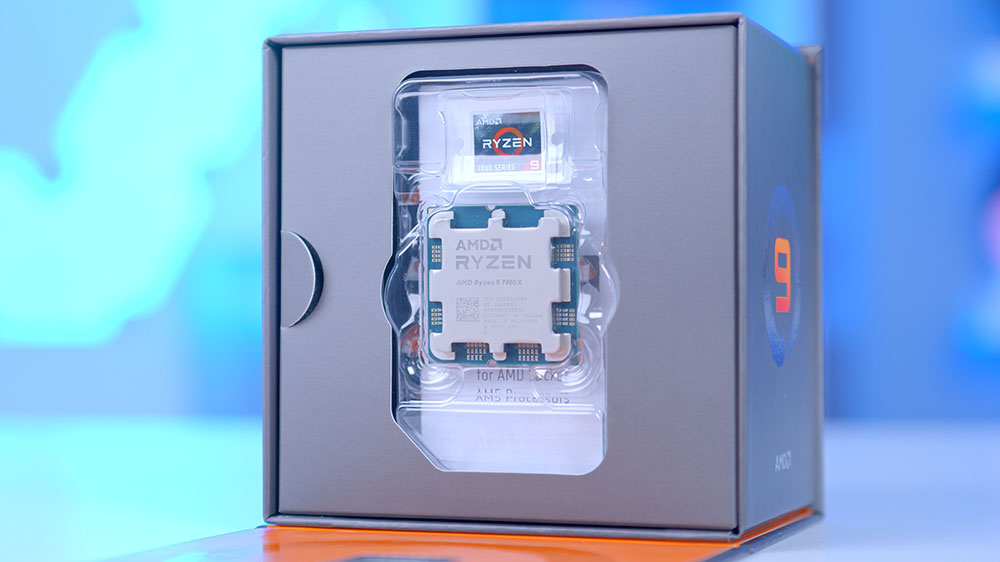 The Ryzen 9 7900X from AMD's latest AM5 platform was somewhat underwhelming for AMD, but the top-end SKUs offer a much better value-proposition compared to the 7600X and 7700X options. The 7900X topped the charts when it comes to framerates, sitting just below Intel's most recent 13900K and AMD's own 7950X. Multi and single-threaded scores are excellent, and many consumers will be more than happy with the performance in games or as a workstation CPU.
One of the biggest benefits to picking up a Ryzen 7000 CPU is upgradeability. AMD's AM5 platform is currently one of the only offerings on the market that is providing hardware that won't be deprecated in the next year or so. Although PCI-E Gen5 and DDR5 RAM aren't necessarily showing us much right now in terms of ROI, they will become the new standard for hardware in the very near future.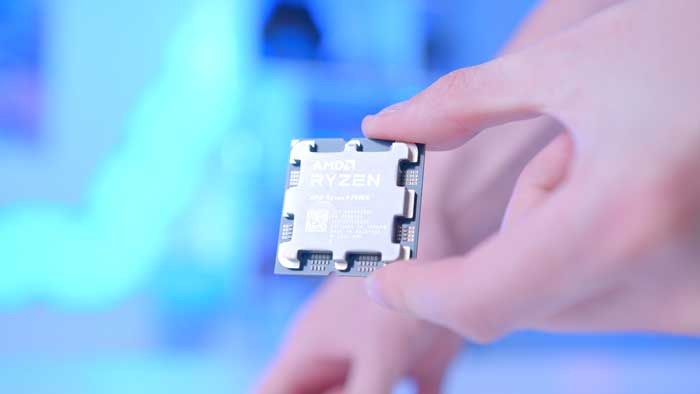 Thermals seems to be a reoccurring theme for Ryzen 7000 options, and the 7900X is definitely not an exception. Even with low level single core boosting we found that the temperatures of the 7900X were very high, so we'd recommend consumers pick up a solid cooler to ensure your 7900X doesn't sustain any damage. Much like the 13700K however, if you're willing to pick up a thermally capable CPU cooler, the 7900X is an extremely strong CPU that will deliver excellent multi-core performance.
Buy the AMD Ryzen 9 7900X on:
How We Tested the Best CPUs for the RTX 4070 Ti
In order to test which CPU is the best option for the RTX 4070 Ti, each CPU was put through a series of benchmarks from our testing suite, including gameplay in the latest triple A and Esports titles, along with workstation applications too. We also take a number of considerations into account when testing CPUs, such as:
Gaming and Workstation Performance
Thermals
Platform Longevity
Upgrade Paths
Value-Proposition
How Does the RTX 4070 Ti Perform?
After delving into all of our CPU recommendations you're probably wondering how the RTX 4070 Ti performs within your favourite games. We've put the RTX 4070 Ti through the wringer within a number of benchmarks which includes a suite of triple A titles and popular Esports games.
Apex Legends @ 4K
In Apex Legends at 4K we saw an average framerate of 141FPS from the RTX 4070 Ti, placing it just below the 7800 XT, but slightly above the RTX 3090. Apex Legends is a pretty well optimised title hence the frames being so high in this particular benchmarking run. But as you can see, the 4070 Ti is a pretty strong graphics card, and can hit very reasonable performance metrics allowing consumers to enjoy a buttery smooth gaming experience.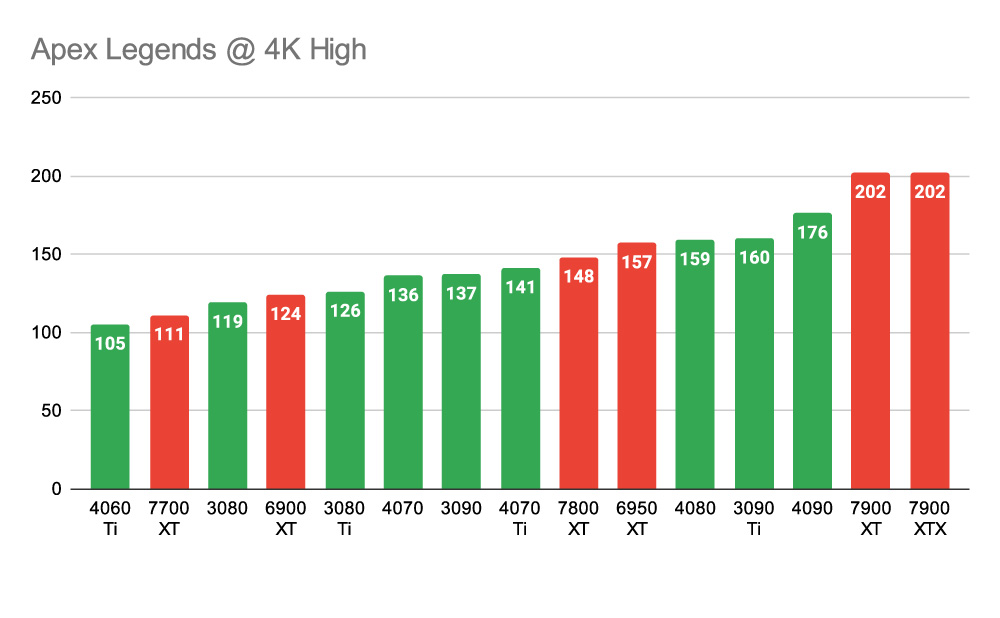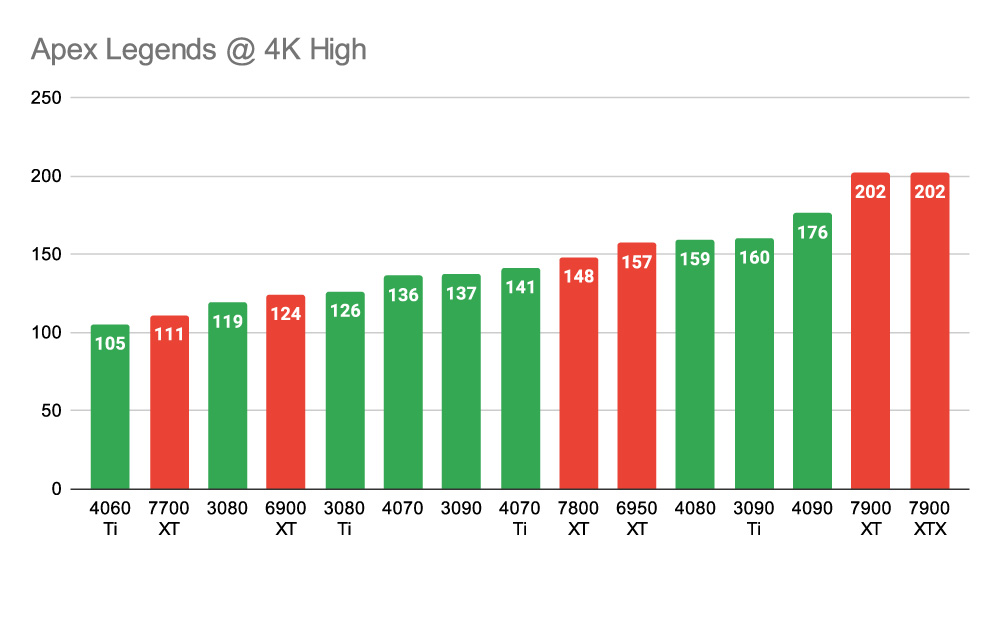 COD Modern Warfare 2 @ 4K
In Modern Warfare 2 at 4K DLSS quality, the RTX 4070 Ti offered up an average framerate of around 123FPS, placing it in between the 3090 Ti, and RTX 4080. We were pretty impressed with the performance in this benchmark as the 4070 Ti is often beaten out by the 7800 XT, but the 4070 Ti had a clear lead of about 10 frames in total. Although we're missing the 144Hz sweet spot here, you should be able to get some extra mileage by dumbing down some of the in-game settings.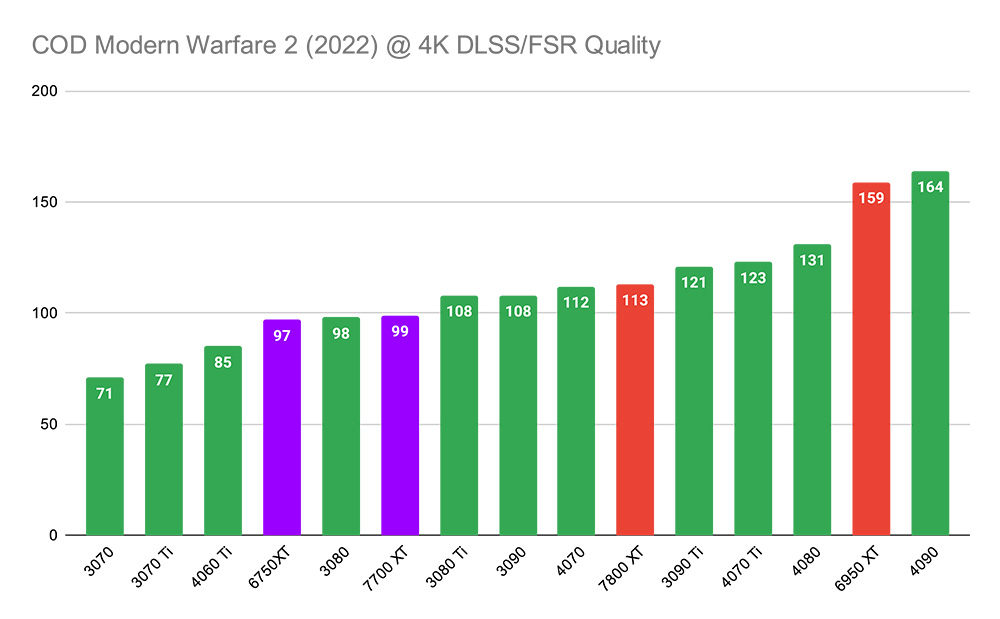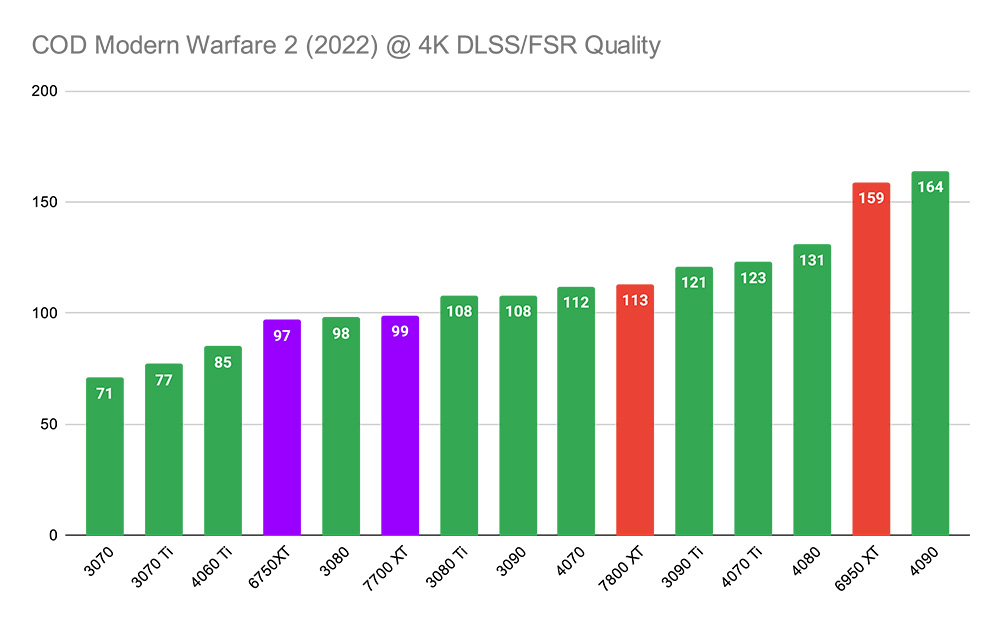 Overwatch 2 @ 4K
Our final benchmark was Overwatch 2, in which we ran the game at 4K ultra settings. Admittedly, in this benchmark, frames were a little bit lower, with the RTX 4070 Ti only offering up around 145FPS on average. This is perfectly fine for most consumers and will be enough to enjoy smooth gameplay, but we were expecting better framerates in this game, considering there are a few other GPUs that offer stronger performance despite being considerably cheaper.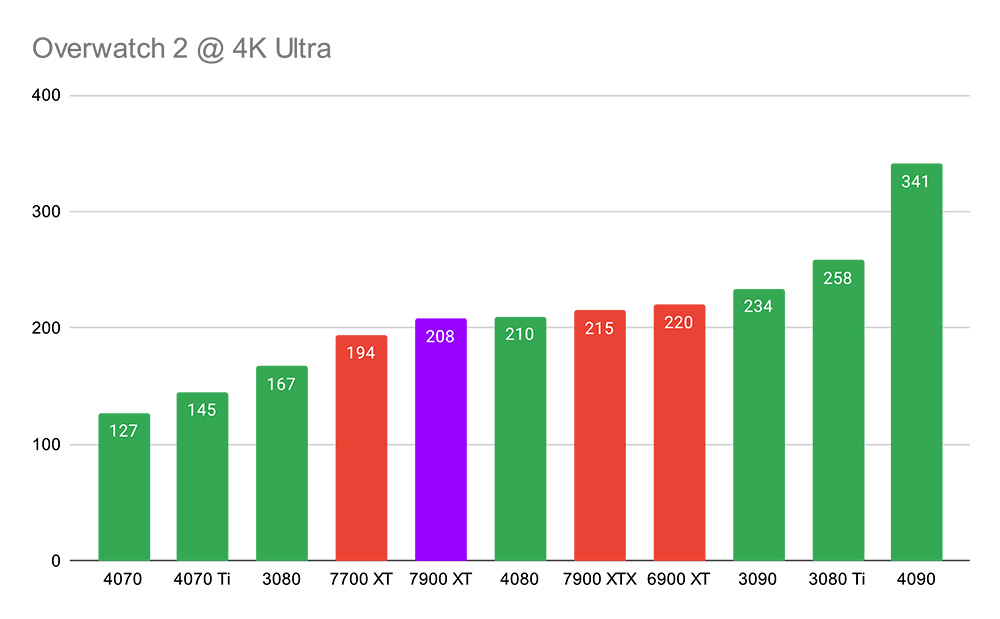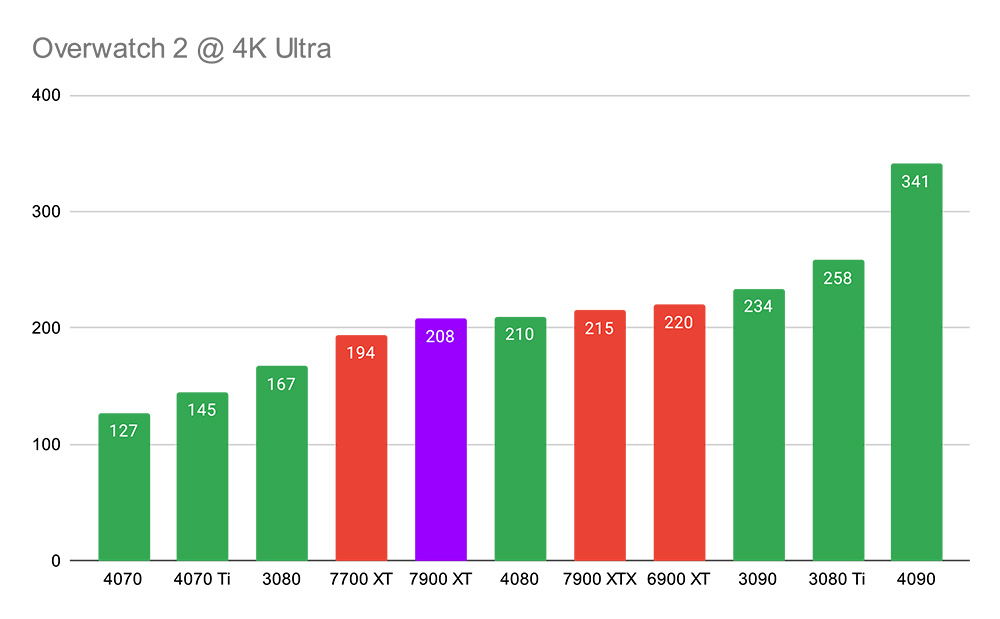 Frequently Asked Questions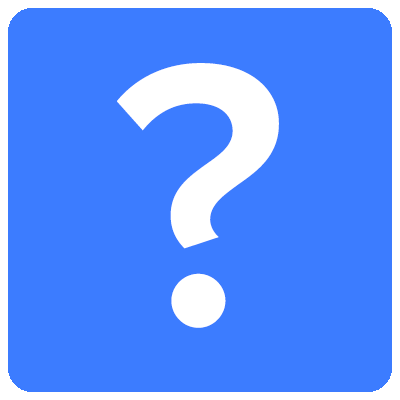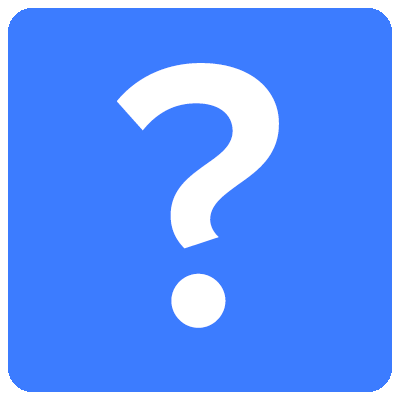 How Many Cores Do You Need for Gaming?
As a general rule of thumb, games only tend to use one or two cores for gaming, so many consumers can get away with a system that has less cores overall. However, you'll need to be aware that your clock speed will be a big determiner for performance, alongside the strength of your GPU.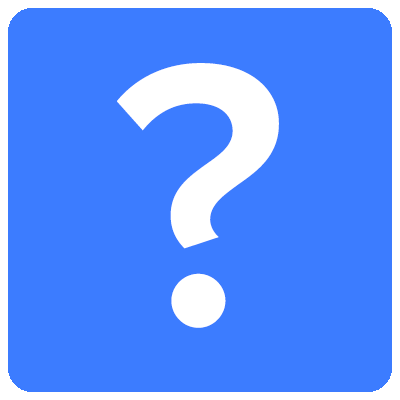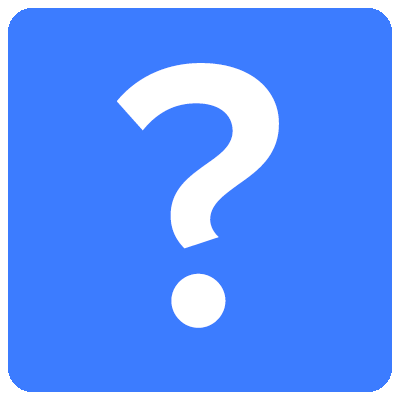 Are 13th-Gen CPUs Compatible with 12th-Gen Boards?
Intel 13th-Gen CPUs use the exact same socket that we saw with older 12th-Gen motherboards such as Z690, B660 and H670. This means you can easily install one of these new CPUs on your older board. This also works the same way around, for those interested in the Core i5 12600K, you can install this CPU straight into a 13th-Gen motherboard with the relevant BIOS.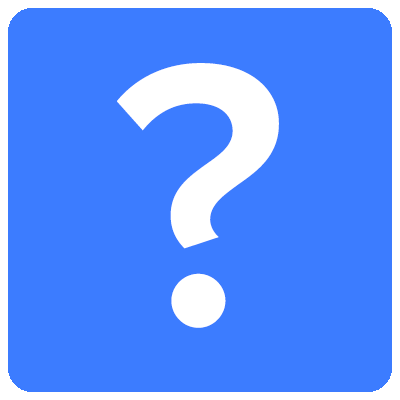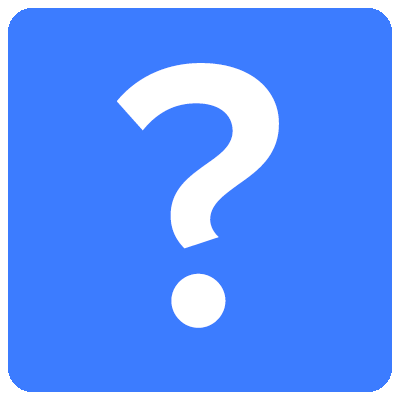 Does AMD Ryzen 7000 work with Ryzen 5000 Motherboards?
AMD Ryzen 7000 and 5000 use entirely different sockets. This means you'll need to pick up a relevant motherboard in order to install your CPU. We recommend checking out the compatibility table above for a clearer picture.