Introduction
When paying a lot of money for a high-performance gaming PC, you'll more than likely want to show off your PC build in order to appreciate the hard work that was put into it. The best way to do that is with a PC case that showcases the internals of the system with lots of glass panels.
So when NZXT's H9 Elite arrived at GeekaWhat HQ, we were pretty excited to see what it looks like with a premium gaming PC build inside of it. We've been able to test a lot of NZXT products in the past, but the H9 Elite has the potential to be one an instant fan-favourite.
In today's build, we'll be pairing the H9 Elite with a number of the latest components, including Nvidia's brand-new RTX 4070Ti and an Intel 13th-gen processor. As always, we'll be providing an extensive rundown of all the components used in this build, along with recommendations for accompanying peripherals and the all-important gaming benchmarks.
Suggested Article: How to Build a Small Form Factor RTX 4090 Gaming PC Build!
Main Components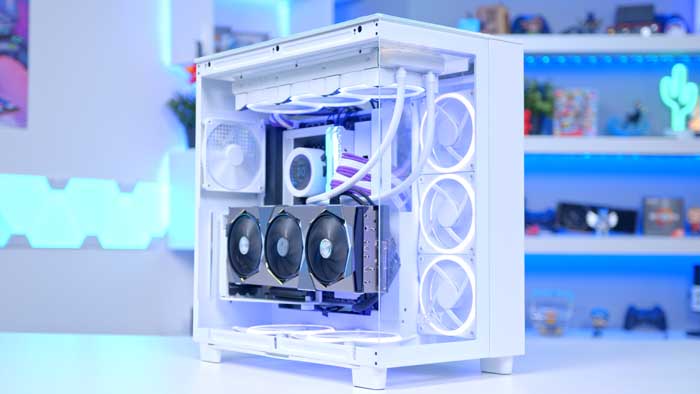 Case: NZXT H9 Elite
We're starting things off with the main attraction for this build, the NZXT H9 Elite. Recent years has seen a surge in popularity for cases with large glass windows. And whilst a lot of this popularity can be associated with the success of cases such as the Hyte Y60 and the Thermaltake Core P3 TG Pro, a lot of it is also down to the increasing trend of PCs becoming more of a display piece within the gaming community.
Key Facts: Form Factor: Mid-Tower // Fan Support: 10 x 120mm // Motherboard Support: mini-Itx, microATX, ATX
However, this gap in the market is still growing, which NZXT are looking to capitalise on with their latest PC Case. Although It's safe to say that the design of the H9 Elite design takes inspiration from others, this case adds the distinctive NZXT twist to the open display style.
In terms of features, this case does not disappoint. With the ability a total of ten 120mm fans at once, any system you put inside the H9 Elite won't struggle to achieve optimum airflow. Also, the top of the case includes a front IO with USB, USB-C, and audio ports, making it easier to connect peripherals and external devices when needed.
Buy the NZXT H9 Elite on: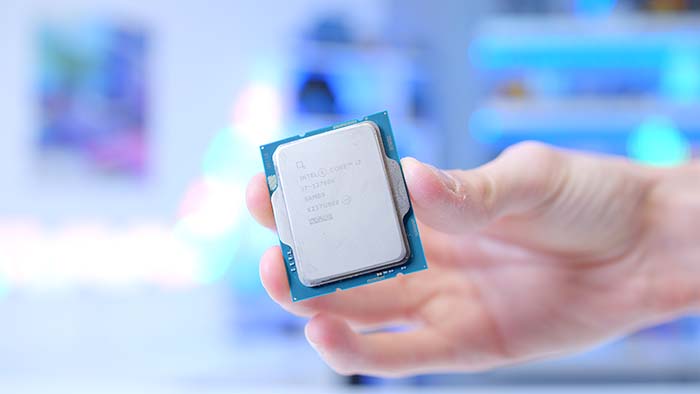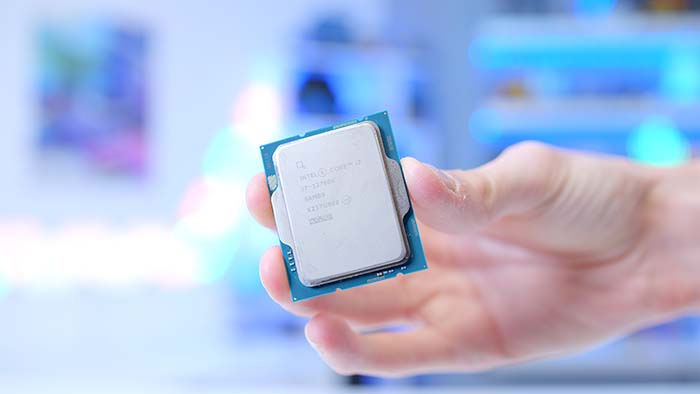 CPU: Intel Core i7 13700K
Since releasing in the back-end of 2022, Intel's 13th-gen has been the clear choice for anyone looking for the best processors on the market. There are plenty of Raptor Lake CPU's that perform well with our RTX 4070Ti graphics card, but we've opted for the Core i7 13700K. Pitched as the upper mid-range processor of Intel's 13th-gen line-up, the i7 13700K packs enough of a punch to handle all your gaming and productivity needs, and is available for a fairly reasonable price.
Key Facts: Base Clock Speed: 3.4GHz // Boost Clock Speed: 5.4GHz // Core Count: 16 // Thread Count: 24
When it comes to gaming performance, this CPU will have no issues playing all the latest games at 1440p, and is pretty comfortable with 4K titles as well. But that's not all, the 16 cores and 24 threads makes the i7 13700K a great choice for anyone wanting to use their system for a mixture of gaming and productivity. In addition, the boost clock speed of 5.4GHz means our build will be able to complete these tasks in a smooth manner.
Buy the Intel Core i7 13700K on: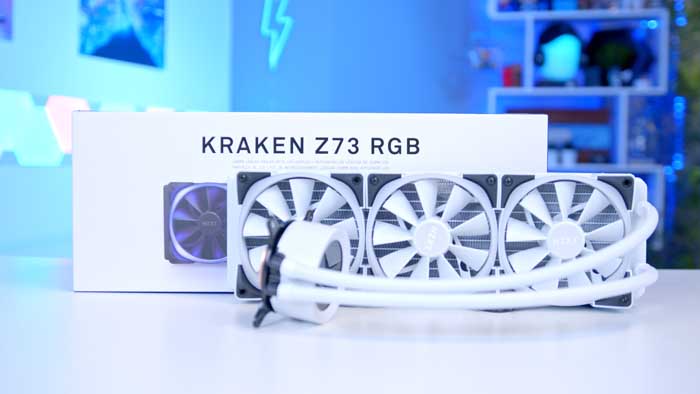 CPU Cooler: NZXT Kraken Z73 RGB
We're keeping the NZXT theme alive with our CPU cooler of choice, the NZXT Kraken Z73 RGB. This AIO cooler will fit perfectly with the design of H9 Elite case, as most NZXT products are extremely easy to connect with each other.
With the demanding components in this build, the 360mm radiator is going to be a life saver. Paired with the 3 included RGB fans, the Kraken Z73 RGB will provide our system with plenty of airflow, reducing the risk of your CPU running hot.
Key Facts: Radiator Size: 360mm // Included Fans: 3 // RGB: Yes
On top of this, the Kraken Z73 RGB is compatible with the NZXT CAM software. Installing this software onto a system will allow you to monitor and alter the performance settings of this cooler, as well as unlocking the ability to customise lighting effects on the RGB fans. And due to the amount of NZXT products featured in this build, this software will be an extremely useful addition.
Buy the NZXT Kraken Z73 on: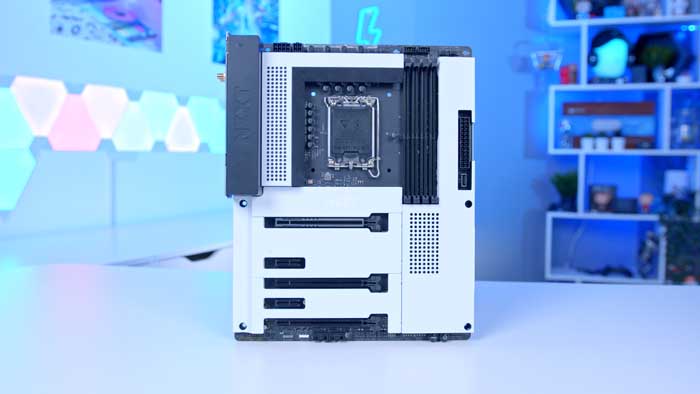 Motherboard: NZXT N7 Z690
Yet another NZXT product has made it into this build with our motherboard of choice, the N7 Z690. Whilst this chipset has now been surpassed by the arrival of Z790 motherboards, the Z690 chipset still provides this build with the connections needed to make the most of the extravagant H9 Elite case. And whilst there are a lot of great Z690 motherboards to choose from, the N7 Z690 was a no-brainer for this build. This board will fit into the case so seamlessly that it almost merges into the background.
Key Facts: Form Factor: ATX // Built-in IO Shield: Yes // Max Memory: 128GB
In terms of connectivity, this motherboard fits a lot into its ATX form-factor. For example, the N7 Z790 supports dual-channel DDR5 memory, providing the best speeds and load times available right now. The rear IO has a wide range of connectivity ports for peripherals and external devices too, including 7 USB ports and a USB-C port.
Like the Kraken Z73 cooler, this motherboard is NZXT CAM enabled, which will unlock more performance settings and customisation options for this build.
Buy the NZXT N7 Z790 on: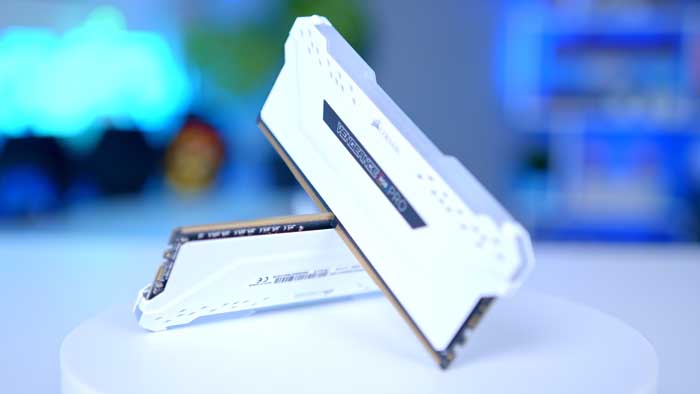 RAM: Corsair Vengeance Pro RGB DDR4 32GB
Moving onto the memory for this build, we've opted for the RGB edition of the Corsair Vengeance Pro DDR4. Whilst the Z790 motherboard in this build does support DDR5 memory, we've opted for the cheaper DDR4 option due to the performance benefits from DDR5 DIMMs not being worth the upgrade as things stand.
This 32GB kit has a clock speed of 3200MHz, which will help our system to run games smoothly and reduce the amount of time waiting around in lobbies and loading screens.
Key Facts: Capacity: 32GB // Clock Speed: 3200MHz // CAS Latency: 16-18-18-36
We've used Corsair's Vengeance RAM in a number of previous PC builds, and we've found it to be a reliable option that looks and performs well in any setting. The overall design of this memory looks clean and pleasing to the eye, with the RGB strips on the top of the DIMMs being a particular highlight. And with Corsair's iCUE software, this lighting can be customised to match the rest of your setup.
Buy the Corsair Vengeance RGB DDR4 32GB on: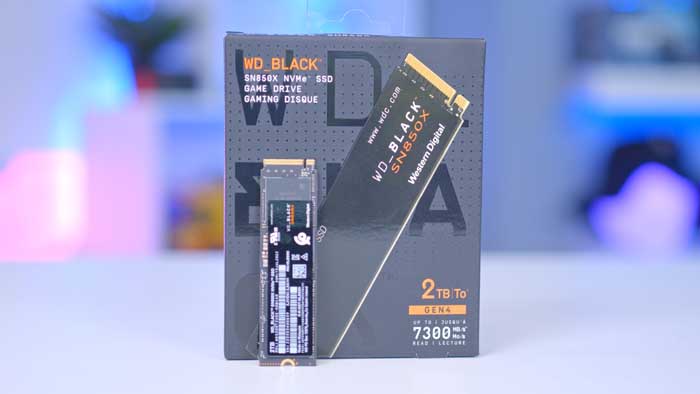 SSD: WD Black SN850X 2TB
With the amount of powerful components packed into this build, it makes sense to include plenty of storage that is capable of keeping up in terms of performance. That's why we've gone for the 2TB model of WD Black's SN850X. As a PCIe gen 4 SSD, the SN850X offers enough firepower to match the speeds from our internal storage, meaning there is no need to move games around in order to achieve optimal rendering and loading times.
Key Facts: Capacity: 2TB // Read Speeds: 7300MB/s // Write Speeds: 6600MB/s // Interface: PCIe Gen4 x4
With read speeds over 7GB/s and write speeds of 6.6GB/s, this M.2 storage will offer a smooth gameplay experience in all the latest titles. In addition, the 2TB capacity has enough room to store a large library of games, along with other important documents and media files. As far as storage options go, the SN850X is one of the best SSDs on the market right now.
Buy the WD Black SN850X 2TB on: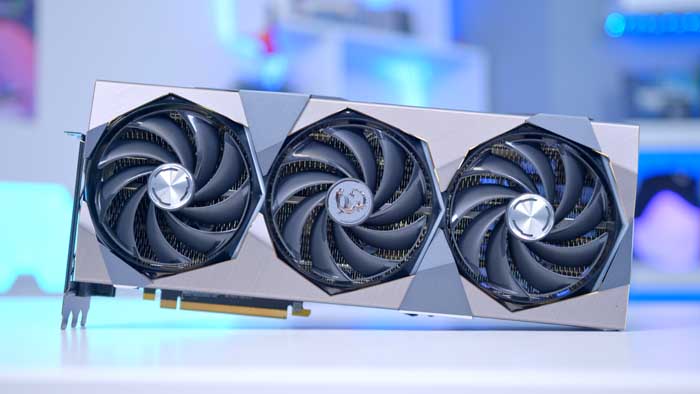 GPU: MSI Suprim X RTX 4070Ti
Our graphics card of choice for this build is the MSI Suprim X RTX 4070Ti. Nvidia's newest addition to the RTX 4000 series of GPUs has received a mix reception from consumers since launching earlier this month. In a similar fashion to the previous entries in Nvidia's latest generation of GPUs, concerns were raised about the pricing in relation to performance, an issue that became more apparent with the release of AMD Radeon 7900 XTX.
Key Facts: CUDA Cores: 7680 // RT Cores: 60 // TDP: 285W
Though this criticism does feel justified, it doesn't mean there is not a gap for this card on the current market- even if that gap is a small one. When testing the benchmarks for the MSI Suprim X RTX 4070Ti in our full review, the performance of this SKU fluctuated between titles, generally sitting somewhere between the RTX 3090 and RTX 4080.
Design-wise, the Suprim X RTX 4070Ti has a rather striking silver design that looks great in our all-white build. To ensure the H9 Elite can fit the larger 4070Ti, and to display the sophisticated triple-fan design, we decided to vertically mount the GPU.
Buy the MSI Suprim X RTX 4070Ti on: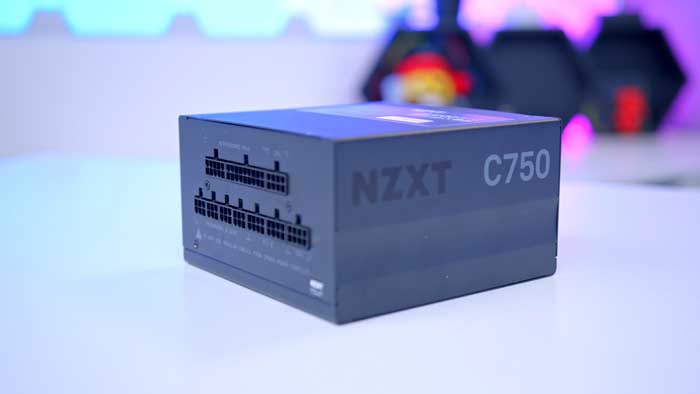 PSU: NZXT C750
Our final NZXT product to feature in this build is the power supply. The NZXT C750 contains 750 watts of power, which will be enough to keep the components in our build running with a reduced risk of overheating. On top of this, this PSU has an 80+ Gold efficiency rating, which means it will run in a quiet manner that lowers the amount of energy lost as heat.
Key Facts: Wattage: 750W // Modular: Fully // Efficiency: 80+ Gold
Connectivity-wise, the C750 is fully modular, which provides more flexibility when connecting components up to the power supply. This has become an important feature adopted by most power supplies, as it improves cable management capabilities while making it much easier to removed damaged or unnecessary cables.
Buy the NZXT C750 on:
White Peripherals
Now that we've provided details on all of the components within the gaming PC itself, it's time to recommend some peripherals to go alongside it. Due to the all-white appearance of this build, we've decided to suggest a white mouse, keyboard, and headset that are all perfect for gaming at the highest level.
Corsair M65 RGB Elite White RGB Gaming Mouse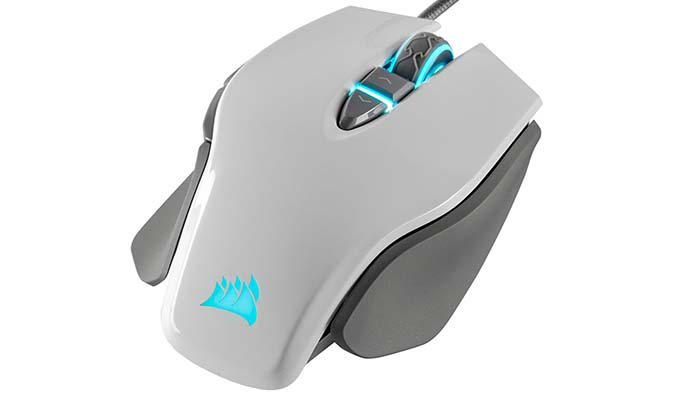 Corsair have a wide range of gaming peripherals to choose from, but the M65 RGB Elite gaming mouse is amongst the best in terms of versatility. Featuring a 18K DPI Sensor, 8 fully programmable buttons, and onboard profile storage, the M65 RGB Elite has all the tools to aid you in a wide range of titles. However, the standout addition in this gaming mouse has to be the tuneable weights, which can be adjusted in order to suit personal preference, or the type of game you're playing.
Buy the Corsair M65 Elite White on:
NZXT Function miniTKL Gaming Keyboard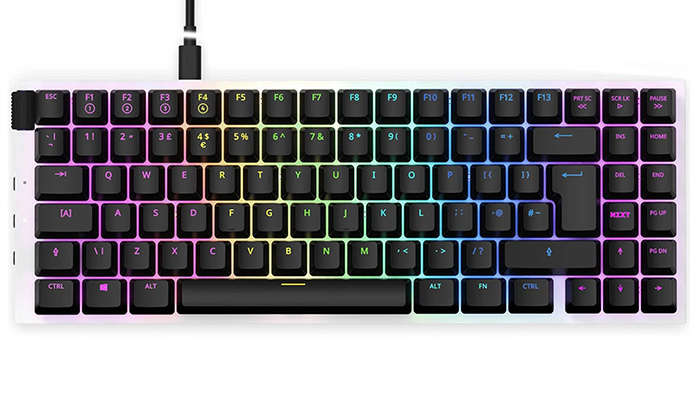 The best way to match our gaming keyboard with the components in this build is with a NZXT-branded keyboard. Because of this, we suggest picking up the NZXT Function miniTKL. This wired 75% keyboard includes all the key inputs, whilst removing the numpad to create more space for mouse movements. And with NZXT CAM application, it will be easy to sync the lighting effects with the other NZXT products in this build.
If you would like to know more, check our in-depth review if the NZXT Function miniTKL.
Buy the NZXT Function miniTKL on:
Logitech G733 Wireless White Gaming Headset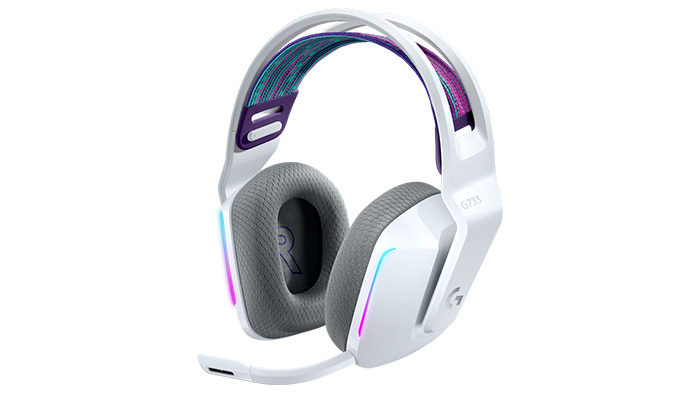 To round things off, we have the Logitech G733. Along with some stellar 40mm audio drivers, this wireless gaming headset has a very comfortable and lightweight design. The soft headband and memory foam earcups makes it easy to play game with this headset for hours, and the lightweight feel reduces fatigue. Equipped with Logitech's LIGHTSPEED technology, the G733 provides at least 29 hours of low-latency communication.
Want to find out more? Have a look at our full review of the Logitech G733 Wireless.
Buy the Logitech G733 on:
Benchmarks
With all the details for the components and suggested peripherals fleshed out, it's time for the all-important benchmarks. We tested the RTX 4070Ti against a range of graphics cards from both Nvidia and AMD in a number of the latest titles at 4K to see where it lies on a larger scale. If you want to check out our benchmarking runs in full, check out our YouTube Channel – 'Benched'.
Our results for Nvidia's latest release was a bit of a mixed bag, with the frame rates for the RTX 4070Ti lacking consistency when compared to the alternatives. In titles such as GTA V, the 4070Ti sits where we would expect it to, between the RTX 3090Ti and the RTX 4080. But in other titles, the 4070Ti struggled to maintain its position, falling behind the top-tier cards from the previous generation of Nvidia and AMD GPUs.
If you want some more in-depth analysis on the SKU used in this particular build, check our full review of the MSI GeForce RTX 4070Ti Suprim X.
[smartslider3 slider="63″]
Gallery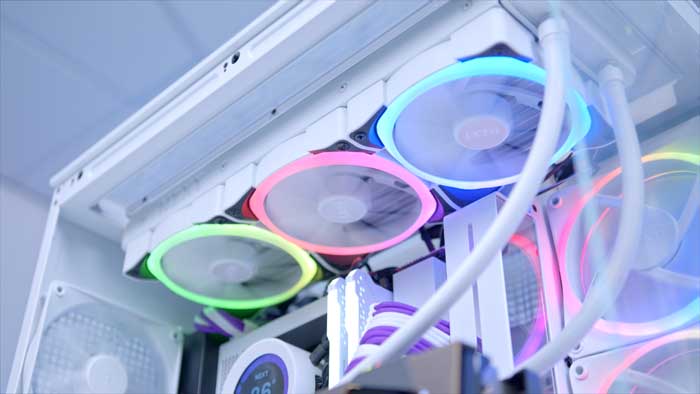 Video