Introduction
As brands and manufacturers continue to slim down their components, compact gaming PCs are becoming more popular than ever, especially within the high-end market. Whilst smaller designs are often associated with budget or mid-range systems, the options are slowly expanding for gamers that want the best gaming experience possible without the heavy toll on desk real-estate.
Whilst there are still some restrictions that come with reducing the size of a 4K gaming rig, there a plenty of avenues to go down when building a compact gaming PC that punches above its weight.
Suggested Article: The Best Radeon RX 7900 XTX Gaming PC You Can Build Right Now!
But what parts offer the best performance without any issues when fitted into a smaller chassis? And what factors should your consider when configuring a gaming PC that offers the best of both worlds. In this PC build guide, we'll be listing all the parts required to put together a compact gaming PC that offers stellar 4K gaming performance in all the latest titles.
Performance Preview

1440p, High Settings
Avg: 288FPS
Preset: High
V-Sync: Off
Anti Aliasing: TSAA
Texture Filtering: 8x
Ambient Occlusion: High
Volumetric Lighting: High
Dynamic Shadows: Enabled
Model Detail: High



1080p, Comp. Settings
Avg: 324FPS
Preset: Low
V-Sync: Off
Render Distance: Far
TSR: Off
Global Illumination: Off
Ray Tracing: Off
Effects: Low
Post Processing: Low



4K, High Settings
Avg: 178FPS
Preset: High V-Sync: Off DLSS: Performance Textures: High Particle Quality: High Tessellation: Near Shaders: High

4K, High Settings
Avg: 142FPS
Preset: High V-Sync: Off DLSS: Performance Textures: High Particle Quality: High Tessellation: Near Shaders: High
Main Components
Case: Corsair 2000D RGB Airflow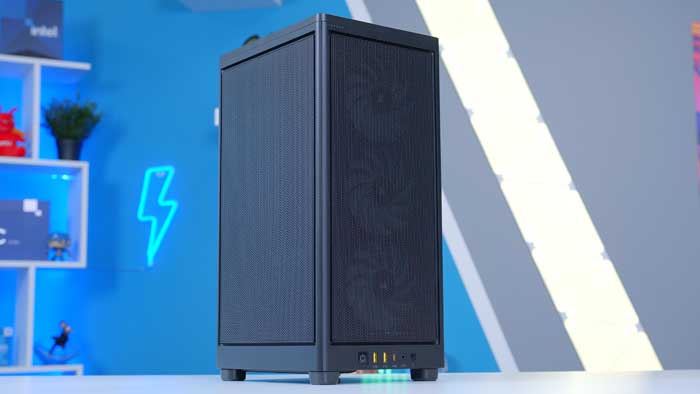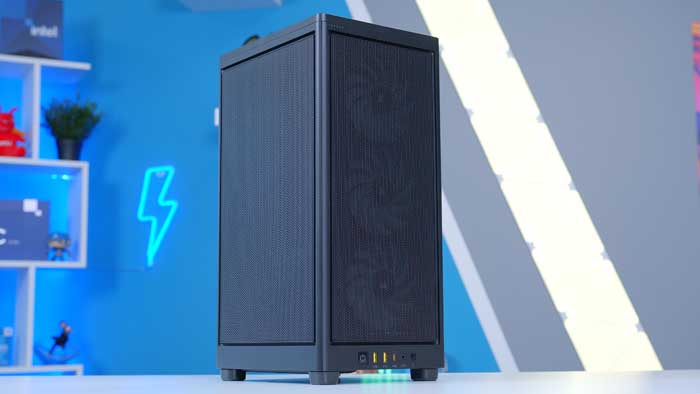 When putting together a PC build that makes size a priority, it makes sense to start with the case, as this will dictate what components can be selected for the rest of the build. For this system, we've gone with Corsair's brand-new 2000D Airflow, a mini-tower design that aims to eliminates any concerns with cooling that often come when putting a compact system together. It seems like a no-brainer to put a focus on airflow when dealing with a smaller chassis, but this case is surprisingly one of the few options on the market to take this approach.
To optimise the cooling capabilities further, this case comes with 3 pre-installed AF120 RGB fans, with support for another 3 x 120mm fans, and is covered with mesh panels. Despite the mini-ITX form factor, this case includes enough support for high-end components, with GPUs being a particular focus. As a result, gamers will have no problems cramming a RTX 4000 or Radeon 7000 graphics card into this chassis.
Key Specs
| Key Specs | Corsair 2000D Airflow |
| --- | --- |
| Form Factor | Mini-ITX |
| Fan Support | 6 x 120mm, 2 x 140mm |
| Motherboard Support | Micro-ATX, Mini-ITX |
| Max GPU Length | 365mm |
| CPU Cooler Clearance | 90mm |
Things We Like
Compact design: The mini-ITX design of this case means your gaming PC will take up less desk space, clearing up more room for gaming peripherals and monitors.
Plenty of airflow: With mesh panels around the exterior and plenty of support for fans and radiators, the 2000D RGB Airflow has all the tools needed to ease any concerns with airflow for gamers might have when placing power-hungry components into a smaller case.
Things We Don't Like
Component restrictions: Like any mini-tower PC case, the 2000D RGB Airflow struggles to support a broad scope of components, limiting the amount of parts to choose from. PSUs are affected the most, as this can can only hold SFX designs, which are pretty scarce compared to the typical ATX form factor.
Lack of aesthetic: Whilst the RGB fans that can be customised via Corsair's iCUE software are a nice touch, the overall look of this case leaves a lot to be desired. The mesh-heavy design lacks the standout design features needed to appeal to gamers, and wouldn't look out of place in an office.
Want to learn more about this PC case? Check out our full Corsair 2000D RGB Airflow Review.
Where to Buy
Buy the Corsair 2000D RGB Airflow on:
CPU: AMD Ryzen 7 7800X3D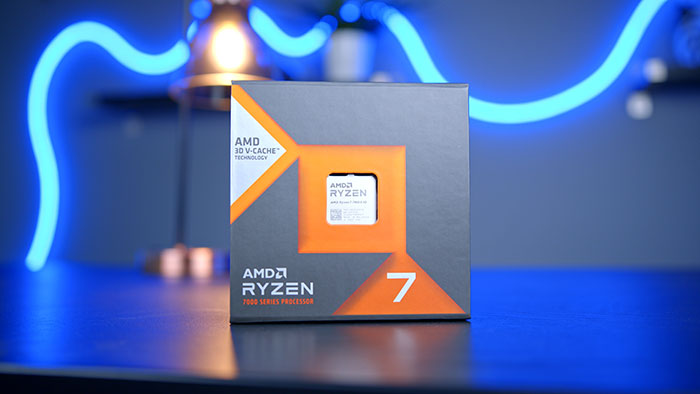 So now that we have a canvas to build upon, it's time to fill it with the best gaming components possible. Starting off strong with our CPU, we have picked out AMD's Ryzen 7 7800X3D, as it simply offers the best value for high-end gamers. This CPU is one of the later additions to AMD's Ryzen 7000 series, and takes advantage of the 3D V-Cache technology that was first introduced during the Ryzen 5000 series. These variants are equipped with enhanced gaming performance thanks to the additional layer of L3 cache, which allows the processor to read tasks much faster.
In terms of performance, these improvements opens up the possibilities for greater framerates, even in the most demanding titles, resulting in smooth and responsive gaming at 4K and 1440p. What makes this even better is that the 7800X3D remains competitively priced with other CPUs that sit in the same performance tier, making it great value for money.
Key Specs
| Key Spec | AMD Ryzen 7 7800X3D |
| --- | --- |
| Base Clock Speed | 4.2GHz |
| Boost Clock Speed | 5GHz |
| Core Count | 8 |
| Thread Count | 16 |
| Max Turbo Power | 253W |
| Overclockable | Yes |
Things We Like
Great for 4K gaming: For gamers looking to elevate performance at higher resolutions, it's hard to overlook the 7800X3D, or any other 3D variant for that matter. The additional L3 cache layers results in higher framerates and less technical issues in even the most demanding titles.
Competitive pricing: Even though this CPU is an enhanced version of the original Ryzen 7000 processors, the 7800X3D isn't attached with a significantly increased price tag compared to its performance-based counterparts. Because of this, the 7800X3D a great choice for those wanting the best bang for their buck.
Things We Don't Like
Less than ideal for workstations: As this CPU puts such a heavy focus on gaming performance, the multi-threaded performance is somewhat pushed to the side. As a result, this CPU is less than ideal in productivity-based scenarios.
Difficult to pick up: As for a lot of AMD's products, the Ryzen 7 7800X3D can be quite difficult to find, as availability is fairly inconsistent. In order to get your hands on the 7800X3D, gamers will have to be prepared to wait patiently for it to be restocked.
Where to Buy
Buy the AMD Ryzen 7 7800X3D on:
CPU Cooler: Corsair H150i Elite LCD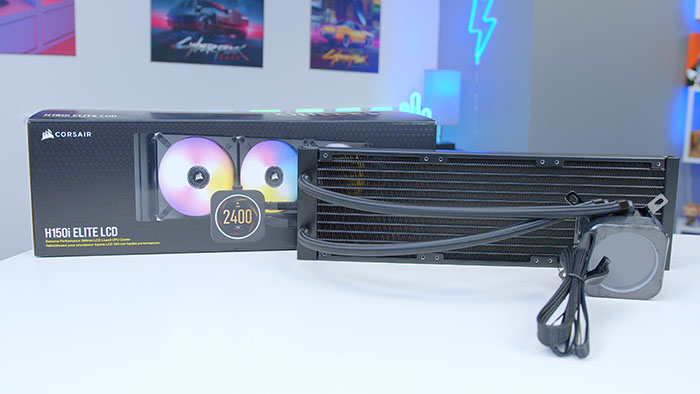 To keep our CPU nice and cool, whilst also giving our compact system the best chance at achieving optimal airflow, our cooling solution of choice is another product from Corsair, the H150i Elite LCD. Rather surprisingly, this 360mm AIO liquid CPU cooler fits into the 2000D RGB Airflow without any issues. In addition, the H150i Elite LCD synchs up nicely with the RGB fans included with the case, allowing the lighting effects to remain consistent throughout the design and monitor settings from a single software.
On top of the strong connectivity with other Corsair products featured in this build, the triple-fan layout will drastically increase the airflow efficiency within our build, allowing the high-end components to deal with heavier loads without causing temperatures to soar. This will be important in this particular scenario, as the lack of clearance could lead to disaster if components are not supported with sufficient airflow.
Key Specs
| Key Specs | Corsair H150i Elite LCD |
| --- | --- |
| Fans Included | 3 |
| Max RPM | 2000 |
| Connector Type | 4-Pin PWM |
| RGB | Yes |
| Size | 360 x 25 x 155 mm |
Things We Like
Great for thermal regulation: As a 360mm liquid cooler with powerful cooling capabilities, the H150i Elite LCD is an ideal cooling solution to combat the increased dangers that can be brought on by mini-ITX gaming PCs.
Corsair iCUE compatible: To capitalise on the bright array of colours on the included RGB fans, this cooler can be customised with Corsair's iCUE software. With the PC case also being iCUE compatible, gamers can easily synchronise lighting effects and settings for increased uniformity within a setup.
Things We Don't Like
LCD display is hidden by case: One of the biggest selling points of this design over other CPU coolers on the market is the custom LCD display. Unfortunately, the case of choice for this build will block the display, which means consumers won't be able to take advantage of this premium feature.
Difficult to install: Whilst cramming any CPU cooler into a smaller case often makes the installation process tricky, the increased size and complexity of this design causes more complications. Therefore, we wouldn't recommend this case and cooling combination for gamers without prior PC building experience.
Where to Buy
Buy the Corsair H150i Elite LCD on:
Motherboard: ASUS ROG Strix X670E-I Gaming WiFi
For the brains of this operation, we've picked out the ASUS ROG Strix X670E-I Gaming as our motherboard of choice. Whilst the selection pool was fairly limited given the compact nature of this system, this motherboard won't struggle to fulfil the requirements of most high-end gamers. As an AM5 platform, X670E motherboards focus on providing ample support for the best performing components available. Whilst this does limit consumers from picking more cost-effective options such as DDR4 memory, this shouldn't be an issue for builds like this one.
In terms of connectivity, the Strix X670E-I Gaming WiFi includes a PCI-E 5.0 slot for both graphics cards and M.2 storage, allowing users to experience the best performance possible from these components for years to come. Additionally, this design includes Bluetooth and WiFi for increased versatility when trying to connect gaming peripherals or log in to online gaming platforms.
Key Specs
| Key Specs | ASUS ROG Strix X670E-I Gaming |
| --- | --- |
| Form Factor | Mini-ITX |
| Max Memory | 64GB DDR5 6400MHz |
| PCI-E x16 Slots | 1 x PCI-E 5.0 |
| PCI-E x4 Slots | 1 x PCI-E 5.0, 1 x PCI-E 4.0 |
| Rear IO | 2x USB4 Type-C, 5x USB 3.2 Gen2, 3x USB 2.0 |
| Networking | 2.5 Gigabit LAN, WiFi 6E |
Things We Like
Versatile connectivity: Despite being restricted to some extent by its mini-ITX form factor, this motherboard does well to offer all the necessary connections needed to build a high-end gaming rig packed with the latest components.
Designed to last: With multiple PCI-E 5.0 slots and a focus on DDR5 memory, this board will have no problems supporting the latest components for the foreseeable future, as it is equipped to support both current and future generations of each component.
Things We Don't Like
Lack of additional connectivity options: This motherboard does well to provide the consumers with the best connectivity possible, the reduced form factor remains limited compared to the conventional ATX form factors.
Pricey for a motherboard: Whilst the lack of mini-ITX designs with a similar quality of connectivity does help to justify the increase price attached to this motherboard, the pricing is still very steep compared to the average amount most gamers would be willing to spend, especially when restrictions are in place.
Read our in-depth review of the ASUS ROG Strix X670E-I Gaming WiFi
Where to Buy
Buy the ASUS ROG Strix X670E-I Gaming WiFi on:
RAM: Patriot Viper Xtreme 5 32GB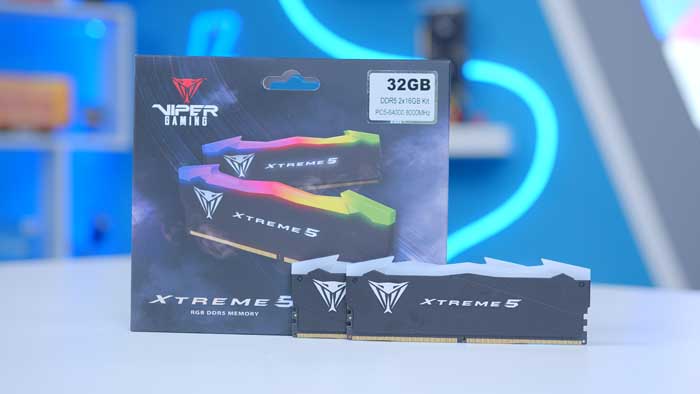 Moving onto the memory for this build, and something that may come as a bit of a shock to long-term readers, we've decided to go with Patriot's Viper Xtreme 5 RAM instead of our trusted Corsair Vengeance kits. Whilst one of Corsair's DDR5 RAM kits would have worked great in this build for synergy purposes, we couldn't say no to the blend of appearance and performance provided by Patriot's flagship memory. Following the trends of most premium RAM on the market, this kit includes an RGB lightbar that is intricately designed to stand out within a gaming system.
But what makes this option truly stand out amongst the competition is the trailblazing speeds that leave most the alternatives in the dust. With a whopping 8000MHz transfer speeds, gamers utilising this RAM can look forward to almost instantaneous load times, as well as less rendering issues for a more immersive gaming experience.
Key Specs
| Key Specs | Patriot Viper Xtreme 5 |
| --- | --- |
| Kit Capacity | 32GB |
| Memory Speed | 8000MHz |
| CAS Latency | CL38 |
| RGB | Yes |
| Colour Options | Black |
Things We Like
Lightning-fast performance: Simply put, the 8000MHz speeds available on this RAM is the best that money can buy at the time of writing. Therefore, any gamers that want access to the snappiest gameplay possible will want to pick up this kit
Strong thermals: Despite pushing the boundaries of speed within a modern gaming PC, this kit remains fairly cool under pressure. Because of this, the Viper Xtreme 5 is a strong option for this build considering the airflow concerns that come with the reduced form factor.
Things We Don't Like
Very expensive: In general, the price of DDR5 memory has significantly dropped, to a point where it seriously competes with the value of DDR4 kits. However, this kit is late to the party, as it still comes with quite the hefty price tag.
Design is slightly obstructed: In a similar fashion to the CPU cooler, the intricate design on this memory is somewhat wasted in this build due to the restricted visibility inside of the Corsair 2000D RGB Airflow.
Where to Buy
Buy the Patriot Viper Xtreme 5 on:
SSD: Corsair MP600 GS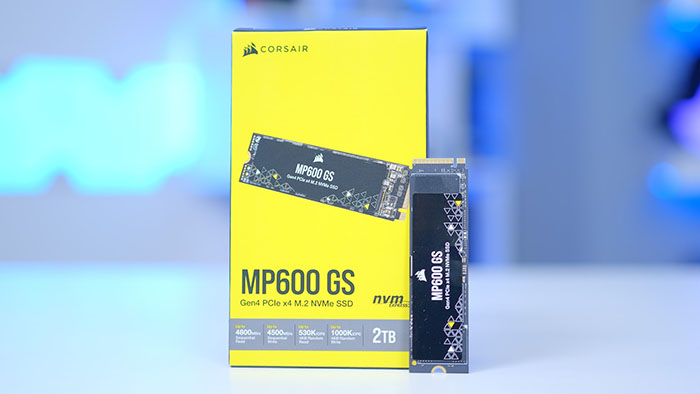 As for performance, the 4.8GB/s read and 4.5GB/s will be able to keep up with the CPU and RAM in this build. Whilst it isn't the fastest SSD on the market, it will be able run the latest titles in an efficient manner while keeping the costs fairly affordable. This makes the MP600 GS a great option for high-end gamers looking to allocate more of their budget towards other components.
Key Specs
| Key Specs | Corsair MP600 GS |
| --- | --- |
| Capacity | 2TB |
| Read Speeds | 4800MB/s |
| Write Speeds | 4500MB/s |
| Interface | PCI-E Gen4 x4 |
| Form Factor | M.2 2280 |
Things We Like
Lots of storage: The version of the MP600 GS that we've opted for in this build comes with 2TB of storage, making it an ideal choice for gamers with an expansive gaming library. However, anyone that only plays a handful of games can pick up a 1TB version for a reduced price.
Affordable price point: Most Gen4 drives have dropped in price over the past few months, but the MP600 GS remains as one of the cheapest options available for consumers looking to pick up the fast storage.
Things We Don't Like
Faster options available: Whilst the MP600 GS is fast enough to reduce the time waiting in loading screens, but gamers wanting the best performance possible may want to splash out on a faster Gen4 M.2 drive.
Slightly reduced longevity: Currently, we're confident that Gen4 SSDs are still the sensible choice for most consumers. But before investing in a top-tier Gen4 drive, high-end gamers should be aware that Gen5 SSDs are slowly making their way onto the market, as these SSDs are bound to increase the performance and longevity of a premium build.
Where to Buy
Buy the Corsair MP600 GS on:
GPU: Powercolor Hellhound RX 7900 XTX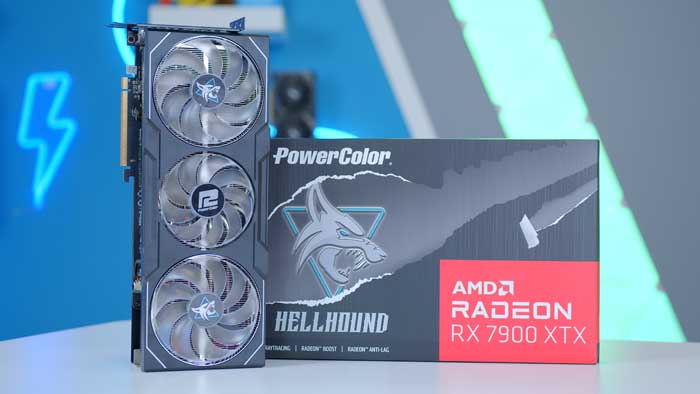 Powercolor's Hellhound SKU offers similar performance to the reference model, meaning gamers can expect high framerates in most titles with 4K max settings. However, this design does alter the aesthetics to include RGB fans and a less shrouded frame to improve thermal regulation, all for a price that is as close to MSRP as possible.
Key Specs
| Key Specs | Powercolor Hellhound RX 7900 XTX |
| --- | --- |
| Base Clock Speed | 2.33GHz |
| Boost Clock Speed | 2.52GHz |
| Stream Processors | 6144 |
| Ray Accelerators | 96 |
| TDP | 355W |
Things We Like
Excellent 4K Gaming: This graphics card will have no issues running games at 4K with competitive framerates, making it a strong choice within any high-end gaming PC.
Plenty of case clearance: Given that the RX 7900 XTX is significantly smaller than Nvidia's high-end alternatives, this GPU acts as the safest bet to slot into our more compact chassis without experiencing technical difficulties once up and running.
Things We Don't Like
Quite expensive: Even though gamers building a system of this calibre will be expected to pay a large sum for a graphics card, the RX 7900 XTX is one of the most expensive cards on the market, making it less than ideal for consumers on a tight budget.
Where to Buy
Buy the Powercolor Hellhound RX 7900 XTX on:
PSU: Corsair SF1000L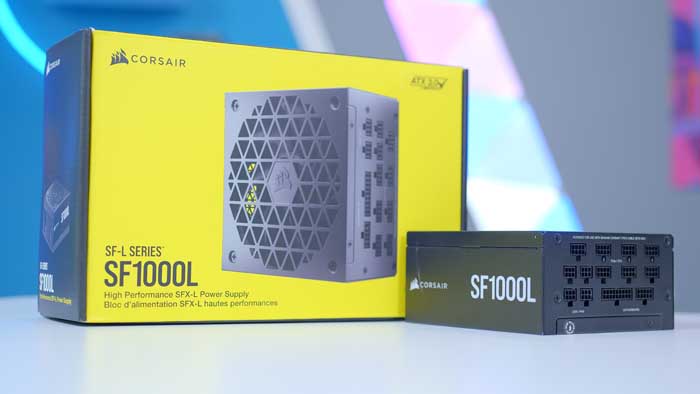 To wrap up our components, we have the Corsair SF1000L to power our system. With the PSU choices for the case used in this build being restricted to SFX designs, the options that can power this system are less varied than most. Luckily, the SF1000L has all the features needed to accommodate a high-end system, despite its slimmer size. As a 1000W power supply, the SF1000L will have no issues supporting a high-end system while leaving some space for upgrades.
In addition, the 80+ Gold efficiency rating ensures that this PSU produces less heat or noise when placed under intense loads, which helps to keep the user experience stress-free. Another benefit for this particular build is that the design is fully modular, making it easier for connectors to navigate their way through the chassis and improving cable management.
Key Specs
| Key Spec | Corsair SF1000L |
| --- | --- |
| Wattage | 1000W |
| Efficiency Rating | 80+ Gold |
| Modularity | Fully modular |
| Form Factor | SFX-L |
| Zero Fan Mode | Yes |
Things We Like
Powerful and compact: Even though our case choice leaves the PSU's form factor out of our hands, the reduced size doesn't have a significant effect on the SF1000L's functionality, making it a great choice for any compact system.
Zero fan mode: Having the ability to switch off the fan when it's not required not only reduces the noise output of the power supply, but it also increases its lifespan, which is why we're happy to see it featured here.
Things We Don't Like
80+ efficiency rating: For most systems, a PSU that has been awarded an 80+ Gold efficiency rating is enough to be considered a reliable option. But when looking at high-end systems, an 80+ Platinum rating or higher is preferred in order to guarantee consistent and efficient output.
Expensive: Due to the scarcity of SFX power supplies, along with the expansive set of features included in this design, the SF1000L is a rather expensive PSU compared to the rest of the market. However, this shouldn't be an issue for anyone putting this system together.
Where to Buy
Buy the Corsair SF1000L on:
Corsair Gaming Peripherals
Because this build has a lot of Corsair products embedded throughout, it makes sense to pair it with some of their finest gaming peripherals. Because of this, all of our recommendations for a mouse, keyboard, and headset will be from Corsair, as this will improve the synergy of the gaming setup and streamline the customisation process in the iCUE software.
Corsair M65 RGB Ultra Wireless Mouse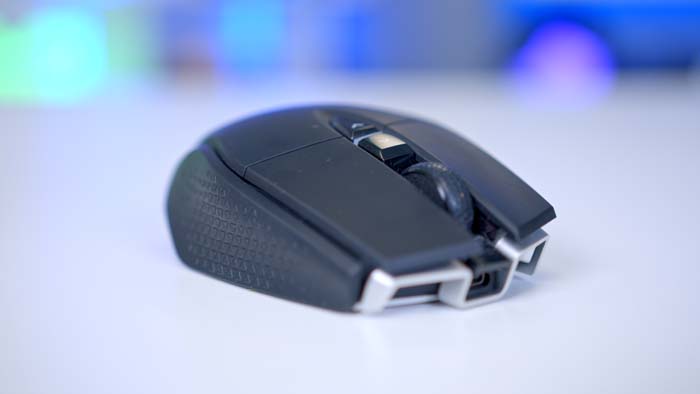 Looking through the range of Corsair's gaming mice, our favourite has to be the M65 RGB Ultra Wireless. This design is extremely versatile and offers a strong combination of performance and ergonomics. Equipped with a 26K DPI sensor and a 2.4GHz connection that can last for up to 90 hours on a single charge, providing gamers with precise and responsive movements. Plus, the M65 comes with tuneable weights, allowing gamers to tailor the design to suit their needs.
Buy the Corsair M65 RGB Ultra Wireless on:
Corsair K100 Air Wireless Keyboard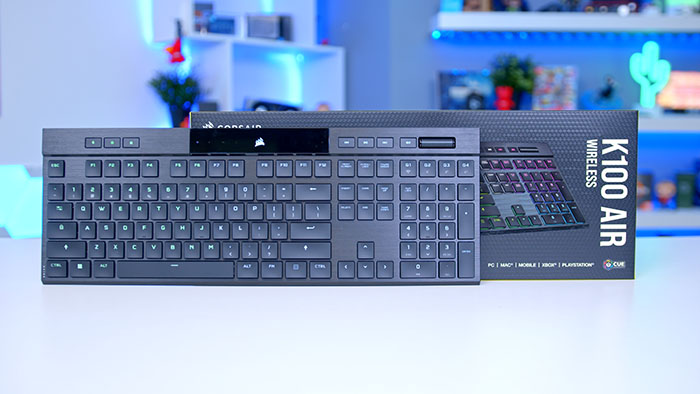 For the keyboard, we've pulled no punches by picking up the K100 Air. As the name suggests, this design is very slim and lightweight for a full-sized keyboard, but is made from quality materials and is packed with lots of multimedia shortcuts. As a result, the K100 Air is a great option for those wanting a gaming and productivity hybrid they can take on the road.
Want to learn more? Read our full Corsair K100 Air review.
Buy the Corsair K100 Air Wireless on:
Corsair HS65 Wireless Headset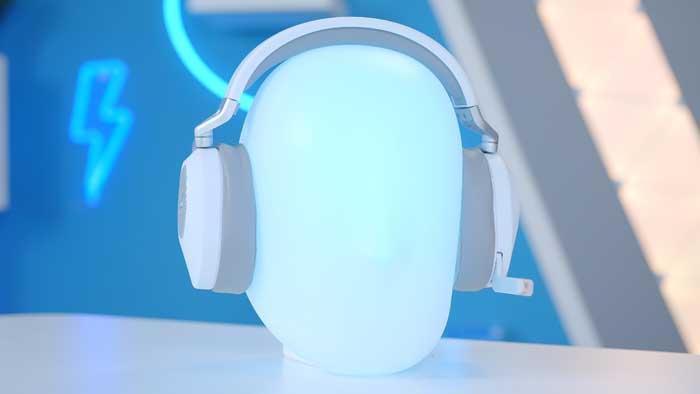 Rounding off the set of must-have gaming accessories, we have Corsair's HS65 Wireless. This wireless gaming headset uses soft-touch plastic and memory foam padding to stay comfortable and lightweight. But the main advantage of this headset is the integration of SoundID, which allows users to generate their own custom audio experience in a matter of minutes.
Check out our detailed review of the HS65 Wireless.
Buy the Corsair HS65 Wireless on:
Gaming Benchmarks
Now that we've gone through all of the parts for this build, as well as offer up recommendations on peripherals to go alongside it, we can now put this system through its paces in some all-important gaming benchmarks! To test this configuration as thoroughly as possible, we've booted a handful of popular games, with everything from competitive shooters like Fortnite, to blockbuster single-player narratives such as Spiderman Miles Morales.
The results presented us with the output we've come to expect from AMD's flagship graphics card, mainly sitting somewhere between Nvidia's RTX 4080 and RTX 4090. However, the RX 7900 XTX managed to outperform the RTX 4090 in titles such as Valorant and Apex Legends, which is pretty impressive when you consider the price points of each card.
In most titles, the RX 7900 XTX comfortably reaches 120FPS at 4K, which is enough to match the typical output available on most 4K gaming monitors and TVs. This means gamers should have no issues experiencing the latest titles in all their glory.
[smartslider3 slider="68″]
Gallery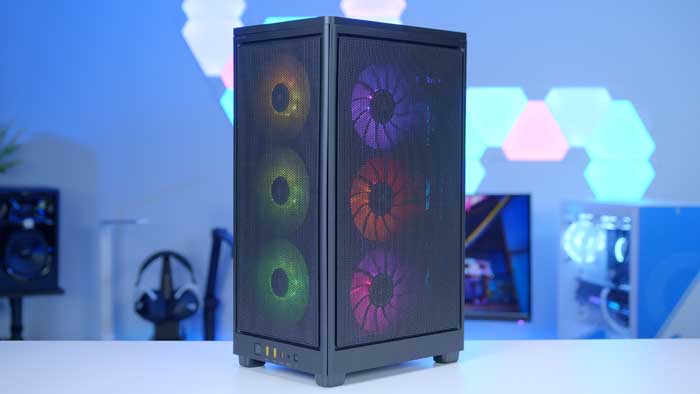 Video