Introduction
As PC building has become more mainstream we've seen manufacturers become more ambitious in their case designs. One area that has witnessed immense growth in the last few years is the small form factor (SFF) segment of the market. While some enthusiasts bid to build the largest PCs possible, others look to shrink their builds down in a bid to assemble the most compact rig.
With this in mind, just how do you go about the picking the best small form factor, Mini ITX case? Let's take a look at the criteria we use, and our favourite Mini ITX chassis out there!
Suggested Article: Cheap PC Cases vs Expensive PC Cases – What are the Differences?
What is the Mini-ITX Form Factor?
Those that are new to PC building scene might not be fully aware of the Mini-ITX form factor. Mini-ITX cases and motherboards are the smallest available on the market, and as such are often suited to enthusiast builders looking for a super-compact rig. Mini ITX designs are also often utilised by OEMs looking to produce compact systems for school or workplace environments. It is the most niche market of all form factors, and as such your choice of motherboards and cases here is more limited.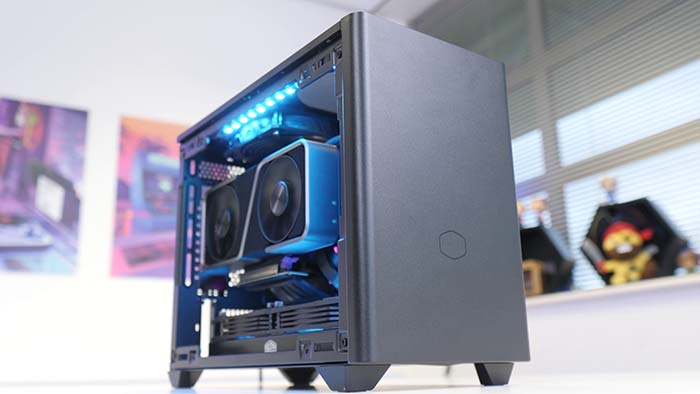 Mini ITX is great for those wanting to build a system that won't take over an entire desk, while retaining access for the user to mainstream high-end CPUs and GPUs. With this small form factor does come some compromises, with not enough physical space to include all of the features and mounting option a user would typically find in a case. With this in mind, selecting the right small form factor chassis is a process which should be approached with plenty of research. You will need to plan out all of the components in a SFF (small form factor) build beforehand, with planning of the utmost importance.
Manufactures have become more savvy with the Mini-ITX form factor over time, and as such it isn't unusual to see weird and wonderful ways of mounting the motherboard, GPU or radiators. In fact, be prepared for a more challenging build in a Mini ITX case, as the layout looks to eek the most efficiency possible from the space.
Despite the downsides, there are some very worthwhile benefits to owning a Mini-ITX case. Portability is one. If you travel a lot, having a portable setup can be useful. It saves you having to buy a gaming laptop, and allows you to play triple A titles while you're out and about. Alternatively, if you prefer a more minimalist setup with just a desk and some peripherals in view, Mini-ITX is likely the form-factor for you. You can stow a Mini-ITX case in a cupboard or underneath a desk with relative ease based on their smaller and compact size.
Mini-ITX Case Manufacturers
As the Mini-ITX form factor is slightly more niche than typical designs, and as such, you might not be aware of the manufacturers that produce them. For this reason, we've noted down some of the more prevalent ones in this particular space below.
Top 3 Mini-ITX Case Picks
Below are three of our favourite Mini-ITX cases. We've given them a GeekaWhat award based on their pricing, aesthetic options, and of course, features!
Best Budget Mini-ITX Case: Fractal Design Define Nano S Window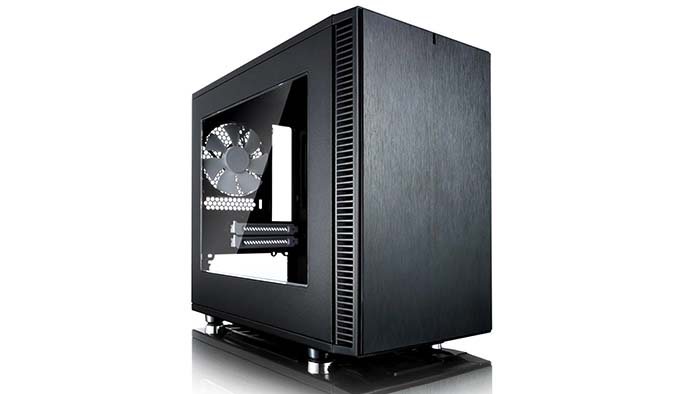 Pros
Cons
✅ Easy-to-use cable management.
✅ Support for large GPUs.
✅ Supports ATX PSUs.
❌ Front IO is only USB 3.0
❌ Window edition is more expensive.
Buy the Fractal Design Define Nano S Window on:
Best Upright Mini-ITX Case: Thermaltake The Tower 100 Mini Chassis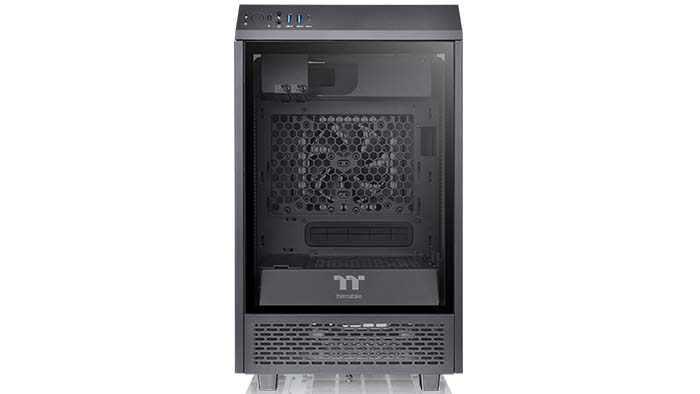 Pros
Cons
✅ Plenty of airflow vents.
✅ Excellent dust filtration.
✅ Front IO is very generous.
❌ Rear IO needs to be bottom mounted.
❌ Can only vertically mount components.
Buy the Thermaltake The Tower 100 Mini on:
Best Aesthetic Mini-ITX Case: Cooler Master MasterBox NR200P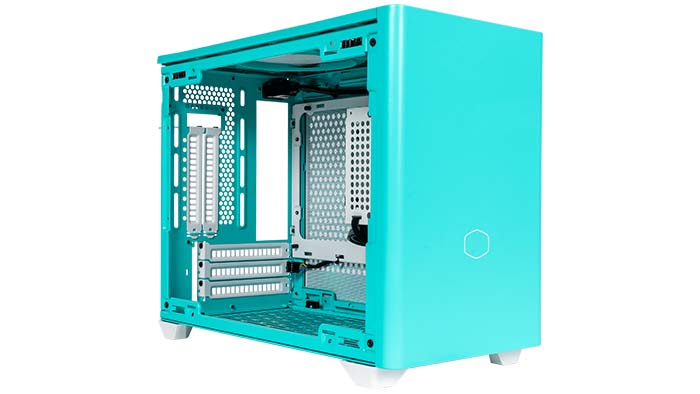 Pros
Cons
✅ Awesome colourway options.
✅ Quite spacious inside.
✅ Included vertical PCI-E riser cable.
❌ Only two USB ports.
❌ PCI-E riser is only Gen3.
Buy the MasterBox NR200P Colour Edition on:
Our Recommendations
1. Fractal Design Define Nano S Window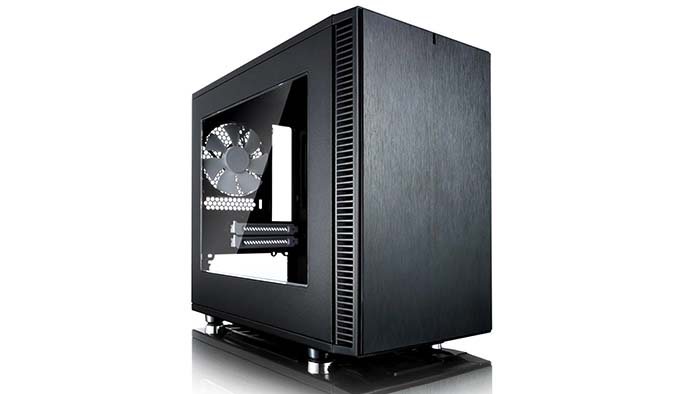 First off in our round-up is Fractal Design's Define Nano S Window. This Mini-ITX case sports a more minimalist 'metal box' design with a brushed metal look throughout the case. The side panel is tempered glass giving you a 'window' into your build (hence the name), which would be complimented well with some RGB components. In terms of support, despite this case being on the smaller side, you've got plenty of room for larger GPUs, such as an RTX 3000 series graphics card.
Key Facts:
Fan Support: 6x 120mm, 4x 140mm
CPU Cooler Support: 160mm
GPU Max Length: 315mm
PSU Support: 160mm (ATX)
Max GPU Thickness: 39mm
Buy the Fractal Design Define Nano S on:
2. Thermaltake The Tower 100 Mini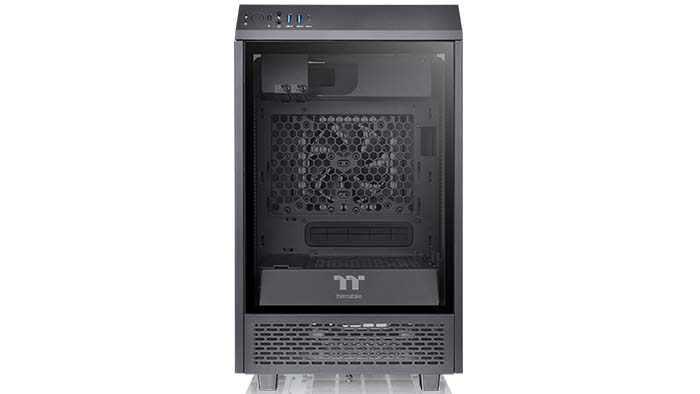 Thermaltake's 'The Tower' 100 Mini is our favourite vertical design, combining aesthetics and performance. Even though this case may look small, its feature set certainly is not. You've got plenty of front IO, with a USB 3.2 Gen2 port, two HD audio connectors, and two USB 3.0 ports. The Tower also has a unique ventilation design offering plenty of intake an exhaust so your build doesn't get super hot. A great all rounder, if a little large compared to some of the options on the list.
Key Facts:
Fan Support: 4x 120mm, 3x 140mm
CPU Cooler Support: 190mm
GPU Max Length: 330mm
PSU Support: Full-Sized ATX
Radiator Support: Top – 1x 120mm
Buy the Thermaltake The Tower 100 Mini on:
3. NZXT H210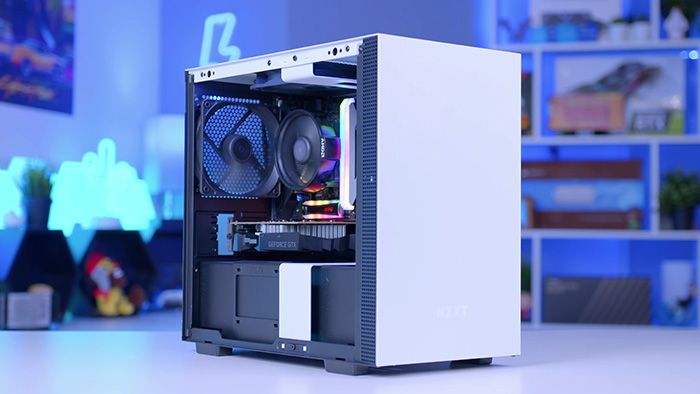 The NZXT H210 is an excellent Mini-ITX design, sporting the signature NZXT style. Internally, you'll find NZXTs renowned cable management bar, allowing you to easily cram your cables in and keep them hidden. In terms of fan support, this case has plenty of support for both 120mm and 140mm units while also allowing for compact radiator designs. The front IO is also quite rich with two high speed USB ports, with one of them being a USB 3.2 Gen2 Type-C port, and the other being USB 3.2 Gen1.
Key Facts:
Fan Support: 4x 120mm, 2x 140mm
CPU Cooler Support: 165mm
GPU Max Length: 325mm
PSU Support: Full-Sized ATX
Radiator Support: Front – 1x 240mm, Rear – 1x 120mm
Buy the NZXT H210 on:
4. Cooler Master NR200P Colour Edition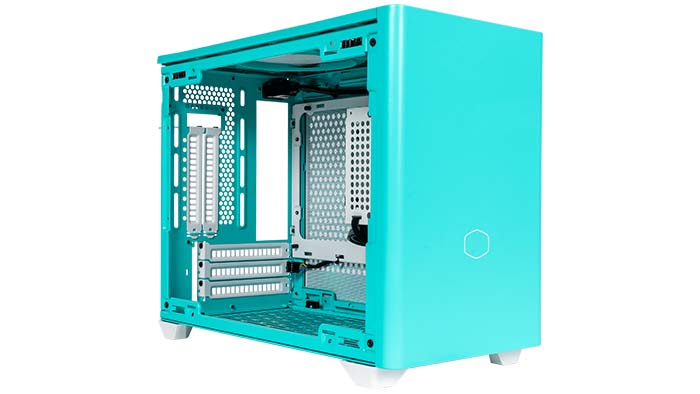 We've given Cooler Master's NR200P an award for its aesthetics in the past, back when we last built in this case. The various colour options allow you to pick and choose from a range of different aesthetics, while offering plenty of configurations for coolers, fans, and radiators. This case is an award winning design over a number of years and is a great option for those that want loads of design choices.
Key Facts:
Fan Support: 6x 120mm, 2x 140mm
CPU Cooler Support: 155mm
GPU Max Length: 330mm
PSU Support: SFX
Radiator Support: Top – 1x 92mm, Bottom – 1x120mm/240mm, Side – 1x 120mm/140mm/240mm/280mm
Buy the Cooler Master NR200P on:
5. NZXT H1 V2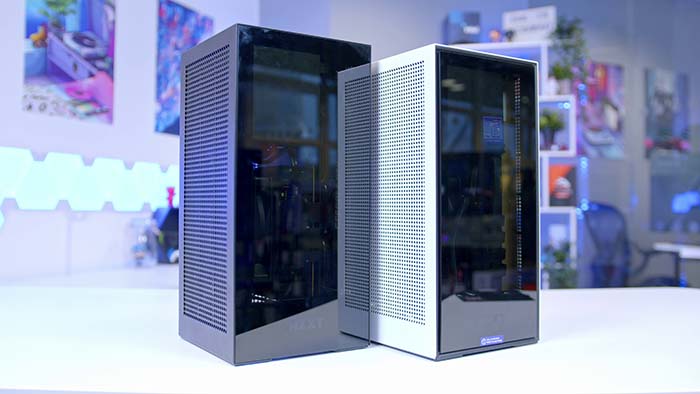 Our final, and favourite, Mini ITX chassis is the famous NZXT H1 case. This case bears the signature NZXT perforation design and looks super sleek. To aid in compact-ness, this case comes equipped with an integrated power supply, liquid AIO, and PCI-E riser cable straight out of the box. This means you only really need to buy a CPU, motherboard and GPU in order to get a PC gaming setup in this case saving you some money. This ITX design is one of the best options money can buy, with a sleek aesthetic and strong cooling.
Key Facts:
Max GPU Clearance: 324mm
Max GPU Thickness: 58mm
Memory Height: 46mm
PSU Support: SFX
Front IO: 2x USB 3.2 Gen1, 1x USB 3.2 Gen2 Type-C, 1x Headset Audio Jack
Buy the NZXT H1 on: