Introduction
Since the release of Intel's 12th generation CPUs, we've seen the support of DDR5 memory become a widespread. DDR4 has been the standard for just over 6 years, so seeing a change in the market is refreshing. But, this also raises the question, is DDR5 memory better than its previous generation?
DDR5 RAM kits are starting to become more readily available, but they often come with a big price tag. Corsair's Dominator Platinum RGB 32GB Kit was one of the first iterations of consumer desktop sets to hit the market, back in October time last year. This review will assess the design, but more importantly what kind of performance you should expect from one of the first DDR5 memory kits!
Buy the Corsair Dominator Platinum DDR5 Kit on:
Suggested Article: What is RAM & What Do You Need It For?
What is RAM?
Firstly, we should probably answer the question of what RAM or memory is, and what it does. RAM within a computer essentially acts as the short-term memory of your PC. RAM is constantly being accessed by your computer's processor to run various applications or system processes. Without RAM your computer would either be incredibly slow, or not be able to function. RAM is required for various operating systems, programs and games to be able to even run!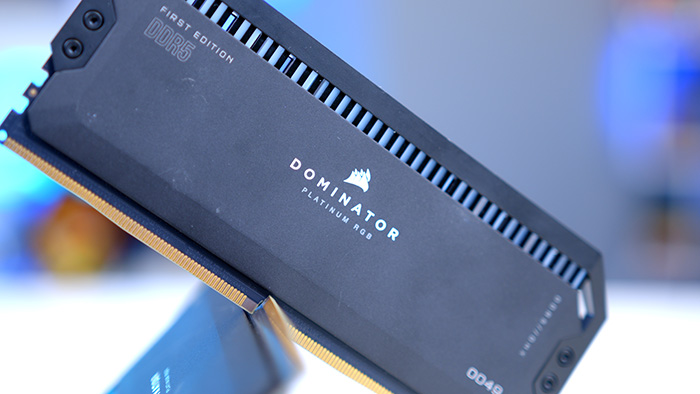 To provide some better context I'll use an analogy. Imagine a kitchen counter top where you are making food. The person cooking can do all of their work relatively well on a smaller kitchen counter. However, the more space you have, the easier it is to prepare multiple things. If the person cooking is constantly having to go back and forth between cupboards it will slow them down. RAM in this instance acts as the counter top. The more space you have, the easier it is to make your dishes or prepare ingredients.
Your RAM also works in combination with the other components within your system. Hard drives and SSDs will temporarily move games, applications and files into RAM for faster usage. The bigger a kit of RAM is, the more it benefits you in terms of speed, and the ability to multitask. RAM is also a vital component for games that do a lot of real-time rendering (like randomly generated maps). This is a common feature in Minecraft as the world is constantly being generated as you move, which is why Minecraft is such a RAM hungry game. We've seen a big upward trend in memory usage in the last 18 months, as most games finally started to bottleneck when contained to 16GB – a big reason 32GB is not the norm for any builds over $1500.
What is DDR5?
DDR5 is of course the latest iteration of DDR memory. DDR stands for Double Data Rate, as before DDR hit the mainstream market in 2002, the standard was SDR which stands for Single Data Rate. The main benefit of DDR over SDR is that DDR reads data on the rising and falling edges of the clock signal. This essentially means it can transfer data twice as fast.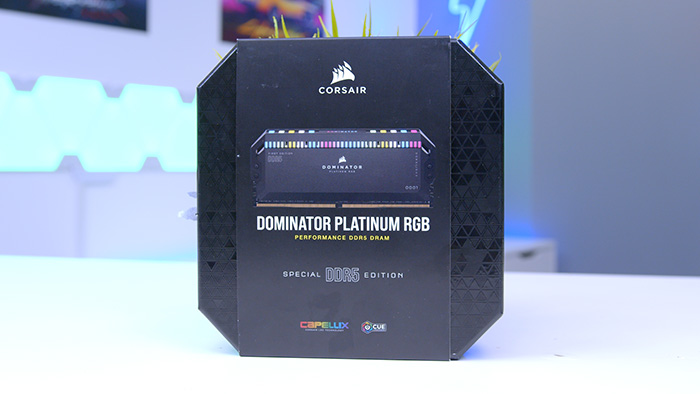 DDR5 builds on that even further, with the ability to now use upto 64-gigabit memory chips (four times DDR4's 16-gigabit max) and (theoretically) DIMMs up-to 2TB in size, though consumer sticks will likely clock out at 64 or 128GB. Newer generation RAM kits also have much increased speed ranges (the MHz number many people shop by). The clock rate range of DDR4 kits tends to sit between 1600MHz and 4800MHz, whereas for DDR5, the clock rates are in a range of 4800MHz to 8400MHz.
Why Do You Need It?
Ultimately, the introduction of DDR5 kits is new, and currently only one generation of CPUs (Intel 12th Gen) supports it. AMD is looking to release their new set of Ryzen chips, rumoured for later this year, which are very likely to have DDR5 support in one way or another. This aligns with AMDs intent to move over to a new socket for the next gen processors.
Currently, DDR5 is best positioned for high end builds that utilise the highest performance parts. Using Intel's newest Core i9 processors and Nvidia's 3090Ti will heavily benefit from high performance DDR5 kits.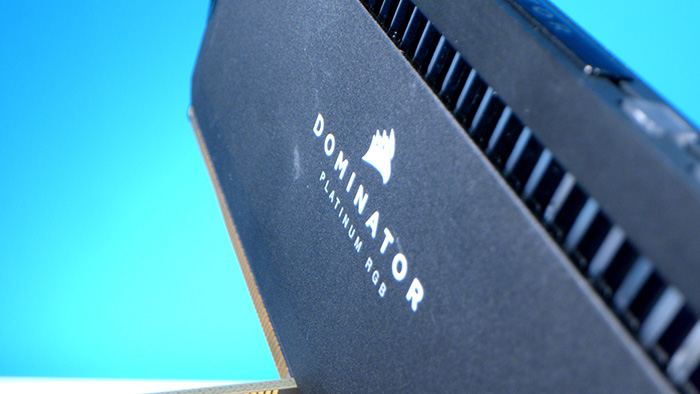 Generally I think the usage for DDR5 at the current time isn't geared towards budget or possibly even mid-range systems at this time. Only high-end builds will be able to make the most out of DDR5 and could potentially be wasted on less-expensive PCs. This is often the case with new technology – early adopters pay the price premium as the volume increases, and cost to produce the tech decreases. We witnessed this with DDR4, which ran alongside DDR3 for a long time in many systems. It wouldn't hurt to have DDR5 in your system, but for the time being DDR4 still offers great speeds and will still work perfectly fine in most builds.
Design and Aesthetics
The Dominator Platinum series are some of the best looking kits currently out on the market. This DRAM kit has a matte black finish that just oozes sophistication. This combined with the RGB strip on top of the memory just adds that little bit of flair that makes the sticks- 'stick' out. Corsair have leveraged their proprietary 'Capellix' RGB technology, making this the brightest RAM kit we have ever seen. You physically notice the brightness of this kit when its installed, which I love to see.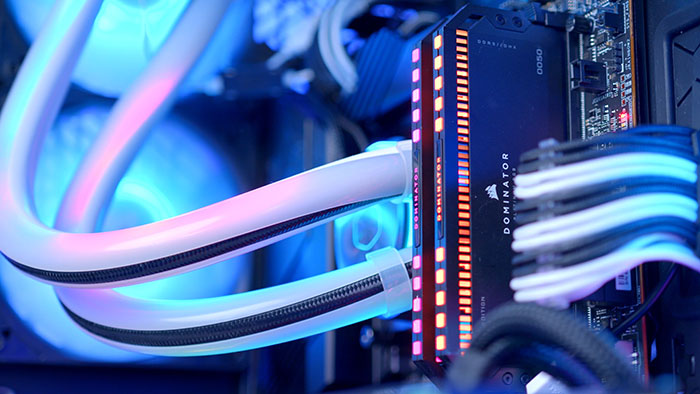 On top of this, the RAM is supported by Corsair's iCUE software suite which allows for that element of customisation to bring to your build. The iCUE software works with a range of other Corsair products, giving you the option to match your lighting settings across your build. Corsair iCUE is still the best software out there for RGB lovers, with no one else coming for that crown at the present time.
Specifications and Comparisons
Below we've created a table that lists the main comparisons between the Dominator Platinum sticks we have, and other ones currently available on the market. This will give you more of a view on specifications like CAS latency, Clock Speed, Capacities and more!
| | | | |
| --- | --- | --- | --- |
| Specifications | Corsair Dominator Platinum RGB Special DDR5 Edition | GSkill Trident Z5 RGB | Crucial DDR5 32GB Kit |
| Clock Speed | 5200MHz | 6000MHz | 4800MHz |
| Capacity | 32GB (16GBx2) | 32GB (16GBx2) | 32GB (16GBx2) |
| CAS Latency | 36-38-38-74 | 36-36-36-96 | 40-40-39-39 |
| Voltage | 1.25V | 1.35V | 1.1V |
| RGB | Yes | Yes | No |
| Performance Profile | XMP 3.0 | XMP 3.0 | XMP 3.0 |
Table of DDR5 Memory Specifications
To briefly compare, the current available memory modules on the market offer varying differing speeds and latencies. The Dominator Platinum is a very close second in this selection, with its extended latency timings being 36-38-38-74, versus GSkill offering 36-36-36-96. Unfortunately the Crucial kit doesn't seem to offer much competition compared to the other two with its speeds and latency being lower. However, both the Crucial and Corsair kits bring lower voltages which is great in terms of stability and heat dissipation.
Overall, the Corsair Dominator kit brings close competition to GSkill's options, but unfortunately the Dominator Platinum sticks don't quite match the high speeds of the GSkill kit. Realistically for high-end systems 5200MHz will be perfectly fine, and will provide enough speed required for the performance that can come out of high-end components. Something to remember as well, is that this is a vast improvement upon the DDR4 generation sticks, and I'm excited to see what other manufacturers bring to the market!
Benchmarks
Below we've put the Dominator Platinum 32GB Kit to the test with some benchmarks that will really demonstrate the raw power of DDR5. However, if you're curious as to how this memory fairs in a high-end build, then check out our Ultimate 3090 Ti Gaming PC Build Guide!
In the tests below we've used AIDA 64 to test the latency, read and write speeds of the memory. This is a renowned test used to get metrics for memory and other components. We've also used 3D Mark Time Spy, which is a benchmarking tool used to stress test components and get an overall metric of performance for your build.
We've used two separate systems to test DDR4 and DDR5. Both of them have equivalent parts with the DDR5 build sporting a 3060 Ti, a Core i5 12600K and our DDR5 Dominator Platinum kit. The DDR4 build is equipped with the same 3060Ti, a Core i5 11600K, and a set of Patriot Viper 32GB 3600MHz sticks. The main difference between these builds primarily is the RAM. We would have liked to use a 12th generation Intel chip for fairness, but unfortunately we do not have any DDR4 boards in the office.
Memory Bandwidth and Latency Test
DDR5 Memory Read
DDR4 Memory Read
Starting off with the read speeds, for DDR5 the Dominator Platinum returns a high of 70580MB/s. With the DDR4 kit we're returning around half, with a read speed of 38336MB/s. We were expecting to see these kind of scores for read speeds, but seeing DDR5 essentially double the read speeds is very impressive!
DDR5 Memory Write
DDR4 Memory Write
For memory writing we're seeing mostly similar figures with DDR5 writing 68015MB/s and DDR4 hitting 37669MB/s. Again we're seeing very similar read and write speeds between each generation. This is a demonstration of Double Data Rate within sticks of RAM.
DDR5 Memory Latency
DDR4 Memory Latency
With memory latency, we're seeing something quite interesting. Both the DDR4 and DDR5 memory kits have very similar latency. The DDR5 kit showed 87.8ns (nano seconds) and DDR4 returned 84.5ns. The difference in timing will make a slight difference, but the latency between sticks is very close. The reason for this could be down to multiple reasons, but the fact there is no overclocking on the RAM might be a potential factor.
3D Mark Time Spy Test
DDR4 Test
The overall score for the benchmark in Time Spy was quite high, returning 8363. Although this isn't the best score in terms of percentile for these components, this is still higher than the average. The RTX 3050 and AMD 6500XT offer lower averages of around 6626 and 5290 respectively. This demonstrates that DDR4 is still a clear competitor with the right components.
DDR5 Test
For our DDR5 test our Time Spy score, the build scored 9017. The main point to make here is that we were also given an estimated game performance. In our test it shows Battlefield V at 1440p with an average of 85+ fps. Again this percentile isn't the highest for these specific components, but there is a tangible difference in performance between both DDR4 and DDR5.
Conclusion
Corsair Dominator Platinum RGB Special Edition DDR5
Product Name: Dominator Platinum RGB Special Edition DDR5
Brand: Corsair
Performance

Design

Value For Money
Summary
To conclude, the Dominator Platinum RGB kit is a spectacular intro to the DDR5 range of memory. This kit is ideal for users that want the best performance, but also the ability to add some extra flair to any build. The RGB is well executed, and the sleek aesthetic doesn't fail to look awesome. If Value for Money is your priority, we'd avoid this kit, but for an early adopter it is definitely worth a look! Although DDR5 is very much new and very much pricey, Corsair is bringing some great competition and it'll be awesome to see what other brands follow up with performance-wise in due course.
Pros
✅ Great looking kit
✅ Solid speed options 
✅ Awesome RGB integration and Corsair iCUE control
Cons
❌ Expensive
❌ DDR5 tech still in relative infancy
❌ Many games yet to optimise for DDR5 performance gain