Introduction
Gen5 SSDs have been but a distant whisper in the wind for quite some time. With motherboard manufacturers both on Intel and AMD's side preparing for the inevitable, by cramming all of their boards with Gen5 technology for GPUs and storage. We've been anticipating the release of some new speedy SSDs, but now the wait is finally over, Gen5 drives are officially here.
We've seen a number of PCI-E 5.0 drives announced in the past month or so from popular manufacturers, such as Corsair, Gigabyte, MSI, and more. In this particular article, we're taking a look at a pretty impressive drive from Crucial, the T700. This new Gen5 drive is looking to reshape the market, offering insane speeds geared towards workstations and other high-end systems.
We'll be taking a look at the performance metrics of this drive to see what's on offer, and we'll also be providing some alternative Gen5 options that come in at a similar price point whilst still sporting great speeds across the board.
Buy the Crucial T700 Gen5 SSD on:
Suggested Article: Best 1TB Gen4 NVMe SSDs to Buy in 2023
Do You Need a Gen5 Drive?
PCI Express-based storage has been the norm for quite some time, with Gen3 and Gen4 drives heavily saturating the market in the past couple of years or so. Over the past few months, we've seen significant price drops in the storage space, with a multitude of top-end drives sitting at very reasonable prices making them a rather compelling choice if you're looking for a storage upgrade, or if you're building a new PC.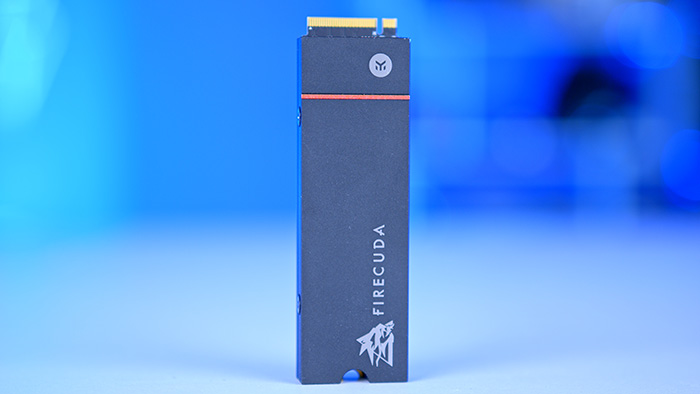 But a question still stands, in light of the arrival of Gen5 drives, are they worth picking up? Honestly, I don't think they are. Whilst I'm excited to see what these new drives offer when it comes to speeds, they are also incredibly overkill for pretty much everything. The only time you would ever need a drive like this, is for moving massive files. If you're a video editor and you handle huge files on a regular basis, having a Gen5 drive will increase transfer speed time, allowing you to carry on with your projects much quicker.
Besides this, the drives are kind of pointless. Gen4 hasn't exactly become the norm, and although these drives are super cheap at the moment, Gen3 can easily withstand the demand that modern games require, and they're cheaper than Gen4 options. Until Gen4 drives become the normality for consumers, it is highly unlikely Gen5 is going to be a necessity anytime soon. Obviously if your use-case requires it, then great, these new drives are insanely powerful and will perform as expected. But if you don't desperately need one, I'd recommend sticking to Gen4 and Gen3 options for the time being.
Crucial T700 Design & Aesthetic
Moving onto the design and aesthetic of this SSD, Crucial have kept things nice and simple. The first thing you'll immediately notice is the massive heatsink on this drive. Gen5 drives are the fastest options on the market right now, so it is quite likely that the NAND flash chips in these new SSDs are going to be rather hot, which is why they need such a chunky heatsink.
Aesthetics wise, the actual drive is matte black in terms of colour. Crucial haven't gone for any crazy colour schemes or any RGB which is a little bit disappointing considering how expensive these new drives are. Otherwise there isn't much to cover when it comes to the overall design. I'd argue that the design of the drive isn't particularly important, but if you're paying a fair amount, I can understand feeling a bit ripped off if the heatsink doesn't look more like a gaming component. Either way, I'm happy with the aesthetic here, if you don't care about how your SSD looks, this drive should blend in pretty well.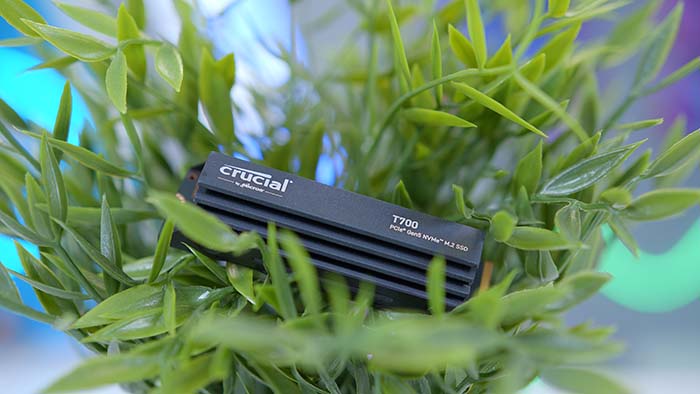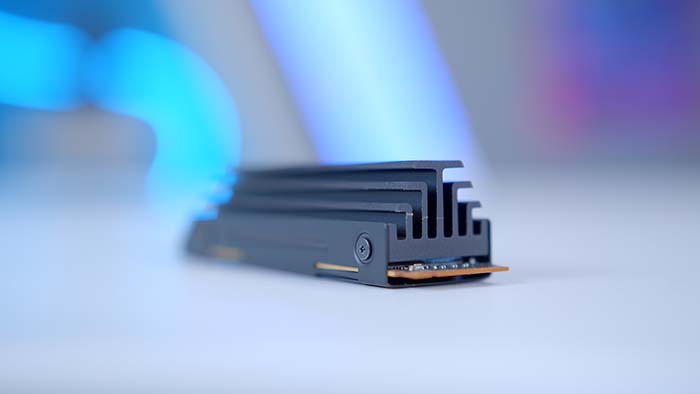 Crucial T700 Specs & Performance
Taking a look at performance, we fired up CrystalDiskMark to see what speeds the Crucial T700 could read. Overall the metrics are mostly on par with the speeds, advertised sequential reads and writes are 12400MB/s and 11800MB/s. Obviously we can see from these results that the read speeds are somewhat under the advertised, but only by around 100MB/s or so. We'd say take this with a grain of salt as the result could be a slight anomaly. In terms of write speeds, we were just under the advertised metric here too with an output of around 11773MB/s. We're pretty happy with the results here, regardless of our benchmark not hitting the advertised speeds, these drives are still insanely fast.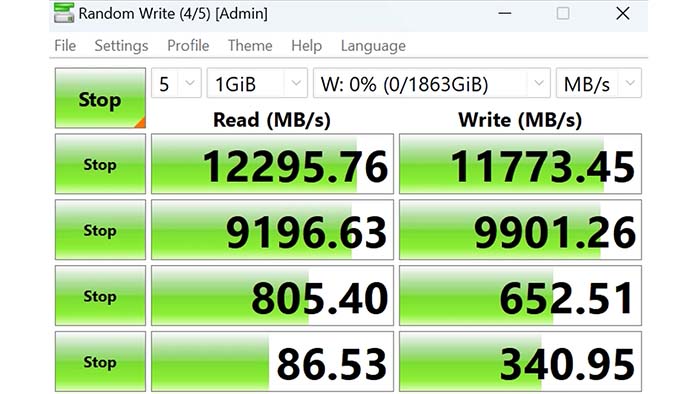 | | | | |
| --- | --- | --- | --- |
| Specifications | 1TB | 2TB | 4TB |
| NAND Flash Memory | 3D TLC | 3D TLC | 3D TLC |
| Form Factor | M.2 2280 with Heatsink | M.2 2280 with Heatsink | M.2 2280 with Heatsink |
| Sequential Read (Max, MB/s), 128KB | 11700 | 12400 | 12400 |
| Sequential Write (Max, MB/s), 128KB | 9500 | 11800 | 11800 |
| Total Bytes Written (TB) | 600 | 1200 | 2400 |
| Warranty, Limited (years) | 5 | 5 | 5 |
Alternatives
Before we jump into our conclusions, its first worth taking a look at some alternative options. There's only a few Gen5 drives in the SSD space right now, so we've rounded up some of the best options we can find on the market.
Seagate Firecuda 540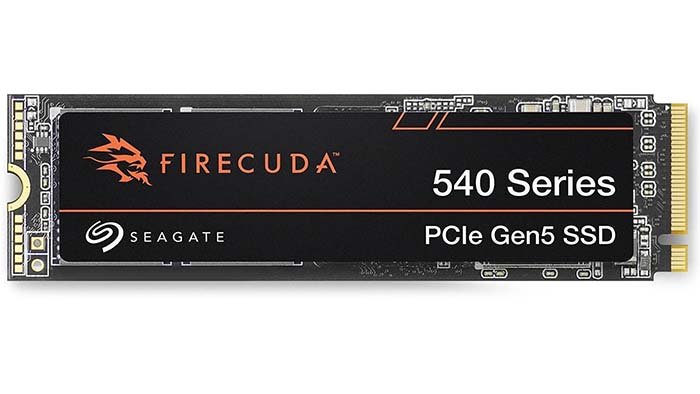 First up is the Seagate Firecuda 540, a rather expensive, but high performance drive. The Firecuda 530 is one of the best performing drives of the previous generation, and it looks like the 540 is follow suit, offering reads and writes of up to 10GB/s on their 2TB drive. This drive doesn't have a heatsink option as of yet, but it is highly likely that we'll see one, and potentially some other drives from Seagate at some point later this year.
Buy the Seagate Firecuda 540 on:
MSI Spatium M570
MSI is a manufacturer that isn't particularly well known in the storage space, but we've taken a look at a number of their drives in the past on the Gen4 interface. The Spatium M570 is a direct upgrade to the M470, which I'd say is a mid-range drive that utilises Gen4 bandwidth. Speeds wise, this drive is direct competition to the Firecuda 540, offering 10GB/s for both read and writes, which is insanely fast!
Buy the MSI Spatium M570 on:
Corsair MP700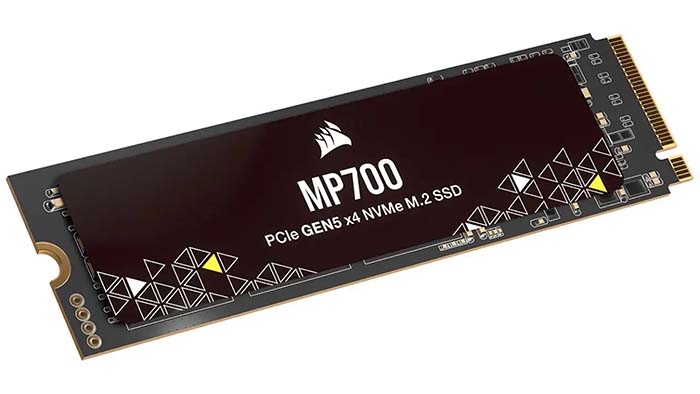 And finally is the MP700 from Corsair. We've taken a look at a number of Corsair drives in the past. They're excellent options that cater to a range of different budgets and use-cases on the market, including top-end options for water cooled systems. Looking at the speeds, yet again, this drive directly competes with all of the other alternatives we've taken a look at, offering up 10GB/s on both the sequential reads and writes .
Buy the Corsair MP700 on:
Conclusion
Crucial T700
Product Name: T700 SSD
Brand: Crucial
Features

Design

Performance

Value For Money
Summary
Crucials T700 drive is an exciting new piece of tech in the SSD space. This drive is one of the best performing Gen5 options that you can pickup right now, with the majority of other drives capping out at 10GB/s even on higher capacity drives. Whilst the T700 is impressive, I feel the vast majority of consumers do not need an SSD this powerful. Gen3 and Gen4 drives are more than capable of holding up to modern day standards when it comes to gaming, so the overall use-case for this SSD is somewhat niche. Regardless, if you need a top-end drive, the T700 won't disappoint, but definitely have a look at the alternatives before picking up this awesome, but somewhat overkill option.
Pros
✅ One of the highest performing Gen5 drives.
✅ Heatsink should keep thermals at bay.
✅ Ideal for a top-end system.
Cons
❌ Very expensive.
❌ Niche use-case.
❌ Top speeds only available on 2TB and 4TB drives.