Introduction
When it comes to buying a prebuilt gaming PC, the market is flooded with choices from a huge mass of PC builders. As such, we always recommend trimming down your potential prebuilt options by looking at ones with a specific GPU of choice. This can make the process far less daunting, and provides a clearer idea of performance achievable from your prospective system purchases.
The RTX 4070 is Nvidia's best mid-range GPU from the 40-series, making it a great place to start when shopping for a prebuilt gaming PC. We've found the RTX 4070 delivers incredibly strong performance metrics at 1440p, while also boasting headroom for 4K gaming too.
It does so without the hefty price tags associated with the RTX 4080 and RTX 4090, and without the controversy associated with the pricier RTX 4070Ti. Whether you're looking to boot up AAA titles at Ultra settings, or older titles like Fornite, Apex and Warzone, the RTX 4070 is set to have you well covered.
This makes it a great shout for a prebuilt gaming PC, which is why we've gone ahead and rounded up the very best RTX 4070 prebuilt gaming PCs you can buy right now.
Suggested Article: Best Prebuilt Gaming PCs to Buy for Under $1500
Our Recommendations
1. Corsair VENGEANCE i7400 Gaming PC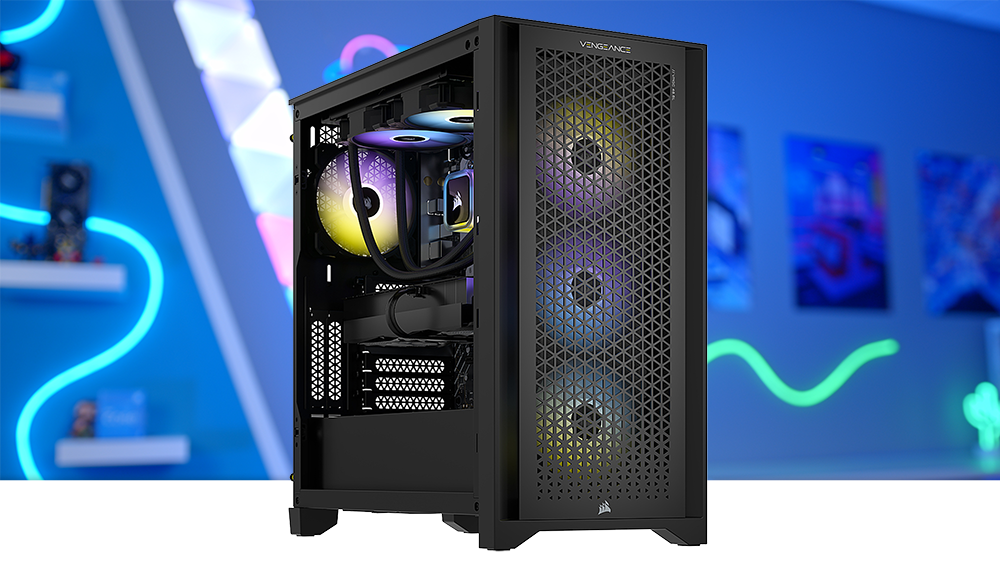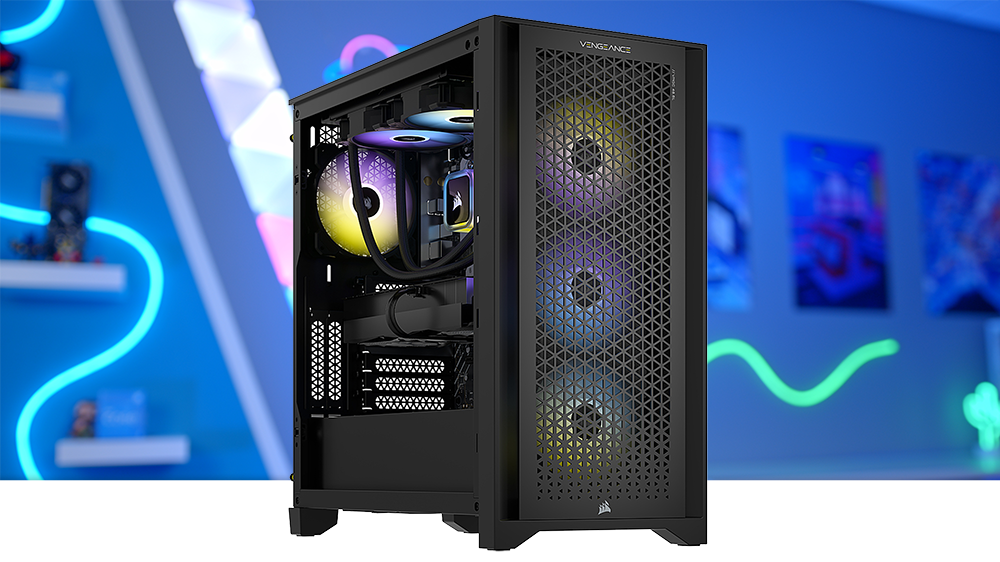 Corsair first launched their line of Vengeance Gaming PCs more than 4 years ago, and have quickly developed a name for high-quality systems in the time since.
The main advantage of the Vengeance system lineup is the inclusion of Corsair cases, cooling, PSUs, RAM, SSDs and power in all of the systems. We see this as being a major bonus when compared to other system builders, where the inclusion of Corsair parts are saved for the premium systems on offer in their ranges.
Corsair components consistently review well, and while they certainly aren't immune to one or two products that don't quite hit the mark, their design choices are usually very good. This means your system is likely to be well cooled and assembled inside a premium corsair chassis. Corsair's software suite is also industry-leading, allowing for easy control and configuration of the components within your system.
Corsair's Vengeance range have also been renowned for their solid build quality and good cable management, something which shows a good attention to detail across the system build process. This particular system is built inside of the airflow variant of the 4000D chassis, with 6 x 120mm fans providing solid cooling across the system. You also get a tempered glass sidepanel, which shows off the 32GB kit of DDR5 memory, and liquid cooled i7 13700K.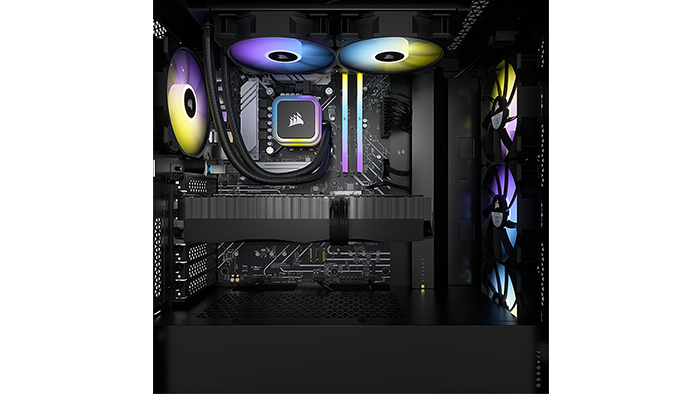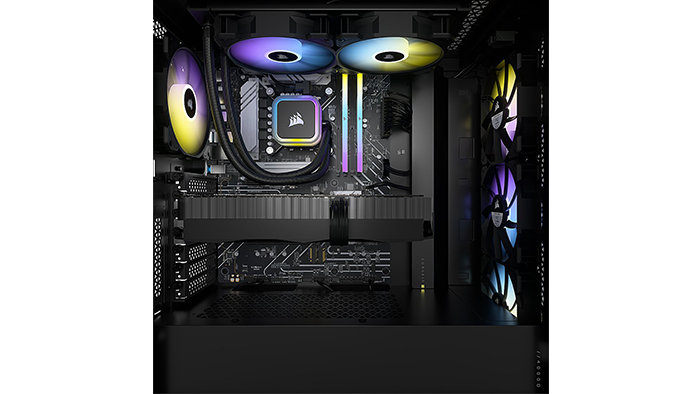 Corsair Vengeance i7400 Internals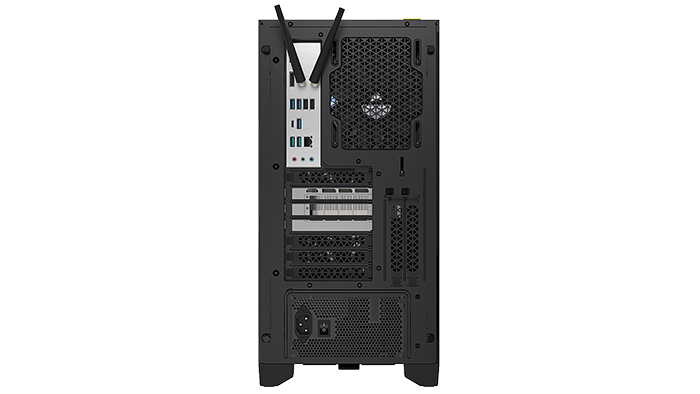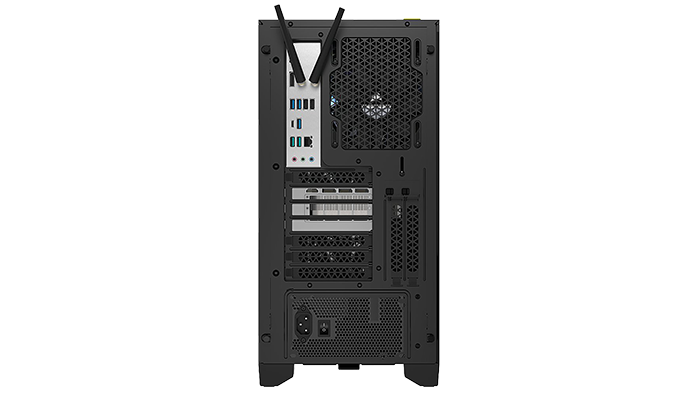 Corsair Vengeance i7400 Rear IO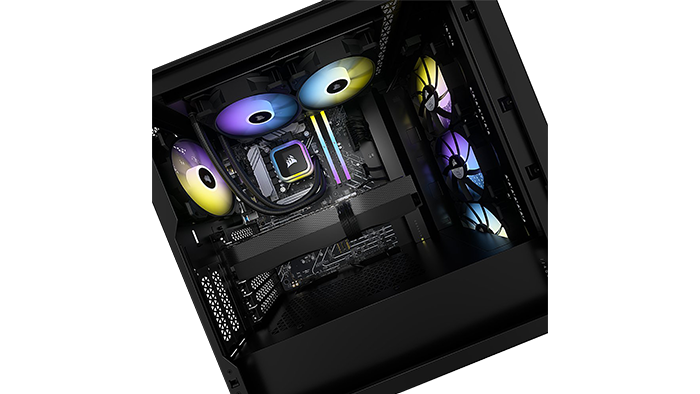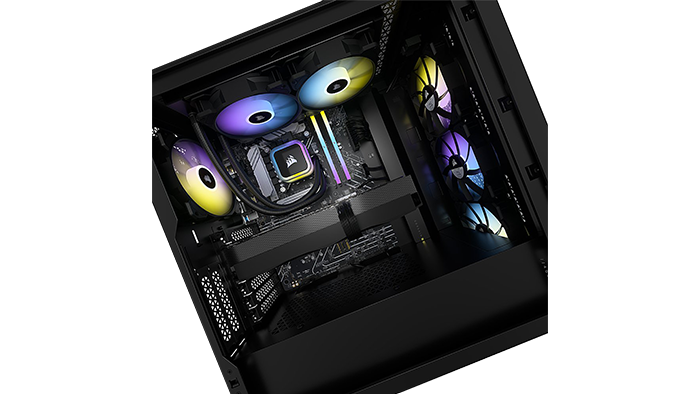 Corsair Vengeance i7400 Interior Angled
We would suggest this system could be self-built for around $500 less than the retail price of this prebuilt. That is not to say it is poor value, but instead that competent PC builders should consider building this system themselves instead.
Many other PC building sites allow for vast customisation on system spec, something which Corsair don't quite offer to the same degree. While you can still change the CPU and GPU, alongside more storage or RAM, you cannot change the case, cooler or exact GPU setup.
Where to Buy
Buy the Corsair Vengeance i7400 on:
2. Skytech Gaming Chronos 2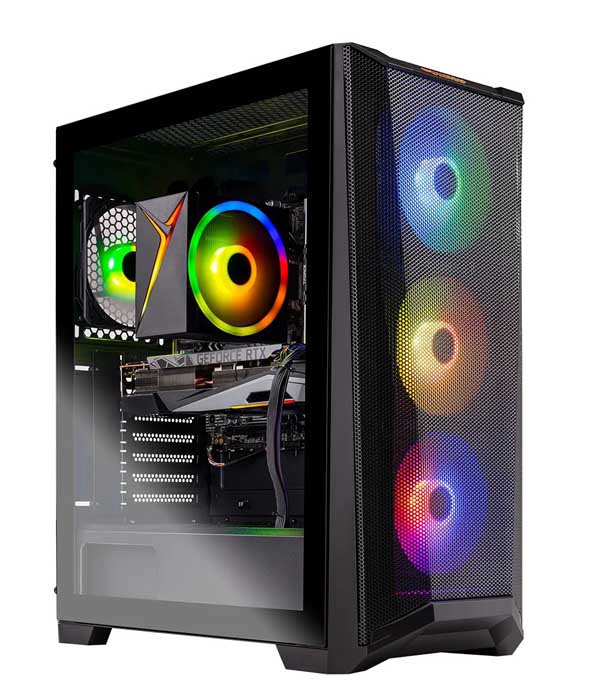 For those looking to pick up a solid RTX 4070-based gaming PC without breaking the bank, Skytech's Chronos 2 system is one of the best options out there. In fact, we've rated this as our best value RTX 4070 prebuilt, due to it's fantastic price to performance metrics.
In exchange, their systems are much less configurable than other brands, and utilise cheaper component choices – particularly in the case and cooling departments.
That's not to say their systems aren't worth considering, and this build is no exception. Under the hood, you get a Ryzen 5 5600X processor from the last generation of AMD CPUs, as well as 16GB of DDR4 memory. This makes the system one of the best performing prebuilts we've seen under the $1600 price point, though prices are as ever subject to change.
This makes for a great entry level RTX 4070 build for those looking to buy maximum 1440p gaming performance at a price that won't break the bank. It goes without saying that the component choices aren't as balanced, or as strong, as the Corsair Vengeance system tested above. Nor, are the components going to be as good for those looking to leverage their build for productivity oriented tasks, like video editing or rendering, due to the weaker CPU choice. We also think 16GB of RAM is on the lower side, but this can be easily remedied by purchasing another 16GB kit for $60, and self upgrading the system to 32GB.
For any RTX 4070 gaming PC build, we would heavily lean towards recommending 32GB of RAM. This is an easy upgrade to do after the fact, but something that could have been avoided had Skytech specified the system with 32GB of memory in the first place.
The use of a cheaper cooler, case and PSU will lead to a less refined experience than other systems in this list. Performance for gaming remains strong, but is certainly less well rounded for wider use case scenarios.
Where to Buy
Buy the Skytech Chronos 2 on:
3. NZXT Player: Two RTX 4070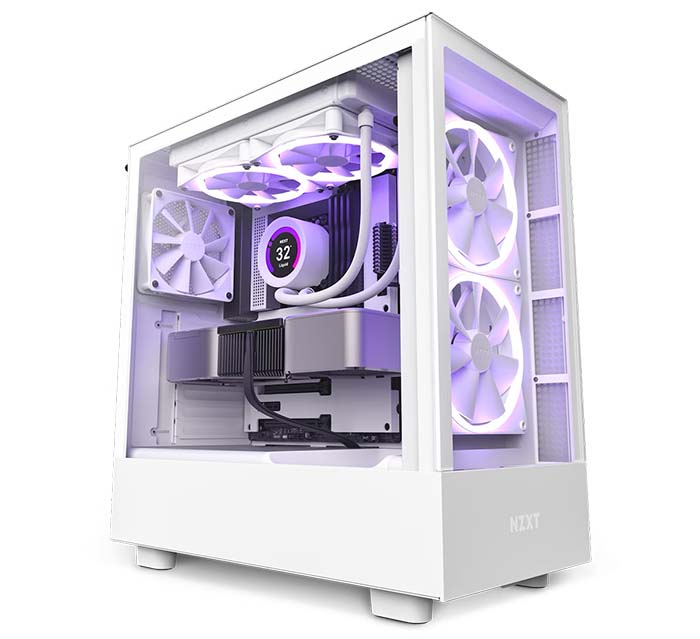 Another popular player in the prebuilt gaming PC space is NZXT. Their BLD service allows you to choose from either a prebuilt, already specified system, or configure one from scratch.
The cleverly named Player: Two is a prime example of this. Assembled inside of NZXT's stunning H5 case design, a chassis that actually provides a dedicated fan just for the GPU, it is undoubtedly a good looking system. You'll also find a Ryzen 5 5600X processor, as seen in the Skytech Chronos 2, and an RTX 4070 for plenty of power. 16GB of RAM is present, and again a little disappointing, but enough for gaming at this level. 32GB is a sensible upgrade to make after the fact, and can once again be done for a relatively small amount of money.
Windows 11 again comes as standard, as does a fairly speedy NVMe SSD drive of a 1TB capacity. 650W of power is also provided, with a high-efficiency 80+ Gold rating, in line with the recommended PSU requirements set out by Nvidia for the RTX 4070.
One thing we really like about NZXT's BLD site is the inclusion of detailed gaming benchmarks for each of the systems they sell. It allows you to easily see the frame rates in titles ranging from GTA V to COD: Modern Warfare at both 1080p and 1440p. This helps to ensure the system you buy has enough power for your favourite titles.
The AMD Ryzen 5 5600X processor used in this build remains competitive for the latest titles, but is based on the last generation architecture. This may hold the system back in years to come as next-gen titles continue to demand more powerful and advanced CPUs.
Again, 16GB of RAM is lower than we'd like, while a 120mm AIO liquid cooler feels an odd choice for a brand famed for its great 240mm and 360mm AIOs. We'd also liked to have seen NZXT use an in-house NZXT power supply in this system, as Corsair do in their more premium Vengeance range.
Where to Buy
Buy the NZXT Player: Two RTX 4070 on:
4. iBuyPower Y60BG204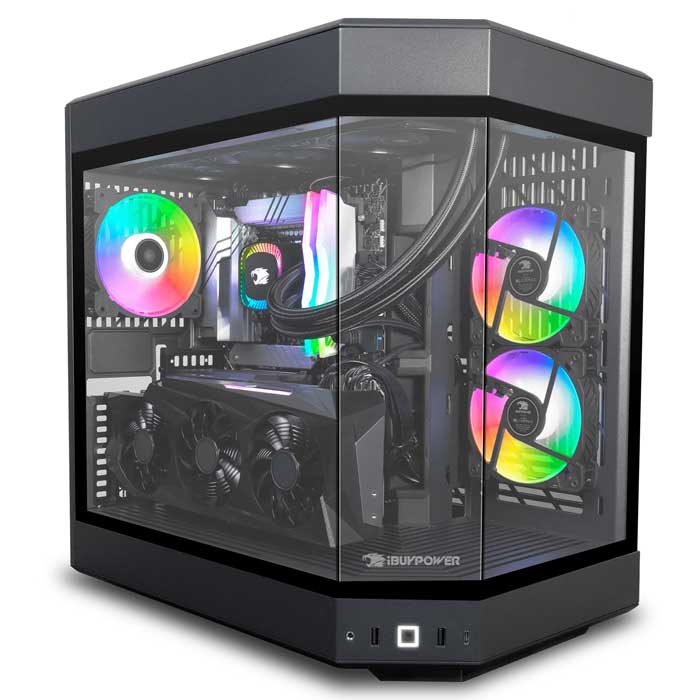 Our final pick of the best RTX 4070 prebuilt gaming PCs is the iBuyPowerGaming RDY Y60BG204. This system first caught our eye due to the use of the Hyte Y60 case, one of the bet chassis we've ever tested here at the GeekaWhat offices.
In fact, when one of our technical writers Jay Harris first reviewed this chassis, he awarded it 4.5 stars out of 5, one of our highest ratings ever for a PC chassis. This sets the Y60BG204 prebuilt off to a good start – one that seems to continue through in our testing.
The specifications on this build are incredibly strong, with a range-topping i9 13900KF CPU installed, alongside 32GB of DDR5 memory. The build also delivers a top-end Z790 motherboard platform, and a vertical GPU mount as standard. The vertical GPU mount is great for both airflow and visuals in the case of this chassis. If this wasn't enough, you also get a 2TB NVMe drive, offering the best storage of any system in this review guide, and a 360mm AIO cooler for chilly CPU temperatures.
It does so at a competitive price point, and delivers absolutely exceptional value for those after a strong RTX 4070 build for more than just gaming. Oh… and it looks the absolute business, too!
While a nice inclusion, most people at this price point will simply use their own, more premium keyboard and mouse. This contributes to e-waste and is an unnecessary inclusion in our view, though we understand this is an industry wide practice.
Unlike some other builds in this roundup, this system is not available in white. It would be great to see a white version of this system appear in future.
Where to Buy
Buy the iBuyPower Y60BG204 on:
How We Selected the Best 4070 Prebuilts
In order to recommend the best RTX 4070 prebuilt gaming PCs, we look at a number of key factors to support our recommendations. In this instance, these include:
Performance, across both 1080p and 1440p resolutions.
Part selection, including, but not limited to, CPU choice, case, cooling, RAM, storage and power.
Aesthetic, including colour options if available.
Value for Money.
Future-proofing. While this is impossible to guarantee, we look at the age of the components included and the hardware generations and platforms they are based around.
For a more detailed look at our testing and evaluation methods, we recommend checking out the reviews and buyers guides that we've provided in the table below.
Conclusion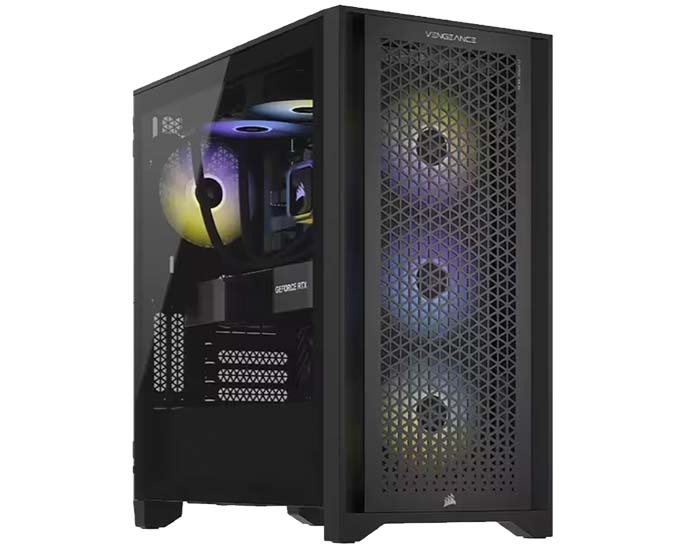 Best RTX 4070 Prebuilt: Corsair VENGEANCE i7400 Gaming PC
For overall component quality and part selection, Corsair's VENGEANCE i7400 tops our list. Strong configurability, great build quality and high-end components make it the best choice for those looking at an RTX 4070 prebuilt gaming PC.
You can read our full RTX 4070 review to learn more about the GPU architecture at play in all of these systems, and the potential performance on offer. You can also buy the Corsair Vengeance i7400 from the Corsair web store.
Frequently Asked Questions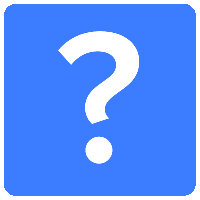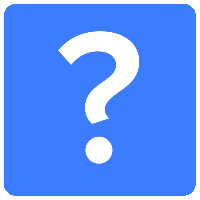 Is buying a prebuilt more expensive than building a PC?
Typically, yes. But this isn't necessarily a bad thing – a prebuilt gaming PC is built for you, meaning less headaches in terms of picking balanced parts or on the occasion anything goes wrong.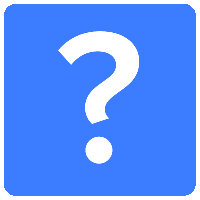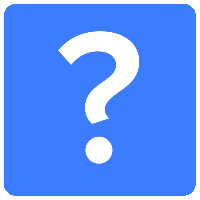 How much does an RTX 4070 prebuilt cost?
For a gaming-oriented RTX 4070 prebuilt system, you are looking at anywhere from $1500 to $2500 (USD).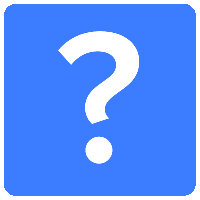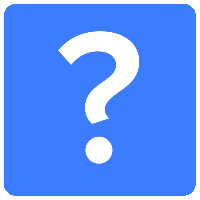 How do I choose the best prebuilt gaming PC for me?
Choosing a prebuilt gaming PC is a process that does require plenty of research. Ensure you read reviews of the builder themselves, and the components used inside the systems to ensure you avoid a poor performing system.