Introduction
With the nearing release of AMD's Ryzen 7000 CPUs, we're slowly getting more titbits of information about these new motherboards. We've recently seen MSI confirm the prices from some of their board ranges, and recently a leak was found pertaining to the mystery chipset B650E.
With all of these recent developments in mind, it begs the question, how do you choose a chipset? Should you hold out for the cheaper B650 chipsets in October, or pick up a top-end board loaded with features? Today we've taken a no sacrifices, no compromises approach and we're taking a look at the best X670E boards to buy in 2023. We'll be diving into the features you should keep an eye out for, while also looking at the aesthetics and pricing!
Suggested Article: AMD X670E VS X670 Motherboards – Key Differences & What To Expect
What is a Motherboard?
Before we take a look at the best X670E motherboards, we'll first cover the premise of what a motherboard is. A motherboard is effectively a big PCB that houses all of your components. Every motherboard will have slots and sockets that your parts go into, while also providing power and data delivery. Every motherboard comes with a slot for a GPU, and RAM, along with a CPU socket, and various headers for USB, audio and power!
The new AM5 motherboards are somewhat special with regard to the changes that have been made to accommodate the new Ryzen 7000 CPUs. First off is the CPU socket. AMD have changed their CPUs to an LGA style socket, meaning the pins are now on the motherboard instead of the CPU. So you don't have to worry about bending a pin on your CPU. The next point is the utilisation of PCI-E 5.0 lanes. These new motherboards will be able to support the latest M.2 SSDs and GPUs, while providing general purpose PCI-E 5.0 lanes for USB4 or Thunderbolt ports.
The rest of the motherboards will be relatively standard, these boards are only DDR5 compatible, cutting out DDR4 entirely. VRMs and power delivery will be entirely down to your chipset (which we'll be covering later), along with rear and front IO, and any extra ports or slots.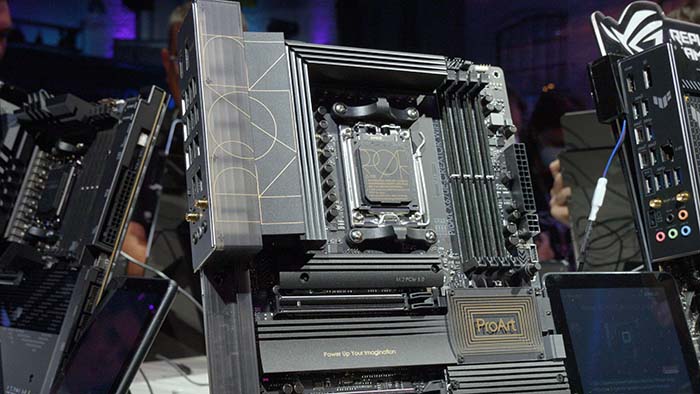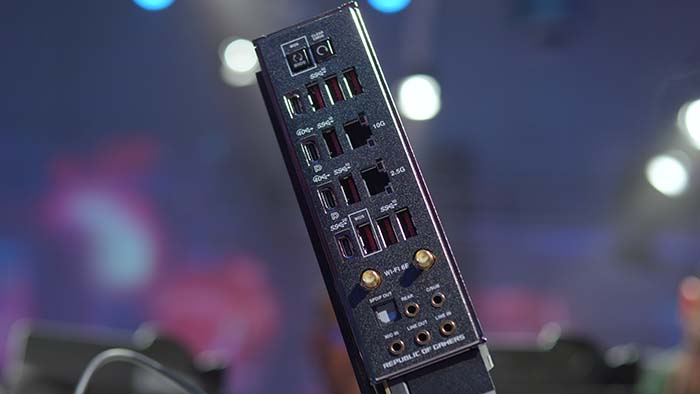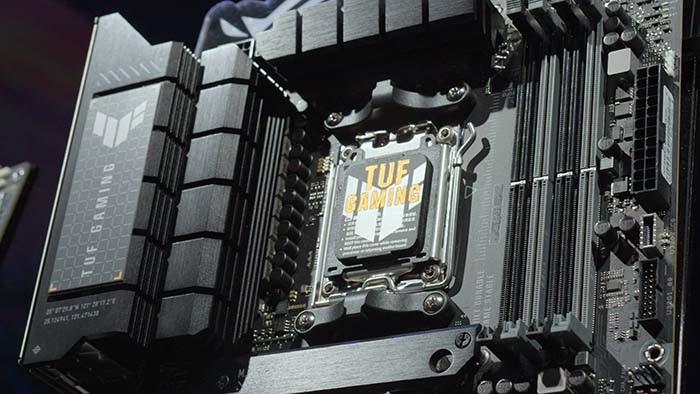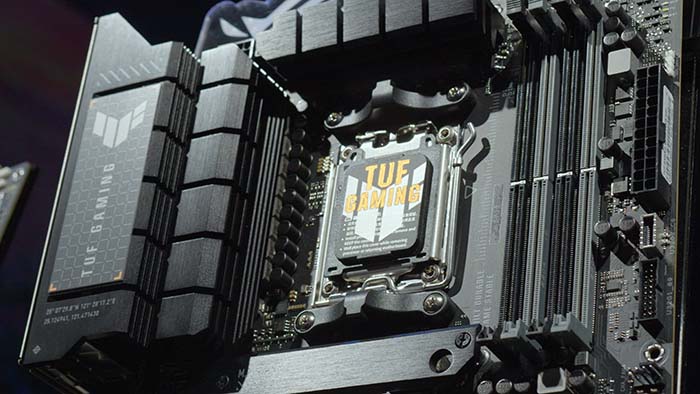 The X670E Chipset
The X670E chipset was a surprising announcement and addition to the Team Red line-up as it doesn't follow AMD's typical pattern of motherboard chipsets. X670E is the top-end chipset of the entire range which differs slightly from the usual 'X#70' (without an E suffix) being the high-end option. This particular chipset is geared towards a demographic of enthusiasts and overclockers. For those wanting to build a crazy specced out system will want to look towards X670E motherboards for their gaming PCs.
The CPUs launching alongside the new motherboards use another non-typical AMD socket. AMD have instead switched to an LGA1718 for what is assumed to be manufacturing reasons, but could be due to other reasons like improved signal integrity. With this new AM5 platform we're being given access to an entirely new generation of features, such as DDR5 memory as standard, and widespread PCI-E 5.0 for both graphics cards and SSDs.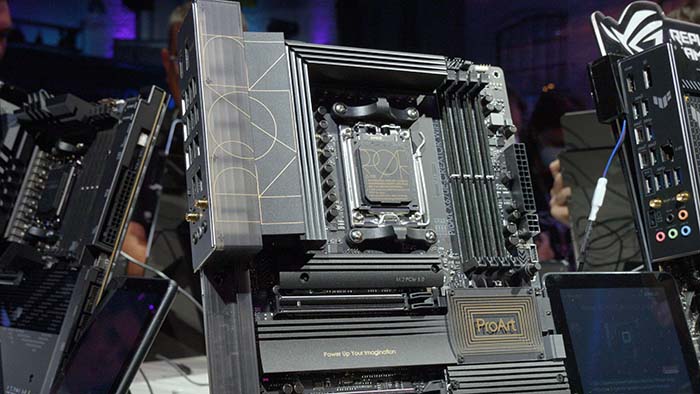 The X670E chipset will also be utilising the most amount of PCI-E lanes, which can be leveraged for features such as USB4 ports, multi-GPU compatibility and of course more SSDs. This makes these boards an inevitable decision for consumers that plan on making no sacrifices when it comes to a gaming or workstation build.
X670E motherboards are likely to have some cheaper options, but generally we can see most of the X670E range sitting at relatively high points. Versatility, features, and aesthetic will entirely be down to the motherboard that you choose, and the manufacturer's decision. But it is worth noting that the top-end boards will likely sport more PCI-E 5.0 slots, which will be useful for the inevitable release of new GPUs.
Motherboard Compatibility
If we were talking about Intel CPUs, motherboard compatibility becomes more of a complicated matter. But with AMD CPUs and motherboards, they're generally more consumer friendly in supporting a vast amount of CPUs. On the AM4 platform, AMD allowed consumers to upgrade to a new CPU on an older motherboard numerous times. If you had a Ryzen 3000 motherboard, you could throw in a Ryzen 5000 CPU with a simple BIOS update. All of these boards retained CPU cooler support as well, saving you some money on upgrades.
With AM5, the situation has changed slightly, but also not at the same time. With the release of Ryzen 7000 CPUs, the socket has changed, meaning that anything prior to Ryzen 7000 will not work on the new motherboards. But AMD is likely to support the AM5 platform for the next five years, giving you the option to upgrade to a new Ryzen CPU when they release. AMD have also decided to retain cooler support for AM5 as well, saving you some money with the upgrade.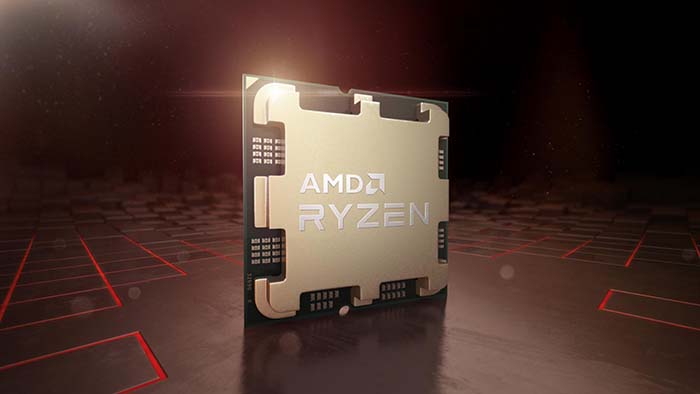 Chipsets
Choosing the right chipset, is a vital decision in picking out a motherboard, both for the sake of compatibility, and features. Features wise, by opting for a more budget oriented chipset like B650E and B650 they tend to have less of the next-gen features. Although B650E and B650 will support PCI-E Gen5, you're looking at having less lanes across each board, so there will be less PCI-E 5.0 compatible slots. This might be fine for most users that don't plan on upgrading to the latest components, but for those eyeing up the rumoured RTX 4000 cards, you might want to research what the other chipsets have on offer.
| | |
| --- | --- |
| CPU Range | Compatible Chipset |
| AMD Ryzen 7000 CPUs | X670E, X670, B650E, B650 |
| AMD Ryzen 5000 CPUs | X570, X470, B550, B450, A520 |
| AMD Ryzen 3000 CPUs | X570, X470, B550, B450, A520 |
Table of Compatible Chipsets
How Much Will AM5 Motherboards Cost?
Before we dive into the features, it would be a good idea to first briefly discuss cost. Setting yourself a budget for component prices, or for the overall build is a good practice. But in doing this, you can limit the kind of features and performance available to you. Below we've created a table which shows a rough estimate of the kind of cost associated with level of motherboard, while denoting the features at each level.
Note: This is a rough pricing guide on the expected prices for AM5 motherboards, we'll be taking a look at difference priced options further down in the article.
| | |
| --- | --- |
| Motherboard Level | Cost Estimation |
| Budget (B650, B650E) | $200 – $300 |
| Mid-Range (B650E, X670) | $300 – $500 |
| High-End (X670, X670E) | $500+ |
Table of Motherboard Budgets
These prices are a rough estimation based on US prices and can be subject to change based on country and availability.
Where Do X670E Boards Sit?
So the elephant in the room, how much are X670E boards going to cost? Price wise, these boards are going to be expensive. But we were pleasantly surprised at the overall cost. MSI recently confirmed the prices for four of their motherboards, and they're not too bad. The X670E GODLIKE is sitting at around $1300. This board is arguably a bit of an anomaly due to the insane amount of features it has, so don't expect this to be a common price.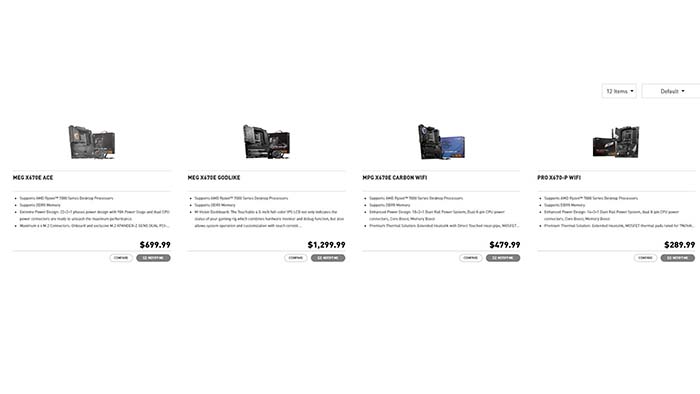 The MPG X670E Carbon WiFi is sitting at $479.99, which is where we expect most of the X670E motherboards to lie. Much like Z690 boards on the Intel side, these boards offer a significant amount of features which includes widespread PCI-E 5.0, and USB4 ports too. Are these boards expensive? Yes! Will they be worth the price? Also yes! The top-end chipsets have always been the best at offering the most amount of features while providing consumers plenty of room to upgrade, and this has always been the case.
We may see some cheaper motherboards offered within this chipset, but as AMD have specifically said that these boards will be best geared for overclocking and enthusiast builds. It is unlikely we'll see anything cheaper than $300, but we might be surprised with some new releases later down the line.
Features to Look For
After deciding on a chipset and determining your budget, next up you should start to look at features. The chipset will determine the amount of features you have available to you, but each manufacturer will change up the specs. Fortunately, for users looking to buy an X670E motherboard there should be no restrictions on the amount of features you have access too here. Regardless, we've put together a list of the best features and specs to look out for when buying a motherboard.
1. PCI-E 5.0 GPU and SSD Slots
Despite PCI-E 4.0 offering incredible performance, it seems that we're already moving onto the next generation. If you're wanting to upgrade to the newest graphics cards, you'll need a PCI-E 5.0 slot. These PCI-E 5.0 slots are primarily for power draw, but we may see the new GPUs utilise the slot for bandwidth too. From what we've seen so far, many X670E boards are using a PCI-E 5.0 x16 slot, but it may not be the same for other chipsets.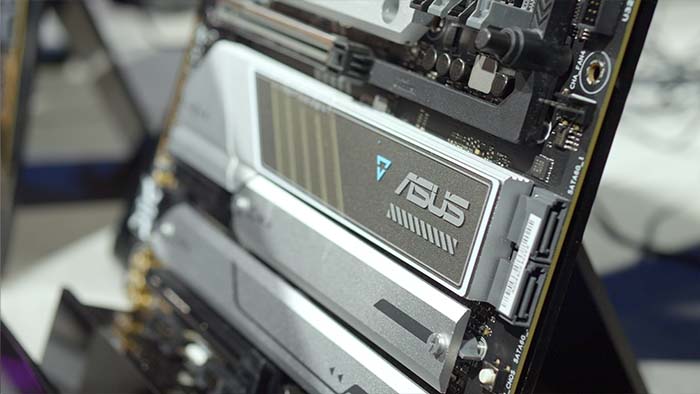 For SSDs, although we haven't seen the kind of performance these new drives are offering, they should theoretically double the speed. This means that when they release, you'll have access to insane read and write speeds of close to 15GB/ss with high performing drives. Pretty much all of the boards we've seen will support one PCI-E x4 M.2 slot as a minimum, with the X670E chipset having numerous across each motherboard.
2. USB4 Ports
One of the latest features we've been given access to with the introduction of PCI-E 5.0 lanes is of course USB4. These ports are designed to provide lightning fast speeds, while giving users the opportunity to charge peripherals at blazing speeds too. X670E boards are more likely to have access to these high speed ports, but we could see these ports pop up on other chipsets.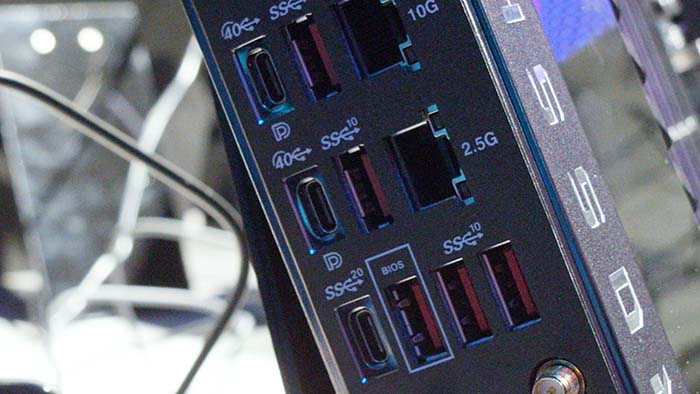 3. Networking Capabilities
With the new generation of motherboards we've also seen an improvement to networking on the rear IO. Generally speaking any of the motherboards that support WiFi so far that we've seen are WiFi 6E compatible. There will be some motherboards that don't support WiFi, but X670E motherboards are likely to have WiFi on all available board options.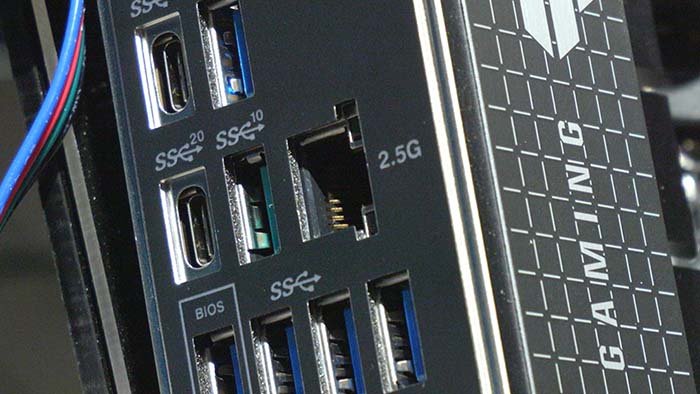 For LAN options, this will ultimately vary between chipsets and manufacturer choices. Budget options are less likely to have WiFi capability, and will probably feature a Gigabit LAN port.
4. Front & Rear IO
As the X670E chipset offers more of a 'no hindrances, no sacrifices' kind of philosophy, these boards absolutely thrive when it comes to IO. As we've seen in our chipset comparisons, X670E motherboards are loaded to the brim with high speed USB ports. You've got access to USB4, along with a massive amount of USB 3.2 ports in both Type-A and Type-C formats.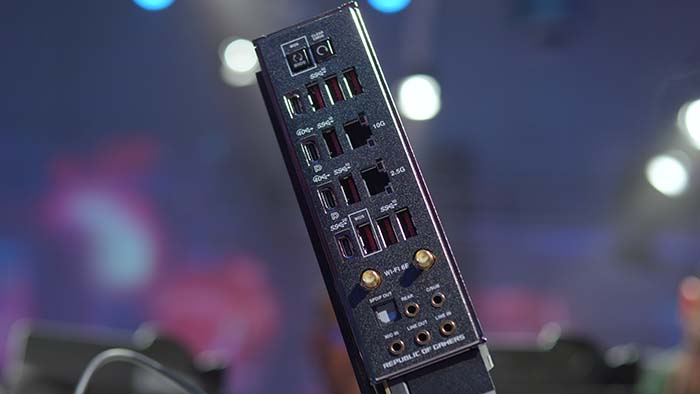 The internal IO is a similar instance whereby X670E motherboards are able to offer more headers and connections. Your standard HD Audio and JFP1 headers will remain the same, but X670E boards will be able to offer more in terms of USB, RGB, and headers for fans and cooling. Regardless, we'd recommend checking out the motherboard specs on the manufacturer's website to find out what IO is available to you.
5. Other Features
The miscellaneous usability and troubleshooting features often come down to personal preference. If you're the kind of person that likes building a PC without tools, then tool-less installations are a feature you'll want to look out for. Alternatively, if you're a new builder you may want to look out for more diagnosis and troubleshooting features like Post Code LEDs, or CMOS Reset buttons.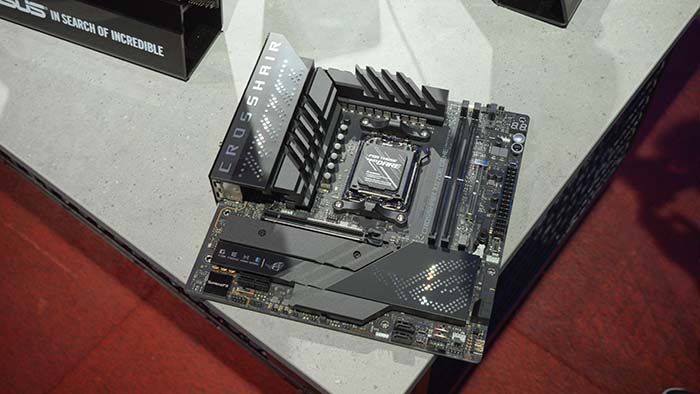 All of these extra features are generally determined by the manufacturer, so you could be lucky and get some extras on a cheaper board. However, most of the top-end boards tend to have physical power and reset switches, debugging options, and buttons like BIOS Flash too.
Form Factor – Finding the Right Size
The form factor of a motherboard is the physical size, determining how big or small it is. The size of a motherboard can limit or open up the kind of case choices you have available to you. The four consumer motherboard sizes are: Mini-ITX, Micro-ATX, ATX, and E-ATX. E-ATX (or extended ATX) is the largest size and tends to be quite niche. Generally very expensive high-end motherboards utilise the E-ATX form factor, and for this reason are somewhat more niche. Many cases are now starting to support some E-ATX designs, but the gargantuan sized motherboards will need a bigger case to support them.
At the opposite end of the spectrum is Mini-ITX. Mini-ITX motherboards are tiny, only coming with one PCI-E x16 slot as a standard, and two RAM DIMM slots. Consumers wanting to find a Mini-ITX board may find themselves in a similar situation to E-ATX users. These very small boards tend to be rarer and more expensive, but are loaded to the brim with features.
Your form factor choice will essentially decide two things. The size of your motherboard, and the features available. ATX and Micro-ATX are the most supported when it comes to cases, but they do differ slightly on features. Micro-ATX boards are slightly smaller, so you may have to sacrifice a PCI-E x16 slot, and some x4 slots. For Mini-ITX and E-ATX designs these options are more specialised and will require more research into case choices, but also the amount of features you want.
Major Motherboard Manufacturers
With motherboards there isn't a particular dominance in the market. There's a vast range of manufacturers that supply products in the market, but generally speaking there's plenty of options available to consumers when it comes to AM5. The main manufacturers are: MSI, ASUS, Gigabyte, ASRock, and Biostar. These organisations have the biggest shares available and there may be particular reasons why you might choose one over the other.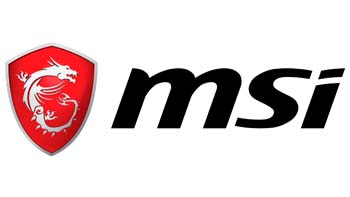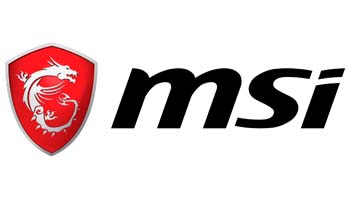 MSI
MSI are one of the biggest players in this space offering an array of boards that cover every price point and consumer. They generally offer three ranges of motherboards (MPG, MAG, and MEG), but we've also seen the Pro line-up return for Ryzen 7000. MSI's MEG X670E ACE is one of the flagship designs for AM5, it looks awesome and is absolutely stacked with features. Design wise, MSI tend to offer more neutral tones with most of the boards being black and grey with so minimalist RGB. Or if you're looking for something a little bit crazy, then the GODLIKE boards are worth checking out!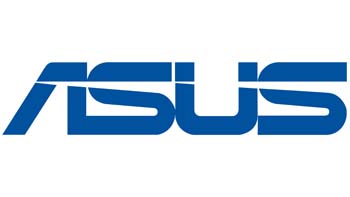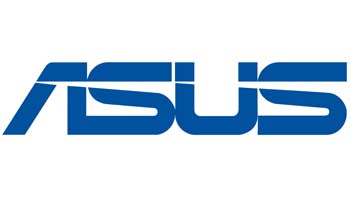 ASUS
In terms of price point ASUS tend to sit in the mid-range and high-end markets. Their ROG line-up of boards tend to be crammed with features, but can be somewhat heavy on the RGB at times. If you're looking for something a little bit cheaper, then the TUF Gaming range are good options, bringing a more minimalist style with plenty of features. ASUS also offer a more budget-oriented range of boards known as ASUS Prime. We've seen many of these on more price conscious chipsets, and hope to see ASUS announce some as we get closer to the B650E and B650 motherboard release dates.


Gigabyte
Gigabyte tend to be pretty similar to MSI with regards to pricing and options. Gigabyte's B660 DS3H AX is one of our favourite boards on Intel's 12th Gen line-up, and we're hoping to see something similar with the release of B650 options. Their AORUS range of motherboards are very good as well, making strides at the high-end with some feature-rich unique designs.


ASRock
ASRock tends to sit within the mid-range and high-end market, but do offer budget options such as their Pro RS line. ASRock are well known for creating beautiful looking boards sporting a steampunk design. And with the release of AM5 we've seen them step up their game with the Taichi range of boards. We're excited to see what ASRock have in store for the other chipsets.
BIOSTAR
Now BIOSTAR is a manufacturer that you might not have heard of, and somewhat for good reason. Back in the day, BIOSTAR used to be well known in the motherboard space, but they became less popular as the other brands surged ahead. It was a surprise for most when AMD announced that BIOSTAR would be creating one of their flagship boards for the X670E chipset. Generally this manufacturer has offerings in all of the different budgets, but they thrive in the high-end market providing great looking motherboards with an equally great amount of features.
Our Recommendations
Below is a list of our recommendations that we think are the best bang for buck when it comes to features and design, and pricing. All of the options below have a vast range of features, and we've covered the pros and cons for each one!
1. Best Priced X670E Board – MSI MPG X670E Carbon WiFi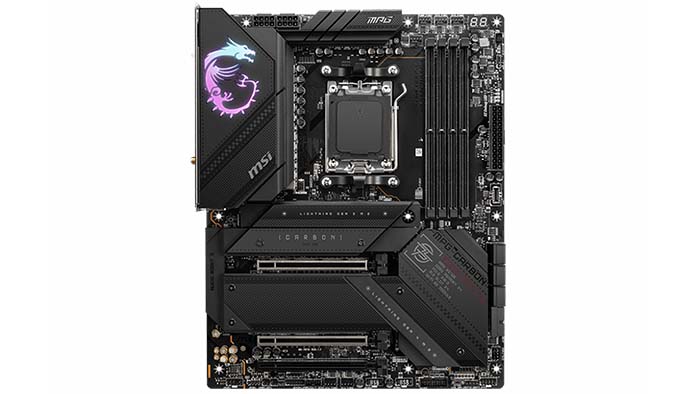 Pros
Cons
✅ Excellent value for money.
✅ Dual PCI-E 5.0 x16 Slots.
✅ Black minimalist aesthetic looks cool.
❌ Still quite expensive.
❌ No USB4 Ports.
MSI's MPG X670E Carbon WiFi is one of the lowest priced boards available on the X670E chipset. This Carbon WiFi board sports a relatively minimalist black aesthetic with some RGB located on the top of the rear IO plate. In terms of PCI-E, you've got access to two Gen5 x16 slots (ideal for multiple GPUs), along with two Gen5 M.2 slots too. There are also two Gen4 slots which provide great speeds by today's standards. On the rear IO we're lacking some USB4 ports, but this is made up for with the sheer quantity of high speed USB 3.2 Gen2 ports (of which there are 8).
Buy the MSI MPG X670E Carbon WiFi on:
2. Best Aesthetic X670E Board – ASRock X670E Taichi Carrara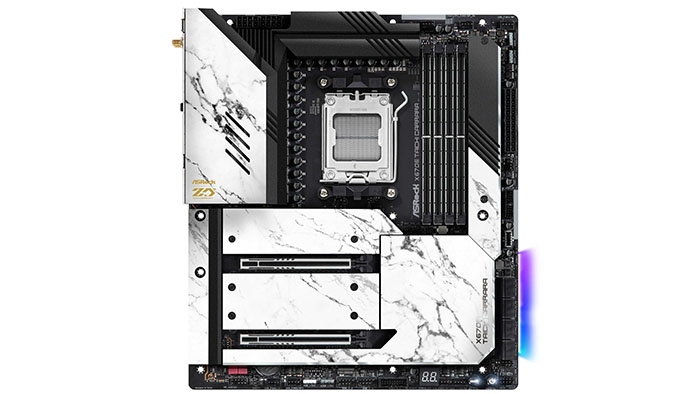 Pros
Cons
✅ White marbled design looks stellar.
✅ Perfect for overclocking.
✅ Loaded with features.
❌ Will be very expensive.
❌ White design not for everyone.
ASRock's X670E Taichi Carrara is an absolutely stunning product, and is a special edition board celebration the 20th anniversary of ASRock. While sporting an incredible design, the Taichi Carrara is also one of the most equipped boards on the X670E chipset. Dual USB4 ports, widespread PCI-E 5.0 for GPUs and SSDs, along with as much rear IO as you can imagine, and an insane amount of power phases for overclocking (26 of them to be exact). You've also got access to high speed networking in the form of 2.5 Gigabit LAN, and WiFi 6E plus Bluetooth. This board is 'choc full' of features.
Buy the ASRock X670E Taichi Carrara on:
3. Best Mini-ITX X670E Board – ASUS ROG Strix X670E-I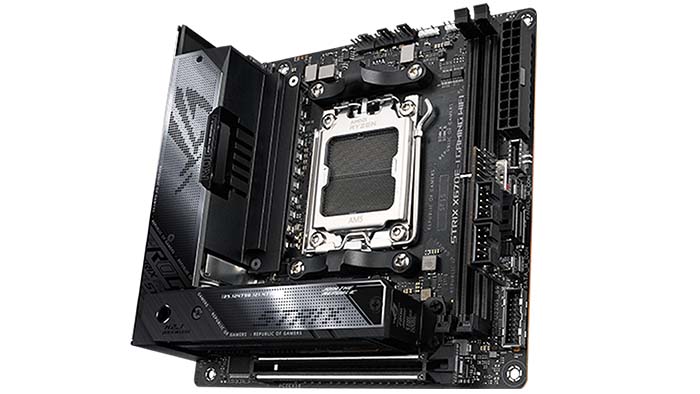 Pros
Cons
✅ PCI-E 5.0 GPU & SSD slots.
✅ Ample power phases for overclocking.
✅ Two USB4 ports.
❌ Limited slots due to form factor.
❌ Not much in the way of RGB.
This ROG Strix X670E-I is likely to be one of the most powerful boards available on this chipset, while still retaining the smaller form factor. The singular PCI-E x16 Slot is Gen5 ready, along with one of the M.2 slots also retaining PCI-E 5.0 compatibility. VRM wise, this board should be great for overclocking with its healthy amount of power phases and superb cooling design. To top it off, the X670E-I also comes with a ROG FPS-II card allowing you to easily access front panel headers. You've also got plenty of rear IO, including multiple USB 3.2 Gen2 ports, and the all-new USB4!
Buy the ASUS ROG Strix X670E-I Gaming WiFi on:
4. Best RGB Board – ASUS ROG Crosshair X670E Extreme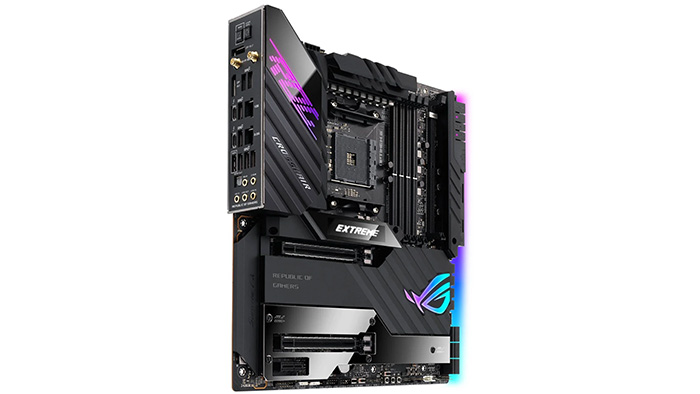 Pros
Cons
✅ 20+2 power stages for overclocking.
✅ Huge amount of PCI-E 5.0.
✅ RGB lighting looks awesome.
❌ Very expensive.
❌ E-ATX form factor will limit case choices.
For our best RGB board, we've picked out one of the flagship entrants from ASUS. The ROG Strix Crosshair X670E Extreme is crazy in both its features and design. With a massive amount of RGB across the heatsinks and RGB strips on the underside of the board. This of course can be fully customised using software like ASUS AuraSync. This motherboard is also kitted out with a huge amount of features, from PCI-E 5.0 capability on numerous slots, along with 6400MHz overclocking support with the DDR5 memory.
Buy the ASUS ROG Crosshair X670E Extreme on:
5. Best Workstation Board – ASUS ProArt X670E-Creator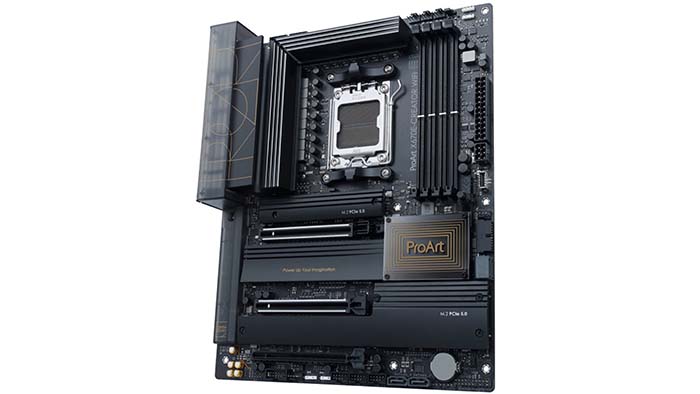 Pros
Cons
✅ Perfect for 3D rendering and video editing.
✅ 10 Gigabit LAN is awesome.
✅ Quick Charge 4+ on the front panel.
❌ Very pricey.
❌ Not much offered in the way of RGB.
The ASUS ProArt line of motherboards are optimised to deal with big workloads in a precise and accurate manner. The gold accents across the board show a luxury and sophistication, while offering a sleek look. Coupled with the sleek design, the ProART X670E-Creator has numerous PCI-E 5.0 slots giving you access to the fastest next-gen GPUs and SSDs. You've also got access to dual ethernet ports, with one of them offering 10 Gigabit LAN speeds designed for fast file transfers and minimal hindrances while working.
Buy the ASUS ProArt X670E-Creator WiFi on:
6. Best Enthusiast Board – MSI MEG X670E GODLIKE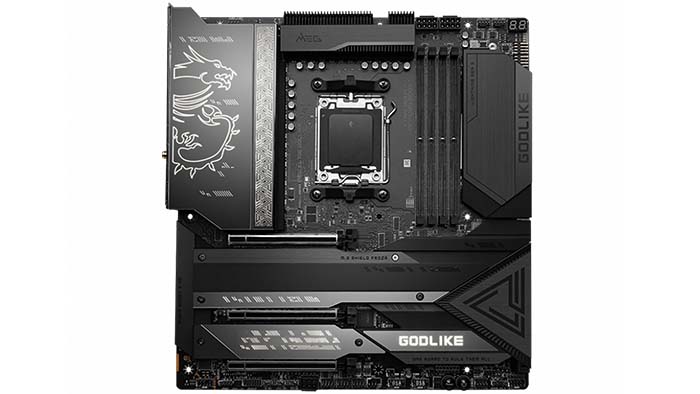 Pros
Cons
✅ LCD display is incredible.
✅ One of the best boards for overclocking.
✅ Too much PCI-E 5.0 to count.
❌ The most expensive X670E motherboard.
❌ Might be somewhat overkill.
Our final motherboard choice on the X670E chipset is the MSI MEG X670E GODLIKE. This board, although expensive encapsulates what it means to build an enthusiast high-end PC. Featuring an LCD touch-screen display which can be customised fully. An exceptional amount of PCI-E 5.0, coupled with a 27 phase power design on the VRMs. There's also more rear IO than I can count on one hand, and not to mention this board has an extended heatsink design providing cooling and extra flair. MSI's GODLIKE is the holy grail of motherboards.
Buy the MSI MEG X670E GODLIKE on: