Introduction
With the launch of PCIe 5.0 NVMe SSDs, last-gen PCIe Gen 4 drives have seen major drops in pricing. As such, these high-performance drives that offer unparalleled speeds, are a much better deal. What's more, as the technology has been around since 2017, any consumers who have upgraded their PCs since then, will most likely find themselves in possession of a PCIe 4.0 compatible motherboard, which will be able to take full advantage of these fast drives.
Be it, for loading large and demanding games, or for working with other large files for work, PCIe Gen 4 drives can greatly increase the responsiveness and load times on your PC. What's more, their usefulness will only grow with time, as files become even larger.
To give you some more context on the best Gen4 drives available, we've put together a roundup of some excellent options that you can pick up right now! These drives come in at a variety of price points, and feature various read and write speeds. As such, consumers should be able to find a drive that not only matches their budget, but also the speeds they require for their use-case.
Suggested Article: Best 2TB PCI-E Gen4 SSDs to Buy in 2023
Our Recommendations
1. WD Black SN770
👑 The best budget NVMe SSD.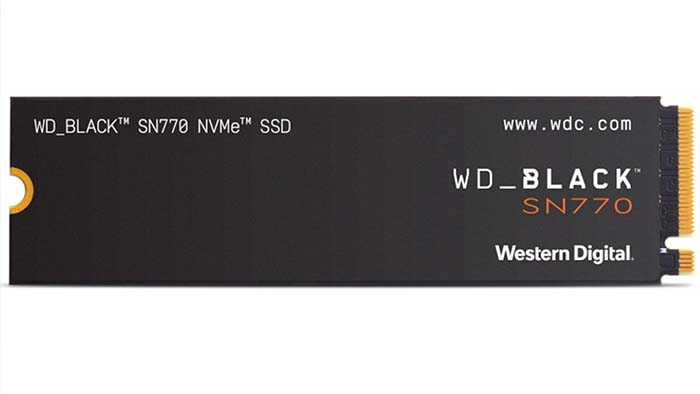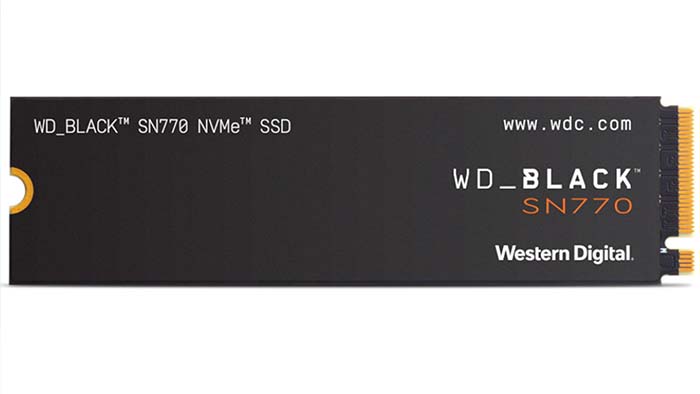 Introduction
Alongside Seagate, Western Digital is one of the most well known and beloved storage companies currently on the market. Out of their various line-ups, their WD Black line features the fastest NAND storage the company offer. While Western Digital offers many drives that operate at Gen 4 speeds, we are focusing on what is their most popular SKU.
The WD Black SN770 is one of Western Digital's more high-end PCIe 4.0 drives, featuring the highest speeds of any consumers Gen 4 SSDs in the company's product stack. It is a standard-sized 2280 M.2 SSD, which features very aggressive pricing for such a fast drive. However, it does still feature certain compromises, such as relatively low speeds compared to other Gen 4 NVMe SSDs, and the lack of a heatsink. What's more, its TBW rating is also noticeably lower than on other drives at a similar price. Thankfully, it's still high enough that most consumers will see no issues with this drive under normal use.
Key Specs
| Key Specs | WD Black SN770 |
| --- | --- |
| Form Factor | 2280 |
| Max Read Speeds | 5150 MB/s |
| Max Write Speeds | 4900 MB/s |
WD Black SN770 specs
Things We Like
Low price: The WD Black SN770 is the most budget PCIe 4.0 NVMe SSD that we're featuring. Its very low pricing makes it an ideal drive for any consumer looking to experience high speeds without spending too much of their budget on storage. It is a fantastic way to cheaply add fast storage to an existing PC build or console if the need arises for more storage.
Reliable Manufacturer: Western Digital has been working in the storage industry for decades, creating a strong reputation with customers. Their years of experience with this technology has also resulted in them being able to give the SN770 a high mean time between failures (MTBF).
Things We Don't Like
Slow speeds: As is to be expected from a more budget SSD, the SN770 does not make full use of the fast PCIe 4.0 interface, and makes modest use of the maximum speeds it allows for. With sequential read speeds barely reaching into the 5000 MB/s range, it's much slower compared to other high-end PCIe Gen 4 drives.
Low TBW Rating: The TBW, or Terabytes Written rating, for the SN770 is a mere 600TB. This is less than half compared to other SSDs in this roundup. As such, consumers running this drive under very demanding conditions might notice slight degradation, however the risk is still overall very low.
Summary
The WD Black SN770 is a great budget NVMe SSD. Whilst its speeds might not be as fast as other models, it is still a fantastic way to experience the high responsiveness of a Gen 4 drive at a low price from a well-known storage manufacturer. Whilst its low TBW may also be concerning for some consumers, under normal usage it should cause no issues.
Features: 4.3/5
Design: 4/5
Performance: 3/5
Value for Money: 3.5/5
Pros
Affordable.
Low-profile.
Reputable brand.
Cons
Low speeds compared to others.
Low TBW
Where to Buy
Buy the WD Black SN770 on:
2. ADATA XPG GAMMIX S70 Blade
👑 The best overall PCIe 4.0 NVMe SSD.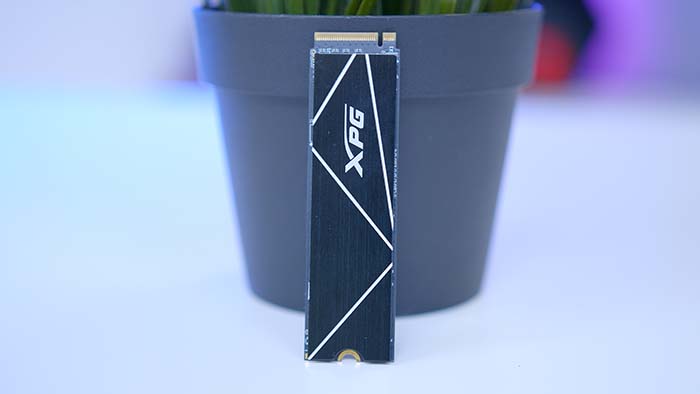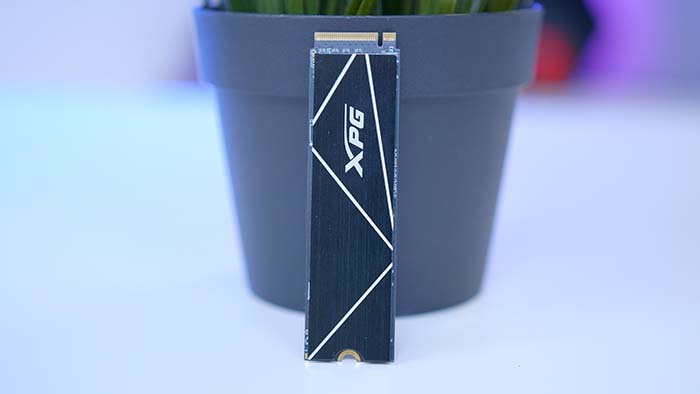 Introduction
ADATA's XPG brand of gaming-oriented components may not be as well known as some others in this roundup, however that doesn't mean that it should be written off. ADATA offers some incredible value parts within this line-up, including their most advanced PCIe 4.0 drive: the ADATA XPG GAMMIX S70 Blade.
This Gen 4 SSD features incredibly strong read and write speeds for the price, while also being the only drive in this roundup to include any heatsink, even if it's still rather small. Whilst still not the cheapest PCIe 4.0 drive on the market, it does feature speeds that no other manufacturer is able to achieve at that price. This makes it a fantastic choice for most consumers who do not wish to spend too much of their PC budget on fast storage.
Key Specs
| Key Specs | ADATA XPG GAMMIX S70 Blade |
| --- | --- |
| Form Factor | 2280 |
| Max Read Speeds | 7400 MB/s |
| Max Write Speeds | 6800 MB/s |
ADATA XPG GAMMIX S70 Blade specs
Things We Like
Very fast: The ADATA XPG GAMMIX S70 Blade features the highest read speeds of any SSD in this roundup. Thanks to these fast speeds, consumers can expect a snappy and quick experience when loading games or working with extremely large files. Write speeds are also very high for the standards of PCIe Gen 4 NVMe SSDs.
Affordable: Despite its high speeds, ADATA was able to keep the suggested price of the S70 Blade relatively low, giving it one of the best price-to-performance ratios of any PCIe 4.0 NVMe SSD. Consumers looking for a budget solution will not only find a budget drive, but also one of the fastest consumer Gen 4 SSDs as well.
Things We Don't Like
Very basic heatsink: While its fantastic that unlike other SSDs mentioned in this article the S70 Blade does include a heatsink, the design ADATA used will not dissipate much heat in practice. The very thin spreader on top will still most likely have to be replaced by a better 3rd party solution, such as M.2 heatsinks that frequently ship with motherboards.
Fewer suppliers: ADATA, whilst far from the smallest storage manufacturer, is by far the smallest of the companies we discuss in this roundup. As such, their XPG line of gaming-oriented components might be more difficult to find in certain markets.
Summary
The ADATA XPG GAMMIX S70 Blade is one of the best value PCIe 4.0 NVMe SSDs currently available on the market. It's truly impressive that ADATA is able to offer such high speeds at a relatively low price for a Gen 4 drive. Consumers looking for a fantastic balance of performance and cost will certainly find it with the S70 Blade.
Features: 4/5
Design: 4/5
Performance: 4.8/5
Value for Money: 4.8/5
Pros
High read/write speeds.
Affordable.
Included heatsink.
Where to Buy
Buy the ADATA XPG GAMMIX S70 on:
3. Samsung 980 Pro
👑 The best mid-range PCIe 4.0 NVMe SSD.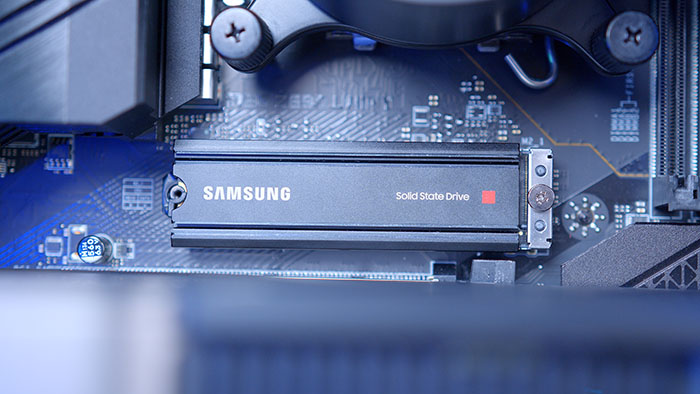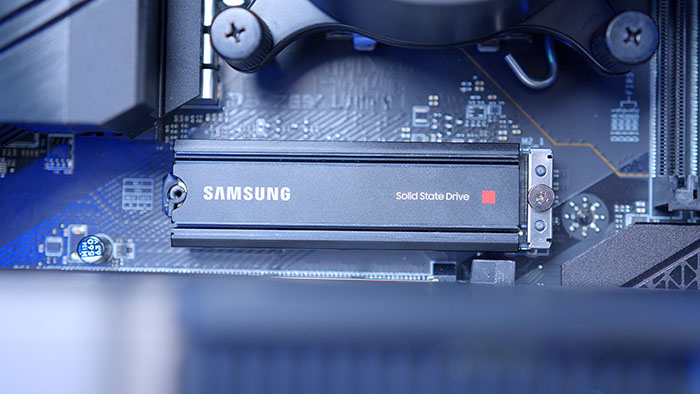 Introduction
While Samsung SSDs have never been historically cheap, they have carried with them Samsung's signature quality. As a highly vertically-integrated company, Samsung is able to produce almost all components of an SSD in-house, allowing them much greater control over the finished product.
The Samsung 980 Pro is yet another fantastic SSD from the company. While it's not as budget-friendly as many other Gen 4 drives, it does thankfully make up for it with its read speeds. Interestingly, we see a rather large disparity between the sequential read and write speeds on this model, more than on many other SSDs of this generation. Despite this drawback, consumers will still find great value in this SSD, especially those who are reliant on strong read speeds, as opposed to writing to drives.
Key Specs
| Key Specs | Samsung 980 Pro |
| --- | --- |
| Form Factor | 2280 |
| Max Read Speeds | 7000 MB/s |
| Max Write Speeds | 5000 MB/s |
Samsung 980 Pro specs
Things We Like
High read speeds: The Samsung 980 Pro is capable of sequential read speeds of up to 7000 MB/s. It's an incredibly fast PCIe Gen 4 SSD that does certainly match the high price Samsung has attached to it. At such speeds, consumers should notice a very big difference when working on any demanding files or programs.
High-quality components: Samsung, as a highly-integrated company which produces its own storage modules, has been well known for not only their quality, but also longevity of their products. Samsung drives are often the go-to for many customers thanks to this amazing reputation. It's also backed up by a respectable MTBF of 1.5 million hours too.
Things We Don't Like
Expensive: As is to be expected from a Samsung drive, the 980 Pro does cost significantly more than entry-level drives that offer PCIe Gen 4 speeds. As such, it may not fit all budgets, nor does it offer the best value for the speeds it provides. However consumers who do have the budget spare for this Samsung drive will not be disappointed.
Underwhelming write speeds: Whilst its read speeds are very impressive for a PCIe Gen 4 SSD, the write speeds do not make the most of the standard. With maximum sequential write speeds of just 5000 MB/s, the Samsung 980 Pro may struggle to keep up against other, similar drives.
Summary
Despite its high price, Samsung still present a very strong offering with their 980 Pro PCIe 4.0 drive. Despite the fact that its write speeds don't fully utilise the potential of this interface, the high sequential read speeds do certainly make up for it. What's more, its generally good reliability and Samsung's signature quality do help further build reassurance for anyone who purchases this SSD.
Features: 4/5
Design: 4/5
Performance: 4/5
Value for Money: 3/5
Pros
High read speeds.
Samsung quality.
Good availability.
Cons
Very expensive.
Slow write speeds.
Where to Buy
Buy the Samsung 980 Pro on:
4. Seagate Firecuda 530
👑 The best PCIe 4.0 NVMe SSD for write speeds.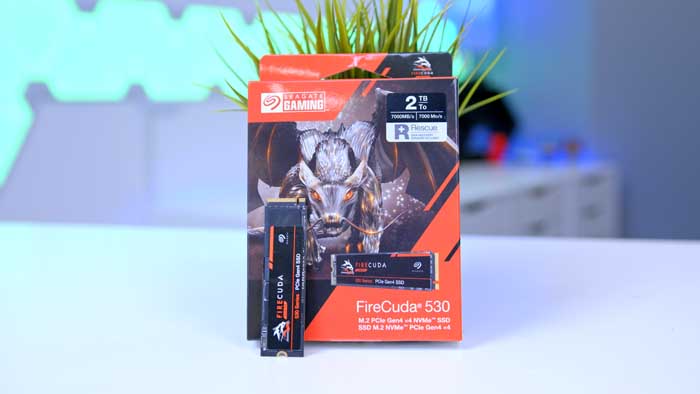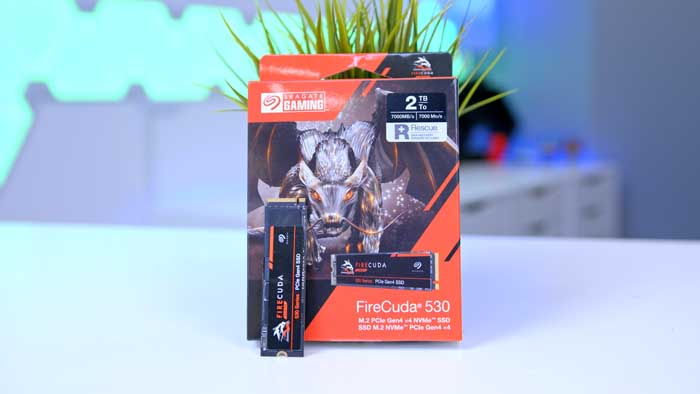 Introduction
Seagate is one the most reputable and well-beloved storage companies currently in the tech industry. With decades of expertise and trust with customers, this manufacturer continues to deliver quality storage solutions, such as their flagship PCIe 4.0 NVMe SSD: the Seagate Firecuda 530.
The Firecuda 530's pricing per TB is far from competitive when compared to other, more budget SSDs, however it justifies its high price through some of the best speeds that PCIe Gen 4 can deliver. What's more, it's also a very reliable drive, that is also backed up with great warranty.
As with most drives in this roundup, there are still some caveats, such as the lack of any included heatsink. However, it once again manages to still represent a strong value proposition despite those facts through its high read and write speeds.
Key Specs
| Key Specs | Seagate Firecuda 530 |
| --- | --- |
| Form Factor | 2280 |
| Max Read Speeds | 7300 MB/s |
| Max Write Speeds | 6900 MB/s |
Seagate Firecuda 530 specs
Things We Like
Very fast: In terms of write speeds, the Seagate Firecuda 530 is by far the fastest PCIe 4.0 NVMe SSD in this roundup. The read speeds are also amongst the highest currently available from PCIe 4.0 drives. Consumers can expect very fast sequential read and write speeds that are fantastic for games and large files alike.
Reliable: Seagate drives, especially their more high-end models, are known for the high reliability and long lifespans. This manufacturer gave this drive a mean time between failures of up to 1.8 million hours, on top of various rigorous tests to ensure great stability for the user.
Things We Don't Like
Expensive: The high speeds achieved by the Seagate Firecuda 530 are countered by the much higher price compared to all other NVMe SSDs in this roundup. As such, this SSD is not recommended for more budget builds, but rather for consumers who will greatly benefit from these high speeds, and have the budget to spare.
No heatsink: Despite its high speeds, the Firecuda 530 doesn't include a heatsink to aid in cooling down the drive. Whilst many motherboards nowadays do include M.2 heatsinks, it's still disappointing to see there isn't one included by default. Seagate does offer a variant with a heat spreader on top, however this inflates the already high price of the drive even further.
Summary
Whilst it's certainly one of the most expensive PCIe 4.0 NVMe SSDs per TB, the Seagate Firecuda 530 more than justifies its high price with its incredibly high speeds and great reliability. For consumers looking for highly responsive drives from a very reputable company, this SSD provides a fantastic overall experience to the user.
Features: 4/5
Design: 4/5
Performance: 4.3/5
Value for Money: 3.5/5
Pros
Fast read/write speeds.
Very reliable.
Good warranty.
Cons
Very expensive.
No included heatsink.
Where to Buy
Buy the Seagate Firecuda 530 on:
How Much Storage Do I Need for Gaming?
In recent years, AAA games have greatly grown in size, with most installs now requiring between 60GB and 100GB of free space. As such, storage requirements for gaming PCs have also increased to keep up with the demand for space from these current titles.
Beyond the initial installation, additional DLC or user-installed mods can also greatly inflate the install size. As such, many gamers may now require several terabytes of storage to manage their game library, without the need to frequently uninstall less frequently played titles.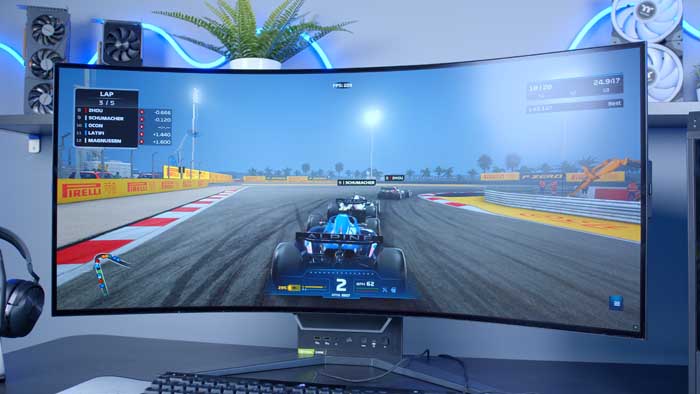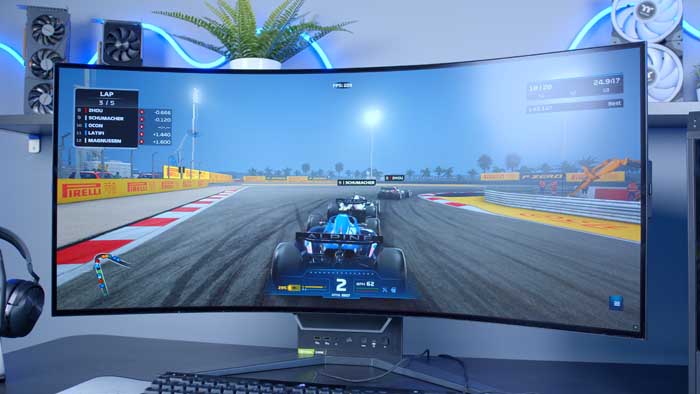 There is a clear indicator that storage requirements are becoming much more inflated, and thus, consumers are likely to need a higher capacity drive. But where is the sweet spot? Is it worth picking up a top-end high capacity option to ensure you've got enough space? Or will a smaller SSD be suitable? As a general rule of thumb, we think that picking up a 1TB SSD is the sweet spot for most consumers. This can act as your boot drive, whilst also offering space for a range of your most played games, allowing you to install the largest ones.
For any other games or applications that you don't use regularly there are two options. Pick up a smaller SATA SSD with a DRAM cache, these drives will be very cheap and will still offer great speeds. Or you can pick up a SATA HDD. These drives are also very cheap and offer excellent price per GB, making it ideal for those that need loads of space, but aren't willing to spend a fortune.
| Drive Size | Average Number of Games |
| --- | --- |
| 500GB | 16 |
| 1TB | 32 |
| 2TB | 64 |
| 4TB | 128 |
Based on the average gaming offering a size of 30-50GB
Do I Need a Gen4 Drive for My Gaming PC?
Whilst far from necessary, a fast drive can make a very big difference in the most demanding games, which may need to load large amounts of high-resolution assets and scenes. Fast PCIe 4.0 NVMe SSDs also help in ensuring no one application is bottlenecked by the read or write speeds, if several programs require data from the same drive at once. Naturally, the usefulness of said drives will also only increase with time, as PC games become even more demanding.
The question of if a PCIe 4.0 is needed is also often brought up in the context of the new and exciting Direct Storage feature from Microsoft. This API allows for much faster game load time in supported games. As such, the expectation is that it requires a high-speed drive, such as a PCIe 4.0 NVMe SSD. In practice however, Microsoft states that a Gen 3 SSD is the minimum requirement. What's more, latest updates to the technology also paved the way for some functionality on older, mechanical hard drives. As such, consumers who wish to take advantage of this amazing technology are not required to buy more expensive Gen 4 drives.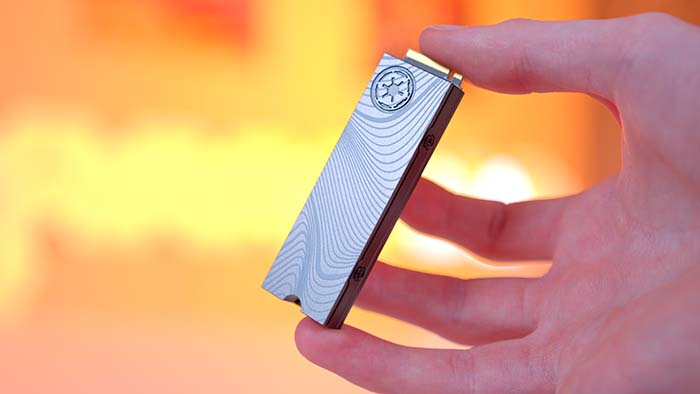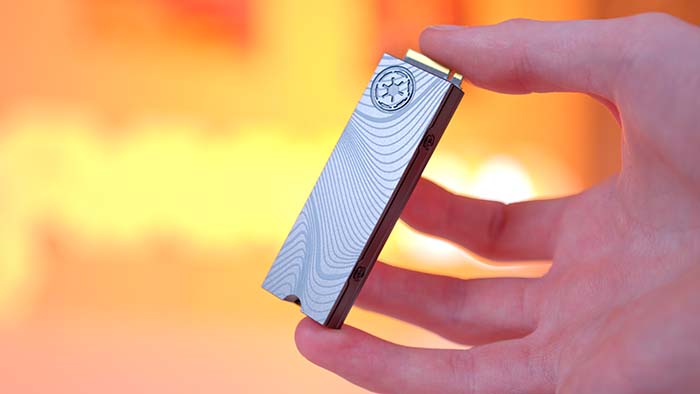 Why You Can Trust Us
Our editorial team of hardware enthusiasts work hard to ensure that all of the products we get in our offices are thoroughly tested. For those interested in learning more about our team, head over to the About Us section, where you'll also find more detail about our editorial promise.
How We Tested PCIe 4.0 NVMe SSDs
In order to test and evaluate these PCIe 4.0 NVMe SSDs, there are a number of factors that we take into account, these are:
Endurance (TBW)
Thermal Capability
Read and Write Speeds
Warranty
Value for Money
Conclusion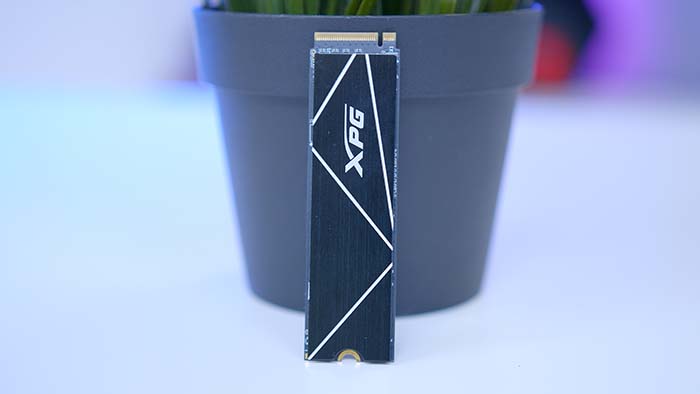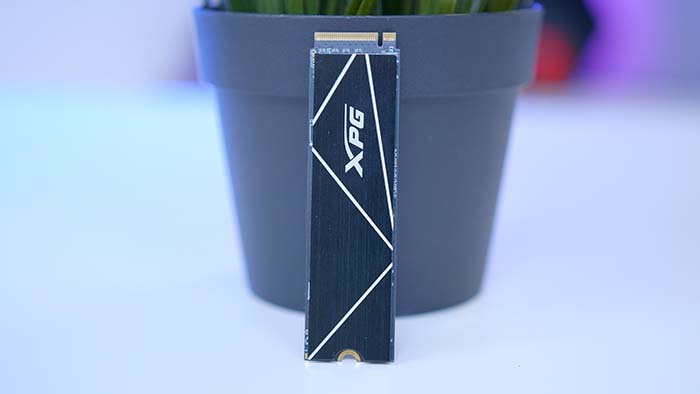 Best 1TB Gen4 NVMe SSD: ADATA XPG GAMMIX S70 Blade
With a highly competitive price, and speeds that rival even the most high-end PCIe 4.0 SSDs, the ADATA XPG GAMMIX S70 Blade is the perfect combination of speed, price, and reliability.
Read our full Gen4 SSD coverage, or Buy the ADATA XPG GAMMIX S70 Blade on Amazon
Frequently Asked Questions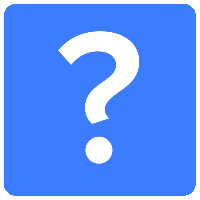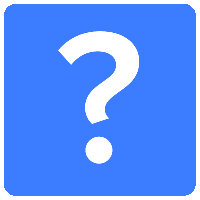 What is the Difference Between Generations?
The maximum theoretical speed that could be achieved by a PCIe 3.0 SSD is 4 GB/s. As PCIe speeds double with each generation, a Gen 4 drive is therefore capable of speeds of up to 8 GB/s. These newer drives also require a compatible motherboard.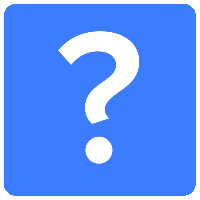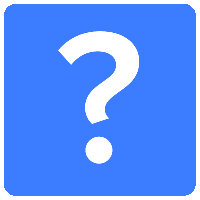 Will My SSD Affect My Gaming Performance?
While slower drives may not affect the performance of a game in the most literal sense, in terms of just the average FPS, it may have other consequences on the experience. This may include slower loading times or certain assets loading in after other ones, resulting in "pop-in".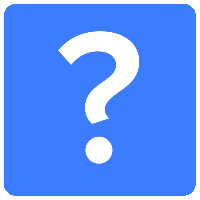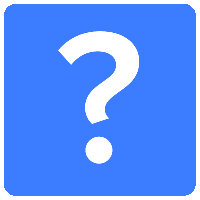 Can I Use a SATA SSD Instead of an M.2 Drive?
As all motherboards still support SATA SSDs, such a drive can be easily installed and used without any issues. Beyond speed, there will be no difference in the usability of the drive to the user. However, SATA SSDs are greatly bottlenecked by the SATA interface and its maximum speed of 750 MB/s.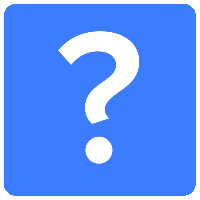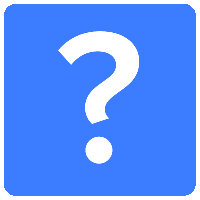 Do I Need a Fast Drive for a Workstation System?
Depending on the work being done, a fast SSD can prove to be very helpful in a workstation. When working with larger files, such as high-quality videos, complex 3D scenes, or other instances where several gigabytes of data may be required at any one time, a fast, Gen 4 NVMe SSD that greatly enhance responsiveness.