Introduction
For 1440p gaming monitors, it seems that a 240Hz refresh rate is the latest trend to peak the interest of both manufacturers and consumers. Compared to the typical 144Hz or 165Hz displays, these monitors push the limits of most modern builds at 1440p, making it a popular option for competitive gamers that want access to improved visuals.
As a result, we're seeing more and more 240Hz gaming monitors arrive in the GeekaWhat office. The latest addition to our range is the iiyama G-Master GB2790QSU-B1, a 27″ display that aims to provide an immersive and responsive gaming experience.
Suggested Article: Best Gaming Monitors Under $400 to Buy in 2023
But how does this monitor match up to the rest of the 1440p gaming monitors we've been able to try? And is it worth considering for your gaming setup? In this review, we'll be addressing these questions about iiyama's premium offering, including analysis on performance, design, and key features.
Buy the iiyama G-MASTER GB2790QSU-B1 on:
Are 27″ Monitors Good for Gaming?
When it comes to picking the size of a gaming monitor, there a number of factors that will determine which is the most suitable for your gaming setup. However, the general consensus suggests that 27″ and 32″ displays are the best options for gaming, with some discretion for ultrawide monitors and smaller 24″ displays for improved performance.
Whilst some specific use-cases may want to look around at the other display sizes, such as an ultrawide monitor for a more cinematic experience, the main decision for most gamers will be between a 27″ and 32″ screen. Both options have their pros and cons, but some key factors that could sway your decision.
Looking at 27″ gaming monitors in particular, the main benefit to these smaller designs has to be the reduced desk space. Whether you plan on rocking a single or multi-monitor setup, these displays are unlikely to cause issues with space while offering enough screen real-estate to see all the on-screen action. Also, smaller screens can often provide performance benefits, as it is easier to move the cursor across the display and see all the on-screen action at once.
Whilst a 27″ display does provide a strong balance between immersion and performance, making it a great choice for gaming, 32″ gaming monitors offer greater immersion without making much of a difference to performance. As a result, a 32″ display will be a better option for those concerned with visual fidelity, especially if you plan on having a single monitor setup.
iiyama G-Master GB2790QSU-B1 Design & Aesthetic
Turning our attention back towards the iiyama G-MASTER GB2790QSU-B1, as it's time to look at the design in greater detail. As previously mentioned, this is a 27″ gaming monitor, making it an ideal addition to a multi-monitor setup, or as a designated display for gamers that like to be close to the action. With a flat IPS panel, this monitor is also strong in productivity purposes, providing a consistent image at wide viewing angles.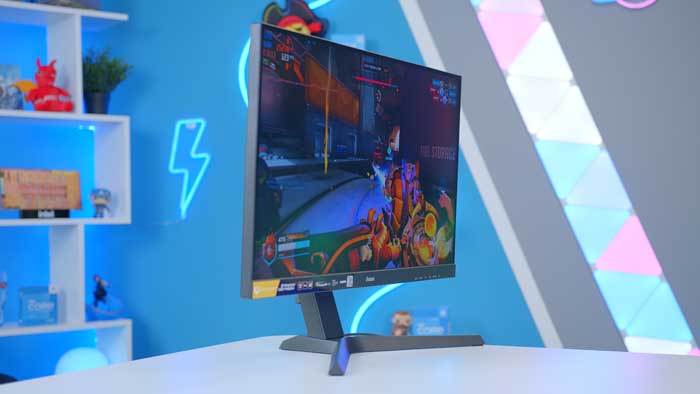 As for the rest of the design, the brushed metallic frame gives this monitor a premium look that will look great in both gaming and office environments. The thin bezels surrounding the display prevents the G-Master GB2790QSU-B1 from looking bulky and allows users to feel more honed in to the on-screen events. Whilst the monitor comes with a huge sticker attached to the front, this can be easily remove, leaving a fairly clean aesthetic with some silver detailing to highlight button locations.
Moving down to the stand, the y-shaped frame feels incredibly stable and durable, which stops the iiyama G-Master GB2790QSU-B1 from wobbling, even when making adjustments to the positioning. Whilst the y-shaped stand does reduce the impact on desk real-estate, it still requires a lot of space to keep the monitor secure. Luckily, this display can also be attached to a 100 x 100mm VESA mount for those looking for a greater range of movement.
Overall, the iiyama G-Master GB2790QSU-B1's design feels very secure while boasting and clean and smart appearance that will fit into most gaming or office setups with ease.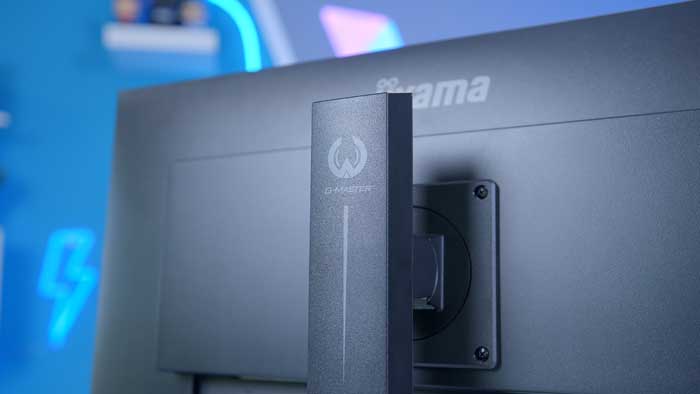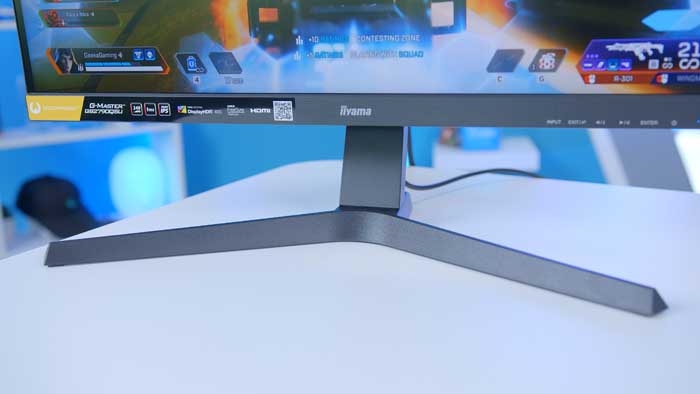 iiyama G-Master GB2790QSU-B1 Specs & Performance
As part of iiyama's Gold Phoenix range of gaming monitors, this G-Master GB2790QSU-B1 is designed with the desire to unlock a gamer's full potential. In order to achieve such a feat, this monitor has to provide all the tools to allow gamers to perform at their best. Luckily, the G-Master GB2790QSU-B1 offers a number of visual and performance buffs to satisfy these demands.
First of all, the 240Hz refresh rate provides users with optimal performance at 1440p, resulting in very smooth gameplay in all the latest competitive titles. In addition, the 1ms response time means this display is up to current competitive standards, giving users an even playing field when responding to on-screen events. To improve gaming performance further, this monitor supports AMD FreeSync Premium, which reduces the impact of screen-tearing for a smooth and consistent image.
| Specifications | iiyama G-MASTER GB2790QSU-B1 |
| --- | --- |
| Screen Size | 27″ |
| Max Resolution | 2560×1440 |
| Refresh Rate | 240Hz Refresh Rate |
| Response Time | 1ms |
| Colour Gamut | 91% DCI-P3, 100% sRGB |
| Panel Type | IPS |
| Display Inputs | 1 x HDMI 2.0, 1 x DisplayPort 1.4 |
| Adaptive Sync | AMD FreeSync Premium |
In terms of visual fidelity, the 1440p resolution on the G-Master GB279OQSU gives consumers enhanced visual quality compared to 1080p gaming monitors, which have typically been used for competitive gaming. To increase the visual aspects further, this display utilises an IPS panel that provides brighter colours and greater contrasts. Whilst the HDR400 quality won't provide a cinema-worthy viewing experience, it will be enough for details to become clearer in most games.
To gain an understanding of the visual quality on offer, we put the iiyama G-Master GB279OQSU through a colour calibration test to check the coverage of various colour gamuts. Our results showed this monitor managed 100% coverage of sRGB, which is somewhat expected on modern displays, along with a respectable 91% coverage of DCI-P3. This puts the G-Master GB279OQSU in close proximity with plenty of other gaming monitors within a similar price and performance level, which indicates that the visual fidelity is more than adequate for a competitive 1440p display.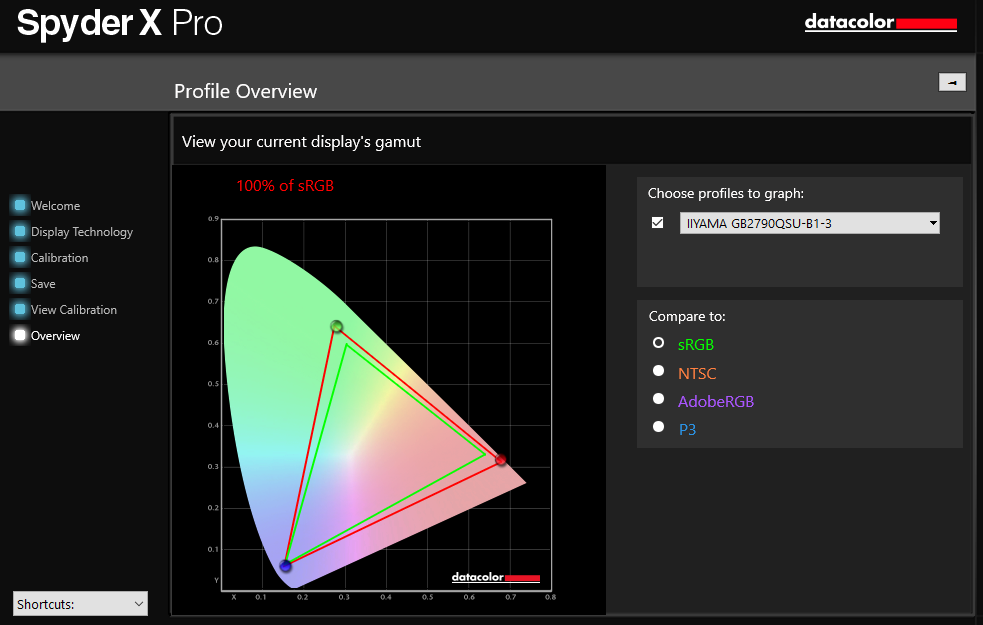 iiyama G-Master GB2790QSU-B1 Features
So far, iiyama's G-Master GB279OQSU has held up well compared to other gaming monitors on the market. But to truly compete with the rest of the 1440p monitors on the market, the G-Master GB279OQSU needs a set of features to make this design more appealing. Here are a few key features that we think most consumers will be interested in.
Fast IPS Panel
When it comes to displays, IPS panels are usually considered as one of the best options for visual fidelity due to their superior colour accuracy and viewing angles. However, the slower response times compared to TN panels specifically have always prevented them from being considered the best choice for gaming. Fortunately, the introduction of fast IPS has improved the response times on these panels, allowing displays like this one to offer consumers the best of both worlds, making them great for gaming and streaming.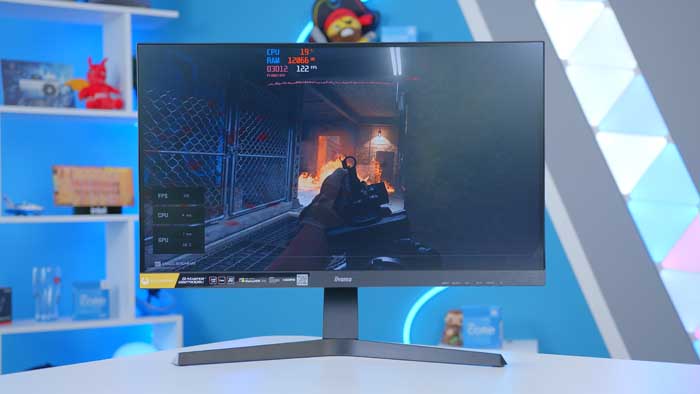 Integrated Speakers
It may seem like a necessity for a display to be equipped with a way to hear what's happening on the screen, but it's surprisingly common for gaming monitors to not come with integrated speakers. With most gamers opting for a headset or desktop speakers anyway, removing sound functionality reduces costs and allows funding to be allocated elsewhere. iiyama haven't taken this approach here, meaning users don't have to rely on a headset all the time. Whilst external audio devices will improve the sound quality, the integrated speakers are a good enough quality to listen to when gaming or watching videos.
Rear IO Connectivity
When it comes to connectivity, this monitor has enough ports to hook up a gaming PC along with some accessories, but isn't the most versatile. The 1.4 DisplayPort is the only way to gain access to the 240Hz refresh rate, with the HDMI 2.0 port acting as a secondary input for consoles. HDMI 2.0 is only capable of running 1440p at 144Hz, but this is more than enough to accommodate the 120Hz limit on the Xbox Series X/S and PlayStation 5 consoles. In terms of other connections, there are two USB hubs for accessories, along with a headphone jack for a gaming headset or speakers.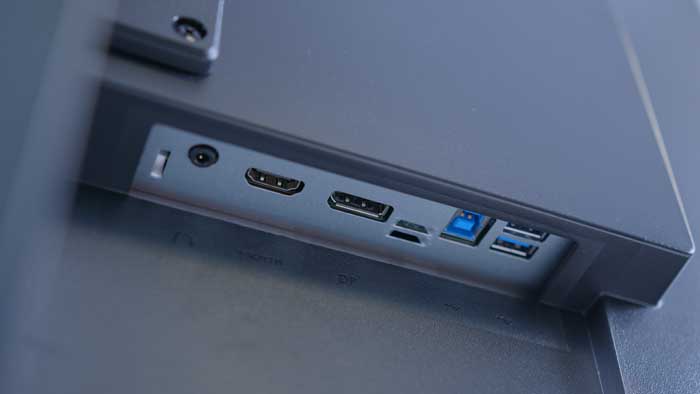 OSD & Navigation
One of the biggest surprises when taking this monitor out of the box was the way in which you navigate through the menu. Instead of using the 5-way directional button found on most modern gaming monitors, the G-Master GB279OQSU includes multiple buttons along the bottom of the screen. Whilst it is rather unconventional for a gaming-oriented display, the multiple inputs aren't necessarily a bad thing, as they are easy to reach and the separated functions allow certain adjustments such as switching the input source to be completed faster.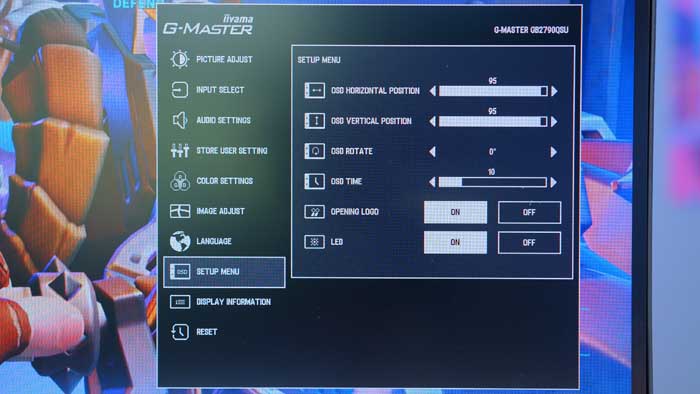 Alternatives
If you like the sound of some of the aspects that are included in iiyama's G-Master GB279OQSU, but are not yet ready to bite the bullet, then it is worth having a look at some alternatives. Here are a few gaming monitors that we'd recommend looking at before deciding to pick up the G-Master GB279OQSU.
iiyama G-Master GB3467WQSU-B5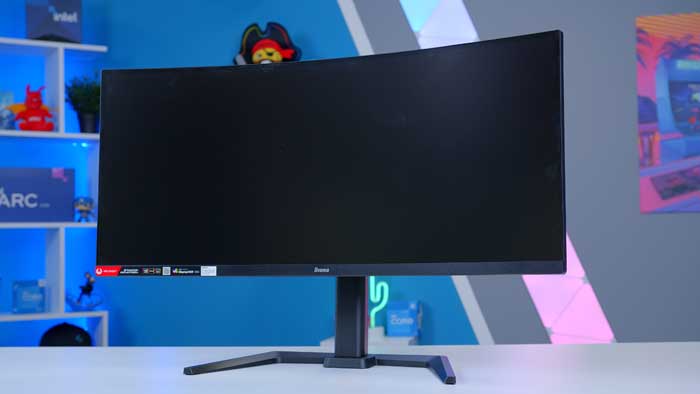 We're sticking close to home for our first recommendation, with on of iiyama's very own G-Master GB3467WQSU-B5. Whilst it shares a manufacturer with the G-Master GB279OQSU, that's where most of the similarities end, as this monitor is very different when it comes to specs. This 1440p ultrawide display is limited to 165Hz, but is available at a reduced price and icludes a wider range of connectivity, making it a strong choice for a solo monitor within a more budget-friendly setup.
Buy the iiyama G-Master GB3467WQSU-B5 on:
Philips Momentum 27M1F5500P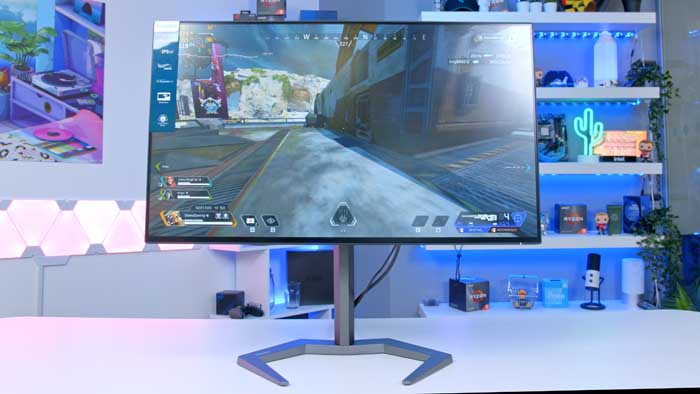 Perhaps the most direct competitor to the G-Master GB279OQSU, the Philips momentum 27M1F5500P is another display which provides great gaming performance at 1440p. In terms of specs, the 27″ IPS panel with 240Hz and a 1ms response time offers similar performance in all the latest titles. However, this monitor includes better colour accuracy and greater connectivity. Combine this with the arguably smarter appearance, this display might be the better gaming-workstation hybrid.
Buy the Philips Momentum 27M1F5500P on:
Gigabyte AORUS FI27Q-X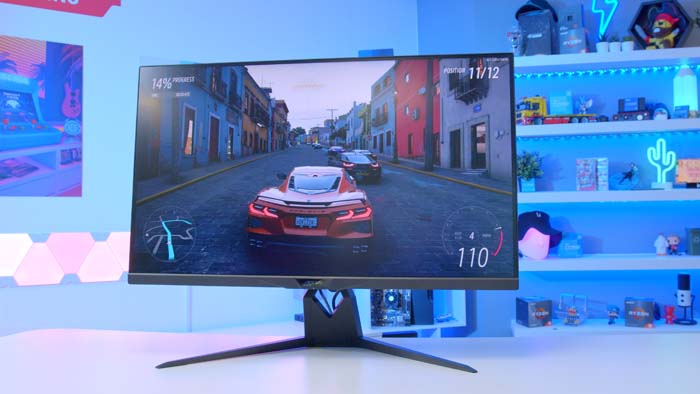 Last but not least, we have one of the first 240Hz 1440p monitors we got hands-on with in the office, the Gigabyte AORUS FI27Q-X. Another monitor which shares a lot of similar specs to iiyama's offering, the FI27Q-X includes an IPS panel with a 1ms response time, allowing users to enjoy a smooth and responsive experience. However, the extensive connectivity, RGB lighting, and futuristic aesthetic makes this display a more natural choice within a gaming-oriented setup.
Buy the Gigabyte AORUS FI27Q-X on:
Conclusion
iiyama G-Master GB2790QSU-B1
Product Name: G-Master GB2790QSU-B1
Brand: iiyama
Features

Design

Performance

Value For Money
Summary
On the whole, the iiyama G-Master GB2790QSU-B1 is a strong 1440p gaming monitor that is perfect for competitive gamers that want to enhance their visual quality. With an impressive 240Hz refresh rate and 1ms response time, this monitor will present you with smooth and responsive gameplay in all the latest and greatest titles. On top of this, the IPS panel produces crisp visuals for a brighter and more colourful image compared to standard 1440p displays.
In terms of design, the stand is well-balanced, allowing the screen to feel secure in almost every position. Plus, the sleek and subtle appearance makes this a suitable display in both gaming and workstation environments. Whilst the G-Master GB2790QSU-B1 gets a lot of the fundamentals right, it lacks the standout features and versatility needed to be considered as an industry-leading design.
For competitive gamers looking for a no-nonsense monitor that strikes a balance between visuals and performance, the iiyama G-Master GB2790QSU-B1 is definitely worth considering, especially when you take price into account. It's just a shame that it lacks the selling points needed to avoid getting lost in the shuffle.   
Pros
✅ Strong 1440p performance
✅ Sleek & sturdy design
✅ Good value for high-end builds
Cons
❌ Pricier than most 1440p displays
❌ Restricted connectivity options
❌ Limited customisation