Introduction
When configuring the ultimate gaming setup, one of the most important steps is finding a gaming monitor that is able to showcase the performance of your PC or console. After all, there's no point in building an awesome gaming PC if you don't have the display to match.
But with so many options on the market, as well as all the variables to consider, it can be difficult to find the perfect choice for you. But worry no more, as GeekaWhat HQ has been working hard to provide the answers and find a range of products to suit the needs of all gamers.
In this buyers guide, we'll be taking a look at the best 32 inch gaming monitors you can buy right now, along with a brief explanation on why screen size is an important factor to consider.
Suggested Article: Best Ultrawide Gaming Monitors to Buy in 2023
Our Recommendations
Now that we know the key features to look out for, it's time to provide details on our top picks for the best 32″ gaming monitors on the market. When putting this roundup together, we've tried to include displays with a range of features to provide all types of gamers with an option that will suit their needs.
1. Gigabyte M32UC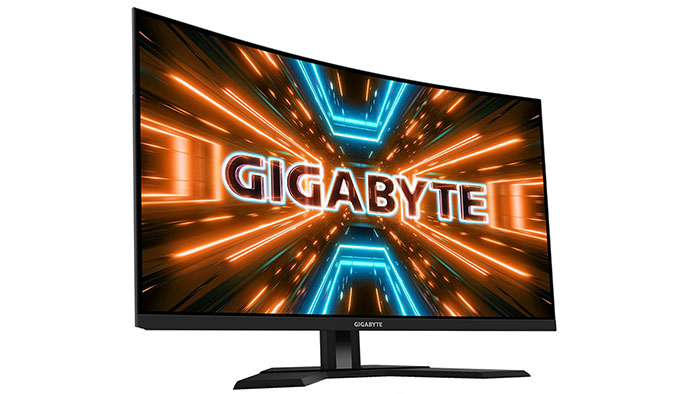 We're starting our roundup with one of the best 4K options on the market right now, the Gigabyte M32UC. Despite opting for a higher resolution, this monitor comes with a 144Hz refresh rate and 0.1ms response time, offering a perfect blend of visuals and performance.
When it comes to the design, the stand and frame has a subtle yet sophisticated look, which will blend nicely into most gaming setups. However, the M32UC does have a panel with a 1500R curvature, which helps increase immersion by occupying a user's full field of view.
Key Facts: Resolution: 4K // Refresh Rate: 144Hz // Response Time: 1ms // Panel Type: VA
As a 4K gaming monitor, the visual fidelity is the main focus of the M32UC. To support this, the M32UC includes a 93% DCI-P3 colour gamut and HDR400 to create an image that is bright and full of colour. Most monitors with a focus on visuals will suffer in terms of performance, but the M32UC offers gamers a solid 144Hz and 1ms response time, providing a perfect balance for all types of games.
When it comes to connectivity features, the M32UC includes a Displayport and two HDMI 2.1 ports, allowing you to connect a gaming PC and next-gen console at the same time without sacrificing performance. On top of this, this monitor includes a USB-C and four USB ports, along with an audio jack for speakers and other gaming accessories.
Pros
4K resolution
Solid gaming performance
Next-gen console compatible
Cons
Quite expensive
VA panel weakens visuals
Curved display not for everyone
Buy the Gigabyte M32UC on:
2. Samsung Odyssey G7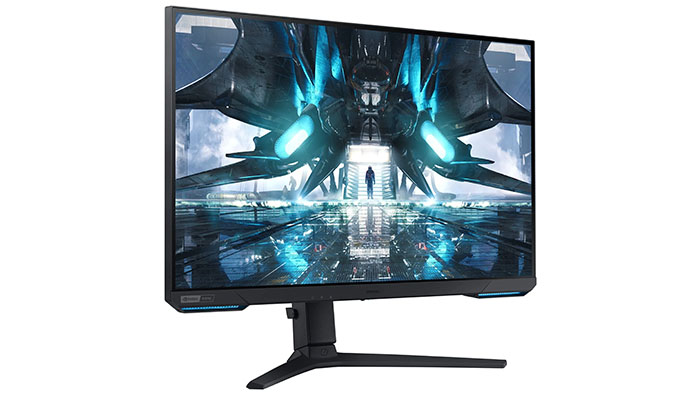 When looking for a great gaming monitor for your setup, Samsung's Odyssey series has proven to be a safe bet, and the Odyssey G7 is no exception. This specific monitor leans towards performance, boasting an impressive 240Hz refresh rate.
In a similar fashion to the rest of the Odyssey line-up, the G7 includes a futuristic design that looks as if it has been taken out of a spaceship. To enhance the design further, the G75T includes an RGB ring on the back of the panel, which can be synced up to games for greater immersion. Speaking of immersion, this monitor also features a curved 1000R design that lets you stay in the zone.
Key Facts: Resolution: 1440p // Refresh Rate: 240Hz // Response Time: 1ms // Panel Type: VA
Looking at the performance, this monitor has a very fast 240Hz refresh rate, providing gamers with ultra-smooth visuals. Refresh rates this high will be better suited to high-end PC builds, as these systems will be the only ones able to reach the required frame rates at 1440p. However, the Odyssey G7 is still a great choice for mid-range gamers too, as the 1ms response time is perfect for competitive scenarios, and has plenty of room to support future upgrades.
Whilst the 1440p resolution limits the visual capabilities of this display when compared to 4K monitors, the visuals on the Odyssey G7 are stunning. Using a QLED panel, this monitor is able to produce 95% DCI-P3 colour gamut coverage and HDR600 contrast, resulting in a bright and colourful image that will make even the most visually challenged games look great.
Pros
Fast 240Hz refresh rate
Solid visuals for 1440p display
Great for high-end gamers
Cons
Expensive 1440p option
Lacks HDMI 2.1 support
Requires high-performance system
Buy the Samsung Odyssey G7 on:
3. MSI G323CV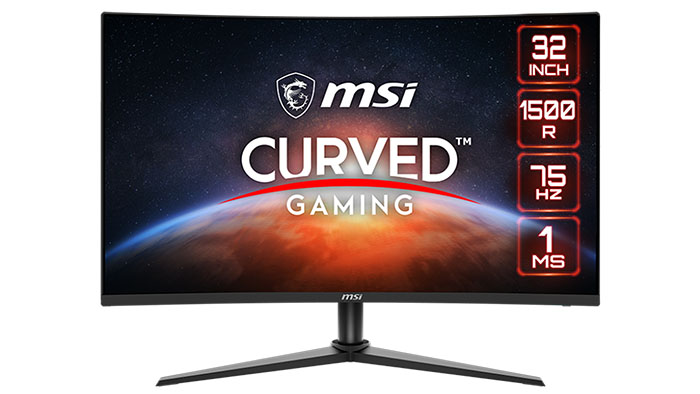 Moving onto a cheaper alternative now, with the MSI G323CV. This 1080p display is targeted towards budget gamers, offering steady and reliable gaming performance at a very affordable price point.
To match the fairly straightforward performance and visuals, the MSI G323CV's design is streamlined to provide consumers with quality-of-life improvements. For example, the frameless border and 1500R curvature enhances the field-of-view to allow gamers to lock onto the action on the screen. And for improved practicality, the minimalist V-shaped stand reduces the impact on desk space.
Key Facts: Resolution: 1080p // Refresh Rate: 75Hz // Response Time: 1ms // Panel Type: VA
In terms of visuals, 1080p has been considered the standard resolution for years. And whilst 1440p displays are slowly becoming the norm, 1080p is still a solid choice for budget gamers, as the image is clear enough not to affect gameplay, which means most budget gamers will be happy to stick to 1080p for a reduced price. However, this 98% sRGB and 82% AdobeRGB colour gamut coverage on this monitor boosts the image to provide a greater range of colour compared to other 1080p displays.
The performance of the MSI G323CV shares a similar story to the visuals, as the 75Hz is fairly low in the grand scheme of things, but is good when compared to the standard 60Hz for budget gaming monitors. Paired with an impressive 1ms response time and AMD FreeSync compatibility to reduce screen-tearing, this monitor provides solid gaming performance for those on a tight budget.
Pros
Very affordable display
Sleek & minimalist design
1ms response time
Cons
75Hz refresh rate
1080p resolution
For budget gamers only
Buy the MSI G323CV on:
4. iiyama G-Master GB3266QSU-B1
For anyone looking for an affordable display that is heavier on the features, then the iiyama G-Master GB3266QSU-B1 could be the choice for you. This monitor is a significant step-up in performance compared the previous option on this list, but sits at a reasonable price point.
What makes the affordable price point a surprise is that the G-Master's design is looks rather abstract with a premium metallic finish. The unique stand includes a lot of accessibility benefits such as cable management and ease of movement, but the larger base does take up a lot of desk space.
Key Facts: Resolution: 1440p // Refresh Rate: 144Hz // Response Time: 1ms // Panel Type: VA
When it comes to visuals, the G-Master features a 1440p resolution display that opts for an unusual 1800R curvature for enhanced immersion. However, this amount of curvature will be too much for some users, especially if you plan on using the display for productivity purposes as well. To improve the visual quality further, the VA panel contains 400 nits brightness and a 3000:1 contrast ratio. This ensures that environments and lighting are more realistic, leading to improved vision and image clarity.
Performance on the G-Master is also solid, as the 144Hz refresh rate and 1ms response time is more than enough to allow the latest titles to run smoothly and with minimal latency issues. In addition, this monitor is compatible with AMD FreeSync Premium, which will eliminate issues with screen-tearing or stuttering. As for connectivity, the G-Master includes two DisplayPorts and two HDMI 2.1 ports, allowing you to connect all of your gaming devices at once.
Pros
Affordable 1440p display
Solid gaming performance
Versatile connectivity options
Cons
96% sRGB colour gamut
1800R curvature not for everyone
Buy the iiyama G-Master GB3266QSU-B1 on:
5. ASUS TUF Gaming VG32VQ1BR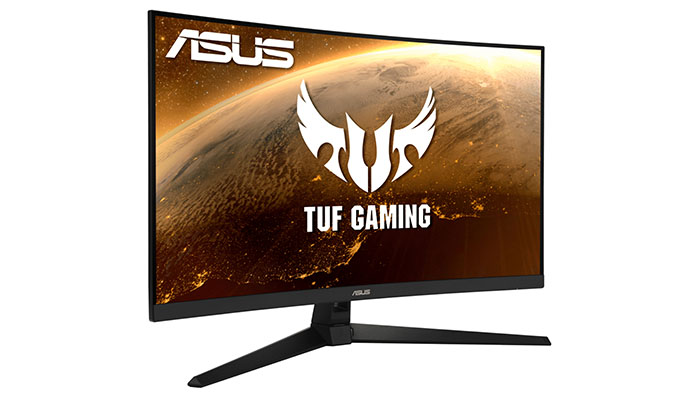 Another 1440p display that offers a comfortable balance between visuals and performance is the ASUS TUF Gaming VG32VQ1BR. As a 1440p offering that sits on the higher end of the price spectrum, you would expect this monitor to possess an abundance of features to justify the price point. Fortunately, the VG32VQ1BR manages to do just that.
Like many of the other options included in this roundup, the standout design feature on the VG32VQ1BR is the 1500R curvature, which provides a bump in immersion. And with the ASUS TUF variation on the V-shaped stand, this monitor also opts for a minimalist aesthetic that won't take up much desk space.
Key Facts: Resolution: 1440p // Refresh Rate: 165Hz // Response Time: 1ms // Panel Type: VA
Along with the curved VA panel, the VG32VQ1BR hits the all-important 1440p resolution 'sweet spot'. But that's not all, as this monitor is also packed with technology designed to bolster the visual fidelity. For example, this display includes HDR10 to enhance in-game lighting that comes with a multi HDR mode which allows you to switch between a gaming and cinema mode. On top of this, the 90% DCI-P3 and full sRGB coverage gives this monitor a splash of colour.
As for the performance, the 165Hz refresh rate is a small but significant jump up from the typical 144Hz featured on 1440p displays, offering gamers with smooth and responsive gameplay. Combined with the 1ms response time and AMD FreeSync premium, the VG32VQ1BR provides high-end performance that is perfect for competitive gamers looking for a premium visual experience.
Pros
Minimalist design
Solid HDR support
Great for competitive gamers
Cons
Lack of HDMI 2.1
Fairly pricey 1440p option
Buy the ASUS TUF Gaming VG32VQ1BR on:
6. Philips Gaming 32M1N5500VS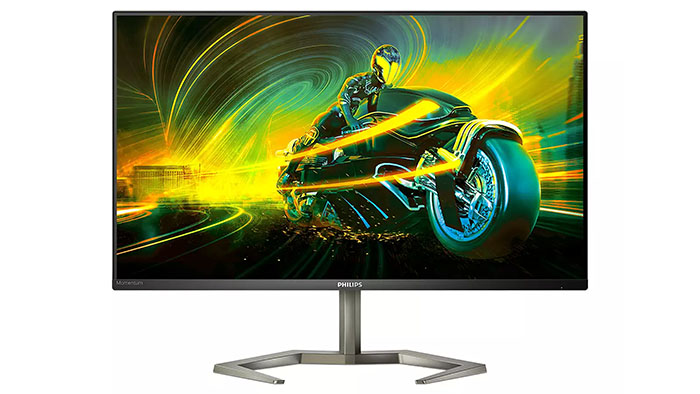 Last but not least, we have the Philips Gaming 32M1N5500VS. This is yet another 1440p display that features solid performance that is an ideal companion for any mid-range PC build.
However, unlike the other choices on this list, the screen on the 32M1N5500VS is completely flat. This makes it a better choice for gamers looking to multi-task on their displays, as it opens up the viewing angles and offers more productive screen real-estate. Another aspect that makes this monitor unique is the metallic u-shaped stand, which increases sturdiness without taking up too much desk space.
Key Facts: Resolution: 1440p // Refresh Rate: 165Hz // Response Time: 1ms // Panel Type: VA
When it comes to visuals, the 32M1N5500VS offers what you would expect from a 1440p display at its price point. The VA panel covers the full sRGB colour gamut and 89.9% Adobe RGB for greater accuracy on a wide range of colours, and HDR400 brightness boosts in-game lighting to improve the visual clarity. Whilst the visuals are unlikely to blow you away, it acts as a solid upgrade from 1080p displays.
But the performance is where the Philips Gaming 32M1N5500VS truly shines, as the 165Hz refresh rate puts this monitor into the upper levels for gaming. Along with the smooth refresh rates, this monitor includes a fast 1ms response time, as well as AMD FreeSync Premium compatibility to remove any screen-tearing and latency issues.
Pros
Premium metallic look
Solid gaming performance
Strong colour accuracy
Cons
HDR400 could be improved
Flat screen reduces immersion
Buy the Philips Gaming 32M1N5500VS on:
How to Choose the Right Screen Size
Before we head into the details of each pick, it is important to understand the key factors to consider when looking for a gaming monitor. Whilst it's easy to focus on the specs and design features of gaming monitor, the actual size of the screen is arguably the most important. Not only does the screen size impact the amount of space within your setup, but can also have an impact on the performance of the display.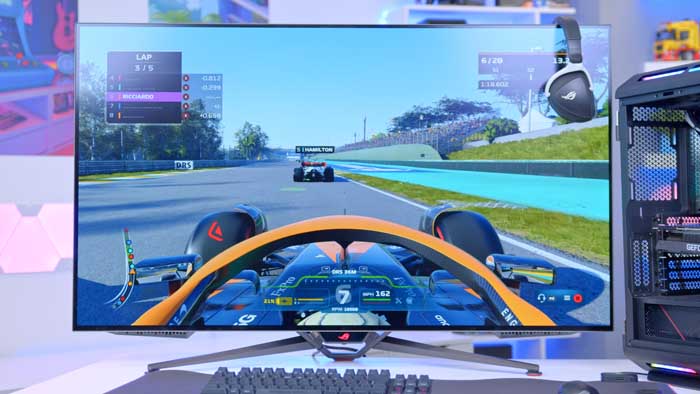 For gaming monitors in particular, the main factors to consider when picking a screen size are immersion and performance. For the most immersive experience when gaming, a larger display is typically better, but too big of a screen can make it difficult to see the whole screen at once. Those looking for some added immersion will also want to consider a curved or ultrawide display, as this will help to reduce the distractions and let you stay in the zone.
Suggested Article: How to Pick the Best Gaming Monitor for your PC Build
If performance is the priority for you, then a smaller display may be a better option. The smaller screen size makes it easier to keep tabs on the important on-screen graphics and the increased pixel density can make the image look sharper. In addition, the reduced price of smaller screens makes it easier to access displays packed with higher performance features.
Despite leaning towards the larger size for a gaming monitor, 32″ displays are considered something of a sweet-spot for lots of consumers. This is because they provide a solid combination of performance and visual fidelity whilst staying at a fairly reasonable price point. Therefore, anyone looking for the best of both worlds should think about picking up a 32″ gaming monitor.
Key Features of a Gaming Monitor
After choosing which size you are going to choose for your gaming monitor, there are some other factors to consider that will have a major impact on the gaming experience. Here are the most important aspects to consider when searching for a gaming monitor.
Resolution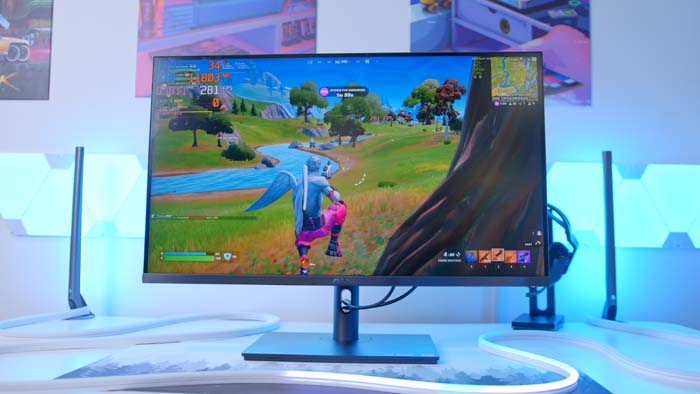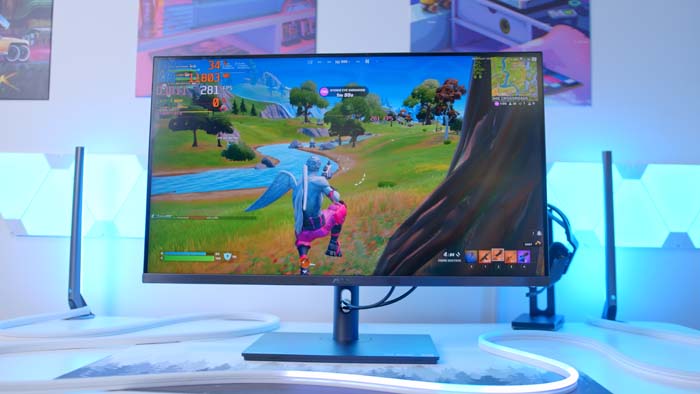 When it comes to visuals, resolution is the main indication of the visual quality you can expect from a display. For most gaming monitors, resolutions are split into three levels: 1080p, 1440p, and 4K. 1080p displays are the cheapest option with the lowest quality image, whilst 4K offers top-tier visuals at either a premium cost, or at the expense of lower performance.
For gamers wanting the best image for narrative single-player experiences, then having a high resolution display should be your top priority. Whilst there are other factors that influence image quality, bumping up the resolution is the best way to improve immersion.
Refresh Rate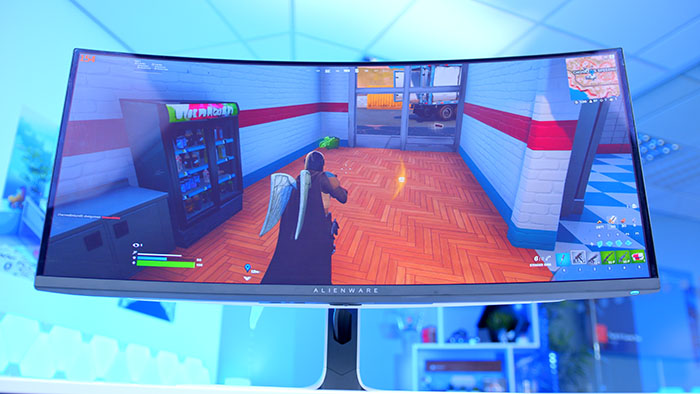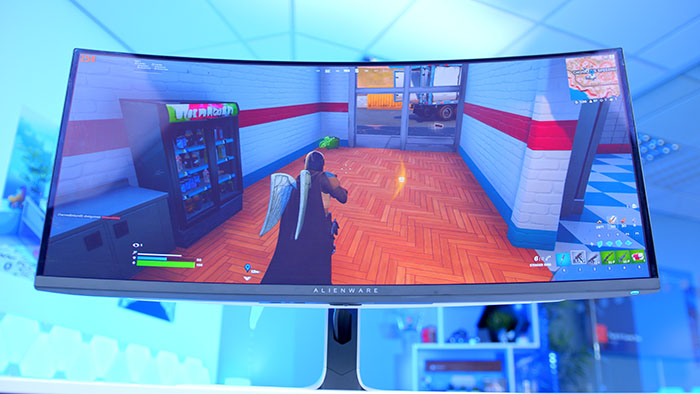 One of the most important performance features on a gaming monitor is the refresh rate, as this will determine how smooth gameplay runs and feels. Often measured in Hz, refresh rate refers to the amount of images a monitor can generate per second. Because of this, a higher refresh rate is preferred as it results in a smoother image.
When it comes to gaming monitors, most modern displays are expected to include a minimum refresh rate of 60Hz, with 144Hz being the minimum for displays with lower resolutions. For those gamers looking for a competitive edge, a high refresh rate is a must-have feature on any display.
Response Time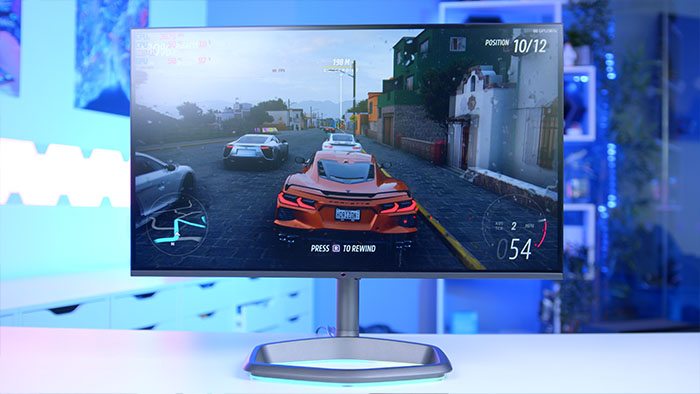 Another performance-based feature that is important to consider when looking at a gaming monitor is the response time. This relates to the amount of time it takes for the pixels on a display to change colour. In turn, this determines how long it takes for the image on your display to be replaced by a new one.
With the response time of a monitor being measured in milliseconds (ms), having a lower response time will result in better gaming performance. Reducing the gap between images allows gamers to react faster and take advantage of the high refresh rates. An ideal response time for a gaming monitor is anything under 1ms.