Introduction
Apart from your gaming PC or console itself, a gaming monitor is arguably the most important part of any setup. The performance of a display goes hand in hand with the capabilities of your system. Gamers can have the most powerful build ever that can easily run the latest titles at 4K, but the only way to see this output is to use a gaming monitor that can support it.
Because of this, there's a wide scope of gaming monitors on the market, all looking to address a certain performance criteria. One of the most popular thresholds is a 1440p display with a refresh rate above 144Hz, as this provides a strong balance between visual fidelity and performance.
Suggested Article: Best MSI Gaming Monitors to Buy in 2023
In this review, we'll be taking a closer look at one of these displays, the MSI Optix MPG321QRF-QD, a 1440p gaming monitor design to help gamers scratch that competitive itch whilst not sacrificing too much in terms of visuals. Along with analysing the performance, we'll be taking a look at its design and feature-set to see whether it is a worthy option for Esports and competitive gaming enthusiasts to consider.
Buy the MSI Optix MPG321QRF-QD on:
Are 1440p Gaming Monitors Worth It?
Before we look at the Optix MPG321QRF-QD in more detail, it's important to understand whether a 1440p display like this one will suit your needs. Generally, 1440p monitors are one of the most popular choices amongst consumers with a mid-range gaming PC, as these systems are quite comfortable at this resolution. Also, as the middle-ground between 1080p and 4K, these displays arguably possess the widest use-case out of the three.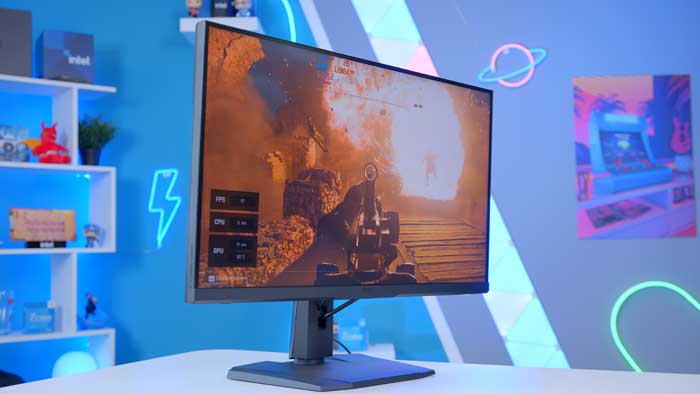 However, there are plenty of gamers that should avoid picking up one of these monitors. For example, gamers on a budget won't find the improved visual fidelity very useful, as these systems won't be able to support 1440p without major performance setbacks. Instead, these gamers should look for a 1080p gaming monitor, which are also a lot more affordable.
On the other end of the scale, gamers with the best gaming rig that money can buy will most likely find the visual fidelity of 1440p quite lacklustre compared the bright lights of 4K. Whilst some high-end gamers will prefer a lower resolution for the higher performance boundaries, there are plenty of 4K gaming monitors with high refresh rates to provide the best of both worlds.
MSI Optix MPG321QRF-QD Design & Aesthetic
Now that we've established whether a 1440p display will provide you with the best gaming experience, it's time to turn our attention towards the MSI Optix MPG321QRF-QD. Starting off with the design, this 32inch display adopts a very similar appearance to the rest of MSI's range of gaming monitors. Possessing a conventional 16:9 aspect ratio, the flat quantum-dot panel provides very accurate colours, resulting in a more realistic image.
As for the design surrounding the panel, MSI seem to have taken a business in the front and party in the back approach with their gaming monitors. From the front, the bezel-free panel and neutral design leads to professional look that doesn't look out of place within an office environment. But when you look at the back, the Optix MPG321QRF-QD shows its gaming roots with more MSI branding and a strip of RGB lighting.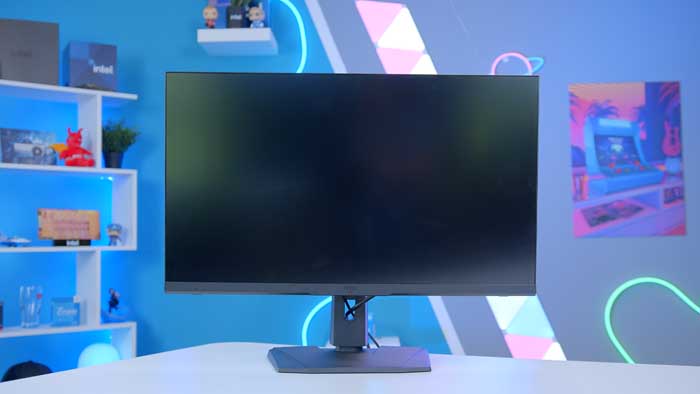 Personally, I think this contrast works quite well, but having the premium gamer aesthetic on the back panel highlights some of the improvements which could be made to the rest of the design. My biggest gripe with the design is the stand, as it plastic base feels cheap and has more of an impact on desk space than a v-shaped alternative. However, the rest of the frame feels pretty stable while being adjustable to offer more flexible positioning.
On the whole, the Optix MPG321QRF-QD's design is bound to appeal to gamers whilst not looking completely out of place within a workplace. Though there are some tweaks that could make this display feel more premium, the slim frame and RGB lighting on the back panel provides a distinct look that is a great fit for a gaming setup.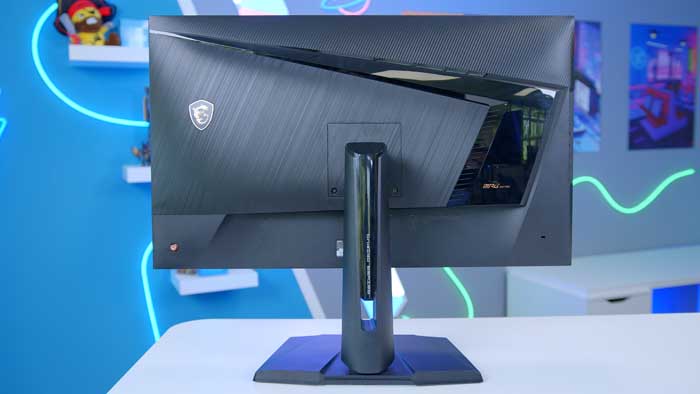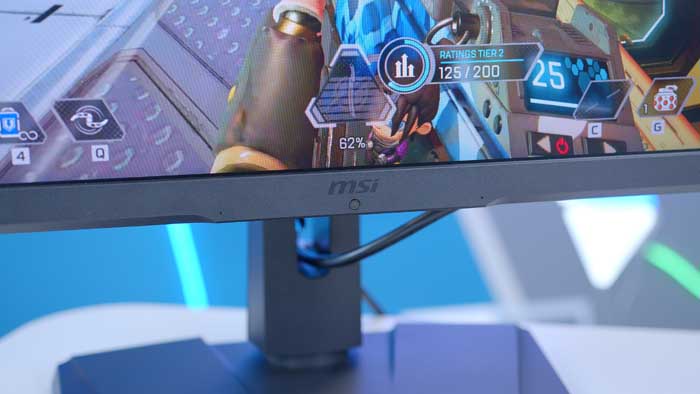 MSI Optix MPG321QRF-QD Specs & Performance
Moving onto the performance, and the Optix MPG321QRF-QD provides a solid combination of performance and visual fidelity. As a 32inch 1440p monitor, gamers will receive an immersive experience, along with plenty of screen real-estate for general daily tasks.
On top of this, the IPS panel is supported by a quantum-dot layer, resulting in a bright and colourful display that masks some of the limitations that come with a 1440p display. In terms of colour accuracy, this monitor is up there with the best 2K monitors on the market, boasting a 93% coverage of DPI-P3 and 144% sRGB. With such a colourful display, environments become more pleasing to the eye, and menus become easier to navigate.
| Specifications | MSI Optix MPG321QRF-QD |
| --- | --- |
| Screen Size | 32″ |
| Max Resolution | 2560×1440 |
| Refresh Rate | 175Hz |
| Response Time | 1ms GtG |
| Colour Gamut | 93% DCI-P3, 144% sRGB |
| Panel Type | IPS |
| Display Inputs | 2 x HDMI 2.0, 1 x DisplayPort 1.4, 1 x USB Type-C |
| Adaptive Sync | Nvidia G-Sync |
Performance-wise, this monitor goes beyond the usual standards of a 1440p display to offer a 175Hz refresh rate, instead of the typical 144Hz or 165Hz. Because of this, gamers using the Optix MPG321QRF-QD gain a slight advantage over the competitive, which could be the difference between winning or losing. To support this slight performance boost, the 1ms response time ensures that gameplay remains smooth and responsive in the midst of a heated encounter.
Compared to other 1440p gaming monitors, the MSI Optix MPG321QRF-QD is definitely towards the front of the pack. Whilst there are a few options capable of reaching up to 240Hz, they often come with a much heftier price tag. As a result, this monitor offers great value to consumers with a mid-range system.
MSI Optix MPG321QRF-QD Features
With the design and performance putting this monitor in a fairly positive light so far, it's time to take a look at the features now to see if there are any selling points that can push the Optix MPG321QRF-QD into stardom. Here are a few of the key features we picked out as part of the testing process for this monitor.
Quantum-Dot Display
It may have already been mentioned a few times already, but the Quantum-Dot technology is an important piece of the puzzle which heavily contributes to the visual fidelity of this monitor. Whilst the WQHD display would provide a satisfactory image by itself, but the Quantum-Dot implementation enhances the brightness and colour accuracy to make this display truly pop.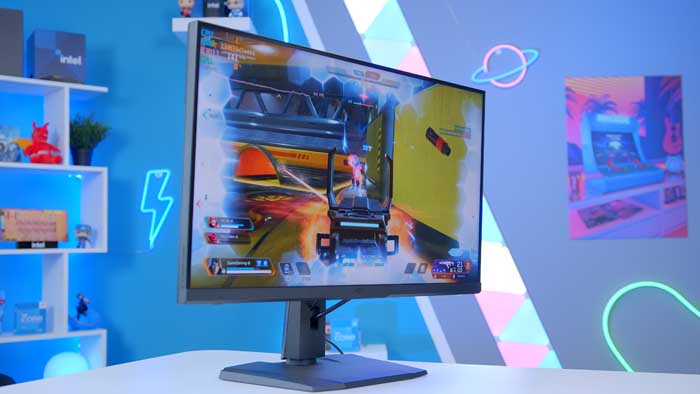 Nvidia G-Sync Compatibility
Another performance-based feature which enhances the overall quality when gaming is the inclusion of Nvidia G-Sync compatibility. This innovation from Nvidia allows gamers to experience smooth visuals which eliminate instances of motion blur or screen-tearing. With a monitor capable of presenting such high refresh rates, the consistency provided will help decrease distractions in the midst of battle.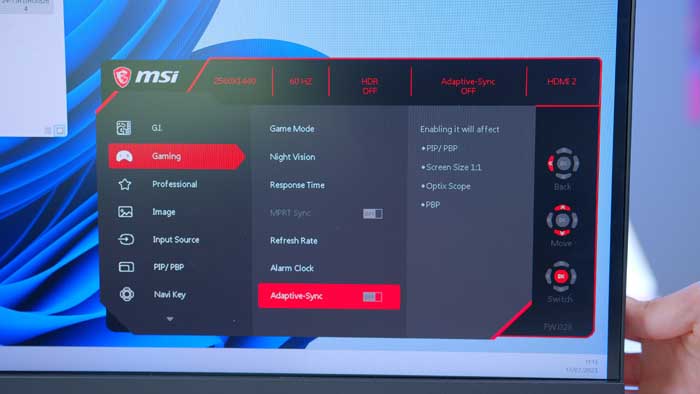 Rear IO Connectivity
Looking at the connectivity, the Optix MPG321QRF-QD offers another surprise for consumers. On top of the HDMI and DisplayPort connections that you'd expect to see on a modern gaming monitor, there is also a USB-C DP Alt Mode connector, allowing users to easily connect a laptop to this display.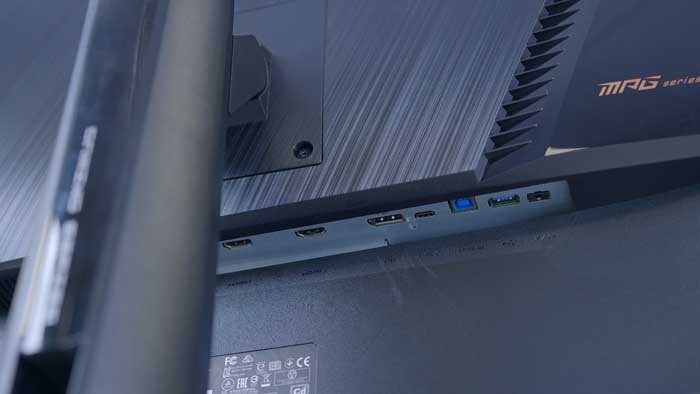 Console Mode
Gamers looking to use this display for consoles will be happy to hear that the Optix MPG321QRF-QD features a dedicated console mode. This means the monitor will recognise the console and adjust settings to provide an optimal performance and resolution combination. PS5 users in particular will benefit from this mode, as this display can accept a 4K signal and and downscale it rather than upscaling from 1080p.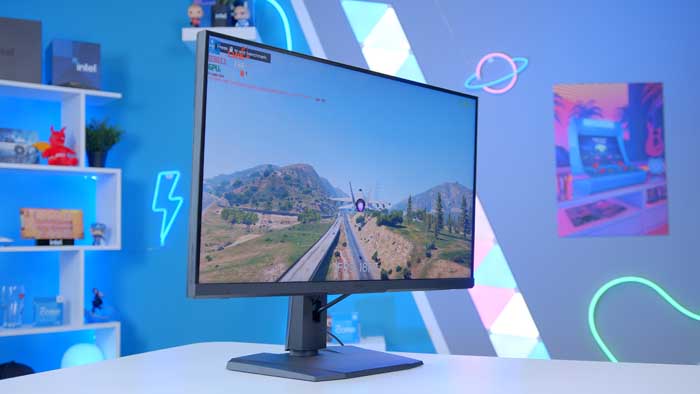 OSD & Navigation
When it comes to settings, there are two ways in which gamers can customise this monitor to suit their needs. First is the traditional way of utilising the 5-way navigational button to access the OSD, which provides plenty of customisation options alone. However, those wanting to fine-tune this display can download MSI's Gaming OSD App 2.0 to unlock more advanced settings for greater control.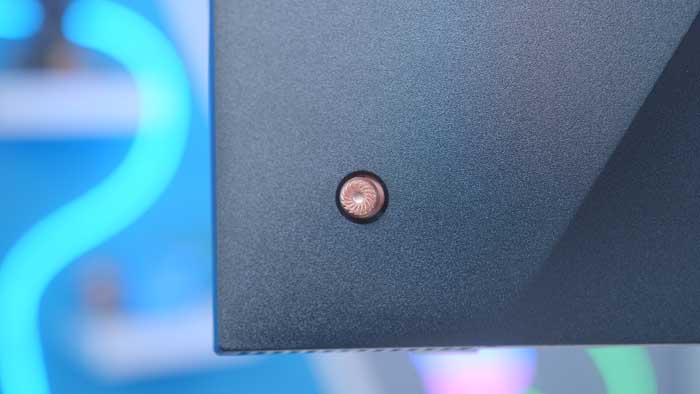 Alternatives
If you're interested in the MSI Optix MPG321QRF-QD, but can't help but wonder what other options are out there, then you're in luck. To make sure you can find the ideal monitor for your gaming setup, we've provided some alternatives that share a lot of similarities with the Optix MPG321QRF-QD, but with a few small changes to provide a slightly different viewing experience.
Cooler Master GM32-FQ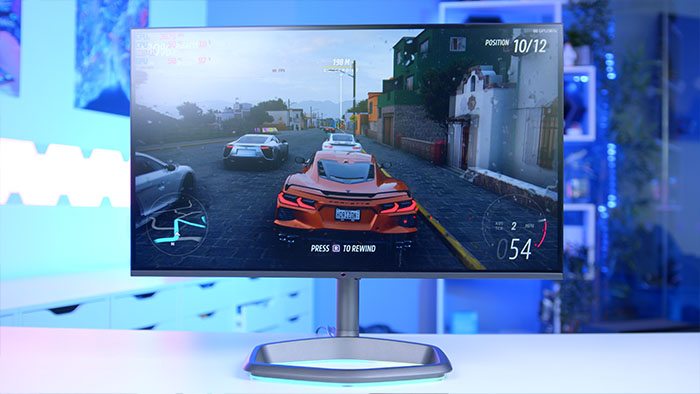 Starting off with the monitor that has the closest resemblance to MSI's offering, with Cooler Master's GM32-FQ. This 31.5″ 1440p display includes an IPS panel, a 165Hz refresh rate, and a 1ms response time, making it almost identical under the hood. However, the metallic finish and slimmer design on the GM32-FQ offers a more premium and smart look. Whilst the design is up to personal preference, this could be a better choice for workplaces.
Want to learn more? Read our full Cooler Master GM32-FQ review.
Buy the Cooler Master GM32-FQ on:
ASUS TUF Gaming VG32VQ1BR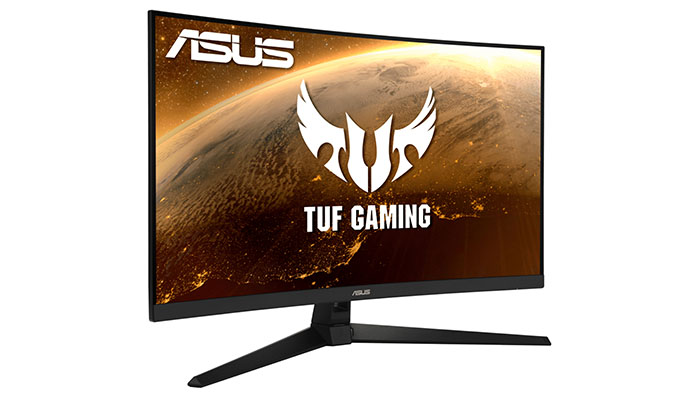 Another 1440p display which shares a similar set of features to the Optix MPG321QRF-QD is the TUF Gaming VG32VQ1BR from ASUS. With a 165Hz refresh rate and 1ms response time, this display strikes a strong balance between performance and visual fidelity. However, instead of a flat IPS panel, this monitor opts for a 1500R curved panel. Curved gaming monitors have become a popular choice in recent years thanks to their shape being considered more immersive than a flat panel. This is great for gamers wanting to get rid of distractions and dive head-first into all the latest titles.
Buy the ASUS TUF Gaming VG32VQ1BR on:
Gigabyte AORUS FI27Q-X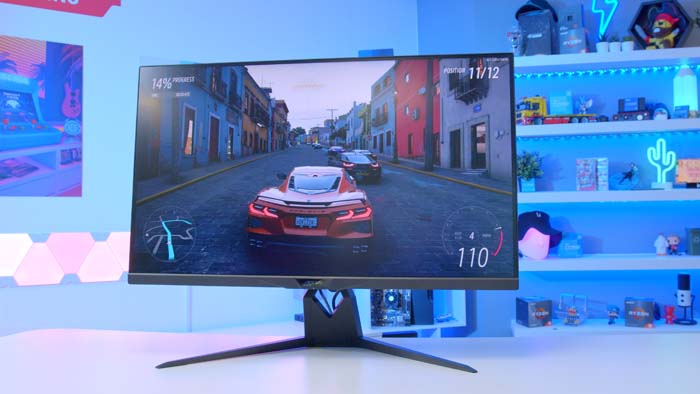 Finally, we have the Gigabyte AORUS FI27Q-X, a 1440p monitor that somewhat disrupts the status quo when it comes to our recommendations. Whilst it possesses some similarities to MSI's display, such as an IPS panel and a 1ms response time, the smaller 27″ screen and 240Hz refresh rate completely changes the visual output of a gaming setup. But the improved performance comes at a steep price, making it a better option for gamers with a high-end gaming PC.
Interested in this monitor? Check out our Gigabyte AORUS FI27Q-X review.
Buy the Gigabyte AORUS FI27Q-X on:
Conclusion
MSI Optix MPG321QRF-QD
Product Name: Optix MPG321QRF-QD
Brand: MSI
Features

Design

Performance

Value For Money
Summary
Overall, the MSI Optix MPG321QRF-QD is a strong and versatile 1440p gaming monitor that will have no issues meeting the demands of most mid-range, or even high-end systems. With a 175Hz refresh rate and a 1ms response time, this monitor allows users to enjoy competitive gameplay with the greater clarity that comes with a 1440p resolution. On top of this, the Quantum-Dot technology and IPS panel provide great colour accuracy and contrasts, leading to a detailed image that makes it easy to lose yourself in another world.
As for the design and feature-set, there are plenty of notable inclusions that consumers will be itching to get their hands on. For example, the dedicated console mode and USB-C DP Alt Mode means that connecting devices other than your PC incredibly simple, adding some much-needed versatility to any gaming setup. Though there are some small hiccups in the design that could be addressed, mainly surrounding the stand and front-facing appearance, the MSI Optix MPG321QRF-QD is a fantastic 1440p display that is worth considering for any gaming setup that is in need of a visual enhancement.
Pros
✅ Fun & functional design
✅ Colourful IPS panel
✅ Great for 1440p competitive gaming
Cons
❌ Cheaper 1440p options available
❌ Stand intrudes on desk space