Introduction
After spending the time to build an awesome gaming PC, it is important to make sure that your display of choice is able to showcase gameplay to the system's full potential. There are a lot of ways to combine monitors with a PC to create the 'ultimate gaming setup', but opting for a single ultrawide monitor arguably looks the cleanest, and can be the most space friendly.
In recent years, ultrawide gaming monitors have grown in popularity as manufacturers begin to make more designs with performance and specs that match the more traditional flat screens.
In this buyers guide, we'll be looking through our top picks for the best ultrawide gaming monitors. And in typical GeekaWhat fashion, our choices will consider a range of budgets and use-cases to ensure most readers have some good options to choose from.
Suggested Article: Best ASUS Gaming Monitors to Buy in 2023
Our Recommendations
Time for the main event! After trying out a range of Ultrawide options on the market, we've curated a list of the best ultrawide gaming monitors that you can buy right now. Our list includes a range of products in order to cater for as many types of gamers as possible.
1. Alienware AW3423DW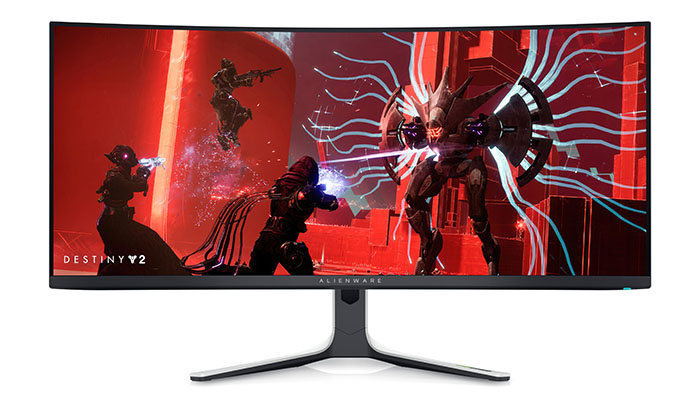 Leading from the front in this roundup, we have a GeekaWhat fan-favourite in the form of Alienware's AW3423DW. Since first getting our hands on this gaming monitor last year, the AW3423DW has become a mainstay that we've used in a number of gaming setups – including James' personal rig!
As a brand that prides themselves on providing deluxe products for the ultimate gaming experience, this ultrawide monitor lives up to the Alienware mantra, offering a solid combination of design, performance, and features.
Key Facts: Screen Size: 34″ // Refresh Rate: 175Hz // Response Time: 0.1ms // Panel Type: QD-OLED
Design-wise, the AW3423DW boasts a QD-OLED panel with a 3440 x 1440 resolution and a 1800R curvature. This makes for a great gaming experience, as the curved display provides a greater sense of immersion, which is bolstered by the improved visual fidelity from the QD-OLED technology. To go with the premium visuals, this monitor has a futuristic design that follows the extra-terrestrial influence found on most Alienware products.
On top of this, the performance specs on the AW3423DW helps to justify the more expensive price tag, as it is almost impossible to find a cheaper ultrawide display that offers a similar gaming experience. With a 175Hz refresh rate and 0.1ms response time, this monitor is more than capable of handling the demands of competitive gamers. And with support for Nvidia G-Sync Ultimate, issues such as screen-tearing are a thing of the past on the AW3423DW.
If you would like to learn more about this monitor, check our in-depth review of the Alienware AW3423DW ultrawide gaming monitor.
Pros
Stunning 1440p visuals
Smooth 175Hz refresh rate
Great design & features
Cons
Very expensive
Requires pricey components
Buy the Alienware AW3423DW on:
2. BenQ MOBIUZ EX3415R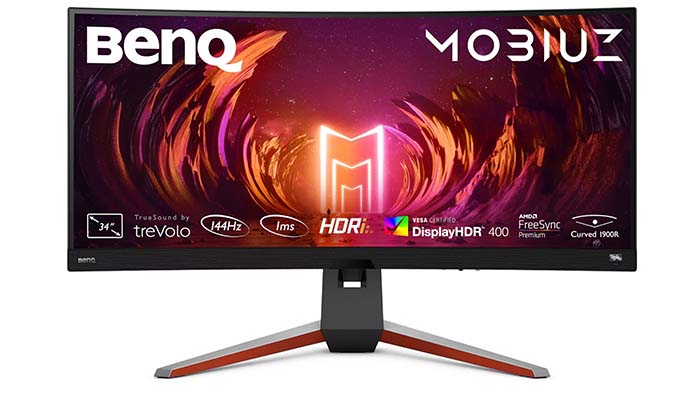 If Alienware's offering is a little bit out of your price range, then the BenQ MOBIUZ EX3415R is a great alternative. This monitor also features a 34-inch ultrawide design with a 1440p resolution, but differs slightly when it comes to the performance features.
Whilst the features on the BenQ MOBIUZ aren't quite considered top-tier, it still makes for an incredible gaming experience that the majority of gamers will be more than happy with. It also brings the cost down to a rate that is more affordable for the average consumer, even if it is only by a small amount.
Key Facts: Screen Size: 34″ // Refresh Rate: 144Hz // Response Time: 1ms // Panel Type: IPS
The design of BenQ's EX3415R looks premium thanks to the unique colour-scheme and shape of the stand, which carries onto the back of the monitor. As for the display itself, the EX3415R is fitted with an IPS panel, which are known to produce great image quality and colour accuracy. Paired with HDR 400 and 98% DCI-P3 colour accuracy, this ultrawide monitor will provide a sharp and bright image that is perfect for showing off game environments as they were intended by developers.
And when it comes to performance, this monitor is not lacking here either, as it comes equipped with a solid 144Hz refresh rate. Whilst the most competitive of gamers might prefer 165Hz or above, 144Hz is the best option for most users due to it being quite difficult to notice any differences after this point. Similarly, the 1ms response time is a great balance between price and performance benefits which will offer enough of an advantage over the opposition.
Pros
Immersive & vivid display
Solid gaming performance
Great design
Cons
Expensive
Slower response time for price
Buy the BenQ MOBIUZ EX3415R on:
3. Cooler Master GM34-CWQA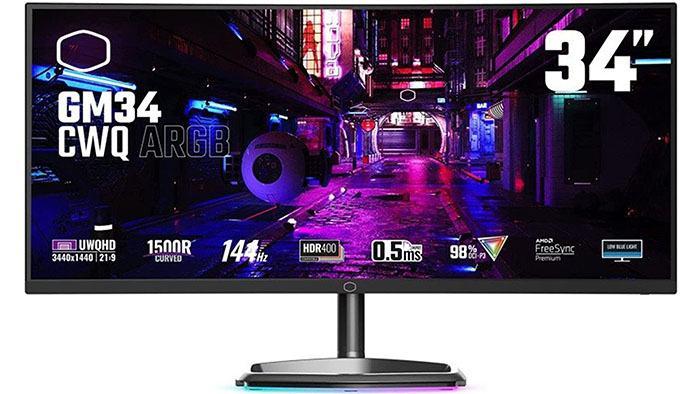 For anyone that doesn't want to spend a small fortune to get an ultrawide gaming monitor, a more budget-oriented design such as Cooler Master's GM34-CWQA might be a better choice for you. Whilst ultrawide designs will always come at a premium compared to 16:9 models, it is worth noting that most of these displays act as a replacement for two or more monitors.
Doing the maths suggests that the value of the GM34-CWQA is closer to what you would expect to pay for two budget 1440p displays with similar performance and features. In fact, it is probably cheaper! Cooler Master's design in particular stands out as an entry-level ultrawide that offers features which are hard to replicate for the price.
Key Facts: Screen Size: 34″ // Refresh Rate: 144Hz // Response Time: 0.5ms // Panel Type: VA
The minimalist look of the GM34-CWQA means that it will fit nicely into any gaming setup, and allows the focus to remain on the action at all times for the most immersive gaming experience possible. The only exception to this rule is the addressable RGB lighting on the below the stand, which can be synced up to other devices via the MasterPlus+ software. To support the focus on immersion further, the GM34-CWQA has a 1500R curvature, along with HDR400 and 98% DCI-P3 coverage for a high-quality image.
Also, the GM34-CWQA offers some impressive performance features that help to sweeten what is already a pretty good deal. Whilst the 144Hz refresh rate is a nice inclusion, the real highlight is the 0.5ms response time that's possible for a reduced price thanks to the VA panel used for the display. Admittedly, this does come at the cost of image quality, but the low latency will reduce motion blur for clearer visuals, something that competitive gamers will be very thankful for.
Pros
Fast 0.5ms response time
Clean design with RGB lighting
Great value for money
Cons
VA panel hinders image quality
Buy the Cooler Master GM34-CWQA on:
4. HUAWEI MateView GT 34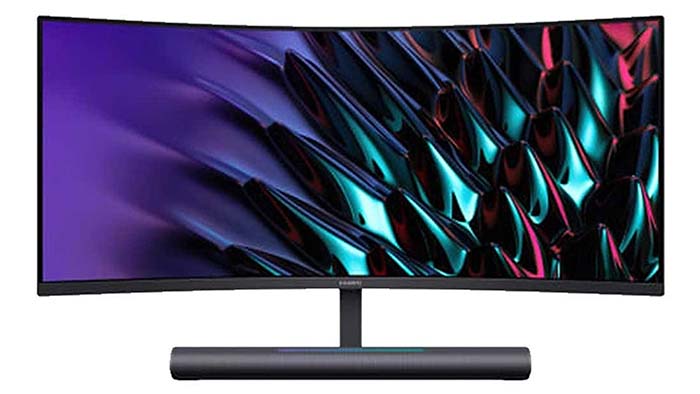 If you're the type of gamer that likes to pick up something that's outside the box, then the HUAWEI MateView GT 34 is definitely worth considering. Another 34″ option to appear on this list, the GT 34 is designed to give consumers a cinematic gaming experience to your desk. To achieve this, the ultrawide monitor comes with a sound bar built into its base, putting your gaming setup's sound and visuals into one neat package.
Whilst this design is also available without the soundbar, it barely cuts down the overall cost. Because of this, we don't think the GT 34 is worth considering without the sound bar, as it removes the main selling point, which makes it a lot more difficult to recommend over other options on the market.
Key Facts: Screen Size: 34″ // Refresh Rate: 165Hz // Response Time: 4ms // Panel Type: VA
Apart from the inclusion of the soundbar on the base, the GT 34 has a fairly simplistic design with thin bezels and a 1500R curvature in order to optimise the viewing experience. Looking at the display in particular, the GT 34 provides a vivid 3440 x 1440 picture that comes with HDR10 support and Delta E < 2 colour accuracy. Paired with the 5W soundbar, this monitor provides a gaming experience like no other.
Unfortunately, the intuitive design of the GT 34 does result in a few design flaws, with most of these issues relating to performance. Although the 165Hz refresh rate will offer smoother gameplay than other options on this list, the 4ms response time is very slow compared to the 1ms standard for modern gaming monitors. This slow response time is even more surprising given that this monitor is equipped with a VA panel, as they normally provide better performance than other panels.
Pros
Clean & innovative design
165Hz refresh rate
Includes a 5W soundbar
Cons
Latency issues
Better visuals on other options
Not for competitive gamers
Buy the HUAWEI MateView GT 34 on:
5. Samsung Odyssey Neo G9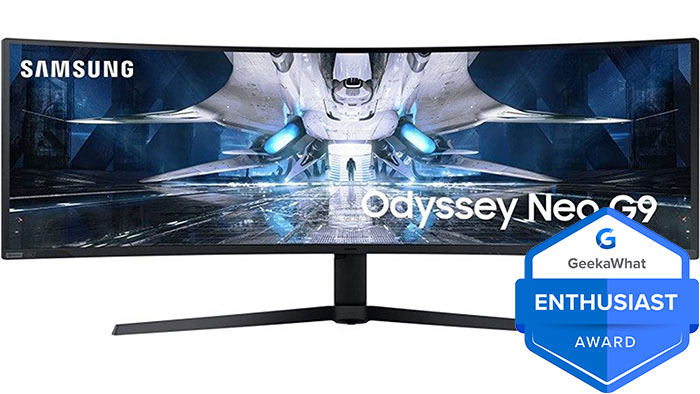 For anyone that is simply looking for the best ultrawide on the market, then the Samsung Odyssey Neo G9 is your best bet. We've featured a lot of Samsung's gaming monitors in our previous roundups, but the Neo G9 is the most luxurious option from their Odyssey range of products.
With a massive 49″ panel, this monitor is an absolute behemoth when compared to the rest of the monitors on this list. The sheer size of this display means it has more than enough screen real-estate to replace any existing multi-monitor setup you may already have – and good luck to anyone that tries to use the Neo G9 with another monitor alongside it!
Key Facts: Screen Size: 49″ // Refresh Rate: 240Hz // Response Time: 1ms // Panel Type: VA
The obscene width of this monitor requires the Neo G9 to be packed with strong visual technology to ensure the image avoids looking stretched or washed out. Luckily, Samsung delivered on this front with a 5120 x 1440 resolution that is supported by a quantum miniLED display that can reach an incredible 2000 nits brightness, along with HDR2000 for top-notch visual quality. Plus, the back of the Neo G9 includes Samsung's CoreSync RGB lighting, which can be synced to match the colours on-screen to for increased immersion.
Performance-wise, the Neo G9 continues to impress thanks to the rapid 240Hz refresh rate, as well as a 1ms response time. There's no doubt that this amount of frames is rather excessive for most gamers, it allows those fortunate enough to have all the latest tech to harness its true potential for optimal gaming performance. It's safe to say that the Samsung Odyssey Neo G9 is an impressive piece of kit, which is why we felt the need to give it a GeekaWhat enthusiast award.
Pros
Lightning-fast 240Hz refresh rate
Stunning visual quality
Futuristic design with strong RGB
Cons
Very, very expensive
49″ display won't fit into most setups
Buy the Samsung Odyssey Neo G9 on:
6. Gigabyte M34WQC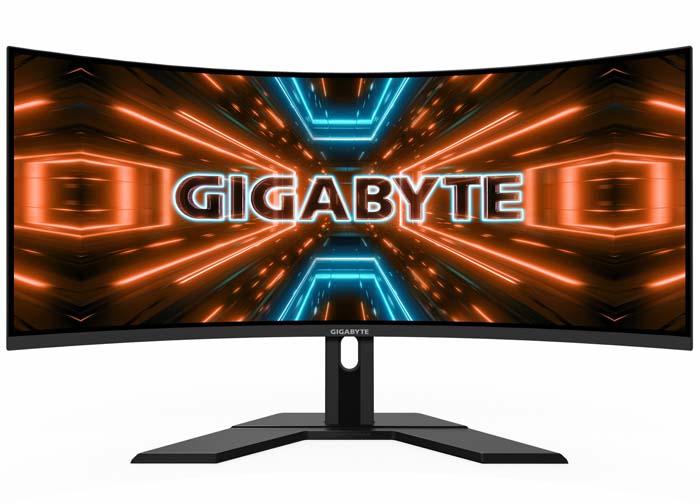 To round off our list, we've gone for another more affordable offering with Gigabyte's M34WQC. This ultrawide design offers a similar viewing experience to Cooler Master's GM34-CWQA and lies within the same price range. However, the M34WQC has some slight tweaks that lean more towards visuals than performance. Whether this is an advantage for this monitor or not is purely down to personal preference, but no matter what, the M34WQC still offers performance that competes with the premium options on this list.
The M34WQC's design contains the typical ultrawide 21:9 aspect ratio, with a 1500R curvature for a more immersive experience. And in order to get the best viewing angle possible, the stand allows for easy height and tilt adjustments.
Key Facts: Screen Size: 34″ // Refresh Rate: 144Hz // Response Time: 1ms // Panel Type: IPS
For this monitor in particular, visual quality at all angles seems to be a priority. Whilst the M34WQC sticks to the common 3440 x 1440 resolution found on most ultrawide displays, the inclusion of an IPS panel offers a more consistent image than the VA alternatives, especially when viewed at an angle. In combination with the HDR400 and 90% DCI-P3 colour accuracy, this display is a clean and versatile display that is perfect for a blend of productivity and gaming.
Performance-wise, the M34WQC possesses features which help to compliment the visuals for an incredibly immersive experience. A monitor that can run games in 1440p at 144Hz is often considered the sweet-spot for most PC gamers, and that's exactly what this monitor achieves. Paired with a 1ms response time, Gigabyte's M34WQC offers this solid combination of visuals and performance for a fairly reasonable price point.
Pros
Great value for money
Solid gaming performance
IPS panel for better viewing angles
Cons
Better options for gaming performance available
Fairly simplistic design
Buy the Gigabyte M34WQ on:
Should You Buy An Ultrawide Monitor?
Before we head into the details of each monitor in this roundup, it's important to understand what an ultrawide design is, and whether they are a good choice for your setup. Instead of scaling up a 27″ or 32″ monitor in a conventional manner, ultrawide displays add more width to the screen whilst remaining a similar height to traditional 16:9 designs. This often eliminates the need to add additional monitors to a gaming setup, as the ultrawide layout replicates the screen real-estate, but frees up desk space in the process.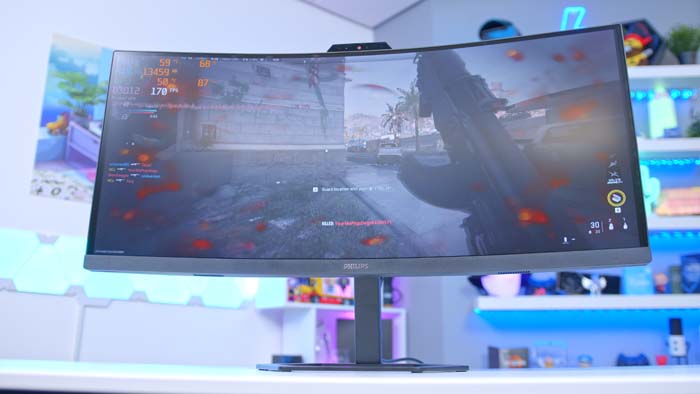 Whether this is seen as a benefit is up to personal preference, with lots of gamers preferring a multi-monitor setup in order to separate their gaming from other tasks. Of course, you could opt to pair an ultrawide monitor with other displays, but this can be quite the challenge in terms of both cost and space. After all, the whole point of these displays is to act as the sole monitor within a gaming setup.
Suggested Article: How to Pick the Best Gaming Monitor for your PC Build
Like most design variants, there are a few pros and cons to an ultrawide monitor. As we mentioned earlier, these displays are a great way to optimise space within a setup, but can also offer a more immersive experience due to the layout being a better fit for a gamer's range of vision. If you are someone that has limited space within your setup, or just want a more immersive experience for the latest story-driven titles, then an ultrawide is definitely worth picking up. But for anyone else, it all comes down to whether the benefits outweigh the possible restrictions that come with a larger display.
Key Features For An Ultrawide Gaming Monitor
Having determined whether or not an ultrawide design is the right fit for you, it's time to pinpoint the key features to look out for when picking an specific model for your gaming setup.
Screen Size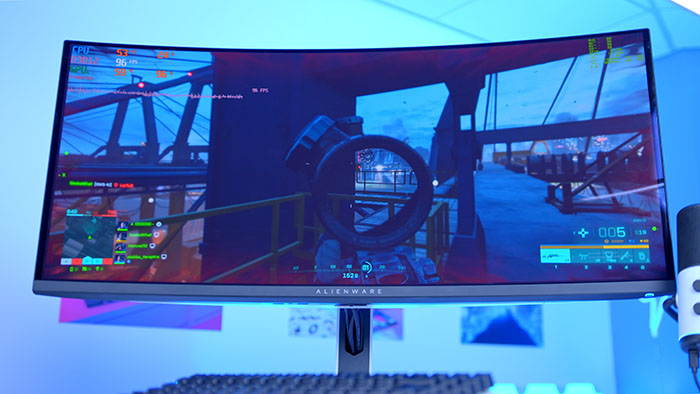 Perhaps more than any other display, it is important to consider the screen size of an ultrawide monitor. With most gamers looking to buy an ultrawide design in order to optimise screen real-estate, knowing what size will fit into your setup is the best way to avoid a logistical nightmare. These monitors follow a similar size scale to traditional displays, with most ultrawides opting for a 34″ screen. However. these displays are obviously a lot wider, typically possessing a 21:9 aspect ratio instead of the standard 16:9 format.
Panel Type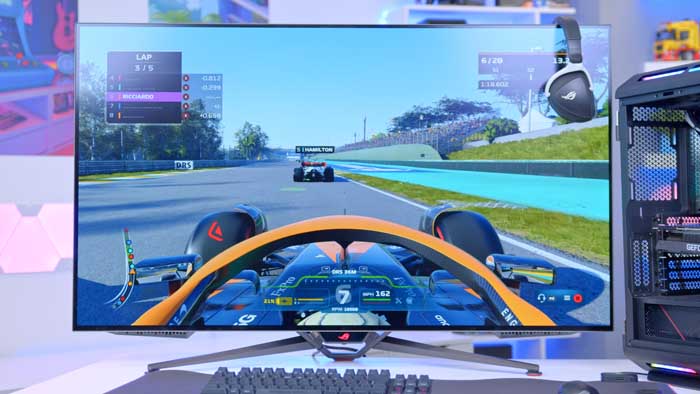 Another important factor that can influence your experience with a gaming monitor is the panel type. The main panel types on ultrawide gaming monitors are TN, VA, IPS, and QD-OLED. Each panel type has it's ups and downs, but they all offer a unique combination between performance, visuals, and price of a display. For example, TN panels are the cheapest of the bunch and provide fast response times, whereas QD-OLEDs are more concerned with visual fidelity, which leads to an increased price tag.
Curvature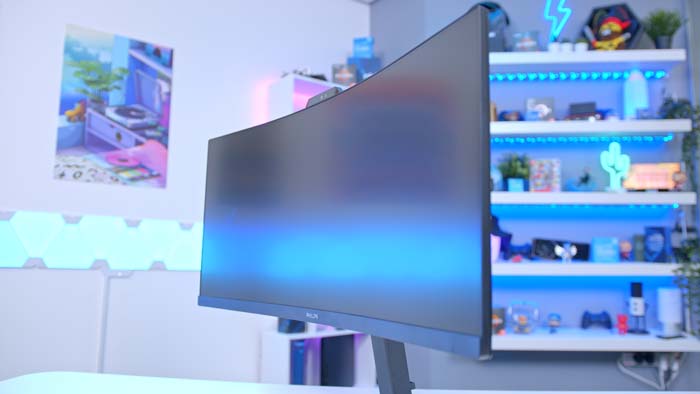 When looking for an ultrawide monitor for your setup, you may find that curved displays tend to go hand in hand with this particular layout. Both features have become a must-have inclusion for lots of gamers in recent years, and honestly, they pair up nicely for an immersive gaming experience. However, lots of buyers might not notice that curved monitors vary in the degrees of curvature (measured in R). The correct curvature is determined by the screen size and how far away you sit from the monitor, but 1000R is usually the preferred choice for gamers.
Refresh Rate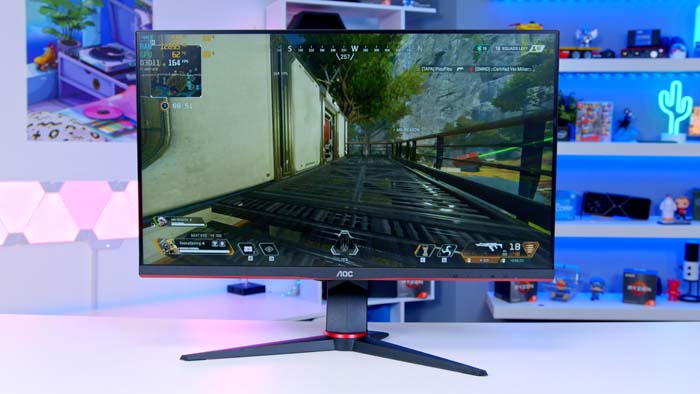 Moving onto the key factors for gaming performance, starting off with the refresh rate. Anyone familiar with monitors will already know how crucial refresh rate in to gaming monitors, as it dictates the number of frames the screen can display every second. In order to get the best gaming experience possible, grabbing a monitor with a refresh rate that matches the performance capabilities of your PC is essential. Typically, most gamers aspire to reach a refresh rate of 144Hz or above, so this is a good target for most displays.
Response Time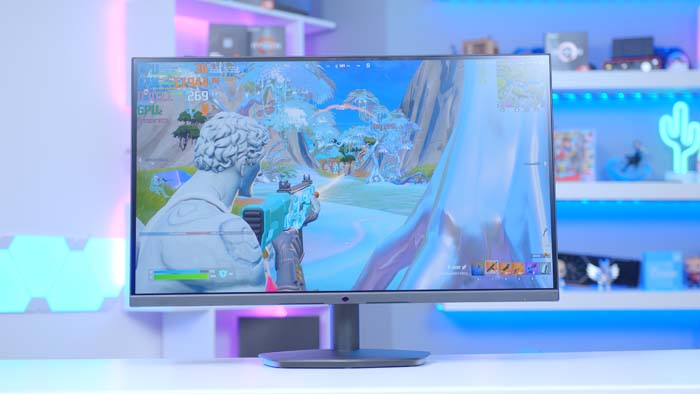 In a similar way to refresh rate, the response time is a crucial element for gaming performance. Measured in milliseconds (ms), response time is the delay a display experiences when changing the pixels to create a new image. Because of this, a lower response time is more ideal for gaming monitors in particular, as it helps to reduce latency and allows gamers to react faster to the on-screen action. Nowadays, a lot of gaming monitors are able to achieve response times under 1ms for solid gaming performance.
Resolution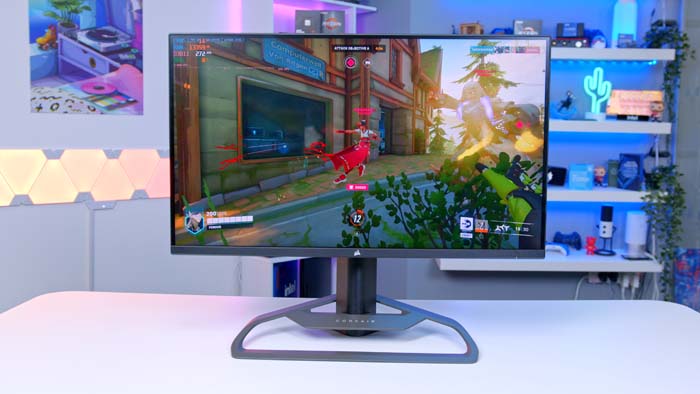 Whilst visual fidelity may not be the first thing to consider for a gaming monitor, it does have a major impact on the overall experience – as well as the price! Like other monitors, ultrawide monitors come in 1080p and 1440p offerings, but 4K options don't really exist yet. However, the number of pixels on the display is adapted to fit the wider screens. For example, 1440p monitors include a 3440 x 1440 display, instead of the normal 2560 x 1440 layout. Unfortunately, causes pixel density to weaken, resulting in less image colour and clarity.
Best Gaming Monitor Manufacturers
When you are looking to buy a new product, a good starting point is to consider which brands have been proven to be a reliable choice by industry experts and consumers. Whilst there is a small chance that you could be overlooking a hidden gem, sticking to a trusted manufacturer lowers the risk of throwing your hard-earned money down the drain. Luckily for you, we've tried and tested a range of gaming monitors at the GeekaWhat office, which makes us confident that our list of recommendations provides a good inclination of which brands to consider.