Introduction
Nvidia's brand new GeForce RTX 4090 Founders Edition has finally launched and the general consensus is that the card is incredible. 4K gaming with Ray-Tracing enabled seems to be absolutely no issue for this GPU, and workstation applications become a piece of cake due to the dual AV1 encoders on this new GPU.
But today the AIBs take the limelight, and we're curious to see what each manufacturer is offering in terms of designs, clock speed improvements, and thermals. In our review today, we're taking a look at Zotac's Extreme AIRO 4090 GPU to see how it fares compared to the Founders Edition and other options. Is this AIB worth picking up, or is it worth sticking to the Founders Edition card to save some money?
Buy the Zotac Gaming RTX 4090 AMP Extreme AIRO on:
Suggested Article: Nvidia GeForce RTX 4090 Review (Founders Edition Benchmarks)
Architecture
With the introduction of Nvidia's new RTX 4000 series of cards, we've seen major changes to the architecture that causes these cards to wipe the proverbial floor with the previous generation RTX 3000 GPUs. We haven't seen this much of a generational improvement for a very long time, hence why we're so impressed with the RTX 4090.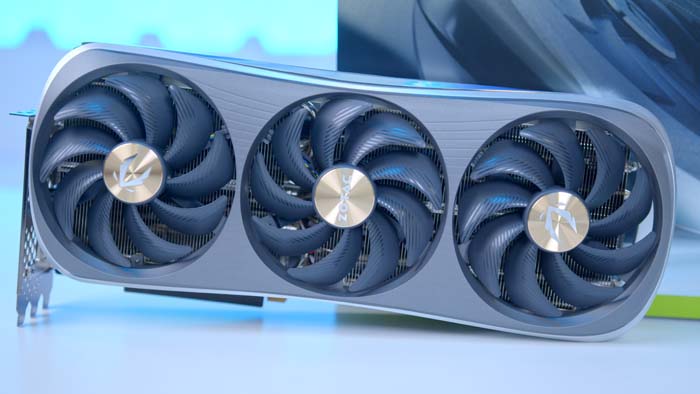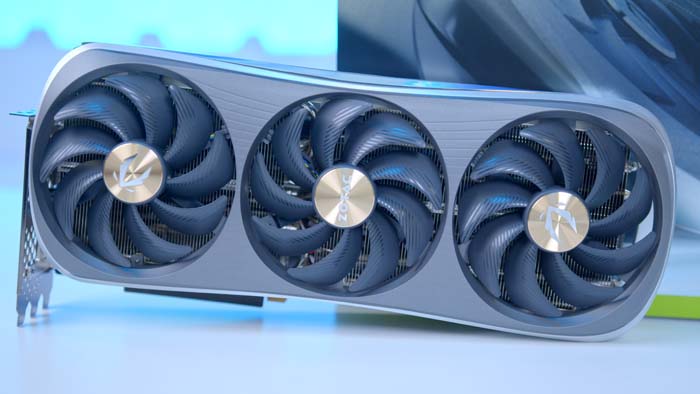 Based on the ADA Lovelace architecture, these new cards have significant improvements to a number of different areas, but the principal hardware changes are aimed at the RT Cores and Tensor Cores. These changes determine the capability of the 4090 when it comes to Ray-Tracing, as well as the processing required for DLSS. The tech for 4000 series cards is out of its infancy now, which is demonstrated by the fact that Nvidia are on their 3rd and 4th generation designs in relation to the cores.
Beyond the hardware changes, we've also seen drastic software improvements that can provide 40% – 70% uplifts in performance. We are now on a new generation of DLSS which can now render frames and predict frames in real-time, as opposed to just redrawing an image (which is still equally impressive). This hugely improves overall performance, allowing consumers to experience high graphical fidelity in titles that generally struggle. Frame Generation is ground-breaking technology, and as we see this get integrated into more games, playing titles at higher resolutions will become much easier on lower-end cards.
Although there will unfortunately be limitations based on game engines, I imagine this technology will be widely adopted in the future. Ray-Tracing has also seen further improvements, with the overhead being slightly lessened, along with changes that make global illumination much better, further improving visuals within titles. Needless to say, the RTX 4000 architecture is much better, and I'm hoping that the rest of the 4000 series GPUs follow suit with the 4090.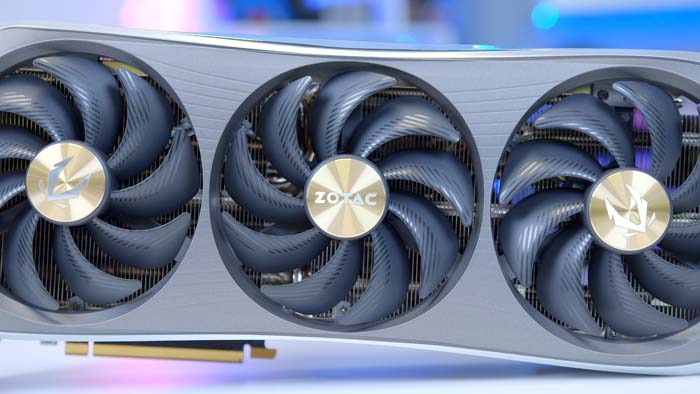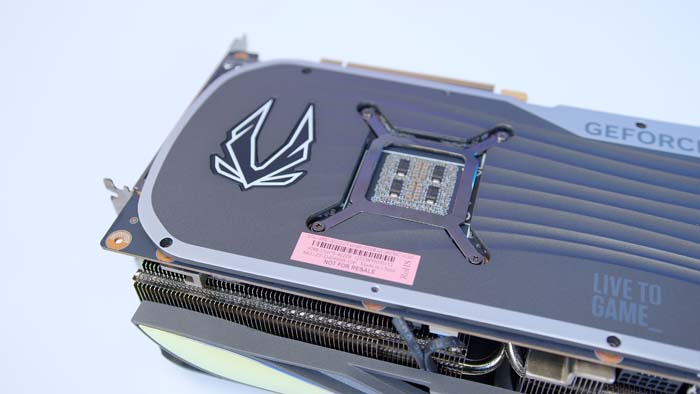 Specifications
The RTX 4090 is the best GPU when it comes to hardware, sporting a 2.5GHz boost clock speed and 16000 CUDA cores. We've put together a table to show the difference between the 4090 and the previous generation RTX 3000 cards in terms of hardware.
Spec
RTX 4090
RTX 3090Ti
RTX 3090
RTX 3080Ti
Video Memory
24GB GDDR6X
24GB GDDR6X
24GB GDDR6X
12GB GDDR6X
Memory Bus
384-bit
384-bit
384-bit
384-bit
Core Clock Speed
2.23GHz
1.86GHz
1.7GHz
1.37GHz
Boost Clock Speed
2.52GHz
1.67GHz
1.4GHz
1.67Hz
CUDA Cores
16384
10752
10496
10240
Power Consumption
450W
(Founders Edition)
450W
(Founders Edition)
350W
(Founders Edition)
350W
(Founders Edition)
RT Cores
3rd Generation
2nd Generation
2nd Generation
2nd Generation
Tensor Cores
4th Generation
3rd Generation
3rd Generation
3rd Generation
PCI-E Generation
PCI-E Gen 4
PCI-E Gen 4
PCI-E Gen 4
PCI-E Gen 4
Design
Looking at the design of the card, I must say I'm a big fan of Zotac's RTX 4090 card. The ridged fan design adds a nice look to the card (and hopefully improves thermals), and the little ridges on the shroud add a little bit more depth to the design. Looking at the top of the card, there's also a rather large RGB strip which can of course be customised with various RGB software programs.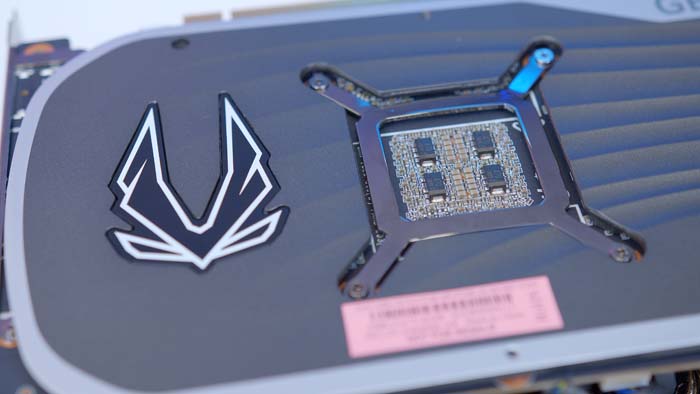 Overall, I think the design is great, but I think Zotac's choice to put the RGB light strip on the top of the card is potentially odd. I imagine many consumers will want to showcase this card by mounting it vertically. Therefore, having the RGB on the top means you won't be able to see it at all. Those of you looking to mount the GPU normally will be fine, but I'd argue that a vertical mount is preferable based on weight support because all of these cards are absolutely massive. Otherwise, this card offers up a very sleek design that will suit a variety of different build styles.
Performance
Now for the most important part – the performance. The Zotac AMP AIRO 4090 much like all of the other 4090s we've tested, this card absolutely wipes the floor when compared to any other GPU on the market right now. Thermals were pretty good too, but we're always taken aback by the performance of these GPUs. Nvidia promised a significant performance uplift and they clearly were on the mark in this instance.
As a further note, although the performance on the new RTX 4000 cards offers a significant improvement vs RTX 3000, Nvidia have managed to keep the power consumption below 500W. This means you'll still need to pick up a 1000W+ PSU such as the Thermaltake GF3 or MSI MEG Ai1300P, but it saves a PSU upgrade if you've already got a high wattage PSU.
To further showcase the performance of this GPU, we've provided some benchmarking videos and graphs to let you see how this card really performs against the competition, and the kind of frames you might get with an equal performing system.
Fortnite
Our first game that we tested was the hit title Fortnite. In this game, we turned the settings down to 1080P competitive settings to see how high the frames could fly, and boy did they do that! The Zotac 4090 soared to an average framerate of around 322, which was more than enough to give us a 'competitive' edge within the game and secure another victory royale. Unfortunately, this card was the lowest scoring when compared to the others, but no one is going to argue with 322FPS on average.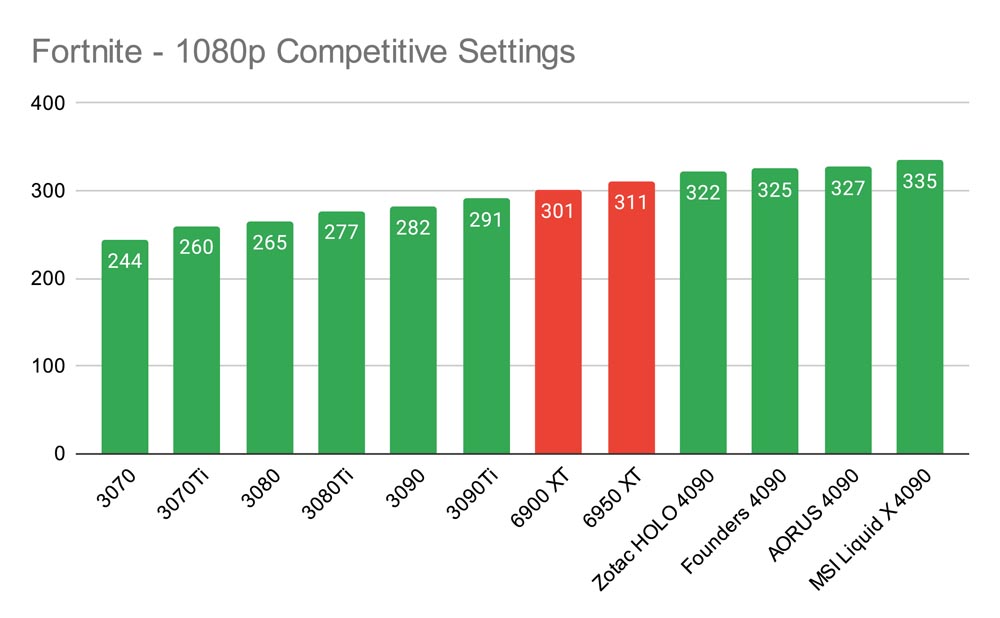 Apex Legends
In Apex Legends at 4K, the Zotac 4090 was able to reach a very impressive framerate of 202 on average. This meant that we exceeded the 144Hz sweet spot, with some extra frame for redundancy purposes to reduce any frame drops. At 4K, we could experience the great visuals of this game coupled with the frames required for a smooth experience.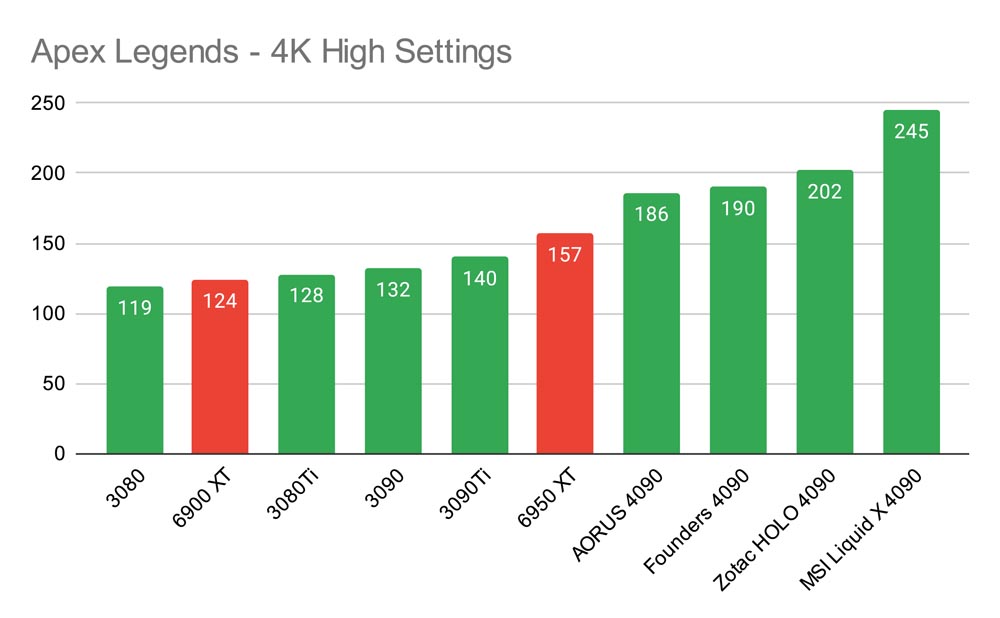 Marvel's Spiderman Remastered
Spiderman Remastered proved to be a similar experience to Apex, with our frames soaring to a high of 121 frames and outperforming all of the 6950XT, but unfortunately sitting at the bottom when compared to the other 4090s. Spiderman tends to be pretty intense in gameplay and for this reason has a fair amount of overhead. But the Zotac 4090 pushed through the harder workload, giving us plenty of frames to play around with in this fast-paced game.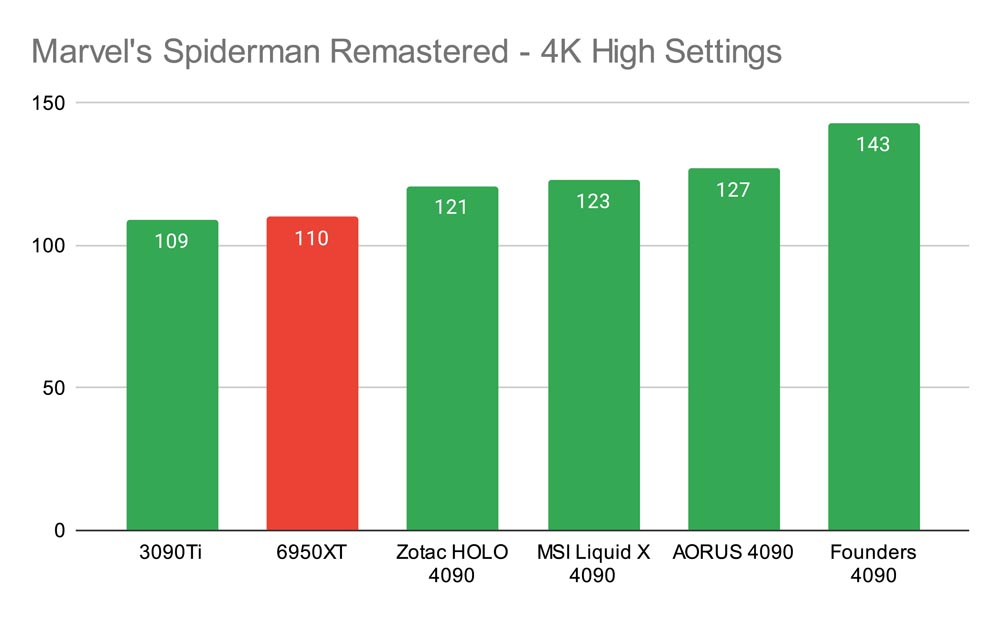 Cyberpunk 2077
We decided to test out Cyberpunk 2077 to see the improvements that come with DLSS 3 and the Frame Generation software. With Ray-Tracing and DLSS enabled, we were able to reach a consistent 142FPS on average. Considering Cyberpunk is still plagued with graphical optimisations, this is perfectly playable, giving us access to the incredible visual fidelity that can be experienced in this game.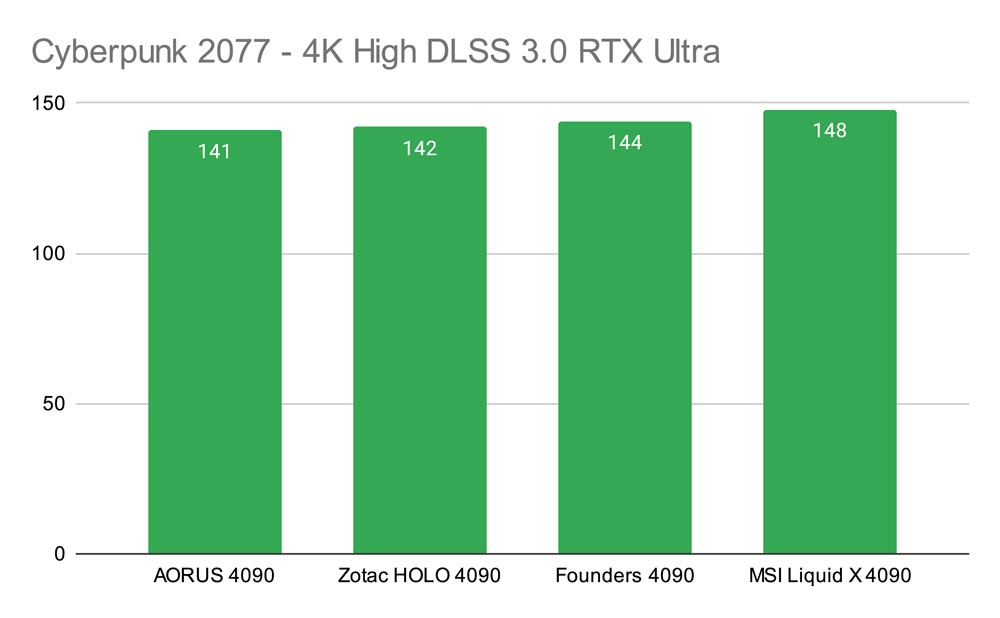 F1 2022
And finally in F1 2022, we saw this game absolutely fly in terms of frames, reaching 239 on average. F1 2022 can be a rather intense title graphically, but with a powerful GPU we've demonstrated the ridiculously high framerates that are attainable, even if your game is much harder to run.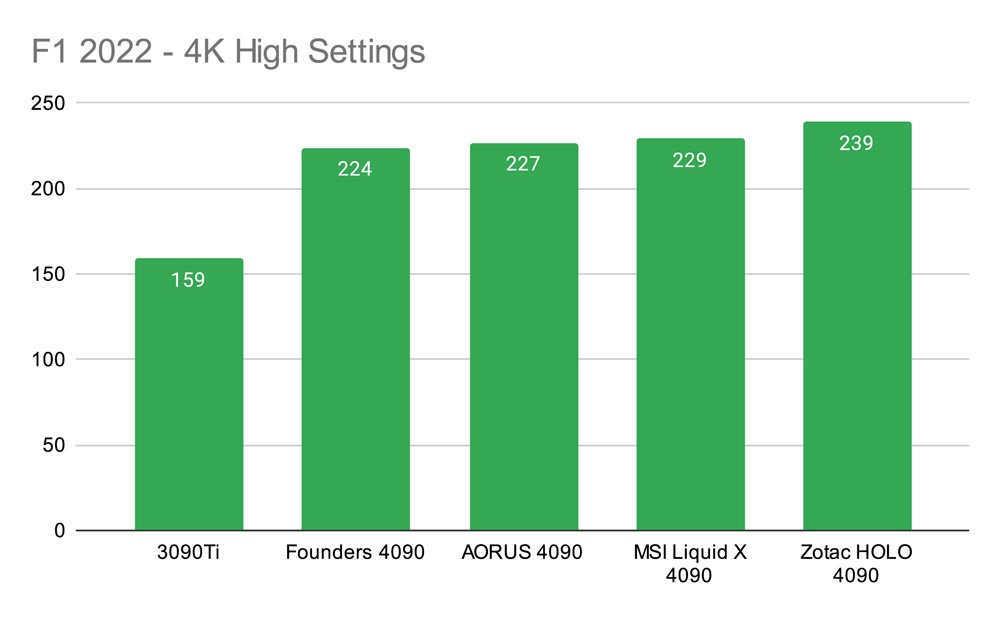 Conclusion
Zotac Gaming RTX 4090 AMP Extreme AIRO
Product Name: RTX 4090 AMP Extreme AIRO
Brand: Zotac
Features

Design

Performance

Value For Money
Summary
Zotac's RTX 4090 AMP Extreme AIRO GPU is the one of the last AIBs that we've had a chance to look at, test, and review. And for the most part, we're impressed. This card offers similar performance to that of the Founders Edition 4090, offering great thermals due to the triple fan design. However, if you're looking for the best of the best in terms of power, this card unfortunately underperforms in comparison to the other AIBs and Founders Edition. That isn't to say this is a bad card, but you'll likely have less frames and slightly lower scores when benchmarking this card. But overall, Zotac have done a great job and we're curious to see what other SKUs will offer in time.
Pros
✅ Excellent performance at 4K with Ray-Tracing and DLSS enabled.
✅ Card has a much better design compared to other options.
✅ Thermals are very good.
Cons
❌ A very expensive GPU.
❌ Weaker performance compared to other AIBs.
❌ Card size will limit case options.