Introduction
After what feels like an age since their last release, AMD are back with the brand new RX 7600 – to clarify the RX 7600 GPU, not to be confused with the Ryzen 5 7600X CPU. Now, the confusing naming structure is out of the way and this latest launch is an interesting approach from AMD. Having last launched the line-topping AMD Radeon RX 7900 XT and XTX models, this time AMD have opted to launch a GPU at the complete opposite end of the line-up in the form of a budget GPU.
Not only this but AMD are launching a budget GPU within the same week as Nvidia's RTX 4060Ti. Whilst the RX 7600 isn't a direct competitor to the RTX 4060Ti on paper, if it performs well enough to compete whilst coming in at an MSRP of $130 cheaper ($269 MSRP) it certainly can become a direct competitor. AMDs decision to go head-to-head may just pan out as a great choice, if the early feelings of a shaky launch for the 4060Ti continue, the RX 7600 may reap the benefits.
The RX 7600, much like the RTX 4060Ti also launches with 8GB VRAM but due to its nature as a true budget GPU and AMD outwardly marketing the RX 7600 as a mainstream 1080p GPU, feelings around the community are more optimistic. Only time will tell whether the VRAM limitations will affect the performance of the GPU or whether AMDs latest budget SKU will pull it out of the bag.
Buy the Gigabyte Gaming OC RX 7600 on:
Suggested Article: Best CPUs to Buy for the AMD Radeon RX 7600 in 2023
Architecture
Built using the RDNA 3 architecture, the latest architecture from Team Red and significant improvements have been made. Perhaps the biggest of these upgrades is the new and improved 2nd generation Ray Accelerators.
Long has AMD suffered in comparison to Nvidia when it comes to Raytracing, with the arrival of RNDA 3 however, things have begun to look up somewhat.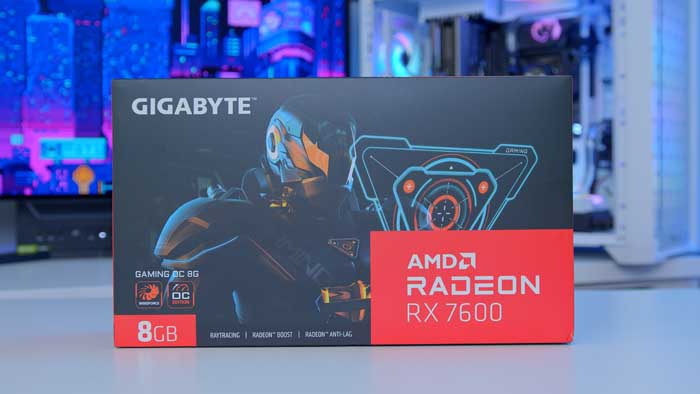 With RDNA 3, Raytracing performance is at an all-time high for AMD GPUs, the upgraded Ray Accelerators combined with the brand new AI Accelerators and vast increase to compute units make for great improvements. Couple that with the first ever 'Chiplet' GPU design, a design that has allowed for increased power and efficiency, and these GPUs stay firmly in performance contention.
Improvements have also been made on the software side of things too, in the form of FSR. AMDs FSR is now a much more refined piece of tech and closer competition to that of Nvidia's DLSS. AMD doesn't quite have a complete answer for Nvidia's Frame Generation tech just yet, however, but do offer 'Radeon Super Resolution'. Enabled at a global or game level, AMD Super Resolution (RSR) makes use of FidelityFX spatial upscaling tech to upscale in-game resolutions, thus allowing for increased performance.
FSR as a whole is now far more regularly available, across a whole range of games too. Whilst some games still only support FSR 1, we found many titles to now be included in AMD's suite of games for FSR 2, ranging from all action FPS titles, to Racing sims, to RPGs, you name it, there's a good chance FSR is now compatible.
Specifications
On the face of it, the RX 7600 looks to have some very strong specs and slots into the AMD line-up very well. A decent VRAM offering coupled with solid clock speeds makes for positive reading and should lead to a positive experience, particularly in the gaming department.
We've created a table below that highlights the key hardware differences between the RX 7600 and other cards from the RX 6000 architectures.
Spec
RX 7600
RX 6600
RX 6650 XT
RX 6750 XT
Video Memory
8GB GDDR6
8GB GDDR6
8GB GDDR6
12GB GDDR6
Memory Bus
128-bit
128-bit
128-bit
192-bit
Game Frequency
2.25GHz
2.05GHz
2.4GHz
2.5GHz
Boost Frequency
2.6GHz
2.5GHz
2.6GHz
2.6GHz
Stream Processors
2048
1792
2048
2560
Power Consumption
165W
(Founders Edition)
132W
(Founders Edition)
180W
(Founders Edition)
250W
(Reference Design)
RDAN architecture
RDNA 3
RDNA 2
RDNA 2
RDNA 2
PCI-E Generation
PCI-E Gen 4
PCI-E Gen 4
PCI-E Gen 4
PCI-E Gen 4
All clock speeds and memory specifications are based off Reference designs or Founders Edition cards where available. Clock speeds for cards like this MSI design are often higher.
Design
We had a Gigabyte Gaming OC model in-house specifically and whilst not the flashiest of models, I personally, am a fan. With a triple fan cooling solution, sleek colour pallet and even a hint of RGB, the Gaming OC design ticks a lot of boxes.
Gigabyte's Gaming OC sports a sleek solid metal backplate and two-tone colourway and looks right at home in a multitude of builds. The touch of RGB on the Gigabyte text, whilst nothing too over the top adds a nice subtle splash of colour into the mix and helps to tie the GPU into any other system RGB. The solid backplate adds a layer of strength and support to the overall GPU and gives the GPU a well-built feel.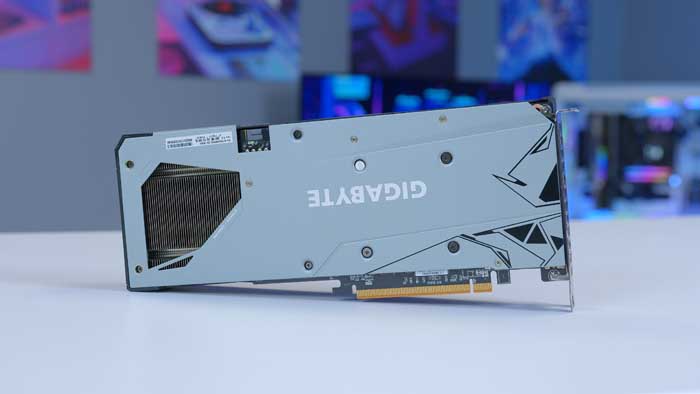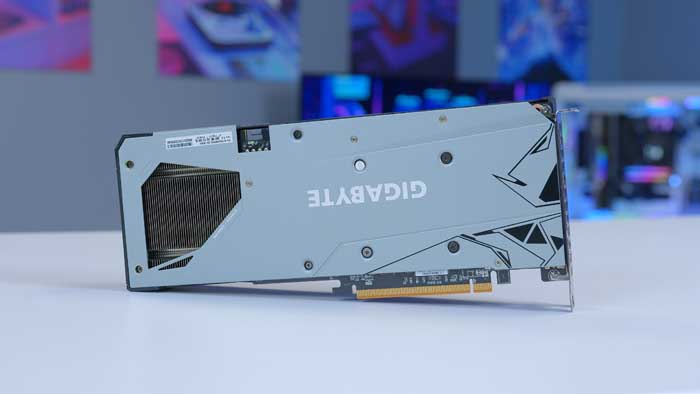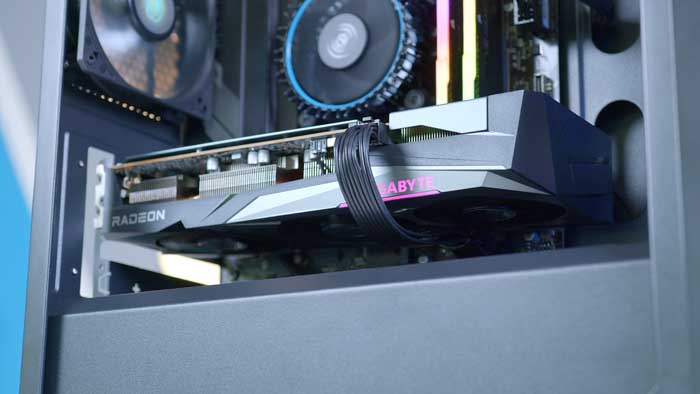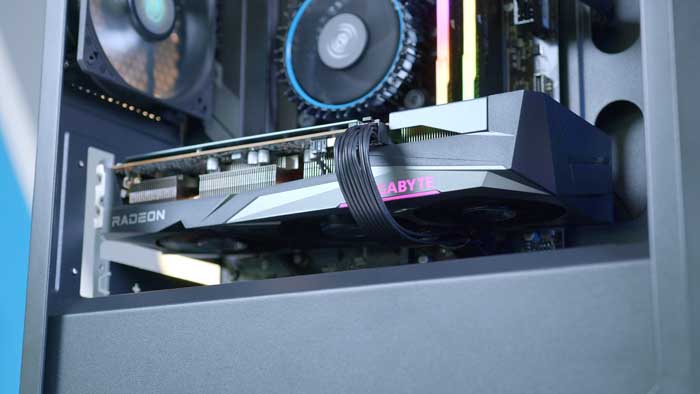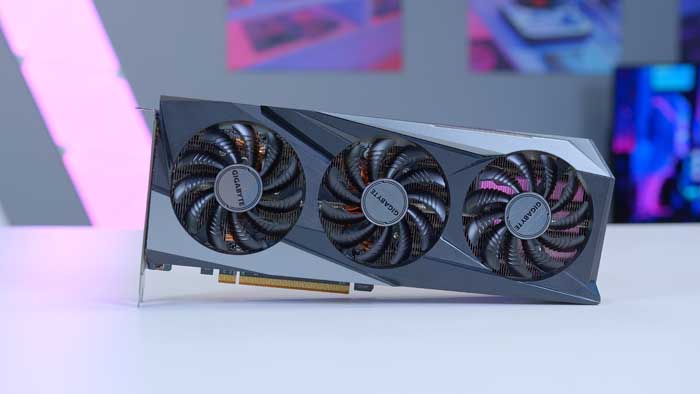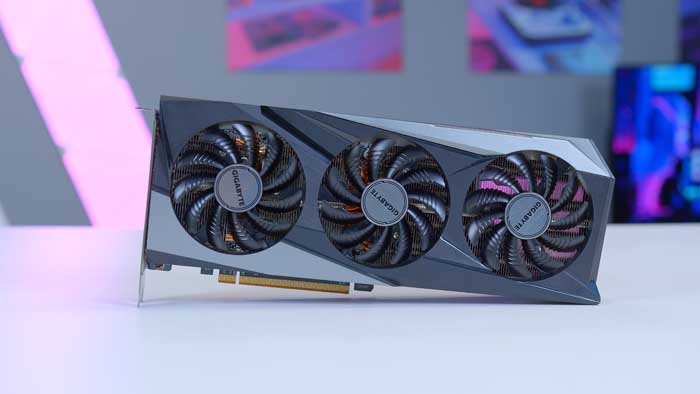 Gigabytes three fan cooling design is a notable mention too. Designed using Gigabytes Windforce model, the RX 7600 Gaming OC comes with 3 80mm fans, set to rotate in alternate directions. Doing so reduces adjacent fan turbulence whilst simultaneously increasing airflow pressure, helping to keep GPU temps to a minimum. Each fan blade is designed with additional ridges on too, said to help further improve directional airflow. Gigabyte have seemingly made cooling a priority on the Gaming OC range of cards. Copper heat pipes have been specially designed to maximise surface coverage of the VRAM whilst maximising direct contact with the GPU itself.
Whilst never the flashiest brand when it comes to overall GPU aesthetic, Gigabyte have designed another well-designed GPU. With efficient cooling, a subtle colourway and a good overall GPU size, the RX 7600 Gaming OC makes for a great hot swappable GPU, ready to fit into a number of current systems.
Performance
The RX 7600 comes into the market as a great value option right now. With the recent price drop from $299 to $269, the RX 7600 now sits at a much more competitive price point for the 1080p gamer. Whilst marketed as a great 1080p option, we also found the RX 7600 to have some mileage at 1440p too but more on that below.
Below we've provided a number of graphs from our benchmarking runs, comparing metrics from both current and previous-generation cards. From RTX 3000 to AMD's RX 6000 range we've got you covered. All of the full benchmarking gameplay can be found on our very own YouTube channel – Benched, where you'll find all of the components that we've tested in a myriad of games!
Fortnite
The ever popular the Fortnite is our first title and a great test of just how well the RX 7600 stacks up against the competition at 1080p.
We kick things off with a solid start for the RX 7600. Pulling in 273 FPS on average, the newest mainstream AMD GPU beats out some of Nvidia's last generation 4K titans in the form of the RTX 3080 and 3080Ti at 1080p competitive settings. In fact the RX 7600 is within touching distance of beating out both the RTX 3090 and 3090Ti models too, not bad for a 1080p card.
The RX 7600 also managed to best last generation RX 6650 XT and stays within a respectable distance of the RX 6750 XT, making the results positive reading. The RX 7600 does lose out fairly comfortably to Nvidia's latest release the RTX 4060Ti (12 frames to be precise) but at $130 cheaper, the additional frames gained by team green sit at almost $11 per frame.
The RX 7600 offers considerable value for money for what seems like the first time in a long time. Whist admittedly, yes, the AMD cards have a track record of always performing strongly in Fortnite, could this be the start of something great?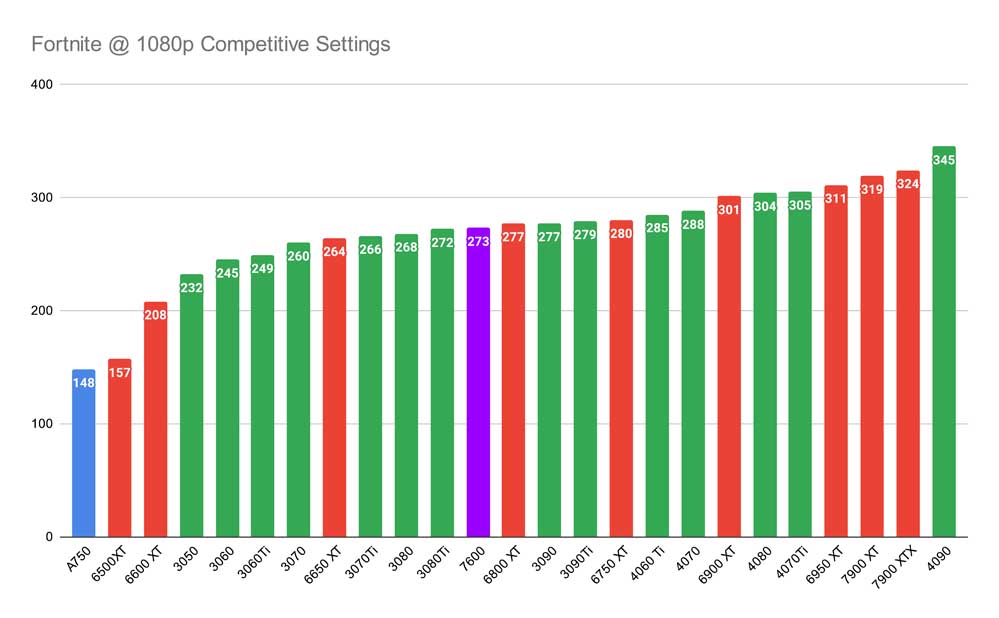 Hogwarts Legacy
Hogwarts Legacy, the newest and one of the toughest titles to run in our benchmarking suite is next up. Once again we set the settings to 1080p High and got down to business.
Again the RX 7600 shocked us with just how well it performed beating out nearly all of the cards we tested and equalling the RTX 4070, a card that by no means should be a direct competitor. Averaging 105 FPS and rivalling a card that sits at over 2x the price at MSRP is a storming success on AMDs part. Early signs point towards the RX 7600 being a 1080p monster, capable of outperforming cards that sit at higher native resolutions.
Capable of being put into a complete system for not too much more than a console costs, the RX 7600 offers a healthy amount more performance. For those looking to attend their first year at Hogwarts, the RX 7600 offers great performance without the need to break into Gringotts Bank to fund it.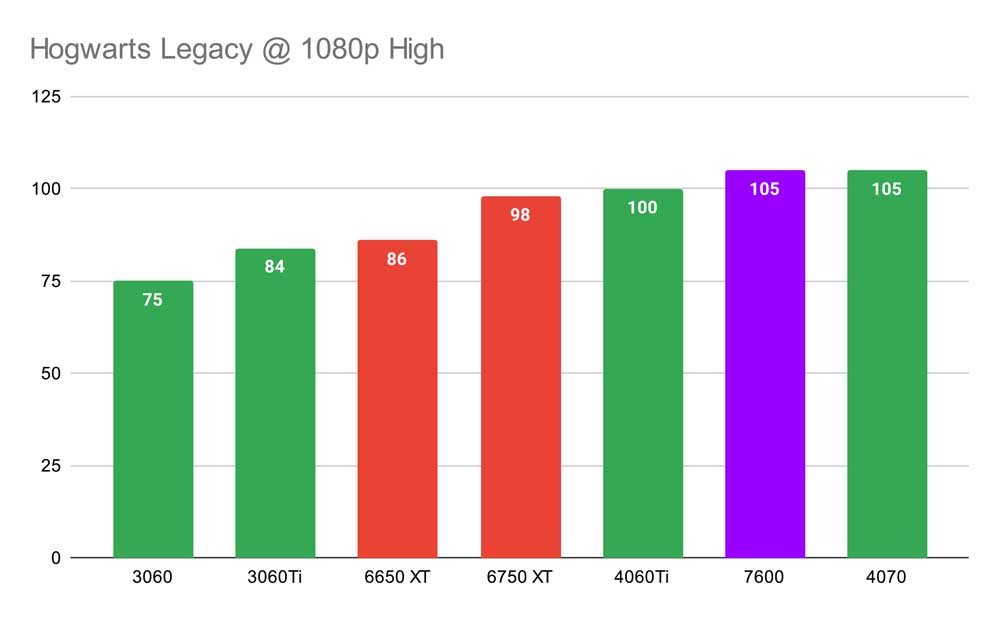 Apex Legends
The second of our Battle Royale titles today, Apex Legends offered another solid challenge. We tested at both 1080p and 1440p High settings to gain a real grasp of the range of performance available.
At 1080p the RX 7600 sat much closer to where we'd expect. Narrowly beating out the RX 6650 XT by 5 FPS and losing out to the RX 6750 XT by an even smaller margin in 3 FPS in another title in which AMD GPUs tend to perform well. Admittedly the tiny generational improvement on show in Apex is a little disappointing to see but given the RX 7600 still comfortably beats out the RTX 3060Ti and sits fairly close to the new RTX 4060Ti, it can somewhat be forgiven.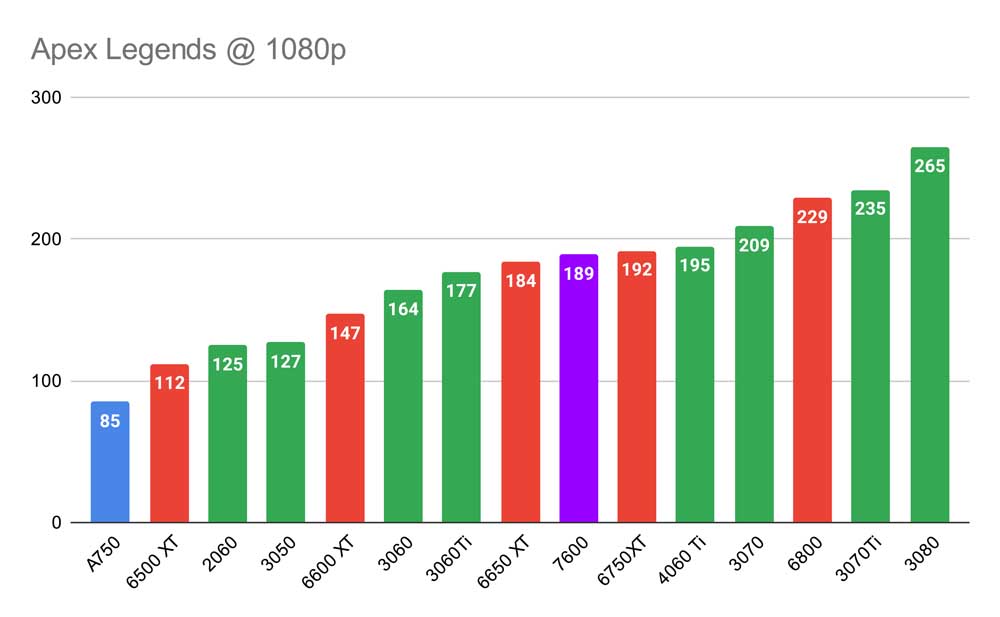 1440p offered less positive results on the face of things, but when diving deeper the results aren't as bad as things look at first glance. Given its strong 1080p standpoint, reaching the sweet spot of 144 FPS at 1440p makes for positive stuff. Whilst yes both the RTX 3060Ti and 4060Ti do beat out the RX 7600 at 1440p, the RX 7600 is a $269 1080p card capable of hitting 145 FPS at a resolution that should be above its weight class. For those looking to comfortably play Apex Legends at 1440p High settings, the RX 7600 may not be the best option, but the fact that it is an option at all is great for the market.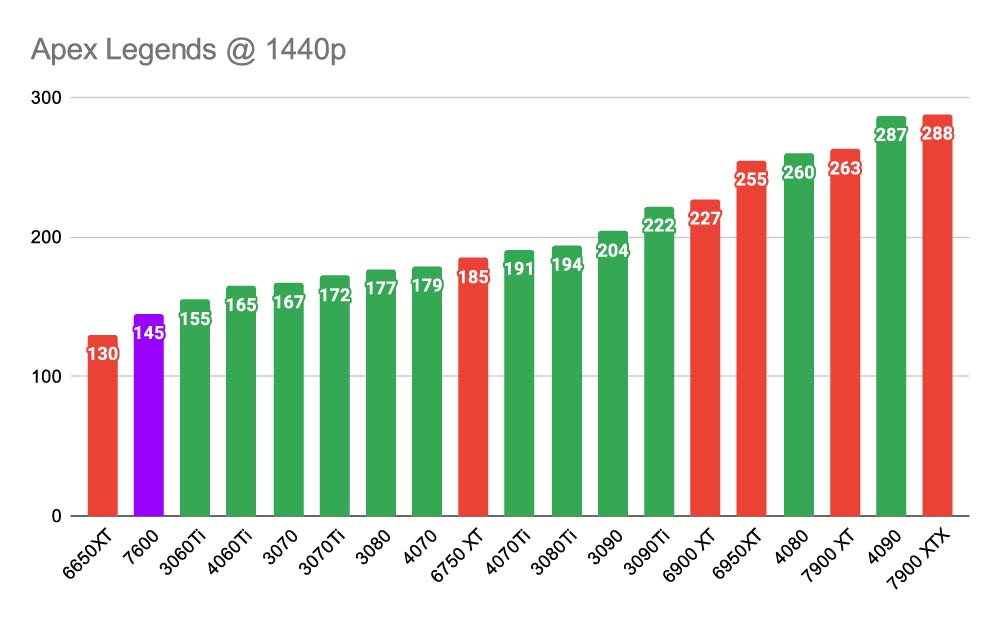 Overwatch 2
Overwatch 2 is the first title we tested in which the RX 7600 didn't quite hit the mark and left us wanting more. 221 FPS was the total on average for the RX 7600, which, without context sounds great. Upon further inspection however, the result becomes less positive.
Losing out by 25 FPS to the RX 6650 XT, a card in which the RX 7600 is supposedly 'replacing' is a worrying problem to have in Overwatch 2. Even the RX 6600 XT gives the RX 7600 a good run for its money, sitting at just 8FPS behind the newest AMD addition.
Elsewhere on the graph and Nvidia's latest launch is sitting pretty at the top of the chart with 278 FPS, all but wiping the floor with the competition. Only the RX 6800 gets remotely close and even that sits at 20 FPS lower on average. For those looking to pick up the RX 7600 to play Overwatch 2, there are definitely other options worth considering.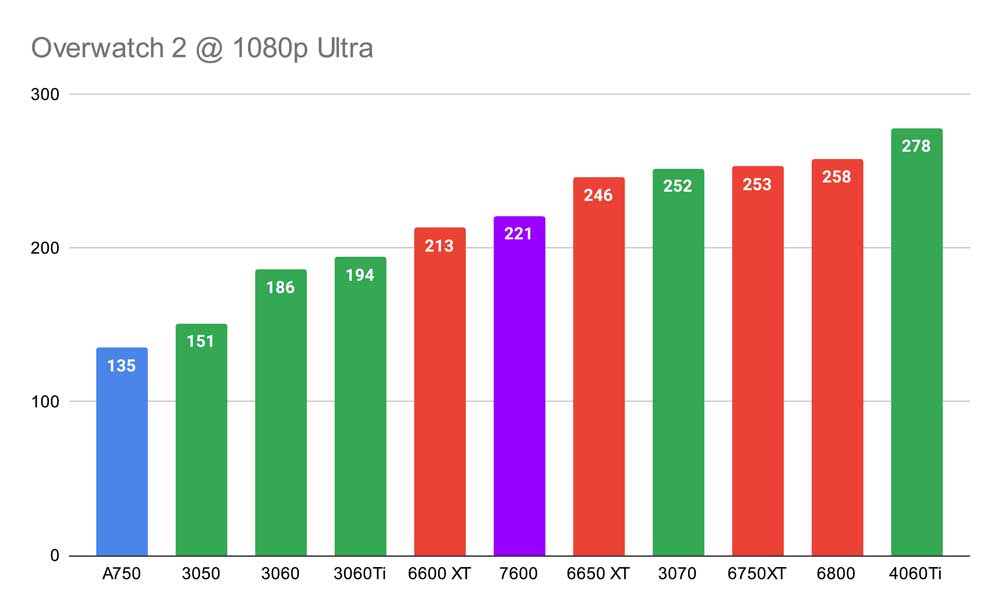 We once again tested the RX 7600 at multiple resolutions in Overwatch 2 and yet, this unfortunately just compounded the poor results even further… sort of.
Sitting rock bottom of our graph by a considerable margin makes for even worse reading than 1080p. Yet it is worth considering that this GPU is first and foremost for 1080p gaming and doesn't set out to beat the big boys at 1440p necessarily. Whilst yes it would be nice for the RX 7600 to beat out the likes of the RTX 3060Ti here, that I will admit, every other card that we tested here is primarily a 1440p GPU.
For those looking to play Overwatch 2 at 1440p 144 FPS, the RX 7600 is still more than capable of doing so and considerably cheaper than a number of options on the graph below. Whilst limited at times performance-wise in Overwatch 2, the RX 7600 isn't an awful option to consider as a cheaper alternative.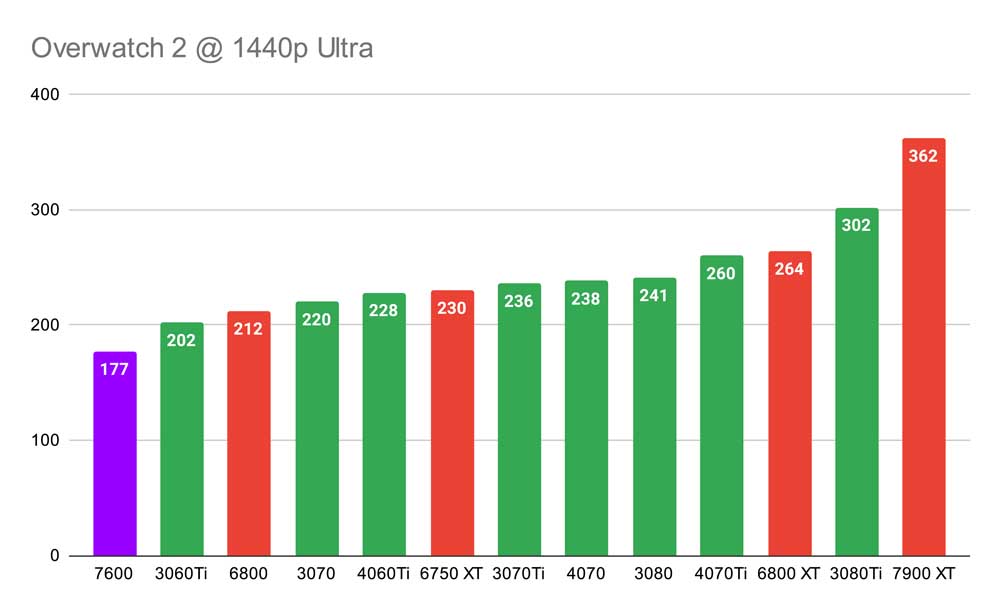 F1 2022
Back to more positive results and it's a podium finish for the RX 7600 in F1 2022. Beating out all of the last-generation options that we tested, with the exception of the RX 6750 XT, is another solid finish for the 7600. Averaging 197 FPS with FSR enabled at 1080p High settings is more than enough to ensure performance is just as smooth as your cornering.
The RX 7600 clearly has the legs top push for 1440p, racing titles don't tend to need close to 200 FPS to be playable, with many instead performing visual fidelity and for good reason. Racing titles such as F1 2022 are some of the best-looking titles out there and given they don't need to max out performance, visuals can instead be cranked all the way up.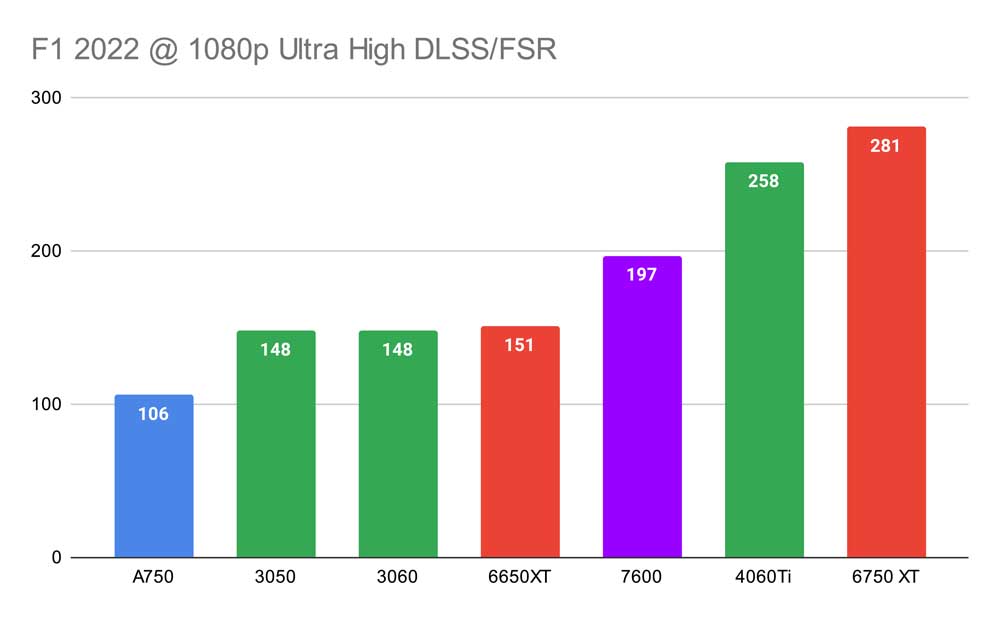 The RX 7600 does a solid job at 1440p too and still surpasses the sweet spot of 144 FPS for 144Hz. Sitting just behind both the RTX 4070 and RTX 4060Ti with 1 and 4 FPS differentials respectively, proves that the RX 7600 can indeed compete with some of the bigger boys at 1440p in some titles. 154 FPS at 1440p Ultra High with FSR set to Quality pre-set is nothing to scoff at, the RX 7600 put in a solid showing and provided more than playable performance in this title, 4K anyone?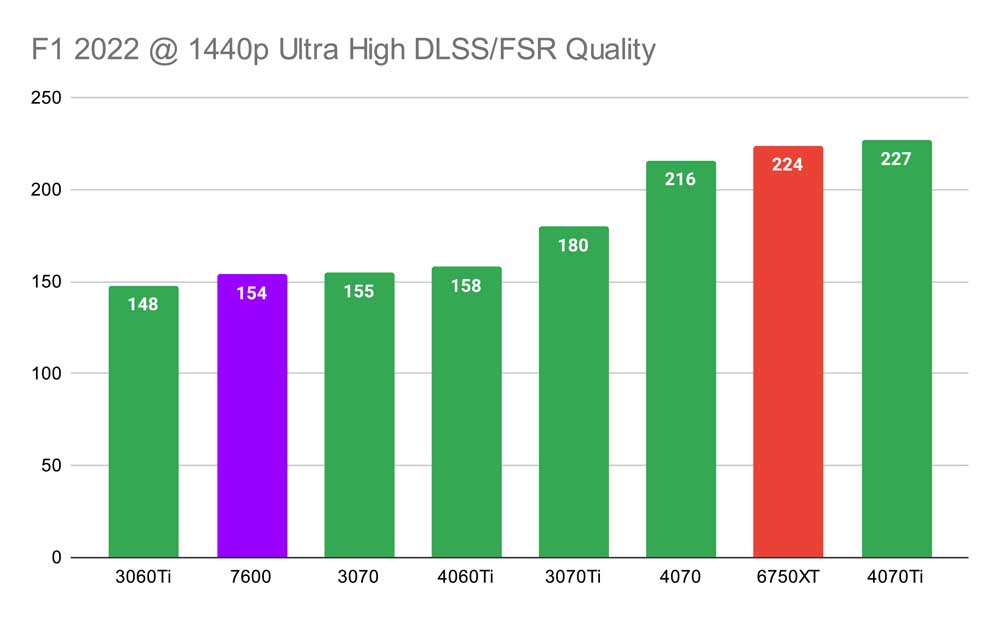 Warzone 2.0
Rounding off our battle Royale titles is Warzone 2.0, again testing at both 1080p and 1440p Warzone 2 is a challenging title to run and a great benchmarking option.
A very strong performance for the RX 7600 in this title. At 1080p High with FSR set to quality, to improve FPS whilst keeping great visual fidelity, the RX 7600 pulled in 136 FPS on average and once again found itself sitting within our top 3. Bested by only the RTX 4060Ti (139 FPS) and RX 6800 (146 FPS) the RX 7600 once again seemingly punches above its weight and beats out a number of GPUs we didn't expect it to.
Both the RTX 3070 and RX 6750 XT succumbed to the RX 7600 albeit by just the 1 FPS for the RTX 3070 and 4 FPS for the RX 6750 XT but still a win for the RX 7600 nonetheless.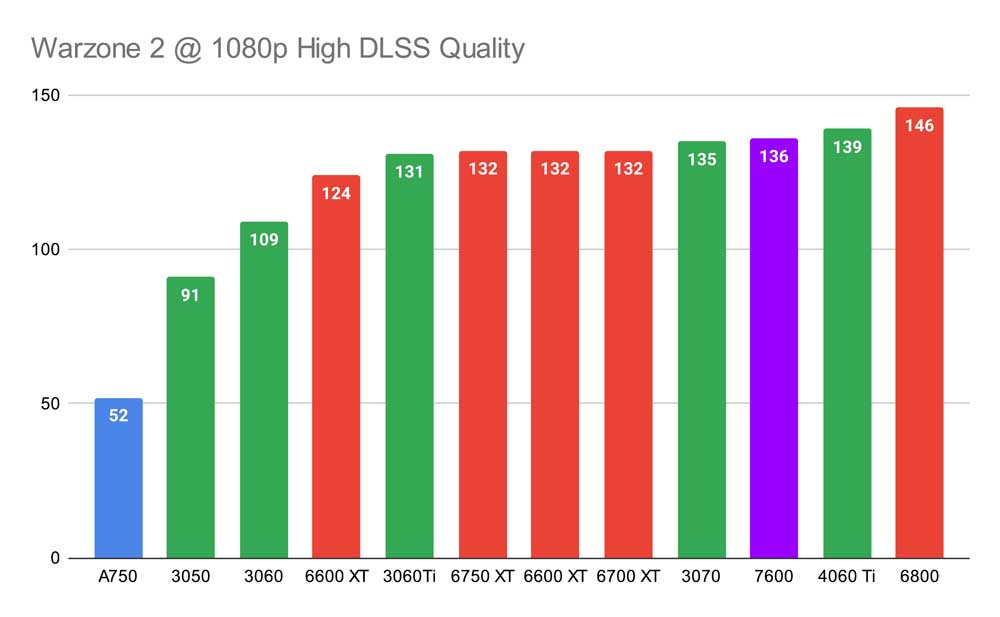 Warzone 2 at 1440p made for similarly positive readings. Once again besting a number of typically 'higher end' GPUs to maintain its position as a card punching leagues above itself. Whilst only managing to equal the RX 6750 XT this time at 121 FPS, the RX 7600 beats out the RTX 3070 by a landslide this time round by a huge 28 FPS at a resolution that's is supposedly native for the RTX 3070.
Elsewhere, the RX 7600 managed to place itself not only 3 FPS behind the considerably more expensive RTX 4060Ti but even last generations 4K titan the RTX 3080, even the RTX 4070 sits within 10 FPS of the RX 7600. The performance of the RX 7600 left us feeling that maybe it isn't just another 1080p GPU after all.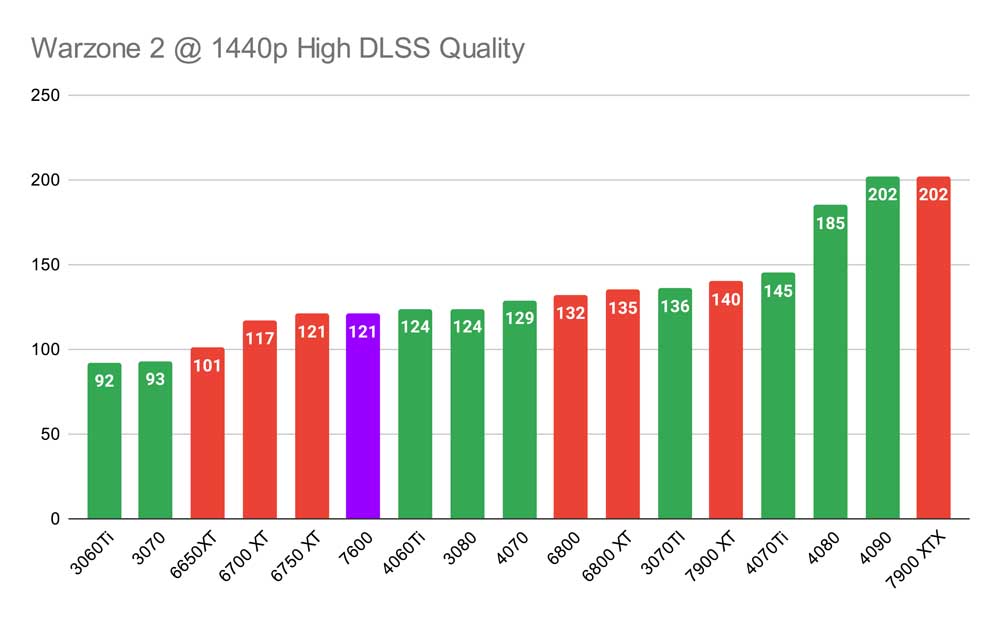 Spiderman Miles Morales
Given the recent strong performances, we tested at 1440p in Spiderman Miles Morales. With FSR and both DLSS 2.0 and 3.0 numbers available in our graph, this acts as a great comparison.
When looking at straight FSR to DLSS 2.0 numbers it's clear to see just how well the AMD architecture had caught up in recent months, with the RX 7600 equalling the RTX 4060Ti at 144 FPS and sitting just 3 FPS behind the RTX 4070, very impressive stuff from the AMD card. The RX 7600 even managed to be within touching distance of the line-topping RX 7900 XTX
Enable DLSS 3.0 however, and its a different story. All 3 of the RTX 4000 series cards pulled away from the rest of the pack considerably and left the RX 7600 and its counterparts in their rear view mirror.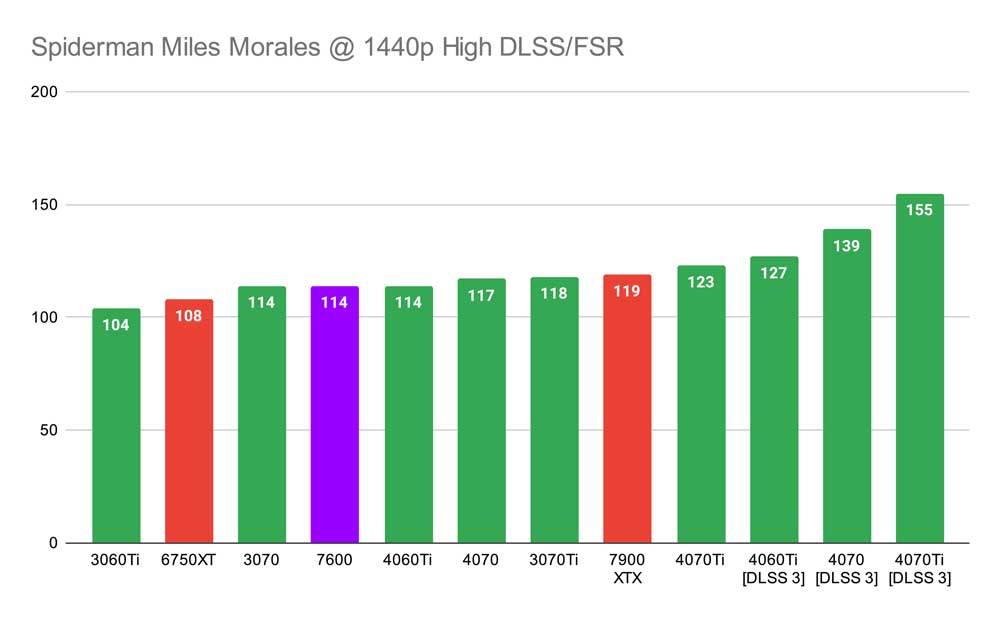 GTA V
GTA V is as always present in our testing and acts as our last title tested today. Given its age, we gave the RX 7600 another whirl at 1440p to see how well it stacks up against the big boys. Needless to say, we were blown away.
Beating out all of Nvidia's last-generation options and losing out to only the RX 6950 XT from AMDs last generation line-up, by just 3 FPS might I add. Averaging 171 FPS, the RX 7600 isn't a million miles away from hitting GTA V's max FPS of 187. Again the RX 7600 sat within 10 FPS of the RX 7900 XTX, whilst the supposedly less powerful RX 7900 XT sat at 3 FPS higher than its bigger brother. Nvidia's latest release RTX 4060Ti sat towards the middle of the pack at 163 FPS and again proved that more expensive isn't necessarily better.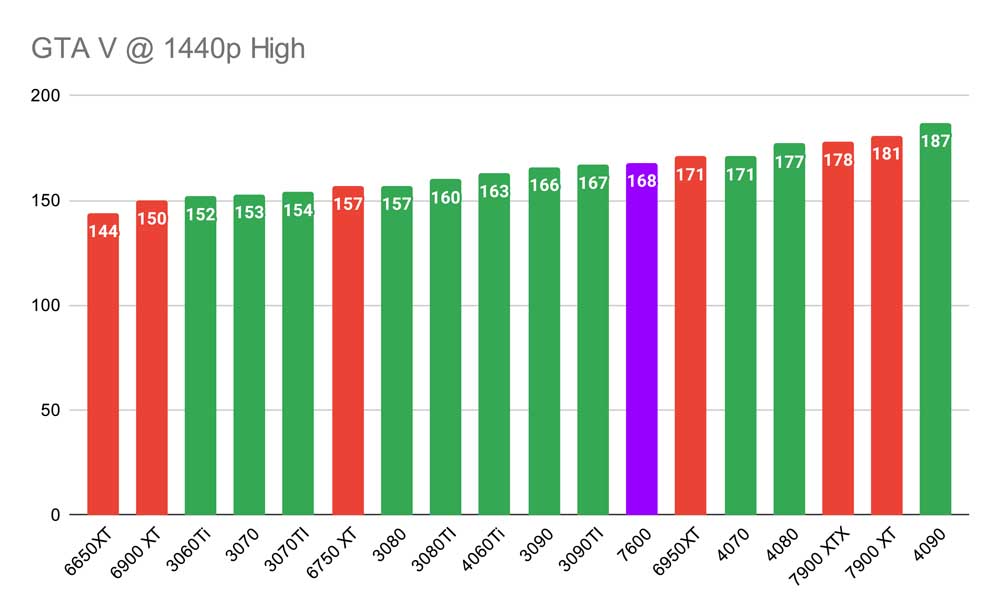 Conclusion
Gigabyte RX 7600 Gaming OC
Product Name: RX 7600
Brand: Gigabyte
Features

Design

Performance

Value For Money
Summary
AMD have somehow seemingly done what Nvidia were hoping to do with the RTX 4060Ti – replicate and replace the pound-for-pound king, the RTX 3060Ti. 
Coming in at an absurdly good price point, the RX 7600 offers incredible value for a brand-new 1080p GPU in 2023. Yet, the thing is, the RX 7600 proved itself during our testing to be so much more than that. Regularly beating out the bigger boys of the GPU world at both 1080p and 1440p, the RX 7600 is a card that consistently punches above its weight class. AMD have somehow managed to replicate the David and Goliath story of Nvidia's last generation price to performance king, creating the RX 7600 with the same air of magic and aura that made the RTX 3060Ti so good.
Whilst yes the RX 7600 does have its downsides. Only 8GB of VRAM isn't the best solution long term and yes there will likely be stocking issues after launch as is always the case with AMD releases, even the release of a '1080p GPU' in 2023 seems like no progress has been made in the industry. I can't help but root for the RX 7600, to me at least, at its now reduced price, the RX 7600 seems like a no-brainer. 
Pros
✅ Excellent 1080p and 1440p performance.
✅ Punches above its weight class.
✅ Great MSRP Price.
Cons
❌ 8GB VRAM isn't the most futureproof.
❌ Potential for stocking issues on launch.
❌ No answer for DLSS 3.0 (yet).