Introduction
NVIDIA have not been having a good time recently with their GPU launches. RTX 4000 cards have been somewhat doomed since the start with overwhelmingly high price tags, and underwhelming performance metrics. As we've gotten to the more budget and mid-range SKUs, things have become progressively worse, with the previous RTX 4060 Ti getting absolutely slated upon arrival, resulting in low sales, and a massive amount of stock left over.
We can't be all doom and gloom though. Despite the poor performance from NVIDIA cards, Team Green are constantly pushing the boundaries when it comes to technology. Opening up more options for consumers at the budget end of the spectrum looking to play their favourite games at 1080p with some potential Ray-Tracing enabled. This is where the RTX 4060 comes in.
Despite the rather poor reception this card has already received, as an isolated case, the 4060 isn't terrible when it comes to standalone performance. Anyway, instead of destroying this GPU from the outset, we'll be taking a more constructive approach with a review of the ASUS Dual OC card. Is Ray-Tracing the saving grace of this 60-class graphics card? Or have NVIDIA fumbled the ball yet again?
Buy the ASUS Dual OC RTX 4060 on:
Suggested Article: Best RTX 4060 Graphics Cards to Buy
Architecture
The RTX 4060 is based on NVIDIA's matured Ada Lovelace architecture, similar to the previous generation RTX 4000 cards. These new GPUs come with 3rd generation RT cores, 4th generation Tensor cores, along with brand new AI-upscaling capabilities in the form of DLSS 3.0. When it comes to architecture, on the surface level, this card isn't incredibly dissimilar to its older siblings, with the majority of the hardware remaining the same across the board. Consumers also get access to a new AV1 encoder, and streaming multiprocessor, providing new bonuses when it comes to productivity.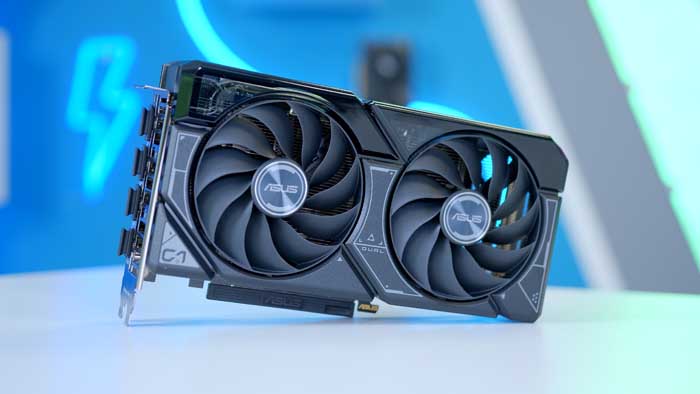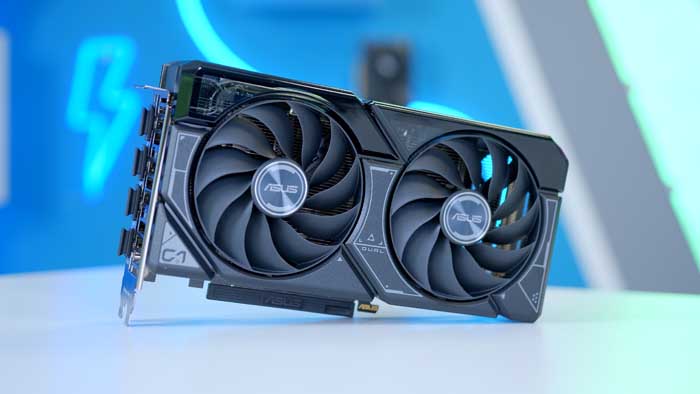 DLSS 3.0 is one of the more interesting parts of this new graphics card entrant, and we believe this is for very good reason. DLSS is NVIDIA's AI upscaling technology, which allows consumers to enjoy higher resolution gaming with reduced GPU overhead. By redrawing the image on your screen, this allows consumers to lessen the demand on their graphics card, which can help in situations where performance is bound by your GPU. And because DLSS is so refined, there is minimal latency, and very few visual differences between DLSS and non-DLSS performance when turned to quality mode.
NVIDIA also introduced their new Frame Generation tech, which furthers some of the benefits that comes with AI-upscaling. Frame-gen in particular will redraw individual frames in a game, resulting in even more performance gains, as both your CPU and GPU can reap the rewards of less overhead. Despite this, there are some problems with Frame-gen. Many users experience shimmering, and latency increases, resulting in a weaker gameplay experience. Not only this, but Frame-gen is only available in a handful of games, so this tech isn't exactly readily available in all of your favourite titles.
In summary, the Lovelace architecture is extremely strong, and has pushed the industry further and further with new updates to upscaling technology. On the whole, these cards should be worthwhile, especially at the budget end. But as we'll be discussing later, NVIDIA haven't quite hit the mark when it comes to their RTX 4000 range, and there's a multitude of reasons as to why.
Specifications
On paper, the readings could go either way. The RTX 4060 doesn't set the world alight when stacked up against its NVIDIA counterparts. Healthy upgrades to both base and boost clocks are a nice addition but reductions to both VRAM and CUDA cores will likely cancel out these upgrades.
Spec
RTX 4060
RTX 3060
RTX 3060Ti
RTX 4060Ti
Video Memory
8GB GDDR6
12GB GDDR6
8GB GDDR6/GDDR6X
8GB GDDR6
Memory Bus
128-bit
192-bit
256-bit
128-bit
Core Clock Speed
1.83GHz
1.32GHz
1.67GHz
2.31GHz
Boost Clock Speed
2.46GHz
1.78GHz
1.41GHz
2.54GHz
CUDA Cores
3072
3584
4864
4352
Power Consumption
TBC
(Founders Edition)
170W
(Founders Edition)
200W
(Founders Edition))
160W/ 165W
(Founders Edition)
RT Cores
3rd Generation
2nd Generation
2nd Generation
3rd Generation
Tensor Cores
4th Generation
3rd Generation
3rd Generation
4th Generation
PCI-E Generation
PCI-E Gen 4
PCI-E Gen 4
PCI-E Gen 4
PCI-E Gen 4
All clock speeds and memory specifications are based off Reference designs or Founders Edition cards where available. Clock speeds for are often higher on AIB models.
Design & Aesthetic
Moving onto the design and aesthetic of the ASUS Dual OC variant of the RTX 4060, this card is pretty simple looking. Immediately after taking it out of the box, we're greeted with a pretty tiny graphics card, sitting a 227mm in length, which is one of the smallest RTX 4000 GPUs yet. This takes me back to the days of the RTX 3000 series of GPUs, where the 3050 and 3060 were some of the smallest GPUs available within that particular range.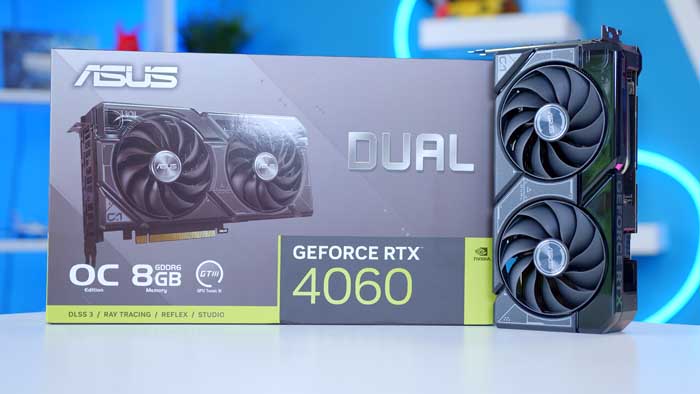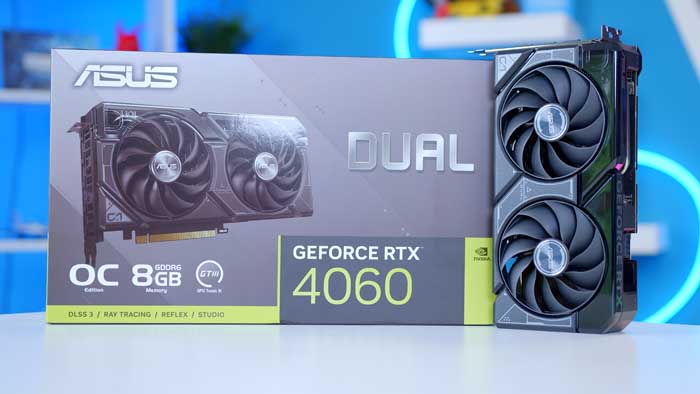 Aside from the size, the ASUS Dual OC offers a pretty basic design across the board, with a nice space-style theme, which can be seen across the shrouding on the front of the card. ASUS haven't gone crazy when it comes to colouring, this card is black and grey and unfortunately doesn't feature any RGB, which is somewhat disappointing. However, I imagine this is likely to keep costs down, especially as this is a budget graphics card.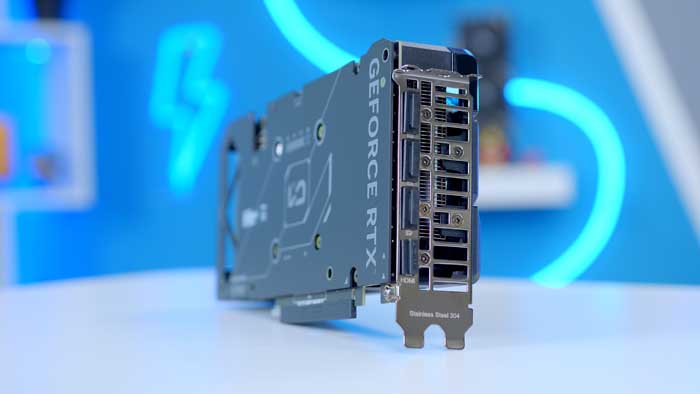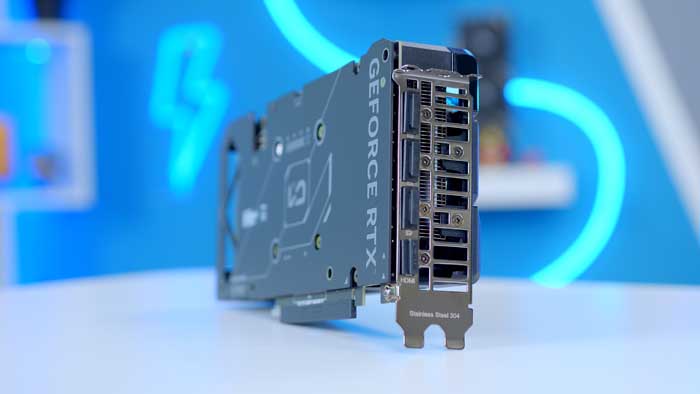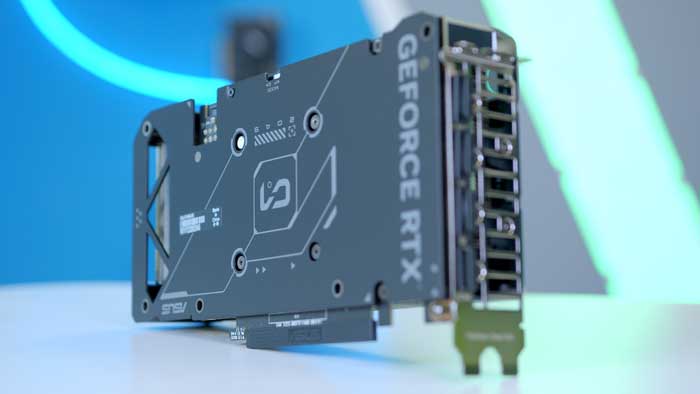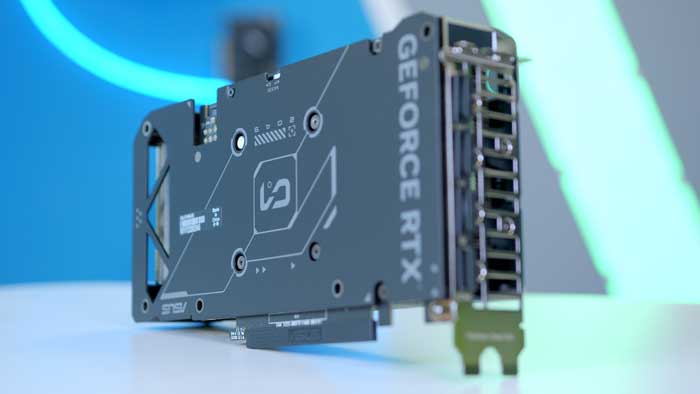 Aside from the design choices, the ASUS Dual card is pretty decent. This is a dual-fan card so thermals may be weaker in comparison to some of the beefier triple-fan cards. But because the RTX 4060 is relatively low power consumption, we can't imagine that the dual-fans will hinder thermal performance much, so consumers can expect reasonable temperatures even when the card is under more load.
[adrotate banner="8″]
RTX 4060 Performance
Now is the section you've all been waiting for – performance. Before jumping into this section it is worth nothing that we were not impressed with the performance of the RTX 4060. Although as an isolated instance the 4060 is a somewhat decent graphics card, as soon as we start to compare it to the rest of the market, things start to get a little dicey. There are more superior options on the market right now that are cheaper and provide better performance. Although the RTX 4060 does come out on top when it comes to Ray-Tracing, we feel NVIDIA are a bit out of touch when it comes to marketing, as the majority of budget consumers likely don't care about this.
Regardless, we'll let the graphs show you how this card performs. We've reduced the number of graphs in this article, because the performance will speak for itself very quickly. Without any further delay, here is how the RTX 4060 performs.
Hogwarts Legacy
First off in Hogwarts Legacy, we saw somewhat reasonable performance from the RTX 4060. This GPU was able to output around 95FPS which is pretty playable. Obviously, this isn't quite close to the 144Hz sweet spot, but I feel this isn't as vital in this particular title. Overall, I'd say performance was just 'fine', the RTX 4060 was able to hold up relatively well in this rather intense title, but it does lose out to the 6750 XT, a card that is $20 more expensive but has more VRAM, and the RX 7600 which is around $40 cheaper than this new NVIDIA option.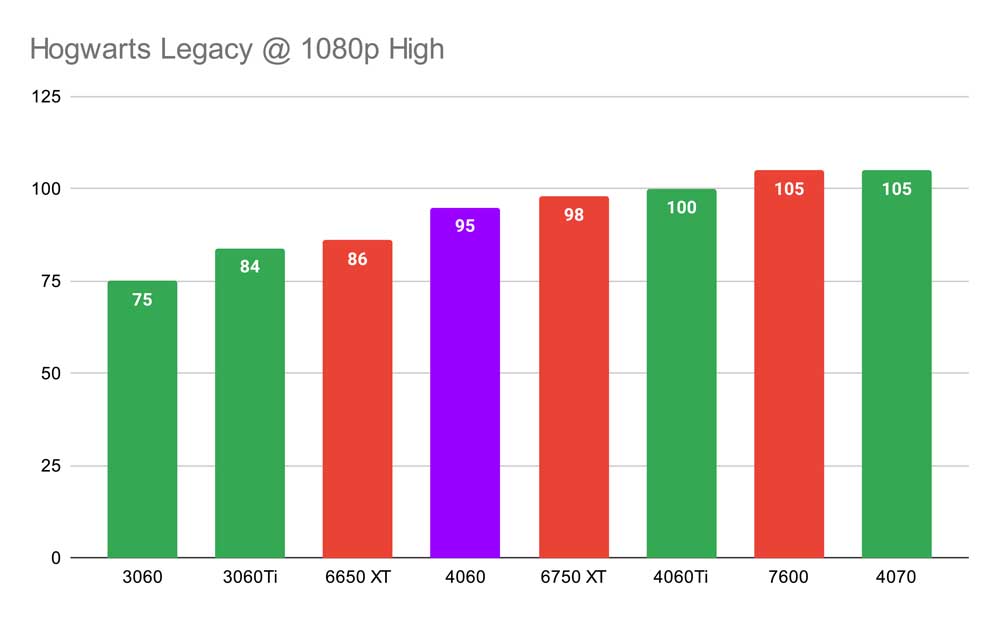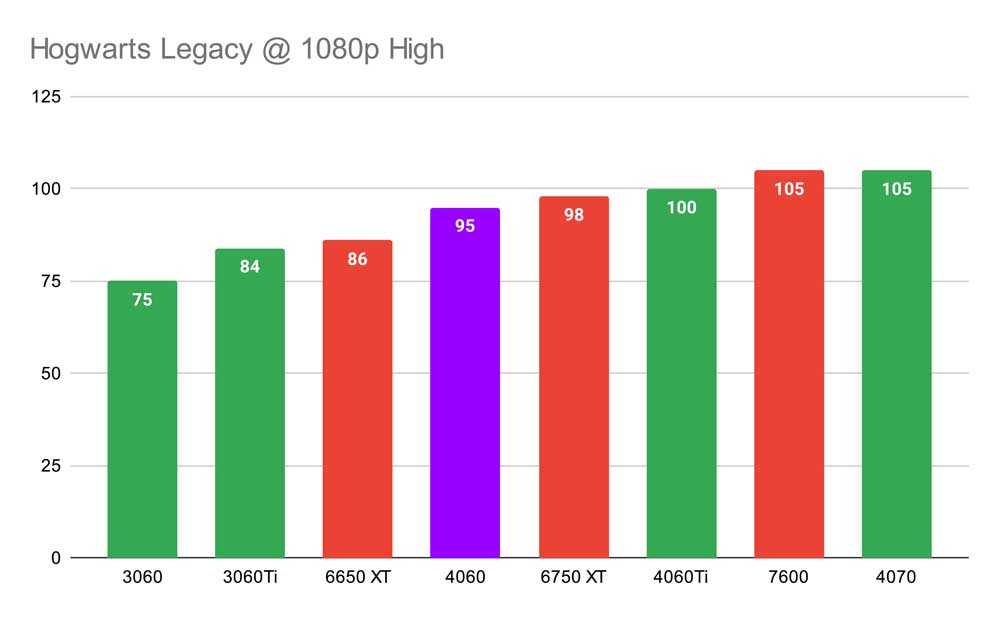 Apex Legends
Next up is Apex Legends at 1080p. Apex tends to be a pretty optimised title, so the RTX 4060 was able to reach the 144Hz sweet spot, and go beyond, offering up an average of 166FPS. Again, our experience was more than playable here, framerates do matter in this title, so we're happy to see that consumers can enjoy a smooth display experience. Unfortunately, the RTX 4060 is again, beat out by the trio of AMD cards, with the 7600 offering a solid 23FPS over the performance of the 4060. This is saddening to see, especially as the majority of these cards are within the same price range, or cheaper.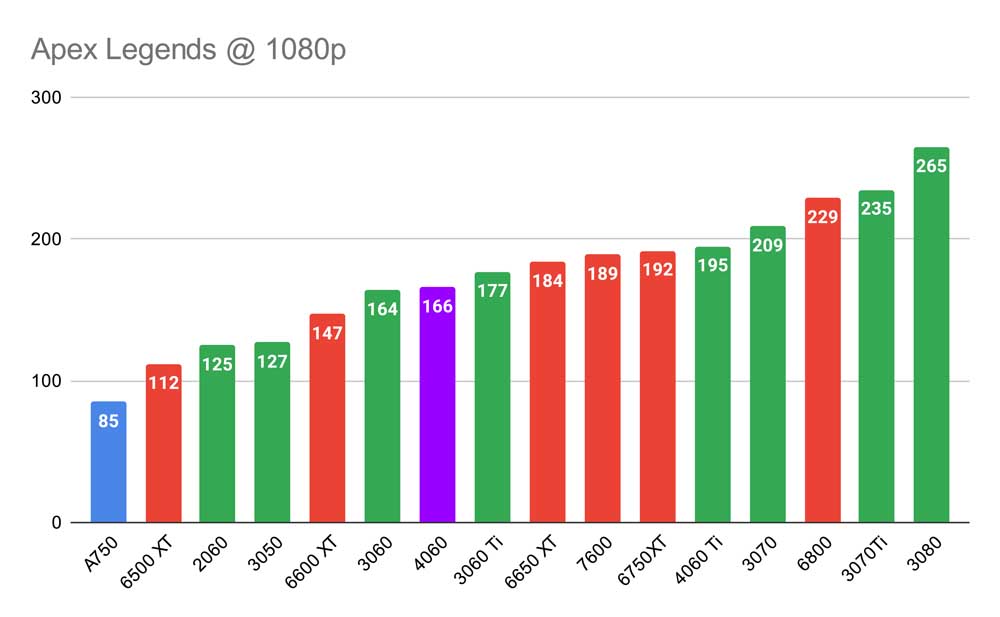 Warzone 2
Next, we fired up Warzone 2, and turned on DLSS. In this game we saw reasonable framerates again, with the RTX 4060 outputting an average of 115FPS. Warzone 2 is a rather competitive and intense title, so it is sad to see that we weren't able to reach the 144Hz mark, as this would provide a solid benefit to consumers playing this game. As expected, the 4060 unfortunately falls flat versus a number of cards. This new RTX 4000 option even loses out to the 6600 XT when DLSS is enabled which is incredibly poor. Definitely a loss for Team Green on this front.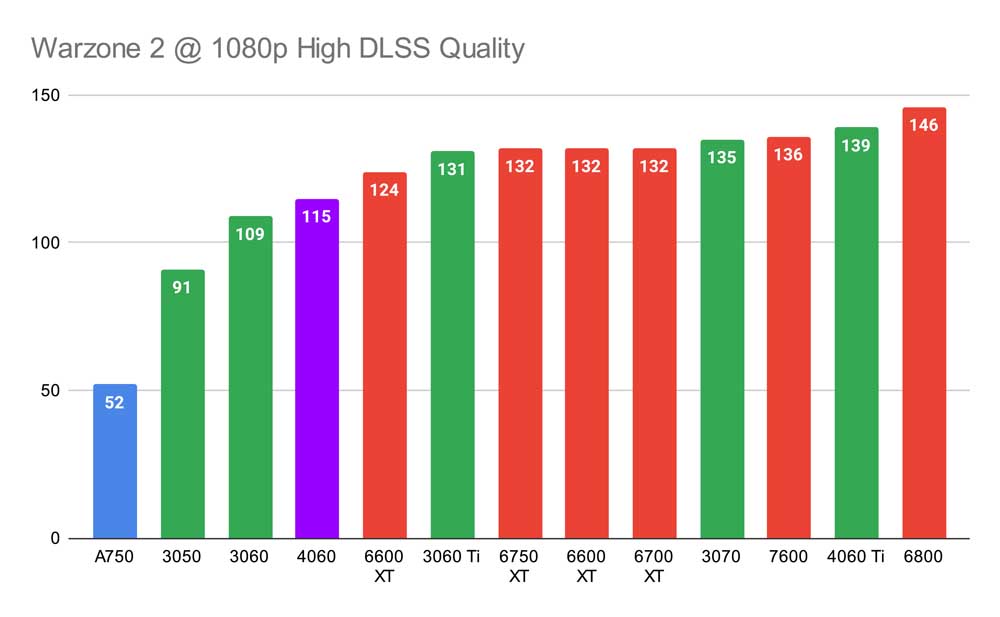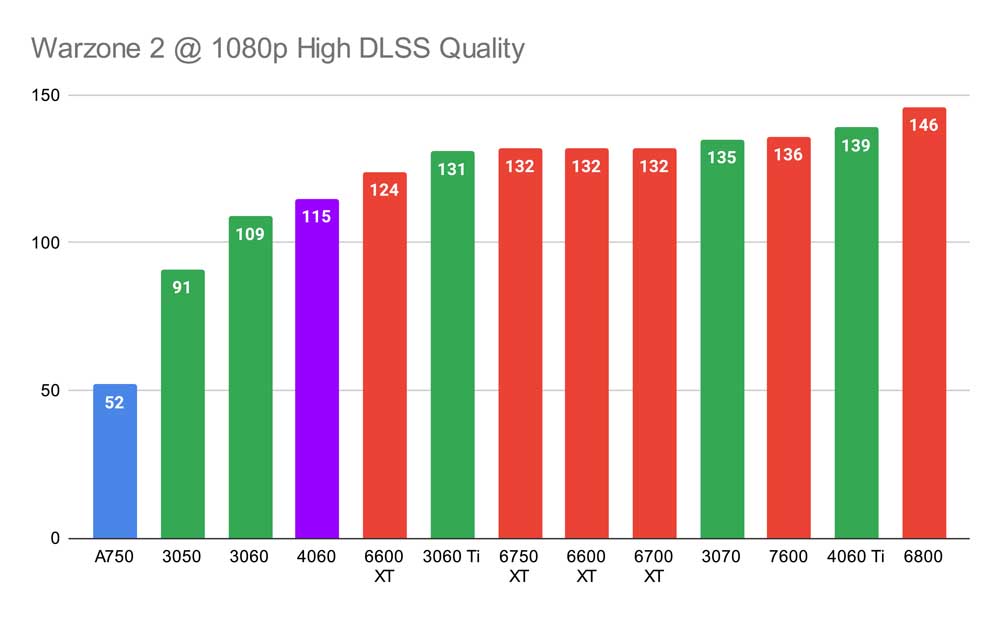 GTA V
For our final benchmark, we fired up GTA V, and dialled up the resolution to 1440p. In this title, the RTX 4060 offered around 156FPS on average, which is pretty reasonable. GTA V is an older title, which is why framerates are so close together when compared to some newer and more powerful cards. Unsurprisingly, the RTX 4060 yet again makes a loss versus the alternative options on the market. The RX 7600 is yet again showing how capable it is, with a framerate of 168FPS, which is a 12FPS gain overall.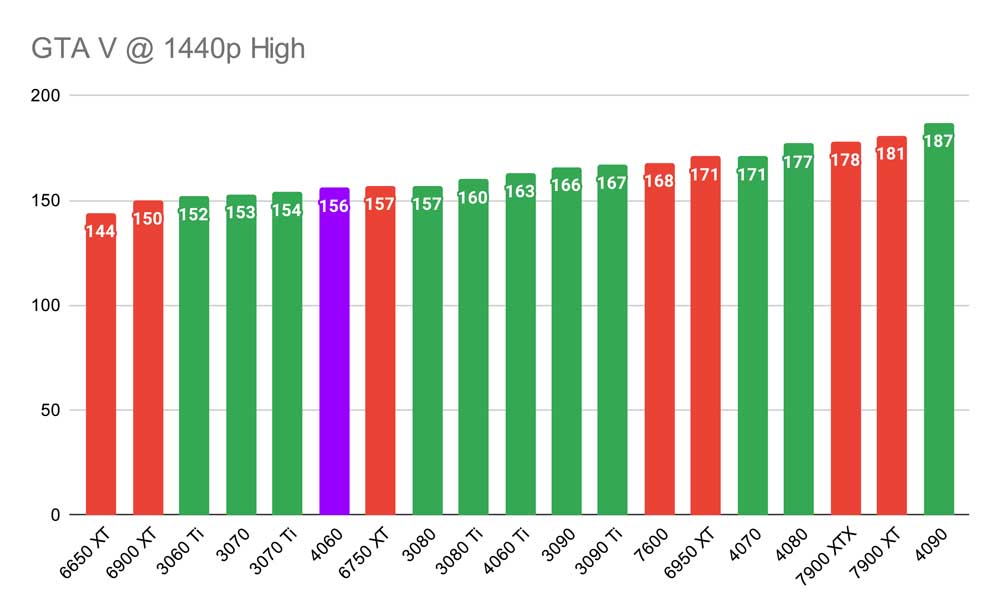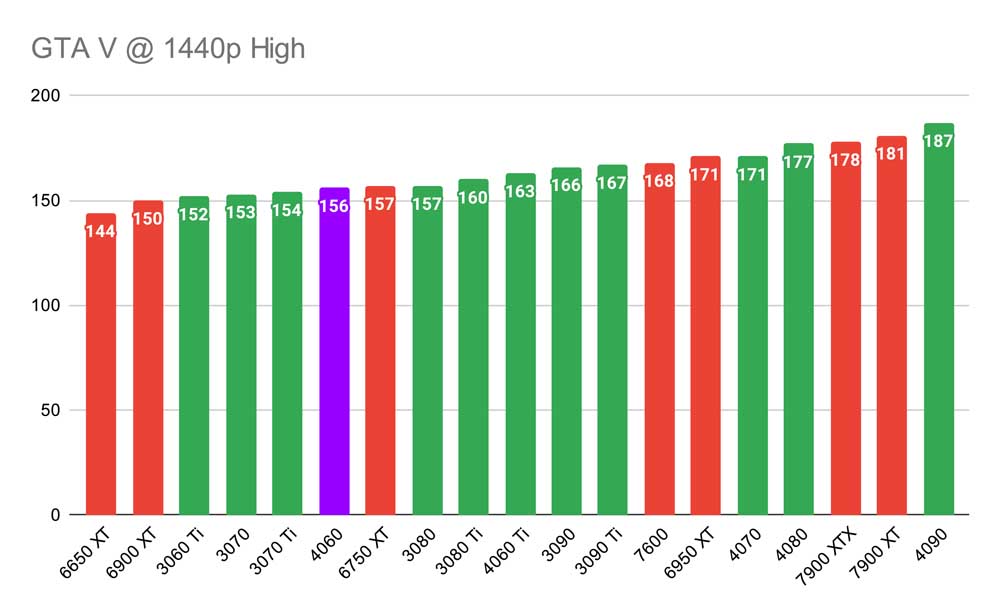 Conclusion
ASUS Dual OC RTX 4060
Product Name: RTX 4060
Brand: ASUS
Features

Design

Performance

Value For Money
Summary
Let's not beat around the bush here, the RTX 4060 is possibly one of the worst graphics cards that NVIDIA has released as part of their RTX 4000 range. This isn't specific to any of the AIB models (including the ASUS one we're looking at today), as unfortunately NVIDIA are the ones that provide the reference board for the manufacturers to place a different shroud on. Regardless of this, the RTX 4060 offers performance that I can only describe as 'fine'. Whilst the available metrics aren't horrendous, games are definitely playable at 1080p, if we start to look at other cards on the market, the situation becomes rather dire.
AMD's graphics cards from the previous generation's Radeon 6000 series, or the newest Radeon 7000 range of cards are incredibly tantalising offerings, with some cards coming in cheaper than the RTX 4060, but offering better overall performance in comparison. This goes to show how out of touch NVIDIA are with the current state of affairs in the PC gaming and hardware space. While I admit that Ray-Tracing and DLSS are solid technologies, they don't sell a graphics card. And NVIDIA's obsession with utilising Ray-Tracing on budget 1080p entrants makes no sense, as performance is significantly weakened when this setting is turned on, again, demonstrating how out-of-touch NVIDIA are with their consumers.
This card will be a decent upgrade for those looking to get some more frames after using a 10 or 20 series GPU, but there are a multitude of other options that come in at better prices and provide excellent performance. NVIDIA's backwards marketing and strange hardware choices has backed them into a corner, resulting in one of their worst graphics cards that we've seen in quite some time. To summarise, if you're looking for a solid 1080p budget option, the 4060 doesn't stack up well versus the plethora of better options out there.
Pros
✅ Should have plenty of stock.
✅ Decent 1080p performance.
✅ A good upgrade versus 1000 or 2000 series cards.
Cons
❌ Weaker performance.
❌ Stronger alternative options.
❌ Not worth it for DLSS.