Introduction
NVIDIA's brand new RTX 4000 SKU is finally here. Although the previous two iterations have been pretty disappointing, we're still excited to see what NVIDIA is able to bring to the table. However, not all seems to be lost, as the RTX 4070 has some pretty promising performance metrics (as we'll find out later in the benchmarking section). This new cards looks to be a solid step in the right direction for Team Green, somewhat raising our hopes for any future released cards.
The RTX 4070 looks to sit itself within the mid-range bracket (more at the top-end when it comes to pricing), offering strong metrics in 4K games, with Ray-Tracing enabled. And at a $600 MSRP, it seems NVIDIA have finally gained some sense when it comes to pricing. But a big question still stands, do we get similar value if we delve into AIB territory?
AIB cards tend to sit at a much higher price point, contrasting to the reference Founders Edition model which offers an MSRP price tag. Palit has been a budget AIB partner for a significant amount of time offering cheaper cards for price conscious buyers, with some of their more recent cards providing a more premium option. This raises the question, is the Palit variant of the RTX 4070 a worthwhile GPU to pick up?
In this review we'll be answering these very questions by taking a look at Palit's latest and greatest, Dual RTX 4070. We'll be taking a look at the Ada Lovelace architecture, design of the card, alongside performance benchmarks to ascertain the value for money of this GPU.
Buy the Palit Dual RTX 4070 on:
Suggested Article: RTX 4070 vs RTX 3070 – What GPU is Better?
Architecture
The new RTX 4000 GPUs are built on the extremely powerful Ada Lovelace architecture, offering large improvements on the previous generation's Ampere cards. RTX 3000 GPUs have been the pinnacle of performance for quite some time, offering strong value for money alongside excellent metrics at the top-end and budget end of the spectrum.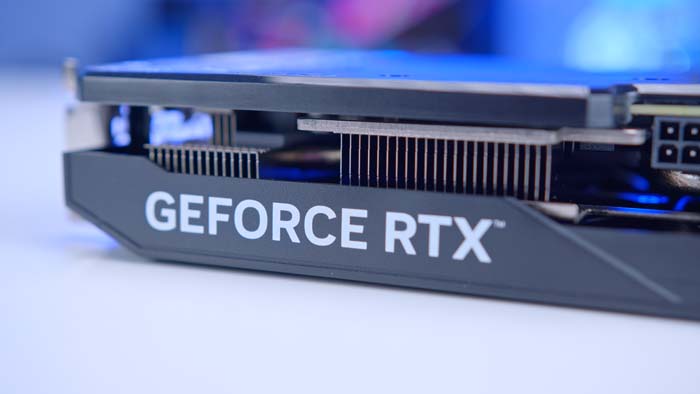 All of the new entrants have received massive improvements to clock speeds, and core counts. The majority of the cards are able to boost over the 2GHz mark, which increases the rate at which data can be processed and output by the card. RTX 4000 cards also feature 4th-Gen Tensor Cores, and 3rd-Gen RT cores which have brought uplifts to ray-tracing. All of these architectural improvements are rather significant overall, and have ushered in big generational improvements for all of the new cards.
NVIDIA's pillar technologies (DLSS and Ray-Tracing) have also seen some pretty massive changes too. The new 3rd-Gen RT cores significantly reduce the performance overhead that comes with Ray-Tracing, allowing even lower-end cards to handle this rather intensive technology. It needs to be noted that the RTX 4070 is a weaker option when it comes to Ray-Tracing, contrasting to the earlier 4000-series SKUs, but it still holds up relatively well. The performance overhead can be reduced even further when DLSS and Reflex are enabled.
Moving onto DLSS, this other pillar technology is now in its third iteration, bringing vast improvements to latency, and framerates across the board. This AI-backed resolution scaler can re-render an image at a lower resolution and then upscale it back up to the resolution of your display whilst reducing performance overhead. This vastly improves performance, taking away some of the heavy lifting from the GPU, and this technology has been incorporated in a vast set of games.
Alongside DLSS, we've also seen the introduction of NVIDIA's new Frame Generation tech. This AI technology can drop extra frames between two consecutive frames, essentially just providing free extra frames within your games. This new technology is difficult to argue with, as turning it on just bolsters framerates are very little cost. There are slight hits to latency, but turning on NVIDIA Reflex make the latency increases fairly negligible in most titles. This technology is limited to RTX 4000 cards, but I feel it will be a major selling point in the future as it becomes saturated in more titles.
Specifications
NVIDIA's RTX 4070 looks to be pretty impressive in terms of it's specs, and this should lead to relatively solid performance and framerates in a number of popular games. We've created a table below that covers the key hardware differences between the 4070 and some of the other cards available on the RTX 4000 and 3000 architectures.
Spec
RTX 3070Ti
RTX 3080
RTX 4070
RTX 4070Ti
Video Memory
8GB
12GB/10GB GDDR6X
12GB GDDR6X
12GB GDDR6X
Memory Bus
256-bit
384-bit / 320-bit
192-bit
192-bit
Core Clock Speed
1.57GHz
1.26GHz / 1.44 GHz
1.92GHz
TBC
Boost Clock Speed
1.77GHz
1.71Hz
2.47GHz
2.61GHz
CUDA Cores
6144
8960/9704
5888
7680
Power Consumption
290W
(Founders Edition)
350W / 320W
(Founders Edition)
200W
(Founders Edition)
285W
(Reference Design)
RT Cores
2nd Generation
2nd Generation
3rd Generation
3rd Generation
Tensor Cores
3rd Generation
3rd Generation
4th Generation
4th Generation
PCI-E Generation
PCI-E Gen 4
PCI-E Gen 4
PCI-E Gen 4
PCI-E Gen 4
All clock speeds and memory specifications are based off Reference designs or Founders Edition cards where available. Clock speeds for cards like this Palit design are often higher.
Design
Looking at the design of the Palit Dual RTX 4070, this card is a relatively simplistic and offers a minimalist approach. The front of the card offers a black metallic shroud with two fans. The dual fan design should aid with cooling, but won't be much of an improvement versus the Founders Edition GPUs. The all-black design is relatively easy to work with, and will blend in well with other components.
Looking at the back of the card, we're seeing more of the simplistic black design span across this card. There are some industrial/futuristic looking lines located towards the right side of the GPU, but I don't feel this adds a lot, especially as you won't really see this side of the GPU in a build. The all-black design is nice to see, especially if you're not a fan of contrasting colours. I'd say overall Palit have done a pretty solid job when it comes to colours, but the lack of RGB or any alternative design elements is a bit boring.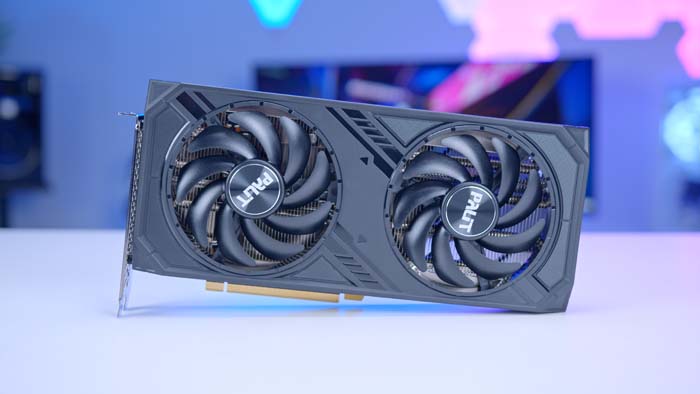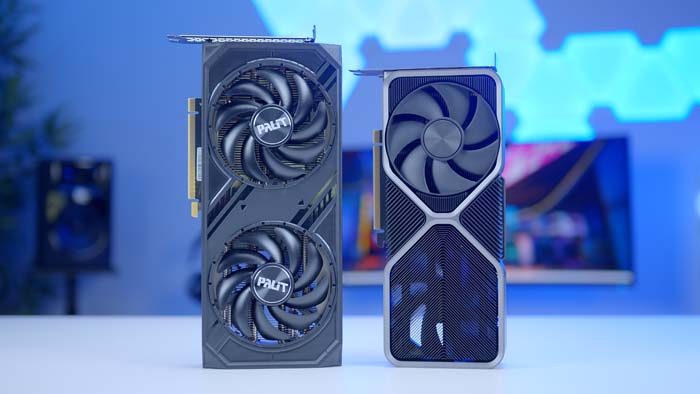 The size of the Palit Dual is also worth noting, as this card sits at 269mm in length, which for context is quite small. The majority of the current RTX 4000 SKUs have been pretty big so far, but the 4070 looks to be the arrival of 'normal-sized' cards. The length of the Palit Dual RTX 4070 shouldn't limit your case choices as the overall length is a pretty reasonable size, and should offer plenty of clearance in smaller cases. Overall the design of the Palit Dual is pretty simple, but this is to be expected from a card sitting at the MSRP price point. If you're looking for the second best cheapest option, I'd say the Palit Dual is a great consideration.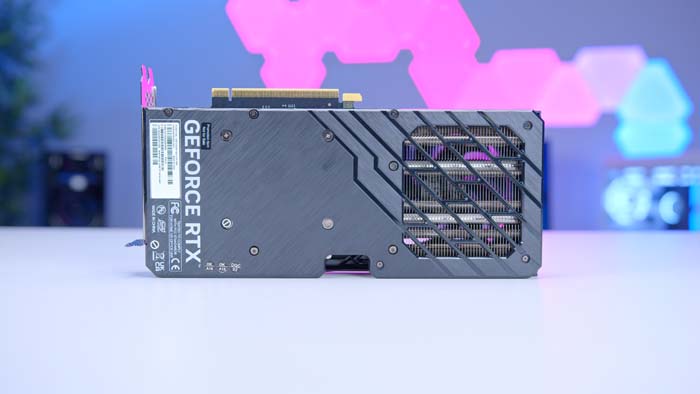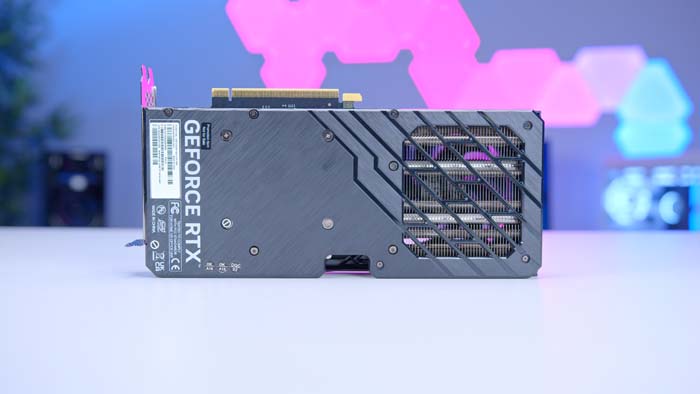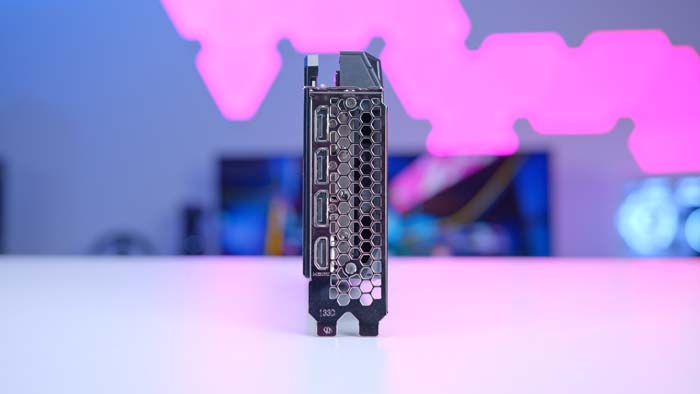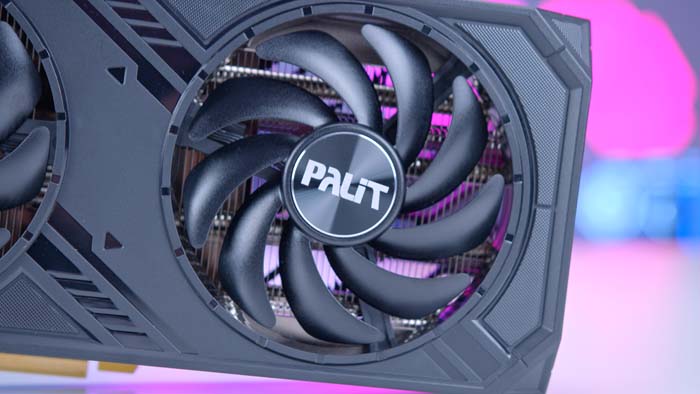 Performance
Now for the most important section of this review – the performance metrics! As I've previously alluded to, the RTX 4070 has blown us away in preliminary benchmarks. NVIDIA have clearly demonstrated that they are able to manufacture a strong performing GPU, but also one that sits at a competitive price point too. The RTX 4070 sits pretty close to the RTX 3090 Ti and 4070 Ti in some of the latest titles, even when Ray-Tracing is thrown into the mix.
It is worth noting that all of our benchmarks were conducted with beta drivers, so consumers might see some performance uplifts with later drivers and optimisations. We've put the Palit Dual RTX 4070 through the wringer in a myriad of gaming titles from our benchmarking suite which includes, F1 2022, Fortnite, Apex Legends, GTA V, Battlefield 2042, and more. We've also tested the Palit Dual RTX 4070 in a number of resolutions, whilst changing in-game settings to see its strengths and weaknesses when different variables are changed.
In the section below you'll find a number of graphs that we've compiled using data from our full benchmarking runs. All of these graphs compare the RTX 4070 against current RTX 4000 series cards, along with RTX 3000 and AMD RX 6000/7000 options. All of the full benchmarking videos can be found on our very own YouTube channel – Benched, where you'll find all of the components that we've tested in a plethora of popular titles.
Battlefield 2042
For our first benchmark we decided to test out the Palit Dual in Battlefield 2042 at both 4K and 1440p. At 4K we saw framerates sit at the sub-100 FPS mark, offering an average of around 93FPS. I'd say this is pretty solid considering how unoptimised Battlefield is. Ultimately we'd love to see our frames surpass the 144Hz sweet spot, but this can be achieved by dumbing down some in-game settings, or even the resolution. I feel most consumers will be happy with this level of performance at 4K.
Moving onto 1440p, we did see some uplifts in performance with framerates rising above the 100FPS mark to a 128FPS average. This is just shy of the 144Hz mark, and could definitely be achieved by dumbing down a couple of settings. We were hoping to see slightly better framerates in this title, but again, the poor optimised nature of Battlefield makes this difficult for even the most powerful of GPUs. Either way, performance was still pretty strong, at a 1440p resolution.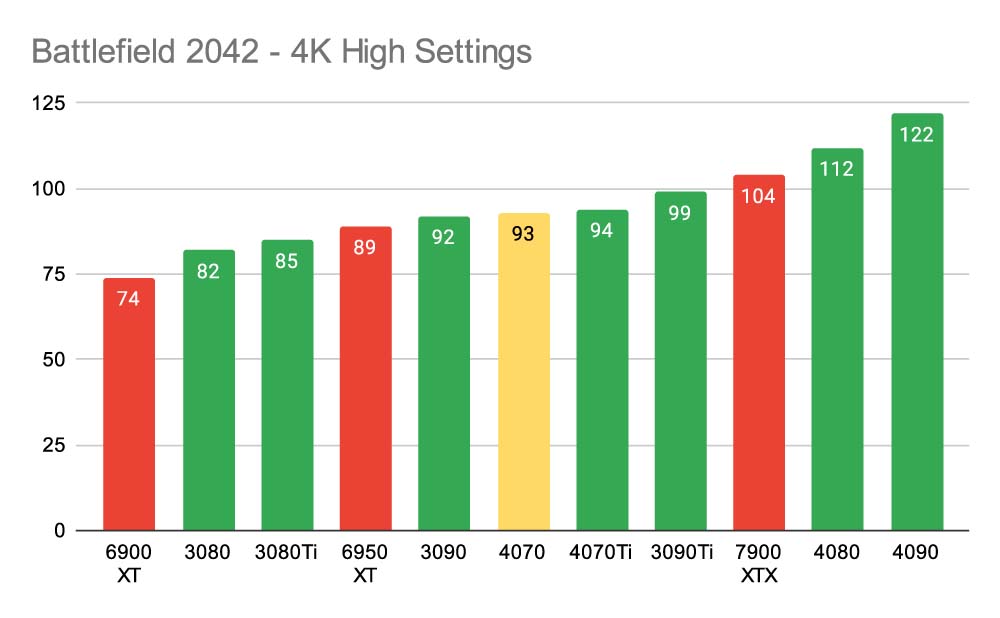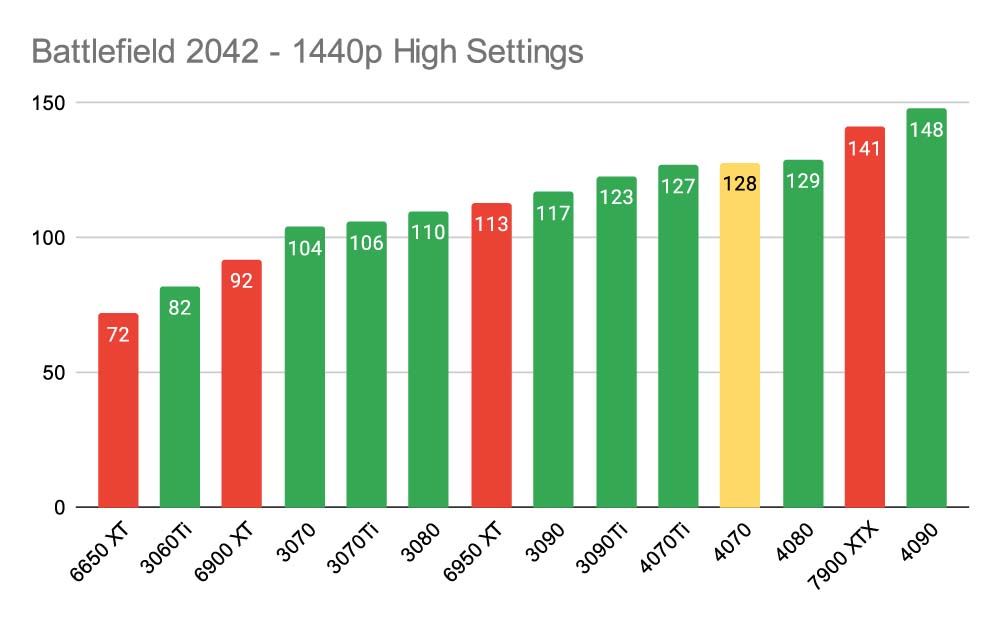 COD Warzone
Next up is COD Warzone, where we tested the Palit Dual at 4K and 1440p too. In our 4K benchmark we did see some slight performance improvements with framerates sitting slightly above the 100FPS mark reaching an average of 108 frames. It is great to see an uplift at a 4K resolution, but still disappointing that we weren't able to reach that 144Hz mark, as this game can be quite intense, and requires a smooth gameplay experience.
Moving onto 1440p, framerates did see a slight improvement here, but not by a huge margin overall. Gameplay was still pretty smooth, but the Palit 4070 wasn't quite able to reach the 144Hz mark out of the gate. Consumers should be able to improve framerates by lowering some in-game settings, but is a little bit saddening that we can't quite play at fully high settings whilst hitting that all-important refresh rate.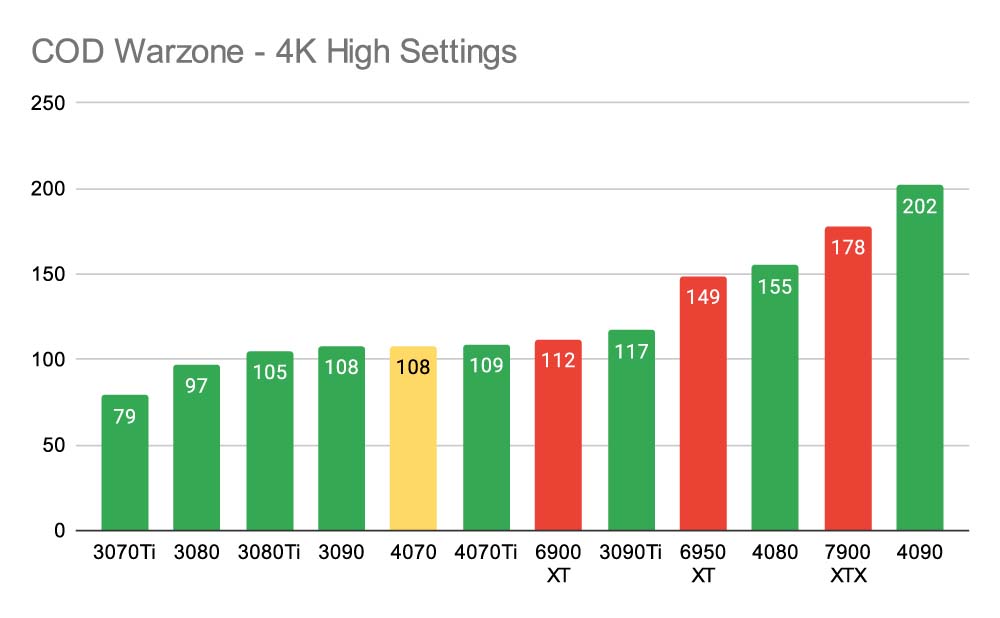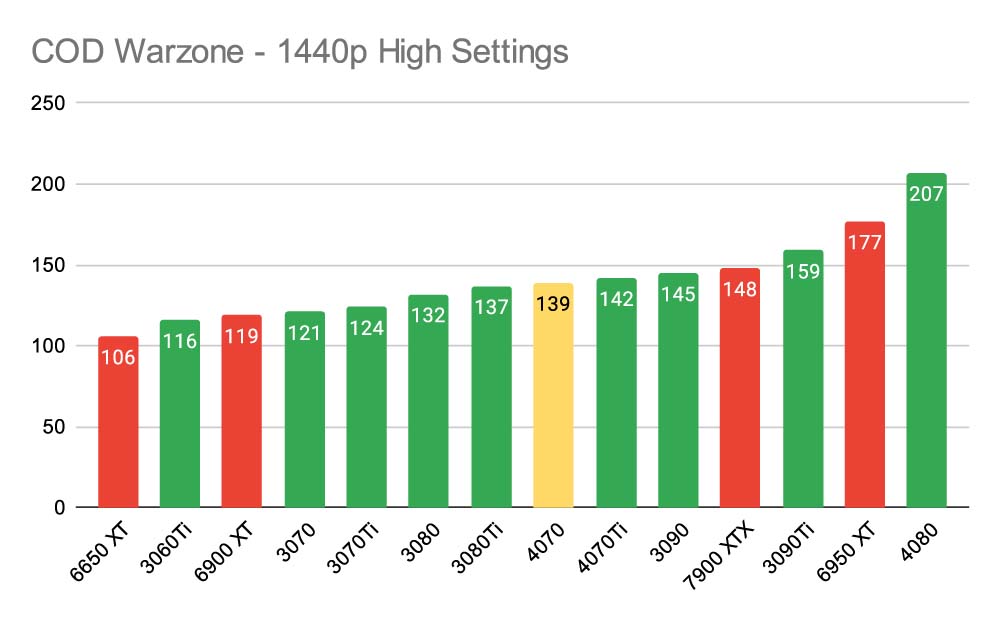 Apex Legends
In Apex Legends, framerates soared to the 136FPS mark at 4K. This is a much better performance metric, contrasting to the two previous games that we've tested. This is extremely close to that 144Hz sweet spot that we love to see, so dumbing down maybe one or two settings should allow consumers to reach that all-important refresh rate mark. Gameplay was extremely smooth here, and it was great to see improved performance in this title, in which frames really do matter.
At 1440p, we saw performance go even further with the RTX 4070 offering 160FPS on average. This is well above the 144Hz mark, allowing consumers to enjoy a super smooth display experience. Ultimately we would have loved to see our framerates go much higher than this, but I imagine most consumers will be pretty happy with these performance metrics at 1440p.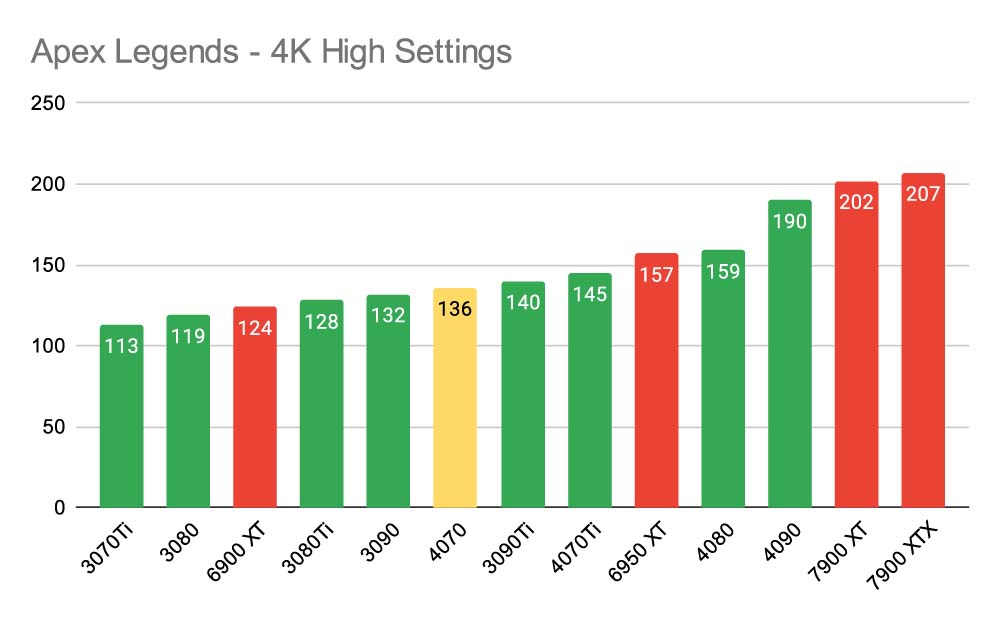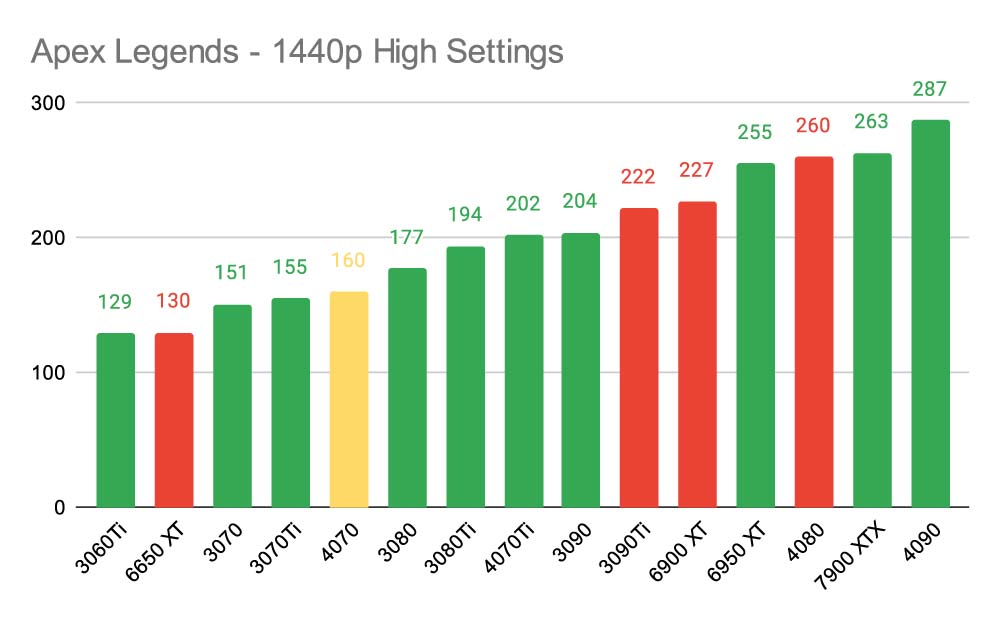 F1 2022
In F1 2022 we decided to mix things up a bit by playing a game with DLSS and Ray-Tracing enabled. This allows us to see how the Palit 4070 holds up in a Ray-Traced title significantly increasing performance overhead that comes with the higher fidelity. Overall, we were extremely happy with the performance metrics that the Palit 4070 was able to reach in this game. F1 2022 tends to be a pretty intense title due to the visual quality of the game, but the 4070 holds up very well despite the overhead.
We saw framerates sit at around 103FPS on average, which was very smooth overall. F1 2022 would likely benefit from 144Hz, but as this isn't the most intense title I feel this won't be a dealbreaker for most consumers. DLSS is likely doing a lot of the heavy lifting here, but if you can use it to improve framerates, my argument is 'why not!'. Either way, it is still great to see framerates remain consistent even with Ray-Tracing enabled.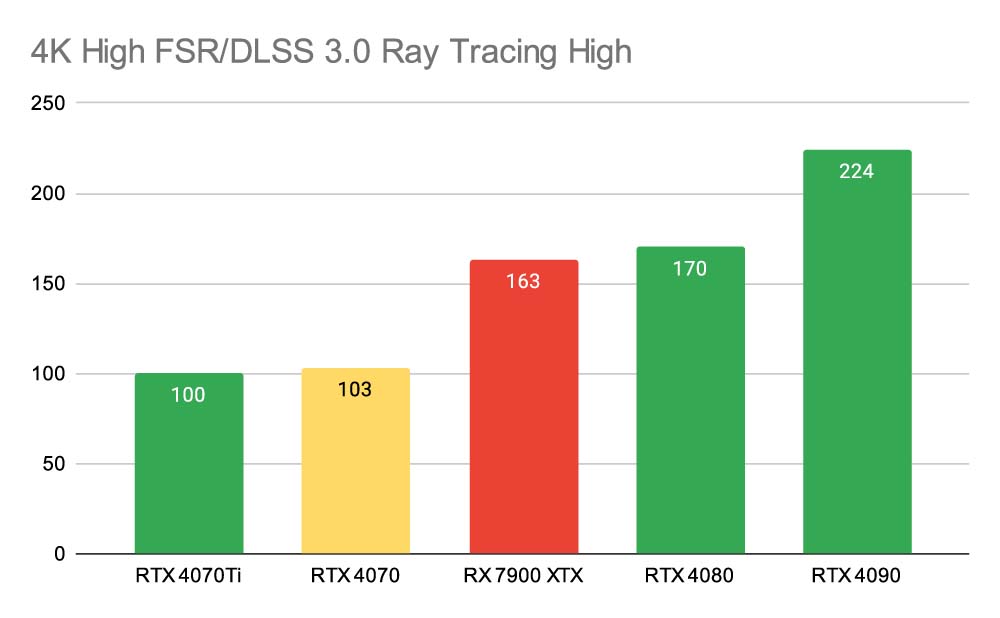 Fortnite
For our final benchmark we decided to dial the resolution back to 1080p, with our in-game settings changed to Competitive. We use this benchmark to see what the maximum framerate is in a popular Esports title. Fortnite effectively requires the most amount of frames possible due to the intensity of the game, so dumbing down settings to Competitive allows consumers to max out as many frames as possible.
In this particular benchmark we saw our average framerate sit around the 288FPS mark. This was undoubtedly going to be buttery smooth, but its great to see that consumers with super high refresh rate displays can enjoy a smooth visual experience with minimal stuttering or tearing. The vast majority of consumers won't be buying an RTX 4070 for 1080p gaming, but its great to see that it can handle this resolution with no issues regardless.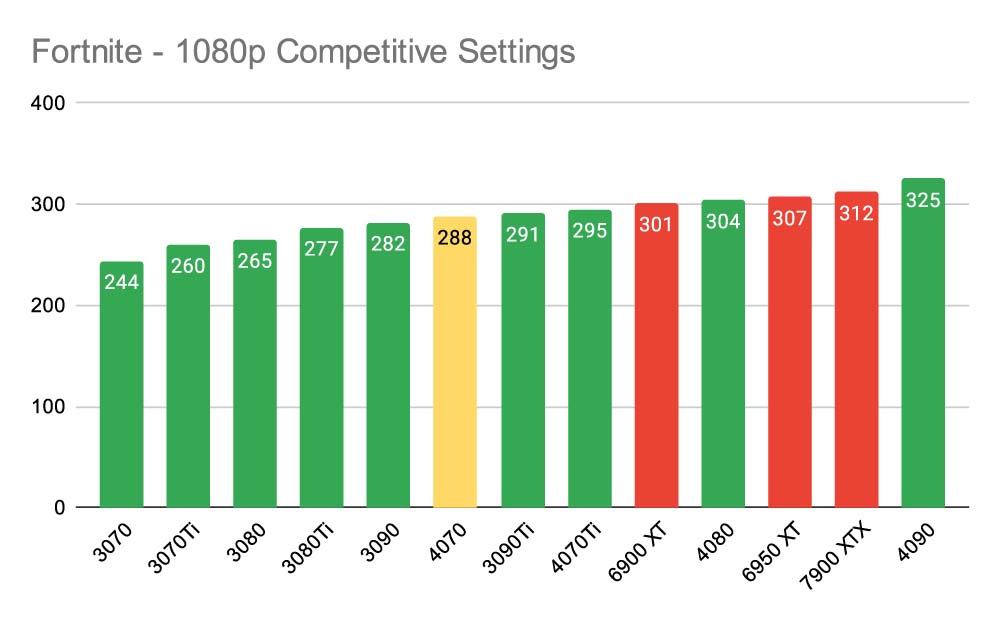 Conclusion
Palit Dual RTX 4070
Product Name: Dual RTX 4070
Brand: Palit
Features

Design

Performance

Value For Money
Summary
Palit's Dual RTX 4070 is another entrant that we're happy to see on this particular SKU. Although the design doesn't offer a whole lot, and the thermals aren't that much better than the Founders Edition model, the price point is the biggest upside of this card. Palit's 4070 sits at MSRP making it the second best option for those looking to pick up the cheapest RTX 4070 available. Consumers can still expect excellent performance all around, with the biggest caveat being aesthetic or design options. Overall, we're happy with the Palit Dual RTX 4070, and I feel most consumers will look at this card if the Founders Edition isn't available!
Pros
✅ Solid MSRP price point.
✅ Smaller size will open up case choices.
✅ Excellent performance at 4K and 1440p.
Cons
❌ Not much on offer in terms of aesthetic.
❌ No RGB.
❌ Thermals don't offer a huge improvement versus Founders Edition.