Introduction
NVIDIA's much anticipated RTX 4080 is finally here… well the 16GB model is at least! Back in October of 2022, we were expecting both a 12GB and 16GB model of the new RTX 4080, but the powers at be decided to hold off on the 12GB model, for now. The 12GB model is likely to be renamed to something along the lines of the 4070Ti, and released at a later date by our estimation.
Following on from the recent release of NVIDIA's RTX 4090, the RTX 4080 makes use of the same new 'ADA Lovelace' architecture, allowing once again for use of NVIDIAs latest gamechanger, DLSS 3.0. The RTX 4080 rather disappointingly, however, sports a near, if not identical chassis to that of the RTX 4090 leaving those hoping for a smaller GPU capable of benefitting from the generational performance upgrade left wanting. Here's to hoping the 12GB model resurfaces as a slightly smaller 4070(Ti) variant in the not-so-distant future's rebrand will deliver a more compact form factor card.
Coming in at an MSRP of roughly $1269, the RTX 4080 is approximately 250 dollars cheaper than the RTX 4090, but is this enough? For comparison, last generation's RTX 3080 came in at a starting MSRP of $699, almost half the price of NVIDIAs latest release! It will be interesting to see how the market plays out, and whether buyers will indeed spend large swathes of cash on a card like this.
Buy the Founders RTX 4080 on:
Suggested Article: Nvidia GeForce RTX 4090 Review (Founders Edition Benchmarks)
[adrotate banner="7″]
Architecture
The RTX 4080 is Nvidia's second GPU built around NVIDIAs latest ADA Lovelace architecture, something which brings impressive performance gains over previous generation GPUs.
When Nvidia delivered such huge gains with their last-gen Ampere architecture, many were unsure whether a repeat was possible, but early signs from the already-released RTX 4090 pointed to that answer indeed being yes.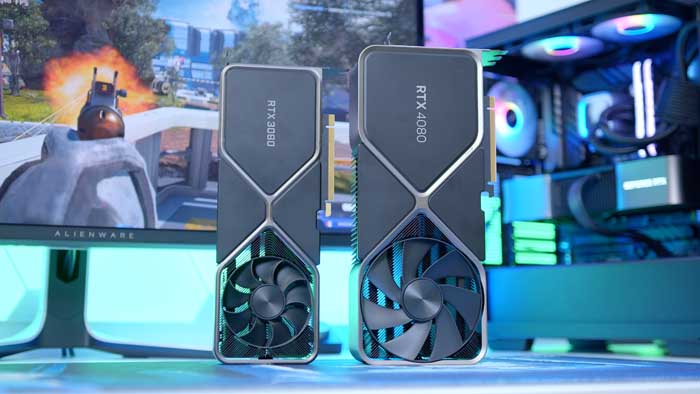 The ADA Lovelace architecture brings an abundance of software and hardware improvements, too. The biggest of which is the new and improved DLSS 3.0 tech. The new RTX 4000 cards all make use of DLSS 3.0 (in selected games), a tech that takes the impressive DLSS 3 tech even further.
Frame Generation is the main force behind the significant improvement, allowing NVIDIA to build upon what is already the market-leading AI-based performance multiplier. NVIDIAs AI-based tech has been trained to predict 2 out of 3 frames and redraw them with the game running in real-time scenarios. With this being executed as a GPU 'post-process', it allows for frame rates to be pushed further even in instances where the CPU acts as a bottleneck. Couple that with DLSS 3.0, allowing for the GPU to render the game at twice the speed the CPU can compute in CPU-limited titles, the potential performance gains are unrivalled. The key piece of tech with DLSS 3 is frame generation, something which renders new frames in-between existing ones, at an incredible accuracy.
Ray-Tracing is now much more accessible too, and at consistent framerates, with the release of this latest architecture. The Third Generation RT cores introduced with ADA are to thank, allowing for up to two times the Ray-Tracing capability when compared to last generations architecture. The RTX 4080 can handle the global reflections and lighting technologies often associated with Ray-Tracing with ease, with this reflected (see what I did there!) in both performance and visual fidelity.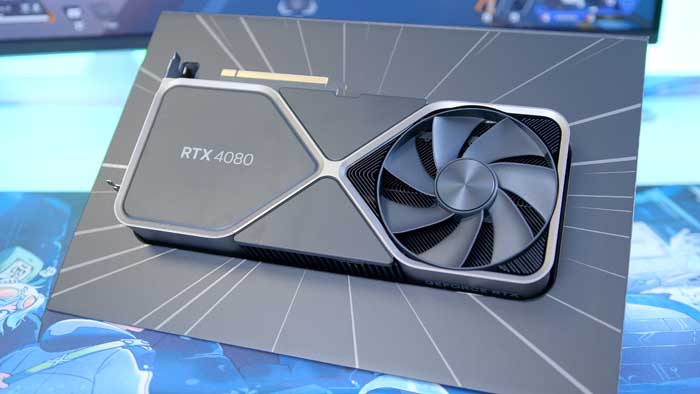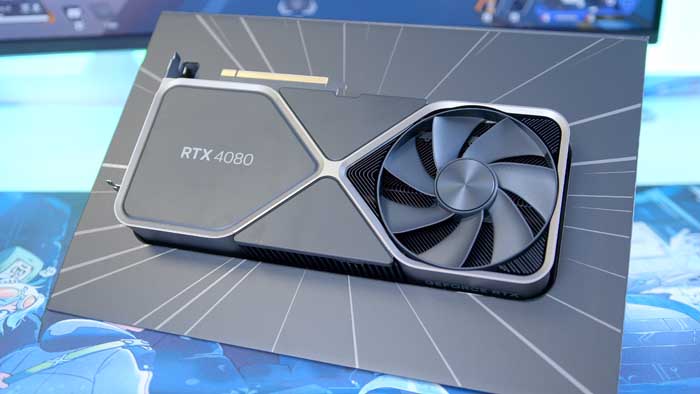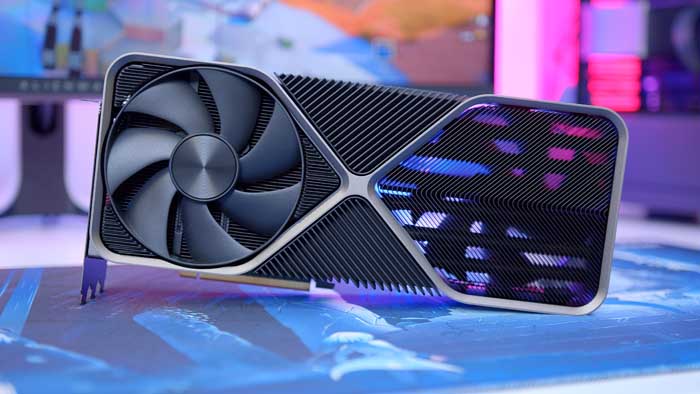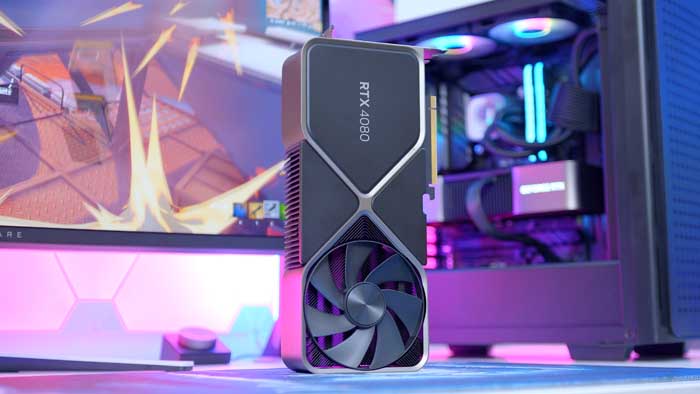 [adrotate banner="7″]
Specifications
The RTX 4080 has very impressive specs that look good on paper, and should equate to high frame rates in benchmarks. You can view a table below that highlights the key hardware differences between the 4080 and other cards on both the RTX 4000 and RTX 3000 architectures.
Spec
RTX 4090
RTX 4080
RTX 3090
RTX 3080
Video Memory
24GB GDDR6X
16GB GDDR6X
24GB GDDR6X
12GB/10GB GDDR6X
Memory Bus
384-bit
256-bit
384-bit
384-bit / 320-bit
Core Clock Speed
2.23GHz
2.21GHz
1.7GHz
1.26GHz / 1.44 GHz
Boost Clock Speed
2.52GHz
2.51GHz
1.4GHz
1.71Hz
CUDA Cores
16384
9728
10496
8960/9704
Power Consumption
450W
(Founders Edition)
320W
(Founders Edition)
350W
(Founders Edition)
350W / 320
(Founders Edition)
RT Cores
3rd Generation
3rd Generation
2nd Generation
2nd Generation
Tensor Cores
4th Generation
4th Generation
3rd Generation
3rd Generation
PCI-E Generation
PCI-E Gen 4
PCI-E Gen 4
PCI-E Gen 4
PCI-E Gen 4
Design
With the release of the RTX 4080 I was hoping for a reduction in the overall size of the card but, unfortunately, my prayers were left unanswered. With the RTX 4080 putting out a considerably lower power consumption than that of the RTX 4090 in addition to having less of, well, everything it wouldn't have been too left field to expect a smaller chassis design, would it?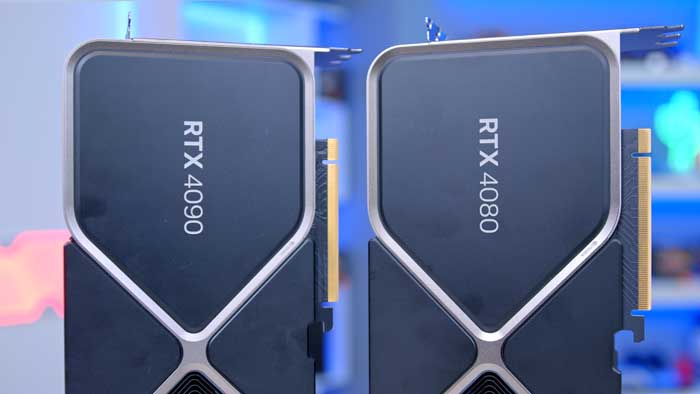 Now, to be clear, the overall aesthetic of the founder's cards is a design that I have always been a fan of, and likely always will be (even if the 4000 series is practically the same design as the 3000 series. Yet, the sheer size of these cards and other AIB 4000 series cards in general really puts me off.
Thankfully there are still lots of design positives: The addition of the PCI-E Gen5 connector is a great quality of life change in my opinion, with various PSU's (Thermaltake's GF3 1350W, or Corsair's HX1000i) allowing for one connector cable to run straight from Power Supply Unit (PSU) to GPU without the need for an multi headed adapter cable. The thermals of this card are also really good, and we were impressed by the low overall temperatures.
The efficiency of the RTX 4080 is impressive in itself too, outputting just 320W, 130W less than the RTX 4090. It comes as a welcome change and allows for the money that would likely be spent upgrading PSU to be put towards a larger case or better CPU.
Performance
Now, to the important stuff. Will the RTX 4080 follow in the footsteps of the RTX 4090, or will it crumble? Let's find out!
We tested the RTX 4080 across a variety of titles and whilst it won't quite provide RTX 4090 performance, it gets mightily close at times. The RTX 4080 sits right around where it expects it to sit, a clear step above previous generation cards whilst not quite being on the same level as the RTX 4090. Take out looking solely at FPS, to look at performance in a wider scope and the RTX 4080 continues to perform well. With visual fidelity at an all-time high in addition to the gameplay being smooth with minimal stuttering or screen tearing, these new GPUs have set the bar at an all-time high.
DLSS 3.0 and Ray Tracing are two main areas worth touching on. With both now out of their infancy (particularly Ray Tracing) the performance improvement they bring is simply unrivalled. 60 FPS is no longer a struggle or even a target anymore for that matter (with RTX enabled) thanks to the aforementioned Frame Generation technology, something which the RTX 4080 makes full use of. In titles like Marvel's Spiderman Remastered, the RTX 4080 pulled in a whopping 122 FPS at High settings with Ray-Tracing set to high, putting the 4000 series cards in a league of their own.
We've provided some benchmarks below for a number of games so that you can see how the Founders RTX 4080 performs both in terms of its thermals, as well as the kind of frames you can expect with an equivalent system. All of the benchmarks that we do can also be found on our YouTube channel Benched!, which is where you'll find gameplay runs that use a variety of different CPUs and GPUs.
[adrotate banner="7″]
COD Warzone
In COD Warzone, the RTX 4080 provided a strong showing, proving how now comfortable these new cards are at 4K. We were able to reach a massive 168 FPS on average without dropping many frames. Warzone, like many other battle royale's, is a game where every little matters, gaining the upper hand against the enemy is pivotal. With minimal FPS drops or visual screen tearing, the RTX 4080 made light work of the previously challenging-to-run Warzone, helping to make your next win all the more possible.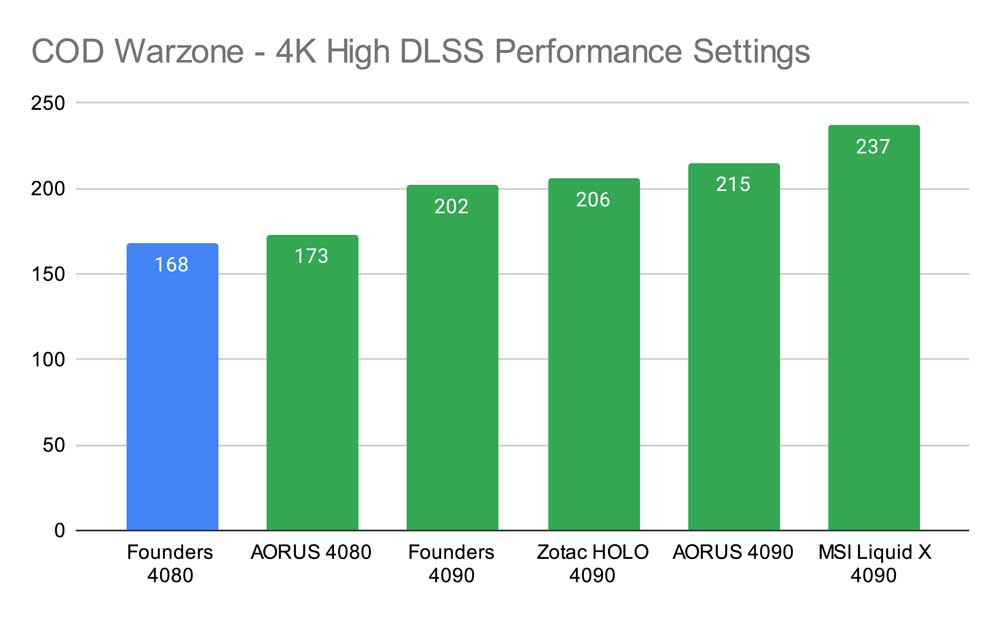 GTA V
In GTA V, the Founders 4080 continues its run of ultra-high FPS, averaging 166 FPS. With the ever-popular GTA roleplaying taking the gaming world by storm, it's a worthy inclusion. Although ageing, GTA V can be somewhat difficult to run at consistent framerates at times, but yet again the 4080 proved it was more than up to the challenge.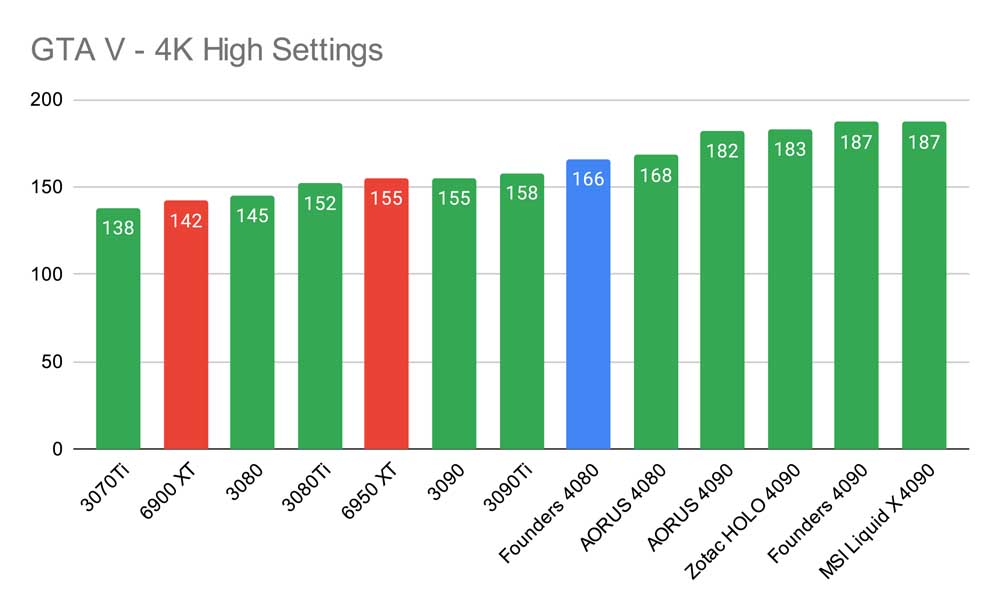 Fortnite
Fortnite, the Battle Royale that changed the gaming world forever is up next. The undisputed king of Battle Royales is still holding up well in today's market, with updated movement and the no-build mode becoming an instant hit, the player count is still thriving. We dialled the settings all the way down for this one, to play at 1080P 'competitive settings' and max our FPS output. 304 Frames per second was the outcome, more than enough for any aspiring Esports players out there to compete at a competitive level.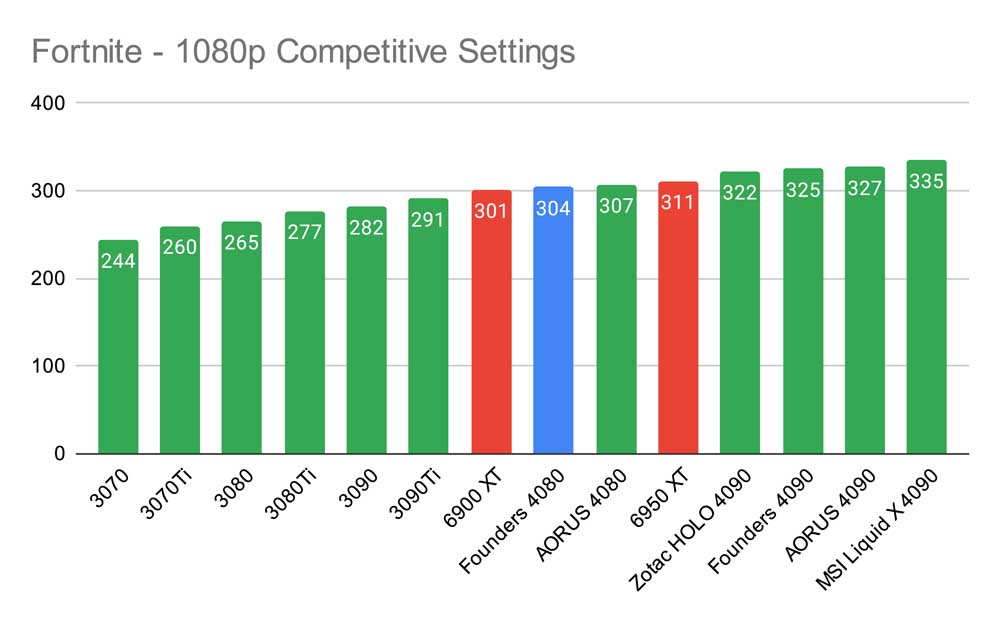 F1 2022
F1 2022 is up next, a title that makes use of NVIDIAs new DLSS 3.0. F1 2022 put into perspective the new Frame Generation tech's effectiveness, recording 170 FPS at 4K, numbers only previously seen on the RTX 4090. Turn on Ray Tracing and a healthy 154 FPS was still averaged, the 60 FPS needed for a smooth race experience previously was left in the rear view mirror.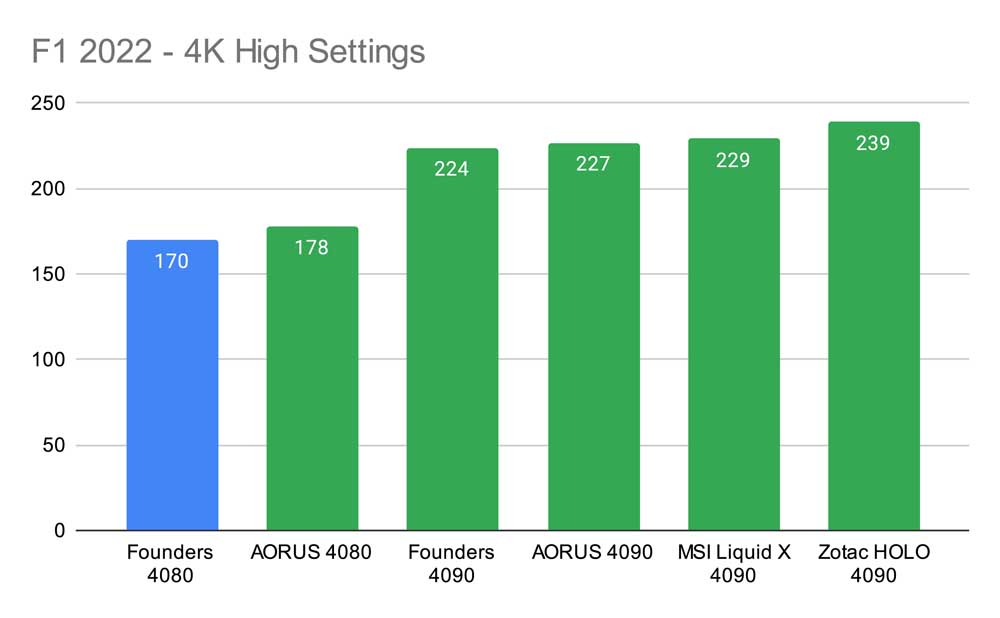 [adrotate banner="7″]
Marvel's Spiderman Remastered
Spiderman Remastered is another title which has access to DLSS 3.0 and again provided an ultra-smooth web-swinging experience. Averaging 117 FPS with both DLSS 3.0 and Ray Tracing enabled, there's room for the FPS to be pushed higher still!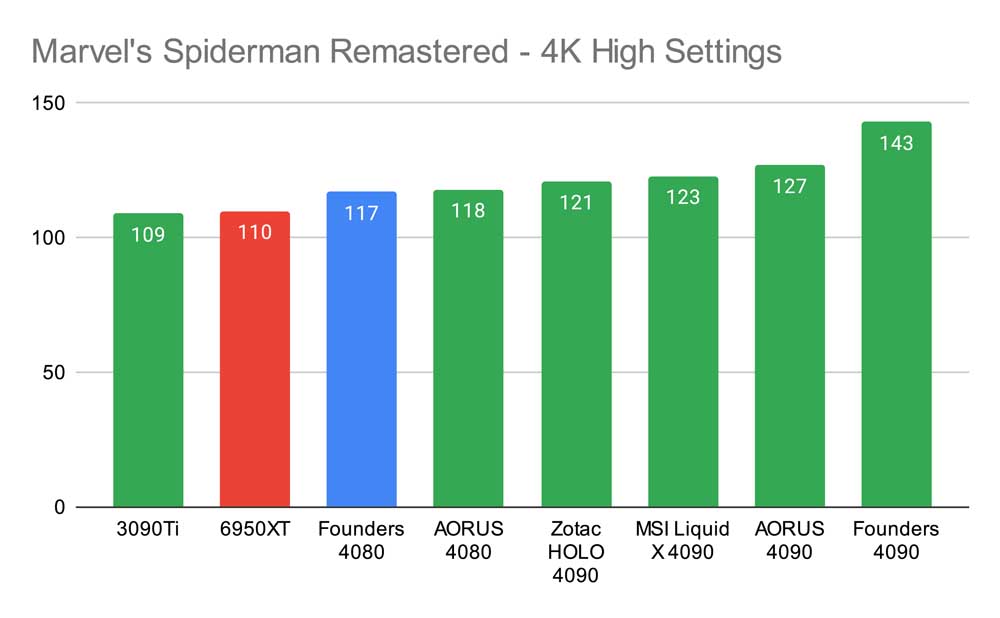 Cyberpunk 2077
In the spirit of Cyberpunk 2077's recent revival, we thought why not give it a go ourselves? For the final DLSS 3.0 title we tested, we turned on DLSS and Ray-Tracing and were frankly blown away. In a title that has historically been hard to run and plagued by issues since its launch, playing the game at maxed-out settings with an average of 116 FPS is quite the turnaround, all thanks to the RTX 4080.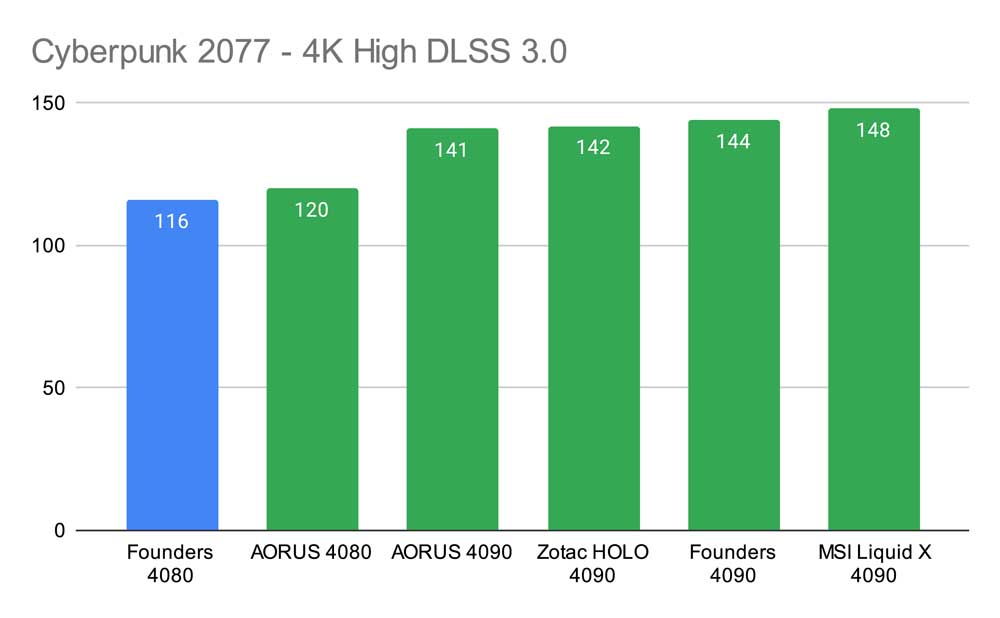 [adrotate banner="7″]
Conclusion
Nvidia RTX 4080 Founders Edition
Product Name: RTX 4080
Brand: Nvidia
Features

Design

Performance

Value For Money
Summary
Overall, in the grand scheme of things the RTX 4080, much like the RTX 4090, is a monumental push forward in terms of performance and what was previously thought to be the 'norm'. Yes the card is disappointingly big and its price will likely again, price 95% of consumers out of purchasing one, but the performance gains to be had with the new DLSS 3.0 are simply astounding at times. DLSS 3.0 and Frame Generation, in particular, have sat the RTX 4000 series card in a league of their own… for the moment at least. NVIDIAs counterparts AMD will be hard-pressed to match the improvements made but with upcoming launches expected soon from AMD, it will be an interesting wait for sure.
Pros
✅ Strong 4K Performance
✅ DLSS 3.0 Compatible
✅ Significant improvement over last generation cards
Cons
❌ Expensive MSRP
❌ Near identical design to the 30 series Founders
❌ Case consuming