Introduction
RTX 4000 graphics cards have finally released, giving consumers the opportunity to sink their teeth into the new architecture and experience top-end 4K gaming with no hindrances and zero frame drops. Today, we're putting together an insane gaming PC with Zotac's Gaming AMP RTX 4090 EXTREME AIRO. We've paired this powerful GPU with alike components such as AMD's Ryzen 7 7700X and Seagate's top performing Gen4 drive – the FireCuda 530. As usual, we've broken down the main components along with some peripherals to compliment the build, as well as some all-important benchmarks at the end.
| | | | |
| --- | --- | --- | --- |
| Game | Resolution | Settings | AVG. FPS |
| Overwatch 2 | 4K | Ultra | 454 |
| Cyberpunk 2077 | 4K | High | 142 |
| F1 2022 | 4K | Ultra High | 239 |
| Marvel's Spiderman Remastered | 4K | High | 104 |
| Fortnite | 1080P | Competitive | 322 |
| Apex Legends | 4K | High | 202 |
Suggested Article: Zotac Gaming RTX 4090 AMP Extreme AIRO Review – Architecture, Design & Benchmarks
Main Components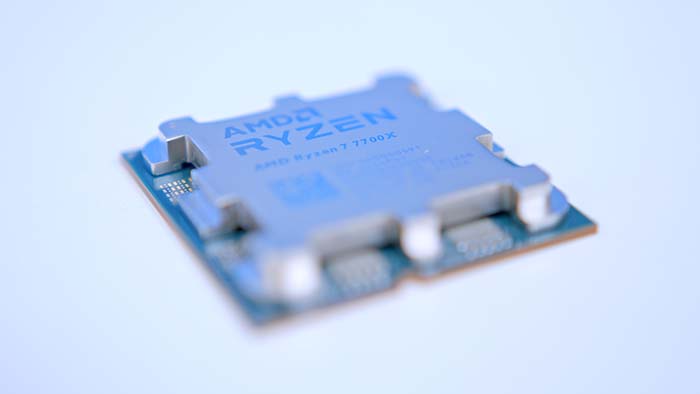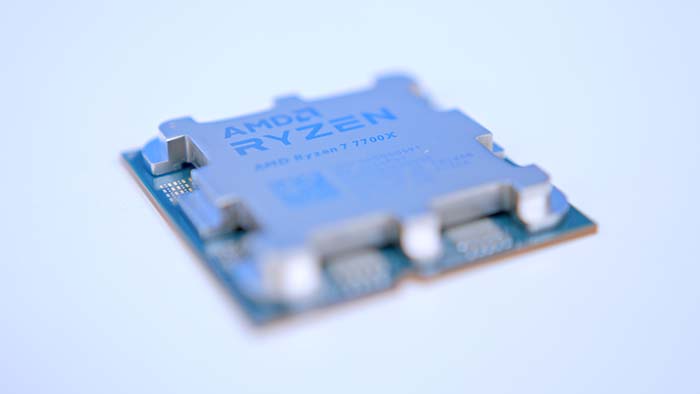 CPU: AMD Ryzen 7 7700X
Starting with the CPU, we've chosen AMD's Ryzen 7 7700X. The performance achieved with the latest generation of Ryzen 7000 processors has been somewhat impressive so far. Whilst the 7700X is less powerful than the high-end 7900X, the identical boost clock speed of 5.4GHz makes it a great high performance choice that will save you some pennies.
Buy the AMD Ryzen 7 7700X on:
Key Facts:
Boost Clock Speed: 5.4GHz
Core Count: 8
Thread Count: 16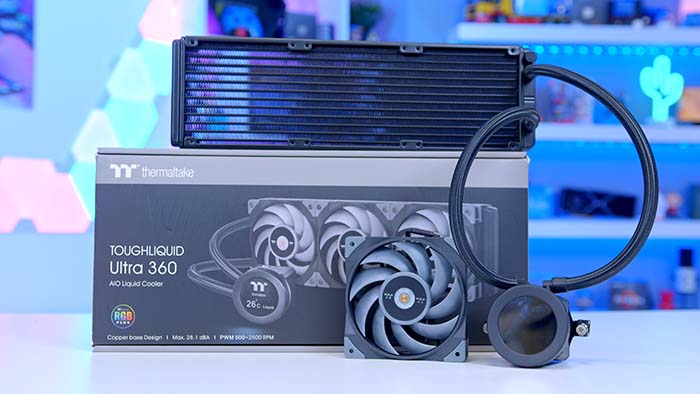 CPU Cooler: Thermaltake TOUGHLIQUID Ultra 360
The new Ryzen 7000 CPUs tend to run a little bit hot, so we need to make sure that our chosen CPU stays super cool. To cool down our processor, we've picked out Thermaltake's TOUGHLIQUID Ultra 360 CPU cooler. A 360mm design sporting an LCD display which can be kitted out with a variety of GIFs, system information, or just RGB. This cooler is perfect to keep our system super cool and super quiet.
Buy the Thermaltake TOUGHLIQUID Ultra 360 on:
Key Facts:
Radiator Size: 360mm
Included Fans: 3
RGB: No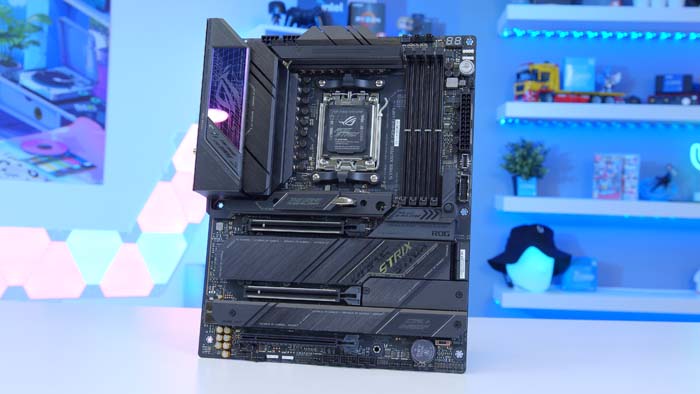 Motherboard: ASUS ROG Strix X670E-E Gaming WiFi
The motherboard that we've chosen to house all of our components is the ASUS ROG Strix X670E-E Gaming WiFi. This board is equipped with the latest overclocking support for DDR5 set at 6400MHz and is fully capable of boosting the performance of the Ryzen 7 7700X with the 18+2 power stages. This board is also Gen5 compatible for both SSDs and GPUs and has a bountiful amount of high speed rear IO, including 2.5 Gigabit LAN and WiFi 6E.
Buy the ASUS ROG Strix X670E-E Gaming Wifi on:
Key Facts:
Form Factor: ATX
Built-in IO Shield: Yes
Max Memory: 128GB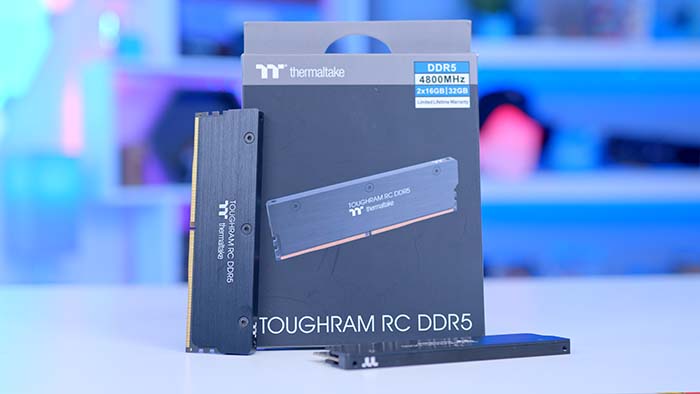 RAM: ThermalTake TOUGHRAM RC DDR5
For our RAM, we've picked a slightly cheaper kit from ThermalTake offering up 4800MHz of CL40 memory. This stealthy set of DIMMs is more than enough to pair with our CPU and motherboard for a small performance boost within multiple applications.
Buy the Thermaltake TOUGHRAM RC DDR5 on:
Key Facts:
Capacity: 32GB
Clock Speed: 4800MHz
CAS Latency: 40-40-40-77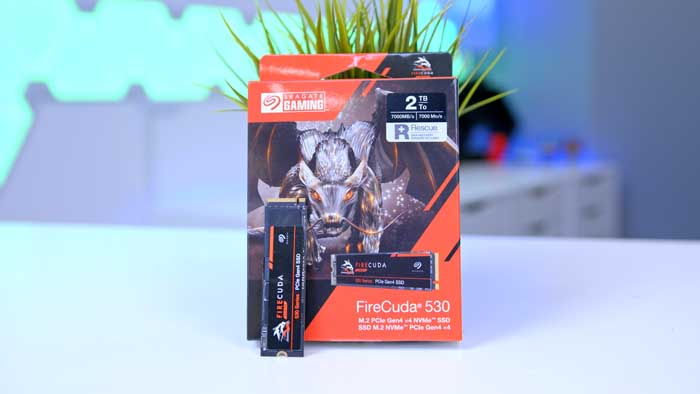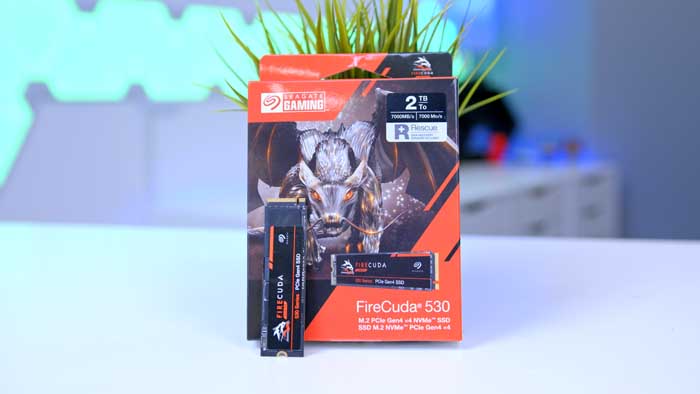 SSD: Seagate FireCuda 530 2TB
Gen5 SSDs haven't released as of yet, so we've picked the next best option, which is the Seagate FireCuda 530 on the previous Gen4 standard. This is one of the top performing SSDs, offering up over 7GB/s on the read speed and just shy of that on the writes. This drive is certain to give us optimal load and boot times for this insane gaming system.
Buy the Seagate Firecuda 530 2TB on:
Key Facts:
Capacity: 2TB
Read Speeds: 7300MB/s
Write Speeds: 6900MB/s
Interface: PCIe Gen4 x4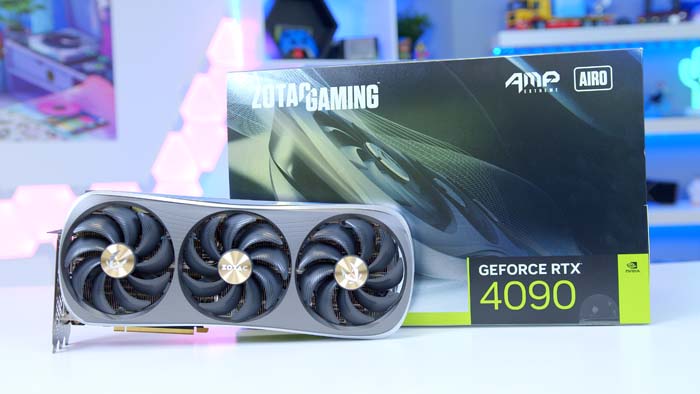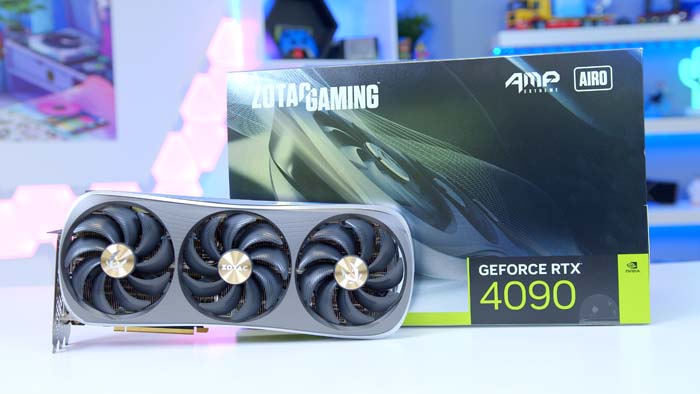 GPU: Zotac RTX 4090 AMP Extreme AIRO
We've had the pleasure of playing around with a number of the latest RTX 4090 GPUs, including Zotac Gaming's AMP Extreme AIRO. Arguably the best looking RTX 4000 series so far, the AMP Extreme AIRO's curved edges and splash of colour looks great in the clear case used in this build. And with the RTX 4000 architecture, this card is perfectly designed for top-end 4K gaming maxed out with DLSS 3.0 and Ray-Tracing!
Key Facts:
CUDA Cores: 16384
TDP: 450W
RT Cores: 191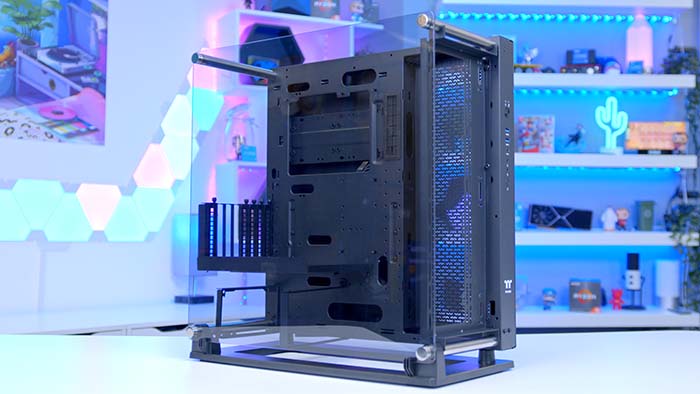 Case: Thermaltake Core P3 TG Pro
To mount all of our components, we've picked up Thermaltake's Core P3 TG Pro case. This case reminds me of open-style test benches that you can mount to a wall or even a desk. I'm a big fan of this case, it looks absolutely awesome, and the open design shows off all of our parts!
Key Facts:
Form Factor: Mid-Tower
Fan Support: 12+
Motherboard Support: Mini-ITX/Micro-ATX/ATX/E-ATX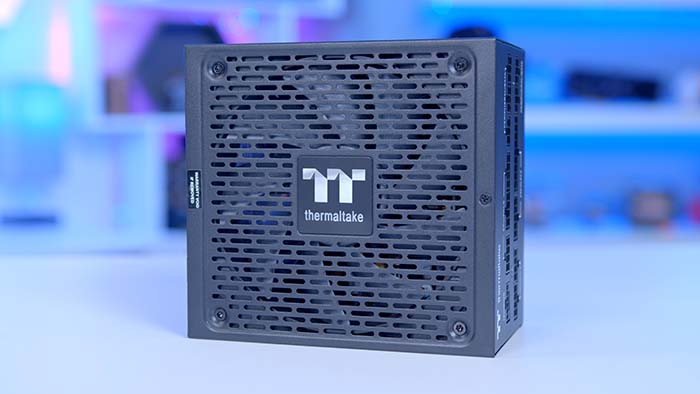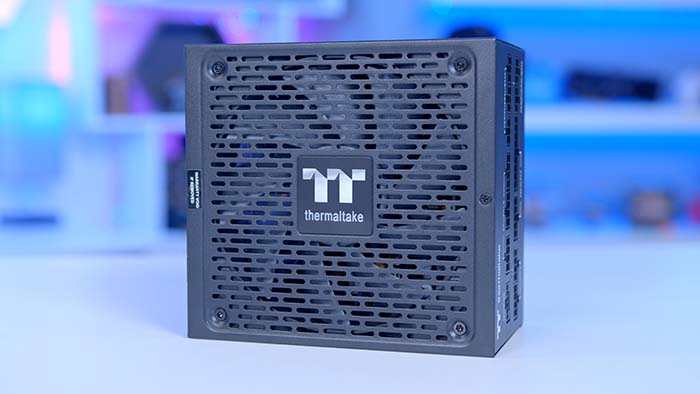 PSU: Thermaltake TOUGHPOWER GF3 1350W Gold
Thermaltake's TOUGHPOWER is a PSU that we've taken a look at in a full review on the website. This power supply offers 1350W of power at an 80+ Gold efficiency rating. This design is fully modular, giving you the option to pick and choose your cables whilst also offering up the new PCI-E 5.0 16-Pin standard for the next generation of graphics cards.
Buy the Thermaltake TOUGHPOWER GF3 1350W Gold on:
Key Facts:
Wattage: 1350W
Modular: Yes
Efficiency: 80+ Gold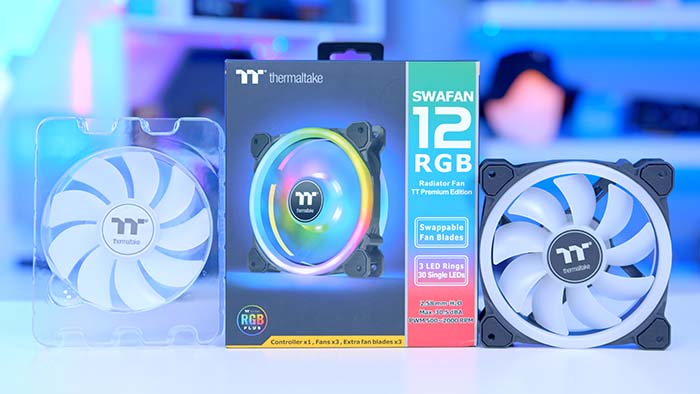 Fans: Thermaltake SWAFAN 12 RGB
As an extra component to finalise this build, we've grabbed Thermaltake's SWAFAN 12 RGB case fans. These fans have a unique design in the sense that the fans are reversible, allowing you to easily change to intake or outtake to optimise your thermals.
Buy the Thermaltake SWAFAN 12 RGB on:
Key Facts:
Fan Size: 120mm
Header Type: 4-Pin TPM
RGB: Yes
High-End Peripherals
To finish off our build we've picked out some excellent peripherals to pair with this top-end system. As you've probably guessed, this build is Thermaltake themed, so we've picked out some great options from Thermaltake that will provide a competitive edge in games, but make no sacrifices when it comes to features and design.
Thermaltake Argent M5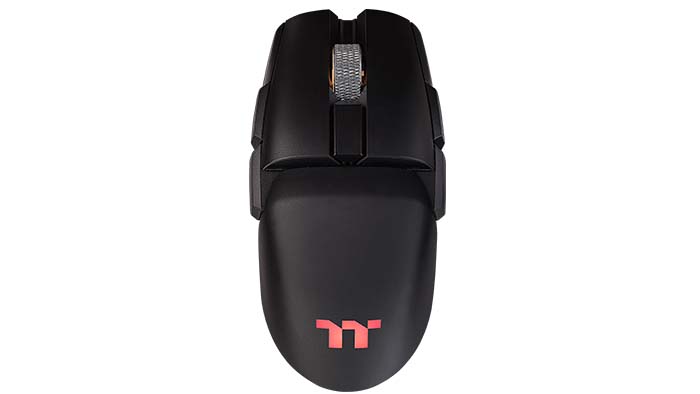 Thermaltake's Argent M5 RGB mouse is an excellent design with a high DPI optical sensor rated up to 16000 DPI when maxed out. The OMRON engineered switches ensure long-lasting gameplay and can survive over 50 million clicks during its lifespan. The RGB is also fully customisable, giving you the option to change lighting styles and colours on the bottom of the mouse and scroll wheel.
Buy the Thermaltake Argent M5 Mouse on:
Thermaltake Argent K6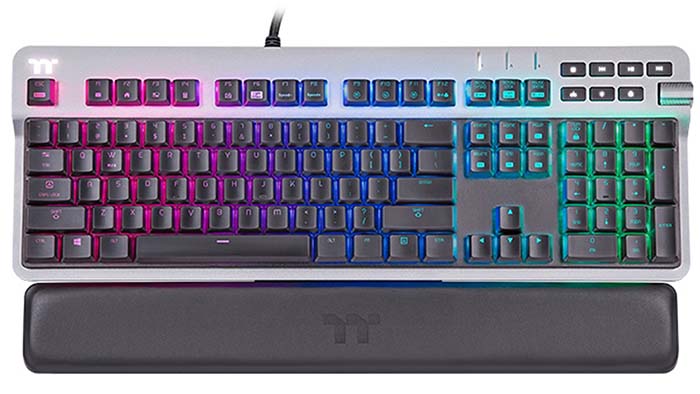 This low-profile Argent M6 keyboard features a choice of renowned Cherry MX Red or Speed switches. Each key has fully programmable backlighting with a choice of 16.8 million colours, providing bright visibility and eye-catching patterns. The included wrist rest also reduces discomfort from your desk or setup during longer gaming sessions.
Buy the Thermaltake Argent K6 Keyboard on:
Thermaltake H5 RGB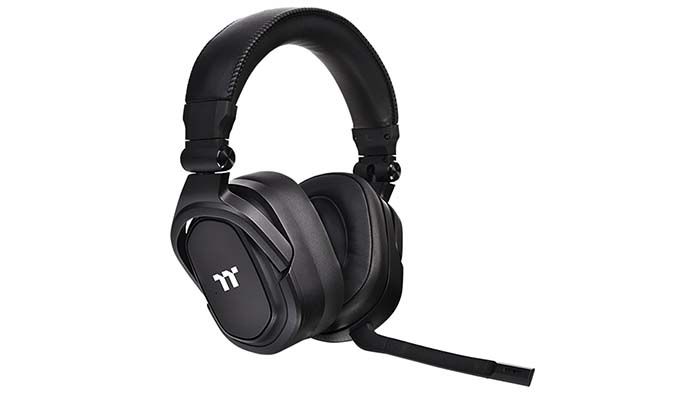 And finally, our choice of headset is Thermaltake's H5 RGB. This 7.1 surround sound gaming headset has a bi-directional microphone, DTS Headphone:X v2.0 surround sound, and 50mm Hi-Res drivers, providing excellent quality and clarity. This headset is also multi-platform, allowing you to enjoy high quality sound on a number of different consoles including Xbox One, PlayStation 4 and Switch.
Buy the Thermaltake H5 RGB Headset on:
Benchmarks
Now for the all-important section – benchmarks. We've had a variety of different AIB RTX 4090 graphics cards come into the office and we've been working day and night to see how they perform, both in terms of gaming power and thermals. We've put some graphs together that feature all of the new RTX 4090 GPUs, comparing them against older RTX 3000 cards. You can find all of our full gaming benchmark runs on our very own YouTube channel – 'Benched'. There you'll find a range of GPUs and CPUs tested, with plenty of stats to supplement.
Gallery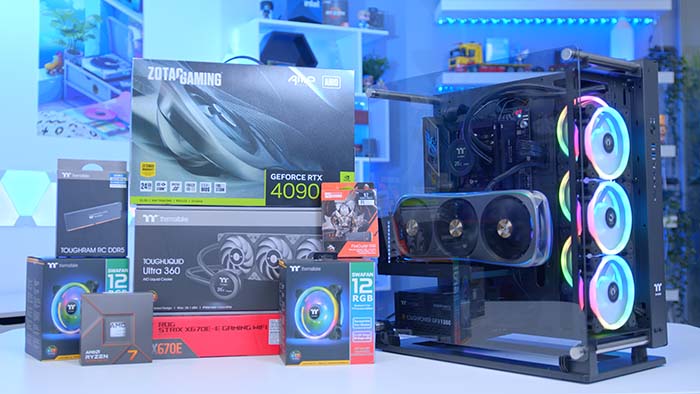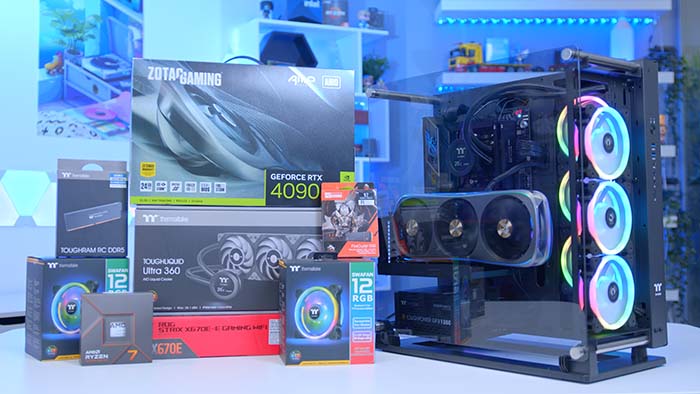 Video