Introduction
The last few months have seen a significant amount of new launches, with Intel, AMD and NVIDIA all going head to head with new platforms. Towards the latter part of the year NVIDIA released their new RTX 4000 graphics cards, almost 6 months after the release of their last RTX 3000 SKU (the RTX 3090Ti). Despite there being significant generational improvements with their first release, NVIDIA have landed themselves in hot water as of late, due to steep price rises that have raised concern as to whether their new GPU launches will offer any major improvements, when compared to their last generation equivalents.
Despite this, NVIDIA are pressing ahead with their 4000 series, launching their latest 4070Ti after a huge rebrand of their 'unlaunched' RTX 4080 12GB variant. Although there have bee concerns about the value of this new SKU, we're still excited to take a look and see where this new card sits compared to the current market. In this review we'll be taking a look at a favourite of ours at the GeekaWhat offices, the MSI Suprim X variant of the 4070Ti. MSI always know how to hit the nail on the head when it comes to design and aesthetic, so we're curious to see what's they have on offer with this new market entrant.
Buy the MSI GeForce RTX 4070Ti Suprim X on:
Architecture
All of the new RTX 4000 graphics cards utilise NVIDIA's latest architecture, known as ADA Lovelace. The new hardware has seen big leaps in performance compared to the RTX 3000 series, with the RTX 4090 offering a huge number of frames compared to its predecessor. The RTX 4080 also saw a generational improvement, although to less a degree, with it's price hike leaving a sour taste in the mouth of consumers.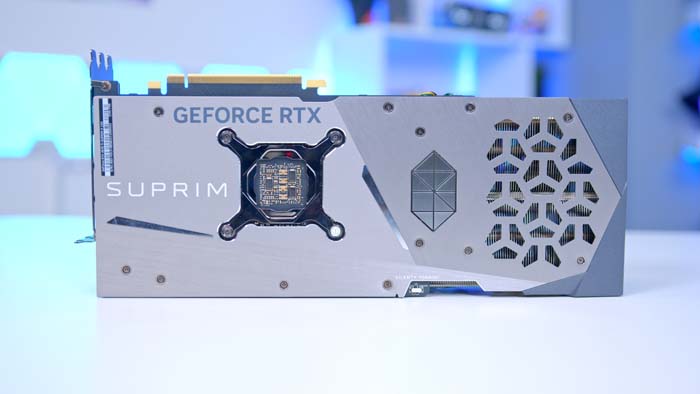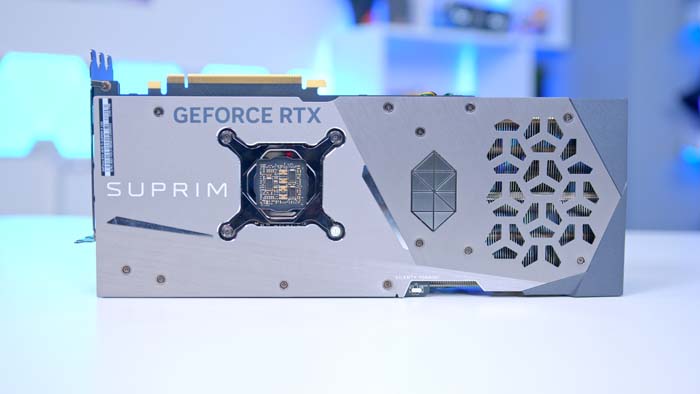 Alongside the improvements to hardware, NVIDIA's proprietary technologies such as DLSS 3.0 and their RTX Ray-Tracing have also seen improvements in many areas. DLSS is now in its third iteration, bringing more frames in a huge number of games at the minor cost of a lesser image quality, and slightly more latency. Releasing alongside DLSS 3 is Nvidia's new Frame Generation technology. This new technology uses AI to reconstruct frames within games, which gives users the ability to enjoy much higher framerates whilst drastically reducing GPU and CPU overhead.
Frame Generation is also a big win for consumers that play games with Ray-Tracing enabled. Although there is an increase in latency, being able to play Cyberpunk at 4K with maxed out Ray-Tracing is an experience like no other. All of the new cards have seen an increase in RT and Tensor core count too, which further improves the processing power required to run Ray-Tracing. Needless to say, NVIDIA have definitely made big leaps in terms of technology, which bodes well when it comes to performance, but the biggest decider for most consumers will of course be down to the value that these new cards bring.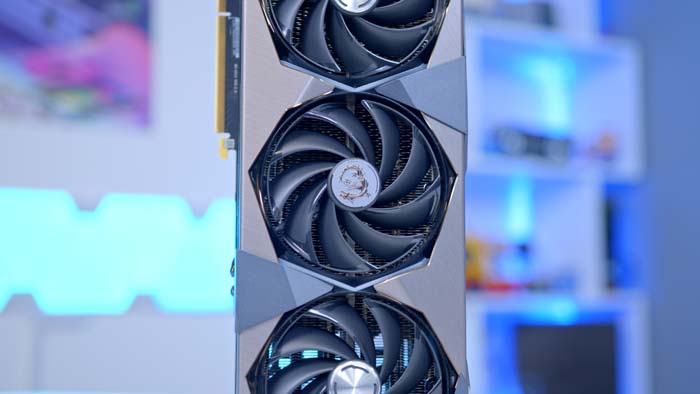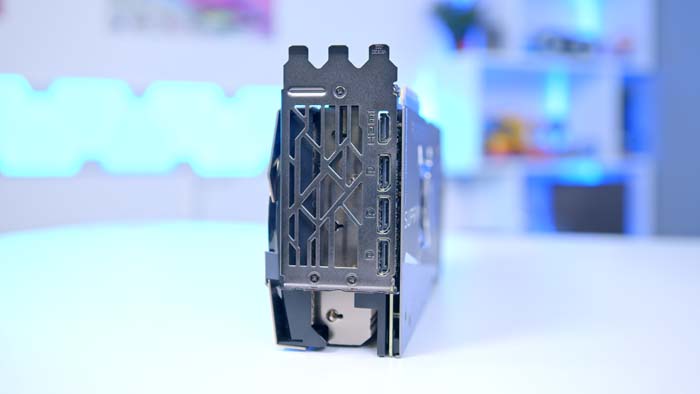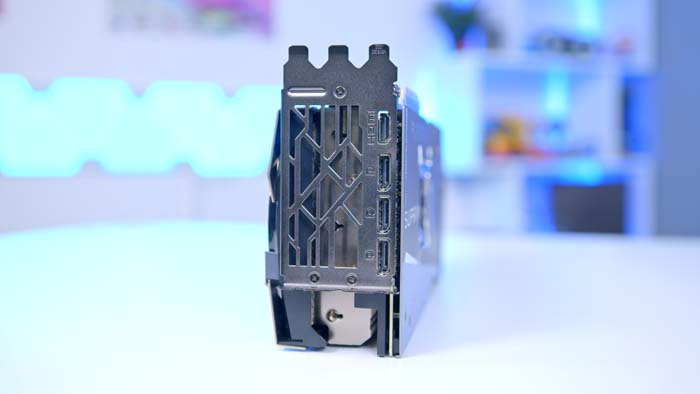 Specifications
The specs of MSI's Suprim X RTX 4070Ti look relatively strong so far, with a significantly increased clock speed compared to much of the competition. To provide a better idea of the other options available on the market, we've put together a table that lists the specs of the current RTX 4000 cards, along with some RTX 3000 cards that offer similar performance to the 4070Ti.
Spec
RTX 4090
RTX 4080
MSI GeForce RTX 4070Ti Suprim X
RTX 3090
RTX 3080
Video Memory
24GB GDDR6X
16GB GDDR6X
12GB GDDR6X
24GB GDDR6X
12GB/10GB GDDR6X
Memory Bus
384-bit
256-bit
192-bit
384-bit
384-bit / 320-bit
Core Clock Speed
2.23GHz
2.21GHz
2.31GHz
1.7GHz
1.26GHz / 1.44 GHz
Boost Clock Speed
2.52GHz
2.51GHz
2.77GHz
1.4GHz
1.71Hz
CUDA Cores
16384
9728
7680
10496
8960/9704
Power Consumption
450W
(Founders Edition)
320W
(Founders Edition)
285W
350W
(Founders Edition)
350W / 320
(Founders Edition)
RT Cores
3rd Generation
3rd Generation
3rd Generation
2nd Generation
2nd Generation
Tensor Cores
4th Generation
4th Generation
4th Generation
3rd Generation
3rd Generation
PCI-E Generation
PCI-E Gen 4
PCI-E Gen 4
PCI-E Gen 4
PCI-E Gen 4
PCI-E Gen 4
Design
As we've alluded to above, we're all big fans of MSI's Suprim X lineup. The cooler never fails to look sophisticated and sleek, whilst also offering just the right amount of RGB in the form of chevrons located next to each fan. The front of the GPU shroud has an angular brushed metal design that gives the card some texture and extra depth instead of it just being flat.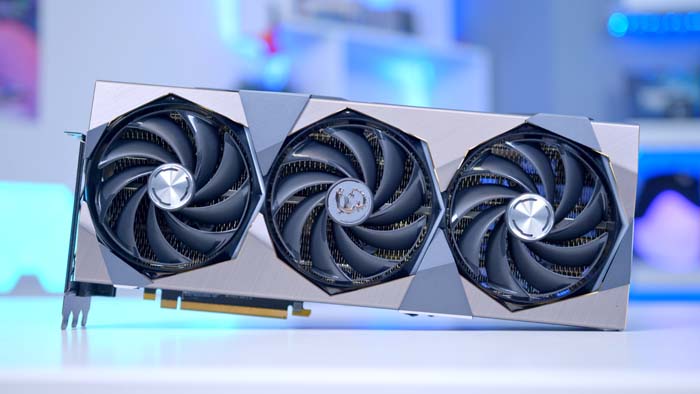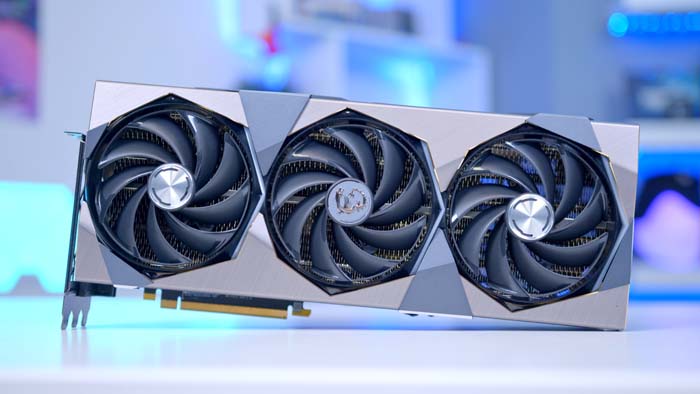 Along with the unique design choices of the Suprim X cards, MSI have opted to use strong and robust materials to create this particular variant. This gives the card a much more premium feel, which offers consumers some relief knowing their card won't easily sag or bend. Moving onto the backplate, MSI have created a sturdy design that offers additional cooling through ventilation located towards the right hand side of the card.
Overall, I'm very happy with the aesthetic that MSI have created with the Suprim X RTX 4070Ti. Although the Suprim X design hasn't changed significantly compared to the RTX 3000 series, I'm not disappointed about this. If MSI are known for anything, it is consistency, and the Suprim X cards are always consistently good when it comes to design. Although the Suprim X card isn't necessarily a standout design compared to Palit's most recent GameRock GPU, I believe MSI have created a sophisticated GPU that will suit a variety of different PC builds.
Performance
When we start to look at performance, this is where things start to become controversial. The entire reason why the RTX 4070Ti existed in the first place was as a rebrand of the poorly received RTX 4080 12GB. Team Green were offering a 4080 SKU with performance and specs that weren't remotely close to what the 4080 16GB provided, hence the 'unlaunching' of this card. For the record, we think NVIDIA did the right thing here, and commend this decision from Team Green.
For the most part, the RTX 4070Ti sits relatively close to the RTX 3090Ti in the frame rate department, with frames differing dependent on the game and settings used. However, in a vast amount of titles, the 4070Ti is closer to the RTX 3080 and 3080Ti which put the value of the RTX 4070Ti into question. If we look at performance of the 4070Ti alone, frame rates are strong at 4K and 1440P with this GPU reaching over 100FPS in the majority of titles. With DLSS, we can see framerates significantly increase at higher resolutions, and with Ray-Tracing enabled, performance does tend to dip to some extent.
Overall, the performance as a standalone GPU is rather strong, but when we compare the 4070Ti against the current market, it's value-proposition isn't quite as good as it could be. However, we'll leave these closing thoughts for the conclusion. To provide some more context on how the MSI Suprim X RTX 4070Ti performs, we've put together some gaming benchmark graphs that have been compiled from our benchmarking YouTube channel – 'Benched'. There you'll be able to find all of full gaming runs where we test out the latest GPUs and CPUs using popular triple A, and Esports titles.
Apex Legends
For our first title, we ran Apex Legends at 4K high settings. In this title we saw very strong performance from the 4070Ti, with our average framerate sitting just above the 144Hz sweet spot. Apex is a very fast-paced title, so users playing this title can get kills much easier with a smooth visual and gameplay experience. The 4070Ti sits just in between the performance of the RTX 3090Ti and RX 6950XT from AMD, which is an impressive feat in of itself, however we're clearly not seeing the advertised performance that was advertised at CES during Nvidia's keynote.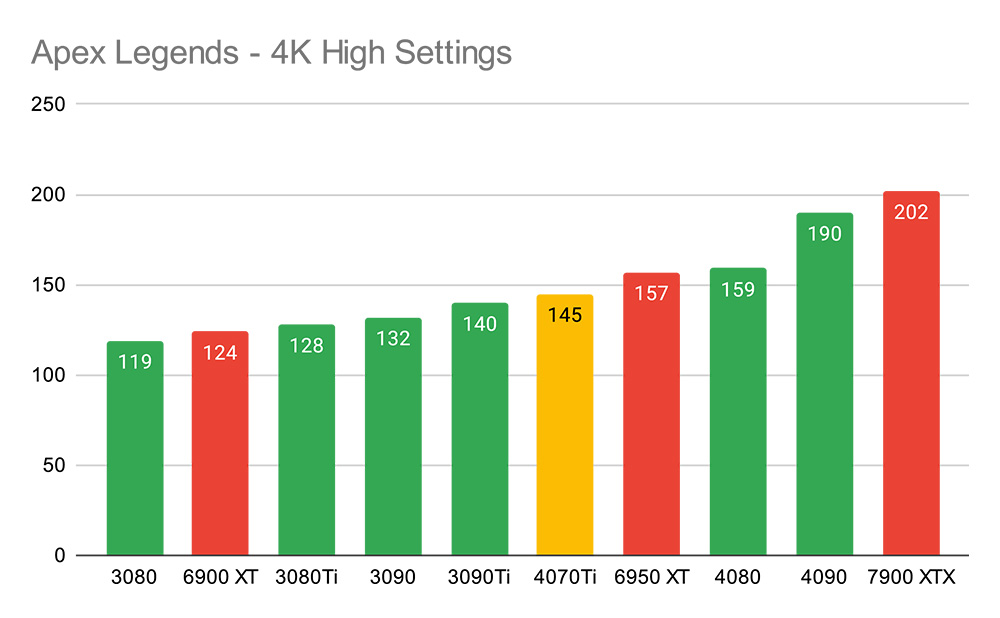 COD Warzone
In COD Warzone at 4K the 4070Ti was able to maintain an average framerate of around 109FPS which puts the performance at a similar level to the RTX 3090 at this resolution. Again, we're not seeing the advertised performance, however this card still offered a strong and perfectly playable framerate during our benchmarking run. Ultimately we'd love to see the 4070Ti hit the 144Hz sweet spot, but due to the weaker hardware and poor optimisations we weren't quite able to hit this framerate.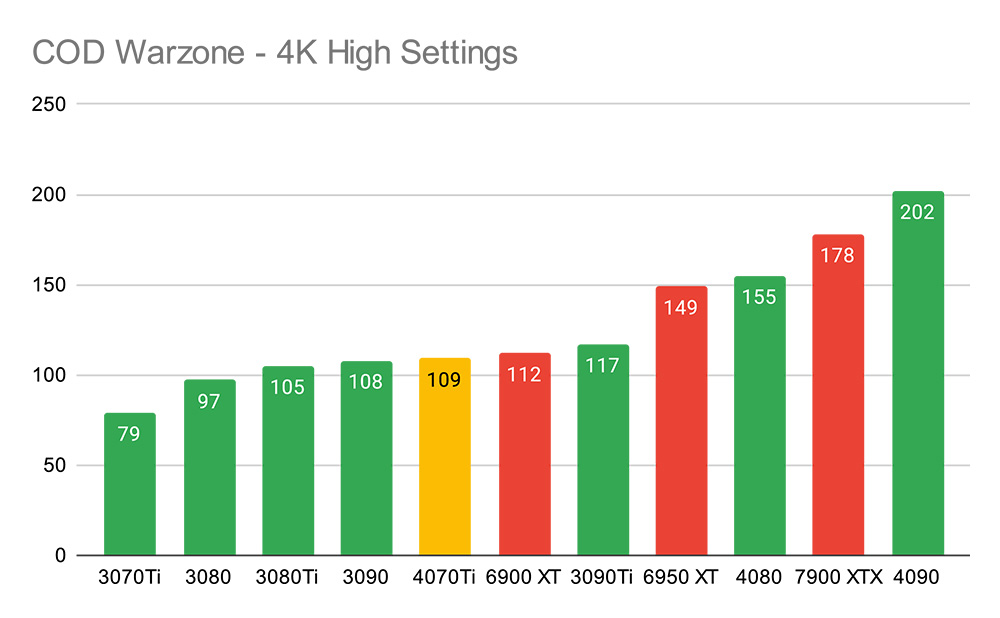 Battlefield 2042
In Battlefield 2042 we saw performance drop below the 100FPS mark which was somewhat disappointing, but as you can see from the entire graph, many GPUs tend to struggle in this title at 4K settings. The 4070Ti offered perfectly playable performance here, especially in a title that isn't particularly well optimised. Overall, the 4070Ti held up very well to some of the top performing cards of the previous generation.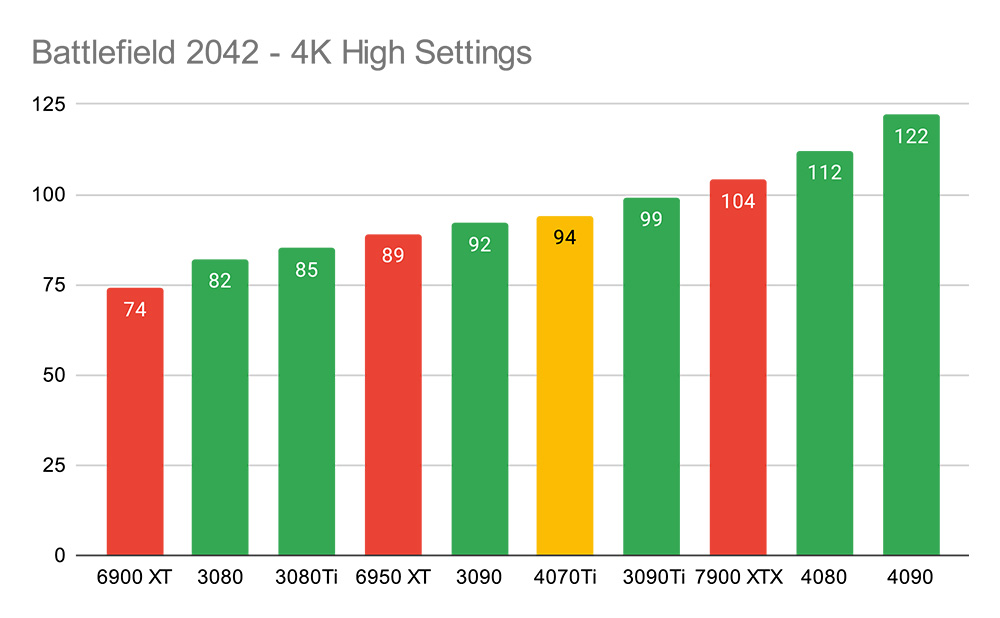 Spider-Man Miles Morales
In Spider-Man Miles Morales we saw an average framerate of around 108FPS from the 4070Ti, which is great to see in such a new title. Despite offering a relatively reasonable framerate, it was disappointing that the 4070Ti doesn't offer much of a boost compared to the RTX 3080Ti and 3080 SKUs. However, as you can see from looking at the whole graph, there doesn't seem to be a huge jump in framerates if we compare the 4070Ti to even the 4090. This somewhat demonstrates that the Miles Morales game is quite CPU intensive as well as being hard on all of our GPUs.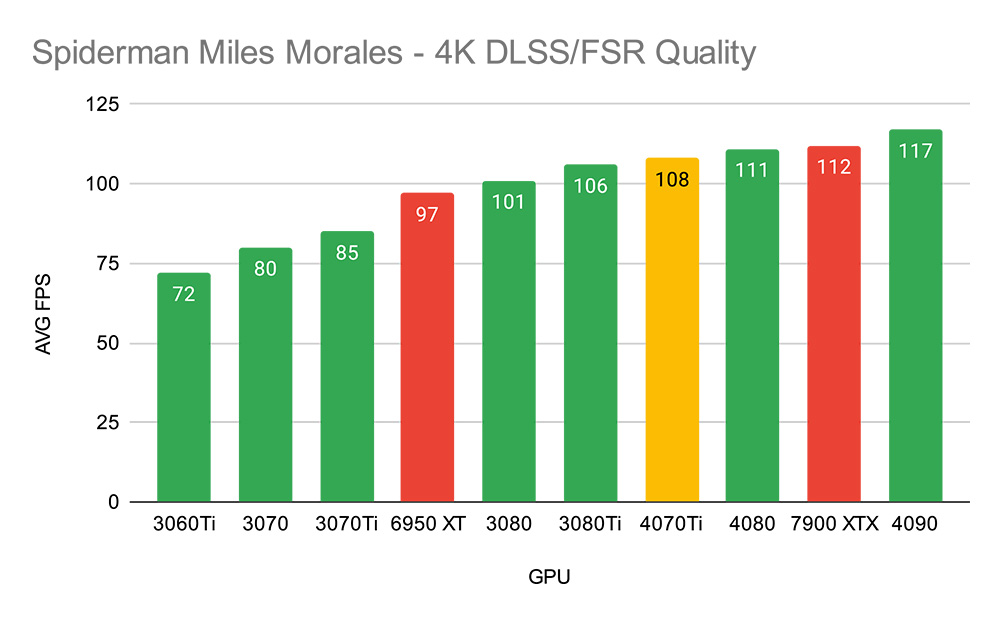 GTA V
In GTA V we maxed out our resolution to 4K at high settings to see where framerates would lie. Overall, the 4070Ti offered strong performance compared to the rest of the market. The 4070Ti came fourth in our rankings compared to AMD's most recent 7900XTX, alongside the RTX 4080 and 4090. However, similarly to our benchmarking during the Spider-Man Miles Morales game, there doesn't seem to be a huge jump in performance when looking at the 3080 up to the 3090Ti. This goes to show that most of the RTX 3000 line are perfectly capable of handling this game at 4K.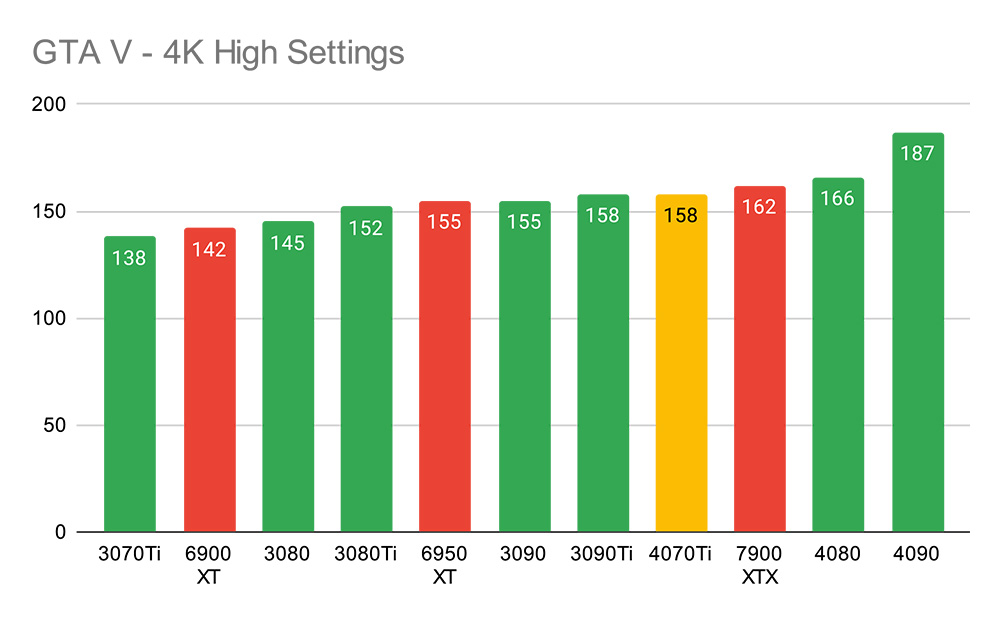 Fortnite
For our final benchmarking run, we decided to test out Fortnite at 1080P competitive settings. Ultimately most consumers buying a 4070Ti won't be playing games at 1080P, but we test Fortnite at this level, because it is commonly used in an Esports setting where frames really do matter! The average framerate of the 4070Ti sat just below the 300FPS mark which was good to see. This metric does demonstrate that the performance at 1080P is close to an RTX 3090Ti, but not at the advertised level we saw at CES, which is somewhat unfortunate.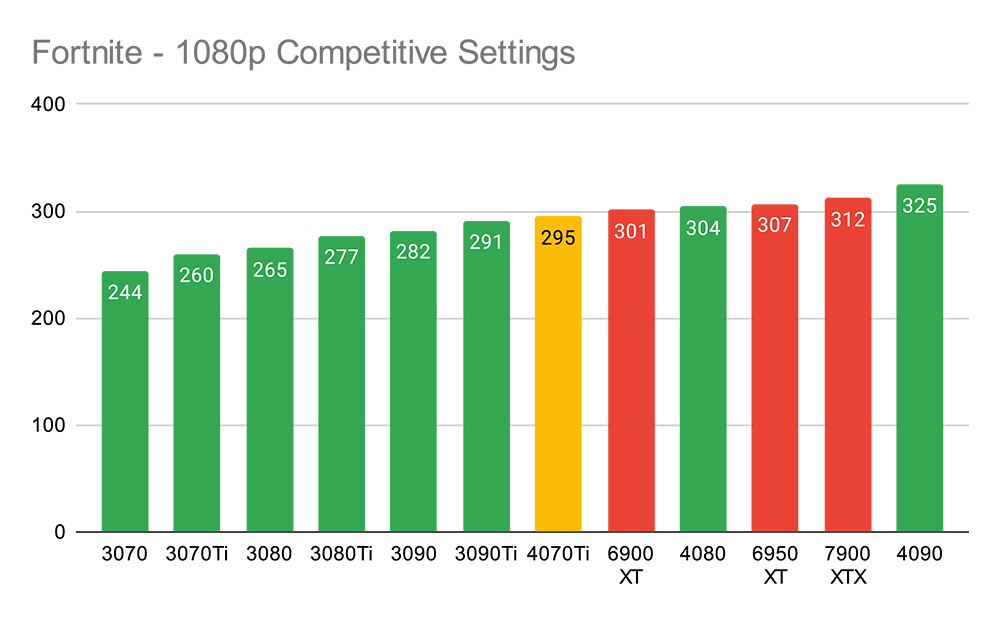 Conclusion
MSI GeForce RTX 4070Ti Suprim X
Product Name: RTX 4070Ti Suprim X
Brand: MSI
Features

Design

Performance

Value For Money
Summary
MSI's Suprim X variant of the RTX 4070Ti is a sleek and robustly designed graphics card. MSI's Suprim X cards always offer a very premium design with a reasonable amount of RGB that adds plenty of flair, whilst providing a higher boost clock that gives consumers some extra performance. But despite the excellent input from MSI as an AIB, Nvidia have really not delivered when it comes to price and performance metrics. The RTX 4070Ti has a fake MSRP due to the lack of a Founder's Edition model, which means consumers are spending significantly more than the advertised $799 price tag.
Coupled with the fact that this card offers minimal improvements versus the 3080 and 3080Ti cards of the previous generation, Nvidia really have not hit the mark here. I believe that the overall performance of the RTX 4070Ti is relatively strong, and many consumers will be happy with the achievable framerates within their favourite titles. But if you're upgrading from a 3070Ti or above to this card, save your money and wait for the price to drop, because at it's current value the 4070Ti is a difficult purchase.
Pros
✅ Sleek and sophisticated design.
✅ RGB isn't overkill.
✅ Strong overall performance.
Cons
❌ Weak value-proposition compared to RTX 3080 SKUs.
❌ No cheaper Founders Edition models.
❌ Dimensions are massive.