Introduction
Tenkeyless (TKL) designs have recently surged in the keyboard marketplace, and are now a staple of many a brand's keyboard range. We've seen a plethora of different, versatile designs that look to differentiate product SKUs amongst a crowded keyboard market.
This ever growing selection of switches, keycaps and form factors does make choosing the one for your more tricky – something we'll be dissecting as we look at the NZXT Function Mini.
The NZXT Function range includes three different format factors, including this adaption of the Ten Key-less factor. Is the Function MiniTKL a sign of things to come in the keyboard market, or rather a new, impractical layout introduced by NZXT?
Buy the NZXT Function MiniTKL on:
Suggested Article: How to Choose the Right Mechanical Gaming Keyboard in 2022
Design
To begin, let's address the elephant in the room – the size. I'm not personally a huge fan of TKL designs because they're small and I prefer a full-size keyboard. However, after using the Function MiniTKL for a short while I quickly got used to the size. The major difference between TKL and Full-Size boards is that they don't have a number pad. They still have functional buttons like End and Home, but the number pad is gone all together. This won't be ideal for gamers that play strategy games, MMOs or even flight-sim titles, but for typing and FPS games this is a great experience.
You'll also see that NXZT have 'squished in' (for want of a better phrase!) the TKL form factor. This brings the arrow keys in closer to the bulk of the keyboard's keycaps, and the function buttons down into a vertical row.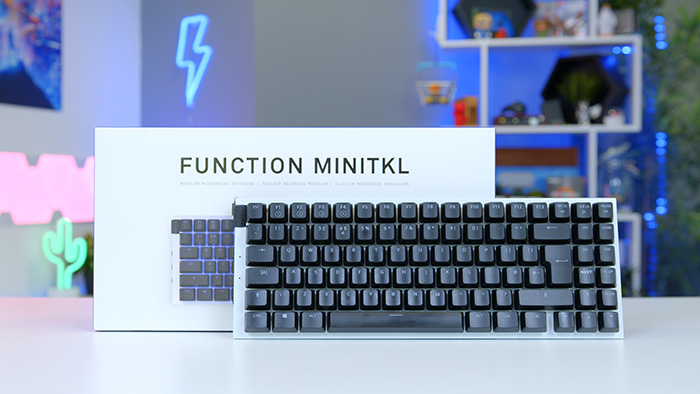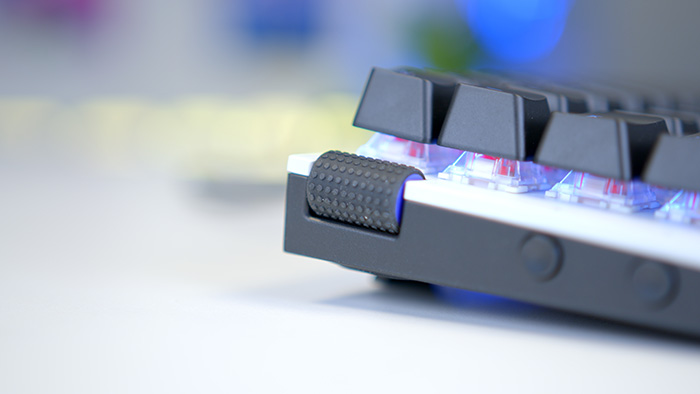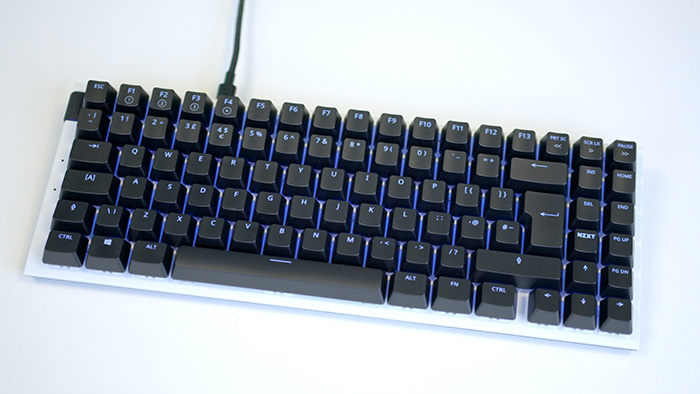 The weight of the Function MiniTKL surprised me for a more compact keyboard. Weighing in at 718g it is quite hefty, but this is the cost for a modular design – more on that part later! The weight might take some getting used to for some, but it proved OK in our testing.
As far as visual design goes, NZXT decided to opt for a white backplate with very minimal bezels on our white unit. They also offer a black colour way on all three form factors – making sure you can match it up with your setup style. Overall, the design of the keyboard is pretty nice, a simple, more conservative approach to aesthetics from NZXT.
[adrotate banner="7″]
Switches and Keycaps
The Function MiniTKL uses Gateron Red Linear switches that provide a very smooth approach to typing. Normally, I wouldn't recommend linear switches for typing as they don't provide a lot of resistance or feedback, but the Gateron switches are pleasant, if aimed more towards gaming.
The keycaps are fairly typical in design, slightly concaved and more square, with a rounded edge. This is perfectly fine, as most keyboards of the same price range will have a similar keycap design.
Features
Modular Switches
The biggest selling point of the Function MiniTKL is that it provides a modular design. This isn't a typical of 'out of the box' keyboard designs and is a very appealing feature if you don't want to build a custom solution yourself. In the box you have a key cap puller and switch puller which should make it easier to get the switches out. Something to note, you should be careful when pulling out the switches. They are durable, but too much force could potentially damage the pins when removing them. You might also find yourself catching the keyboard's top plate, leaving it scratched or marked in places – exercise plenty of caution here!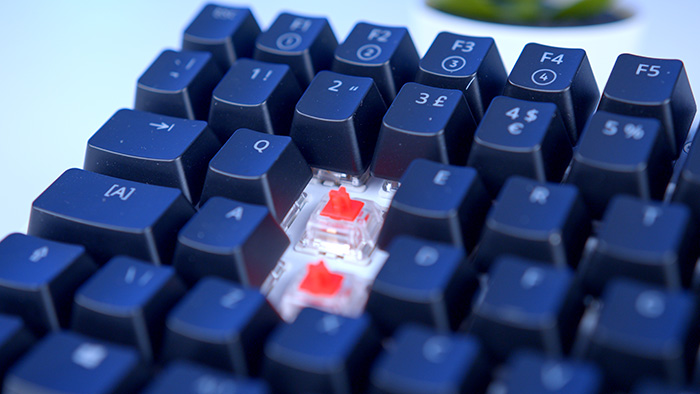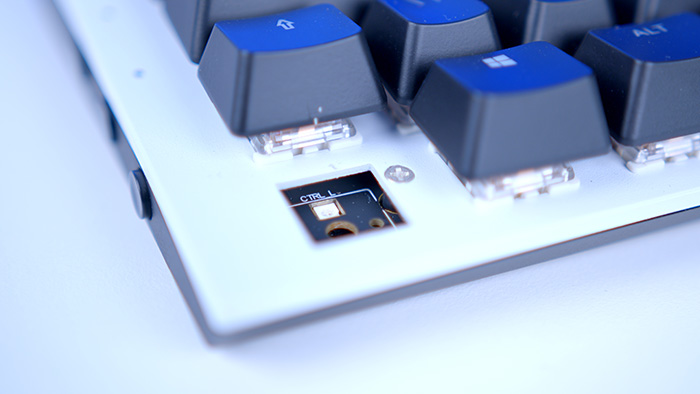 The switches offers a 5-pin hot-swappable design that are MX compatible. If you're unsure what this means, MX compatible are essentially switches that use the same design as CherryMX. The best way to find out if your switches are MX compatible is by looking at the underside of the keycap and check what the shape is. If the shape is a cross, it is likely MX compatible. However, take this with a pinch of salt as switches will differ. There are some spreadsheets online that users have created that show MX compatible switches, and this research is a must before buying. A couple of MX compatible switches of the linear design include Kailh Reds, or Zealio Clears.
Other Features
Other than the modular nature of the Function MiniTKL, it doesn't come with a whole host of other features. Towards the left of the keyboard there is a nice volume wheel, but this feels oddly placed to me. I think the placement is strange and almost out of reach when you're typing, but this is just my preference.
There are 3 buttons on the side next to the volume wheel as well. From a glance it might be unclear what they do, but after some deliberation we figured it out. The top button is volume mute, the middle is to lock the Windows key (which is odd), and the bottom is backlight brightness. Again, I don't think the buttons or volume wheel are particularly necessary, or best placed, but they have their uses nonetheless.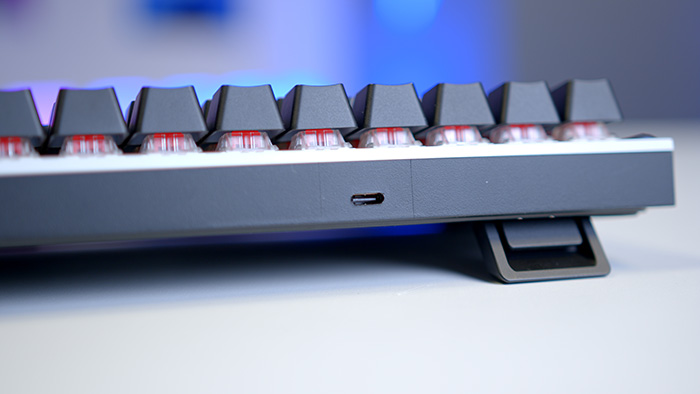 A nice feature to comment on is the use of a detachable cable. Because this keyboard is so small it could be portable, and having a detachable cable allows you to bring it around with you (ideal for running up and down the country for LAN parties). Alternatively, if the original cable isn't of the right length, this is just an extra addition that brings versatility.
[adrotate banner="7″]
Software
The Function MiniTKL comes with preinstalled software that allows for easy-to-customise per-key RGB with varying light effects. Combine this with the NZXT Cam application and you've got another level of choice. The RGB itself isn't special, but it is nice to have different lighting choices and reactivity to typing. The main point to make with the the keyboard's software is the ability to map different keys. I can't see any reason why you would want to map WASD to JIKL or anywhere else, but this could be useful. Having the ability to customise where keys are just gives the user to truly embrace the versatility of the keyboard.
Alternatives
Below we've listed some alternative TKL keyboards that still offer linear switches but at different price points. With a limited number of modular options on the market, the below designs only allow you to swap out the keycaps and not the key switches. Should NZXT's unique addition catch on, we'll see plenty more modular options hitting the market.
Corsair K70 RGB TKL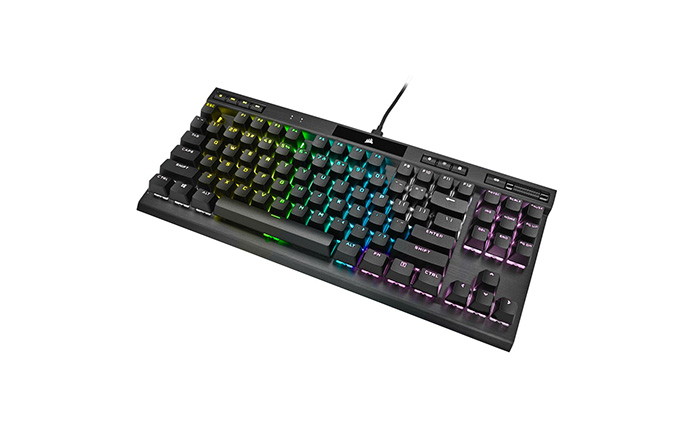 With Corsair's signature brushed metal finish and their optical-mechanical switches this keyboard offers 'hyper-fast' inputs.
Buy the Corsair K70 RGB TKL on:
---
Logitech G915 TKL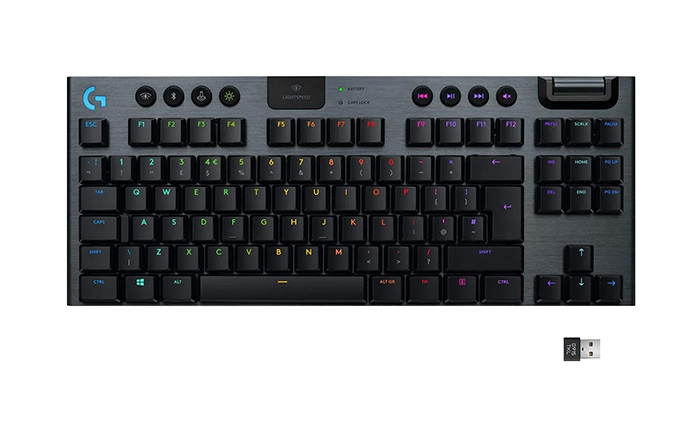 Logitech's premium feel and LIGHTSPEED wireless gives this keyboard an edge against the competition for a slightly higher price.
Buy the Logitech G915 on:
---
Razer Huntsman V2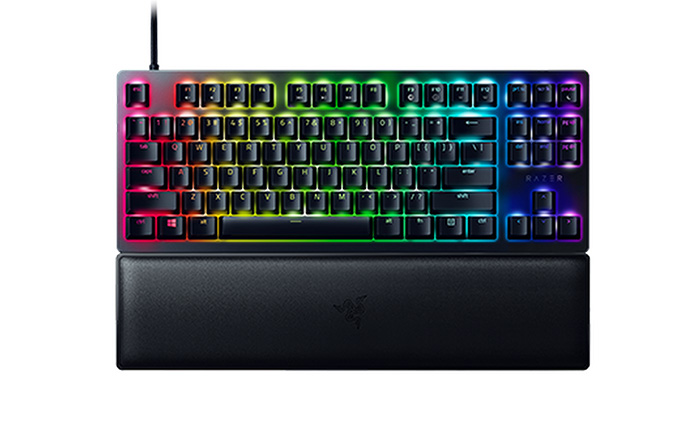 The Huntsman gives Razer's optical linear switches a slight twist with speed and sound in mind for a smooth (and quiet) experience.
Buy the Razor Hunstman V2 on:
---
[adrotate banner="7″]
Conclusion
NZXT Function MiniTKL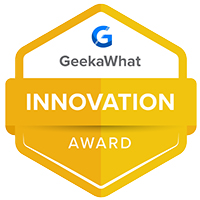 Product Name: Function MiniTKL
Brand: NZXT
Features

Design

Versatility

Value For Money
Summary
Overall, the Function MiniTKL takes versatility to the max! Custom keyboards are often expensive so bringing the ability to swap out switches is a brilliant way to give that custom feel to the mass market at an affordable price. The look isn't particularly incredible, and the rest of the feature set could be more exciting, but the hot-swap switches are a really cool addition.
Pros
✅ Extremely versatile.
✅ Brings a custom solution at a lower price.
✅ Inclusion of per-key RGB lighting.
Cons
❌ Can be strenuous to use without a wrist rest.
❌ The switches are limited to MX Compatible.
❌ Odd volume wheel and custom button placement.