Introduction
NZXT has been a mainstay in the case market for as long as we can remember. Their various products such as cases, power supplies, and coolers have been popular entrants in the PC building scene, netting NZXT the popularity they have today. It's always an exciting when we get a new NZXT product in the office because we're always curious to see how airflow has been improved, or whether the design has been altered much from well-known previous models.
However, when the NZXT H9 landed on my desk I was met with a sense of familiarity, but also intrigue. The H9 is a brand new case from NZXT, sporting a wrap-around tempered glass design that we've definitely seen before. But despite this, I'm curious to see what the new H9 has on offer, so we've put together an in-depth review on the aesthetic and features to see where this case sits compared to the competition!
Buy the NZXT H9 Elite on:
The Wrap-Around Glass Design – Some Background
As of recently, we've started to see a couple of manufacturers release cases that feature a glass front and side. It was first popularised with cases like the Lian Li O11 Dynamic, where we saw two individual sheets of tempered glass which could be removed individually. Then, manufacturers like Corsair released the 4000X and 5000X cases which followed a similar design.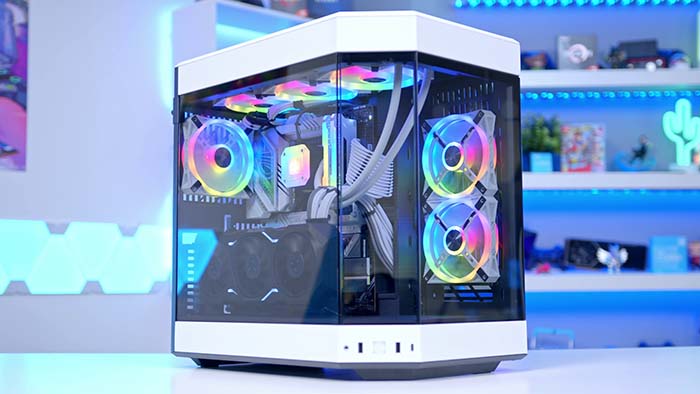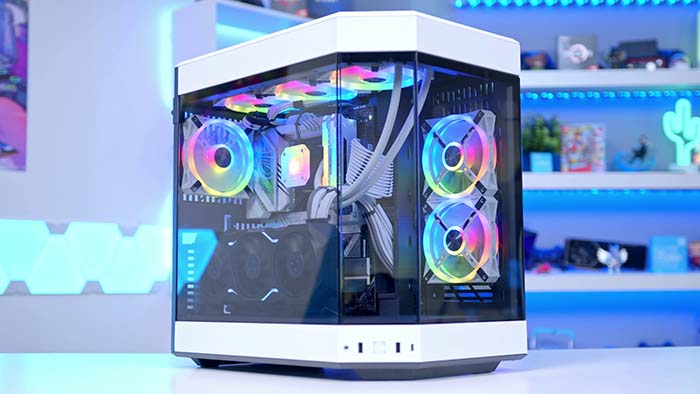 However, the biggest difference between those cases and the ones we're seeing today is that the glass was separated into two individual pieces. Nowadays, NZXT and manufacturers such as HYTE have created a very sleek design that wraps around the entirety of the front and side. Instead of getting the black rim that appears on a plethora of tempered glass cases, the glass spans the entire front and side, and my oh my do these cases look incredible!
We're starting to see more manufacturers adopt this design, with NZXT and HYTE pioneering the aesthetic, and I won't be surprised if other popular manufacturers jump on the metaphorical 'bandwagon'. My biggest concern with having a fully glass front and side is of course – airflow. However, as we've seen with HYTE, form and function are not mutually exclusive, so we can only hope that NZXT have taken a leaf out of HYTE's book here when it comes to thermals and airflow.
The H9 Lineup
Unlike the NZXT H7 cases we reviewed back in 2022, the H9 cases feature just two designs instead of three. NZXT have decided to get rid of their standalone design, offering just a 'Flow' and 'Elite' model which I'm honestly a big fan of. The standalone H7 offered quite poor airflow, so its great to see that NZXT have focused more on the functional aspect of their new cases.
NZXT H9 Flow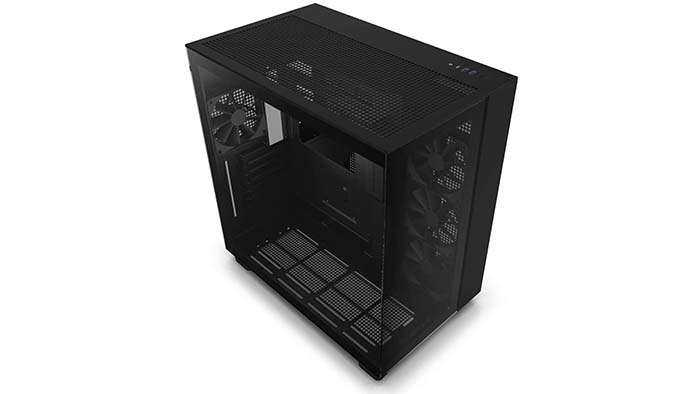 Check the price on:
NZXT H9 Elite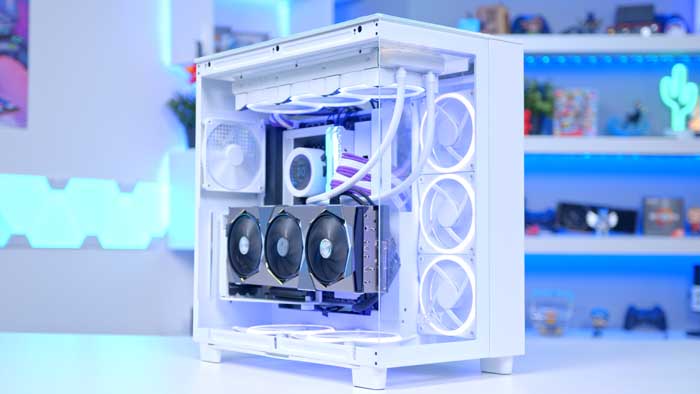 Check the price on:
Admittedly, there isn't a huge difference between the Flow and Elite model. Without delving into the aesthetic and features too much, we're still seeing the signature wrap-around glass that I'm a massive fan of. Both cases have a dual-chambered design with perforations on the side of the case. The biggest differences are that the Elite comes with three 120mm RGB fans and a glass top. Whereas, the Flow comes with three 120mm non-RGB fans, and a vented top with NZXT's renowned circular perforations.
I don't know how I feel about the Flow versus the Elite model, as it ultimately comes down to price. NZXT tend to charge a bit of premium for their Elite designed cases, so the Flow could be worth picking up comparatively based on the price drop. However, I would love to see NZXT make their cases more modular and provide an Elite design that costs a little bit more, but offers a glass or perforated top, putting the option into the consumer's hands. Overall though, this new line-up of cases is very promising at first glance.
NZXT H9 Elite Aesthetics and Design
Jumping into the design and aesthetics, I have to say I'm impressed. If NZXT are known for anything, it is creating sophisticated and minimal cases, and this is clearly being demonstrated here. The wrap-around glass design looks absolutely gorgeous, providing a window into your case without any ugly black bars or glass separation. It would be nice to see some curvature of the glass, but I guess NZXT decided to leave that to HYTE.
The glass also shows up on the top of the case, providing you another window for a radiator this time. The H9 Elite comes with a 360mm glass mount as standard, but NZXT have also provided a 240mm option for those sporting slightly smaller coolers. Continuing with the top of the case, we're seeing some ventilation in the form of perforations located towards the other side. One of my big concerns is airflow due to the nature of the design, but its good to see NZXT haven't decided to create an oven here.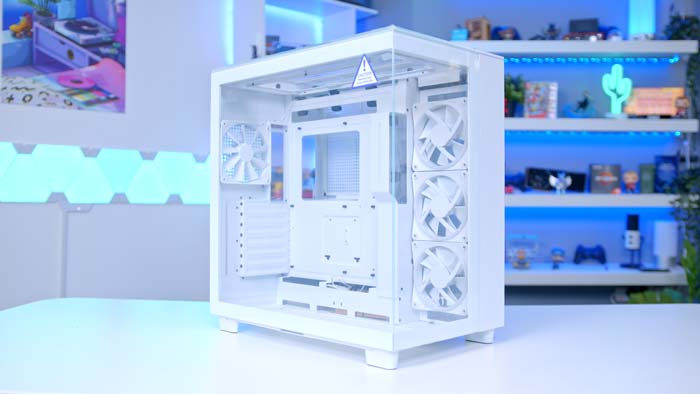 Moving around to the opposite side of the case, I have to say I was shocked at first. One of NZXT's biggest issues for years has always been ventilation, however, the H9 Elite (and Flow) has an entirely ventilated side panel. Gone are your worries of high thermals, because NZXT have done it folks! Jokes aside, I genuinely want to commend NZXT on this, because the ventilation is superb. It keeps in line with the aesthetic of the case, but provides the much needed airflow that NZXT cases have suffered from. It does allow you to get brief glances of cable mess, but if you keep your cables nice and tidy, this shouldn't be an issue.
The change in case ventilation also means consumers can have side mounted radiators and fans. This is a gigantic change from NZXT, and it shows them leaning more towards the consumer by providing better options when it comes to mounting and airflow. Seriously NZXT, bloody well done!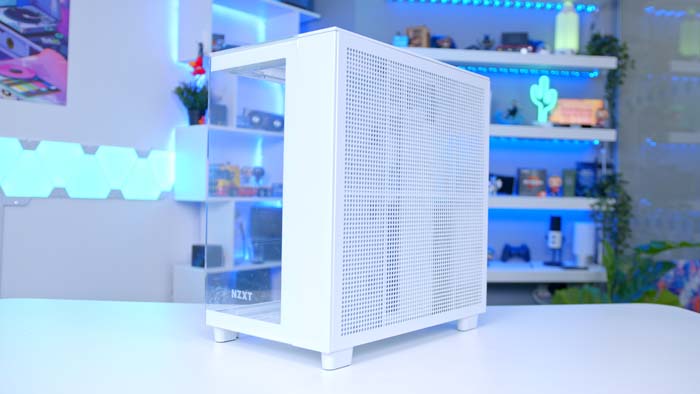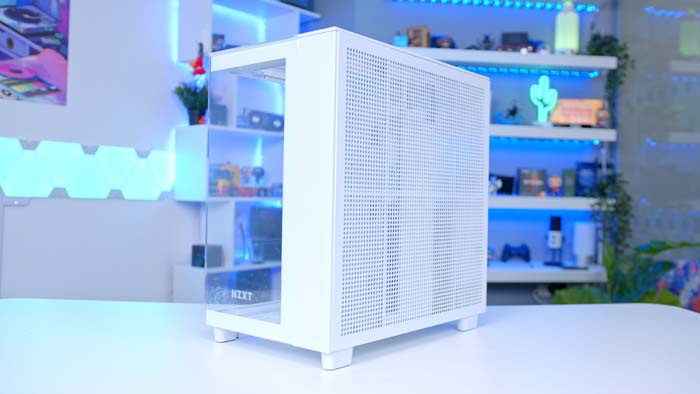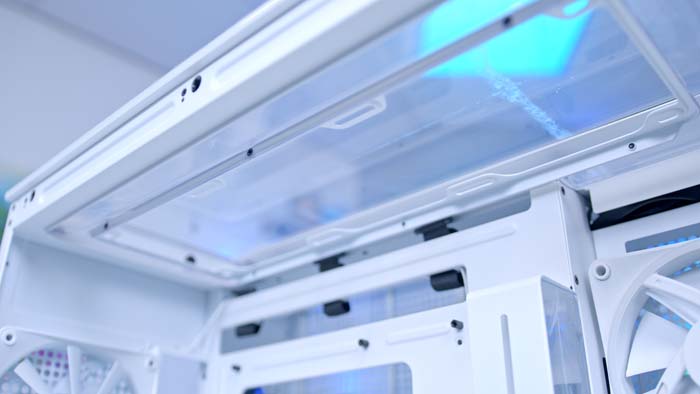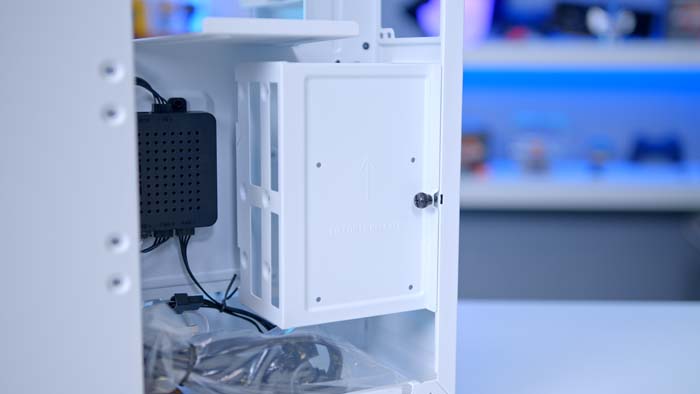 Features
This is probably the most important part of the article to read – the features. NZXT have definitely put aesthetics at the forefront of the design philosophy of this case, but the H9 Elite still comes crammed with plenty of features to aid users during the building process – and to save you some money. We've broken down the most standout ones below.
Dual-Chambered Design
The dual-chamber design is a first for NZXT and honestly, I'm a big fan. Building a case this way frees the interior from any clutter, which in turn makes cable management much easier. It also means your motherboard and power supply are much more accessible when removing the side panel. Lian Li are one of the few manufacturers to get the dual-chamber design right, but I would honestly add NZXT to the list.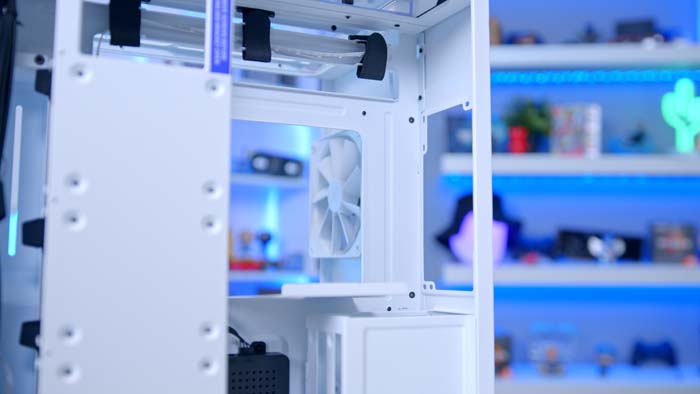 This is a much more consumer-friendly way to build a case from a building point of view. Cable clutter is entirely minimised to the back of the case, which is ideal for those that care about the aesthetic. Plus, it just makes building much easier.
Side-Mounted Cooling
A second bonus that comes with the dual-chamber design is the ability to side mount a cooler or fans. This is a feature that we haven't seen before from NZXT due to the nature of their chassis types, but now you can maximise airflow through a side-mounted radiator or set of fans.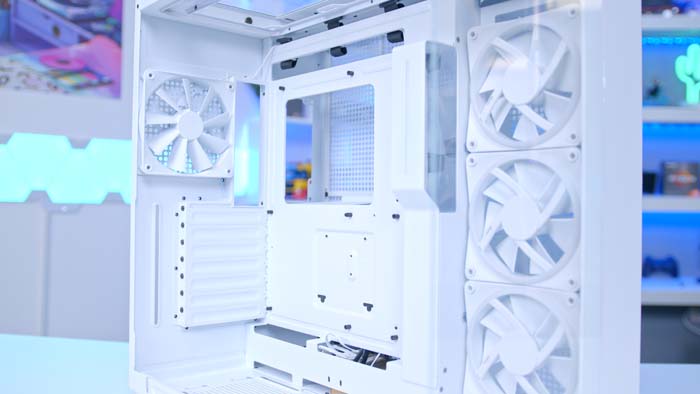 Fan & Radiator Options
The NZXT H9 Elite has a vast amount of support for a variety of fans and radiators. We've created a table below that covers all of the cooling and fan mounting options.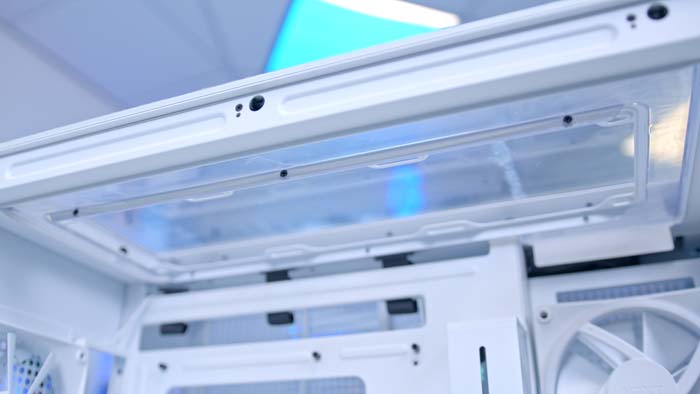 | | | |
| --- | --- | --- |
| Position | Radiators | Fans |
| Side | Up to 360mm | 3x 120mm |
| Top | Up to 360mm | 3x 120mm/2x 140mm |
| Bottom | Up to 360mm | 3x 120mm/2x 140mm |
| Rear | Up to 120mm | 1x 120mm |
NZXT Cam Controller
The NZXT H9 Elite comes with an included Cam controller that allows consumers to monitor system information, control fans, and RGB lighting. This can all be done through the NZXTCam software, which can be found on NZXT's website.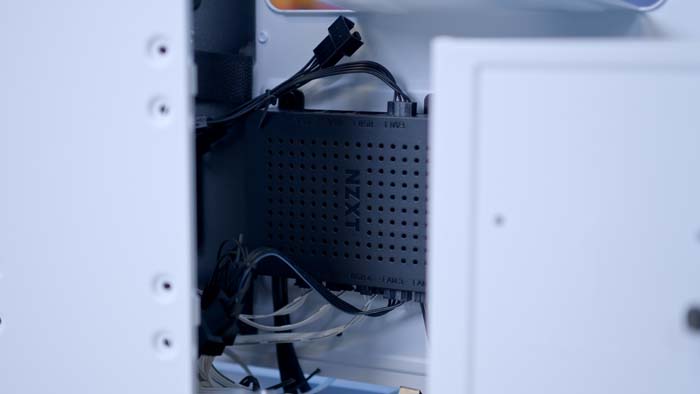 Pre-Installed RGB Fans
The final standout feature(s) of this case are the three pre-installed 120mm RGB Duo fans. The fans are double sided and sport a ring of RGB around the fan which look incredibly vibrant. This can all be configured and synced up with any other NZXT products using their NZXTCam software detailed above.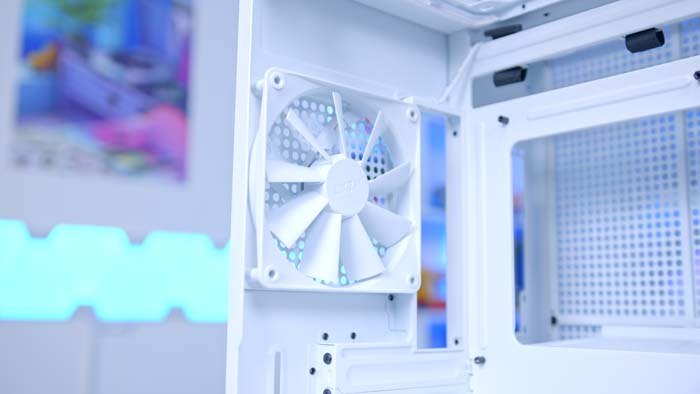 Conclusion
NZXT H9 Elite
Features

Design

Versatility

Value For Money
Summary
NZXT's H9 Elite is a very familiar but sleek and sophisticated chassis. The seamless wrap-around glass provides an unhindered window into your build, showing off all of your components in all of their glory. Alongside the awesome aesthetic, NZXT seem to have alleviated their previous model's ventilation and airflow problems by creating a fully perforated side panel, and a dual-chambered design which gives users better options for cooling. When comparing to similar options on the market, I'd argue that the H9 Elite is relatively competitive. NZXT's newest case sits at a somewhat similar price to HYTE's renowned Y60 with features differing slightly between them (such as the included PCI-E riser cable that comes with the Y60). Overall, I think NZXT have done a very good job with the H9 Elite, and although this case is expensive, there are effectively no other manufacturers that offer such a unique design at this price point. I do think NZXT could have been more consumer-friendly by providing a more modular chassis, but I'll settle for the excellent option that they've provided!
Pros
✅ Chassis looks incredibly sophisticated.
✅ Huge amount of options when it comes to cooling and airflow.
✅ Wrap-around glass looks awesome.
Cons
❌ Quite expensive.
❌ No option for a ventilated top-panel.
❌ Not ideal for those with messy cable management.