Introduction
Its time again for another CPU launch, and this time it's Intel's turn! Following a barrage of new AMD Ryzen 7000 processors just a couple of weeks ago, the competition in the CPU market looks to be hotting up to a whole new level. Team Blue decided to announce their new CPUs the exact same day that AMD launched their new AM5 platform (a sneaky move!), and we've been excited to get hands on ever since. These CPUs have been long awaited by consumers, and look to provide both a solid increase in performance over Intel 12th-gen, and an answer to AMD's strong Ryzen 7000 launch.
In today's review, we're going to take a look at Intel's brand new Core i7 13700K. With an strong number of cores (as many as last gen's i9!) and a fast 5.4GHz boost clock out of the box, Intel is not pulling punches this time around. So how well does Raptor Lake perform? Let's take a look!
Buy the Intel Core i7 13700K on:
Suggested Article: How to Build an Amazing Intel Core i7 13700K Gaming PC in 2022!
Intel 13th Gen 'Raptor Lake' Architecture
Back in November last year, Intel took back the performance crown from AMD after a number of culminated losses from the 10th and 11th gen CPU launches. Alder Lake was the proverbial bucket that kept the ship from sinking with a re-worked 10nm process giving Intel the opportunity to sport higher clock rates and better power consumption.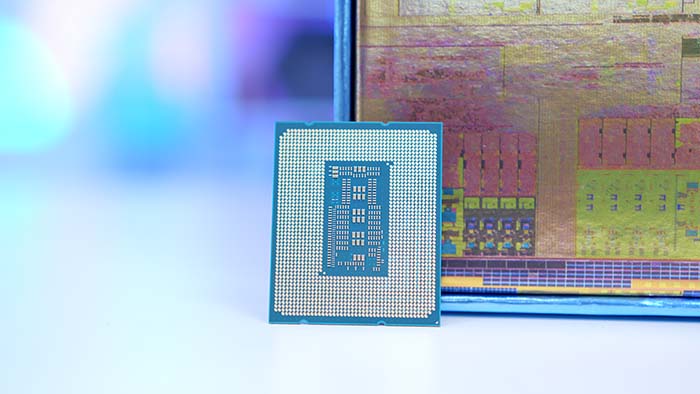 Raptor Lake is a refined version of this very same process, pairing the process node with revamped x86 architecture, which means that the new CPUs will be combining high performance cores with high efficiency cores. The Core i7 13700K, this CPU has seen a significant boost in the amount of cores, with a bump up to 16 in total, which is four more than the previous model i7 12700K. The entire range of 13th gen CPUs has been given a big bump when it comes to cores and clock speeds, which will be one of the main factors in just how well how they perform versus AMD's Ryzen 7000 CPUs.
The Intel Core i7 13700K sits on par (in terms of market positioning) with the Ryzen 7 7700X, which offers incredible single-threaded performance. This is particularly important to note as single-threaded performance is often the main driver of CPU performance within games.
The remainder of the Raptor Lake architecture is relatively similar to that of its 12th Gen predecessor. You still get access to all of the new generation of features such as PCI-E 5.0 and DDR5 support, but Intel has decided to still preserve DDR4 compatibility for the cheaper motherboard options out there. The new CPUs are also compatible with the current 600-series motherboard chipsets (Z690, B660, H670, H610), but there are new options offering better connectivity with support for newer features on cheaper boards. But as we've found with many of our reviews, this can be a bit hit and miss with some options.
The Intel 13th gen range looks very promising, and we're excited to show off the performance and power of these new processors. It seems Intel are not pulling any punches with this launch, and it appears AMD's crown might be stolen once again by Team Blue.
Do I Need To Worry About a Socket Change?
The short answer to this question – No! For users with a 12th Gen motherboard looking to upgrade, with a BIOS update you can upgrade to Intel's 13th gen CPUs. Intel hasn't changed their socket between 12th and 13th Gen, so all of the cooler mounting is exactly the same. It should be as simple as installing the new CPU and updating your BIOS, but double check that your board is definitely supported just to be safe.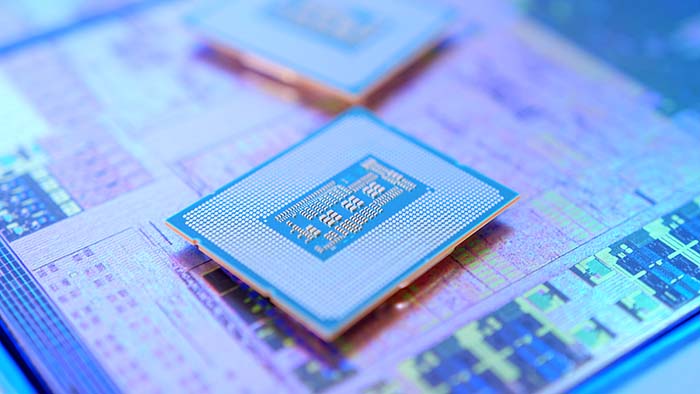 We've put together a roundup of the best CPU Coolers for the latest 13th-Gen CPUs:
I'd like to note as well, that although we've still got access to the LGA1700 socket on 13th Gen, don't expect this to be the same for a potential Intel 14th Gen launch. Intel tend to discontinue a socket after two generations, so upgrade paths will unfortunately be locked behind this LGA1700 socket.
Intel Core i7 13700K Compatibility
Intel's Core i7 13700K is one of the second mid-range options available on the 13th Gen launch. If you're looking to pick up this CPU when it initially lands, we'd recommend pairing it up with one of Nvidia's 3070 or 3080 GPUs (dependent on the kind of system you're going for), or on the AMD side, an RX 6750XT or 6800XT will also be perfectly fine.
If you're upgrading your motherboard as well, the Z790 and Z690 chipsets would be our recommendation. The 'H#70' series chipsets are also a good option, but you unfortunately won't be able to overclock on these options. Although all of the 600 and 700 series motherboards are compatible, the 13700K is more suited to a higher-end motherboard based on its overclocking capability and performance. For those looking to push the new 13th Gen CPUs past the 6GHz boundary, you'll need a motherboard with an ample amount of VRMs and cooling to achieve this.
600/700 Series Chipsets
Compatible?
Do We Recommend?
Z790
✅
✅
Z690
✅
(with a BIOS update)
✅
H770
✅
✅
H670
✅
(with a BIOS update)
✅
B760
✅
❌
B660
✅
(with a BIOS update)
❌
H710
✅
❌
H610
✅
(with a BIOS update)
❌
Intel Core i7 13700K Benchmarks
Now for the section you've all been waiting for – benchmarking. We test every component using a rigorous methodology to determine how each part performs. Graphics cards and CPUs are put up against a variety of games and synthetic benchmarks to see how they perform. We use current triple A titles, along with benchmarks like 3D Mark's Time-Spy and Cinebench R23 to gauge what single and multithreaded performance is like. You can find all of the benchmarking runs that we conduct on our YouTube channel – 'Benched'.
Core i7 13700K – Cinebench
In Cinebench R23, we were a little taken aback by the performance achieved. Keep in mind that the Core i7 13700K is more of a mid-range offering, sitting below the i9 13900K (and AMD's respective Ryzen 9000 chips). Multithreaded benchmarking scores were incredibly strong, with the 13700K beating out AMD's new Ryzen 9 7900X!
This score of over 30,000 arguably eats into the i9's target market in some respects – but there's no complaints for us on the front! Perhaps Intel had foreseen AMD's Ryzen 7 chips performing better than they did, but whatever the motivation, performance is top-tier.
Multithreaded Results: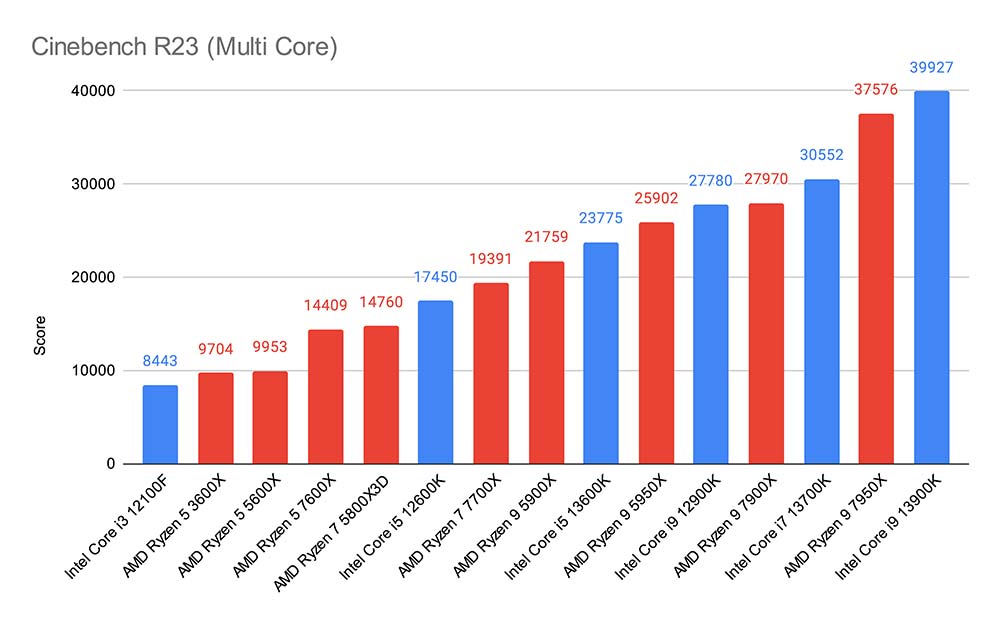 Single threaded performance shared a similar story, with the 13700K again outperforming all other options bar the 7950X (which is quite literally the top option in the new Ryzen 7000 range). The fact that the 13700K is able to hold its own against an option that is nearly double the price on an alternative platform is utterly insane. This demonstrates just how capable the 13700K is, making it an excellent CPU to pick up for a workstation PC as well as a powerful gaming system.
Single Threaded Results: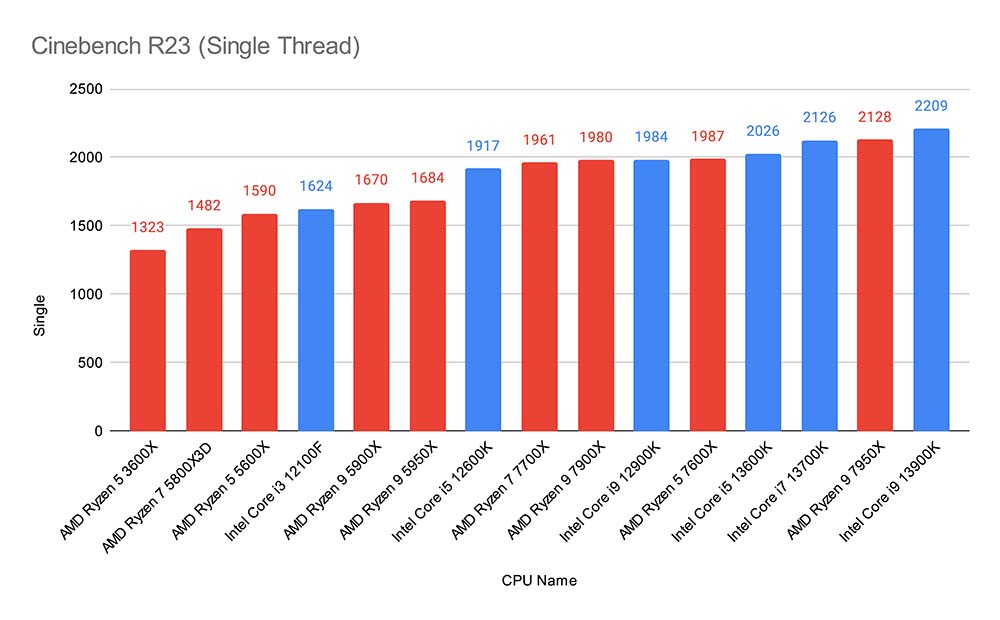 Core i7 13700K – CPU Profile
The 3D Mark CPU profile benchmark is designed to stress the CPU with a variety of different thread configurations, starting from one and two for single threaded performance, and ending with the most amount of threads possible. In this benchmark, we were a bit taken aback by the results. The 13700K positioned itself between the Core i9 12900K, and the Ryzen 9 7900X. This was interesting to see, because this means that the 13700K might be a more worthy buy based on its higher threaded capability than the 12900K. The fact that the 13700K was able to sit relatively on par with these two top-end titans goes to show how capable the 13th-Gen CPUs are under load.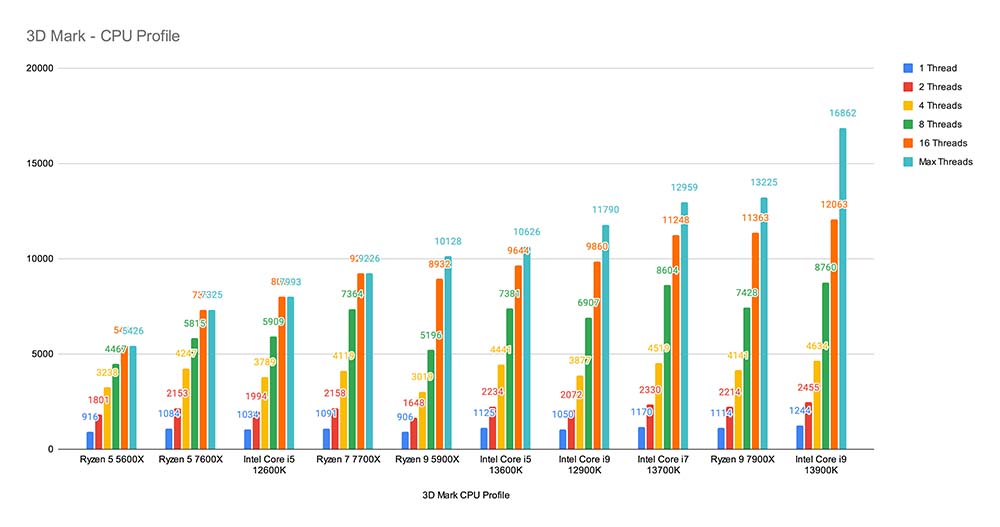 Core i7 13700K – 3D Mark Timespy and Firestrike
Both of the 3D Mark Timespy and Firestrike benchmarks simulate the equivalent of a game testing out both your graphics card and CPU. In this instance, we ran the Timespy Extreme and standard Firestrike benchmarks, which tests out your components at 4K and 1080P respectively. In Timespy, the 13700K returned an impressive result, but couldn't quite keep up with i9 or Ryzen 9 choices.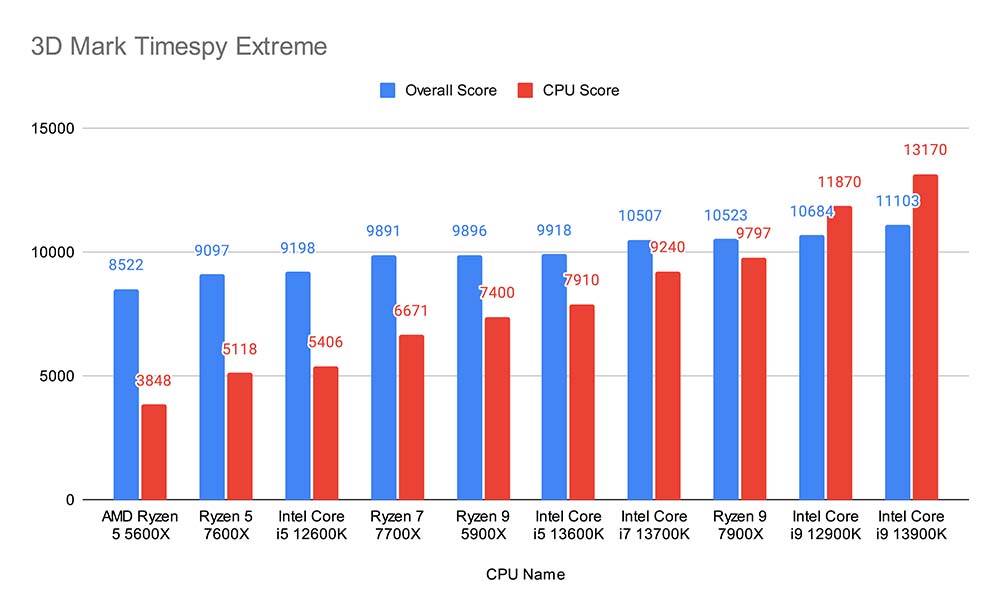 In 3D Mark's Firestrike at 1080P, the 13700K came back with a vengeance, sitting near the top of our chart with the second highest CPU score out of the bunch. We're not surprised at this point, but definitely impressed with the result here. At 1080P, the 13700K was able to beat out the 7900X, and the 12900K, which is incredible performance wise.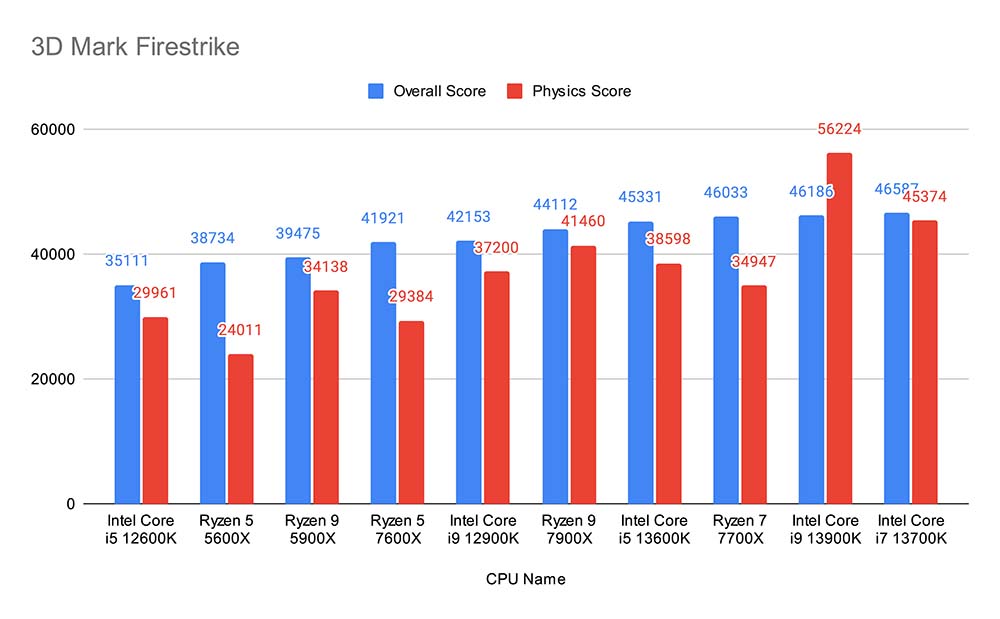 F1 2022
In F1 2022 at 4K with Ray-Tracing enabled, the 13700K performed relatively well with around 65 frames on average. I was expecting higher, but most of the performance that comes with this game will ultimately be locked behind your graphics card. The 13700K was still able to beat out many of the previous generation CPUs, and AMD's most recent Ryzen 7000 series.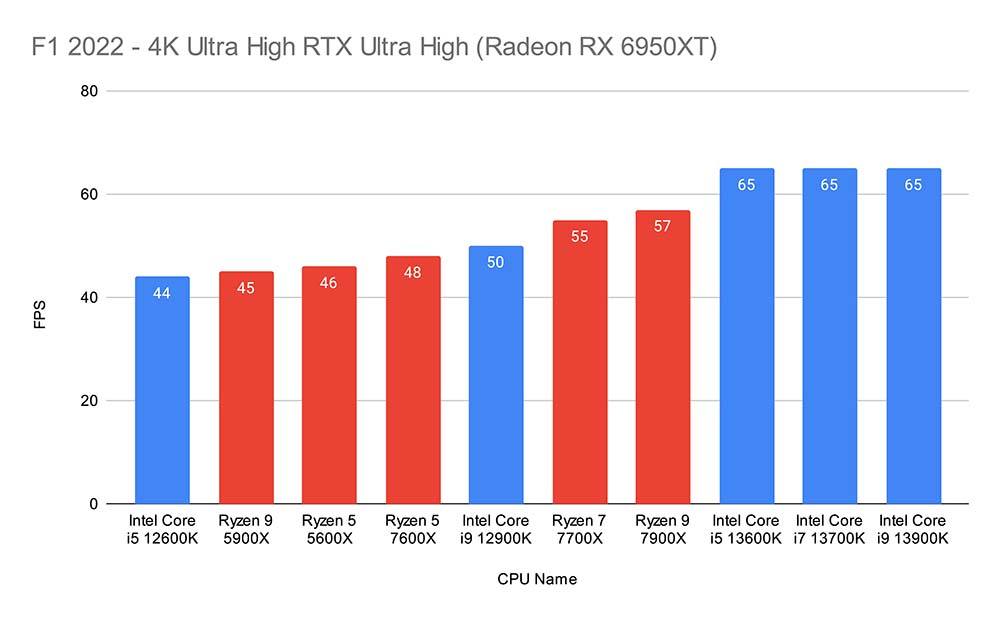 Battlefield 2042
In Battlefield 2042, the Core i7 13700K offered over 100FPS, maxing out at 103FPS on average. This is what we expected in this intense title, but it demonstrates how capable the 13700K is at a higher resolution. Again, performance here is locked behind your graphics card, but with DLSS enabled, I imagine framerates will skyrocket much further with this CPU.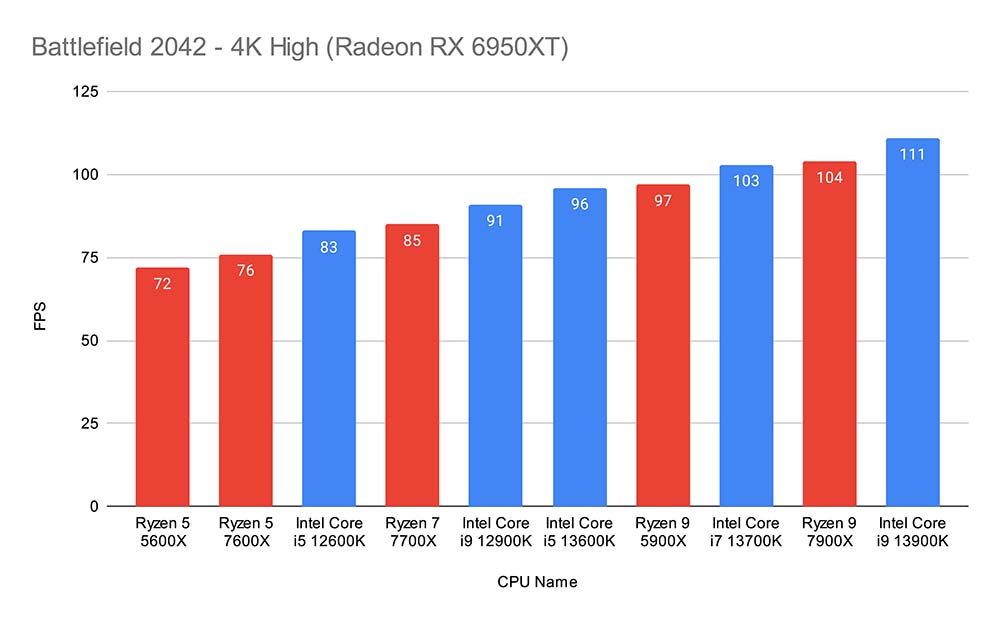 Apex Legends
In Apex Legends, we saw a very impressive framerate of 186FPS on average. Apex tends to be a relatively well optimised title, but at 4K there is still a significant overhead, and the 13700K seems to be dealing with this with no issues.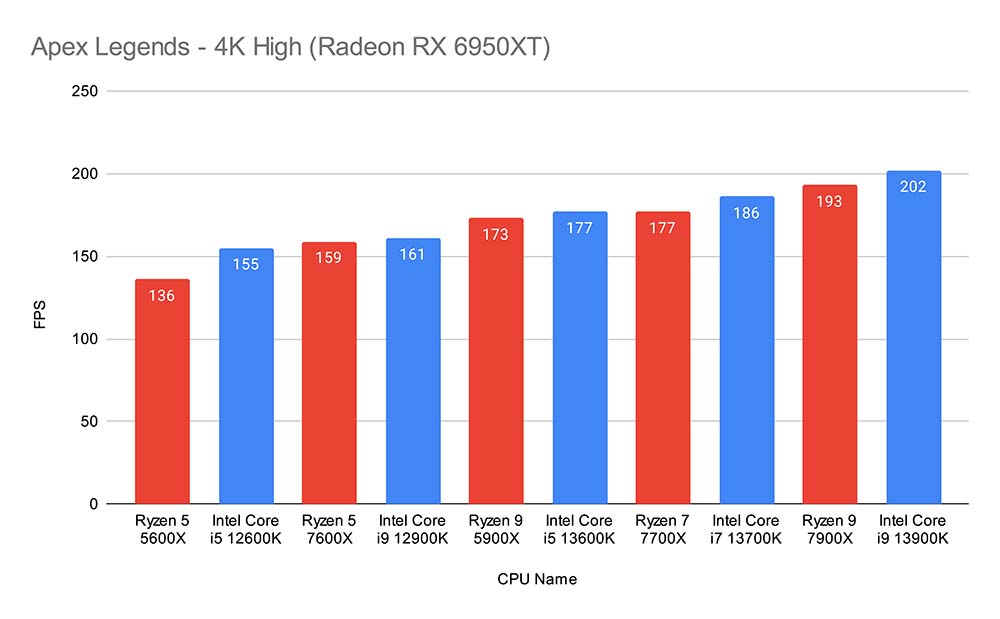 Marvel's Spiderman Remastered
And finally, in Spiderman Remastered we cranked up the settings to 4K, and let the 13700K fly. Other than the 13900K, this CPU managed to top the leaderboard reaching an average framerate of 111.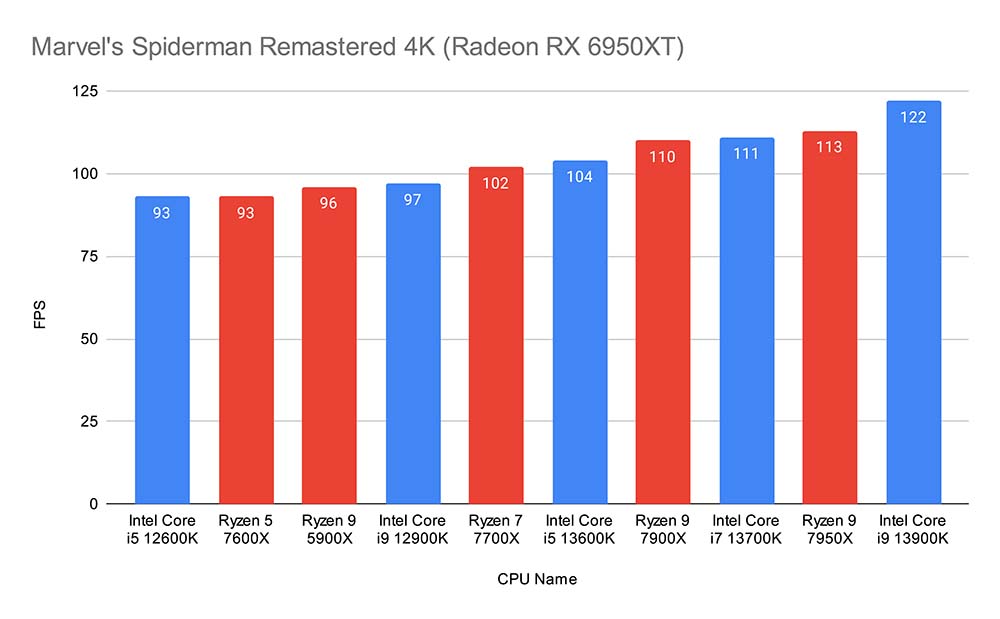 Conclusion
Intel Core i7 13700K
Product Name: Core i7 13700K
Brand: Intel
Features

Thermals

Performance

Value For Money
Summary
Intel's Core i7 13700K shows the immense power of the 13th-Gen architecture, staving off the competition in the form of AMD Ryzen 7000. This excellent processor offers up incredible performance metrics in multicore and single threaded benchmarks, making it perfect for heavier workstation applications. During our testing, we saw this CPU blow numerous other options out of the water when it comes to performance, and most of the time it sat on par (if not better), than one of AMD's top-end Ryzen 7000 CPUs, the 7900X. 4K metrics were also very strong, providing great performance in all of our benchmarks, while going even further at 1080p resolutions.
The Core i7 13700K is awesome when it comes to intense workloads, and is perfect for higher resolutions such as 1440P and 4K while gaming. Overall, if you're looking for a top-end processor offering a better price than the competition, the 13700K seems like a sure-fire purchase!
Pros
✅ Excellent price to performance metrics.
✅ Holds up well at 4K.
✅ Supported on previous gen motherboards.
Cons
❌ Offers similar performance to the 7900X at 4K.
❌ Slightly hotter than 12th-Gen options.
❌ Will need a motherboard with high power phases for overclocking.