Introduction
Here we are again with another brand new launch. It seems October has been a busy month for reviewers. We've had a massive range of product and component launches from a variety of manufacturers through our doors. Intel are finishing October with a bang as consumers are able to get their hands on all of the new 13th Gen CPUs, along with a plethora of Z790 boards, with more chipsets to follow next year.
We've been waiting in anticipation of these new CPUs, and now we can finally talk about how awesome they are. Meet the Core i5 13600K, an incredible mid-range processor boasting impressive specs, like a staggering 14 cores, 20 threads, and a boost clock of 5.1GHz. This is just a small taste of what the i5 13600K has on offer, and we'll covering all of the various features, including thermals and benchmarks later on in this article!
Buy the Intel Core i5 13600K on:
Suggested Article: Intel Core i5 13600K vs AMD Ryzen 5 7600X
Intel 13th Gen Architecture
Over the past five years, the gold standard of performance has swapped between the two major brands in the market – Intel and AMD. Intel retained the crown in the early days of Ryzen, but their 10th and 11th generation of CPUs struggled against AMD's more mature Ryzen offerings.
AMD sat on top with Ryzen 5000 for a short time, until Intel responded with their superb 12th Gen architecture, but then AMD hit back a few weeks ago with Ryzen 7000. That raises the question, is 13th Gen set to put Ryzen 700 to bed before the battle has even started?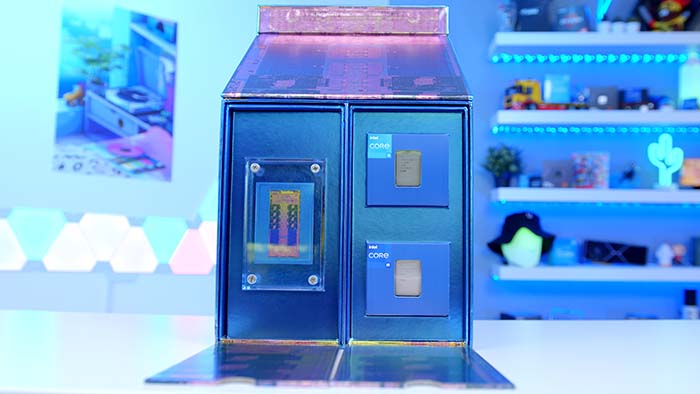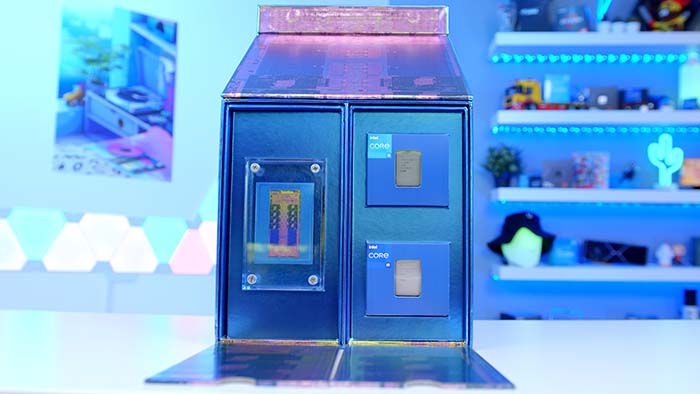 The Raptor Lake architecture is a refined and improved version of the 10nm process node that we saw on Intel 12th Gen processors. The re-worked process gives Intel the ability to put higher clock rates and more cores within the new CPUs. The Core i5 13600K has seen a nice boost in specs, with the boost clock speed leaping over the 5GHz mark to 5.1GHz on a single core. The 13600K has also received four more cores, bumping the total to 14, which should aid in the already spectacular multithreaded performance we saw from the 12600K.
The Intel Core i5 13600K offers similar specs and pricing to that of AMD's Ryzen 5 7600X, which offered surprisingly impressive single threaded performance. Single threaded performance is a particularly important area to look at, as this will ultimately affect how your CPU handles gaming.
The rest of the Raptor Lake architecture remains relatively similar to Intel's 12th Gen Alder Lake design. You've still got access to the new features that came with the 12th Gen upgrade, but motherboards are now seeing widespread PCI-E 5.0 inclusions, and even new USB 4/Thunderbolt 4 ports. All of this has come without any major price bumps, and retained support for more affordable DDR4 memory – an important note for the mainstream and budget builders out there.
Is There a Socket Change?
No, there isn't a socket change. 13th Gen uses the same LGA1700 socket as 12th Gen. Intel has been continuing the same pattern for quite some time of having a platform that is supported for two generations. They then change the socket after the second CPU architecture, starting this cycle again. This means 14th Gen will more likely than not have a new socket design.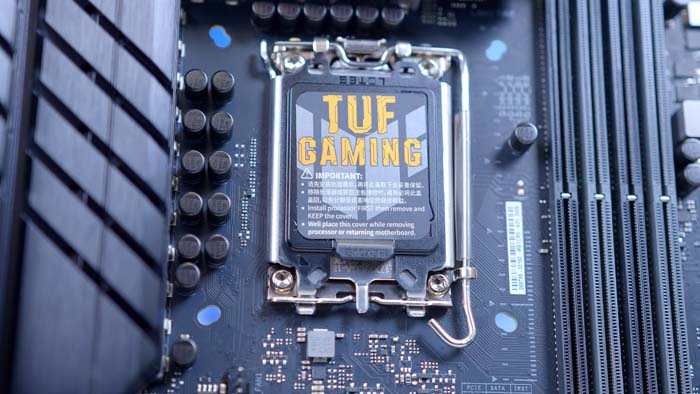 The bonus of Intel not changing the LGA1700 socket is that all of you 12th Gen motherboard users can pick up an Intel 13th Gen CPU, with only a BIOS update needed to make your existing board compatible. CPU coolers also remain compatible from generation to generation with this change, which is great to see. We've covered some of the best coolers to pick up for the new Intel 13th-Gen CPUs in a full roundup!
Intel Core i5 13600K Compatibility
Intel's Core i5 13600K is their main mid-range option available at launch, along with the 'KF' SKU which has the same specs, but no integrated graphics. Although the Core i5 13600K does have graphics alongside, we'd recommend pairing this CPU up with a dedicated GPU such as a 3060Ti or one of the 3070 SKUs from Nvidia. Or on the AMD side, a 6650XT or 6750XT would be an excellent option to play titles at 1440P.
On the motherboard side, the world is effectively your oyster in this scenario. The Core i5 13600K is positioned more in the mid-range market, but all of the chipsets we've recommended in the table below have many offerings geared towards the 'middle of the road' approach when building a gaming PC. For this reason, a Z790 or B760 motherboard (when they release) will be a great choice. Alternatively, if you've already got a 12th Gen motherboard, you can still upgrade to this CPU with a BIOS update.
600/700 Series Chipsets
Compatible?
Do We Recommend?
Z790
✅
✅
Z690
✅
(with a BIOS update)
✅
H770
✅
✅
H670
✅
(with a BIOS update)
✅
B760
✅
✅
B660
✅
(with a BIOS update)
✅
H710
✅
❌
H610
✅
(with a BIOS update)
❌
Intel Core i5 13600K Thermals
Before we get onto the benchmarks, we'd first like to briefly talk about the thermals. The Core i5 13600K was perfectly acceptable in terms of thermals, especially when playing games where we hit around 67 degrees Celsius on average, with maximum temperatures of 76 degrees Celsius. This is about what we'd expect for a mid-range CPU with this amount of cores. Although it does run slightly hotter than the Intel 12th-Gen models, the temperatures that we reached weren't hitting any dangerous levels. As long as you have a decent air or liquid CPU cooler, the 13600K should maintain a normal temperature below 80 degrees or so.
Intel Core i5 13600K Benchmarks
Now for the most important section of this article – benchmarks! All of the components that we receive are put through the wringer, with a variety of benchmarks from triple A games to synthetic benchmarks that provide single threaded and multithreaded results. All of these benchmarks give us a well-rounded view on how each CPU performs when it comes to workstation and gaming applications. You can also find all of our benchmarking runs on our very own YouTube channel – 'Benched', where you'll be able to see a variety of CPU and GPU benchmarks in popular gaming titles.
Intel Core i5 13600K – Cinebench
In Cinebench, the Core i5 13600K offered very promising performance, both in single and multithreaded benchmarks. In our multicore benchmark, the 13600K was able to out perform AMD's previous Ryzen 9 5900X from the previous generation, alongside a bulk of other CPUs. The Ryzen 9 5900X and 5950X wore the performance crown before Intel's pioneering 12th-Gen CPUs, so to outperform these CPUs is definitely a triumph, especially with less cores, less threads, and a lower price point. This means that the mid-range offerings might be suitable for heavier workloads if you're looking to build a workstation PC.
Our single threaded benchmark offered equally impressive results, with the 13600K outperforming the Ryzen 5 7600X and the Core i9 12900K. This is likely due to the higher clock speed, but we were still taken aback. These new 13th-Gen processors are extremely impressive, and the single threaded performance is a good indicator of how the 13600K will perform within games.
Single Threaded Results: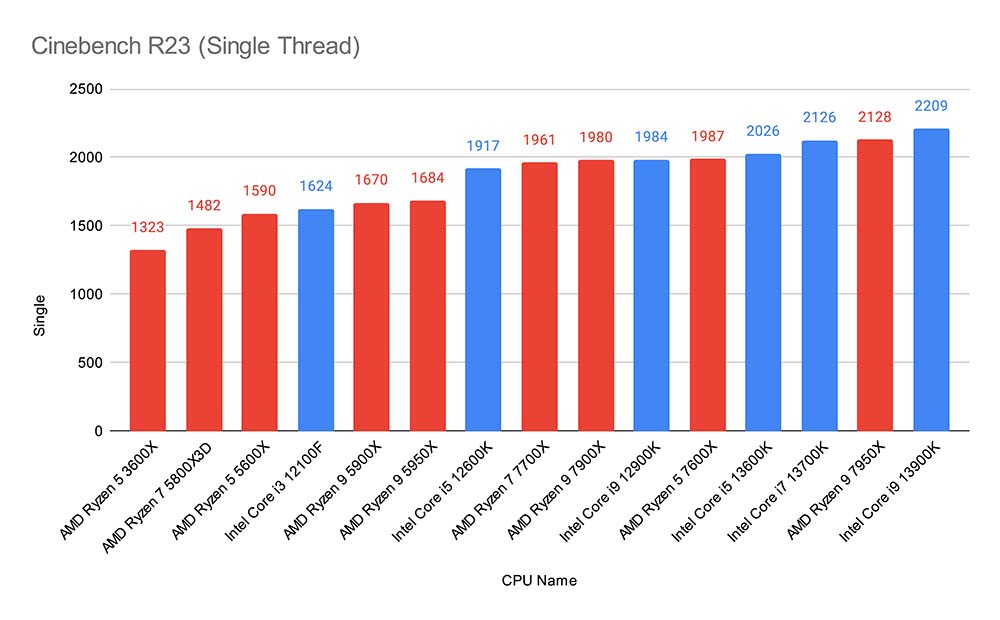 Multithreaded Results: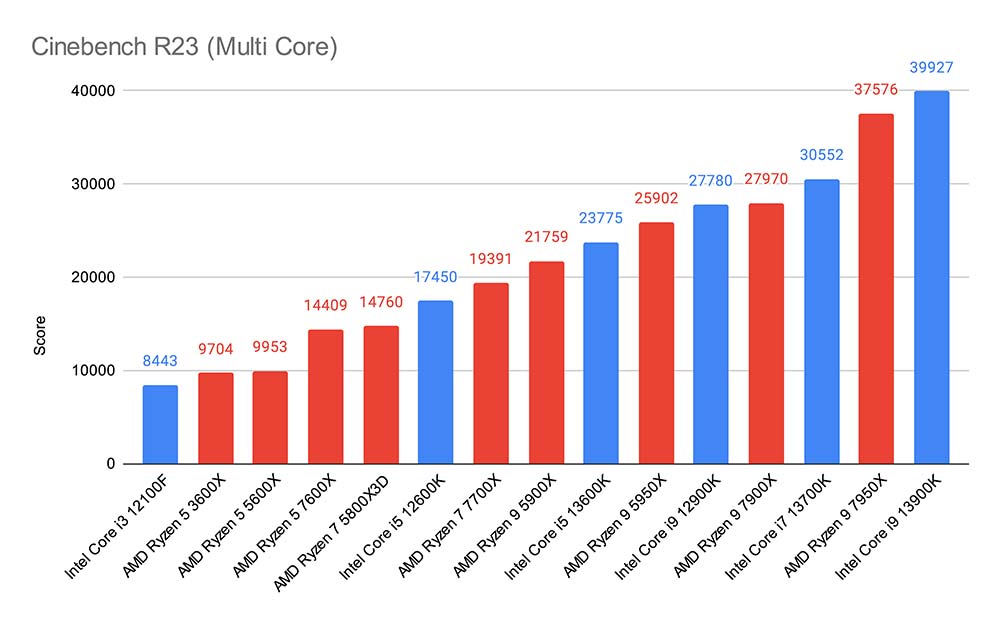 Intel Core i5 13600K – CPU Profile
In our CPU profile benchmark, we tested the 13600K at various different thread configurations to see what kind of score we could reach. Overall, we were pretty impressed with the result and the 13600K sat where we thought it would, which was just slightly before the 12900K and above the 5900X. The multithreaded performance was very impressive topping out at 10626, while the single core performance was better than the 12900K and a range of other CPUs.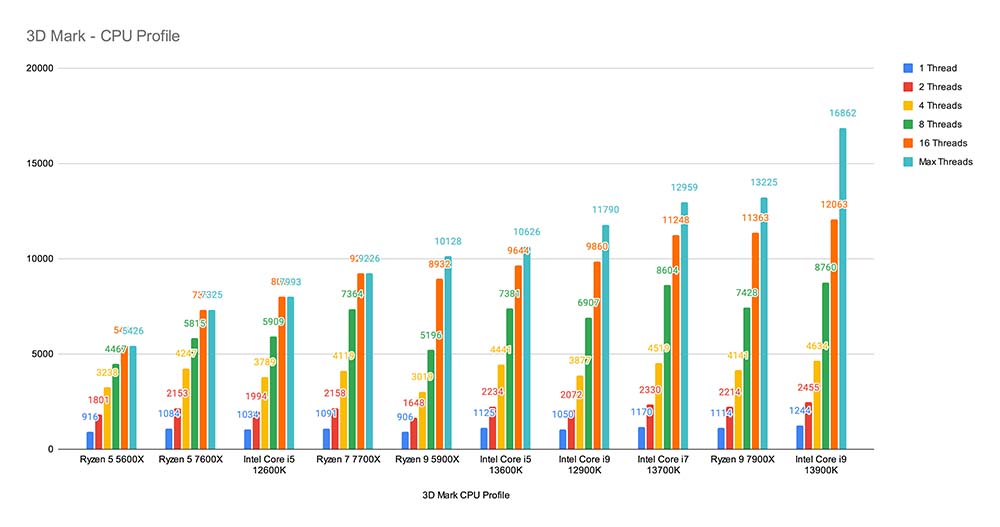 All of the other benchmarks in between were similarly impressive, with the 13600K consistently outperforming the 12900K and and the Ryzen 9 7900X in certain instances.
Intel Core i5 13600K – Timespy and Firestrike
3D Mark's Timespy and Firestrike test the graphical and CPU capability with a gaming-style benchmark. We used the extreme version of Timespy to test the 13600K at 4K, and normal Firestrike for 1080P. Admittedly, the results we achieved were impressive, but expected. The 13600K isn't designed for 4K so its final score slotted in between the 13700K and the 5900X (which have more cores than the 13600K). This is where we expected the 13600K to lie in terms of its results, but being able to outperform the 5900X was still a significant feat.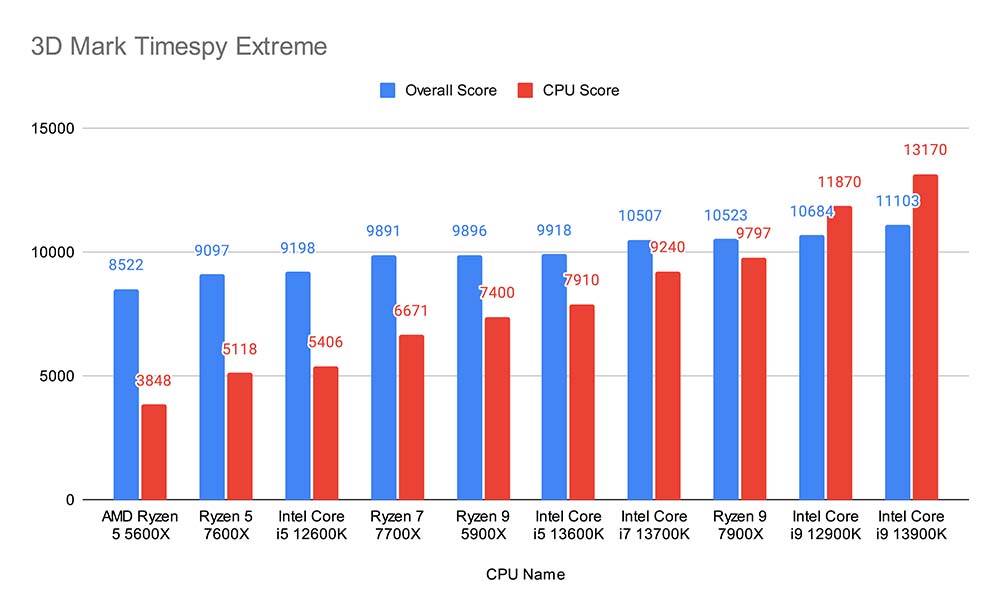 In Firestrike, the 13600K achieved an excellent result of 38598 for its physics score. At 1080P, this is where we'd expect this new CPU to score, and it didn't fail to impress. As a point of comparison, the 13600K was able to beat the Core i9 12900K, which is insane when you consider how many cores the previous generation i9 has. Regardless, the 13600K absolutely blew multiple CPUs out of the water here, and was relatively close to the performance metrics set by the Ryzen 9 7900X too.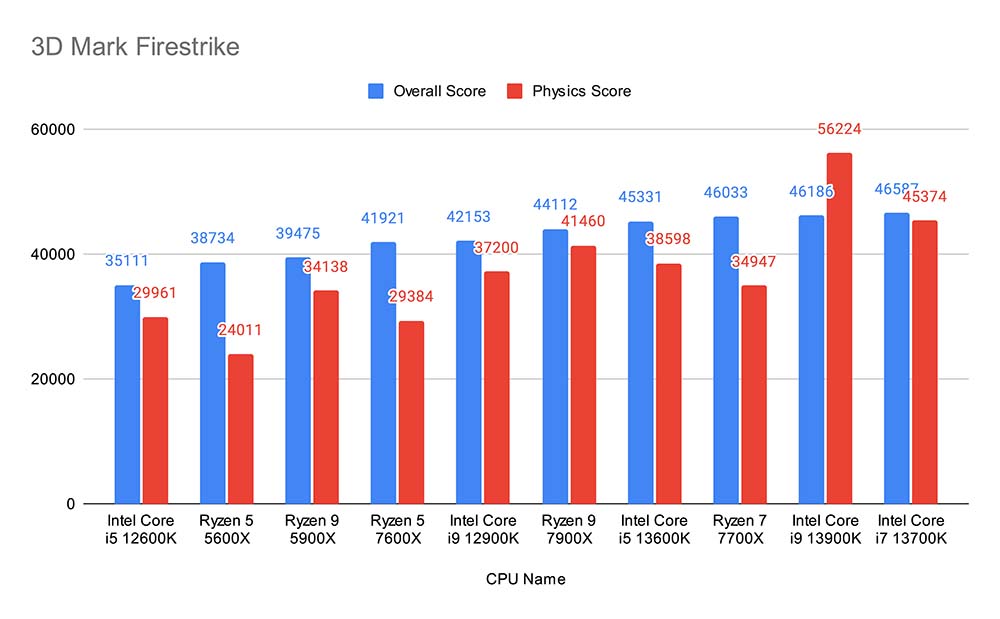 F1 2022
The first game we tested was F1 2022 at 1080P, and we were absolutely blown away by the performance here. F1 2022 tends to be a pretty intense game both on CPU and graphics, but the 13600K came out near the top, with an average framerate of 182FPS. The single core performance of the 13600K is very strong on this CPU, beating out the likes of the 12900K and 7900X, which explains why it did so well here!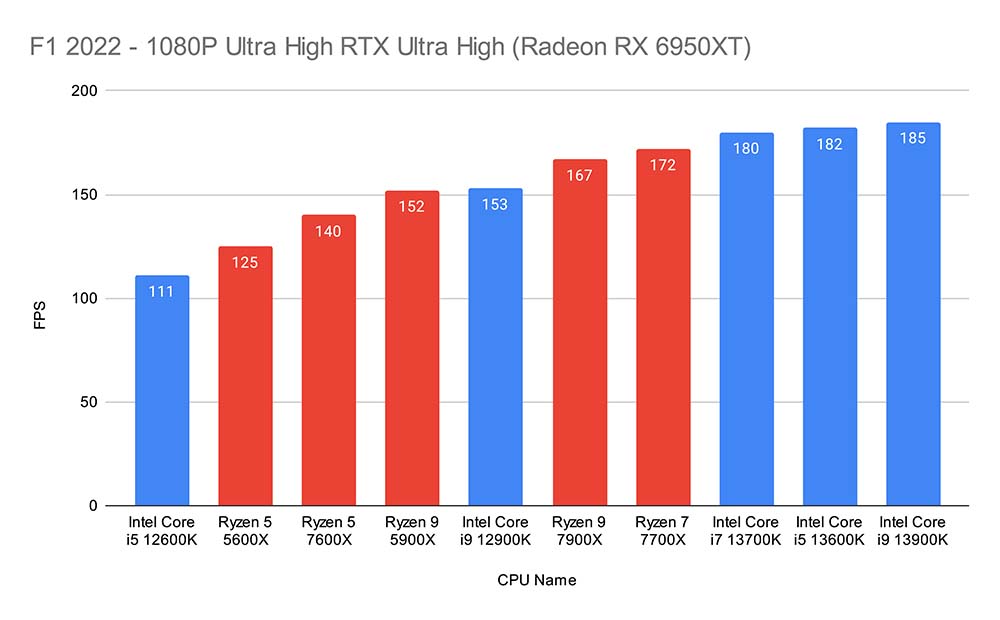 Battlefield 2042
In Battlefield 2042, the Core i5 13600K sat just below the 7600X and 7900X with a framerate of 181 on average. This was a very respectable framerate that is well above the 144Hz sweet spot giving us smooth movement on our display. The 13600K sat very close to AMD's latest Ryzen 7000 CPUs, which is a good indicator as to how good these CPUs are.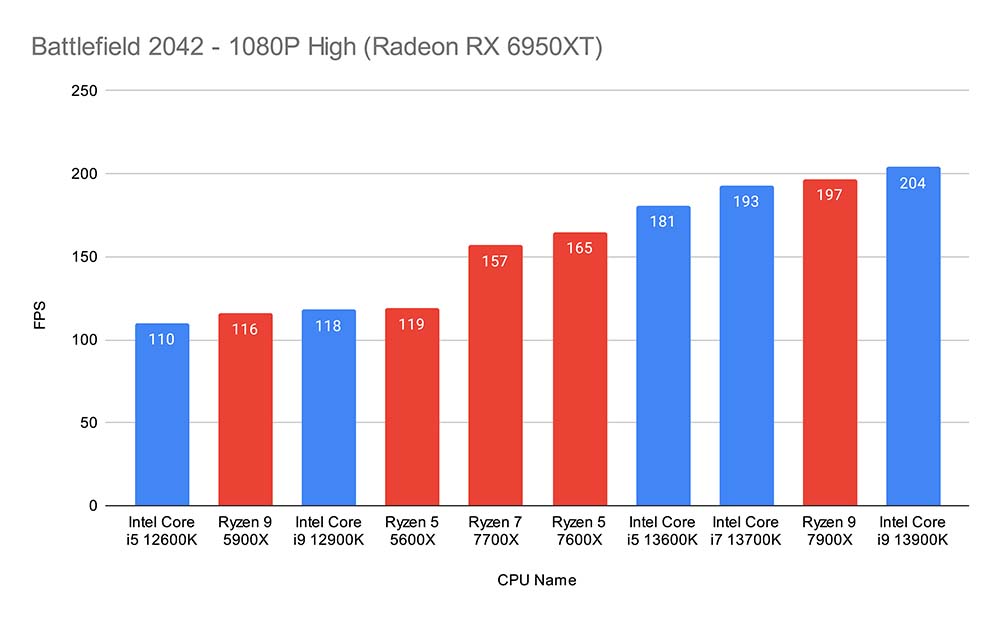 Apex Legends
In Apex Legends, the 13600K yet again neared the top of the leaderboards, offering up 281 frames on average, enough to give us a buttery smooth experience during the game. The other CPUs that beat out the 13600K were very close in terms of framerate, but at frames this high the difference would be negligible.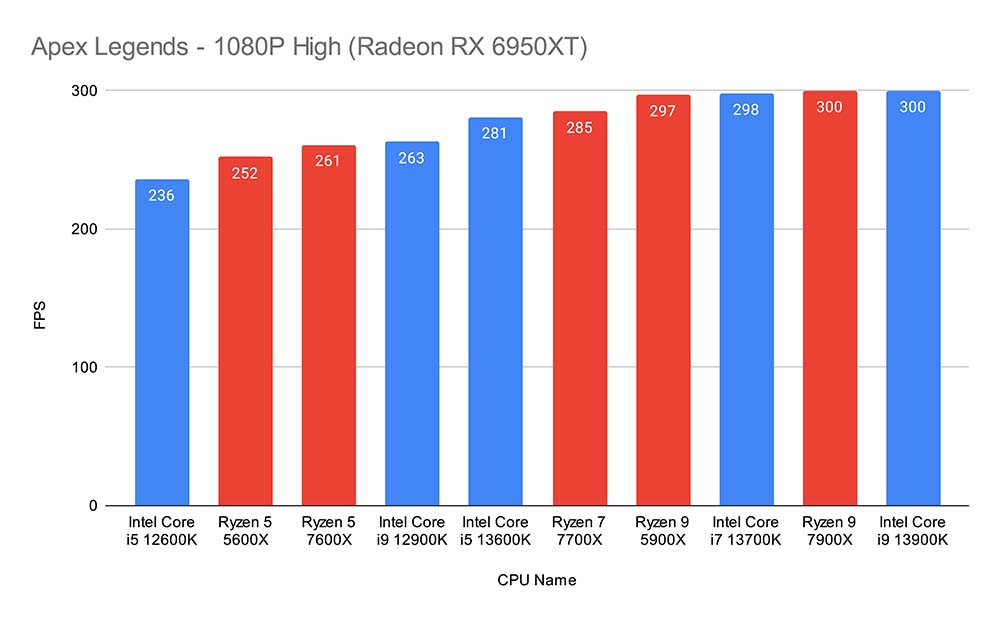 Marvel's Spiderman Remastered
And finally in Spiderman Remastered, the 13600K took its rightful place towards the top with an average framerate of 159. In this game, the 13600K further demonstrated how powerful it is when it comes to single core performance.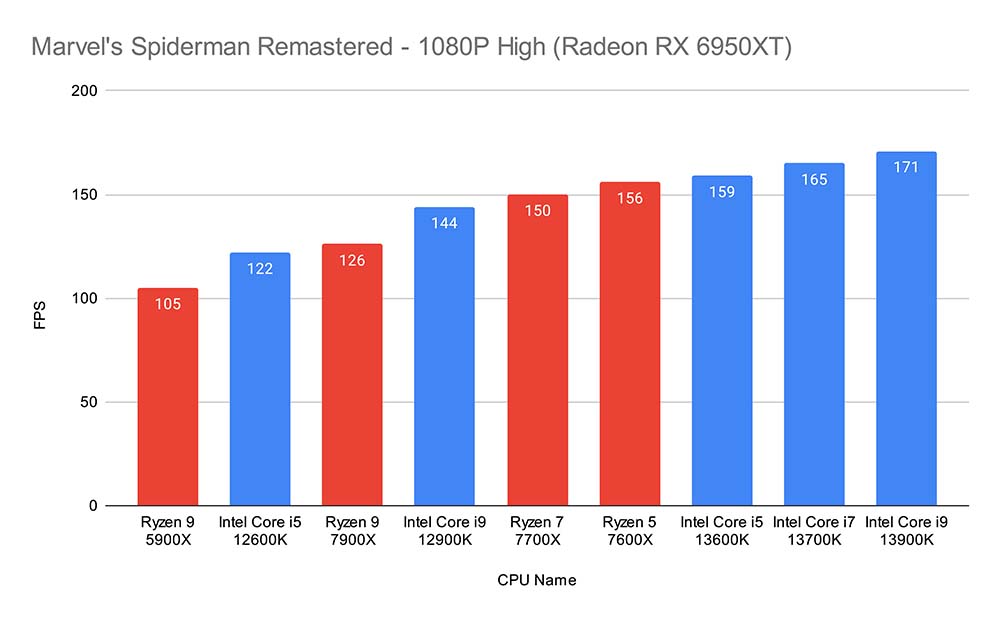 Conclusion
Intel Core i5 13600K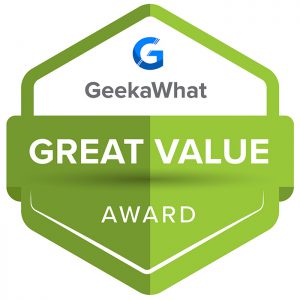 Product Name: Core i5 13600K
Brand: Intel
Features

Thermals

Performance

Value For Money
Summary
Intel's Core i5 13600K is finally here, and wow is this CPU incredible. Performance in single and multicore applications is very impressive, making this CPU viable for workstation applications, and gaming performance most of the time sits at the top of the leaderboards, outperforming AMD's latest Ryzen 7000 processors. Intel have somehow managed to create a new CPU that offers performance metrics that are much better than the previous generation while keeping prices down when compared to the competition. To top it off, the overall build cost of an Intel 13th-Gen CPU will be much cheaper compared to AMD's latest innovation thanks to the retained support for DDR4 memory and previous generation motherboards. Consumers looking to upgrade don't need to spend a fortune on building a new PC, and they can still get incredible performance at the mid-range budget tier. Overall, we're extremely happy with the 13600K, and would wholeheartedly recommend this CPU if you're wanting to build a powerful mid-range gaming PC!
Pros
✅ Incredible price to performance metrics.
✅ Overall build cost cheaper than Ryzen 7000.
✅ Supports 600 series motherboards.
Cons
❌ Doesn't outperform some Ryzen 7000 CPUs.
❌ Thermals slightly higher than 12th Gen.
❌ Doesn't handle well at 4K resolutions.