Introduction
The greatly anticipated RTX 4080 GPUs have arrived, after a somewhat turbulent reveal. With NVIDIA initially announcing both a 12GB and 16GB variant, before shelving the former, the latter 16GB model is now here. Having previously tested and reviewed the Founders Edition RTX 4080, now it's time for the first of the AIB cards we received here at Geeka HQ – Gigabyte's AORUS Master RTX 4080.
The AORUS Master SKU is a behemoth of a graphics card and one of many that Gigabyte offer. The AORUS Master model builds upon the solid base provided by the reference design and looks to bring Gigabyte's best air cooled 4080 model to market. With an additional fan, added RGB, LCD screen and improved clock speeds, the AORUS Master impresses on the surface, but will the additional bells and whistles help in the performance department?
With NVIDIA touting a $1200 or so MSRP for the reference model, we'd expect this card to sit that bit higher, in order to allow for the extra bits and pieces integrated into this mammoth cooler design.
Buy the AORUS Master RTX 4080 on:
Suggested Article: Nvidia GeForce RTX 4090 Review (Founders Edition Benchmarks)
Architecture
The new ADA Lovelace architecture launched with the RTX 4000 series cards, and brings with it a number of improvements to software and hardware capabilities. Both DLSS and Ray-Tracing technologies benefit greatly from the updated architecture, with the former now in its 3rd iteration, known as DLSS 3.0.
With its new name, DLSS also brings new tech, in the form of NVDIA Frame Generation. NVIDIA claim that this AI tech reconstructs three-fourths of the first frame using its super-resolution before then reconstructing the whole second frame using Frame Generation. In simpler terms, AI is constructing seven-eights of the total pixels shown on screen at any one time, impressive stuff!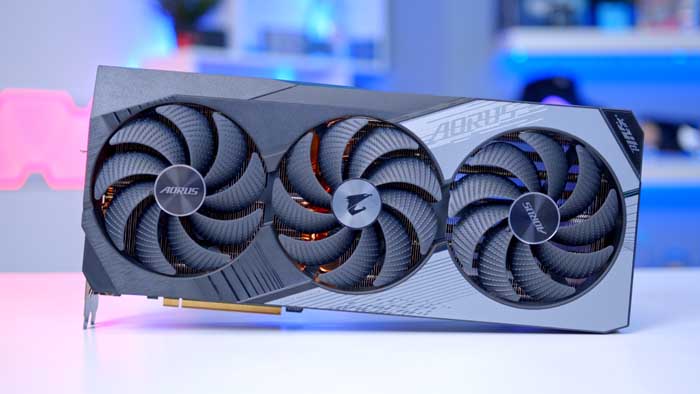 Better yet, DLSS 3.0's Frame Generation executes as a GPU post-process, enabling the 'AI network' to boost frames in CPU-bound scenarios. In instances where a game is limited or bottlenecked by the CPU, DLSS 3.0 allows for the GPU to render at up to twice the speed at which the CPU is capable.
Ray Tracing received a welcome boost too, with increases to both RT and Tensor cores. With these additions, Ray Tracing performance is at an all-time high, with much higher frame rates than previously seen before, without the associated loss of visual fidelity. The RTX 4080 excels in the Ray-Tracing department and it's great to see improvements to what has previously been a problem department for even the highest-end GPUs.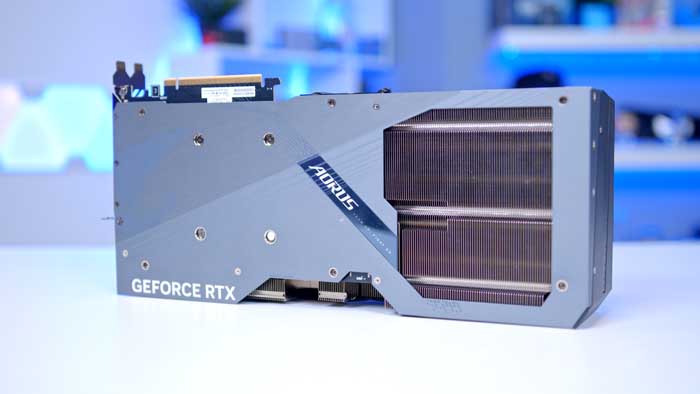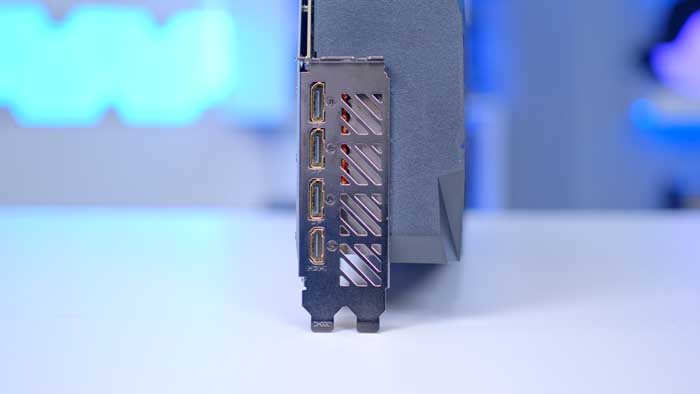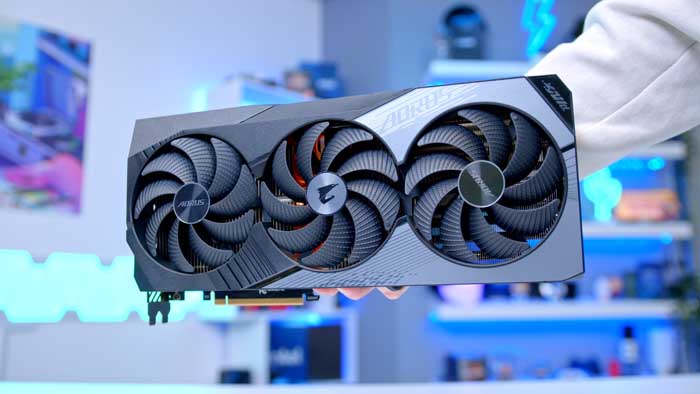 Specifications
The RTX 4080 looks good on a spec table, something which should translate well in the performance department later on. You can compare the AORUS RTX 4080 Master to the more pricey RTX 4090 and cheaper 3090 and 3080 SKUs below:
Spec
RTX 4090
AORUS MASTER RTX 4080
RTX 3090
RTX 3080
Video Memory
24GB GDDR6X
16GB GDDR6X
24GB GDDR6X
12GB/10GB GDDR6X
Memory Bus
384-bit
256-bit
384-bit
384-bit / 320-bit
Core Clock Speed
2.23GHz
TBC (GHz)
1.7GHz
1.26GHz / 1.44 GHz
Boost Clock Speed
2.52GHz
2.55GHz
1.4GHz
1.71Hz
CUDA Cores
16384
9728
10496
8960/9704
Power Consumption
450W
(Founders Edition)
TBC (W)
350W
(Founders Edition)
350W / 320
(Founders Edition)
RT Cores
3rd Generation
3rd Generation
2nd Generation
2nd Generation
Tensor Cores
4th Generation
4th Generation
3rd Generation
3rd Generation
PCI-E Generation
PCI-E Gen 4
PCI-E Gen 4
PCI-E Gen 4
PCI-E Gen 4
Design
The AORUS Master 4080 certainly delivers in the design department. The heatsinks are hefty, and while the whole thing feels massive, it works from the point of view of keeping temperatures low.
The GPU takes up 3 or 4 slots worth of space in a PC build, but only requires two PCI-E lanes at the rear. This will help with compatibility in smaller cases, but I would have still rather seen a three lane cover, this would aid with preventing GPU sag and the like.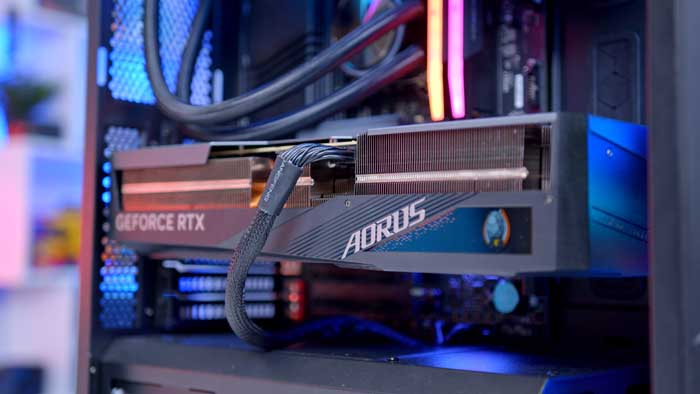 Size aside, and I think there are solid design choices for this GPU. The AORUS Master builds off of the solid base design laid down by the Nvidia reference board and somewhat earns its size. With a three-fan cooling system using Gigabytes' own 'Windforce' design, in addition to a higher clock speed than the Founders card, the AORUS Master makes much better use of its chassis.
The RGB design may be my favourite that I have seen yet, too. I myself am not huge on RGB for the sake of RGB but when executed in a way such as on the AORUS Master RTX 4080 I can't help but love it. A single LED is all that's required, placed on one fan blade per fan. The rotation of the fans spinning creates the illusion of the RGB ring running the complete circuit of each fan in a clean, minimalistic design, clever stuff!
An LCD screen is also featured on the side of the GPU, capable of showing thermal temps, custom GIFs and other RGB images. How useful this will be, will likely be down to the individual and whilst a feature that stands out against other designs it's certainly a nice to have rather than a necessity.
The addition of the PCI-E Gen5 connectors across the board has been a great quality-of-life change in my opinion. Various PSUs (Thermaltake's GF3 1350W, or Corsair's HX1000i) now offer the opportunity for one connector cable to run straight from Power Supply Unit (PSU) to GPU without the need for a multi-headed adapter cable.
Performance
Being a top-of-the-line SKU for Gigabyte, I expected big things from the AORUS Master RTX 4080, and big things it delivered.
It's been a running theme that all of the RTX 4000 series cards so far have provided massive jumps in performance over previous generation GPUs, and the AORUS Master is no different. We ran through a variety of games during testing, all at 4K High settings, and this GPU rarely, if ever, struggled to surpass 100FPS on average.
As previously mentioned, DLSS 3.0 has been a large factor in the uplift in performance, but as of now it's only available in select titles. This will expand over time, furthering the proposition of the 4080. Even with the lowly DLSS 2.0 enabled and RTX set to high, Gigabyte's AORUS Master RTX 4080 was still able to pull in excess of 120 FPS in F1 2022, further highlighting the gulf in class between itself and RTX 3000 series cards.
Thermals were also of no issue during our testing, with the AORUS Master temperature rarely exceeding 60 degrees, instead sitting at a cool 55 degrees on average. Gigabyte and NVIDIA by extension have seemingly made thermals a priority with the 4000 series GPUs and I'm personally yet to see a 4000 series GPU exceed 65 degrees, something that has previously been smashed by older generation cards.
We've provided some benchmarks below for a number of games so that you can see how the Gigabyte AORUS Master RTX 4080 performs both in terms of its thermals, as well as the kind of frames you can expect with an equivalent system. All of the benchmarks that we do can also be found on our YouTube channel Benched, which is where you'll find gameplay runs that use a variety of different CPUs and GPUs.
COD Warzone
COD Warzone was first up and showcased what the AORUS Master is all about. Cruising past 170 FPS consistently at 4K High settings with DLSS enabled, the AORUS Master came out of the blocks on fire. The gameplay was ultra smooth and paired with a 144Hz monitor made for a great experience, with minimal screen tearing and no major FPS drops. The AORUS Master RTX 4080 performing perfectly in the midst of battle.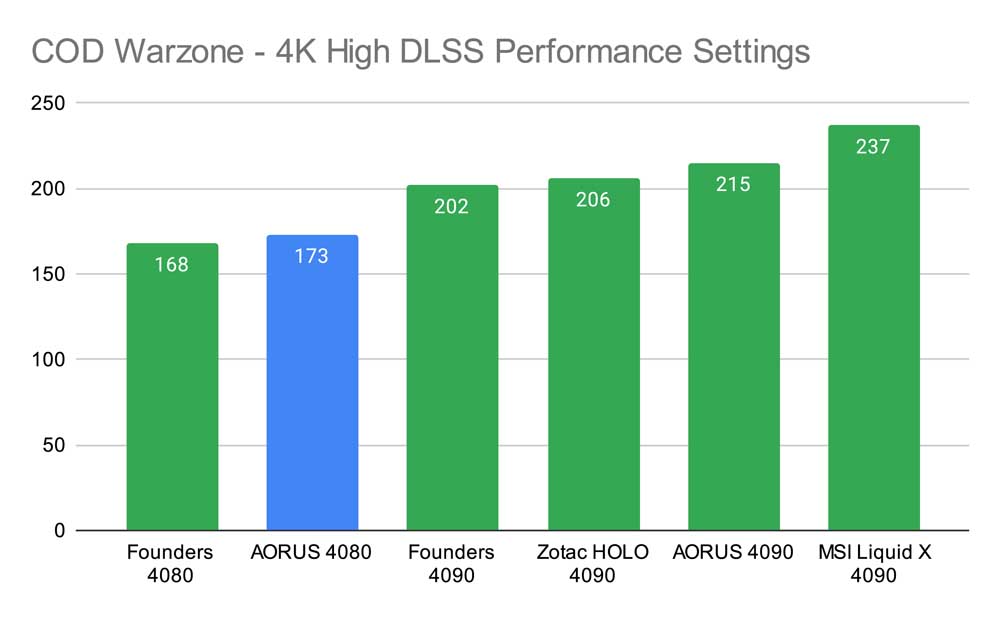 GTA V
A future classic, if not already, GTA V was tested next and the AORUS Master 4080 made lightwork of this too! Admittedly, one of the older titles on our list of games, but with the recent popularity of GTA roleplaying we thought it worthwhile a mention and with an average FPS of 168, you'll certainly be covered off.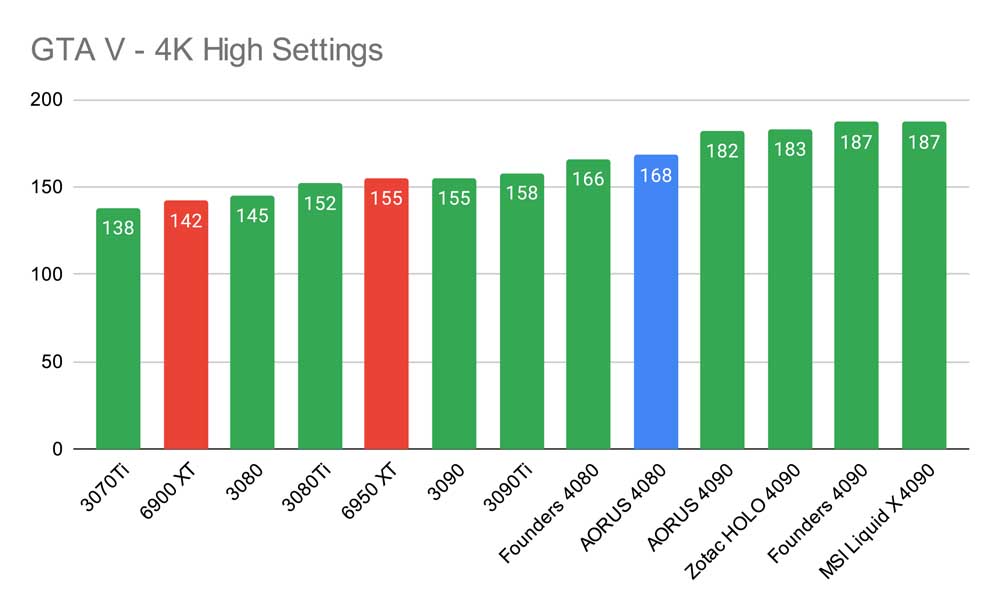 Fortnite
The ever-popular Fortnite was next up, and with the settings cranked to 1080p competitive settings we achieved in excess of 300 FPS. A game that will likely be around for many years to come, it was great to see the RTX 4080 putting up such competitive numbers, rivalling the AMD cards which have always performed strongly in Fortnite. Admittedly, the frames are overkill for most, but for Esports players out there who are looking to gain every frame possible, you wont find many better options.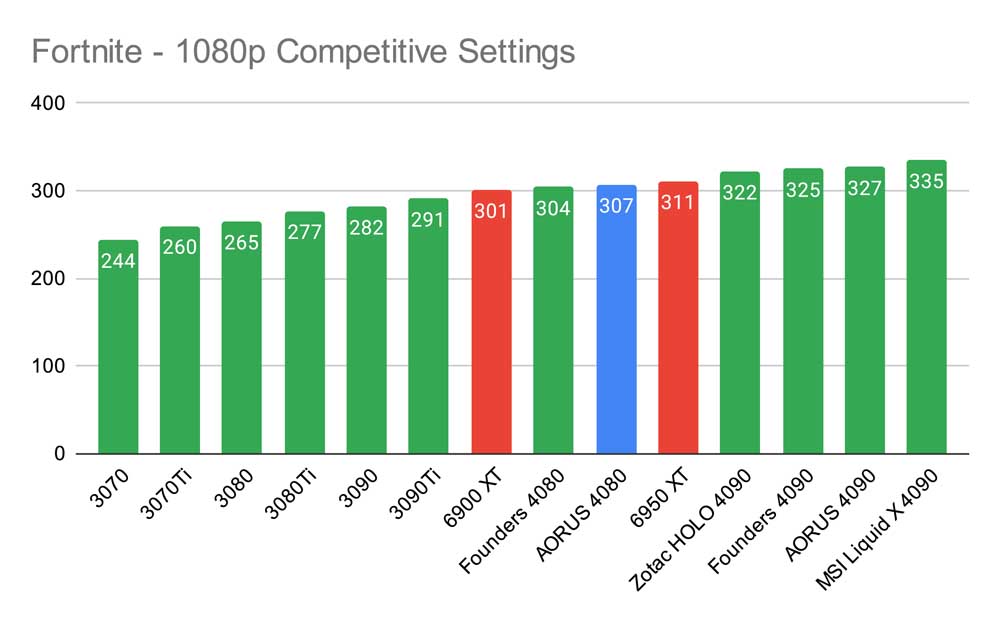 F1 2022
The first of our DLSS 3.0 titles tested was F1 2022 and as previously mentioned, it blew us away. Achieving an outstanding 178 FPS at 4K High settings with DLSS 3.0 enabled, with that number only dropping down to 154 FPS when we tuned up Ray Tracing to High. Again, Gigabyte's AORUS Master card continued to provide a very strong showing.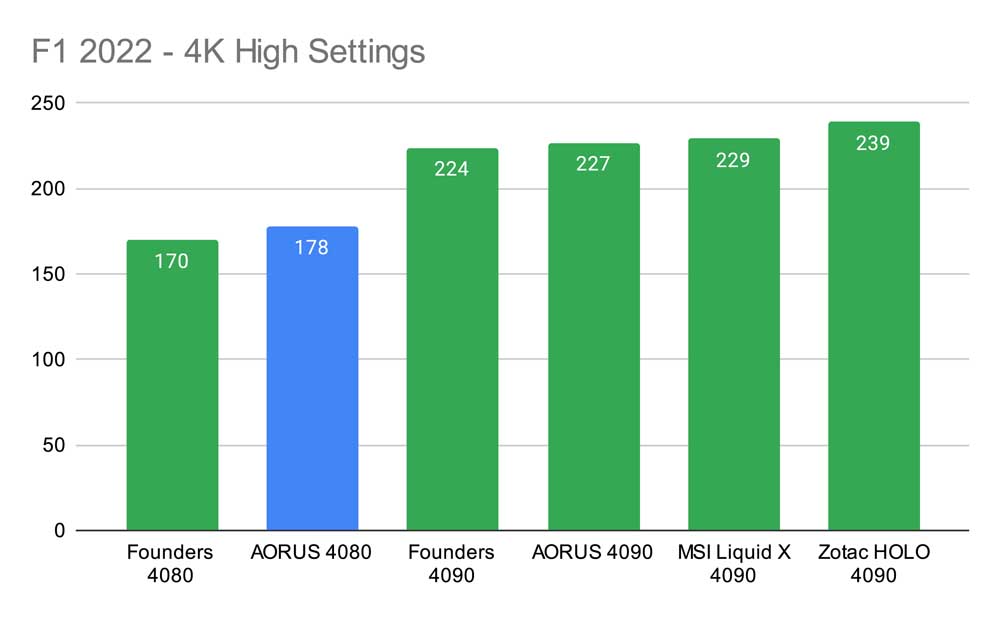 Marvel's Spiderman Remastered
Spiderman Remastered, a GPU-hungry game, was next on the list but the AORUS Master RTX 4080 made lightwork of this too. With DLSS 3.0 and RTX enabled, we reached a strong framerate of 118, and swinging through the streets of downtown New York proved to be of no issue for Gigabyte RTX 4080.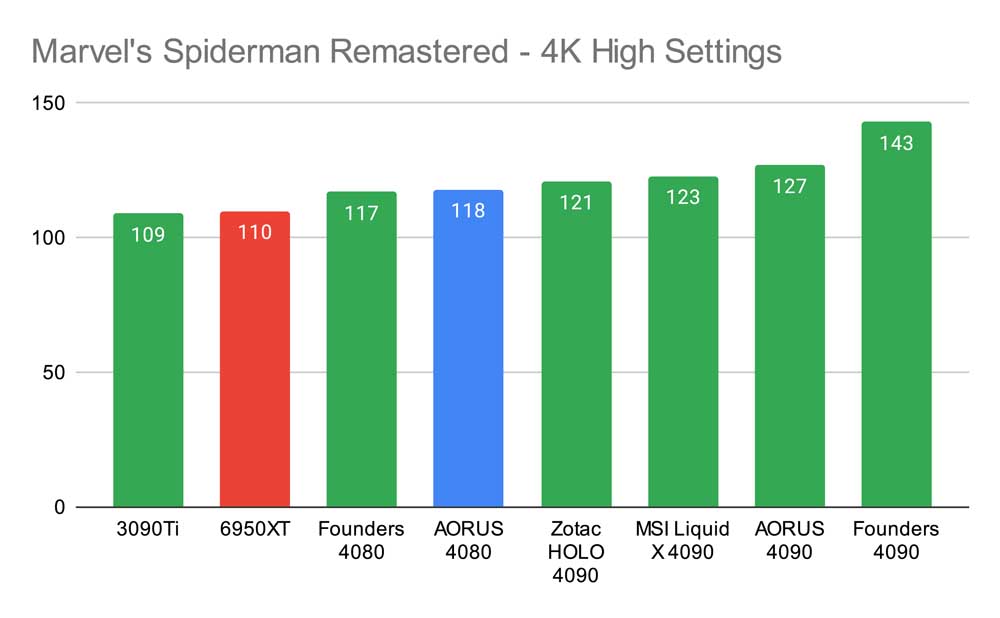 Cyberpunk 2077
In the historically poor performing Cyberpunk 2077, performance was actually no sweat for the AOURS Master RTX 4080. At 4K High with Ray Tracing dialled up to ultra, Gigabytes RTX 4080 averaged 120FPS, double the previous target for last-generation GPUs. In what feels like a turning point in Cyberpunk, with a current revival of their player base and better optimisation, the game has been given another chance and performance issues seem to be a thing of the past, on the 4000 series cards at least.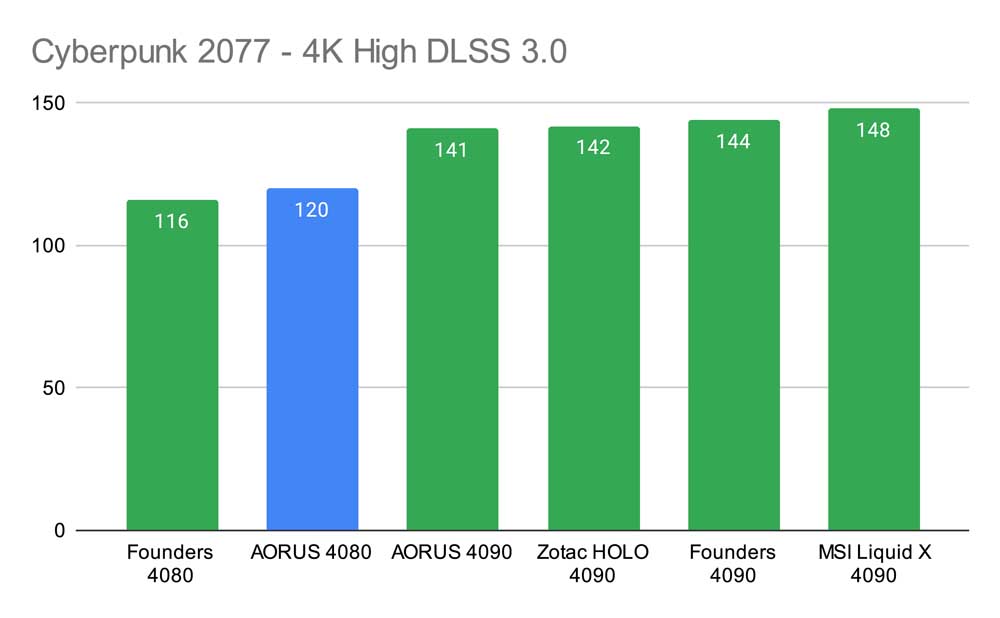 Conclusion
Gigabyte AORUS Master RTX 4080
Product Name: RTX 4080
Brand: Gigabyte
Features

Design

Performance

Value For Money
Summary
Gigabyte's AORUS Master RTX 4080 is a solid improvement on the base model Founders card released by NVIDIA and is definitely worthy of it plaudits. As seems to be the case with every recent GPU release, this card will not be for everyone. The overall price in addition to the size of the GPU likely requiring a new case will be enough to dissuade most but for those still interested, there is only one other option worth considering right now, the RTX 4090.
The RTX 4080 is again another mightily impressive card released by NVIDIA, further pushing the boundaries of what can now be considered the norm. It is worth remembering that not too long ago 4K High, with Ray Tracing, made 60FPS a near impossibility, let alone 120FPS plus. The AORUS Master is another solid release from Gigabyte, with some very sleek and efficient design choices coupled with a healthy performance upgrade over the Founders design.
Pros
✅ Strong performance at 4K with Ray-Tracing
✅ Minimalist RGB Fans are a sleek design choice
✅ Healthy performance upgrade over Founders model
Cons
❌ LCD screen potentially unused
❌ Cheaper models available
❌ Size will likely require a case upgrade