Introduction
The time has finally arrived. AMD is back in the CPU market with their latest Ryzen 7000 CPUs, following a near-two year wait since Ryzen 5000 first landed. There has been much anticipation with the wait for these CPUs, one we're glad is finally over.
AMD announced during their press conference back in August that the new CPUs would be built on the new AM5 platform, which they said is set to be supported for five years (not dissimilar from what we witnessed with the original AM4 platform). They also announced that their new architecture would push performance to a new level, while supporting PCI-E 5.0 and DDR5 memory technologies.
The new Ryzen 7000 CPUs were rumoured to blow Intel's 12th generation of processors out of the water, and today we'll be putting that to the test with a full review of the Ryzen 9 7900X, one of four initial SKUs to launch. We've also conducted a full review of the Ryzen 5 7600X, with content on the other chips to follow. We'll be breaking down the specs of the Ryzen 9 7900X, while also delving into detailed performance benchmarks to see if AMD has brought back fiery competition to the CPU market.
Buy the AMD Ryzen 9 7900X on:
Suggested Article: Best X670E Boards to Buy in 2022
Ryzen 7000 Architecture
The new Ryzen 7000 processors are based on the new Zen 4 architecture, which is a continuation of the Zen microarchitecture. AMD has been using this since the first generation of Ryzen, while continuing the chiplet design that was pioneered on Zen 2, and is built on TSMC's new, smaller 5nm node.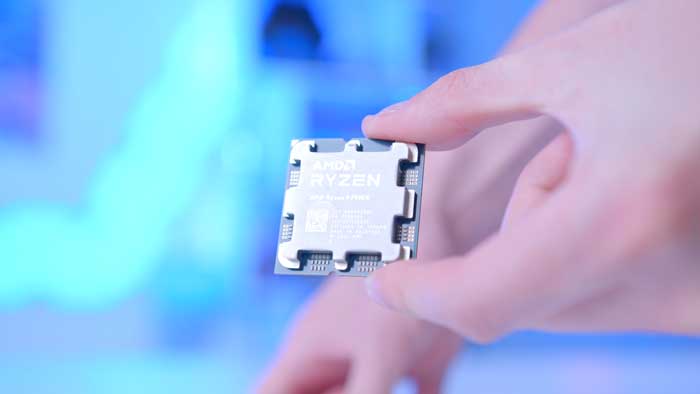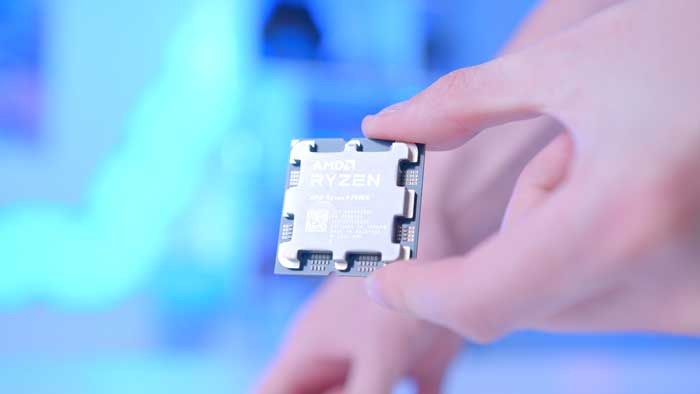 This new 5nm node is set to offer a 15% boost in clock speed or a 30% reduction in power consumption, making these CPUs much more efficient compared to the previous Ryzen 5000 generation. AMD also announced that we would be seeing an improvement in the instruction per clock (IPC) performance, demonstrating the task capability of the improved architecture.
Clock speed has also drastically improved when compared to the previous generation of Ryzen CPUs. At the top-end, the Ryzen 9 7950X sports a based clock of 4.5GHz and a boost speed of 5.7GHz, which sits incredibly close to the 6GHz mark. This CPU, the Ryzen 9 7900X, has a base clock of 4.7GHz, boosting up to 5.6GHz, which is just shy of the performance of its slightly more powerful relative. As far as clock speed is concerned, AMD have made great strides here in pushing stock speeds higher than we've ever seen before.
AMD also have provided some focus in regards to cache. Each of the Zen 4 cores comes with 1MB of cache, rather than 512KB that we saw with the previous generation. We will be getting 3D variants of these CPUs, such as a 7800X3D, or a 7700X3D, further increasing the amount of L3 cache included out of the box. These chips aren't likely to land until the new year, with exact timelines unconfirmed.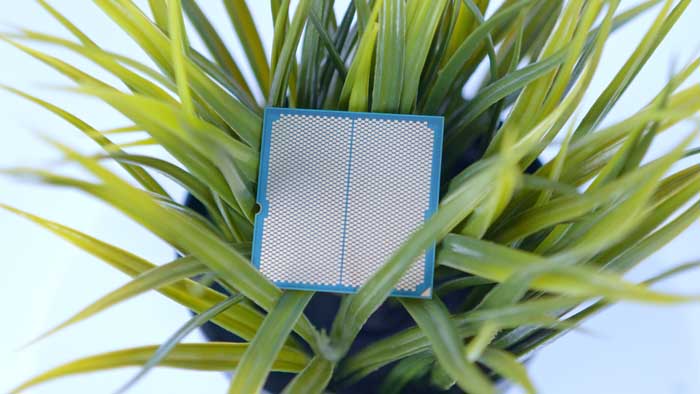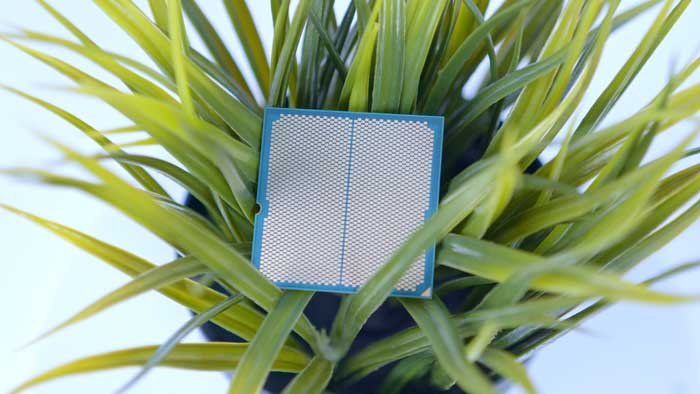 With regards to TDP and power consumption, this is another area that has been increased on Ryzen 7000. This was to be expected, especially with previous 12 and 16 core CPUs somewhat constrained by the utilisation of a lower TDP, hence the increase from 125W to 170W being a relatively welcome one here.
We've also seen some changes to the graphical architecture of Ryzen CPUs. Generally, AMD would reserve their iGPUs for 'G' variants of Ryzen CPUs. With Ryzen 5000, we saw Vega graphics integrated on select chips, but AMD have decided to include their RDNA 2 graphics with the latest batch of Ryzen CPUs. They're not particularly powerful, but could be more beneficial for those struggling to buy a dedicated GPU and need something as a stop-gap. The iGPU could also be more for the purpose of selling mobile CPUs in gaming laptops.
Major Socket Changes
One of the biggest changes here is the CPU socket. For the first time in many years, AMD have opted for a pins-on-motherboard, rather than pins-on-CPU design. This change allows for There is much speculation as to why AMD have changed the socket on their new Ryzen CPUs, switching up the traditional pin design as seen on older AMD processors. This allows for increased CPU power delivery and DDR5 memory support, while also reducing the fragility of CPUs.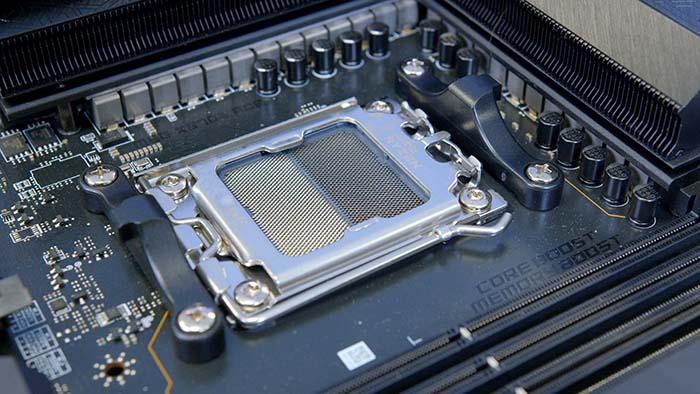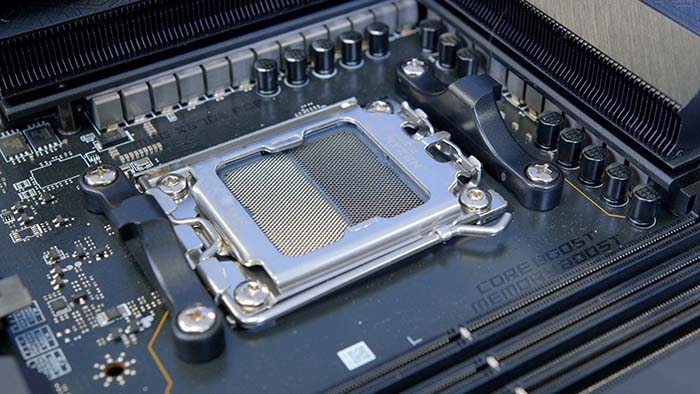 This does mean that older Ryzen CPUs are not physically compatible with newer motherboards, something which was always expected. AMD have always done a fantastic job of supporting a socket for longer than Intel, and should always be commended for their approach to backwards compatibility. Major architecture changes are needed from time to time, which makes now the perfect opportunity to start a fresh.
Ryzen 9 7900X Compatibility
The Ryzen 9 7900X is one of the top performing CPUs available within the range, and therefore should be paired with high-end components. As much as this CPU is fully compatible with all of the AM5 chipsets, it would be somewhat wasted to be used on a budget oriented motherboard. For this reason, we would recommend sticking to the X670E and X670 chipsets. The Ryzen 9 7900X will be perfect for overclocking and will need an ample amount of power phases to do so.
| | | |
| --- | --- | --- |
| AM5 Chipsets | Compatible? | Do We Recommend? |
| X670E | ✅ | ✅ |
| X670 | ✅ | ✅ |
| B650E | ✅ | ❌ |
| B650 | ✅ | ❌ |
Ryzen 9 7900X Benchmarks
Now the most important part you've all been waiting for, the benchmarks. We've strived to create a rigorous testing method that really demonstrates how each component performs. We put graphics and CPUs up against various games to provide real-life performance context. We also utilise renowned synthetic benchmarks like Prime95, 3D Mark Time-Spy, and Cinebench to test out single and multi-threaded performance metrics. All of the benchmarks that we conduct feature on our very own YouTube channel – 'Benched', where you can find various stats for the latest releases, along with graphs to supplement!
Ryzen 9 7900X – Cinebench
The Ryzen 9 7900X really stretched its legs during the Cinebench rendering run. Our multithreaded performance sat on par with Intel's Core i9 12900K, and according to the Cinebench leaderboard, the 7900X can go even further than this, with optimisations providing a 2000 point lead, give or take, in multithreaded performance. This means that if you're building a workstation PC, the 7900X will be perfect in its rendering and video editing capability (if you're willing to swallow the price).
The single threaded performance benchmark also demonstrated how capable this top-end CPU really is, outperforming all of the currently available Intel options, making it one of the best CPUs to buy if you plan on gaming a lot. But keep in mind, that the 7600X is pretty close behind in its scoring.
Single Threaded Results: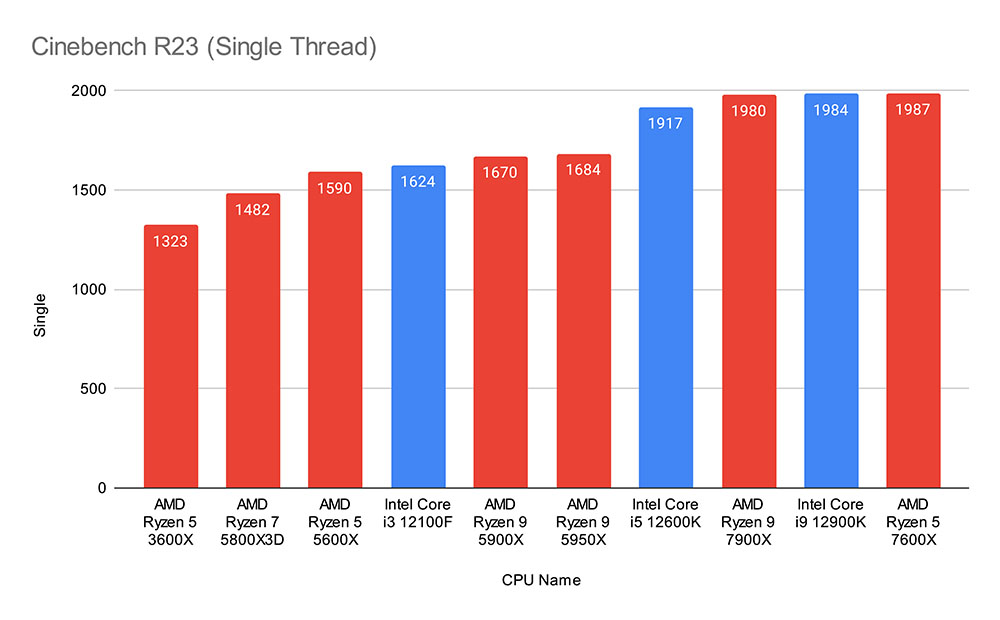 Multi-Threaded Results: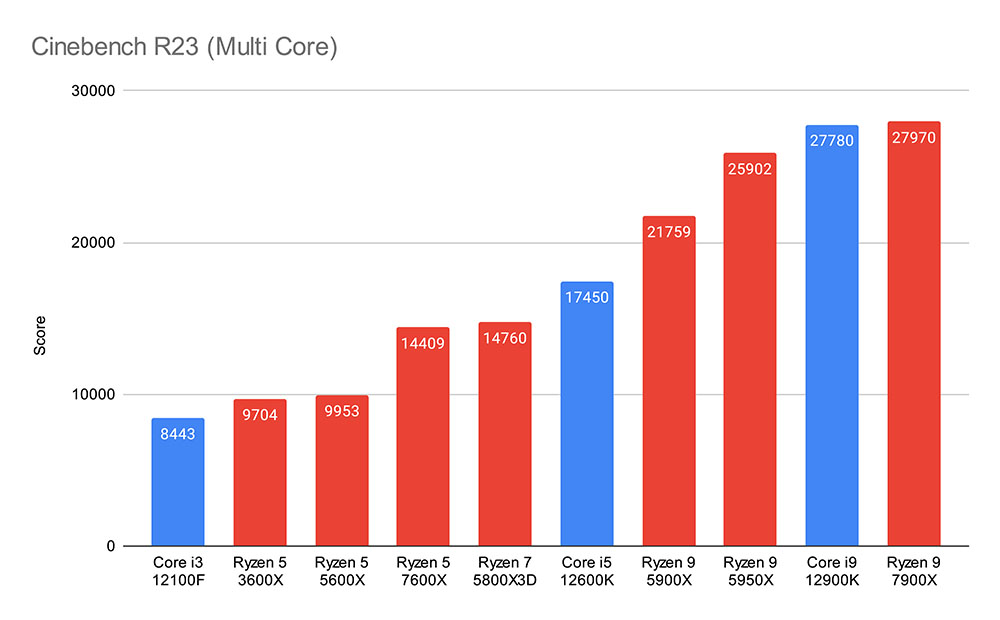 Ryzen 9 7900X – 3D Mark TimeSpy & 3D Mark Firestrike
In TimeSpy Extreme, the 7900X dominates. The leaderboard reports around 9954 for our 12900K, while the 7900X achieved an excellent overall score of 10523. AMD did announce that the 7900X would outperform the 12900K on average, and we're clearly seeing that here.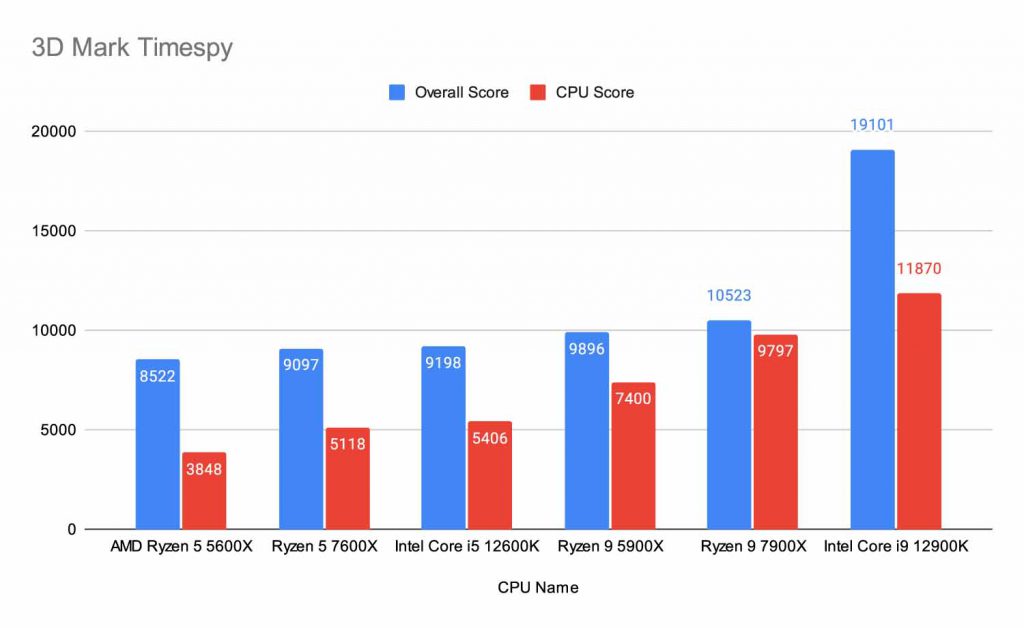 3D Mark's Firestrike also showed us how well this CPU can perform at a 1080P resolution. 44112 was our score with the 7900X, and on average, users only hit around 39154. This is still insanely good, but this definitely shows that AMD have hit Intel with a definitive answer when it comes to building a high performing gaming PC.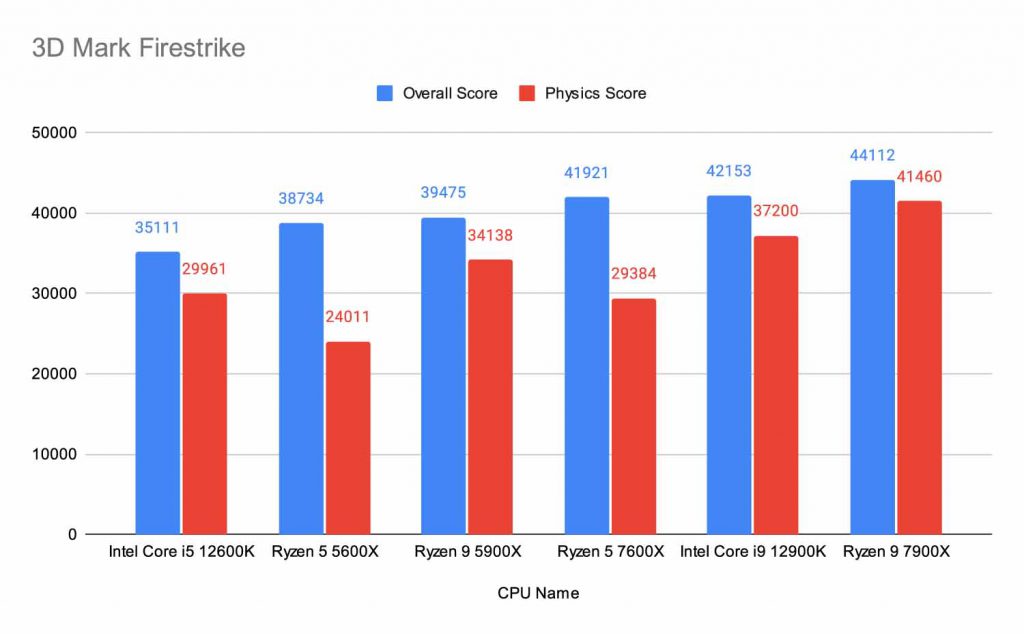 Ryzen 9 7900X – 3D Mark CPU Profile
During our CPU profile test, we reached a score of 13225 with max threads, and 1114 with single threaded performance. Looking at multithreaded performance, on average the Ryzen 9 7900X massively outperforms the 12900K. This is impressive, given the lower number of cores on the 7900X, and demonstrates the fantastic IPC and clock speed gains of the 7900X.
Single threaded performance is a slightly different story, where the Ryzen 7900X pulls a fairly marginal lead.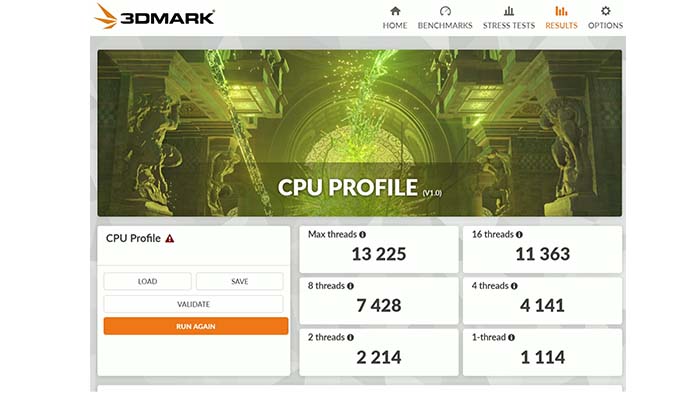 The 7900X scored 1114 on a single thread, compared to an 12900K which topped out at 1094 according to time spy. This difference is a matter of percentages, and shows the i9 12900K's single core, P-core boost clocks paying dividends for Intel. Single-threaded performance has typically been an area where Intel wins out, and it looks like the Blue Team aren't quite ready to sacrifice this crown entirely just yet.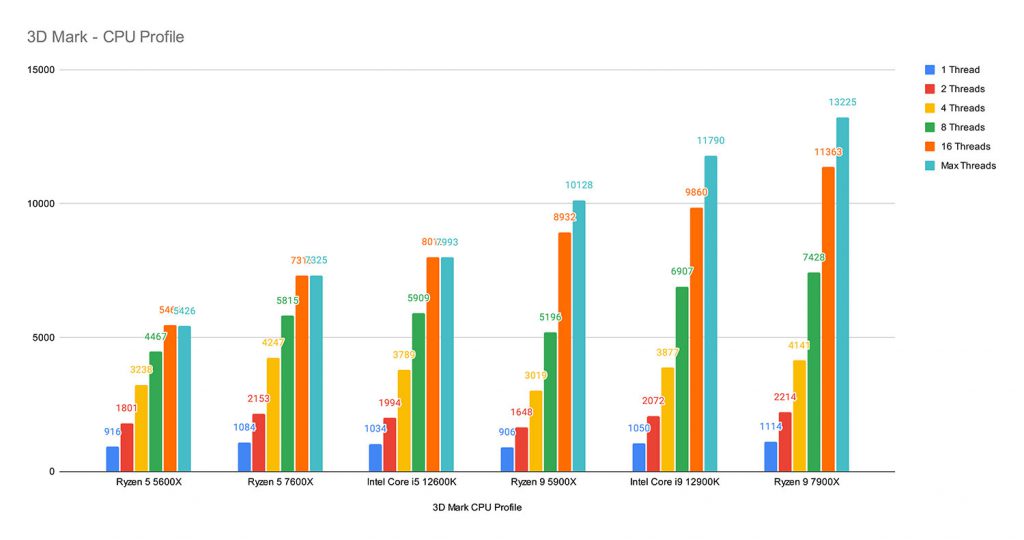 Ryzen 9 7900X – Battlefield 2042
In Battlefield 2042, the Ryzen 9 7900X held up very well, offering solid performance during both our 1080p and 4K gaming runs. BF2042 is a game which thrives on multi-threaded workloads. This allowed the Ryzen 9 7900X to pull a significant lead at 4K, when testing alongside an AMD RX 6950XT graphics card. It beat out the Intel Core i9 12900K by 13FPS, and topped the previous 5900X by 7FPS.
At 1080p, the Ryzen 9 7900X once again showed exactly what it was made of, with the Ryzen 5 7600X also pulling in fantastic results. Intel's 12th gen i9 was left for dust, with the CPU providing fantastic performance headway. The combination of fast clock speeds and strong multi-thread performance paying dividends for Ryzen 7000 on this occasion.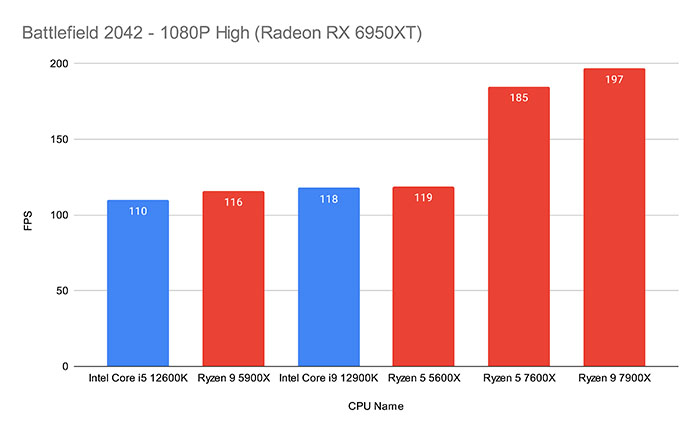 Ryzen 9 7900X – Apex Legends
In Apex Legends, at 4K high settings, the Ryzen 9 7900X helped bring home 193FPS when paired with the RX 6950XT. This topped Intel's Are i9 12900K by 20%, and provided a solid FPS bump of 32.
At 1080p, the Ryzen 9 7900X ruled once more, matching the Ryzen 9 5900X from last generation. At 300FPS, it provides a bump of 20% over the i9 12900K for the second test running. The game looked fantastic, and the 7900X enabled a stutter-free gaming experience.
Ryzen 9 7900X – F1 2022
In Formula 1 2022, the Ryzen 9 7900X once again reigned supreme, this time with a more modest lead over the i9 12900K. At a 7FPS uplift, representative of around 15%, the Ryzen 9 delivered strong frame rates. The high core count payed dividends in this popular racing title when testing at 4K, using the 'Ultra High' preset.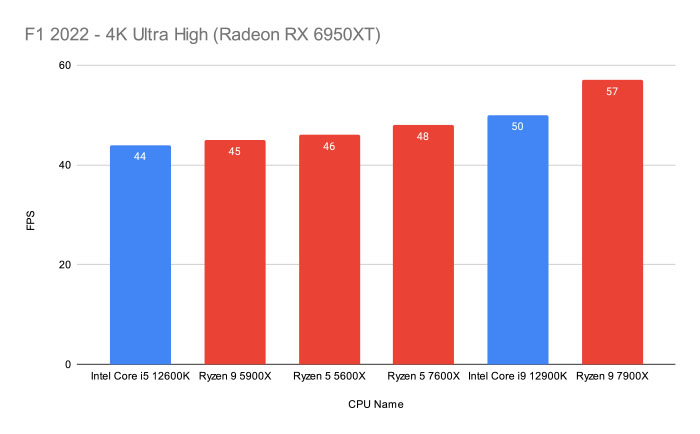 Dropping the resolution down to 1080p, to inflict more pressure on the CPU, and the frame rates were once again as expected. The Ryzen 9 7900X did well to protect its top spot, with the closest competitor, the i9 12900K, once again sitting around 10% behind.
Ryzen 9 7900X – Marvel's Spiderman: Remastered
In Spiderman Remastered, the Ryzen 9 7900X once again topped the charts in predictable fashion. The only CPU in our lineup to break the 100FPS barrier, it reaffirms its place as the CPU to beat for gaming.
At 1080p, in Marvel's Spiderman Remastered, we witnessed some very interesting results. The cheaper Ryzen 5 7600X topped the charts, no doubt due to its superb clock speeds, while the Ryzen 9 7900X lagged behind the i9 12900K by 18 frames per second. This is likely due to Spiderman's reliance on single threaded performance at 1080p, explaining the i9 12900K's unusual lead. It is worth pointing out that most users of the 7900X won't be gaming at 1080p, which makes the numbers a little less useful than some of our 4K tests.
Thermals
The thermal efficiency of the Ryzen 9 7900X is relatively standard for the most part. When compared to a similar CPU like the Core i9 12900K, we're hitting temperatures that I would consider toasty. On an all core boost, the max temperature we witnessed was 90.8 degrees. On average, the 7900X sat around the 87 degrees Celsius mark, when testing with a 360mm AIO cooler, Corsair's H150i Elite LCD.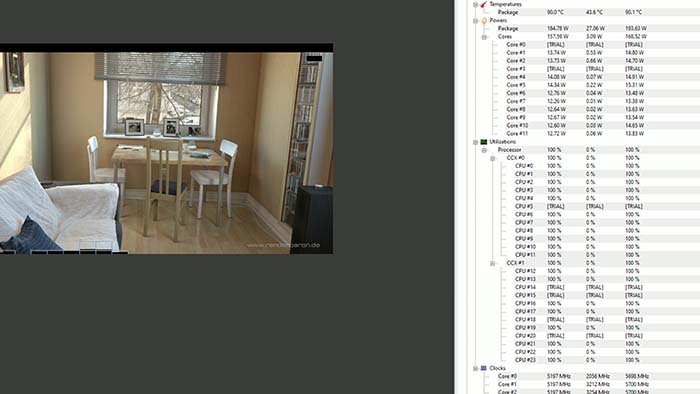 There were slight concerns that our cooler wasn't seated properly, but after reapplying thermal paste and tightening the tension screws to ensure proper contact, we've come to the conclusion that this CPU just runs hotter than previous generations. It will be interesting to see what other CPU coolers are able to do, and how other benchmarkers fare.
For single core performance, the 7900X was sitting at a very comfortable 66/67 degrees. This is expected for single core maxing out a 5.6GHz, but still what I would consider hotter than the average processor thermals. Single core temps are always going to be lower, due to less overall power consumption and CPU load.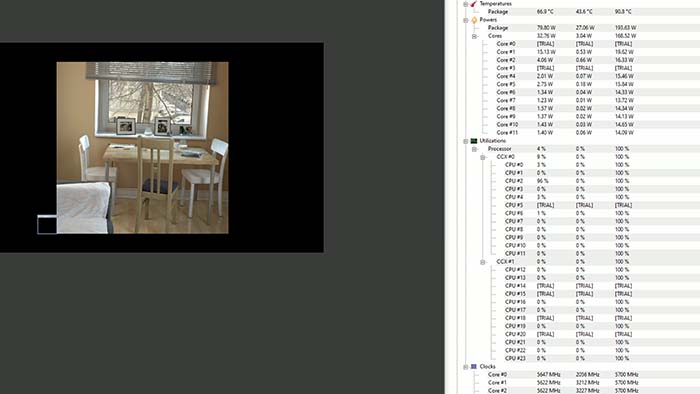 Our Thoughts
AMD's Ryzen 9 7900X is a very high performing processor, offering promising metrics in multithreaded and single core benchmarks. Gameplay was an absolute breeze for this CPU, but in games that don't offer multithreaded rendering, there didn't seem to be much of a performance boost compared to the Ryzen 5 7600X. When it comes to other benchmarks, the Ryzen 9 7900X further stretched its legs showing the capability of its cores. Cinebench and 3D Mark Time Spy demonstrated how capable this CPU is at offering excellent performance when compared to alike processors.
Despite the great raw performance of this CPU, we can't but help like feel like there are some major caveats budding Ryzen 7000 customers should note before parting with their well-earnt cash. While performance is a step above the Intel 12th-gen line-up, this was to expected when comparing to a CPU range that itself is well over a year old. With Intel's 13th Gen likely to land this side of Christmas, AMD may not reign on top for long, and it may be worth reading 13th Gen reviews before making any buying decision.
The cost of the new X670 and X670E motherboards needed to run these CPUs is also very high, much higher than the Intel equivalent options. AMD may push some of this blame to board partners like MSI and ASUS, but it doesn't change the amount consumers will need to spend to get a Ryzen 7000 build up and running. You also have the added cost of DDR5 to contend with, and higher thermals which require more investment into CPU coolers than before. For those looking at a top-end Ryzen 9 processor, the extra cost is an easier pill to swallow, but for the architecture as a whole, this added cost can't be a good thing.
Conclusion
AMD Ryzen 9 7900X
Features

Thermals

Performance

Value For Money
Summary
AMD's Ryzen 9 7900X is AMD's second highest specced processor in the Ryzen 7000 line-up. During Computex of this year, AMD announced that we'd be getting a 30% boost on average compared to Intel's flagship CPU, the Core i9 12900K. Our final verdict is that we're definitely getting a performance boost, but not as close to the advertised metric. We don't know how exactly AMD measured this increase, but during our benchmarking experience on average, the Ryzen 9 7900X sits around 15% to 20% higher than the Core i9 12900K in terms of performance.
Ryzen 7000 gives Team Red the chance to dominate the market until Raptor Lake releases before any final conclusions can be drawn. The 7900X is perfect for those that want to stretch their legs at 4K gaming, with a CPU that is a very capable performer for rendering and productivity-oriented applications.
Pros
✅ Perfect for 4K gaming.
✅ Excellent multithreaded performance.
✅ Holds up well to other powerful CPUs.
Cons
❌ Quite expensive.
❌ Motherboards needed for Ryzen 7000 are expensive.
❌ Performance in some single threaded games is on par with lower-end CPUs.