Introduction
The past month or so has seen a huge surge of products enter the market, with the apparent barrage of launches being seemingly endless. We've had AMD's brand new Ryzen 7000 CPUs, along with a range of new motherboards, and EXPO-compatible memory kits. Then, only a week ago, Nvidia launched their new RTX 4000 range of cards, kicking things off the with 4090, and following up with the 4080 next month. And now, we've got Intel releasing an entire range of CPUs which are set to compete against AMD's slightly disappointing AM5 platform.
With all of these launches, its been so hard to keep up with what's worth buying, along with the kind of performance metrics you should look out for. But today, we're hoping to settle that confusion with a review of Intel's top-end 13th gen CPU, the Core i9 13900K. We'll be delving into the architecture, thermals, and of course a variety of benchmarks to see if this CPU really stacks up against the competition.
Buy the Intel Core i9 13900K on:
Suggested Article: Intel Core i9 13900K vs AMD Ryzen 9 7900X – Which CPU is Best?
Intel 13th Gen Architecture
Prior to AMD's launch of Ryzen back in 2017, Intel experienced a period of pure dominance. It's a period that hasn't been able to consistently hold since then, with the baton passing back and forth between Intel and AMD. Things changed this time last year with the launch of Intel's 12th generation Alder Lake CPUs, a lineup which clawed back significant gain to place Intel back on top. But have Team Blue done it again? Spoiler alert: yes.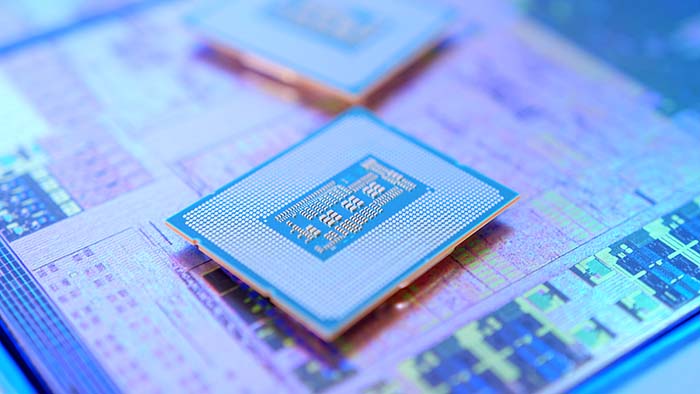 You'll need a high-end CPU cooler to keep the Core i9 13900K from overheating, we've done a full roundup of the best coolers to buy on our website!
The 13th Gen architecture is a reworked and improved version of the Alder Lake process node, combining high performance cores with better clock speeds and high efficiency cores to improve thermal performance and power consumption. This means that Intel can effectively maintain the current LGA1700 socket, giving consumers the option to upgrade with a 12th Gen motherboard, but also drastically improve system performance. This is a stark contrast compared to AMD's Ryzen 7000 launch, which saw an entirely new CPU socket change and a whole new, ground-up CPU architecture. For many people, myself included, this fact had lead us to be more excited by Ryzen 7000s prospects, viewing Intel's 13th generation as 'just' an optimisation on existing and known technologies.
The Intel Core i9 13900K shares a similar price to that of the brand new Ryzen 9 7950X, placing it directly against AMD's top-end Ryzen 9 option. At launch ,the Ryzen 9 7950X set a strong benchmark for a the 13900K, a chip we have known to be coming for some time. AMD managed to pull it out of the bag in single-threaded performance, an area Intel have dominated for as long as I can remember.
Given the similarities between the Alder Lake and Raptor Lake architecture, it is unsurprising to see many of the same features with 13th Gen as were seen on the previous 12th Gen. PCI-E 5.0 support is a little more widespread this time, with Gen4 slots a commonality on cheaper boards, rather than Gen3. Intel have also started to include Thunderbolt 4 ports both for front panel and rear IO, with lots of motherboards now bringing this feature with them. The rest of the feature-set and architecture fundamentals are the same. DDR4 and DDR5 memory support is maintained, alongside a split of Performance and Efficiency cores (but with more of them this time around). We commend Intel for retaining DDR4 compatibility, especially for mid-range and budget builders, seemingly avoiding one of the crucial pitfalls witnessed with the Ryzen 7000 lineup.
Do I Need to Buy a New Motherboard?
Although the new Z790 motherboards are definitely appealing, you don't need to buy a new motherboard. All of the current 12th Gen chipsets support the new 13th Gen CPUs, meaning you don't technically need to upgrade to a new motherboard. Intel has kept the LGA1700 socket, which means you can install a new CPU into your board with a simple BIOS update.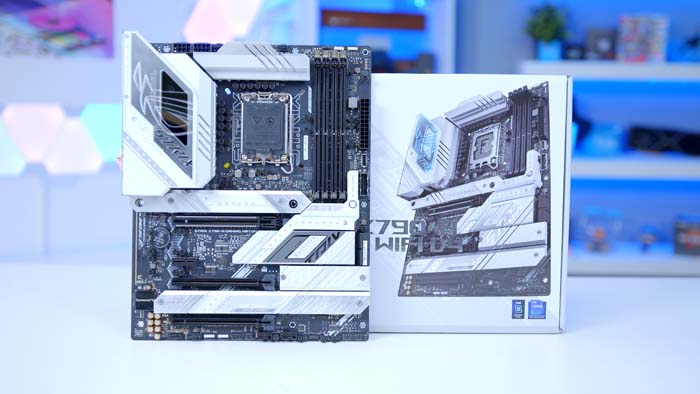 This means your 12th Gen supported CPU coolers will also work on the new boards, easing cooler compatibility. We would expect the socket to change for the 14th Gen launch, in line with Intel's 'tick tock' architecture roadmaps to date.
Intel Core i9 13900K Compatibility
The Core i9 13900K is currently the top-end option available on launch, with an additional 'KF' SKU also launching with the same specs, just without integrated graphics. Intel did announce during their keynote that we would see limited edition models launch at some point in the future with 6GHz+ speeds out of the box, which will be even more impressive. The 13900K is well positioned to be paired up with the best components that money can buy, which means an Nvidia RTX 4090 would not go amiss in a high-end PC build with this CPU. Alternatively, an AMD RX 6950XT would be an acceptable pairing, or RTX 3090Ti if you want to spend a little bit less.
With regards to motherboard options, you have a lot of options at your disposal, as all of the 12th Gen chipsets are compatible with the new 13th Gen CPUs. However, we'd recommend sticking to the Z690 and Z790 ranges so that you can get the best performance when it comes to overclocking and features. As much as the other chipset options have an ample amount of features on offer, you won't be able to get fully unlocked overclocking on any non 'Z' series chipsets.
600/700 Series Chipsets
Compatible?
Do We Recommend?
Z790
✅
✅
Z690
✅
(with a BIOS update)
✅
H770
✅
❌
H670
✅
(with a BIOS update)
❌
B760
✅
❌
B660
✅
(with a BIOS update)
❌
H710
✅
❌
H610
✅
(with a BIOS update)
❌
Intel Core i9 13900K Thermals
With regards to thermals, the Core i9 13900K actually ran a little bit hotter than what we expected. Our average temperature during gaming hit 67 degrees Celsius on average when testing using a a Corsair H150i Elite LCD 360mm liquid AIO CPU cooler. These temperatures are higher than 12th Gen, but considerably lower than AMD's Ryzen 7000 lineup, which AMD claim are 'designed' to run at in excess of 90 degrees most of the time.
As for max temperatures, the Core i9 13900K topped out at 76 degrees Celsius. At this level, you shouldn't expect to see any thermal throttling, but it does highlight that a cheaper air cooler won't be a particularly clever bet on these new chips. The increased clock speeds require more power, and TDP increases are likely the biggest driving factor behind these higher temperatures. To be safe, and ensure you get the maximum boost clock speeds available, we'd recommend a recognised brand that offers 240mm radiator or above.
Intel Core i9 13900K Benchmarks
This chip talks an OK game on paper, but the really exciting part comes when you test this chip against some of the competition. Our testing includes a mix of renowned synthetic benchmarks such as 3D Mark and Cinebench, alongside gaming benchmarks. All of our gaming tests were conducted using an RX 6950XT, ensuring no GPU-based bottleneck where possible, with 32GB of low-latency DDR5 memory.
Core i9 13900K – Cinebench
In our first benchmark, we put the 13900K up against Cinebench R23. This was the first test that surprised us, with Intel's new 24-core behemoth frankly putting any threat from Ryzen 7000 to bed. With a multi-threaded score of over 39,000, the i9 13900K recorded the highest ever score we've recorded from a CPU. This clocks in at more than 2000 more than AMD's Ryzen 9 7950X, and an astonishing 12,000 points higher than the last-gen Core i9 12900K. What was that about 13th Gen being a basic optimisation? Maybe not.
Multithreaded Results: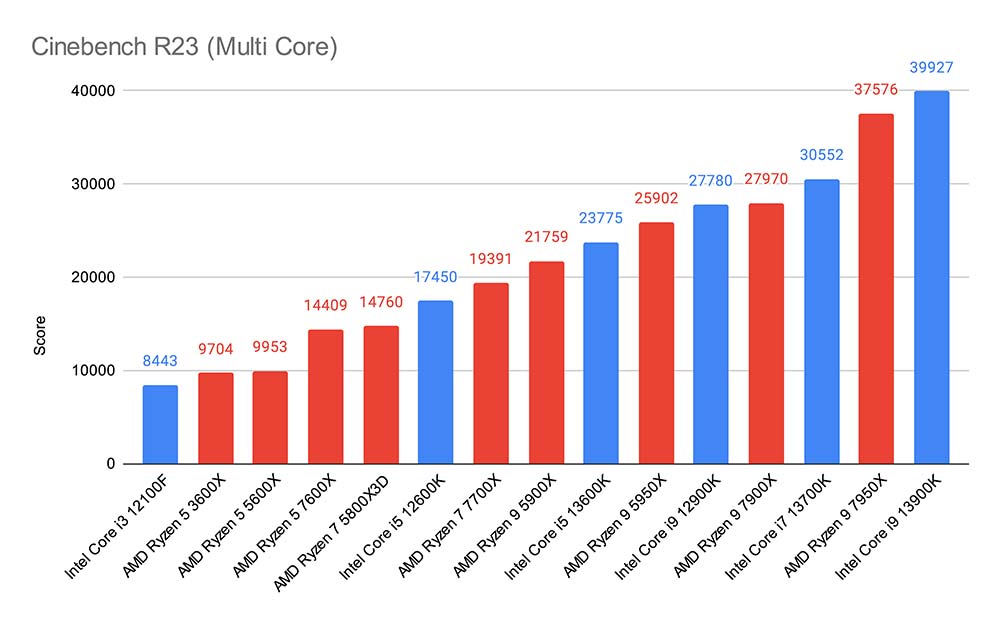 On the single core score, the i9 13900K yet again has a strong lead over all of the other consumer CPUs, rising to the top of the leaderboard with 2209 points during our benchmark. The 13900K blew everything else out of the water, and demonstrates its capability as a strong multifaceted CPU. This CPU is an excellent choice for intense workloads and gaming oriented applications, making it a true all rounder. For one chip to top both the single-threaded and multi-threaded charts is nothing short of incredibly impressive.
Single Threaded Results: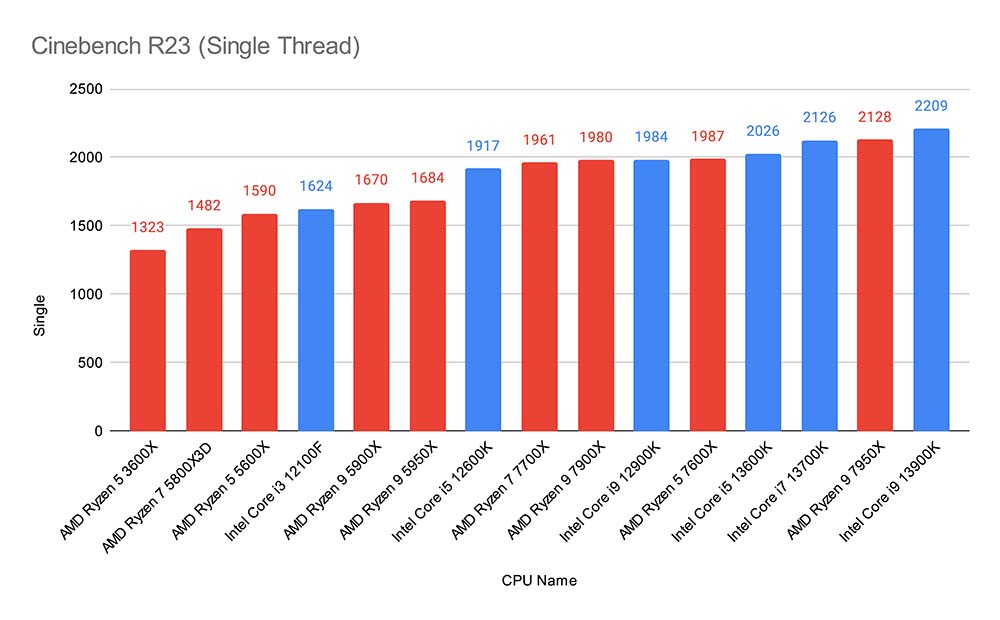 Intel Core i9 13900K – 3D Mark CPU Profile
To see what the i9 13900K has on offer with various threaded applications, we tested it with 3D Mark's CPU Profile benchmark. This test uses different thread configurations and gives a final score at the end of each run. Our final score with max threads was 16862, further demonstrating the multithreaded capability of this CPU. This significantly outshines the 7900X with a 3000 point lead ahead of one of AMD's top dogs.
The good news doesn't stop there, either. The Core i9 13900K was able to pull a score of 1244 with a single thread, an impressive 100 point lead on the 7900X. In every instance, the 13900K was able to come out on top boasting a very strong lead when compared to other CPUs on the market.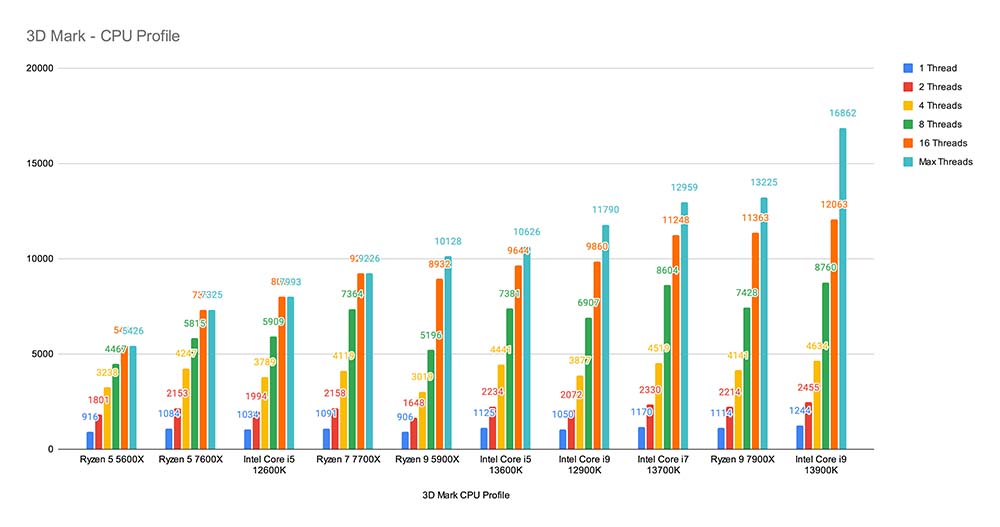 Intel Core i9 13900K – 3D Mark Timespy Extreme
In Timespy Extreme, we were able to reach another chart-topping score. Timespy Extreme runs at 4K resolution, so this is a rather intense workload for our CPU and GPU. This gives us an indicator as to how games will perform at 4K resolution, and its clear from these results that the 13900K will not disappoint.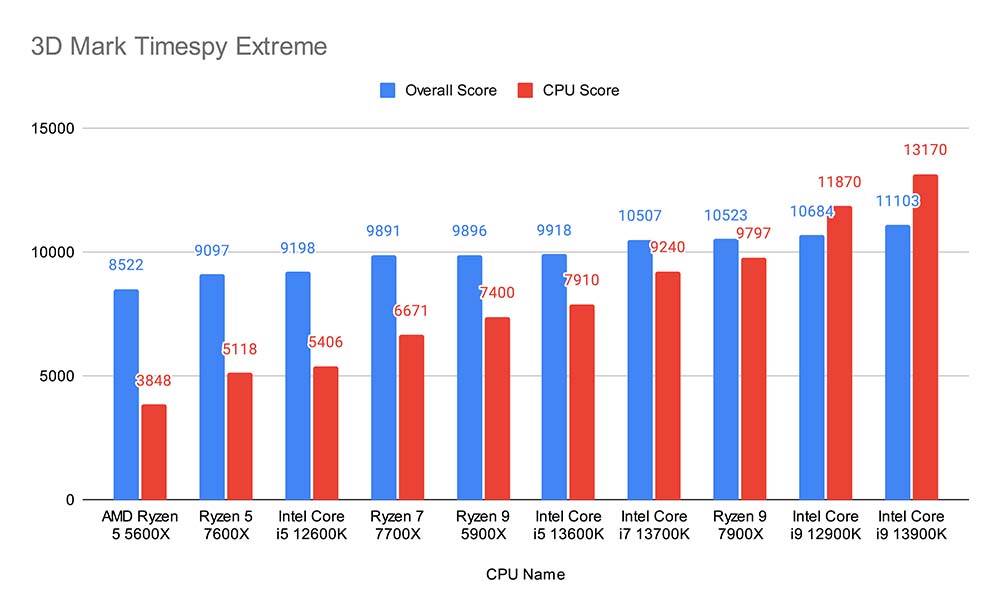 Intel Core i9 13900K – 3D Mark Firestrike
In 3D Mark Firestrike, the 13900K stretched its legs at 1080p. Although we wouldn't necessarily recommend buying a 13900K for lower resolutions, its clear here that working with 1080P and 1440P from a workstation point of view poses no issue to the 13900K, further demonstrating how excellent this CPU is.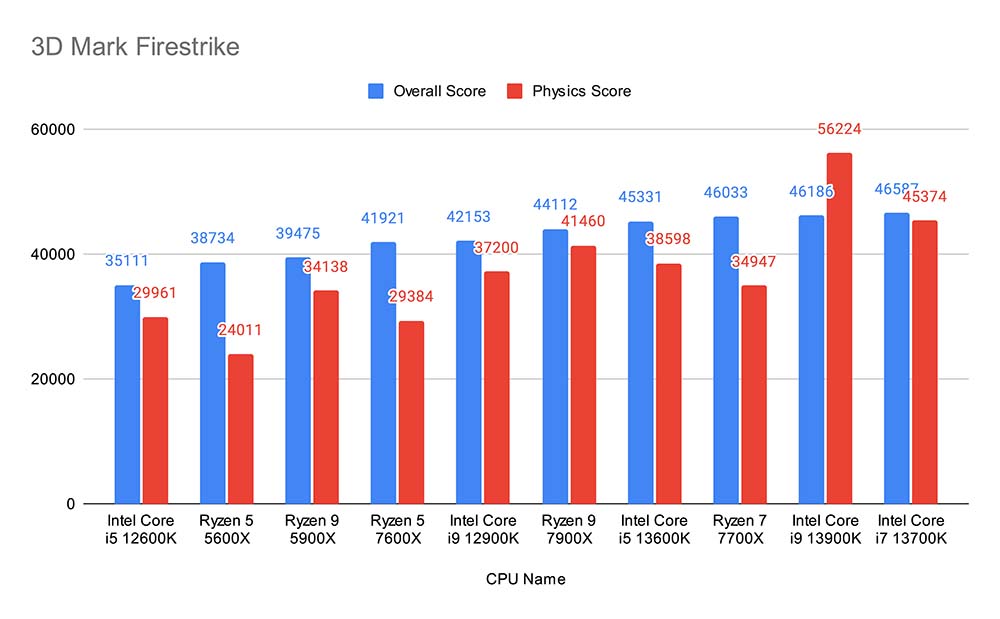 F1 2022
In F1 at 4K, our frames were maxed out at 65, topping the charts and sitting on par with the other 13th-Gen SKUs. Although we weren't able to reach any higher at 4K, this shows that the game is mostly GPU bound over CPU, but its still good to know that the 13900K comes out on top above the other options.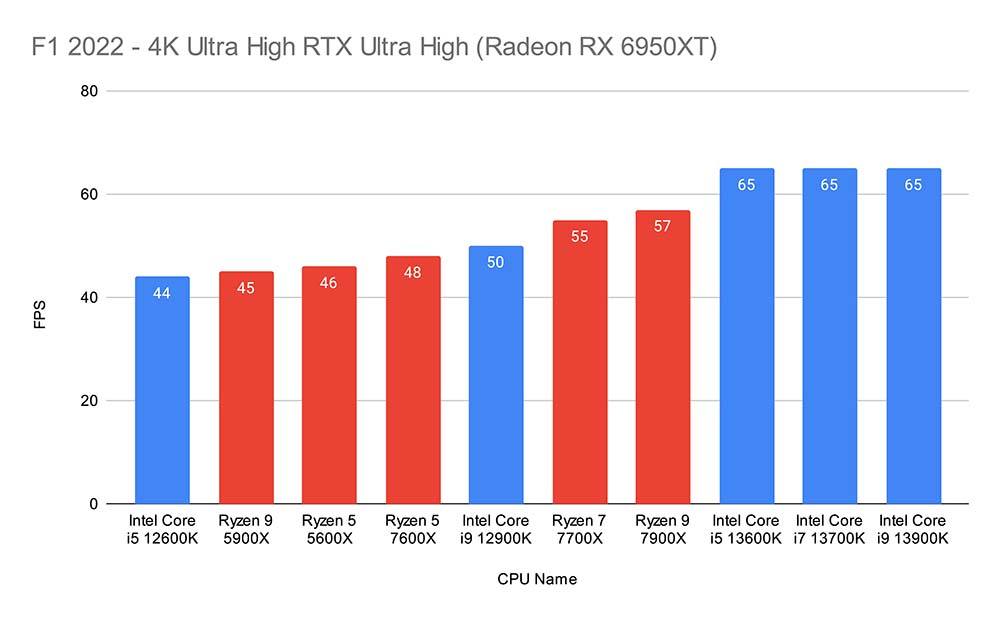 Apex Legends
In Apex Legends, the 13900K soared to the top of the charts reaching just over 202FPS on average. This was the highest score we've ever reached with this combo, and goes to show the power of this CPU. We were well over the 144Hz sweet spot, and outperforming every other CPU we've tested.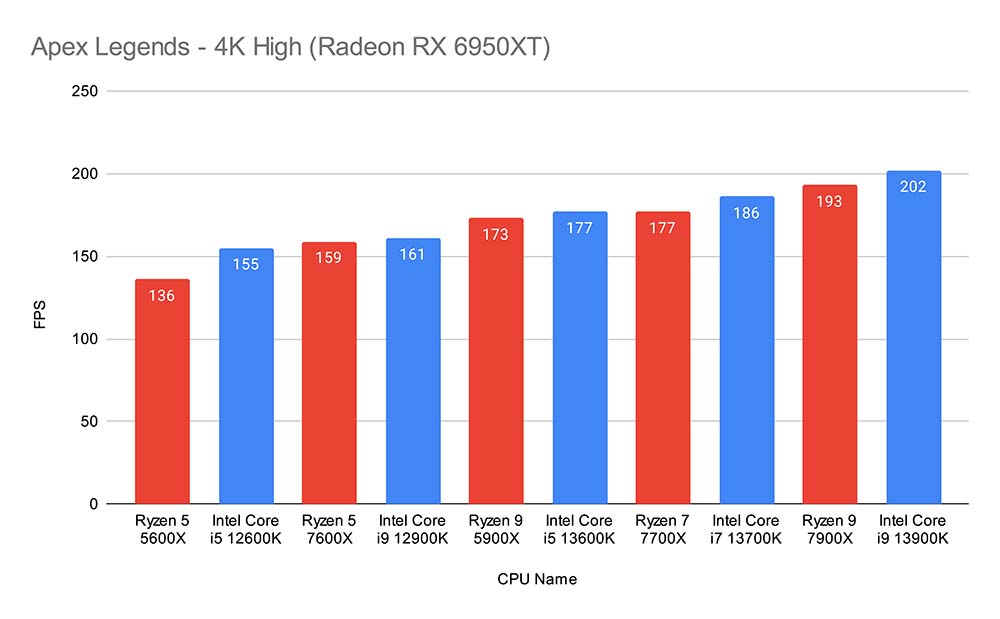 Battlefield 2042
In Battlefield 2042, we cranked the settings up to high, and yet again the 13900K shows its true performance, reaching 111 frames on average at this resolution. Battlefield is quite an intense title that requires precise accuracy in high-stakes situations, making each and every extra frame an important addition to the average.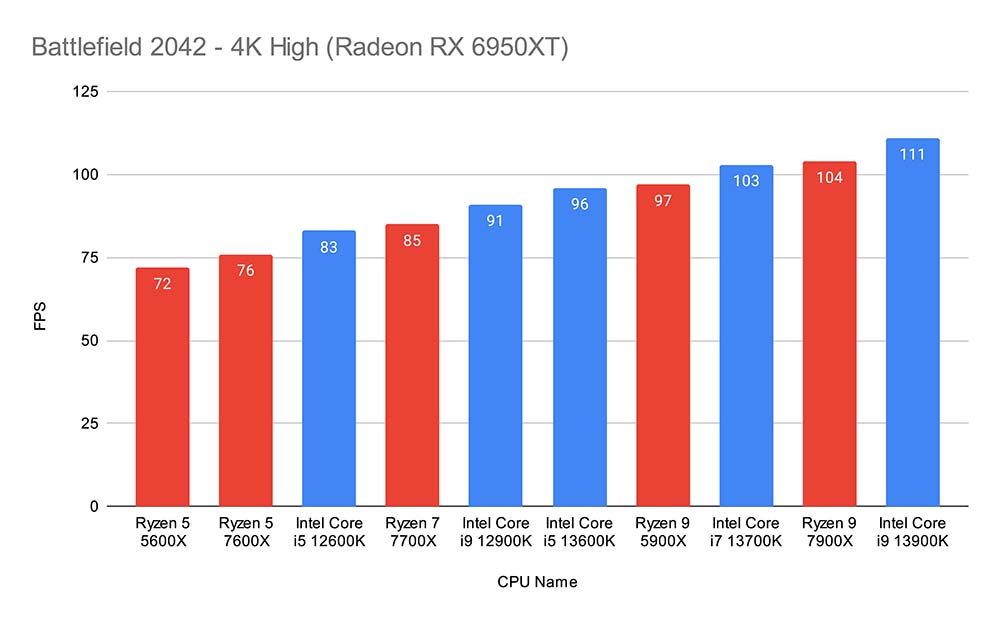 Marvel's Spiderman Remastered
And finally, in Spiderman Remastered, we saw an average framerate of 122 which (you guessed it) topped the charts as the best performing CPU on offer. Paired up with an RTX 4090 with DLSS enabled, framerates will only surge even higher.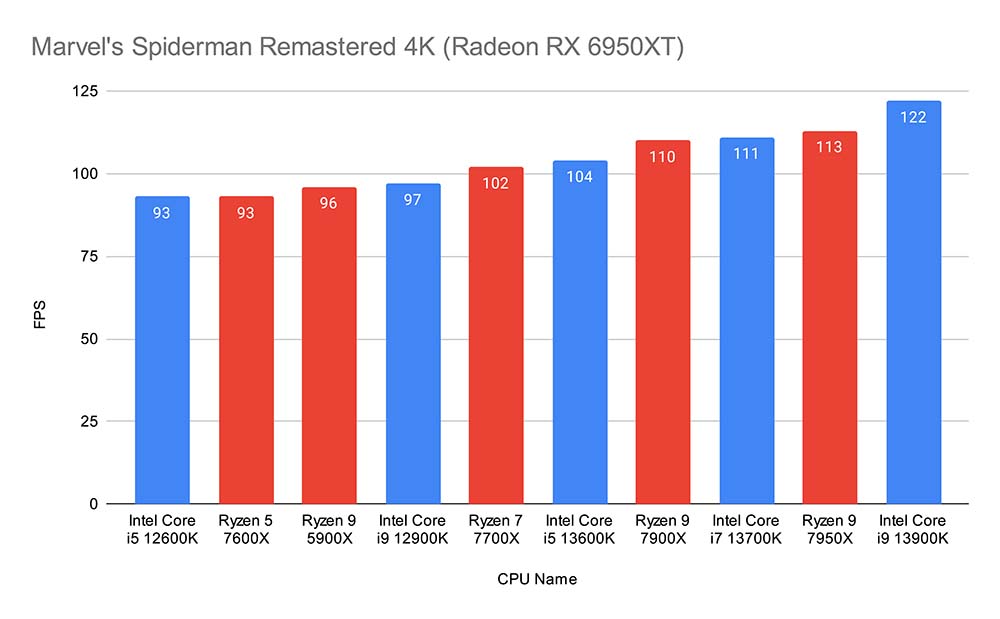 Conclusion
Intel Core i9 13900K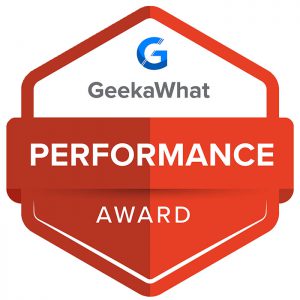 Product Name: Core i9 13900K
Brand: Intel
Features

Thermals

Performance

Value For Money
Summary
Intel's Core i9 13900K is currently the most powerful consumer-oriented CPU that money can buy. Straight out of the box, you've got access to a 5.8GHz clock speed, along with an absolutely insane amount of cores and threads. This CPU has outperformed every other processor that we've tested and is able to outshine older generation Threadripper CPUs . Needless to say, if you're looking for the best CPU money can buy, the Core i9 13900K is the go-to choice. Thermals are notably higher than last gen, and power consumption gas been beefed up – two important caveats to note. Otherwise, this CPU is a fantastic choice for gaming and productivity workloads, earning its GeekAward for performance without a shadow of a doubt.
Pros
✅ Excellent single and multithreaded performance.
✅ Perfectly designed for 4K gaming and intensive workloads.
✅ Supported on previous generation motherboards.
Cons
❌ Thermals higher compared to previous generation.
❌ Overclocking will require a high-end motherboard.
❌ Quite expensive.