Introduction
2022 was one of the biggest years for new launches, we saw Intel and AMD go head to head with their new CPUs and motherboards. Nvidia launched their new RTX 4000 series, whilst also 'unlaunching' their controversial 12GB RTX 4080 variant. And towards the end of the year, AMD proved that 'Moore's law is not dead' with a brand new range of graphics cards bringing the competition to Nvidia with a very reasonably priced top-performer.
We've all had a much-needed Christmas break, but we're throwing ourselves straight back into the fray with yet another graphics card launch from Nvidia. In this review, we'll be talking about Nvidia's rebranded RTX 4080 12GB, which has a more apt name compared to Nvidia's original choosing.
The particular variant that we'll be looking at today is the Palit GameRock Premium Edition. Long-time readers will be surprised to see this Palit card, as we don't tend to get our hands on many of their SKUs during product launches. However, Palit kindly sent along their GameRock variant of the RTX 4070Ti, which sports a triple-fan design with a unique crystal look surrounding front of the card. We'll be delving into the architecture of the RTX 4000 range, alongside the overall design, and of course – performance metrics.
Buy the Palit GameRock Premium Edition GeForce RTX 4070Ti on:
Architecture
Nvidia's newest ADA Lovelace architecture brings significant generational improvements to both performance and Nvidia's various proprietary technologies that we've seen flourish over the years. The RTX 3000 range of cards saw updates to both DLSS and Ray-Tracing, with performance overhead being the key factor in mind with these improvements.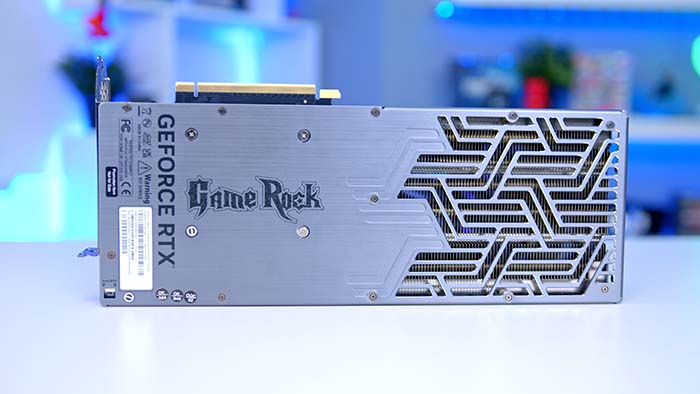 Arguably, the biggest change that Nvidia introduced with the new architecture was the jump from DLSS 2.0 to 3.0. The new iteration of DLSS brings further improvements to framerates at the minor cost of slightly decreased image quality. Although DLSS 3.0 hasn't been widely integrated into gaming titles as of yet, we're expecting this list to increase significantly over the next year.
One of the big bonuses that comes with DLSS 3.0 is the usage of a new technology known as 'Frame Generation'. This integration uses AI (artificial intelligence) to reconstruct frames within games. It does this by recreating three-fourths of the first frame, and then reconstructs the entire second frame. This in turn drastically reduces overhead for your GPU, and can boost frames in many CPU-bound scenarios. So for all of you Microsoft Flight Simulator players, expect more frames with these GPUs!
If we move away from pure rasterization, Ray-Tracing has also seen performance improvements, with consumers being given the ability to enjoy Ray-Traced quality with less overhead. The increased RT and Tensor core count within the new cards further increases processing power for Ray-Tracing, but the overall changes to the technology such as Shader Re-Ordering negates visual quality loss whilst improving FPS. DLSS with Frame Generation enabled also makes unoptimised titles more manageable when users are trying to enjoy Ray-Tracing at a higher resolution.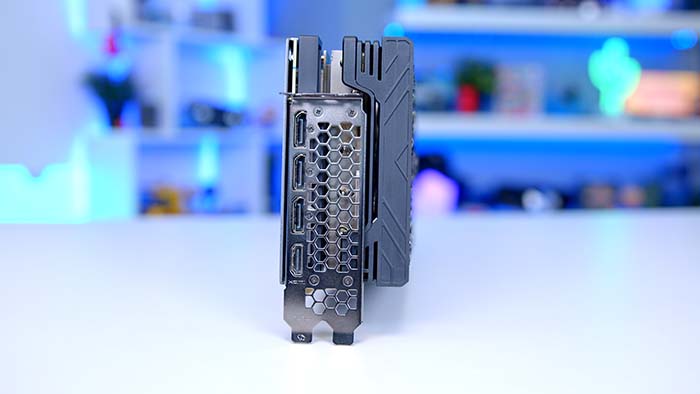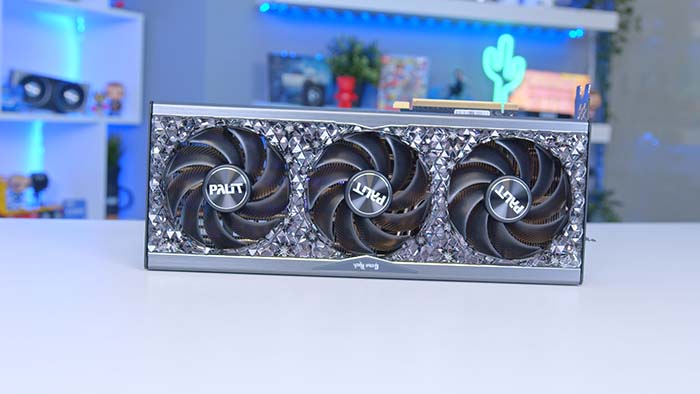 Specifications
On paper, the RTX 4070Ti offers good specs, which should translate into solid performance. You can compare the Palit GameRock RTX 4070Ti against Nvidia's top-end RTX 4000 SKUs, along with some of the RTX 3000 options to give you a more concrete idea of the performance you should expect from this card.
Spec
RTX 4090
RTX 4080
Palit GameRock Premium Edition RTX 4070TI
RTX 3090
RTX 3080
Video Memory
24GB GDDR6X
16GB GDDR6X
12GB GDDR6X
24GB GDDR6X
12GB/10GB GDDR6X
Memory Bus
384-bit
256-bit
192-bit
384-bit
384-bit / 320-bit
Core Clock Speed
2.23GHz
2.21GHz
2.31GHz
1.7GHz
1.26GHz / 1.44 GHz
Boost Clock Speed
2.52GHz
2.51GHz
2.61GHz
1.4GHz
1.71Hz
CUDA Cores
16384
9728
7680
10496
8960/9704
Power Consumption
450W
(Founders Edition)
320W
(Founders Edition)
285W
350W
(Founders Edition)
350W / 320
(Founders Edition)
RT Cores
3rd Generation
3rd Generation
3rd Generation
2nd Generation
2nd Generation
Tensor Cores
4th Generation
4th Generation
4th Generation
3rd Generation
3rd Generation
PCI-E Generation
PCI-E Gen 4
PCI-E Gen 4
PCI-E Gen 4
PCI-E Gen 4
PCI-E Gen 4
Design
Looking at the overall aesthetic of this GPU, I have to say I'm a big fan of the design. Palit has been the budget vendor for graphics cards for quite some time, but with the launch of the RTX 3000 cards, they've since stepped up their game with some awesome looking products.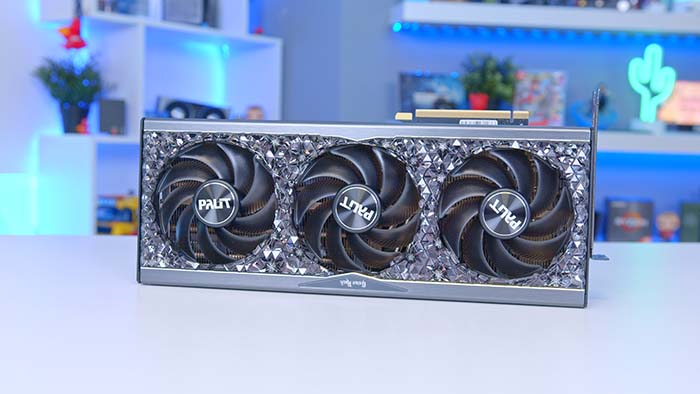 The GameRock Premium Edition sports a unique crystal shroud surrounding the front of the GPU. Each of these crystals lights up with vibrant RGB as soon as your build is fired up, which can be synced with any other ARGB devices using a single cable. I'm sad to see that the fans aren't RGB either, but this isn't a deal-breaker for us. The GameRock logo at the top of the card lights up too, which is a nice touch for those that enjoy extra RGB lighting.
Otherwise, the design of the card is relatively simple. Palit have placed their focus on the front of the shroud, creating a spectacle for those mounting their GPU traditionally or vertically. The 'kaleidoscope' effect that persists when the GPU has power looks awesome, and with some customisation of the colours, can be styled to the suit the colour of your build. Overall, Palit have done a great job here, offering a standout design that will look awesome within a variety of PC builds.
Performance
Despite the poor marketing decisions made by Nvidia regarding the 'unlaunching' of the RTX 4080 12GB, the specs and performance of the RTX 4070Ti looks to be promising. The RTX 4080 and 4090 offered very strong performance metrics compared to their predecessors, setting a pretty high bar for the RTX 4070Ti when it comes to 4K gaming with Ray-Tracing enabled.
To put the RTX 4070Ti through the wringer, we tested this GPU within a multitude of games using different settings and resolutions, from 1080P all the way up to 4K with Ray-Tracing enabled. Overall, the performance is close to the RTX 3090Ti in some instances, but it also dips nearer to the RTX 3080Ti and 3080 in other titles. The RTX 4070Ti still tends to offer over 100FPS in most titles, but this is entirely dependent on whether Ray-Tracing/DLSS was enabled and how optimised the game is. This is primarily where we expected performance to lie, but we were disappointed that the 4070Ti wasn't more closely aligned with the RTX 3090Ti in terms of framerates.
Moving away from raw performance, DLSS 3.0 alongside Frame Generation may prove to be more useful in the future. Although consumers shouldn't pick up a product based on future promises, we imagine the 4070Ti will see performance improvements when the ADA Lovelace technologies become more saturated within popular titles that release as the months go by. Although Ray-Tracing will still prove to be harder for this GPU compared to the RTX 4080 and 4090, the integration of Frame Generation will see performance overhead reduced, potentially making this cheaper SKU a better pickup, but only time will tell.
To provide a better idea on how exactly the Palit GameRock RTX 4070Ti performs, we've provided a set of gaming benchmark graphs. All of the data from these graphs has been compiled from full benchmarking runs that feature on our YouTube channel 'Benched'. There, you'll find a range of GPUs and CPUs tested using the latest triple A and popular Esports titles.
Spider-Man Miles Morales
For our first title, we tested out the RTX 4070Ti in Spider-Man Miles Morales at 4K with DLSS enabled. During this gameplay benchmark, we experienced a relatively smooth framerate with an average of 108FPS in total. Although this was enough to for us to enjoy a swing through the city, the 4070Ti didn't offer a huge lead against the RTX 3080Ti and 3080 SKUs. This is an almost negligible difference in frames, demonstrating that the generational improvement here isn't quite visible within this popular title.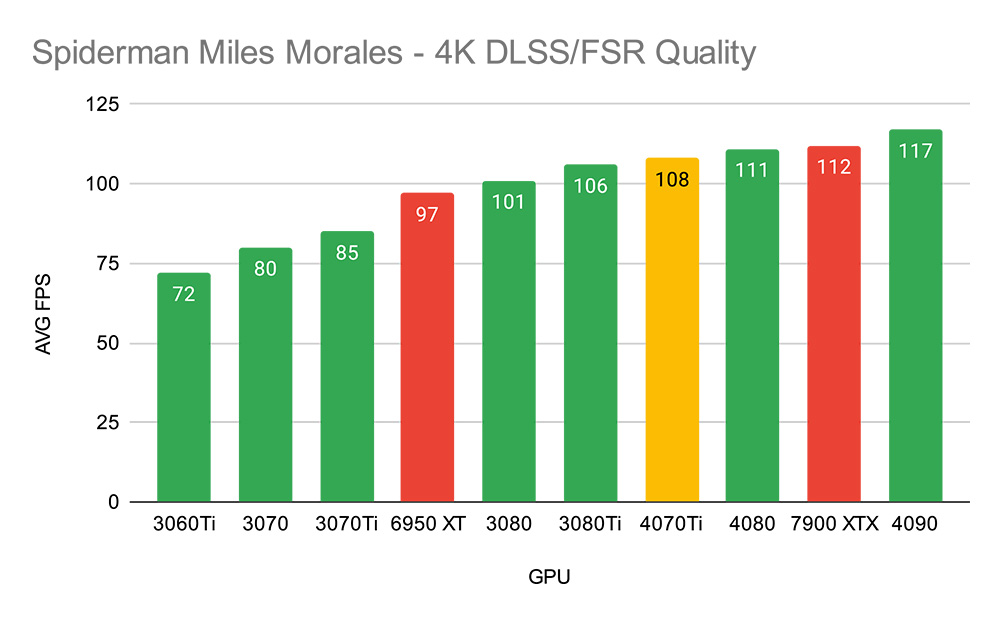 Apex Legends
In Apex Legends, we saw some improvements in performance, with the overall framerate reaching the 144Hz sweet spot. This is great to see, as Apex is a relatively fast-paced title requiring smooth motion to ensure players can win a match. At 4K high settings, the 4070Ti was able to maintain around 145FPS, which was only around a 5FPS lead compared to the RTX 3090Ti. Despite offering strong performance here, the 4070Ti is not able to offer three times the performance of an RTX 3090Ti that Nvidia advertised at CES.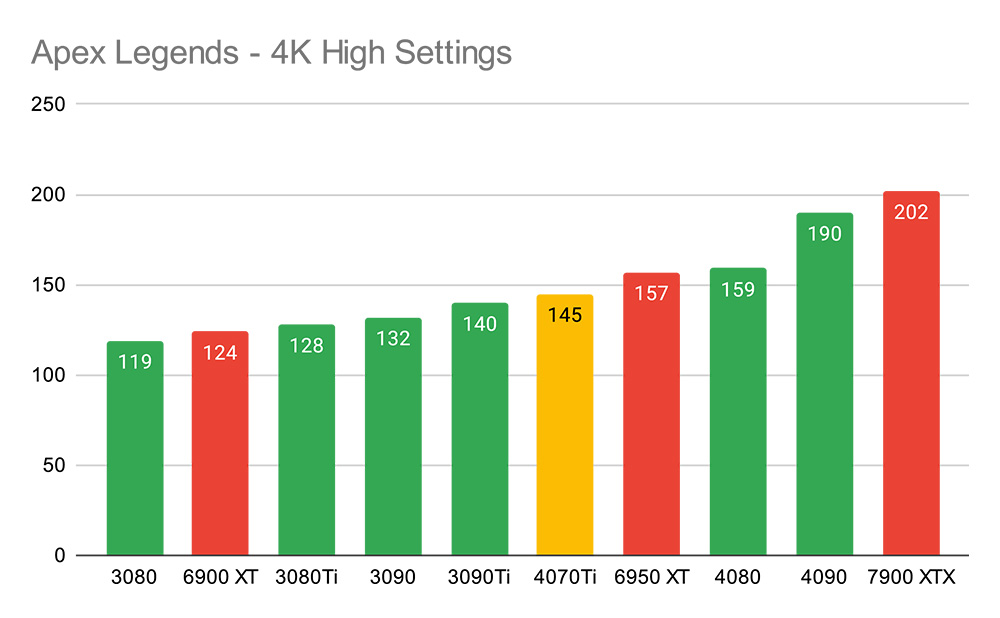 COD Warzone
In COD Warzone at 4K, we saw an average of 109FPS throughout our gameplay run, which was more than enough to have a smooth gameplay experience. Much like in Apex Legends, the 4070Ti wasn't quite able to outperform the RTX 3090Ti here, with a difference of around 8 frames in total. We weren't quite able to hit the 144Hz mark here, but this is ultimately down to the poor optimisations in this gaming title.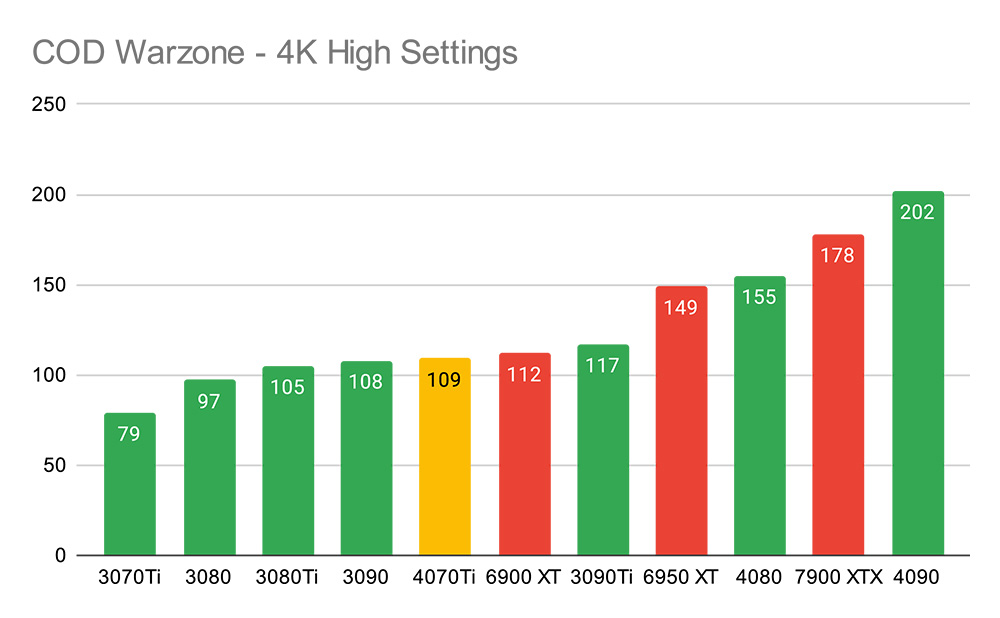 GTA V
In GTA V, we saw very reasonable performance at an average of 158 frames in total. This sits on par with Nvidia's previous generation RTX 3090Ti and slightly below AMD's latest RX 7900XTX graphics card. Ultimately, GTA V is an older title and the lack of higher framerates is due to the game's older engine, but this does give us an indicator as to how the 4070Ti handles less demanding games.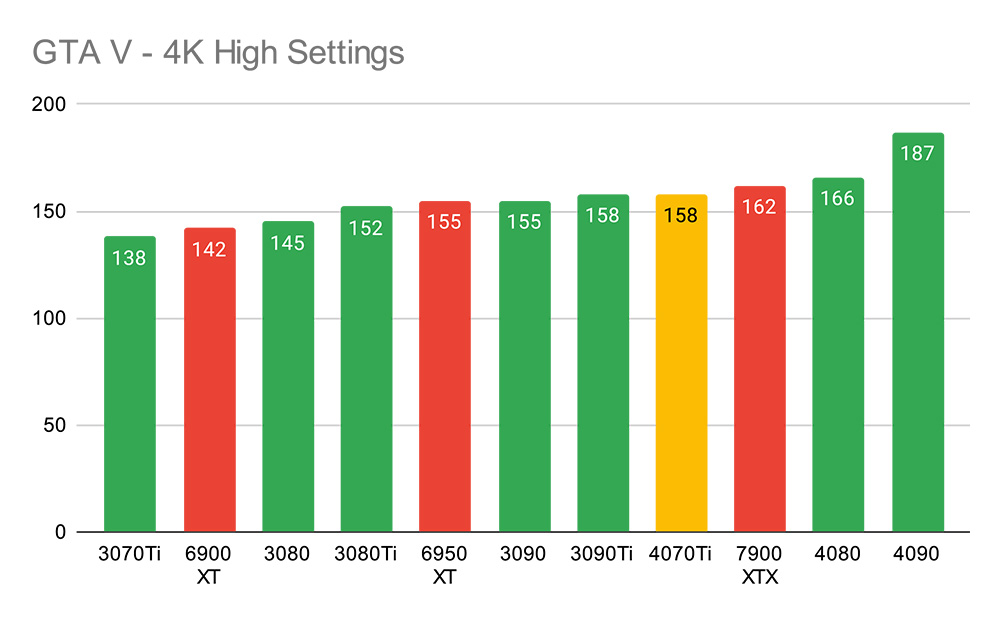 Fortnite
For our final game, we tested out Fortnite at 1080P competitive settings to see how high frames could fly. Yet again, the RTX 4070Ti offered relatively similar performance metrics to that of the RTX 3090Ti. Ultimately, at framerates this high, there is a negligible difference between even 20 frames, making none of these graphics cards particularly better than the other when it comes to noticeable performance. However, the RTX 4070Ti was able to offer alike performance to some of the top dogs, which is still a relatively impressive feat.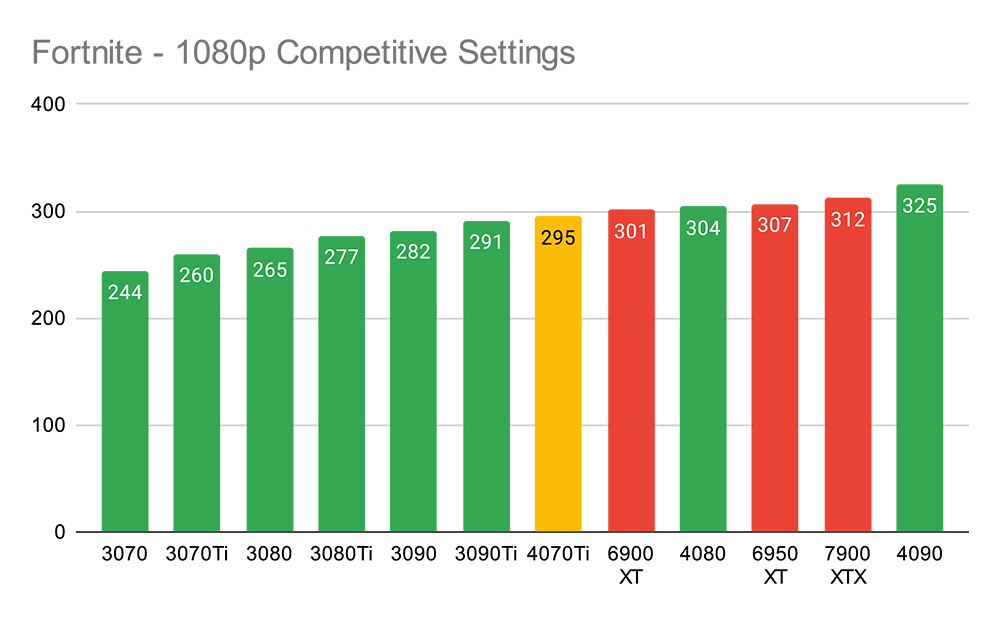 Conclusion
Palit GameRock Premium Edition GeForce RTX 4070Ti
Product Name: GeForce RTX 4070Ti
Brand: Palit
Features

Design

Performance

Value For Money
Summary
Palit's GameRock Premium Edition RTX 4070Ti is another fresh design in the market that offers an awesome aesthetic for a variety of different builds. The unique kaleidoscope crystal design shines vibrantly in a case offering excellent lighting effects when your system is powered on. When it comes to performance and pricing however, this card has been marketed very poorly. At CES, Nvidia advertised the 4070Ti as offering three times the performance of an RTX 3090Ti. The RTX 4070Ti often sits closer to the performance of an RTX 3080 or 3080Ti, making Nvidia's claims mostly false, and the value-proposition of this card quite weak. I believe that Palit have done an excellent job designing a card with a great aesthetic, but Nvidia have not offered performance metrics that follow the strong design choices. Ultimately, this card does offer strong performance if we're purely looking at the numbers, but when compared to Nvidia's previous iteration of GPUs, the RTX 4070Ti doesn't offer a significant enough generational improvement to be worth its exorbitant price tag.
Pros
✅ Very strong design and aesthetic.
✅ Offers alike performance to the RTX 3090Ti.
✅ Excellent thermals.
Cons
❌ Card size will limit case options.
❌ Value-proposition not strong compared to RTX 3000 GPUs.
❌ No cheaper Founders Edition model.