Introduction
For the first time in what seems like years, the budget gaming market is finally getting the attention it deserves. Due to AMD and Nvidia both releasing budget-friendly GPUs, the price of older graphics cards have dropped significantly, especially those from AMD's Radeon 6000 series line-up.
On top of this, PC components across the board have been gradually decreasing in price as manufacturers prepare to usher in new products. All of these factors have led to it now being possible to build a range of budget-oriented gaming PCs without having to sacrifice too much in terms of gaming performance.
In this article, we'll be showing you how to build a 1440p gaming PC for less than $1000, allowing gamers on a budget to enjoy the best experience possible. Along with a breakdown of all the components included, we'll be testing this PC build in a range of the latest titles to see if it truly offers the best value for money.
Performance Preview

1440p, High Settings
Avg: 190FPS
Preset: High
V-Sync: Off
Anti Aliasing: TSAA
Texture Filtering: 8x
Ambient Occlusion: High
Volumetric Lighting: High
Dynamic Shadows: Enabled
Model Detail: High



1080p, Comp. Settings
Avg: 298FPS
Preset: Low
V-Sync: Off
Render Distance: Far
TSR: Off
Global Illumination: Off
Ray Tracing: Off
Effects: Low
Post Processing: Low



1440p, High Settings, FSR Quality
Avg: 134FPS
Preset: High V-Sync: Off DLSS: Performance Textures: High Particle Quality: High Tessellation: Near Shaders: High

1440p, High Settings
Avg: 157FPS
Preset: High V-Sync: Off DLSS: Performance Textures: High Particle Quality: High Tessellation: Near Shaders: High
Main Components
GPU: Sapphire Pulse Radeon RX 6750 XT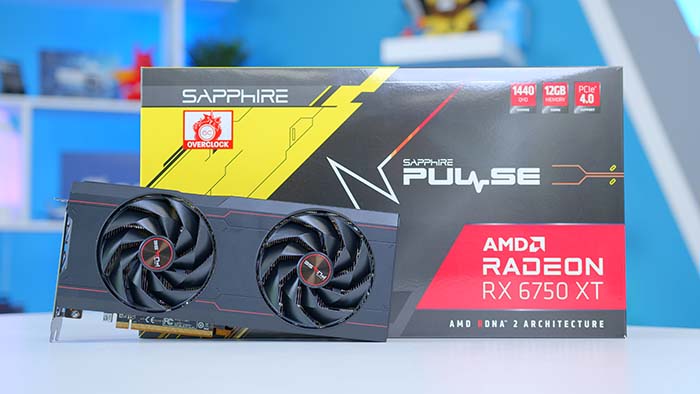 Introduction
Starting off with our GPU of choice, we have the Sapphire Pulse Radeon RX 6750 XT. As of writing, significant price reductions have made the RX 6750 XT is one of the most valuable graphics cards on the market, offering strong 1440p gameplay at a price well below the original MSRP. Whilst the release of the RX 7600 has been followed up with a drop in price for all the Radeon 6000 cards, the RX 6750 XT is arguably the most intriguing option for budget and mid-range systems.
With a 2.51GHz base and 2.61GHz boost clock speed, this particular SKU will have no issues running the latest games at 1440p, all for a price that is scarily close to the brand-new RX 7600. If you're looking for the cheapest way to access high-quality 1440p performance, then the RX 6750 XT is the best deal right now, and hopefully it maintains it value for the long haul.
Key Specs
| Key Specs | Sapphire Pulse Radeon RX 6750 XT |
| --- | --- |
| Base Clock Speed | 2.51GHz |
| Boost Clock Speed | 2.61GHz |
| Stream Processors | 2560 |
| Ray Accelerators | 40 |
| TDP | 250W |
Things We Like
Strong 1440p gameplay: Gaining access to consistent 1440p performance at an affordable price point has been extremely difficult to find. However, the recent price drops appears to make this an issue of the past.
Great value for money: Before receiving a price slash, the RX 6750 XT was already a graphics card that offered good value, so making it even cheaper only causes its value to go up.
Things We Don't Like
Pricing could go back up: Though the recent reductions in price seem to be a permanent change for all Radeon 6000 series GPUs, there is the possibility that this variant could creep back towards its $600 MSRP.
Simplistic design: Whilst we think the black and red shroud on this particular design looks rather sleek, it is unlikely to standout within a gaming PC. Also, the hints of red can easily clash with other components within your setup.
Where to Buy
Buy the Sapphire Pulse Radeon RX 6750 XT on:
CPU: AMD Ryzen 5 7600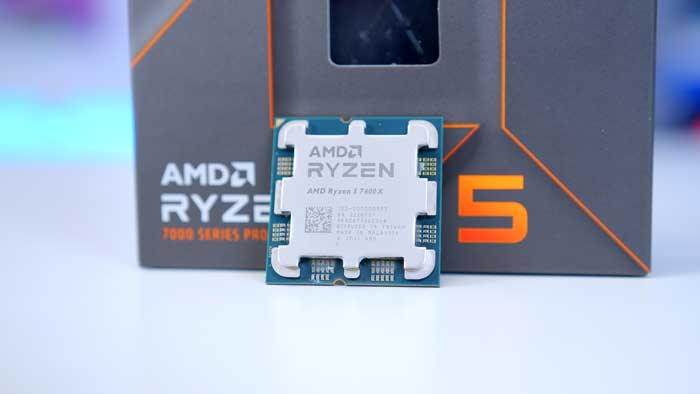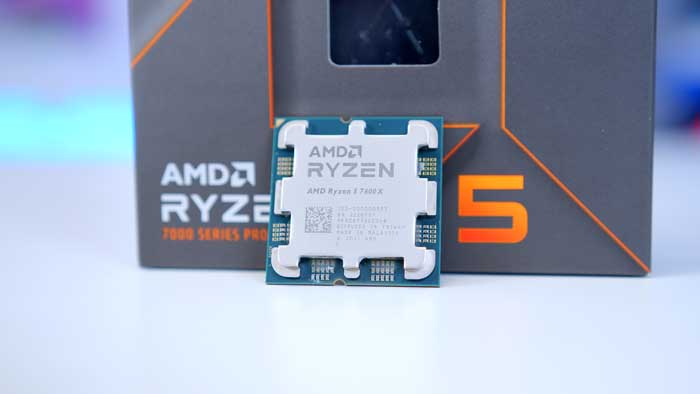 Introduction
To make our build an all-AMD affair, our processor of choice is the AMD Ryzen 5 7600. Just like their Radeon 6000 graphics cards, AMD's Ryzen 7000 processors are regularly available below MSRP, making them an ideal choice for gamers looking to stretch their budget as far as possible. Pairing this CPU with the 6750 XT makes for a extremely valuable combination, which significantly cuts down the cost for this build.
Despite being a cheaper Ryzen 7000 series processor, the 7600 boasts plenty of power to run all the latest titles at both 1080p and 1440p pretty comfortably. Additionally, those looking for some extra performance will be able to overclock this CPU, which is surprising given this SKU is targeted towards more budget-oriented builds.
Key Specs
| Key Spec | AMD Ryzen 5 7600 |
| --- | --- |
| Base Clock Speed | 3.8GHz |
| Boost Clock Speed | 5.1GHz |
| Core Count | 6 |
| Thread Count | 12 |
| Max Turbo Power | 65W |
| Overclockable | Yes |
Things We Like
Ideal for 1440p gaming: The clock speeds, cores, and threads on this CPU will offer stellar 1440p in a range of titles, no matter if they are considered demanding or not.
Affordably priced: This Ryzen 5 variant offers very similar performance to its 7600X counterpart, but comes with a cheaper price tag. As a result, this CPU is the best choice from AMD for gamers on a strict budget.
Things We Don't Like
DDR5 requirements: One of the major caveats with the Ryzen 7000 processors is that the AM5 platform is only compatible with DDR5 memory. Because of this, gamers can't pick up an older RAM kit or motherboard to cut down on expenditure.
Limited 4K capabilities: It is possible to run games at 4K on this CPU, it struggles to offer the performance you'd expect for modern games. This won't be an issue in this build, but anyone thinking of a future upgrade will have to replace this processor to make 4K gaming possible.
Where to Buy
Buy the AMD Ryzen 5 7600 on:
CPU Cooler: Deepcool AK400 WH
Introduction
One area of this build where we've managed to significantly cut down on costs is the CPU cooler, all thanks to DeepCool's AK400 WH. Whilst it's easy to go slightly overboard on a cooling solution by picking up a 240mm or 360mm liquid cooler, air coolers are a much cheaper option that will be able to keep most budget-friendly systems nice and cool.
Liquids AIOs are usually the safer bet in modern systems, but the AK400 WH in particular has proven to be a reliable choice in previous builds, so we were happy to include it here to help save some cash. The single 120mm does a good job at pushing air away from the CPU and out of the chamber, stopping your processor and surrounding components from overheating.
Key Specs
| Key Specs | DeepCool AK400 WH |
| --- | --- |
| Fans Included | 1 |
| Max RPM | 1850 |
| Connector Type | 4-Pin PWM |
| RGB | No |
| Size | 120 x 97 x 155 mm |
Things We Like
Plenty of airflow: The 1850 RPM fan speed creates a fast and constant flow of air which will move in and out of most budget and mid-range gaming PCs with ease. Whilst airflow is often reliant on the case choice, this air cooler will have no issues in this build.
Very cheap cooling: Air coolers themselves are one of the cheapest components that you can pick up when building a PC, and even by those standards, the AK400 can be considered good value. Available for under $50 at MSRP, this cooler is an extremely cost-effective cooling solution.
Things We Don't Like
Less efficient than liquid cooling: For budget gamers, an air cooler will be able to push air away from the CPU to keep temperatures down without any problems. However, liquid coolers can dissipate heat at a faster rate, which makes them a better option for more power-hungry systems.
Lack of RGB lighting: In order to keep the costs to a minimum, air coolers tend to exclude RGB lighting from their design. Though some gamers may prefer the cleaner look provided from the lack of RGB, those wanting a more vibrant rig may want to look at the alternatives.
Where to Buy
Buy the DeepCool AK400 WH on:
Motherboard: ASRock A620M Pro RS WiFi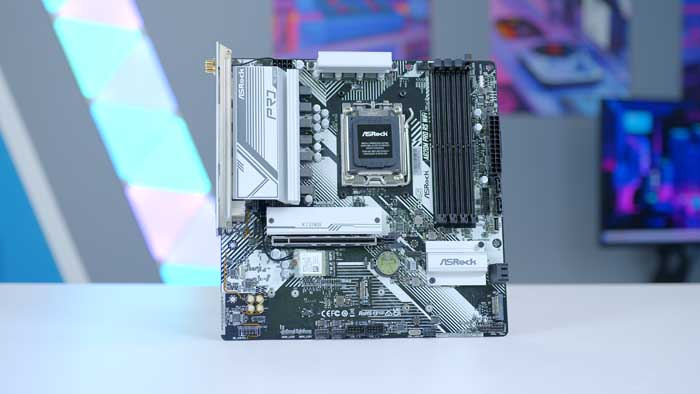 Introduction
In regards to connectivity, we've gone for a slightly more compact motherboard in this build. More specifically, the ASRock A620M Pro RS WiFi gets the nod this time around. As the latest chipset within the AM5 platform, the A620 motherboards follow the trend of recent AMD launches, offering everything needed within a modern system at a very affordable price point.
One of the main issues with Ryzen 7000 motherboards at launch revolved around the premium price point, which has clearly been addressed with the new A620 chipset. Unsurprisingly, these boards come with some connectivity limitations, but for those on a tight budget, a sub-$100 motherboard is a welcomed addition to the market.
Key Specs
| Key Specs | ASRock A620M Pro RS WiFi |
| --- | --- |
| Form Factor | Micro-ATX |
| Max Memory | 128GB DDR5 6000MHz |
| PCI-E x16 Slots | 1 x PCI-E 4.0 |
| PCI-E x4 Slots | 2 x PCI-E 4.0 |
| Rear IO | 2x USB 3.2 Gen1 Type-C, 5x USB 3.2 Gen1, 8x USB 2.0 |
| Networking | 2.5 Gigabit LAN, WiFi 6E |
Things We Like
Very affordable: A620 motherboards are one of the cheapest chipsets currently available, making them a perfect fit in this budget-friendly build. Also, it combines perfectly with our CPU and GPU of choice to forge an extremely valuable spine for a 1440p gaming PC.
Strong connectivity: Despite the lower price point, this motherboard does well to include all the key connections required to meet the demands of most modern gamers. For example, the A620M Pro RS WiFi includes both 2.5Gb LAN and WiFi 6E to allow gamers the choice of either wired or wireless internet connectivity.
Things We Don't Like
Limited connections: Whilst it is unlikely to cause too many issues for gamers planning on building a system like this one, the micro-ATX form factor does restrict the amount of connections which can be added to the design compared to more expensive boards.
Requires DDR5 memory: Whilst the cheaper price point of this motherboard is very beneficial for price-conscious buyers, it only supports DDR5 memory. This is somewhat counterproductive for budget gamers, as DDR5 memory is typically more expensive than the cheaper DDR4 memory, even if the gap is slowly closing.
Where to Buy
Buy the ASRock A620M Pro RS WiFi on:
RAM: Corsair Vengeance RGB DDR5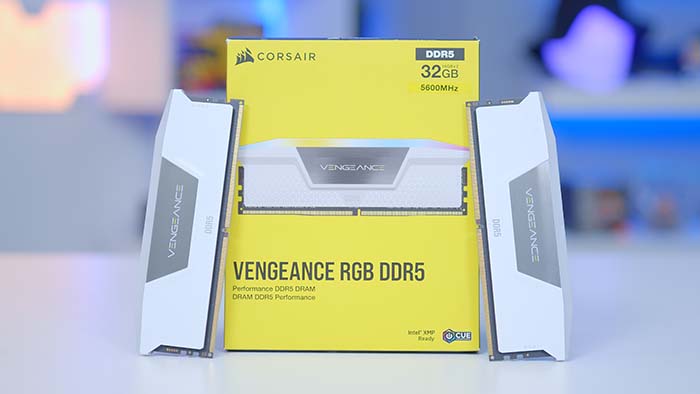 Introduction
As the AM5 platform only includes support for DDR5 memory, our choices for RAM were fairly restricted, making this the one area in this build where cost-cutting became more of a challenge. Because of this, we decided to pick up Corsair's Vengeance RGB DDR5 kit, as it strikes a good balance between performance and aesthetics. This kit will provide our system with smooth gaming performance and a vibrant glow thanks to the RGB lighting, making our investment feel more worthwhile.
We've used this RAM, along with many other kits from Corsair, in previous builds and it has yet to let us down. With 32GB capacity and 5600MHz transfer speeds, this memory can run even the most demanding games without experiencing technical issues, and ensures this build will be able to support games for years to come.
Key Specs
| Key Specs | Corsair Vengeance RGB DDR5 |
| --- | --- |
| Kit Capacity | 32GB |
| Memory Speed | 5600MHz |
| CAS Latency | CL36 |
| RGB | Yes |
| Colour Options | Black, White |
Things We Like
Smooth 1440p gameplay: For modern games, we'd recommend picking up a 32GB RAM kit, as it reduces loading times and will be better at preventing technical issues, leading to a greater sense of immersion whilst playing the latest titles.
Corsair iCUE support: As a Corsair product, this kit comes with access to their iCUE software. We're big advocates for Corsair's industry-leading software, as it provides extensive support and customisation for various Corsair products, whilst also being easy to navigate.
Things We Don't Like
More expensive than DDR4: Even though the price of DDR5 is quickly catching up with DDR4 in terms of pricing, the necessary upgrade to DDR5 does force AM5 users to pay more than Intel users that can opt for DDR4 kits instead.
Cheaper kits available: The price difference between this particular kit compared to the cheapest DDR5 memory available isn't too drastic. But for those looking to save as much as possible, a non-RGB kit is worth considering in order to shed those pounds.
Where to Buy
Buy the Corsair Vengeance RGB DDR5 on:
SSD: Corsair MP600 GS 1TB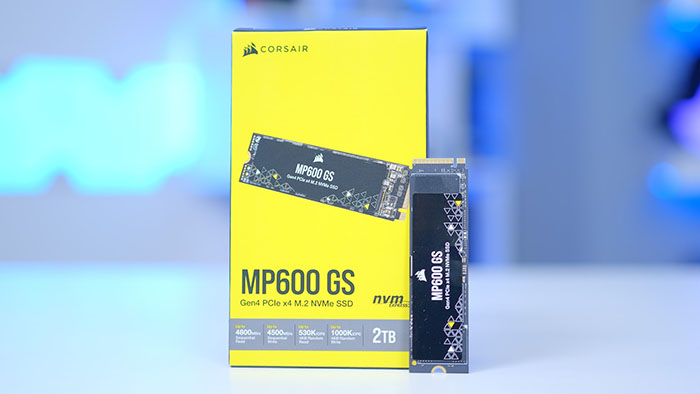 Introduction
We're sticking with Corsair for our storage, with the affordable MP600 GS. Whilst our build includes the 2TB version of this M.2 SSD, the 1TB alternative will offer the same performance, but is available for cheaper. The ever-growing nature of modern games means that 1TB of storage is almost a necessity for new gaming PCs, as 500GB will struggle to hold more than a few AAA blockbusters.
In terms of performance, this cheaper price point makes this SSD relatively slow compared to the high-end Gen4 drives, but the 4.8GB/s read and 4.5GB/s write speeds are a significant improvement on PCI-E 3.0 and will be fast enough to run games easily on a budget system. As a result, the MP600 GS is a solid all-in-one storage solution that won't break the bank.
Key Specs
| Key Specs | Corsair MP600 GS |
| --- | --- |
| Capacity | 1TB |
| Read Speeds | 4800MB/s |
| Write Speeds | 4500MB/s |
| Interface | PCI-E Gen4 x4 |
| Form Factor | M.2 2280 |
Things We Like
Affordable Gen4 storage: With the increase read and write speeds possible with PCI-E 4.0, it can be difficult to find an Gen4 SSD at a price point that competes with the price the Gen3 alternatives. However, the MP600 GS is one of the few exceptions to this rule, offering improved performance on the cheap.
Easy to install: Like any M.2 storage, this SSD is very simple to install onto a motherboard, as it just fits into its dedicated slot without having to mess around with lots of brackets or cables.
Things We Don't Like
Slower than most Gen4 options: Compared to other SSDs within its price range, the Corsair MP600 GS offers a small boost to gaming performance. However, it is also one of the slowest Gen4 SSDs available, which makes the small jump to a faster option seem like a worthwhile investment.
Can require additional storage: For most gamers, the 1TB capacity on this SSD should be more than enough to support the games within their current library. However, anyone that likes to play a variety of open-world or live service games may want to upgrade to 2TBs fairly quickly.
Where to Buy
Buy the Corsair MP600 GS on:
Case: Montech Air 100 Lite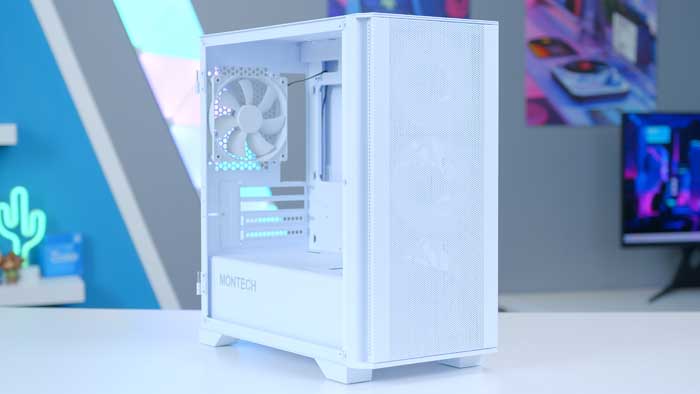 Introduction
To house all of our components, we've opted for the Montech Air 100 Lite, a compact and budget-friendly case designed to offer a versatile chassis that is easy to build in and maintain. As suggested in its name, the Air 100 Lite also puts an emphasis on airflow, which will be an important factor in getting the best performance possible out of this build. Whilst there are plenty of cases which encourage optimal airflow, this design is one of the cheapest to do it successfully.
In terms of size, the micro-ATX form factor will be able to support a range of components without taking up lots of desk space. Whilst this does come with some restrictions, such as a lack of support for ATX motherboards and high-end GPUs, there are plenty of ways to work around them whilst still achieving your desired gaming config. Of course, the Air 100 Lite used in this build is an all-white design, but it is also available in black, meaning you can choose the colour-scheme that suits your setup.
Key Specs
| Key Specs | Montech Air 100 Lite |
| --- | --- |
| Form Factor | Micro-ATX |
| Fan Support | 8 x 120mm, 2 x 140mm |
| Motherboard Support | Micro-ATX, Mini-ITX |
| Max GPU Length | 330mm |
| CPU Cooler Clearance | 161mm |
Things We Like
Compact design: It's no secret that gaming PCs can take up a lot of room, which makes them quite the nuisance for those with limited space within their setup. That's why compact designs like the Air 100 Lite are very useful, especially for those on a budget.
Very affordable: Montech are known for providing high-quality casing for an affordable price, and the Air 100 Lite is a prime example. Despite being one of the cheapest PC cases on the market, it offers great build-quality and is fairly straightforward to build in.
Things We Don't Like
Component limitations: The micro-ATX form factor of this case will limit the range of components that can be slotted into this chassis. Motherboards in particular will be affected, as this case can't support the standard ATX layout.
Simple aesthetic: Due to the very low price point of this case, the design is kept very simple in order to put resources. Because of this, the bland appearance means gamers wanting their PC to stand out will either need to pack this case with lots of eye-catching components, or spend more on a more intricate design.
Where to Buy
Buy the Montech Air 100 Lite on:
PSU: Cooler Master MWE Gold 750 V2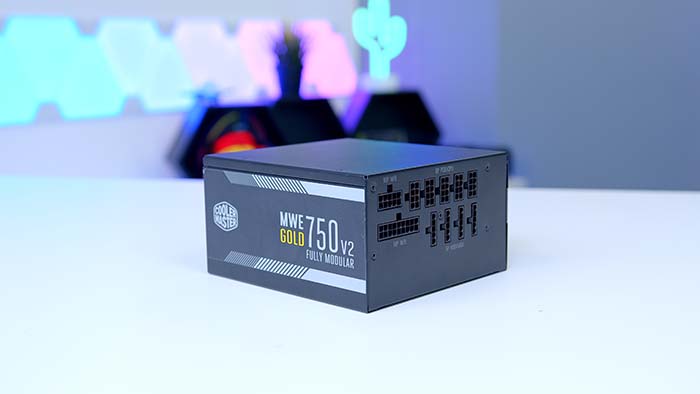 Introduction
The final piece of the puzzle for this build is the power supply, which will provide the juice needed to run this system in an efficient manner. Our PSU of choice for this build is the Cooler Master MWE Gold 750 V2, a fully modular design which will comfortably power all the components within this system, whilst also leaving enough space for future upgrades. Another product that has made frequent appearances in our PC builds and buyers guides, this PSU has proven to be a reliable option.
Boasting an 80+ Gold efficiency rating, this power supply will remain cool and quiet when placed under heavier loads, meaning it should have no issues handling the budget-oriented parts featured in this build. Plus, the 750 Watts provided with this PSU sits comfortably above the recommended requirements for the RX 6750 XT, which provides some breathing room for upgrades.
Key Specs
| Key Spec | Cooler Master MWE Gold 750 V2 |
| --- | --- |
| Wattage | 750W |
| Efficiency Rating | 80+ Gold |
| Modularity | Fully modular |
| ATX Standard | ATX 2.0 |
| Zero Fan Mode | No |
Things We Like
80+ Gold efficiency rating: Whilst there has been some debates over the reliability of the 80+ rating system, it always provides a good indication of what to expect from a particular power supply. As this PSU has been awarded an 80+ Gold rating, consumers can assume it will power a system without producing lots of noise or heat.
Fully modular design: One of the trickiest aspects of any PC build is the cable management, so any method that simplifies this process is always welcome in our eyes. That's why we're happy that the MWE Gold V2 includes a fully modular design, as it allows full control over the cables connected, which reduces clutter inside a build.
Things We Don't Like
Cheaper options available: The power supply is one part of the build which we would never recommend trying to find a bragain, as picking up an untrustworthy but cheaper PSU could have dire consequences. However, there are plenty of other reliable 750W PSUs that can be bought for slightly cheaper if you browse for long enough.
Where to Buy
Buy the Cooler Master MWE Gold 750 V2 on:
White Gaming Peripherals
As this build is all about getting the best bang for your buck, we thought we'd pair our system up with some gaming peripherals which offer excellent value for money. On top of this, all of the recommendations are available in white, allowing you to match the colour-scheme of this build.
Logitech G305 LIGHTSPEED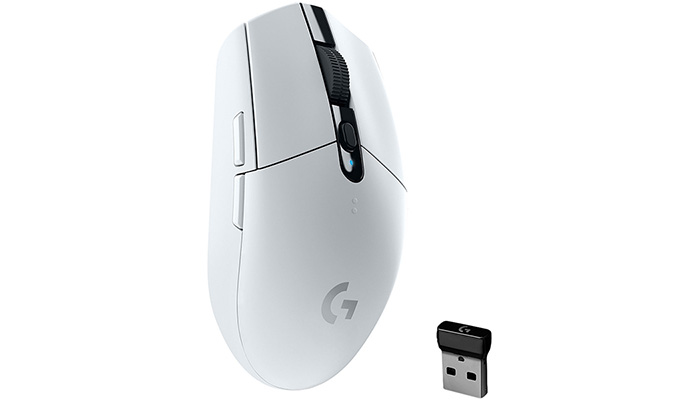 For quite some time now, Logitech have been considered the kingpins of gaming peripherals, and products like the G305 LIGHTSPEED only goes to show why. Equipped with the latest Logitech innovations such as LIGHTSPEED wireless and a 12K HERO sensor, this wirless gaming mouse provides solid accuracy and functionality for those on a restricted budget.
Buy the Logitech G305 LIGHTSPEED on:
HyperX Alloy Origin 60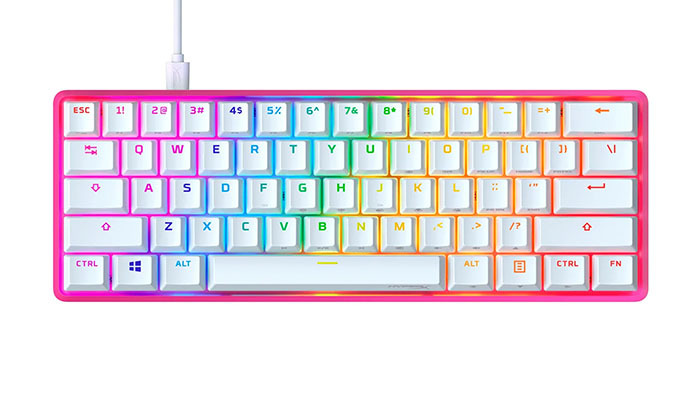 For those gamers looking for a keyboard to stand out, then the pink and white colour combination on the HyperX Alloy Origin 60 will do the trick. The pink base and RGB backlighting offers a great accent to a white gaming setup. In addition, the 60% layout clears up desk space while keeping all the necessary inputs, which is ideal for competitive gamers.
Buy the HyperX Alloy Origin 60 on:
SteelSeries Arctis 5 RGB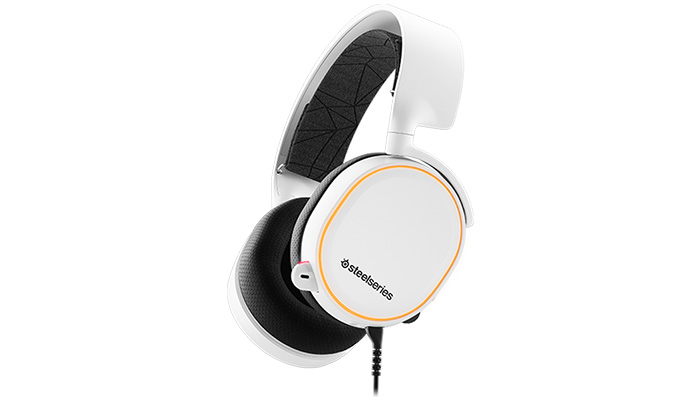 SteelSeries are another brand that is renown for providing a range of great gaming peripherals, with a particular expertise in headsets. The Arctis 5 sits in the middle of their popular Arctis series, acting as a bridge between the sound-quality on the high-end variants and the price of the budget-oriented models. However, the RGB ring on this model helps it stand out in it's own right.
Buy the SteelSeries Arctis 5 on:
Gaming Benchmarks
Now that we've put the build together and recommended some accessories to go alongside it, it's time to have a look at how well this budget system can perform at 1440p. For our benchmarking run, we put a heavy focus on testing this card at 1440p, as this would tell us whether you can realistically achieve strong 1440p gameplay on a gaming PC for under $100.
Thankfully, our results suggest this is more than possible, as the RX 6750 XT performed well in a range of titles. On multiple occasions, AMD's mid-range card managed to eclipse more expensive offerings from Nvidia, including their recently released RTX 4070 and RTX 4060Ti SKUs. Additionally, the RX 6750 XT surpassed the 144FPS sweet-spot in most competitive titles, which means consumers would be able to take full advantage of a 144Hz 1440p gaming monitor.
[smartslider3 slider="66″]
Gallery
Video