Introduction
It's been a while since AMD released their first Radeon 7000 graphics cards, but the long wait for a new entry is finally over. Instead of naturally progressing onto the next set of high-ends cards, AMD have skipped down to their more budget-oriented RX 7600 this time around, to compete with the recent releases from Nvidia.
If you're planning on picking up AMD's latest release for a PC build, one of the main factors to consider is what PC case you will be slotting your RX 7600 graphics card into. Luckily, this GPU will be able to fit into the majority of cases on the market, meaning you are less likely to experience the compatibility issues that have plagued other recent releases.
In this buyers guide, we'll be offering our top recommendations for PC cases that will accommodate the RX 7600, as well as some guidance on how to pick the perfect chassis for your budget-friendly gaming PC.
Suggested Article: Best AMD Radeon RX 7600 Graphics Cards to Buy in 2023
Our Recommendations
1. Cooler Master CMP520
👑 The best budget PC case for the RX 7600.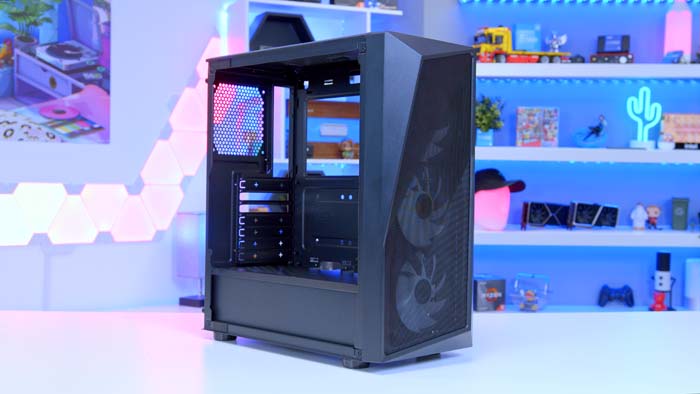 Introduction
Starting off our list with a reliable and affordable choice from Cooler Master, the CMP 520. This Mid Tower design is one of the most affordable cases on the market that has more than enough space to hold the range of RTX 7600 cards. On top of this, the CMP520 provides plenty of room for other components within the build, supporting various form factors for each.
In terms of appearance, the geometric front panel helps to elevate the overall look of a gaming PC while providing plenty of airflow to components by increasing the area of intake. To bolster appearances further, the CMP520 comes with three pre-installed ARGB fans, allowing gamers to add a splash of colour to their gaming PC.
Key Specs
| Key Specs | Cooler Master CMP520 |
| --- | --- |
| Form Factor | Mid Tower |
| Max GPU Length | 350mm |
| Motherboard Support | Mini-ITX, Micro-ATX, ATX |
| CPU Cooler Height Clearance | 161mm |
| Max PSU Length | 160mm |
| Fans Support | 6 x 120mm, 4 x 140mm |
Things We Like
Affordable pricing: As one of the cheapest Mid Tower PC cases on the market, the CMP520 is a solid option for gamers looking to build a gaming rig on a tight budget.
Plenty of airflow: Along with plenty of support for fans and radiators, as well as being packaged with three pre-installed fans, the mesh front panel and ventilations around the case means this case provides plenty of airflow to all the components housed inside it.
Things We Don't Like
Limited clearance: The main concern with this case comes with clearance for larger components. Whilst the GPU clearance shouldn't be a worry for most RX 7600 users, the CPU cooler and PSU clearance is quite small compared to other cases available.
Simplistic design: Due to its budget pricing, this case lacks the design choices which would allow it to stand out from what you'd expect to find on most PC cases. As a result, it may be worth picking up a a design which is slightly less barebones.
Summary
Overall, the Cooler Master CMP520 is an ideal choice for RX 7600 users that are looking to keep costs down to a minimum. As one of the most affordable PC cases on the market, the CMP520 will provide budget builders with the space required to house all their components, along with plenty of airflow.
Features: 4/5
Design: 3.6/5
Versatility: 3.8/5
Value for Money: 4.5/5
Pros
Budget price point
Lots of airflow
Will support RX 7600 GPUs
Cons
Limited clearance
Lack of standout features
Where to Buy
Buy the Cooler Master CMP520 on:
2. NZXT H5 Flow RGB
👑 The best compact case for the RX 7600.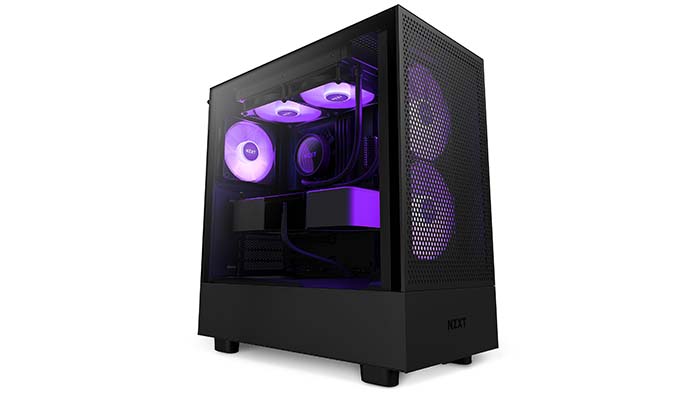 Introduction
For those RX 7600 users looking for a more premium design that will be able to provide plenty of airflow to their brand-new graphics card, then the NZXT H5 Flow RGB is worth considering. Following the same minimalist style found on the rest of NZXT's PC Cases, the H5 Flow RGB is a more compact offering that provides a snug fit for most budget components. Despite the smaller size, this case still has enough space to accommodate a RX 7600 GPU, whilst offering plenty of clearance for sufficient airflow.
As the name would suggest, the H5 Flow RGB puts a heavy focus on providing your system with as much airflow as possible. In order to achieve this, the H5 Flow has a fully perforated front and top panel, allowing air to move in and out of the case without obstructions, making this case an ideal choice for those concerned about their system running hot.
Key Specs
| Key Specs | NZXT H5 Flow RGB |
| --- | --- |
| Form Factor | Mid Tower |
| Max GPU Length | 365mm |
| Motherboard Support | Mini-ITX, Micro-ATX, ATX |
| CPU Cooler Height Clearance | 165mm |
| Max PSU Length | 185mm |
| Fans Support | 6 x 120mm, 2 x 140mm |
Things We Like
Compact & minimalist: Like most NZXT products, this case possesses a clean and uniform look. This makes for a great inclusion within a minimalist setup, or just helps to draw the attention of build towards the components inside of the chassis.
Lots of ventilation: With perforated panels on the front and top of the case, the H5 Flow RGB is almost certain to keep your system nice and cool. Because of this, it may be worth considering for gamers that are planning on pushing their RX 7600 to the limit.
Things We Don't Like
Pricing: Even though this case is a more compact design with less versatile component support, it still sells at a similar price to the rest of NZXT's options. Therefore, a larger NZXT case might be worth considering for those looking to get the best value possible.
Limited clearance: In a similar fashion to the previous entry on our list, the H5 Flow RGB has some limited support for other components. For example, the 185mm PSU clearance should be enough to hold most power supplies, but it does leave hardly any breathing room, which raises airflow and cable management concerns.
Summary
Gamers looking to keep their RX 7600 PC build fairly compact while ensuring it keep a sufficient amount of airflow will be more than happy with what the NZXT H5 Flow RGB provides. This chassis manages to provide lots of ventilation, a minimalist design, and support for a variety of modern components within its reduced form factor, providing gamers with a modest balance between size and function.
Features: 4.2/5
Design: 4.3/5
Versatility: 4.2/5
Value for Money: 4/5
Pros
Compact design
Premium aesthetic
Offers plenty of airflow
Cons
Pricier option
Lacks comfortable clearance
Where to Buy
Buy the NZXT H5 Flow RGB on:
3. Lian Li Lancool 215
👑 The best value case for the RX 7600.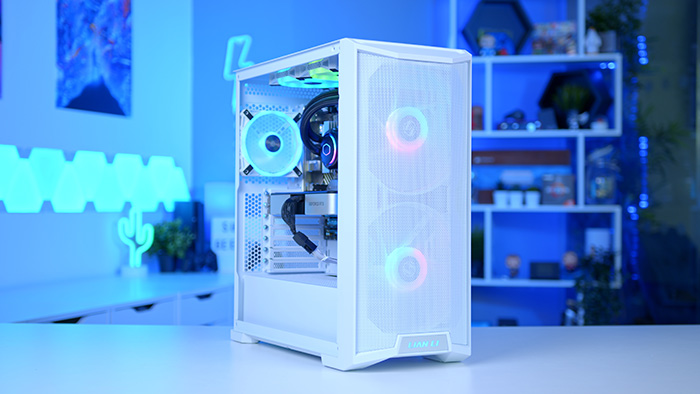 Introduction
Next up, we have the Lian Li Lancool 215. This all-white mid tower PC case is another product that takes its cooling responsibilities quite seriously, offering a healthy amount of ventilation to any build it is carrying. But on top of the typical mesh panels, the Lancool 215 is also equipped with two gigantic 200mm fans, allowing it to push and pull lots of air through the front of the system.
In terms of aesthetics, this case is available in both black and white, but we're looking at the all-white design in particular, as it makes for a perfect addition to any white-themed gaming PC. To top it all off, this Mid Tower case is able to support a plethora of components, including up to 370mm of space for a graphics card, which will comfortably fit any RX 7600 SKU.
Key Specs
| Key Specs | Lian Li Lancool 215 |
| --- | --- |
| Form Factor | Mid Tower |
| Max GPU Length | 370mm |
| Motherboard Support | Mini-ITX, Micro-ATX, ATX, E-ATX |
| CPU Cooler Height Clearance | 166mm |
| Max PSU Length | 210mm |
| Fans Support | 7 x 120mm, 6 x 140mm |
Things We Like
Optimal cooling: Combining the two 200mm fans with a heavily mesh design and lots of support for fans and radiators, this case has the potential to provide a system with unrivalled cooling. So if you have any concerns about thermals, this case will have you covered.
Great for all-white builds: Whilst this case is also available in black, the white design specifically does a great job at maintaining a consistent colour-scheme throughout, unlike a lot of other white cases on the market. Because of this, the Lancool 215 is a great option for any white gaming PC.
Things We Don't Like
Additional costs: The pricing of the case itself is not bad considering the features features included. However, in order to take full advantage of what this case has to offer, consumers would have to be prepared to spend more than expected to fill out all the compartments available.
RGB lighting: Whilst this case does include some RGB, including on the front fans, the lighting effects are somewhat lost behind the mesh. Because of this, RGB lovers would be better off with a case that is designed with a heavier focus on RGB.
Summary
If keeping your system cool is the number one priority, then a case like the Lian Li Lancool 215 is going to be one of the best cases at meeting your demands. Packed with two gigantic 200mm fans on the front panel, and an abundance of mesh surrounding the chamber, there is no reason why the airflow would be obstructed, or for issues such as overheating to occur.
Features: 4.2/5
Design: 4.5/5
Versatility: 4.5/5
Value for Money: 4.2/5
Pros
Optimal airflow
Vast component compatibility
Perfect for white-themed builds
Cons
Better with additional parts
Not the best RGB
Where to Buy
Buy the Lian Li Lancool 215 on:
4. MSI MPG Gungnir 110R
👑 The best looking case for the RX 7600.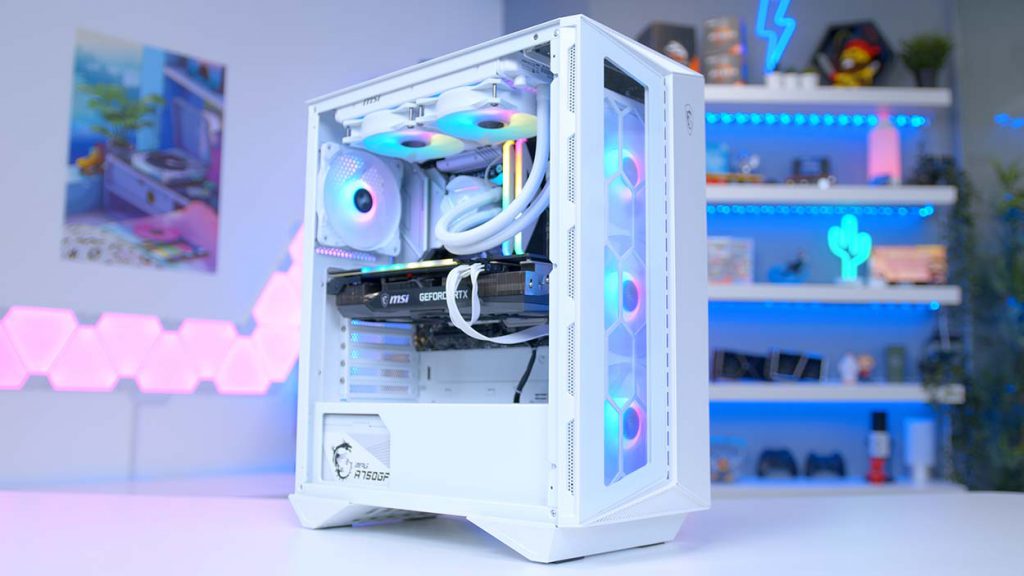 Introduction
To round things up, we have a rather intricate design that is sure to bring a futuristic vibe to any gaming setup it is thrown into, the MSI MPG Gungnir 110R. The sectioned front panel resembles something that you would expect to find on a ship in a sci-fi adventure, which is sure to intrigue anyone that lays on it. However, the complex nature of this design has some practical application too, as it helps to combine the best elements of the panels found on other designs.
The glass section provides a window in which the RGB fans can shine through without any hinderance to the lighting effects, whilst the vents ensure that there is plenty of airflow and the solid panel provides a more professional look that will be less distracting when this case is put on display. In regards to compatibility, the Gungnir 110R will be able to accommodate most RX 7600 GPUs pretty comfortably.
Key Specs
| Key Specs | MSI MPG Gungnir 110R |
| --- | --- |
| Form Factor | Mid Tower |
| Max GPU Length | 340mm |
| Motherboard Support | Mini-ITX, Micro-ATX, ATX |
| CPU Cooler Height Clearance | 170mm |
| Max PSU Length | 250mm |
| Fans Support | 6 x 120mm, 4 x 140mm |
Things We Like
Futuristic design: Any gamers that are fans of navigating through space or wandering through a cybernetic dystopia are bound to enjoy the technologically enhanced design featured on this case. Plus, the choice of colour allows gamers to choose the option that best fits in with the rest of their setup.
Lots of room for components: Along with the support for AMD's Radeon RX 7600 graphics cards, this case has plenty of space to accommodate a range of supporting components, giving consumers plenty of choice when configuring their next gaming PC.
Things We Don't Like
Restricted airflow: Whilst the ventilation featured throughout the chassis should provide enough airflow for budget and mid-range systems, the cooling capabilities are significantly reduced compared to the other cases featured on this roundup, as airflow doesn't appear to be the top priority of this particular design.
Design not for everyone: For each person that is a fan of the Gungnir 100R's design, there is likely another person that hates it. This divisive appearance seems to be a conscious decision in order to make this case stand out, but it still going to be a deterring factor for a wide range of gamers.
Summary
For PC builders that want to forge a gaming PC that doesn't follow the typical design choices without steering too far away from the beaten path, then MSI's MPG Gungnir 110R is perhaps the perfect solution. Featuring an abstract design targeted towards gamers, this Mid Tower chassis has all the tools needed to house a RX 7600 gaming PC that is built to stand out from the crowd.
Features: 4.2/5
Design: 4.5/5
Versatility: 4.2/5
Value for Money: 4/5
Pros
Premium aesthetic
Versatile design
Available in black & white
Cons
Panels restrict airflow
Design won't be for everyone
Where to Buy
Buy the MSI MPG Gungnir 110R on:
How Strong is the RX 7600 in Games?
In this small section, we're going to be delving into some performance benchmarks for the RX 7600. We've provided some comparative graphs that show performance metrics versus other cards on the market, so it gives you an idea of how many frames your game should be able to reach with each GPU.
Fortnite
First off, in Fortnite at 1080p competitive settings (which is everything dialled to low), we saw an insane framerate of 273FPS, which is more than enough for consumers with a high refresh rate display to enjoy an excellent and smooth visual experience. Ultimately, we knew performance would be could, but we didn't think the 7600 would be able to surpass the likes of an RTX 3080 Ti from NVIDIA's previous generation of cards.
Regardless, the performance here was very strong from the RX 7600. It is very clear to use immediately from this graph, that the RX 7600 is likely to be the new 1080p option for the vast majority of consumers. Considering how cheap this card is, and where it lands in 1080p games, we would urge consumers to pick up this GPU if you're building a budget-oriented 1080p gaming PC.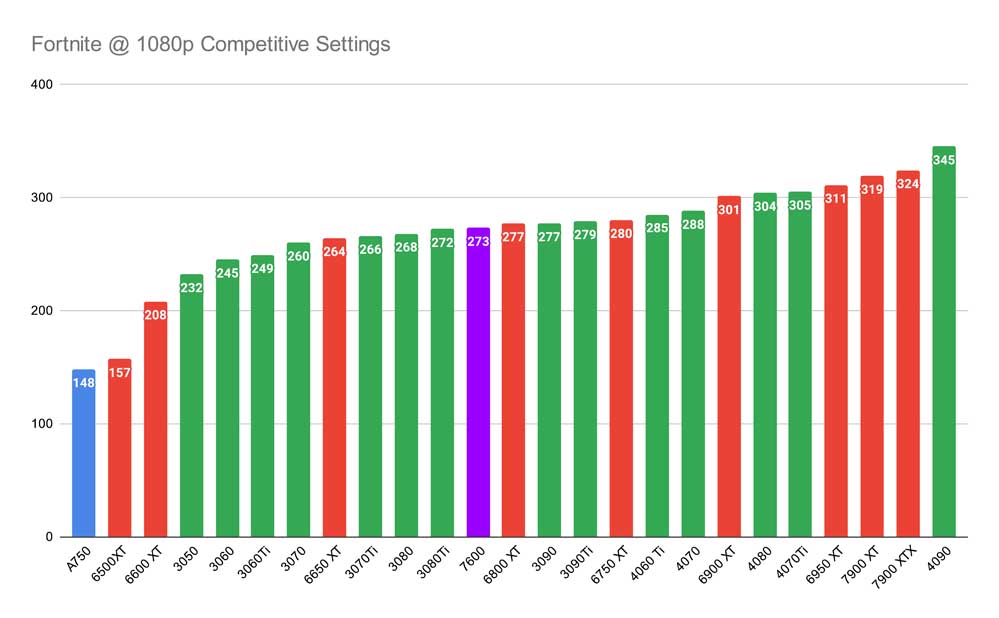 Battlefield 2042
In Battlefield 2042 performance was a little bit weaker in comparison to Fortnite, but we still had a great gaming experience. This card was able to offer around 118FPS which is unfortunately a fair bit away from the 144Hz sweet spot. Battlefield 2042 is a rather unoptimised title, so even with FSR enabled at 1080p, this card wasn't really able to get close to the 144Hz mark.
Regardless, I'd still say that the vast majority of consumers would be happy with this performance. If you're wanting to reach 144FPS, you'll need to dumb down a few settings in this game, but it could be worth it, as the benefit is having a super smooth visual experience alongside smooth gameplay. The RX 7600 did also lose out to the 4060 Ti in this benchmark, but I'd argue that an extra $200 for about 30 extra frames at this level is not worth it.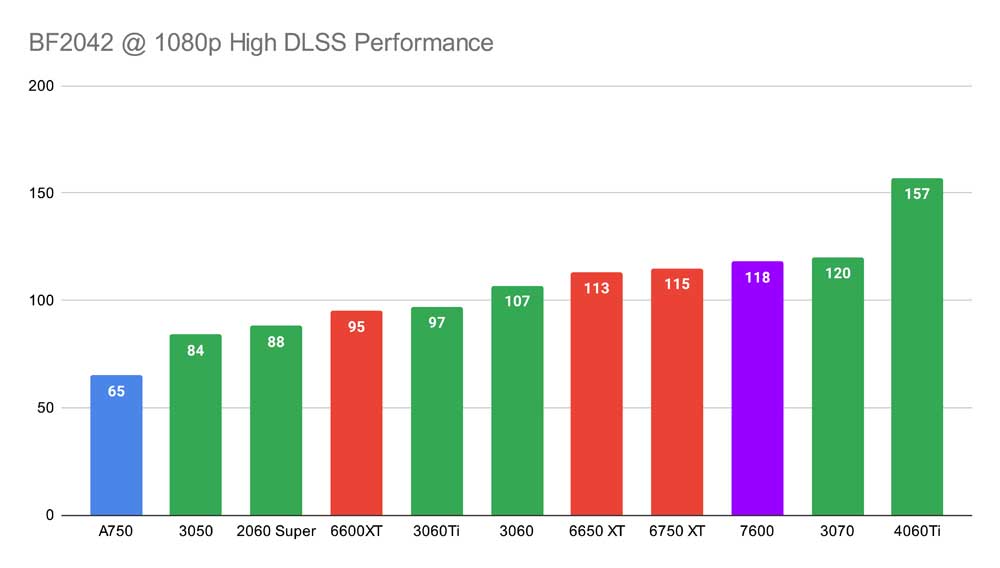 F1 2022
For our final benchmark, we tested out F1 2022 at 1440p ultra high settings with DLSS and FSR enabled. In this benchmark we saw the RX 7600 reach an average framerate of around 154FPS which was very solid. This meant we could enjoy a buttery smooth display experience in this title, allowing us to make quick decisions in the game without any visual hindrances.
The RX 7600 aligns itself very closely with the RTX 3070 in this case at 1440p, which I'd argue is impressive considering the price of this card. Although the 7600 is clearly a 1080p card, it is great to know that there's some upgrade options if you decide to pick up a higher resolution display. The 7600 is an excellent 1080p card, but has great legs in 1440p too.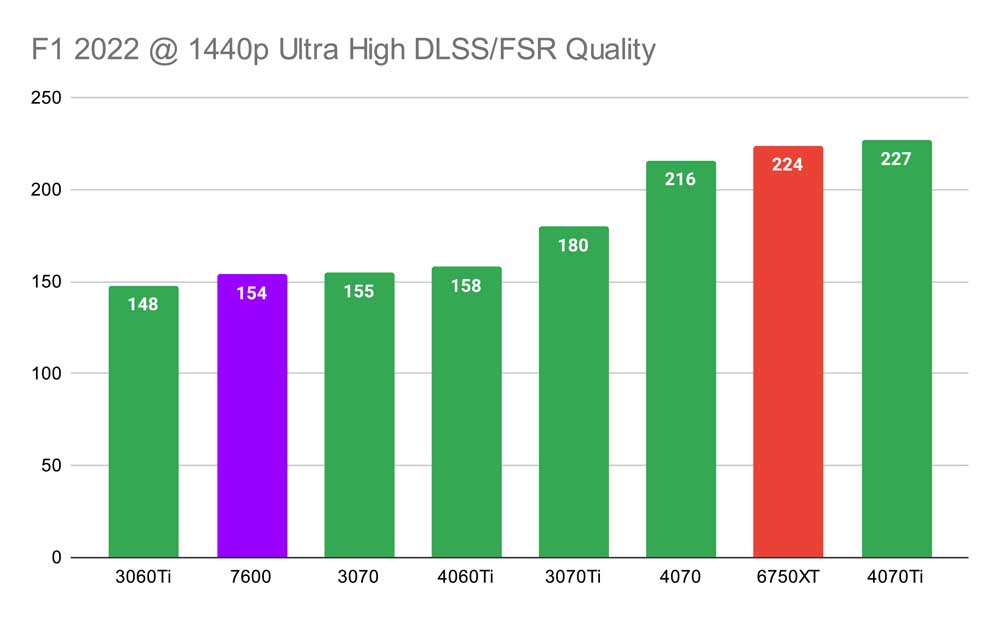 RX 7600 Size Comparison
When picking up a brand-new graphics cards, one of the most natural comparisons to make is the size compared to other options on the market. Whilst the dimensions of a GPU won't necessarily have a direct impact on performance or functionality, it is an important factor to consider within a build, as it will determine how well a card will fit in with the other components. More specifically, seeing how a card stacks up against previous releases can often indicate whether a new release will fit within a system or not.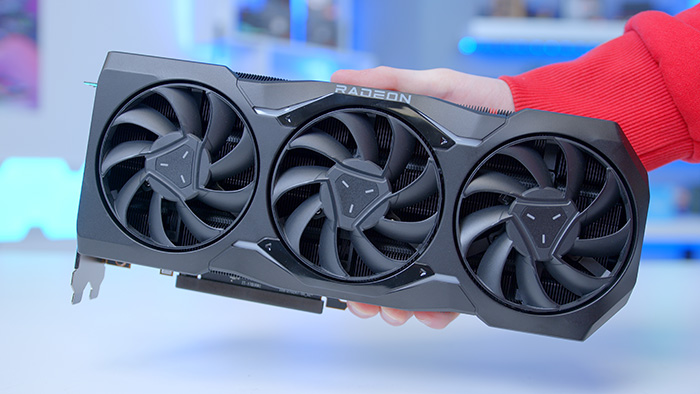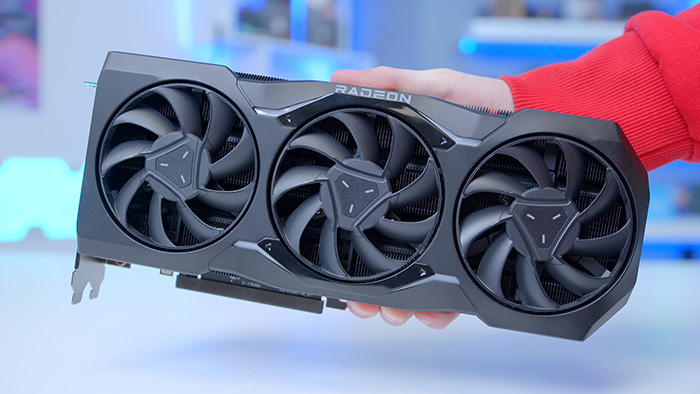 Looking at the RX 7600 specifically, the sizing is not too dissimilar to the RX 7900 XTX and XT, with each SKU coming in at around 270mm to 280mm in length. This should be quite easy to fit into most PC cases, but could be a tight fit in certain designs, meaning the amount of clearance will be less than ideal for the graphics card. But compared to Nvidia's initial RTX 40 series GPUs, case compatibility is a lot less likely to cause problems for prospective RX 7600 users.
For a full size comparison between the latest graphics cards from both AMD and Nvidia, see the table below:
GPU
Dimensions
Recommended Case Clearance
Nvidia RTX 4090 Founders Edition
Length: 304mm
Width: 137mm
Length: 350mm
Width: 200mm
Nvidia RTX 4080 Founders Edition
Length: 304mm
Width:137mm
Length: 350mm
Width: 200mm
AMD Radeon RX 7900 XTX
Length: 287mm
Width: 110mm
Length: 330mm
Width: 150mm
AMD Radeon RX 7900 XT
Length: 276mm
Width: 110mm
Length: 330mm
Width: 150mm
Nvidia RTX 4070 Founders Edition
Length: 250mm
Width: 112mm
Length: 300mm
Width: 170mm
AMD Radeon RX 7600
Length: 278mm
Width: 130mm
Length: 330mm
Width: 180mm
AMD Radeon 6650 XT
Length: 237mm
Width: 115mm
Length: 280mm
Width: 170mm
Nvidia RTX 3070 Founders Edition
Length: 242mm
Width: 112mm
Length: 300mm
Width: 170mm
How Much Clearance Do Components Need?
When searching for a case to build a gaming PC inside of, it's easy to look at the dimensions of PC components and then slot them into the chassis like a jigsaw puzzle. However, this doesn't take into account the amount of space required to let these perform optimally, often referred to as clearance. Failing to provide your components with enough clearance often leads to restricted airflow, resulting in limited performance and potential damage.
But how much clearance should you provide for each of your components? As a general rule of thumb, we recommend leaving at least 50mm of clearance between a component and the outside of a case, as this will provide enough space to channel air around the chamber with ease.
However, this amount will vary slightly with each component. For example, a graphics card will benefit from having greater clearance of up to 100mm, whereas a CPU cooler won't necessarily need 50mm of space to function effectively. But for those stuck on what dimensions for their case, then the 50mm rule is a good place to start.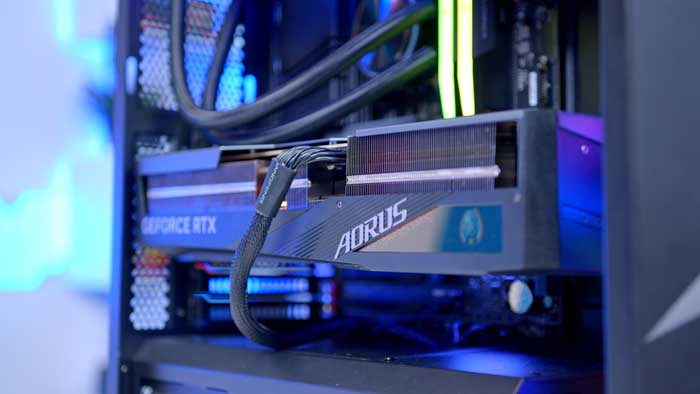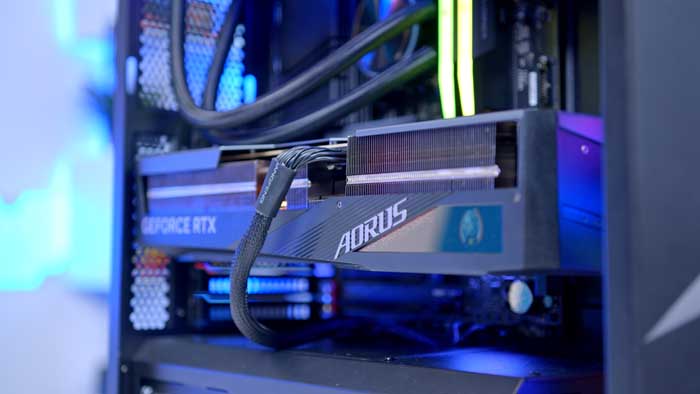 Why You Can Trust Us
For anyone that has looked through our recommendations, you may be wondering what makes us qualified to talk about this particular topic? Our team of PC hardware experts and gaming enthusiasts regularly test and evaluate all of the latest products in multiple gaming and productivity based scenarios. These findings are then used to create a general overview of the product in question, which gets relayed to our audience via YouTube videos and articles like this one.
Want to learn more about each of our team members or our editorial promise? Head over to the About Us section.
How We Tested the Best Cases for the RX 7600.
In order to test and evaluate the best PC cases for the RX 7600 there are a number of factors that we take into account, these are:
Size
GPU Clearance
Functionality
Versatility
Design
Value for Money
Conclusion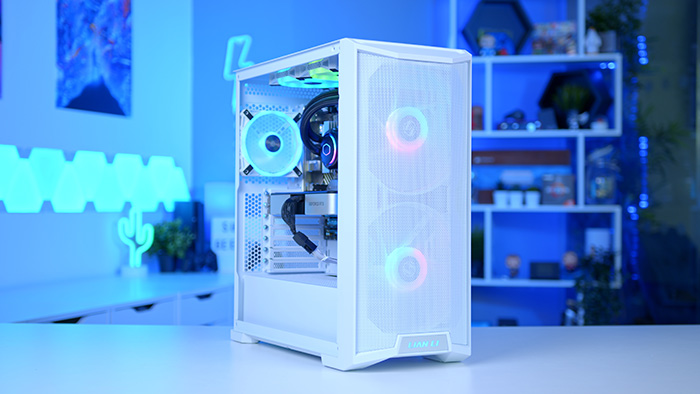 Best PC Case for the RX 7600: Lian Li Lancool 215
After weighing up all of the cases highlighted within this buyers guide, our favourite case to use for an AMD Radeon RX 7600 PC build would have to be the Lian Li Lancool 215. As well as being an affordable Mid Tower PC case that includes plenty of support for the latest components, the emphasis on optimising airflow ensures that your brand-new system will run without having to worry about parts running hot. Also, the block colour-scheme throughout offers a clean look that is perfect for an all-white gaming PC.
Read our full Lian Li coverage, or Buy the Lian Li Lancool 215 on Amazon
Frequently Asked Questions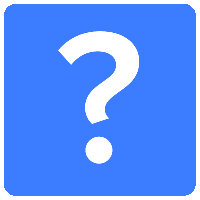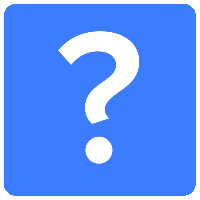 Should I Be Concerned About Case Clearance?
Yes. Case clearance is a common issue that can occur in PC builds, which can cause to components being damaged or overheating if the issue is not addressed.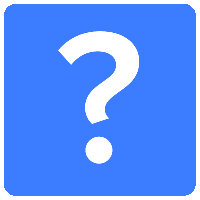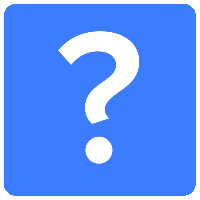 Is the Radeon RX 7600 Good for 1440p Gaming?
Despite being marketed as a 1080p card, the RX 7600 is actually excellent for 1440p gaming. Consumers can expect solid performance in the vast majority of Esports titles and modern triple A games.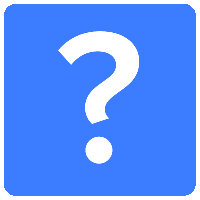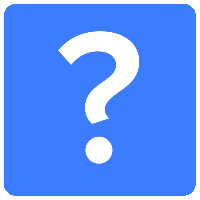 Can I Fit the RX 7600 In a Mini-ITX Case?
It depends on the case, but yes. The RX 7600 is a relatively small card, and even though the Gigabyte model is slightly bigger than the reference card, you shouldn't have any issues installing it.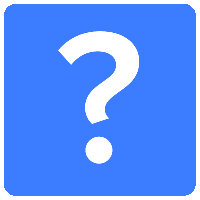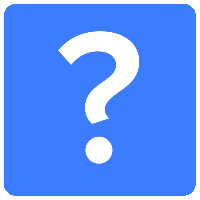 How Important Is Airflow in a PC Case?
Very. The airflow of a PC Case has a major impact on gaming performance, and insufficient cooling can even lead to damaged components.