Introduction
In recent months, it appears that DDR5 memory has finally picked up some steam as it becomes more widely available to consumers. With the steep price points slowly reaching a somewhat affordable level, more PC builders are able to upgrade their systems to the latest memory.
If this trend continues, it won't be long until DDR5 memory becomes the standard choice for gamers building a brand-new PC. The greater longevity and improved value is bound to cause a lot of gamers to bite the bullet on a memory upgrade.
Suggested Article: Best RAM for the Intel Core i7 13700K
But for those looking to pick up some DDR5 RAM, how much memory do you need? And which kits should you consider? In this buyers guide, we'll be providing a list of the best 32GB kits for a DDR5 gaming PC, along with advice on some of the key factors to consider when choosing DDR5 RAM.
Our Recommendations
1. Thermaltake TOUGHRAM RC
👑 The best DDR5 RAM for workstations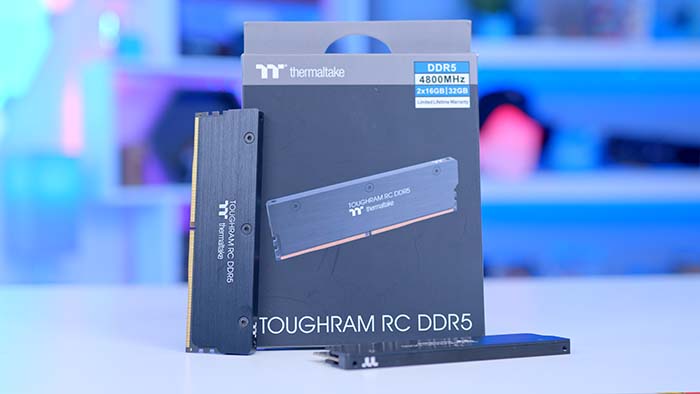 Introduction
Our first entry is Thermaltake's TOUGHRAM RC, one of the most intriguing DDR5 offerings on the market. Whilst the focus of many DDR5 kits is to appeal to the gaming community, this RAM takes a slightly more flexible approach. Because of this, we wanted to highlight this option from Thermaltake, a 32GB kit that is an ideal choice for a workplace.
Featuring 4800MHz clock speeds and CL40 latency, this memory provides a nice bump in performance compared to its DDR4 equivalent, allowing your system to complete more gaming and productivity based tasks in a short period of time. In terms of design, the standalone kit has a no-nonsense approach that looks sleek and blends into both gaming PCs and workstations. But those looking for some more wow-factor can pair this memory up with Thermaltake's Floe RC to enhance its visual appeal.
Key Specs
| Key Specs | Thermaltake TOUGHRAM RC |
| --- | --- |
| RAM Generation | DDR5 |
| Speed | 4800MHz |
| CAS Latency | CL40 |
| Capacity | 32GB (16GB x 2) |
| RGB | No |
| Colours | Black |
Things We Like
Available at lower prices: This DDR5 kit can be found at a price that competes with the price of some DDR4 kits on the market. Despite the lower price point, this RAM still manages to provide a significant boost to performance.
Good for productivity: Combining the improved speed and no-nonsense design of this memory, the TOUGHRAM RC is an ideal pick for builders that don't want to be distracted by bright lights. Instead, the casing of the DIMMs contains a sleek and professional appearance.
Things We Don't Like
Better performance available: Most DDR5 RAM can achieve clock speeds above 5000MHz. As a result, this kit is a less practical choice for those looking to pack their builds with the best components possible.
Bland design: Whilst the reserved look of this RAM is suitable for a workstation, it is hard to not think of it as too simplistic. With the abundance of kits with a unique design and RGB integration, gamers would be better off looking elsewhere.
Summary
For those looking a build a PC that is suitable for a working environment, then Thermaltake's TOUGHRAM RC is the ideal memory to suit your needs. With a respectable 4800MHz and CL40 latency, this kit is a noteworthy upgrade from DDR4, which can typically be found at a similar price point. It may not be as exciting as the gaming-focussed alternatives, but this kit is sure to be useful within an office.
Features: 4/5
Design: 3.8/5
Performance: 4/5
Value for Money: 4/5
Pros
Available for cheap
Good Thing
Good for workstations
Cons
Slower DDR5 option
Lack of RGB
Where to Buy
Buy the Thermaltake TOUGHRAM RC on:
2. Corsair Vengeance RGB
👑 The best white DDR5 RAM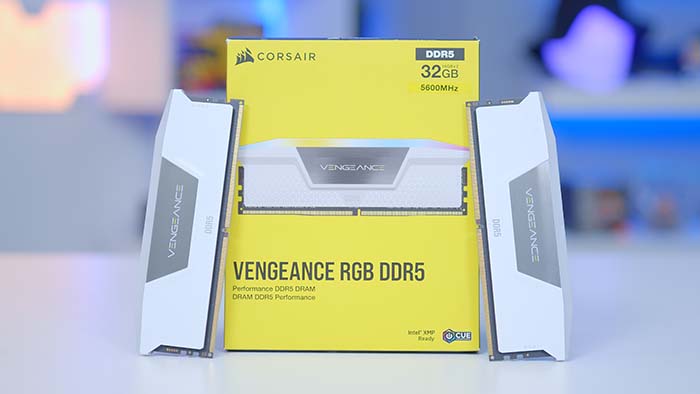 Introduction
Moving onto a more conventional pick for one of our roundups, we have the Corsair Vengeance RGB. In a similar fashion to all of the Corsair Vengeance RAM we've picked up over the years, this DDR5 memory has been a reliable choice that has featured in a number of our PC builds and articles. Offering a healthy balance of design features and value, this particular kit is a great option for any mid-range gamers tempted by the allure of DDR5.
Boasting clock speeds up to 5600MHz, along with a respectable CL36 latency, the Vengeance RGB DDR5 is able to provide a comfortable gaming experience during even the most demanding times. And as the name suggests, there is plenty of RGB along the top of each DIMM to help brighten up the inside of your PC and contribute to the colourful appearance found on most modern gaming PCs.
Key Specs
| Key Specs | Corsair Vengeance RGB |
| --- | --- |
| RAM Generation | DDR5 |
| Speed | 5600MHz |
| CAS Latency | CL36 |
| Capacity | 32GB (16GB x 2) |
| RGB | Yes |
| Colours | White, Black |
Things We Like
Corsair iCUE combability: Like most Corsair products, this memory can be customised with the iCUE software. This unlocks a wide range of lighting effects and performance settings for a more personalised experience.
Available in black and white: With the choice between a black or white exterior, gamers can pick the RAM which best suits their build. This is a big advantage for those building a white gaming PC, as white RAM can be pretty difficult to find.
Things We Don't Like
Limited performance: When spending a lot on RAM, you want to ensure that you are getting the performance needed to optimise the speed of your system. Though the 5600MHz available on this kit is pretty impressive, there are more powerful DDR5 kits available.
Pricing: This RAM is by no means overpriced for a DDR5 kit, but there are more affordable options on the market. Because of this, gamers on a tight budget may want to look at alternatives before splashing out on this RAM.
Summary
Overall, the Corsair Vengeance RGB is a well-balanced DDR5 kit that gamers can rely on for consistent performance in a range of games and productivity applications. On top of the strong 5600MHz speed that ensures gameplay remains stable and consistent, the Vengeance RGB offers a choice of either a black or white design, allowing it to look the part in any PC it is slotted into.
Features: 4/5
Design: 4.3/5
Performance: 4/5
Value for Money: 3.8/5
Pros
Reliable performance
iCUE compatible
Choice of black or white design
Cons
Better performance available
Fairly pricey
Where to Buy
Buy the Corsair Vengeance RGB on:
3. Kingston FURY RENEGADE RGB
👑 The best DDR5 RAM for overclocking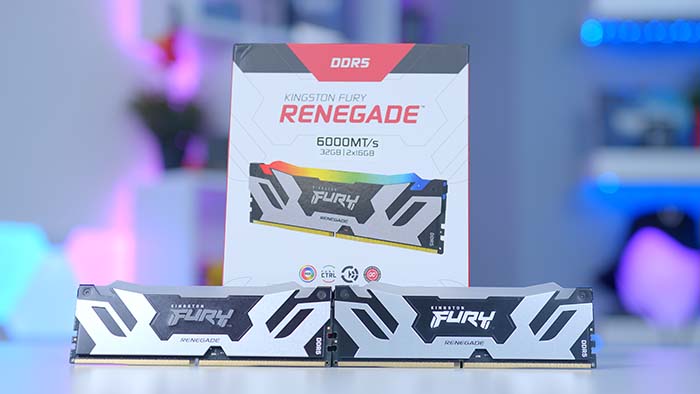 Introduction
For those gamers looking to turbocharge their gaming PC for a price that won't break the bank, then the Kingston FURY RENEGADE RGB is the perfect solution. Following on from the approach established within Kingston's DDR4 series of the same name, the RENEGADE RGB provides a striking design which is accented by the RGB along the peak of the DIMM. This look acts a good representation of the ferocious speed that gamers can expect from this memory.
The impressive 6000MHz and CL32 featured on this kit allows users to hack and slash foes without being interrupted by technical issues such as textures dropping and crashes. But what's the most surprising thing about this package is that it's available at a reasonable price compared to other DDR5 kits with less performance capabilities. Because of this, the RENEGADE RGB is a solid choice for gamers looking to make their high-end system stand out in all aspects.
Key Specs
| Key Specs | Kingston FURY RENEGADE RGB |
| --- | --- |
| RAM Generation | DDR5 |
| Speed | 6000MHz |
| CAS Latency | CL32 |
| Capacity | 32GB (16GB x 2) |
| RGB | Yes |
| Colours | White, Black |
Things We Like
Distinct look: The angular shape and silver pattern on the sides ensures that this memory gets remembered! Plus, the bright colours emitted by the custom RGB lighting is there to remind you that this RAM looks great.
Reasonable pricing: Though this particular SKU is the most affordable option in Kingston's DDR5 RENEGADE series, it still offers performance that is a good step above the other options available at its price point. This makes it hard to turn down the investment.
Things We Don't Like
Design not for everyone: With any design that strays too far from the norm, there is bound to be some people who find it too outlandish. So those looking for a more conventional design may want to stay away from this kit.
Top-end kits are pricey: If the 6000MHz is not fast enough to meet your demands, Kingston offer a range of faster options that reach up to 7200MHz. But be warned, these kits get pretty expensive.
Summary
The Kingston FURY RENEGADE RGB is a surprisingly affordable option for the amount of features it provides. Along with a striking design that features a strong helping of RGB, the combination 6000MHz and CL32 latency is more than enough to provide gamers with an immersive gaming experience. Whilst the design of this RAM does push the boundaries in multiple ways, anyone that picks this kit up will be unlikely to regret their decision.
Features: 4.2/5
Design: 4.5/5
Performance: 4.3/5
Value for Money: 4.2/5
Pros
Great design
Reasonable price point
Fast gaming performance
Cons
Not for everyone
Upgraded kits are pricey
Where to Buy
Buy the Kingston FURY RENEGADE on:
4. G.Skill Trident Z5 Neo EXPO
👑 The best high-end DDR5 RAM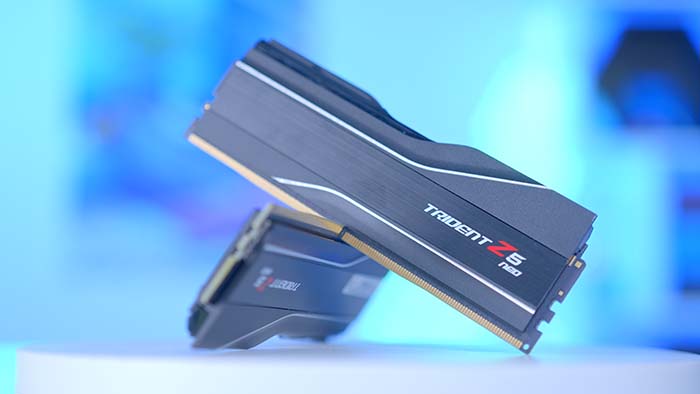 Introduction
To finish off our list, we have a trailblazing kit that is specifically designed with AMD systems in mind, the G.Skill Trident Z5 Neo EXPO. This DDR5 memory takes advantage of AMD's EXPO overclocking profile to reach speeds up to 6000MHz, which makes this a great choice for workstations or high-end gaming PCs with an AMD motherboard and processor. Whilst this memory can be used in Intel systems as well, the lack of XMP means performance will be limited to the default settings.
Design-wise, the streamlined shape of the DIMMs reflects the blistering speeds this memory can achieve. In addition, this kit includes a strip of RGB lighting that compliments the rest of the design, adding a dash of colour to your gaming PC. Using RGB software such as ASUS Aura Sync or MSI Mystic Light Sync, the lighting effects can be altered to match the rest of your setup.
Key Specs
| Key Specs | G.Skill Trident Z5 Neo EXPO |
| --- | --- |
| RAM Generation | DDR5 |
| Speed | 6000MHz |
| CAS Latency | CL30 |
| Capacity | 32GB (16GB x 2) |
| RGB | Yes |
| Colours | Black |
Things We Like
Strong performance: The 6000MHz clock speeds that can be achieved on this kit is fairly impressive in itself. However, the CL30 offers some of the lowest latency possible on a DDR5 kit, which helps to reduce the time it takes for the RAM to complete tasks.
Sleek aesthetic: Though this memory still conforms to the typical design tropes such as RGB lighting to appeal to gamers, the smooth shrouds and rounded accents provide sophisticated and streamlined look. This adds a touch of class to any premium PC build.
Things We Don't Like
Limited performance on Intel systems: Though this kit does work with Intel systems, the inclusion of AMD EXPO significantly reduces performance on any PC using an Intel processor. Because of this, gamers should pick up an alternative that support XMP instead.
Only available in black: Another factor that limits the use case for this particular RAM further is the lack of colour options for the DIMMs. Gamers building an all-white gaming PC will be disappointed to hear that this memory is not available in white.
Summary
Any gamers looking for RAM to slot into an AMD oriented gaming PC can't go wrong with the G.Skill Trident Z5 Neo EXPO. With AMD EXPO, this kit offers a lightning fast 6000MHz and an impressive CL30 latency to create a smooth experience within the most demanding games and productivity applications. Paired with a streamlined design, this memory is a great option for a high-end AMD gaming PC.
Features: 4/5
Design: 4.3/5
Performance: 4/5
Value for Money: 3.8/5
Pros
Fast performance
Streamlined design
Low latency for DDR5
Cons
Fairly pricey
Restricted performance for Intel
Only available in black
Where to Buy
Buy the G.Skill Trident Z5 Neo EXPO on:

Is 32GB Enough RAM for Gaming?
Capacity is one of the main factors to consider when searching for RAM, as this determines how many tasks can be completed at the same time. With games becoming more demanding with each passing year, it is important to have RAM with the capacity to load the sprawling landscapes and countless interactions without any technical problems. Issues such as drop-in and crashes can be quite the nuisance when trying to relax in your favourite games, and takes away from the immersion of gaming.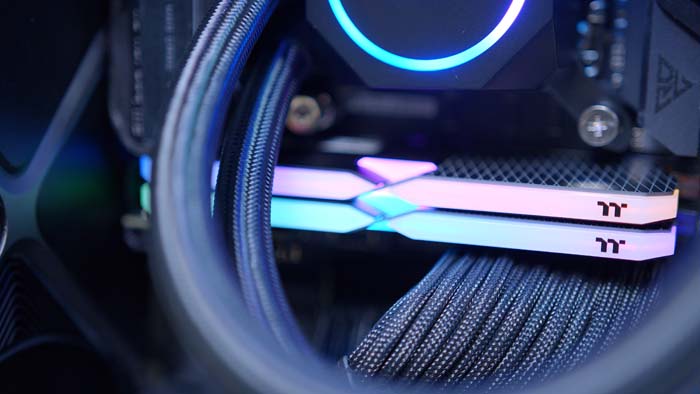 Nowadays, we would suggest a minimum of 16GB RAM for those looking to access the latest titles, as this should be enough to run most games without too many frustrating technical issues. However, jumping to a 32GB kit will provide the breathing room required to manage the demands of blockbuster titles pretty easily, whilst also accommodating for future titles that are likely to push the boundaries and increase the hardware requirements.
However, it is important to note that picking up a high capacity RAM alone won't be enough to guarantee a smooth sailing gaming experience that is free of technical issues. Along with the influence that other components such as graphics cards and CPUs have on gameplay, games launching with major bugs and glitches has become a common occurrence within recent years. These issues typically effect all gamers, no matter what hardware is being used.
DDR5 Compatibility
Before picking up DDR5 RAM for a PC build, it is important to consider what components are required to run this memory in an optimal state. Unlike some of the latest generation of PC components, DDR5 memory is not cross-compatible with DDR4 memory. This means that memory has become a slightly more important consideration when selecting parts for a PC build, as gamers have to decide which memory they want before choosing the likes of a motherboard if they want to avoid compatibility issues.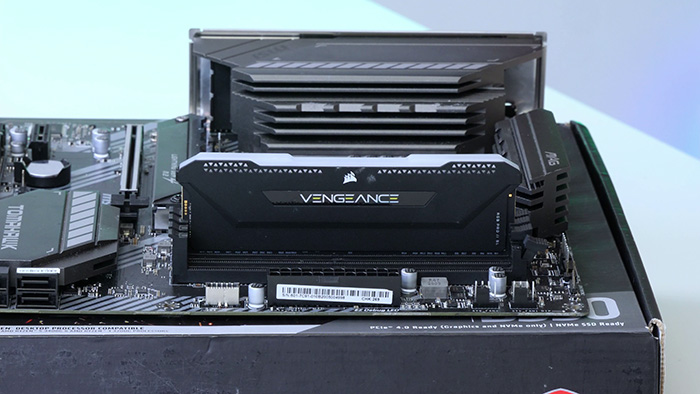 Whilst the latest generation of RAM separates itself from its predecessor, some of the latest motherboards still support DDR4 memory instead of DDR5. AMD users can clearly decipher between these boards, as all AM5 platforms only support DDR5 RAM. However, the memory compatibility with Intel motherboard is slightly more complicated, as 13th-Gen motherboards can include support for either DDR4 or DDR5. In order to avoid picking up the wrong motherboard for your planned build, it is important to take Intel motherboards on a case-by-case basis.
Why You Can Trust Us
After looking through our recommendations for the best 32GB kits with DDR5 memory, you may be wondering why you should trust our insight into this topic? Well, our team of PC hardware experts constantly testing the latest products to see how they perform in gaming and productivity scenarios. For those wanting to meet our team members, head over to the About Us section, where you'll also find mode details on our editorial promise.
How We Tested the Best 32GB DDR5 RAM
In order to test and evaluate DDR5 memory kits, there are a number of factors that we take into account, these are:
Speed & latency
Overclocking capabilities
Compatibility
Aesthetic
Value for Money
For a more detailed look at our testing and evaluation methods, we recommend checking out the reviews and buyers guides that we've provided in the table below.

Conclusion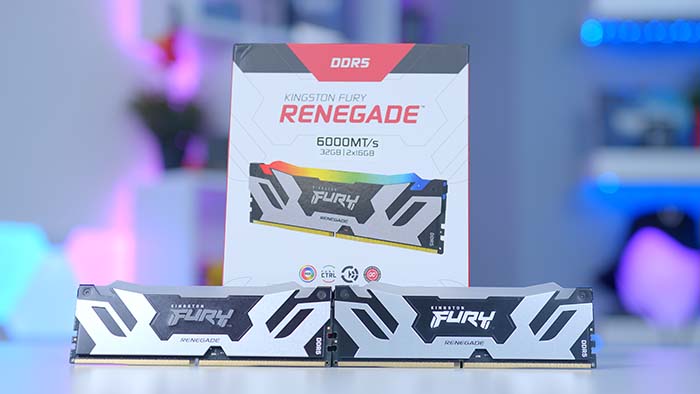 Best 32GB RAM kit for DDR5: Kingston FURY RENEGADE RGB
Out of all the DDR5 kits with a 32GB capacity that we've included in this buyers guide, our top pick would be the Kingston FURY RENEGADE RGB. This kit offers the best combination of performance and design, allowing users to play the latest games in style. Plus, its lower price point makes it a great value offering for a mid-range and high-end gaming PC.
Read our full Best White RAM buyers guide, or Buy the Kingston FURY RENEGADE RGB on Amazon
Frequently Asked Questions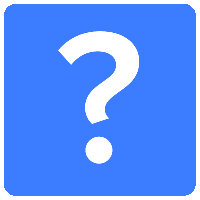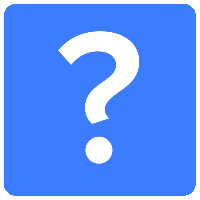 Do I Need DDR5 Memory for a Gaming PC?
In short, no. Whilst DDR5 memory does provide the fastest performance for modern gaming PCs, it is not the only option worth considering. DDR4 memory still holds up pretty well in modern titles, acting as a great option for gamers on a budget.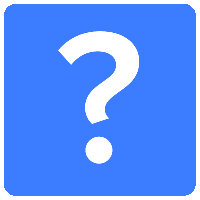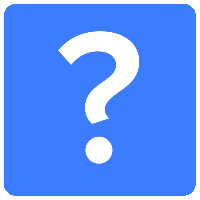 How Much RAM Do I Need to Play Games?
At a minimum, we suggest 16GB of RAM when building a new gaming PC. However, we recommend picking up 32GB of memory in order to get the best experience possible for years to come.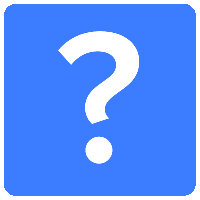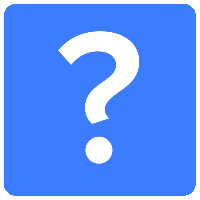 How Difficult is it to Overclock RAM?
Overclocking RAM that supports EXPO or XMP profiles is pretty easy to setup. This usually entails entering the BIOS and adjusting the speeds by enabling the overclocking profiles.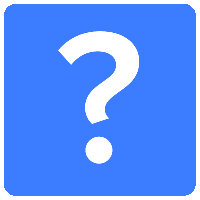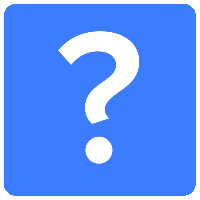 Should I Upgrade to DDR5?
Maybe. The improved speeds of DDR5 memory is gradually becoming the norm after a long period scepticism. However, those with existing systems may want to hold off for prices to reduce further, as most DDR4 RAM is completing gaming and productivity tasks.