Introduction
When it comes to building a high-end gaming PC, there are an endless number of possible component combinations to choose from. Planning a build around a $2000 budget can make things particularly tricky, as this is a budget that allows for plenty of deviation by way of component choice.
That's why it's more important than ever to get the part choices right, in a bid to secure the best performance levels possible. At this budget, we've assembled a build we believe to represent superb value for money, that delivers strong 1080p, 1440p and 4K gaming performance. This build guide covers off the performance achieved in a wide range of titles, detailed in the benchmarking section of this article.
This particular build guide is centred around gaming, but you can read our wide range of PC build guides if you're after something awesome for productivity oriented tasks like video editing, rendering or streaming!
Parts Overview
We've selected all of the components in this gaming PC to provide the best performance possible while also matching the build aesthetic to provide good value. This mid-range build is primarily white themed, so we've gone out of our way to pick white components, which includes the cooler, RAM, motherboard, and case.
Performance Preview
Skip to full performance section ⬇️

4K, High Settings
Avg: 202FPS
Preset: High
V-Sync: Off
Anti Aliasing: TSAA
Texture Filtering: 8x
Ambient Occlusion: High
Volumetric Lighting: High
Dynamic Shadows: Enabled
Model Detail: High



1080p, Comp. Settings
Avg: 319FPS
Preset: Low
V-Sync: Off
Render Distance: Far
TSR: Off
Global Illumination: Off
Ray Tracing: Off
Effects: Low
Post Processing: Low



1440p, High Settings
Avg: 167FPS
Preset: High V-Sync: Off DLSS: Performance Textures: High Particle Quality: High Tessellation: Near Shaders: High

1440p, High Settings
Avg: 195FPS
Preset: High V-Sync: Off DLSS: Performance Textures: High Particle Quality: High Tessellation: Near Shaders: High
Main Components
CPU: Intel Core i7 13700K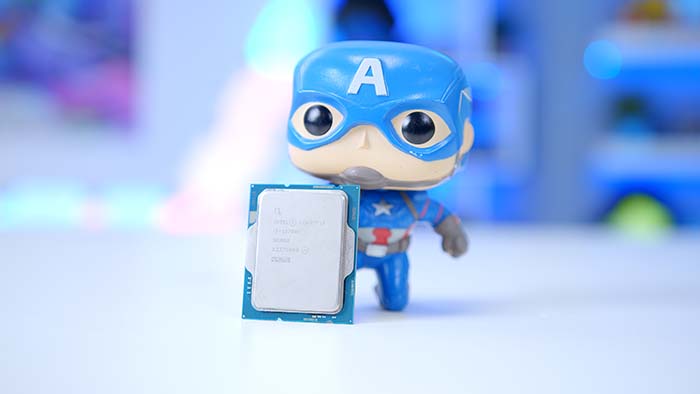 The Intel Core i7 13700K is an awesome chip for both gaming and productivity heavy workloads, providing top-tier single thread and multi-thread performance. With 8 of Intel's performance cores, all hyper threaded, and 8 efficiency cores, which help to deal with background tasks, the chip has plenty of horsepower.
Clock speeds are also strong, with stock clock speeds topping out at up to 5.4GHz.
Intel's 13th generation of chips all sit on the LGA 1700 socket, supporting both DDR4 and DDR5 memory. Power consumption has also been improved generation over generation, with just 125W on this powerful i7 processor. This version of the chip also comes with Intel integrated graphics and overclocking support.
We really like the 13th Generation of Intel processors, and noted the 13700K to sit in a perfect sweet spot in our glowing 4.4 star review. In fact, Jay Harris from our hardware team, highlighted the chips strong performance in his initial review across a range of gaming and productivity oriented workloads.
The Core i7 13700K is awesome when it comes to intense workloads, and is perfect for higher resolutions such as 1440P and 4K while gaming. Overall, if you're looking for a top-end processor offering a better price than the competition, the 13700K seems like a sure-fire purchase!

Jay Harris, GeekaWhat Hardware Tester
Key Specs
| Key Specs | Intel Core i7 13700K |
| --- | --- |
| Core Count | 16 |
| Thread Count | 24 |
| Base Clock Speed | 3.4GHz |
| Boost Clock Speed | 5.4GHz |
| Max Turbo Power | 253W |
| Overclockable | Yes |
Performance
When it comes to testing a CPUs performance, there are a number of key benchmarks we look to run to evaluate performance. For a full rundown of our 13700K testing ,read our Intel Core i7 13700K Full Review & Benchmarks article. Below, we have included two Cinebench R23 tests, for both single and multi core, and a number of gaming tests.
First up is the Cinebench R23 test for multi-threaded performance. Scores were really good here, with the Intel Core i7 13700K in this build beating out AMD's Ryzen 9 7900X. With a score of over 30,000, there is little doubt in the i7's pedigree, and it stacks up well against the competition.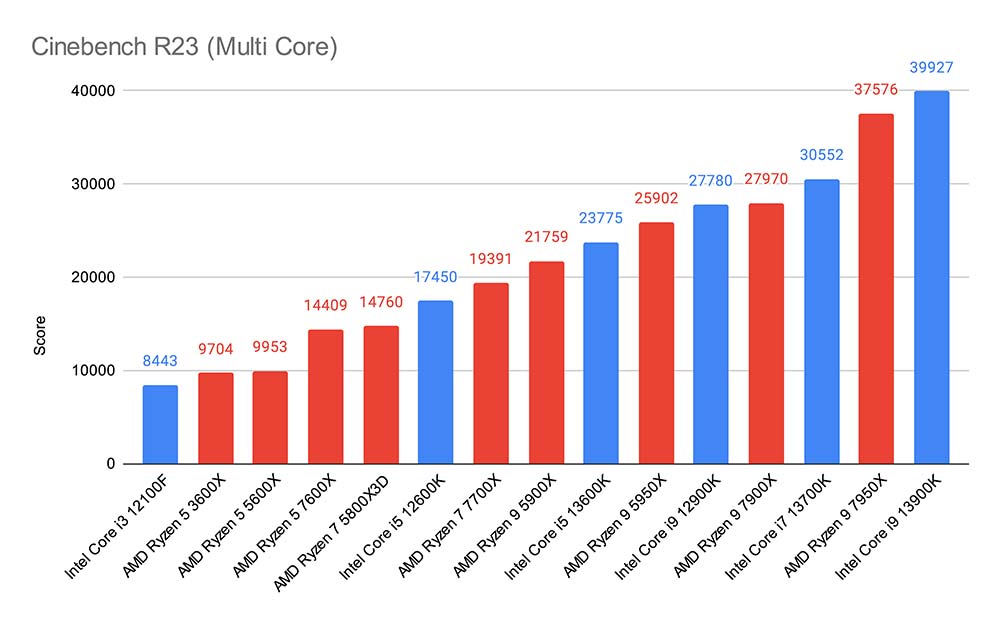 Single threaded performance was also solid, with the Intel Core i7 13700K outperforming most of the other chips in our test suite, aside from of course AMD's top of the range 7950X. This shows the chips well-rounded nature, and it is a little rare for a chip to stack up so well in both single and multi thread tests.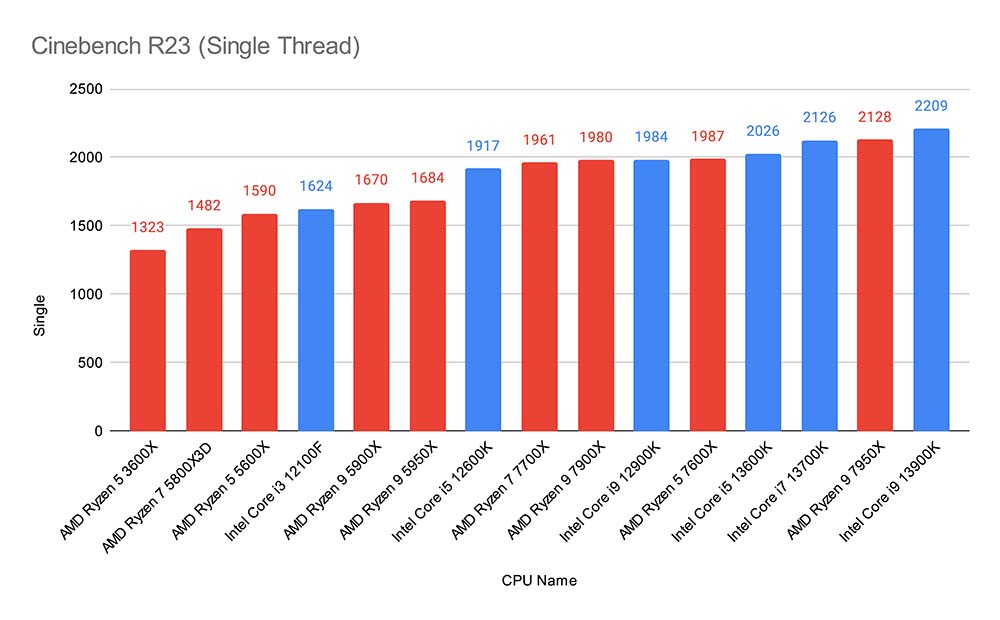 In the first of our gaming tests, Battlefield 2042, the Core i7 13700K offered up over 100FPS when testing with our standardised RX 6950 XT testing equipment. This gave it good standing on the graph, and again proves it to be a compelling buy for build like this.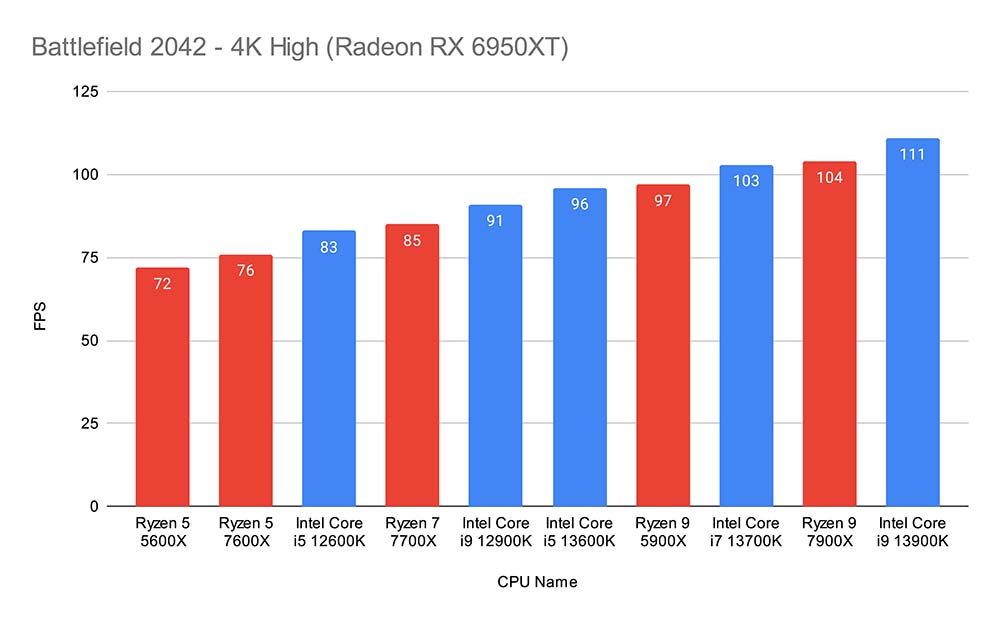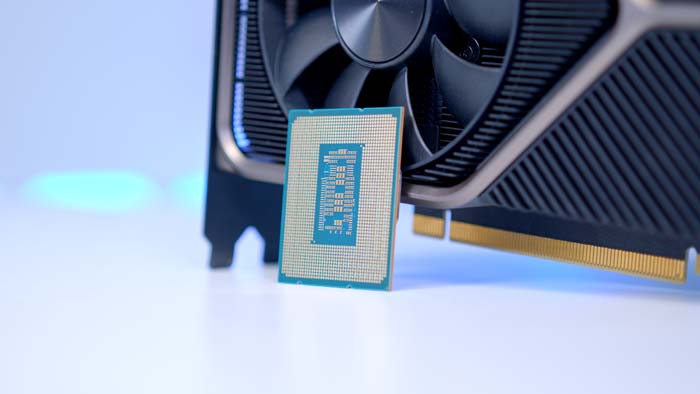 Pros
Excellent price to performance metrics.
Holds up well at 4K.
Supported on previous gen motherboards.
Cons
Offers similar performance to the 7900X at 4K.
Slightly hotter than 12th-Gen options.
Will need a motherboard with high power phases for overclocking.
Pros and Cons taken from our full i7 13700K review by Jay Harris.
Where to Buy
Buy the Intel Core i7 13700K on:
CPU Cooler: Corsair iCUE H100i Elite Capellix XT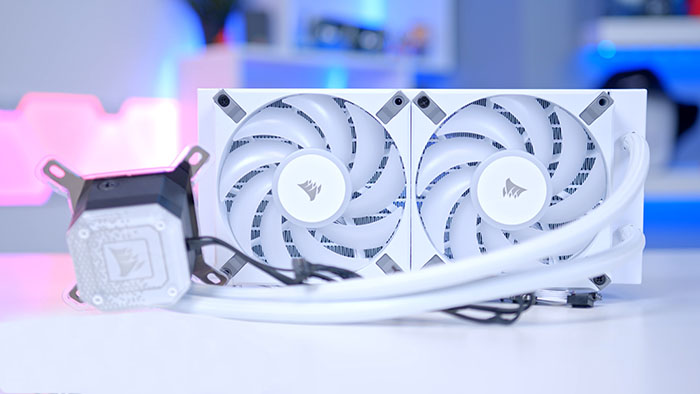 When it comes to cooling, there are a huge mass of options from a plethora of brands. The most popular brands include the likes of Corsair, Cooler Master, Deepcool and beQuiet. Corsair were the selection for this build, with their legendary H100i fitting the bill superbly.
With a 240mm radiator, a pair of quiet and pressure optimised 120mm fans, and sleek pump design, there isn't too much more to ask for here!
Available in white or black, you can pick up the perfect design to suit your build's overall aesthetic. Corsair are continually updating their H100 cooler line, meaning there are lots of options for those looking to pick up a 240mm radiator from Corsair.
If you were looking to shave some budget from this build, and keep a closer lid on costs, you can also consider picking up an air cooler for this build. If so, you'll want a dual tower design to ensure sufficient heat dissipation for the powerful Core i7 processor selected for this system.
We would always recommend an all in one liquid cooled unit for a build of this price point, and performance prowess, due the better cooling capability, and quiet operation. Using a large radiator, and liquid, to dissipate heat within a system is more efficient as you are dissipating heat over a larger surface area. The radiator selected here can also be mounted at either the top or the front of the chassis, depending on your preference. This provides a nice degree of flexibility when it comes to build configuration, and whether the preference is to equalise the airflow pressure in the system, or opt for a positive pressure configuration.
Corsair iCUE remains the best overall software suite for adjusting RGB, monitoring temperatures and configuring fan cuves.

James Cousins on Corsair iCUE
Key Specs
| Key Specs | Corsair iCUE H100i Elite Capellix XT |
| --- | --- |
| Pump Speed | 2800RPM |
| Max Fan Speed | 2100RPM |
| Connector Type | 3-Pin PWM |
| RGB | Yes |
| Socket Compatibility | Intel – LGA 1700, 1200, 1151, 1150, 1155, 2011, 2066 / AMD – AM5, AM4 |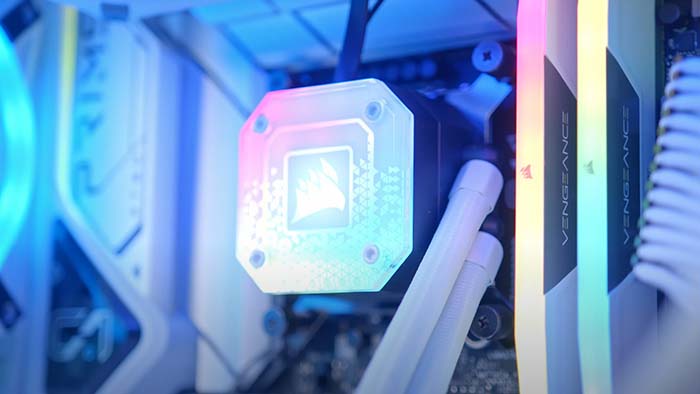 Pros
Solid cooling performance.
Quiet operaiton.
Super-bright Capellix RGB technology.
Cons
Not as powerful as larger 360mm units.
There are cheaper 240mm designs available from competitors.
Corsair iCUE only best with a suite of Corsair products.
Where to Buy
Buy the Corsair H100i Elite Capellix XT on
Motherboard: NZXT N7 Z790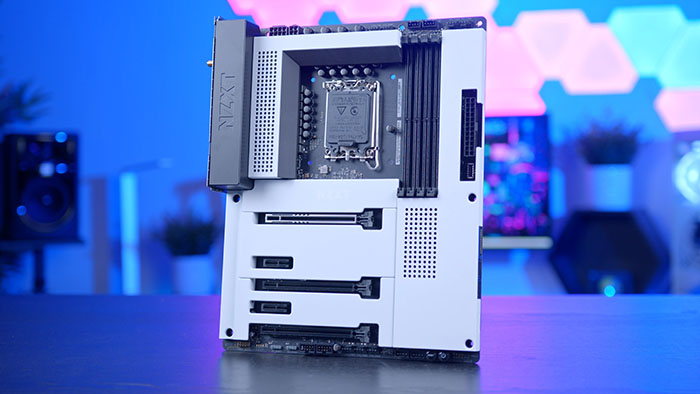 The motherboard is in many respects the beating heart of any computer, connecting all of your component choices together. The motherboard is the component that provides all of the connectivity for your internal and external connections, whether that be the GPU, M.2 drive or external WiFi antennas.
Motherboards are designed based on a range of 'chipsets'. These are specified by the CPU manufacturer and determine the level of features available on the motherboard as standard.
In this case, NZXT have leveraged the highest Z790 chipset to design a sleek, fairly well equipped motherboard that certainly looks the part!
While this motherboard doesn't include the widest array of connectivity, especially compared to more pricey options on the market, it does cover off all of the key bases. You get WiFi 6 connectivity, 2.5 Gigabit ethernet and front and rear panel USB 3.2 Gen 2 Type C. You'll also find nice quality of life features like an integrated rear IO shield, and a range of debug LEDs that help you to diagnose issues on boot up.
Perhaps the most standout feature of this motherboard has to be the included shielding on the board that covers up the PCB in more areas than most other designs on the market. Not only does this help to protect the PCB to a degree, but it creates a unique aesthetic edge not seen on other designs from other manufacturers on the Z790 chipset.
This board is also available in a trimmed down N5 Z790 that saves some features in exchange for a more affordable price point. The only major downside on this board is the BIOS – based on an ASRock BIOS it is not quite as user friendly as the BIOS' often found from brands like ASUS and MSI.
Key Specs
| Spec | NZXT N7 Z790 |
| --- | --- |
| Form Factor | ATX |
| Memory Support | DDR5 128GB 7600MHz |
| PCI-E x16 Slots | 1x PCI-E 5.0, 2x PCI-E 4.0 |
| PCI-E x4 Slots | 3x PCI-E 4.0 |
| Rear IO | 1x USB 3.2 Gen2x2 Type-C, 2x USB 3.2 Gen2, 3x USB 3.2 Gen1, 2x USB 2.0 |
| Networking | WiFi 6E & 2.5 Gigabit LAN |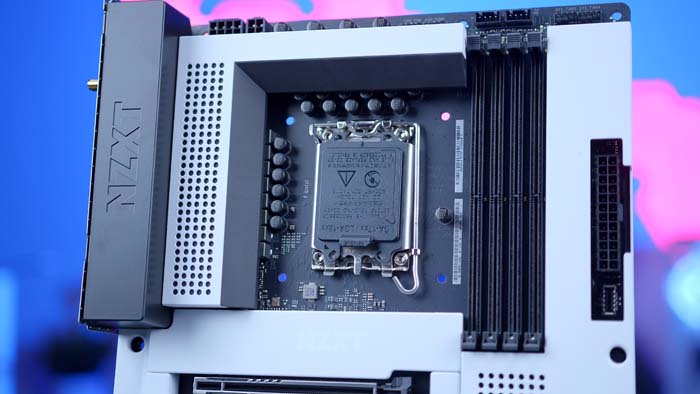 Pros
Unique aesthetic, with sleek on board shielding.
Solid connectivity.
Competivive pricing.
Cons
Not the most feature-rich Z790 board around.
ASRock-based BIOS is not fantastic.
Best used as part of an NZXT-centric build.
Where to Buy
Buy the NZXT N7 Z790 on:
RAM: Corsair Vengeance RGB DDR5 32GB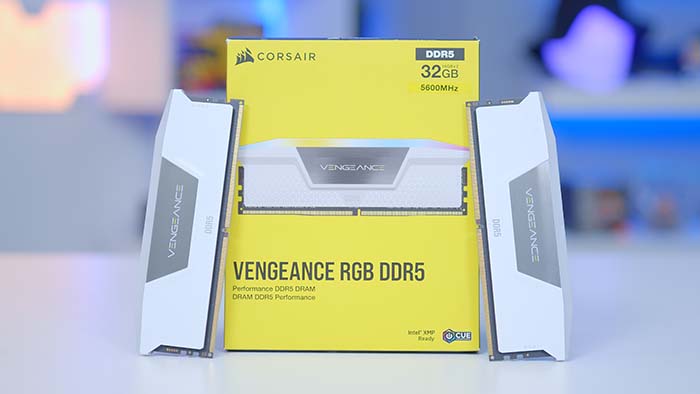 Buying DDR5 memory is something which has got dramatically cheaper over the course of the last year. While first-generation DDR5 kits were costly, and early adopters paid a price premium, those days are thankfully gone.
In fact, DDR5 is fast approaching price parity with DDR4 kits (at least in terms of last year's pricing), making them a no brainer when it comes to building a system right now.
Corsair remain one of my favourite DRAM manufacturers, with RAM that consistently boots without drama, and that is available in a huge array of capacities and speeds.
The Vengeance lineup has long been a stalwart in the PC building space, with this kit being no exception. We have recommended over 20 kits of Vengeance in the last few years, and it remains as solid as ever.
This white kit comes in a 2 x 16GB DIMM configuration, with sleek white heatspreaders and Corsair's signature RGB implantation. Small silver accents further the design on either side, while the whole kit remains fairly low profile to maximise compatibility across a wide range of cooler installations. The AIO liquid cooler provides virtually limitless memory clearance in this build, but a kit like this works well with more confining air coolers, too!
Key Specs
| Key Specs | Corsair Vengeance RGB White |
| --- | --- |
| Size | 32GB (2x16GB) |
| Frequency | 5600 MHz |
| Timings | 36-36-36-76 |
| Colour | White |
| RGB | Yes |
Corsair Vengeance RGB White DDR5 specs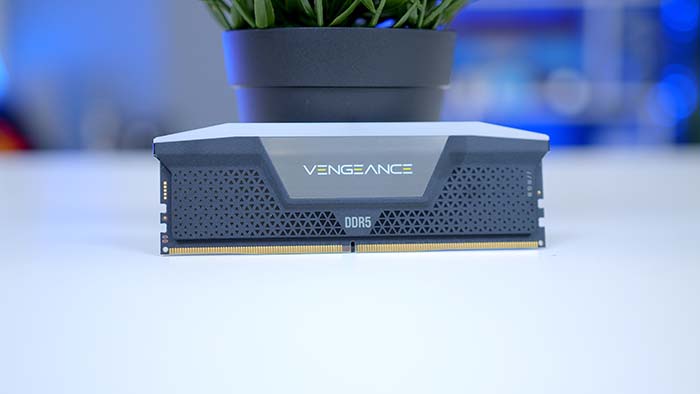 Pros
Awesome value RAM kit.
32GB capacity remains the sweet spot for gaming.
Widespread motherboard and CPU compatibility.
Cons
Higher speed kits available on the market.
Vengeance design can be considered a little bland.
Pros and Cons taken from our full Corsair Vengeance RGB coverage.
Where to Buy
Buy the Corsair Vengeance 32GB DDR5 White on:
SSD: Samsung SSD 980 Pro 1TB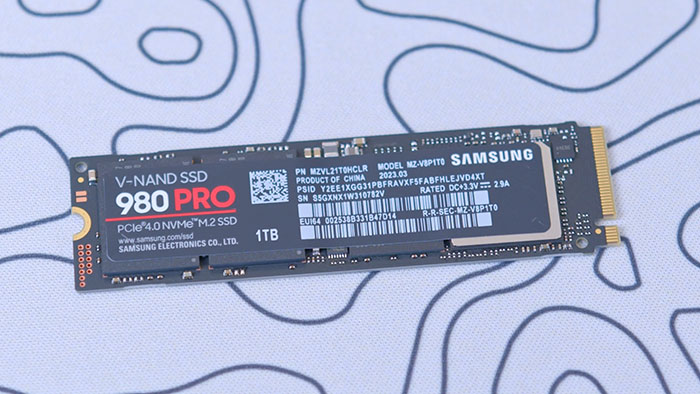 When it comes to fast SSD storage, there is perhaps no name more synonymous than Samsung. Over the last 5 years Samsung has released some truly fantastic drives on the Gen 3 and Gen 4 architecture.
The SSD 980 Pro has always been a popular choice amongst reviewers, tech enthusiasts and the community. With read and write speeds in the region of 6500 MB/s and 5000 MB/s respectively on the 1TB model, and even quicker on the 2TB option – these are really good drives!
And don't just take our word for it, the SSD 980 Pro has been reviewed exceptionally across a huge range of reputable outlets:
Samsung's 2TB 980 Pro delivers some of the fastest performance we have seen from a Gen4 SSD.

Sean Webster, Tom's Hardware
The Samsung SSD 980 Pro is not the only option at this price point that delivers strong performance, with the NVMe market particularly competitive at the moment. Other drives like the Seagate Firecuda 530, WD Black SN850X and Lexar NM700 are all good shouts and worth consideration.
Key Specs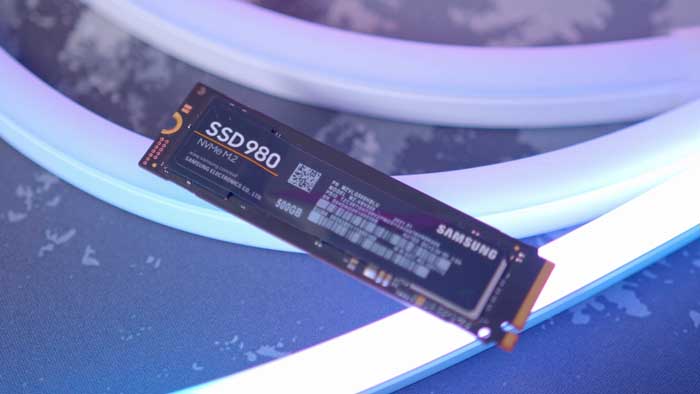 Pros
Strong read speeds.
Fast Windows and game load times.
Runs relatively cool, and available in both heatsink and non heatsink versions.
Cons
Write speeds suffer a little on the 1TB variant.
Lots of other options which may provide better value.
Slower than the more pricey, and newer 990 Pro.
Where to Buy
Buy the Samsung SSD 980 Pro on:
GPU: AMD Radeon 7900 XT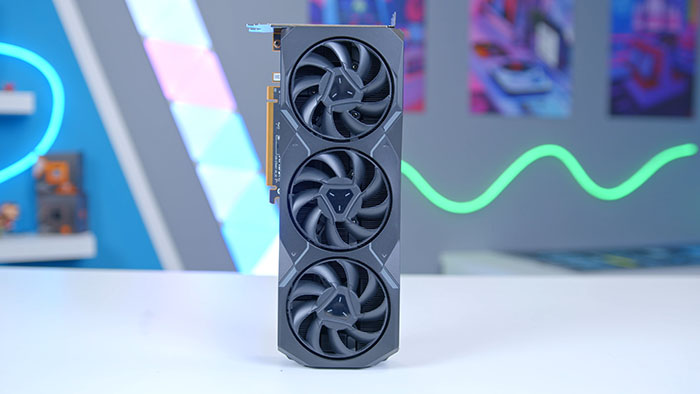 For the graphics card in this build, we felt there could only be one choice: AMD's Radeon RX 7900 XT. Sitting at the top of the RNDA Radeon 7000 lineup, alongside the slightly more powerful 7900 XTX, this GPU is a rocket for 1440p and 4K gaming.
Beating out NVIDIA's competition at this price point, and knocking on the door of the RTX 4080, we love this under the radar card from Team Red.
One thing that makes this card a fantastic buy is the generous VRAM allocation. With a whopping 20GB of video memory you are free to push textures and visual settings to max with little worry.
You'll also find a wide range of coolers available for this 4K underdog, whether that be AMD's own design as used in this build or options from ASRock, ASUS, Sapphire, Powercolor or Gigabyte.
That makes matching the cooler design to your wider build aeshetic a relatively simple thing to do, and gives consumer plenty of options when it comes to which card they pick up.
The AMD Radeon RX 7900 XT offers a great 4K gaming experience in all the latest titles, easily outperforming the previous generation of graphics cards. Whilst it isn't the pinnacle in terms of performance, most gamers will be more than happy with the results from this GPU.

Best RX 7900 XT Graphics Cards to Buy by Aled Wheeler
Key Specs
| Key Specs | AMD Radeon RX 7900 XT |
| --- | --- |
| Video Memory | 20GB GDDR6 |
| Memory Bus | 320 bit |
| Base Clock Speed | 2GHz |
| Boost Clock Speed | 2.4GHz |
| CUDA Cores | 10752 |
| Power Consumption | 300W |
| RT Cores | 84 |
| PCI-E Generation | PCI-E 4.0 |
| GPU Length | 276mm |
| Fans | 3 |
| RGB | No |
Performance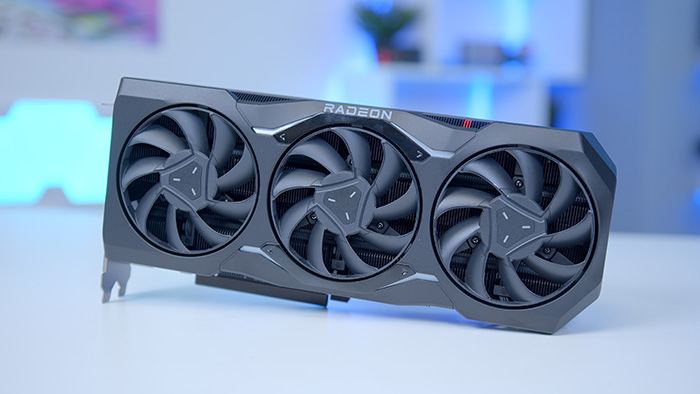 Pros
Strong 1440p and 4K performance.
Great price point.
AMD FSR 3 and Ray Tracing 2 support.
Cons
Firepower of 7900 XTX can be handy at 4K.
Limited availability issues at times, due to popularity and limited supply.
Where to Buy
Buy the AMD Radeon RX 7900 XT on:
---
Case: NZXT H5 Elite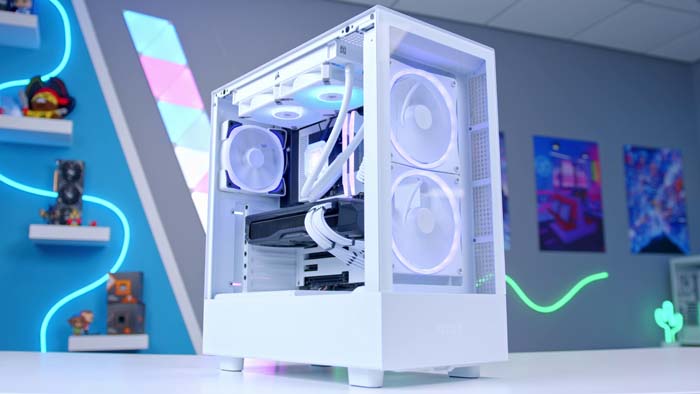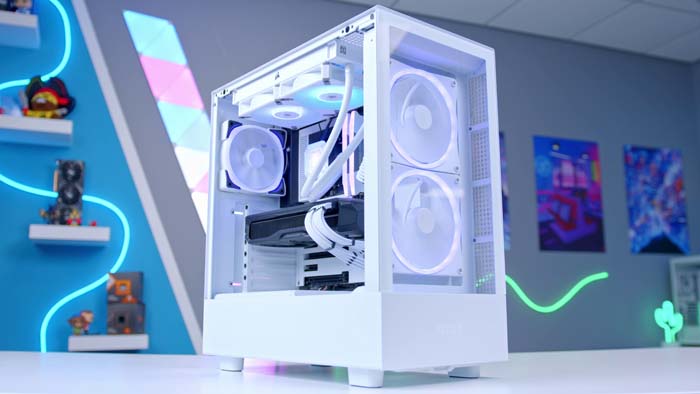 When it comes to chassis choice, it has to be said that NZXT are one of the best on the market for quality, compatibility and their pure range of options.
The H5 Elite is one of our favourites, with a modest ATX mid tower design, and cool usability features like a dedicated fan that points towards the GPU, ensuring a constant flow of cool air. You can also find this case in a mesh variant, that lacks the included RGB fans of the Elite model.
Their latest line-up looks to simplify matters considerably, with the H1, H5, H7 and H9 ranging from smallest to largest:
NZXT H1
Mini ITX tower.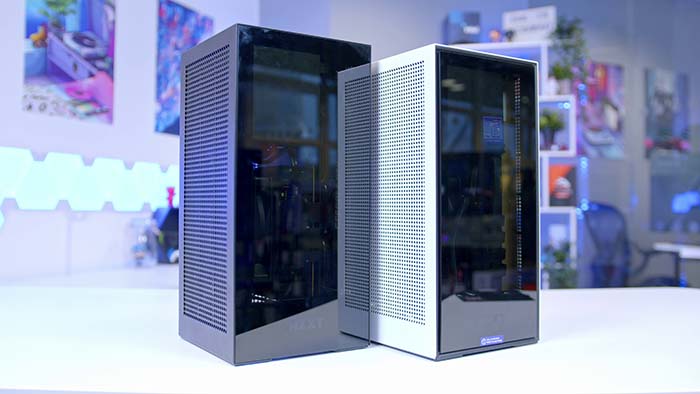 NZXT H5
ATX Mid Tower case.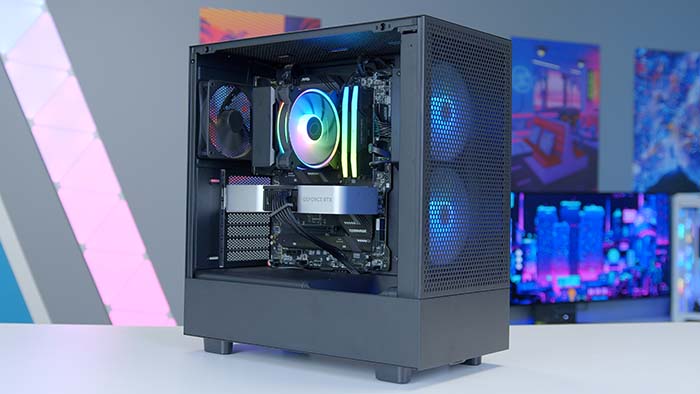 NZXT H7
ATX Mid/Full Tower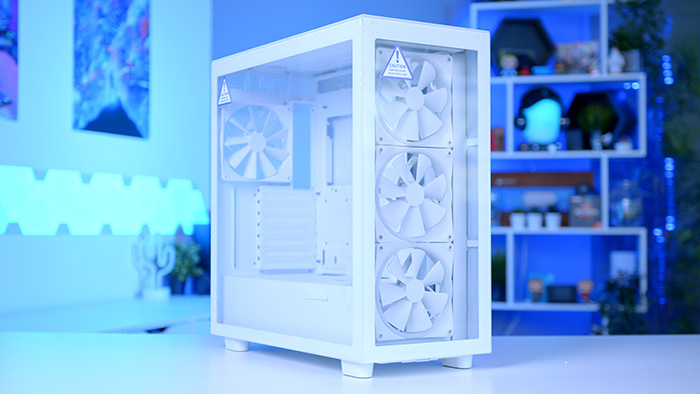 NZXT H9
ATX Full Tower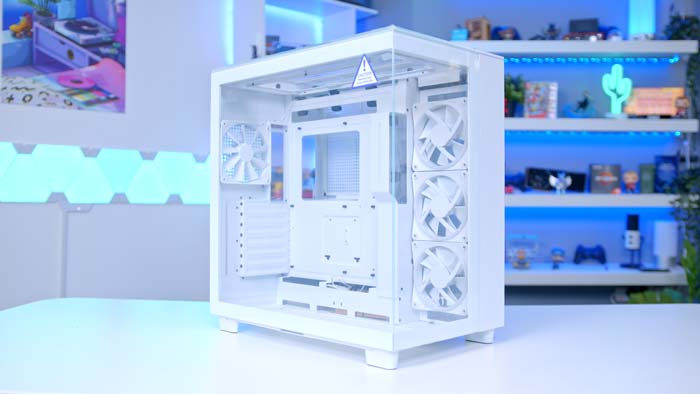 In our testing, and numerous build videos, using the NZXT H5 Elite we've always determined it to be a really solid all rounder. The form factor keeps things compact, while allowing sufficient clearance for next gen GPUs and some AIO coolers which is nice. A choice of either black or white designs also makes it easy to match this chassis with your preferred build colour scheme.
The H5 is the most affordable case from NZXT, making it a great option for consumers looking for a minimalist style case, at a lower price. What's more, despite the low costs it doesn't sacrifice much of the functionality consumers would expect from a high-quality chassis.

Best NZXT Cases to Buy Right Now by Jay Harris
Key Specs
| Key Specs | NZXT H5 Flow |
| --- | --- |
| Form Factor | ATX, Mid-Tower |
| Colours | Black, White |
| Front Panel | 1x USB-A, 1x USB-C, 1x audio jack |
| Fan Support | 2x 140mm or 120mm, 4x 120mm |
| Radiator Support | 1x 280mm, 1x, 240mm, 1x 120mm |
| Included Fans | 2x 120mm |
| Drive Bays | 2x 2.5″, 1x 3.5″ |
NZXT H5 Flow Specs
Pros
Well built, considered design.
Dedicated GPU cooling fan.
Glass sidepanel, with two NZXT Aer RGB fans and corresponding RGB controller included.
Cons
Airflow is considerably better on the H5 Flow variant.
Cable management and routing could be better.
Limited radiator support for 240mm rads.
Where to Buy
Buy the NZXT H5 Elite on:
PSU: NZXT C750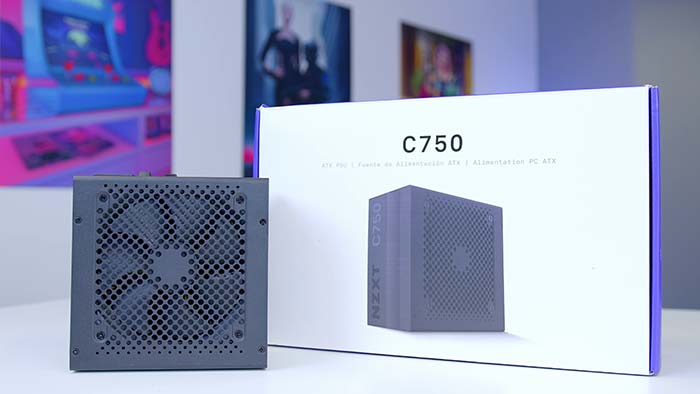 The final piece of the puzzle in this build is the NZXT C750 power supply, an efficient 80+ Gold unit that does the job nicely for this system.
750W of power output is more than sufficient for this build, and ensures the CPU and GPU both have enough wattage to tick over nicely. The included cable set lacks a PCI-E Gen 5 12V power connection, but includes copious numbers of 6+2 pin PCI-E power cables and connections for motherboard, SATA and CPU power in sufficient numbers.
We would always recommend power supplies with an 80+ Gold efficiency rating, or equivalent. This will ensure that you are efficiently managing the power conversion from your wall socket, into power that your build's components can use. While we'd never encourage going too overboard, scrimping and saving on a bargain basement PSU is never the way to go!
Key Specs
Pros
750W of power is perfect for this build.
Strong 80+ Gold efficiency rating.
Plenty of connections for all of the components.
Cons
No 12pin PCI-E 5.0 12V connection.
Not ATX 3.0.
More modern options available.
Where to Buy
Buy the NZXT C750 Gold on:
Gaming Benchmarks
Now that we've taken a deep dive into all of the parts for this build, it's time to see how this configuration will perform in all the latest titles. Our benchmarks will focus on the GPU, as this will give us the best indication of how this build performs against other graphics cards and their supporting systems. As the RX 7900 XT is targeted towards high-end gaming, we've tested this card at 1440p and 4K resolutions, as this will provide the visual quality that most gamers using this card will want when using this GPU.
COD MW2 @ 1440p
In the latest Call of Duty, the RX 7900 XT offers some solid performance at 1440p, falling just short of the 200FPS mark. This should be more than enough to provide a smooth experience that maximises the potential of most high-end gaming monitors. Plus, the 7900 XT manages to outperform Nvidia's more expensive RTX 4080 while staying fairly close to the flagship RTX 4090 and RX 7900 XTX.
Hogwarts Legacy @ 1440p
In Hogwarts Legacy, the 7900 XT drops behind the RTX 4080, leaving it to sit in a more natural position in relation to its price point. Hitting a 115FPS on average, this graphics card will offer a smooth experience in this magical RPG.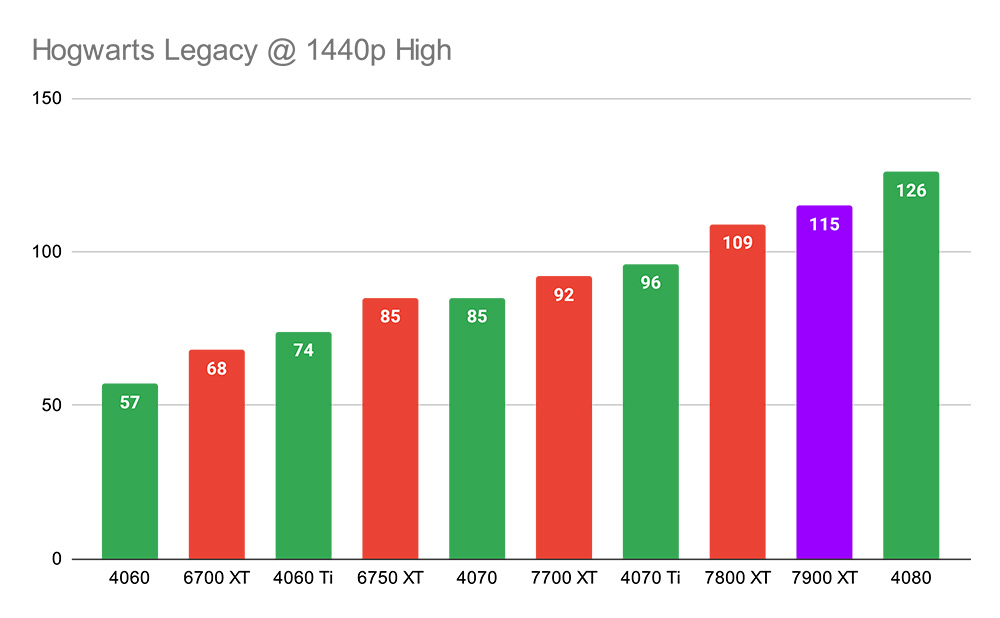 Apex Legends @ 4K
For Apex Legends, we cranked the resolution up to 4K high settings to see how the RX 7900 XT holds up. With 202FPS on average, the 7900 XT matched the performance of the 7900 XTX, whilst also beating Nvidia's RTX 4080 and RTX 4090 with ease. Considering both of these cards are a lot pricier than the 7900 XT, this GPU is proving to be a strong value for money option for this build.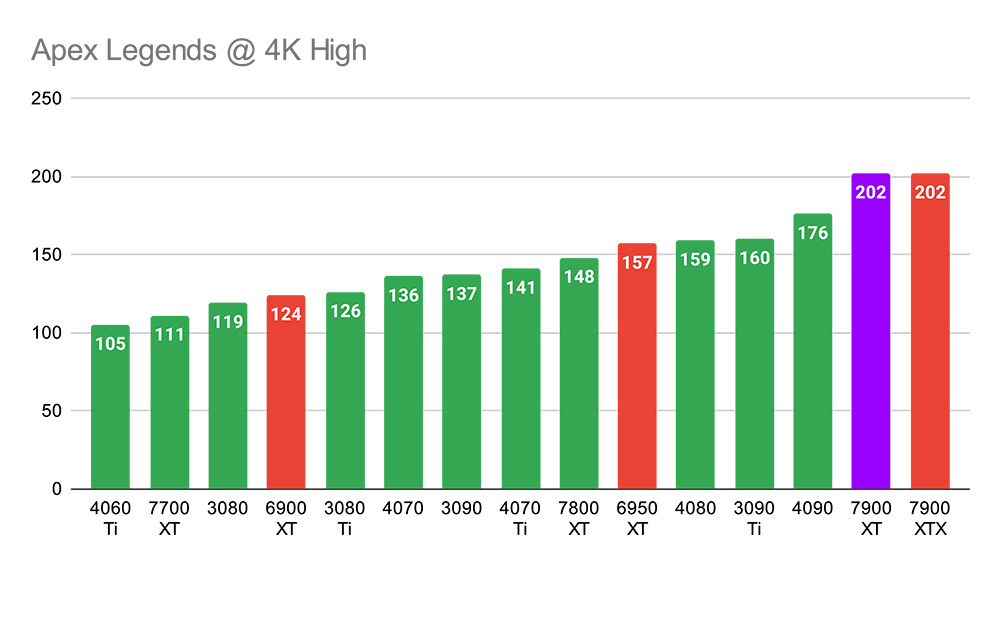 Overwatch 2 @ 4K
Finally, in Overwatch 2 at 4K Ultra settings, the 7900 XT reverted back to a position that is more aligned with its price point, sitting between the RX 7700 XT and RTX 4080. Reaching an average framerate above 200FPS, this card will provide consumers with a high-end gaming experience, allowing users to get the most out of most 4K gaming monitors.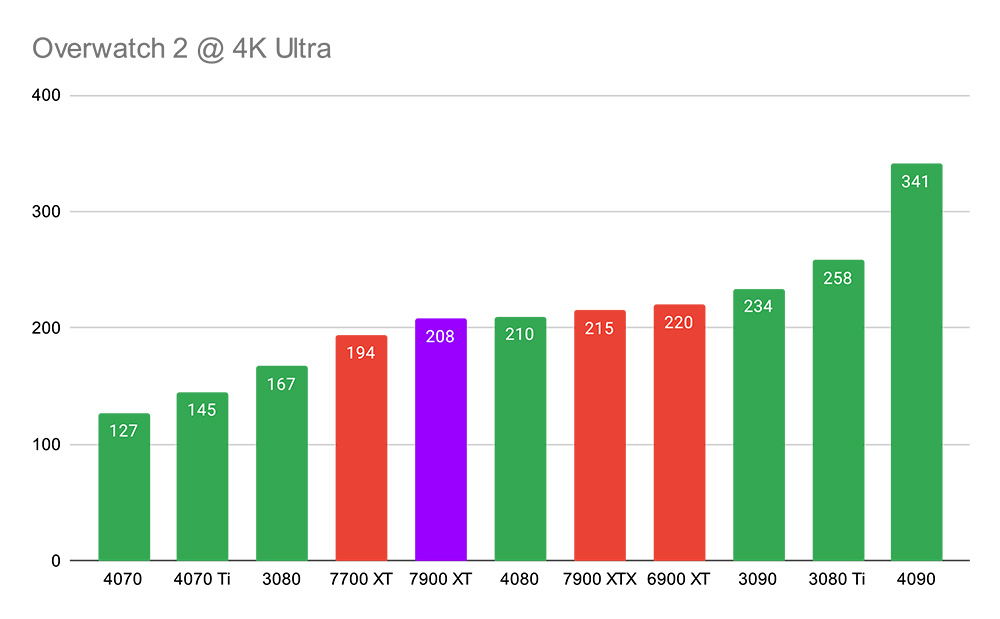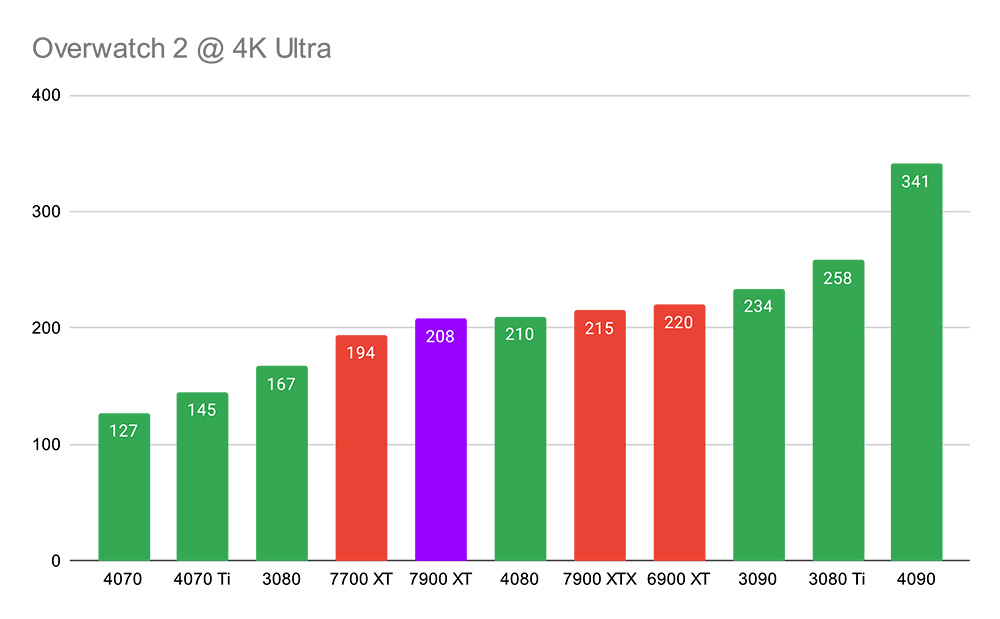 Gallery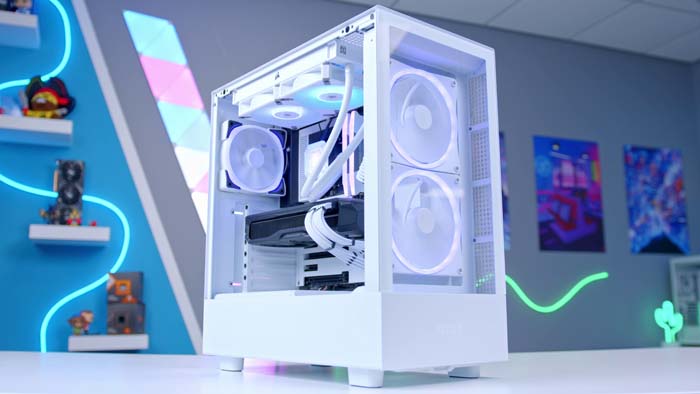 Video