Introduction
Corsair has been on a winning streak for quite some time with a number of their components and peripherals. We've taken a look at a range of different keyboards, mice, headsets, RAM, and more, and we've been thoroughly impressed with all of these products.
Corsair's mice have been on our radar for a long time, and we've been eager to take a look at some of their new options. In today's review we'll be doing a deep dive on Corsair's M75 Air Wireless, a lightweight design geared towards competitive gaming. We'll be looking to find out what the M75 Air Wireless brings to the table, by evaluating the design, features, and performance of this wireless gaming mouse to evaluate whether its a worthwhile option.
Buy the Corsair M75 Air Wireless on:
Suggested Article: Best PC Cases to Buy Under $200
Wireless or Wired – Which is Better?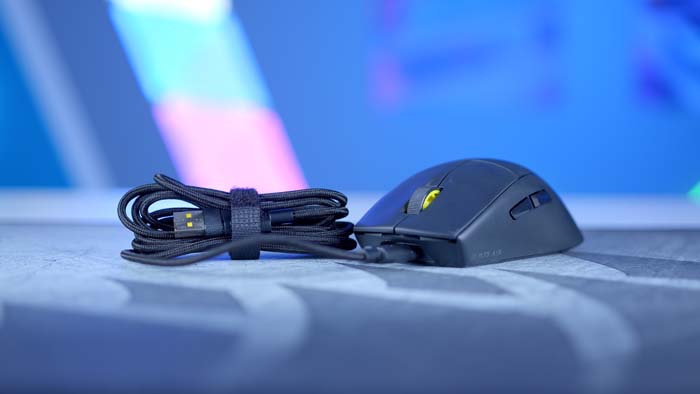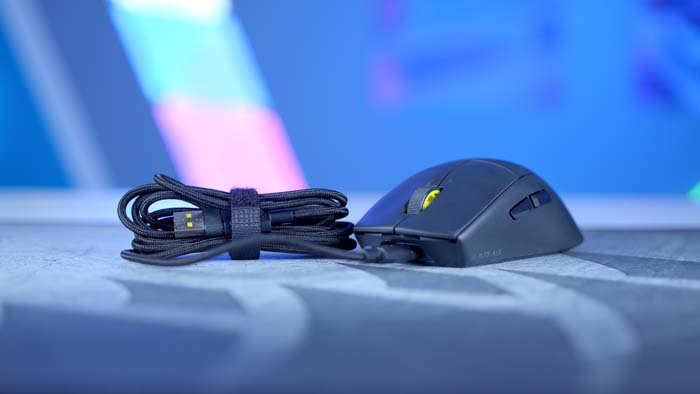 When choosing a gaming mouse, one of the big decisions to make is the 'wired vs wireless' argument. Both of these connectivity options have their own benefits, but which is better of the two? To break it down, wired will generally provide more stability over and above wireless. Because there's no latency or interference with a cabled connection, you're not having to worry about disconnecting, or suffering some input lag. But obviously the caveat of wired is that it doesn't look as clean, and requires some management in order to avoid cable tangling and hassle.
Wireless gaming mice can offer extremely fast response times, and near latency-free input speed. Because of the advancement of Bluetooth and 2.4GHz technology, wired and wireless are very similar when it comes to performance. But the biggest con of a wireless gaming mouse is normally price. These technologies do come with a bit of a price hike, which means you're often spending more for a wireless mouse, versus a wired one.
As to which is better, I'd say wireless personally. A wireless gaming mouse minimises cable hassle, and should provide a relatively solid low-latency experience, but it is worth keeping an eye out for a wired option especially if you're on a budget.
Corsair M75 Air Wireless Design & Aesthetic
Moving onto the design and aesthetic of the M75 Air, upon opening the box, you're greeted with a lightweight chassis, that doesn't look particularly promising. You'll immediately be able to notice that the overall design of the M75 is what I would describe as 'cheap'. The entire mouse utilises a plastic frame and casing that is synonymous with older Dell mice that you'd get when buying an all-in-one workstation. The M75 does use a matte coating on the chassis instead of glossy, which means finger and handprints shouldn't pop up regularly, but this is the only main positive I can think of.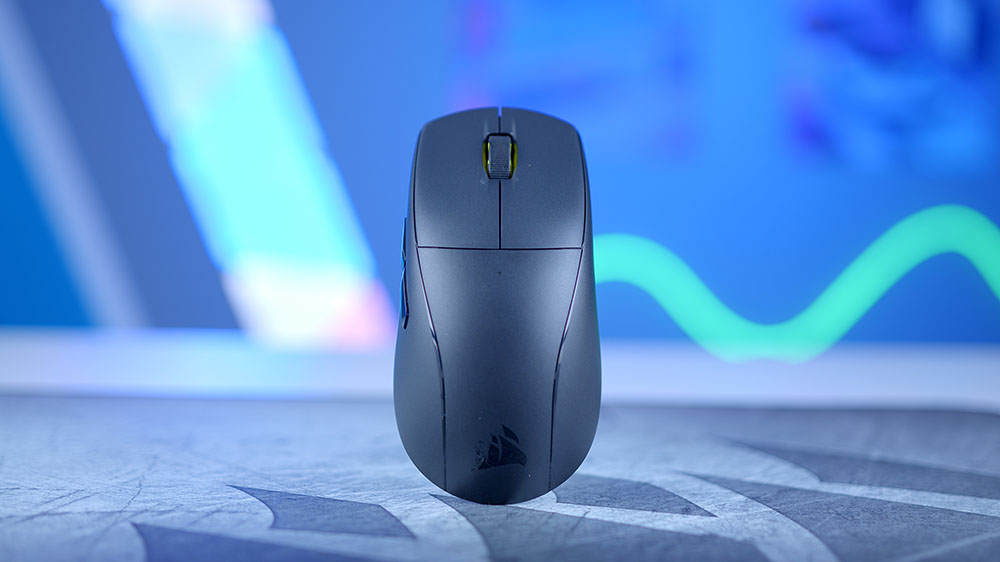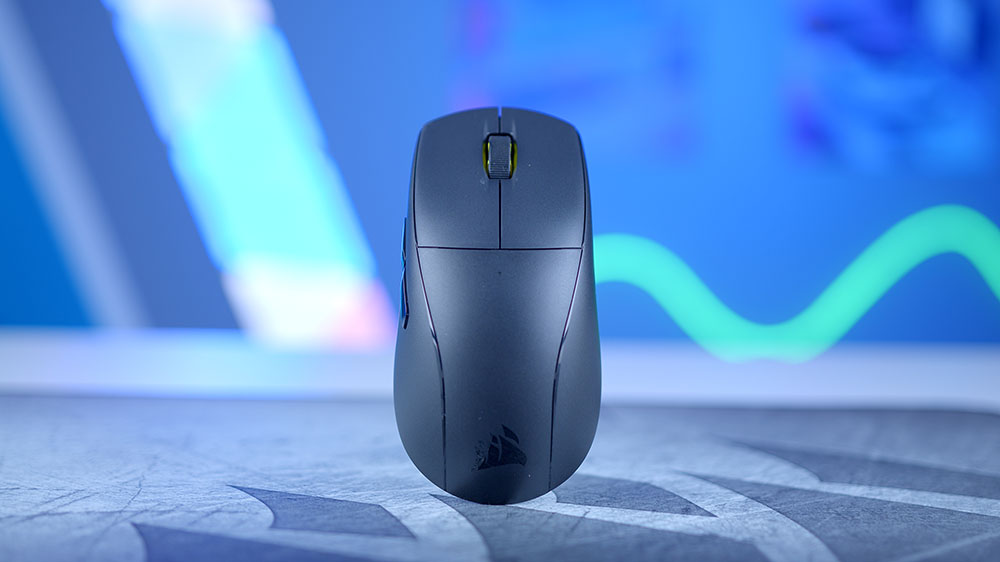 You won't find any RGB here, which I feel Corsair have missed out on, as the seams and edges around the plastic case of the mouse could definitely do with some lighting to perk up the design. Moving around to the back, you'll find the 100% PTFE mouse feet, which we'll touch upon later, along with the connectivity button, and the 26K DPI optical sensor. Corsair have decided to lay their signature triangle branding on the bottom of the mouse, but this isn't something you'll be able to see very often.
Design wise I have pretty mixed feelings about the M75. This mouse is extremely light, weighing in at just 60g, which is impressive. But that's all it really has going for it. There's nothing impressive or notable about the aesthetic, which is disappointing considering how much you're paying for it. I'm hoping however that the features of the M75 Air are a bit more positive.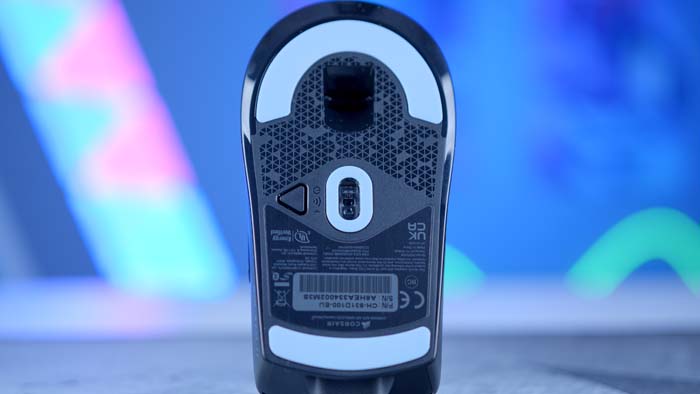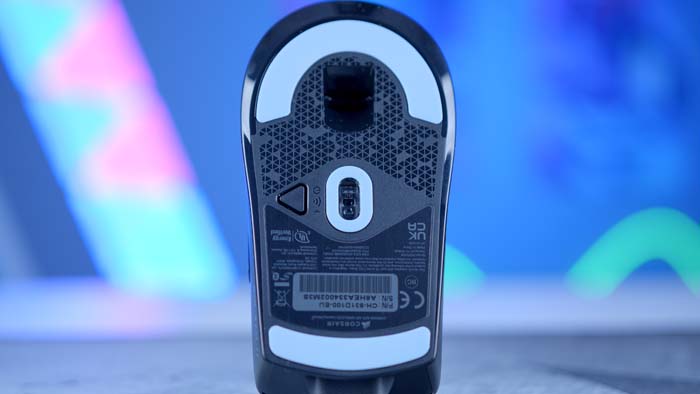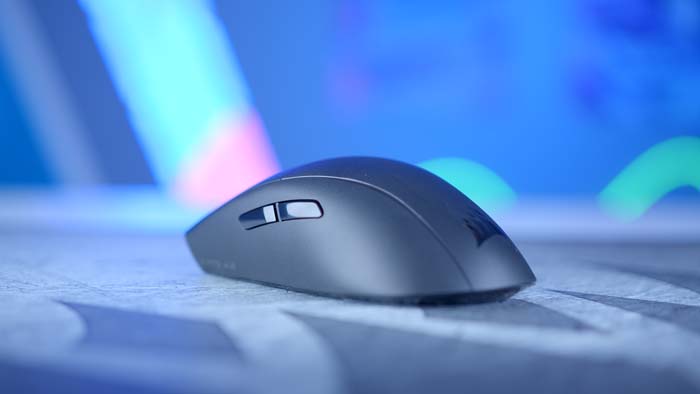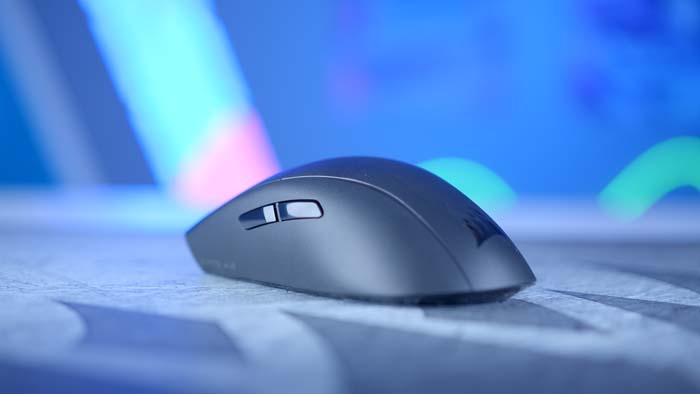 M75 Air Specs & Performance
Taking a look at performance, the M75 Air Wireless has some pretty decent specs on paper, and seems to be industry leading when it comes to purely tech. For example, the M75 utilises a 26K DPI optical sensor, which actually sits above the vast majority of other top-end wireless mice, even beating out Logitech's more recent G502 X Plus. This provides consumers with plenty of room to find a desirable sensitivity adjustment to ensure that accuracy is at its all time highest even in more competitive and intense scenarios.
The M75 also has an extremely high polling rate of 2000Hz at the maximum, ensuring smooth mouse movements and high response times are the priority in the heat of the moment. More importantly, all of this can be adjusted within Corsair's iCUE software which is a double edged sword. I do think that some of the adjustments should be in the iCUE software, but DPI configuration should be a button on the physical mouse, allowing you to easily change things on the fly.
| Specifications | Corsair M75 Air Wireless |
| --- | --- |
| Max DPI | 26000 |
| Weight | 60g |
| Polling Rate | 2000Hz |
| Programmable Buttons | 5 |
| Connectivity | 2.4GHz, Bluetooth |
| Max Battery Life | Up to 100hrs |
Features We Like
In this section we'll be taking a look at the principal features of the M75 Air Wireless identifying the things we love, and the things we're not so keen on. We'll be delving into each individual feature to give you an overview helping consumers decide whether the M75 Air Wireless is worth picking up.
Extremely Lightweight and Smooth
For all of the things wrong with this mouse, the one thing that Corsair have definitely got right is the experience. The 100% PTFE feet are super smooth, so even on more rigid and rough mouse mats you're encountering effectively zero resistance, which is honestly awesome to see.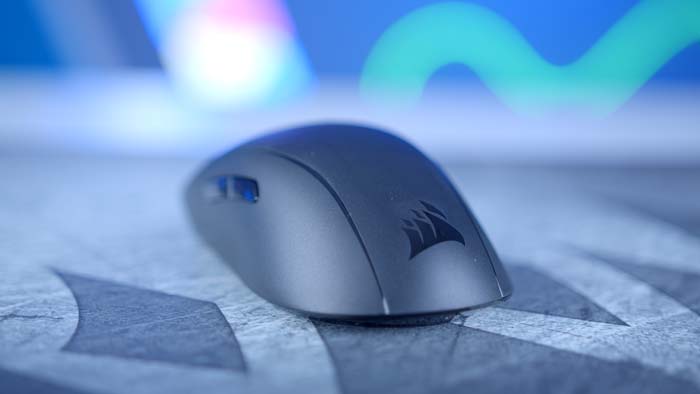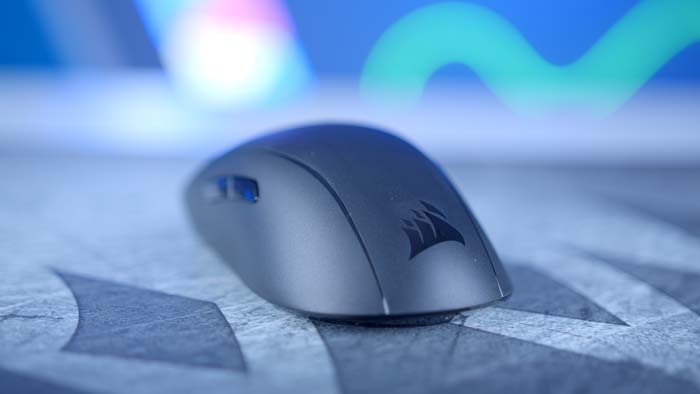 This combines extremely well with the fact that the M75 Air Wireless also weighs 60g. So pushing this mouse across your desk is just seamless, and smooth. This is definitely a big win for Corsair when it comes to overall experience.
26K DPI Optical Sensor
Corsair's M75 Air Wireless is one of the few mice to breach the 25K DPI mark that many brands have seen for quite a while. Although the M75 isn't the strongest option when it comes to DPI, it is pretty close versus the rest of the market. Having this much room for DPI provides consumers with a mass of different configurations. This will allow users to reach their preferred level of accuracy pretty easily.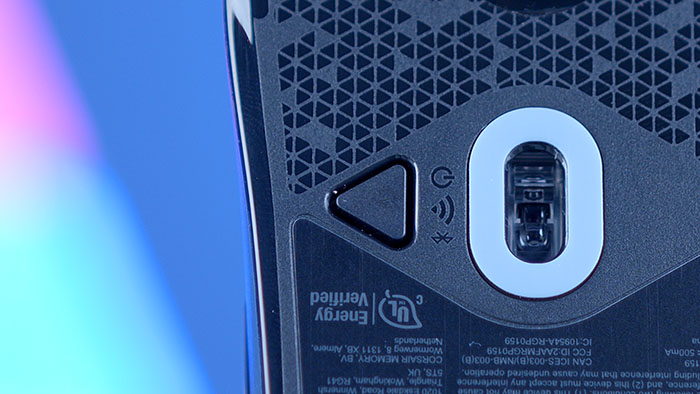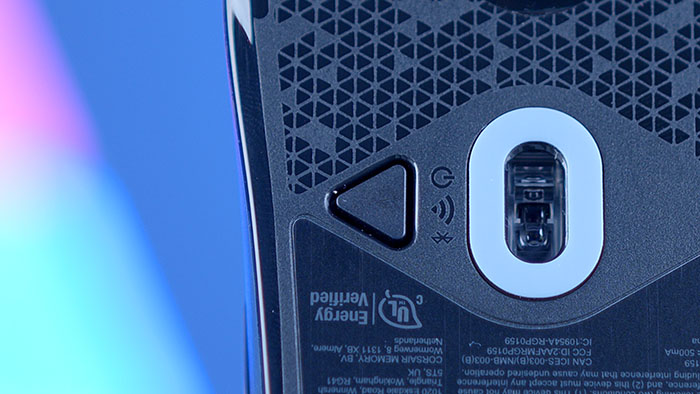 Dual Wireless Connectivity Options
The M75 Air offers consumers two ways to get this mouse connected up to their PC. You can do this with either, the 2.4GHz dongle, or through Bluetooth. 2.4GHz is generally more stable, but may require some extra setup beyond the scope of just turning on the mouse. And the Bluetooth wireless connectivity is a nice extra for those that truly prioritise a wire-free setup.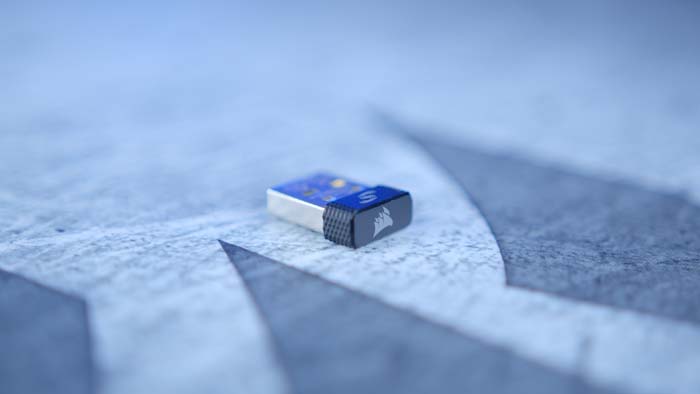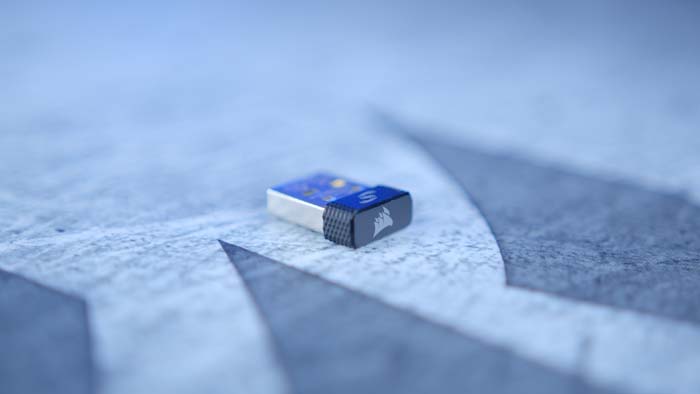 Features We Don't Like
Effectively No Hardware Buttons
The M75 Air only comes with five programmable buttons in total, all of which have their own purpose out of the gate. I feel that based on the price of this mouse, that Corsair could have included an extra DPI button, along with some macro buttons for those that prefer additional configuration options. It is good that all of the buttons are reprogrammable but I can't imagine most consumers will want to change the way they work as they're perfectly fine already.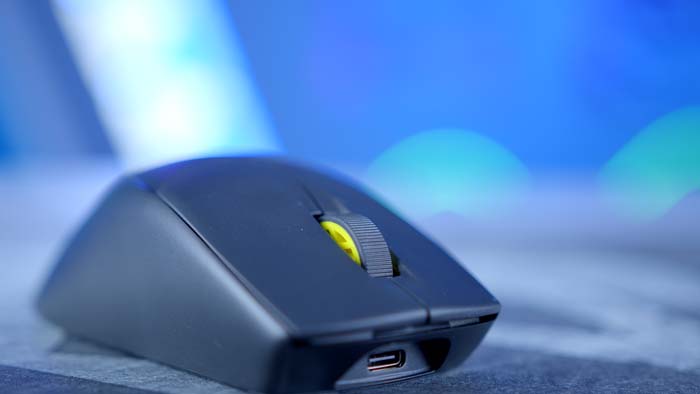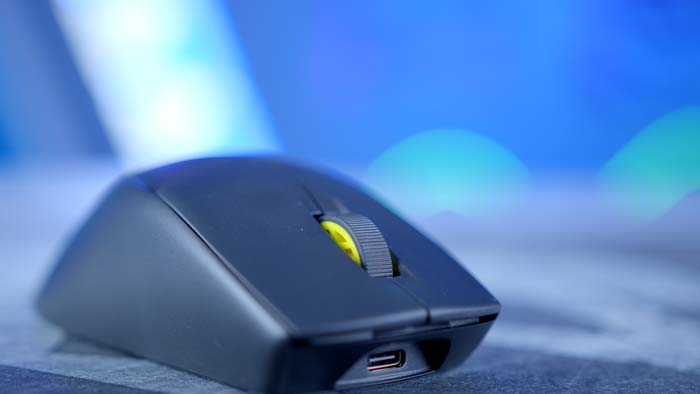 Comes with a Proprietary USB-C Cable
When I was setting up the M75 Air, I was having some issues getting the 2.4GHz connectivity to work. Like any normal consumer would, I followed the instructions to plug in a USB-C cable and then pair up the dongle using iCUE software (which is also quite silly). After playing around with a range of different things on my PC to get it working, I noticed that the provided USB cable has yellow tips, which sent off some lightbulbs in my head that plugging in the new cable would fix the problem.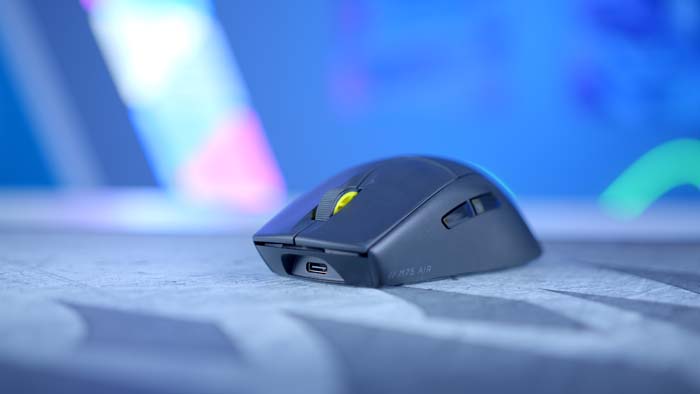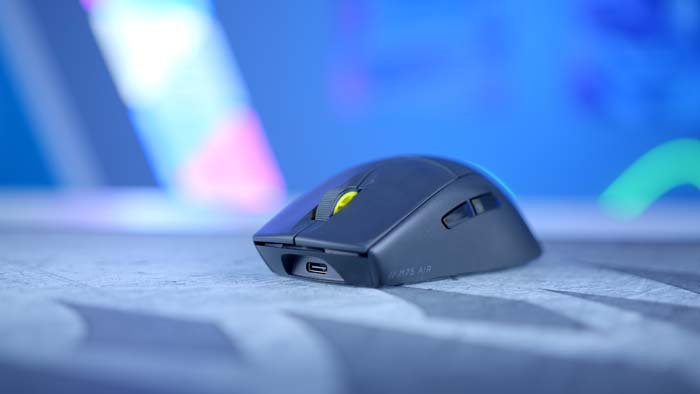 And it did, which was quite frustrating. I think Corsair really should have included some extra instructions to highlight that the included cable is needed to invoke a firmware update to get the dongle connected. This honestly just seems pointless to me, I don't understand why a standard (and Corsair branded I might add) USB C cable didn't work.
Connectivity Is a Button Instead of a Switch
Gone are the days of easily switching between 2.4GHz and Bluetooth with a physical switch, because the M75 Air uses a button. On the underside of the mouse, you'll find a triangular button which allows you to change between Bluetooth and 2.4GHz, but this wasn't particularly user friendly to setup.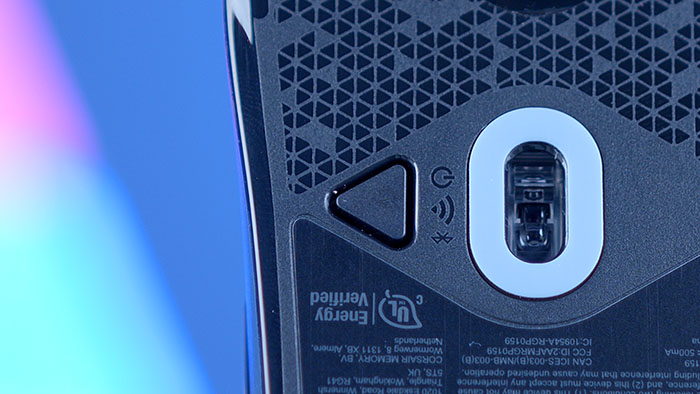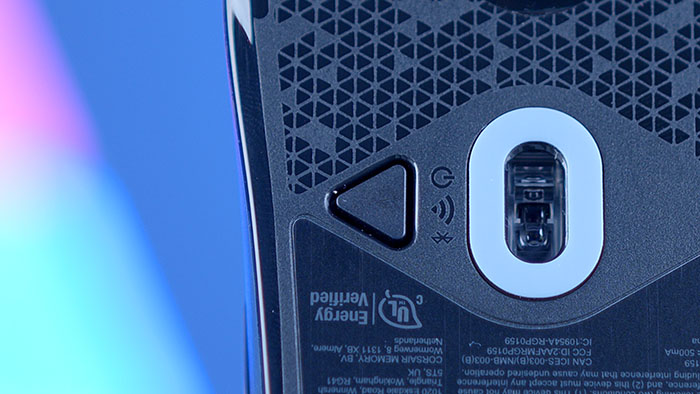 You have to decipher how the mouse is connected by the colour of the light that pops up on the top of the mouse, which is a small dot located towards the centre of the frame. I don't know why Corsair didn't use a switch here, the amount of hassle and time it takes to switch between each wireless mode is just not worth it, bring back the switch!
Generally Feels Cheap
We touched on this in the design section of this article, but I don't like how cheap the mouse feels. The M75 Air is designed to be extremely lightweight, but that doesn't mean that cheap materials need to be used. I would be very afraid of dropping this mouse on the floor, because the plastic does not feel very robust. I think some extra metal to ensure that the chassis is nice and rigid is required here.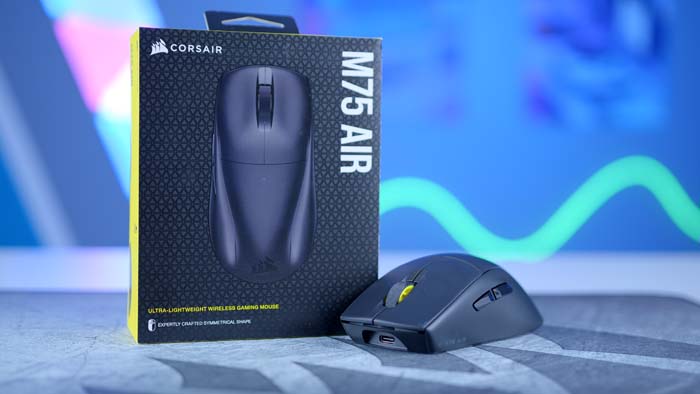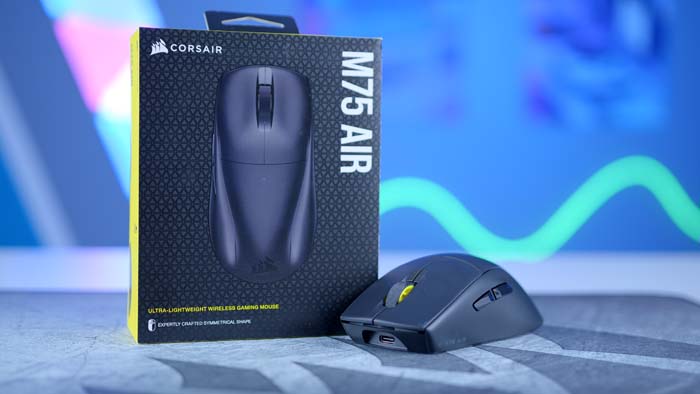 Alternatives
Logitech G Pro X Superlight 2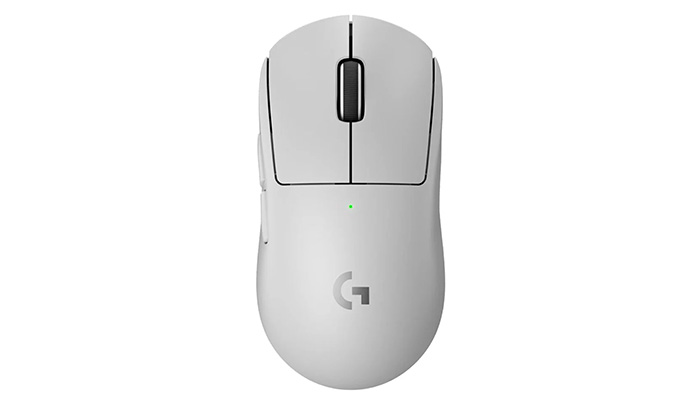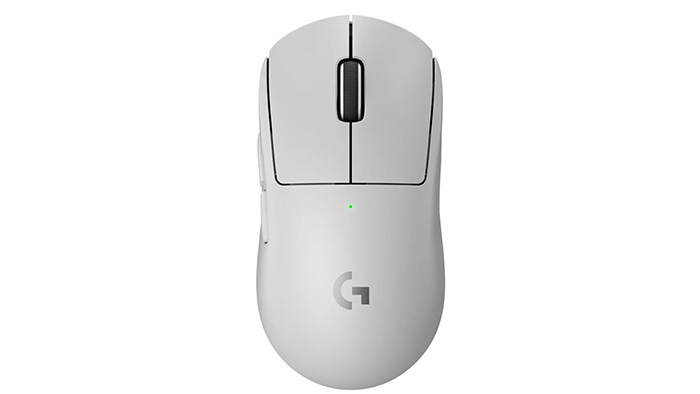 Logitech's G Pro X Superlight 2 is the newest revision of one of their most popular mice sporting an even stronger optical sensor, reaching 32K DPI as opposed to 25K which is what we saw on the original model. As always, the wireless connectivity is Logitech's LIGHTSPEED technology, ensuring latency is minimal for supreme accuracy. This is the closest that you'll get to the capability of the Corsair M75 Air, but with some nicer features and a stronger aesthetic while sporting a higher price point.
Buy the Logitech G Pro X Superlight 2 on:
SteelSeries Aerox 5 Wireless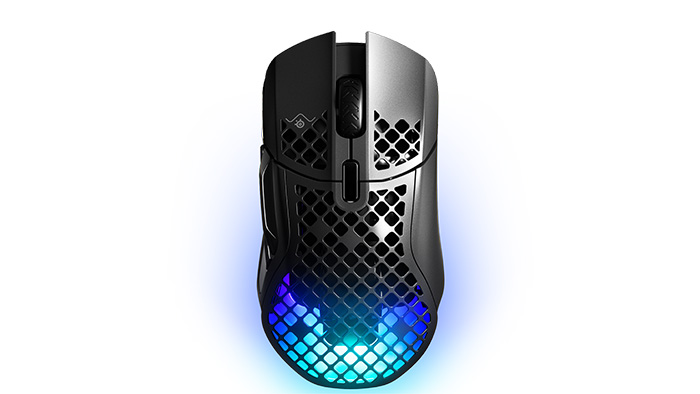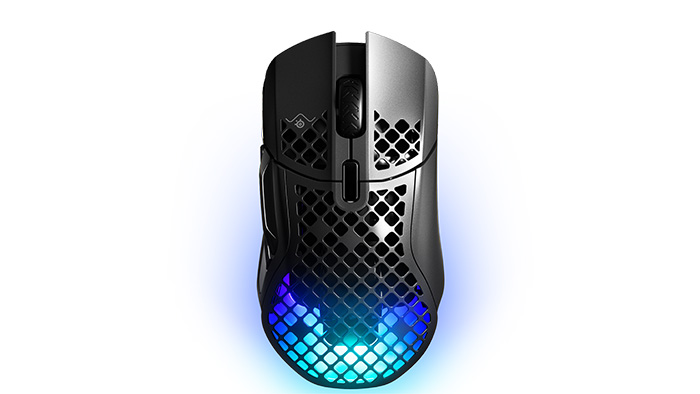 The Aerox 5 Wireless from SteelSeries is an awesome looking wireless mouse that has a bit more of a focus on aesthetics whilst still maintaining excellent performance across the board. The honeycomb exterior provides a nicer design whilst letting through some RGB lighting. It is also worth noting that this is one of the lightest mice, weighing 6g which is extremely impressive. There's also plenty of reprogrammable buttons allowing consumers to configure the Aerox 5 to their heart's content.
Buy the SteelSeries Aerox 5 Wireless on:
Conclusion
Corsair M75 Air Wireless
Product Name: M75 Air Wireless
Brand: Corsair
Features

Design

Performance

Value For Money
Summary
Corsair's M75 Air Wireless is a gaming mouse that I have pretty mixed feelings about. Whilst there definitely are some positives to talk about, such as the high DPI and accuracy, very lightweight design, and solid battery life, a lot of the negatives have skewed my feelings. I feel that the lack of a wired mode will cause some significant problems for those building a PC from fresh, and for those that aren't familiar with Corsair's iCUE software. The usage of a proprietary USB-C cable to update firmware and connect the 2.4GHz wireless dongle is extremely frustrating and is likely to cause users issues during the initial setup. I also think that the lack of adjustable weights or any extra hardware buttons beyond 'back and forward' on the side, is pretty disappointing. And to top it all off, this mouse just feels cheap!
But my biggest issue is the price. Coming in at $149.99, you're not getting a whole lot in terms of features at this price point, which is where most consumers are losing out. I think for $149.99 there are a number of other alternatives on the market that are well worth picking, such as Logitech's G502 X Plus, or even some of Corsair's older weighted mice. Which is why the M75 Air Wireless is a mouse we're struggling to wholeheartedly recommend. While I do think this mouse will appeal to many, we'd urge consumers take a look at the alternatives beforehand.
Pros
✅ Excellent long-lasting battery life.
✅ Extremely light and very easy to manoeuvre.
✅ Mouse switches have a nice 'thocky' sound to them.
Cons
❌ Getting the mouse setup and connected is a hassle.
❌ Very few extra hardware buttons, requires iCUE software.
❌ Feels cheap, and not particularly robust.